A long ponytail is one of the most popular hairstyles that require minimal styling and special technique. In fact, various such hairstyles can suit every hair texture and face shape. Within a fraction of time, you can have a perfect updo with these great hairstyles.
As a beginner, you can go ahead with a sleek high ponytail that is simple yet sophisticated. Additionally, simple ponytails can even be elevated with accessories like a band, scarf, or a scrunchy. Then, playing with the texture and adding accessories or braids, you can come up with your own style.
Attractive Ponytail Hairstyles for Long Hair
Here are some amazing long ponytail hairstyles that will give your locks a unique look. From date night to a wedding or even your workout sessions, these are the perfect hairstyle for every occasion.
1. Sleek High Ponytail
This style will give you a simple as well as an elegant look. It will be perfect for anyone looking for a simple yet done-up look. In order to make it look good, make sure to maintain your hair with regular treatments and trims.
2. Simple Red Ponytail
If you have long, medium, or thick hair, then you can go ahead with this style. You can get a layered cut and make a simple long hair ponytail that will go well with a bit puffy look.
3. Sleek and Straight
This is another favorite hairstyle among models that gives a cool look. This long ponytail hairstyle can also serve as a great professional style for meetings. It will look good on an oval or heart-shaped face.
4. Long Bouncy High Waves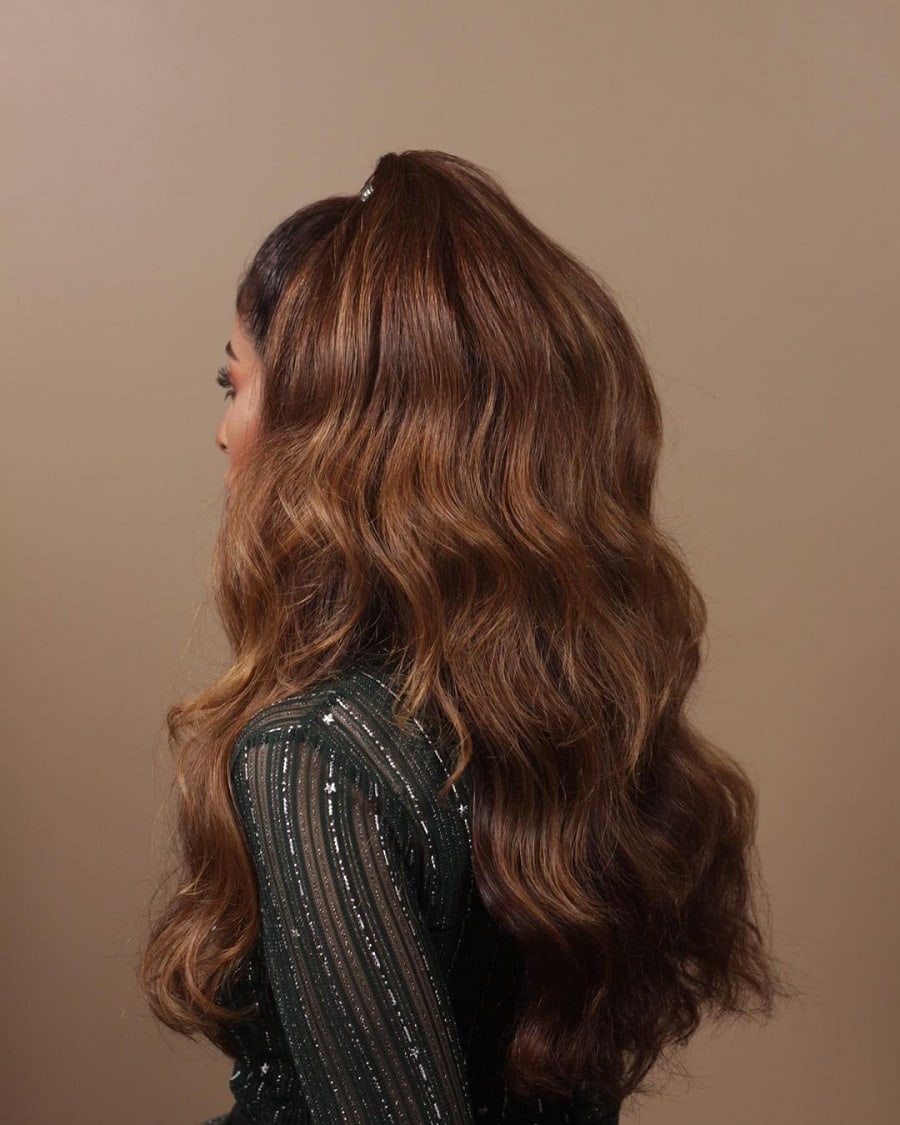 The long bouncy ponytail is another great hairstyle coming back in fashion. It works well on any hair texture and makes your hair look bouncy and voluminous. The higher you wrap it, the more volume will be created at the crown area of your head.
5. Low Ponytail With Beads
This is a great hairstyle for medium to thick hair. You can simply tie your as low as you want and add little waves. You will need long and thick hair to create this look perfectly. Moreover, you can even add some beads to complete the look.
6. Bubble Ponytail
The bubble ponytail can work well for thin hair. The high pony is tied off every two inches with an elastic. In fact, it adds interest to the basic look and requires minimal effort. This no-fuss hairdo can go well with a trendy as well as your workout outfit.
7. Double Twisted Ponytail
This low long twisted ponytail is likely to go well with an ethnic outfit. It will suit an oval or heart-shaped face and medium hair. It is a beautiful combination and an easy-to-style look.
8. Reverse Braided Hairdo
You can create a mystery by adding braids under your ponytail as well. It is a worthy hairdo that will add a bit of spice to your look. Moreover, this hairdo will keep your hair intact from each and every side.
9. Low Side Braided Wavy Ponytail
Adding side braids to your hairdo is a great way to add fun to your casual look. You do not need to tie your ponytail high up with this style, but wrapping it a bit lower would be fine. Along with this, you can make your hair a bit wavy.
10. French Braided High Ponytail
Instagram/@beautetinkyriaki
A high pony with a French braid is never going to let you down. The French braid at the top of your head will surely grab a lot of attention and save you from giving a flat look. It is a good hairstyle for a casual and classy look.
These are some of the long ponytail hairstyles that you can try this year. Of course, you can choose the one that suits you, depending upon your face cut and hair texture. Moreover, these hairstyles will work best for every occasion, whether it is a casual daytime or a formal event.