Some people are more prone to oily hair than others. And, sometimes you just can't find the time to shampoo. This is where greasy hairstyles will be your best friend.
You can use the greased look to your advantage, or you can create a look that hides your oil-prone locks. There are lots of hairstyles that will help you do both. They're all incredibly cute. They're also easy to do at home.
Popular Hairstyles for Greasy Hair
If you need to find the perfect look for your oily hair, then take a look below. There are plenty of pretty styles that are also incredibly trendy.
Waves with Side Part
Here the roots are greasy in this hairstyle, but you wouldn't know it. Instead, they're used to create a shiny look. The hair has a nice side parting. The locks then cascade in waves over the shoulders. It creates a very glamorous look.
Easy Peasy Top Knot
Most of the hair is slicked back when you create a top knot. It's a very chic look that's easy to wear every day. Pulling a few hair tendrils out of the look will give you an effortlessly messy vibe.
Colorful Double Braids

Double braids always look incredibly stylish. Here the slick hair is braided so tightly you don't even notice the grease.
It's also colored pink and purple to create an incredibly playful look. Finally, the ends of the hair have been made super frizzy to create a pom-pom-inspired look.
Messy High Updo
Messy updos for long hair are totally classic. Create a lot of mess by having loose sections coming out of this updo.
This will hide oily roots as the hair is pulled back into the hairdo. It's an easy everyday look that you can also throw your hair into on a whim.
Voluminous Crown Braid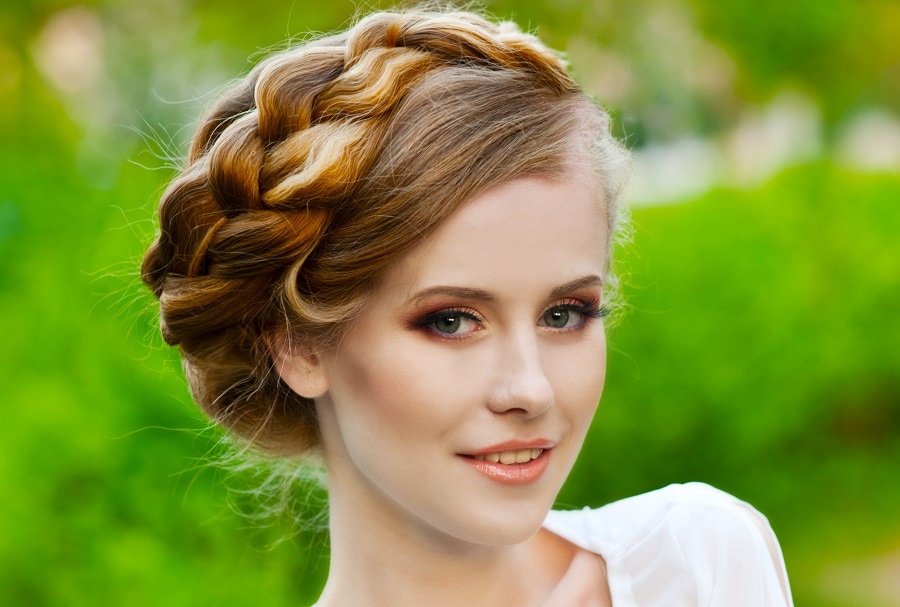 Crown braids are the perfect way to hide your greasy hair. This will make sure all the oily parts are obscured. Creating a lot of volume in the braid and at the back of the hair is also helpful. It gives your locks a nice and fluffy effect.
Low Bun for Natural Hair
If you're a black woman with kinky greasy textured hair, then pull it all back into a low bun on the back of your head.
The texture helps hide some of the slicknesses. It just looks like you've slicked your oily edges down on purpose to create a fashionable and controlled style.
Adorable Space Buns
Everyone looks super cute with space buns. These ones are high, voluminous and so thick because they're made with long hair.
There are some curly tendrils that fall by the face to help add some dimension. Adding some dry shampoo to your parting will hide the oil.
Half Up Space Buns
Here's an alternative to the style above. This greasy hairstyle for long hair has half buns in a more rounded shape. They're closer together. Long locks cascade down the shoulders. The buns hide the oiliness on top of your head.
Sleek Prom Updo
Many updos like this one have a naturally slick effect. This makes greasy hair totally okay to wear with them.
Form a large bump near the crown of your head. This will connect to a smaller bump high on the back of your head. There's a side parting, and the top and sides are super sleek.
Vintage Side Hairstyle
Here's a vintage-inspired look for you. One side of the blonde waves highlights the hairstyle. A large, curly updo hides the other side of the head. Your glamorous look will be like a million bucks with this.
Retro Curls
The front sections of this hairstyle are drawn back to create a sleek look. It's a great party hairstyle for greasy hair as it's so effortlessly chic. There are thick curls that make you look very elegant.
Messy Side Updo
Here's a side updo hairstyle that uses the grease to your advantage. The locks are slicked to one side to form a rounded updo.
It's an effortless and messy updo that resembles a bun. However, it's a little fancier than a bun.
Bantu Knots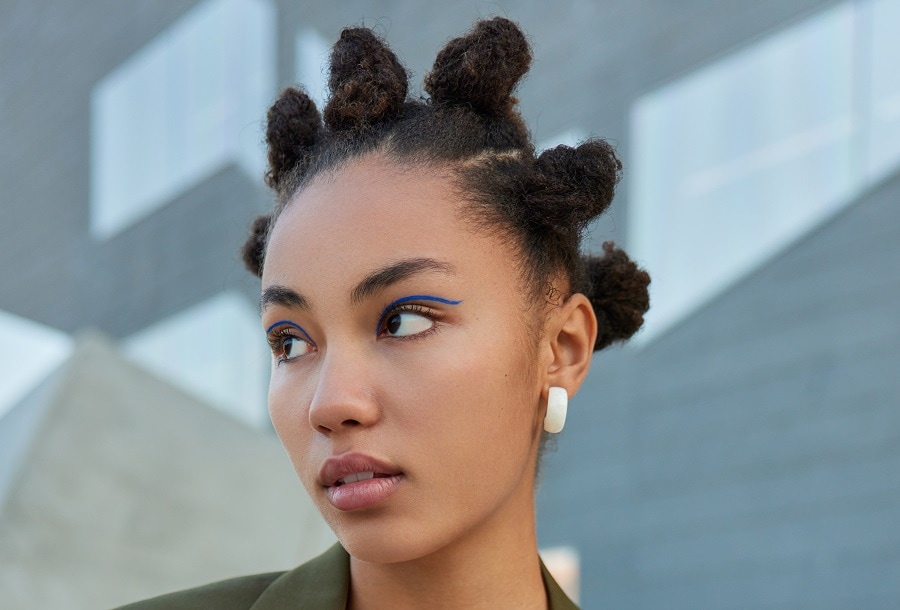 If you're looking for a hairstyle that's great for natural greasy hair, then consider Bantu knots. It's voluminous and totally fabulous.
All the eyes will be on the knots, nobody will be looking at your slick roots. The texture of your hair also masks any slickness that you don't want people to pay attention to.
Messy Topknot
Would you like another effortlessly stylish everyday style? Created topknot with lots of flyaway hairs.
Make sure there's a little volume at the front of your slicked-back locks. This casual hairstyle makes you look very easy-going.
Sweet Long Pigtails
Pigtails are a wonderful way to style very long greasy hair. They keep them out of your face and make them appear a little shorter. Sections of hair wrap around the pigtails so you can't see any hair ties.
High Ponytail
If pigtails seem like too much for you, then what about a single ponytail? It's another great look for long hair.
The top and sides are deliberately greased to give the ultimate slick look to this style. You'll look extremely elegant and high-fashion when you wear a tight high ponytail like this.
Dutch Braided Pigtails
Did you like the pigtails from earlier? Then consider braiding them to create more control over your tresses. The braided texture also helps hide any oil.
The Dutch braids sit on top of your greasy hair which also helps hide oily sections. The nice natural blonde shade is also great for disguising them.
Half Up Braided Bun
Most of these tresses are down straight in a very simple look. However, there are two space buns at the back.
Tiny braids that form a heart shape on top of the head are pulled back into these buns. This creates a slick effect at the parting.
Curly Brunette Hair
A curly hairstyle often hides greasiness. So if you have thin curly hair, then just style it with a side part and leave it as normal.
Let it look a little messy and carefree. It's a shake-and-go greasy hairstyle that's great for people who don't have a lot of time to spend styling their hair in the morning.
Pinned Side Hairdo
Pulling just one side of your greasy locks back creates a very nice effect. Secure one side back with bobby pins and give yourself a side parting.
The sleek sides will help you highlight the greasiness in a way that looks good for the style. Keep your tresses long and straight to add to it looks really good on dark hair.
The above greasy hairstyles clearly demonstrate unique ways to hide your oily hair. If you ever need to hide greasiness, then style the lengths of your hair to cover the roots.
Dry shampoo will also be your best friend when disguising oil in your tresses. It's a great temporary fix until you can shampoo and condition accordingly. A small spray of it goes a long way!