The tapered cut is no more associated with men; women look far prettier in them. Natural hair surely looks amazing in these cuts and gives you a dramatic and stunning look. The basic concept of these cuts is to keep the top length a little longer than the sides and back. Keep the texture of the curls depending on your choice.
Earlier, women with curly hair don't love their hair texture, but now they embrace it very well with time. We have listed the most tempting tapered natural hairstyles for them, which you won't resist trying.
Dramatic Tapered Hairstyles for Natural Hair
Curly, coily, wavy, rolled, or twisted, whatever the texture and form of your hair are, these tapered cuts.
Blonde Tapered Cut
Well, for black women with long faces, at times, it becomes difficult to find the best haircut. But worry not; with this one, you can rock any party, meet, or event.
Simply go for a tapered cut, giving your forehead a defined look and keeping your hair short. Add a blonde hue to it and you are done. It will bring out your smile more prominently.
Wash and Go Undercut
Keep the sides shaved while the crown part is long. Now use some gel and create spikes without creating the points. Students can carry this style with ease and look awesome.
Blonde Afro Curls
Playing with colors always gives you a mesmerizing look. Well, now is the time to go for a blonde ombre on your coily hair. Use a detangler or scrunch your naturally curly hair for this tapered hairstyle. You are all set to go out.
Silver Caeser Cut for Women over 40
Simplicity is always appreciated, whether it's about your attire or hairstyle. If you don't want to use any colors and flaunt your natural hair, go for a caeser cut. It will surely enhance your overall look.
High Fade
Another lovely hairstyle for tapered natural hair is this one where you keep your hair very short. The sides are faded and blend well with the rest of the hair.
The nude makeup will suit well with this style, and you can wear any attire with it. Just make sure to hydrate your hair to avoid frizziness and enjoy the look.
Cinnamon Front Curls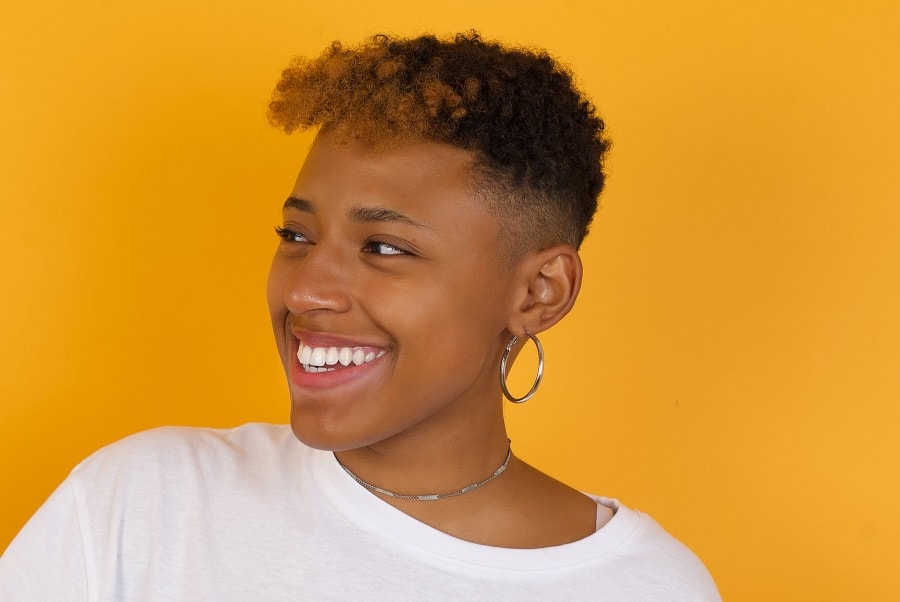 Add a little pinch of cinnamon to your hair. If you do not wish to color them all, then just grab the long front curls and color them. Now, shave your sides, and shorten the back hair as well.
Here, only the front hair will be long in this cut. It's one of the common tapered natural hairstyles for women who want some hue and short hair.
Curly Tapered Pixie
Going for soft curls is amazing. You can flaunt your natural black hair stylishly in this cut. Pixie will surely make you look more gorgeous and charming. Use some gel or cream to keep your hair hydrated and textures intact.
Soft Curls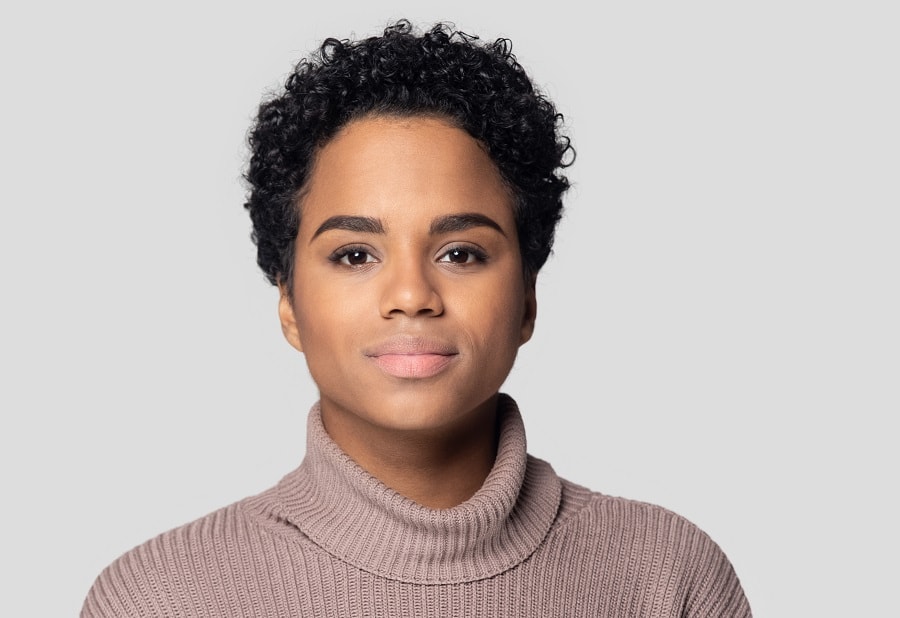 Using a gel, softly comb your hair backward without messing with the curls, just keep them away from your forehead and face. This style will be best suited for square face women. It's an easy-to-maintain style that can only be made in a few minutes.
Pink Tapered Undercut
Tapered undercut with the combination of pink is another popular natural hairstyle for black women. If you have type 4C curls, this style will be the best choice.
Wavy Blonde Highlights
For wavy hair, this haircut cut is amazing. Keep your sides lightly faded and in your natural black color.
Whereas going for blonde highlights at the top of the hair and use your fingers to set the hair naturally without any parting. It's an easy hairstyle that can be used to manage your frizzy wavy hair. You can wear it for formal as well as casual meets.
Side Faded with Lifted Roots
It's like a mushroom cut wherein the sides are slightly faded, and the top hair is kept long. Now just lift your hair roots using a gel or cream.
Let the natural texture speak for itself, and you are ready to step out. You can use a soft brush or detangler to manage your curls properly.
We hope these interesting tapered natural hairstyles will make your day wonderful. Of course, you can choose anyone you like and play a little with it by adding colors, hair length, etc.
Who might have thought that one day women would be trying these styles? However, we are sure that you will get a lot of compliments for them, so be ready for it. And do let us know how your experience was after wearing these.