Are you a mature lady who's looking for a new hairdo. Consider going natural! There are tons of great natural hairstyles for women over 50 that you'll just love.
If you're used to straightening your locks or keeping your hair super short, then it may take time to get used to maintaining your natural tresses. All of the styles below are designed to help you on your journey. They're among the easiest looks you can wear and you'll look good while doing it.
23 Stunning and Simple Natural Hairstyles for Women Over 50
Use the selection of styles below to figure out your brand new look! You can style all of them by yourself with ease.
Medium Wash and Go Haircut
Women over 50 with natural grey hair may wish to let their silvery locks grow out. Adopting a simple wash-and-go routine for looser curls is also a good choice.
Using a good sulfate and silicone-free shampoo and conditioner and no additional products will leave you with your natural curl pattern and just a little frizz.
Long Protective Braids
Do you like keeping your hair long? Then you need a protective hairstyle. Braids are one of the simplest ways to keep your hair in good condition.
They last for six to eight weeks once you create them or have your stylist do it for you. Pull some back out of your face to add variety to your look.
Sleek Bun
You can never go wrong with a bun. Pull your locks right to the back of your head then secure them there with pins or a silk hair tie.
The style above has a sleek braided section wrapping around the bun. You can use a hair accessory for this, or use your regular hair and apply some shiny gel.
Middle Part Look for Kinky Locks
Middle partings are currently popular for all ages, including women over 50. Wearing your kinky natural hair down can create a highly defined center parting.
It lets your hair frame your face well. Add a generous dollop of leave-in conditioner to eliminate any frizz.
Short Afro Curls
It's easy to handle very short styles like this, so consider it if you don't have a lot of time to work on your hair. Leave most of your hair free to curl normally, and push back one side to create a sleeker section. Pin this side in place.
Classic Afro
The afro never goes out of fashion. Take your hair and use an afro comb to pick away until you achieve a large voluminous cloud of hair sitting above and around your head.
Light Brown Dreads
Dreadlocks are yet another protective style, and they're also versatile. If you have dreads, then you can use them to form different hairstyles.
Wearing your hair loose as seen above is always a great option. However, you can also tie your dreads back into a ponytail too. Dyeing them light brown helps them pop a little more so you'll stand out.
Buzz Cut
Sometimes it's easier for older women to get a buzz cut for their natural hair. It eliminates the need for complex or protective styles. You can still see a little grey stubble on the head.
It's also a style you can wear while transitioning from chemically straightened locks to natural hairstyles.
Thick Loose Look
Women over 50 with a looser curl pattern can wear their hair a little longer if they wish. The medium-length style above is a good example of this.
The hair's thickness frames your face and adds a youthful touch. Consider dyeing your hair brown to make it appear more vibrant.
Long Ombre Locks
Older black women can still wear looks that are popular with younger generations. Ombres are always fashionable and they can really help you stand out from the crowd. Utilize your natural hairstyle's curl pattern and keep your hair in a bob-length cut that's flattering for older women.
Vibrant Brown Bob with Highlights
Older women can brighten up their whole look by dyeing their natural hair vibrant brown and adding some highlights around their face.
Highlights help curls appear more defined and much sleeker. Caring for your hair well also helps define curls as it lets them retain moisture and minimizes frizz.
Short and Tight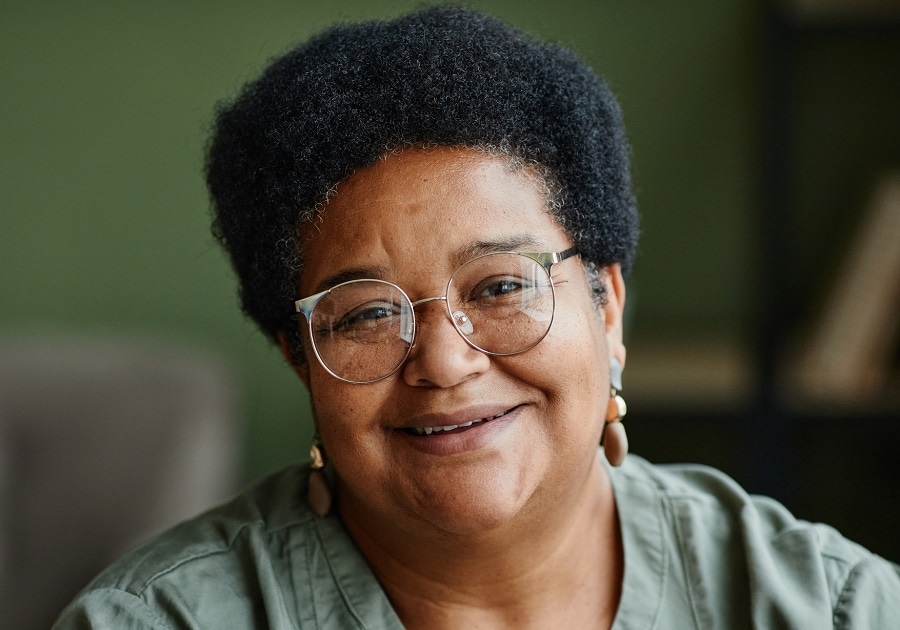 If your tresses have a very tight texture, then short hair will suit you. Here there's a lot of volume and most of the hair extends above the top of the head. The sides are kept a little shorter to create shaping and control.
Silver Undercut
Undercuts are perfect for people who like edgier natural hairstyles. They also capture more of a youthful vibe.
Shave one side and push the rest of your loose curls over to one side of your head. It helps highlight your face and eliminates some of your hair's thickness.
Twisted Updo
Twist hairstyles are both protective and stylish. Form an updo with them high on top of your head. Pin the twists into a pattern of your choice. It's one of the more complex styles so you may need a stylist to achieve it, but you can maintain it at home.
Medium Brown Layers with Highlights
Layers can create a lot of volume in your hair and many women find that very appealing. Pair a short layered look with a medium-brown dye job. It's a mature cut that helps you look your best.
Thin Twists with Headscarf
Form lots of thin twists or dreadlocks depending on your preference. You can then keep these back out of your face with a headband or headscarf of your choice. Match the hair accessory to your outfits and use it to protect your hair from damage.
Silver Pixie Cut
Pixie cuts look wonderful on women over 50 who've let their grey hair grow out. They eliminate the need to spend a lot of time working on your tresses each day. Add a little texture to the pixie at the front but keep the sides minimal.
Easy Pineapple Updo
Pineapple hairstyles keep your hair from snagging on your clothes and getting damaged. They also make sure not to strain your hair as it doesn't take a lot of manipulation to form this style. Gather your hair on the crown of your head and secure it to create this look.
Short Flat Grey Look
Keeping your tresses flat to your head ensures they don't get into your face and distract you. Let your grey grow out, cut your hair short, and part it in the middle. Brush it all towards the back of your head and secure it with a non-hardening gel.
Tiny Weeny Afro
A TWA, or tiny weeny afro, is great for coily hair that doesn't have a tight enough texture for a larger afro look. There's a lot of volume on top and some on the sides, plus a few coils fall onto the forehead and add depth.
Voluminous Light Grey Look
If your hair has turned light grey then be sure to show it off, as it's such a stunning shade. Gently part your natural hairstyle in the middle and wear it to chin-length as it's flattering for women over 50.
Cut the front sections slightly shorter and add bangs to round out the look.
Short Curls with Bangs
Curly bangs help draw attention to your face and they can also help hide a large forehead. They bring short looks to life, too. The light brown tone here also helps set this cut apart as it frames your head.
Tiny Grey Twists
Twisting the strands of your natural hair helps your coils stand out really well, and you can control and detangle your locks more easily. This enables you to wear your hair long, past your shoulders.
You'll find that there are tons of natural hairstyles for women over 50 that you want to try out. There's something to suit every preference and lots of different hair textures. Coily, curly, and kinky-haired mature ladies will definitely find something suitable.
You'll have no trouble keeping your look fresh if you wear one of the many styles above. Protecting your hair and keeping it easy to style is of utmost importance.