Did you know that the right haircut can make you look more vibrant and youthful? For women over 50 who want to take a few years off their look, the bob hairstyle is the best for them—and there are many reasons why!
Keep on reading if you want to know what these are (and you also wish to check out a few layered bob hairstyle ideas)!
Why Go for Layered Bob?
If you're still on the fence about getting a layered bob cut, here are some of the reasons why you should go for it:
Versatility
This bob hairstyle is probably one of the most versatile cuts for women over 50. Since it's a classic cut, you can style it in any way you want—wispy, spiky, and many more.
The different layers can make thick hair look thinner and thin hair look more voluminous—a win-win for all hair types!
Better Movement
One of the biggest problems of older women is thinning hair. As your hair gets thinner, it also gets limper and duller. Adding layers will certainly bring more movement and volume to your hair.
Easy to Maintain
Compared to straight and blunt hair, layered hair is easier to maintain because it won't need too much styling. In addition, the layers already look trendy by themselves, so all you need to do is comb through them, and you're ready to step out the door looking as fabulous as ever.
Gorgeous Layered Bob Hairstyles for Women Over 50
Below are some of the best layered bob ideas for older women should check out:
1. Side-Parted Layered Bob
We officially call it the Hillary Clinton hairstyle! While there is a lot of controversy regarding Clinton's hairstyles, you can't deny that this side part layered bob is one of the best hairstyles for women over 50 as it exudes class and confidence.
2. Thick Brunette Bob
If you feel like your hair is too thick for a bob, you're wrong. Cutting your hair this short is one of the best ways to tame your thick hair. The secret is in the layers and your hair color. The darker your hair is, the thinner it will look.
3. Shaggy Cut with Full Bangs
Do you want to look even younger? Well, try donning on bangs in addition to sporting a shaggy bob hairstyle. More than looking stylish, this type of cut also helps to emphasize all your amazing facial features, like your jawline.
4. Blonde Pixie Bob
And if your hair is on the thinner side, you can take some risks and cut your hair into a short pixie! And instead of going for just one hair color, try mixing lighter and darker shades to give the illusion of thickness.
7. Wavy Medium-length Hair
Do you have gorgeous curls? If so, flaunt it! Unfortunately, long curly hair can require too much maintenance. That's why it's best that you cut your hair this short so you can easily style it.
6. Simple Bob with Side Bangs
Do you have a large forehead and want to conceal it a bit? Well, go with side bangs. It naturally frames your face and hides a bit of your forehead in a stylish way.
7. Thick Afro Look
If you have naturally textured hair, the best way to style it is to cut it short. With this afro bob hairstyle, you can flaunt your gorgeous curls and still keep your hair low maintenance.
8. Curly Grey Bob
And if you just want to keep things simple, this is the layered curly hairstyle for older women that you should go for. It's neat and simple, but more than that, it highlights the beauty of your hair's natural texture.
9. Wavy Shoulder-Length Bob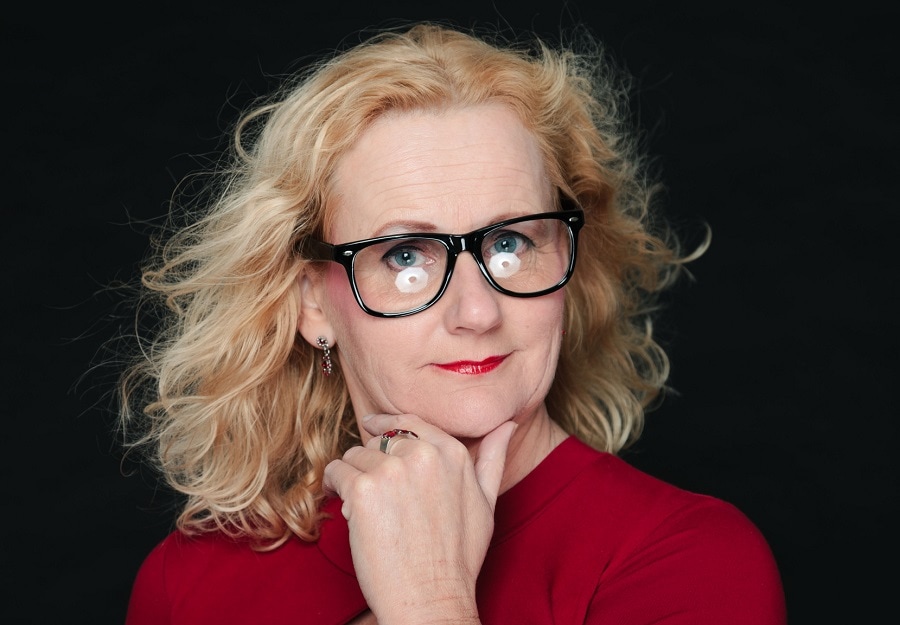 If you're a bit hesitant to join the short hair club, then opt for this fabulous shoulder-length haircut for over 50 women with glasses. The length is long enough not to make you feel too conscious yet still short enough to make you look younger.
10. Textured Bob with Sideswept Bangs
Another great way to hide your forehead is the side-swept bangs. The best thing about this type of bangs is it doesn't get in your eyes. Plus, the look is suitable for both younger and older women.
11. Feathered Pixie Bob
If you wish to give your hair a unique shape and texture, feathering is the key. Pair it with a layered bob, and you get a classic look that never goes out of style.
12. Wavy and Messy Lob
Is short hair not your thing? This medium-length hairstyle might change your mind. We love how naturally messy this hairstyle is! It makes you look more carefree and youthful.
13. Thin Curly Pixie Bob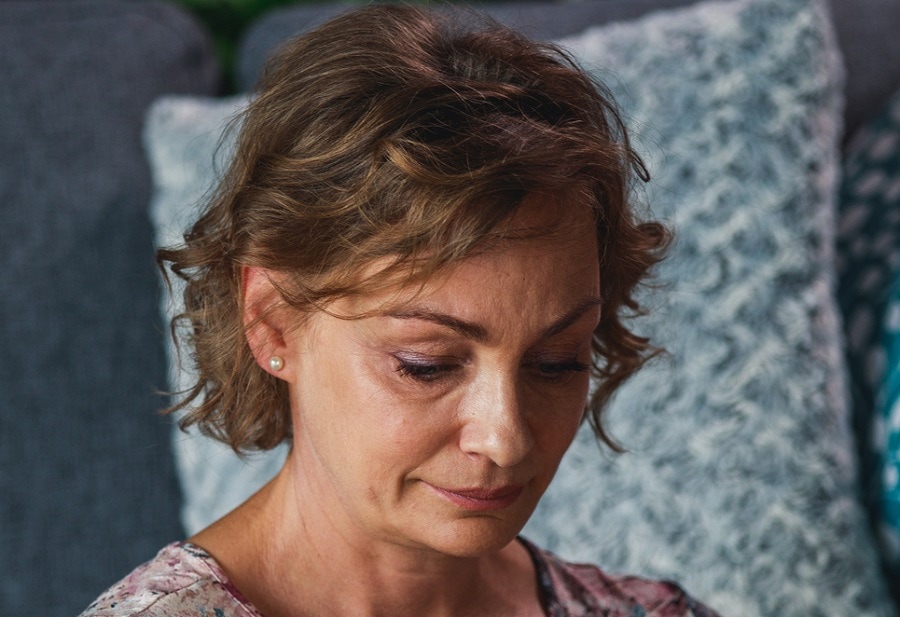 Don't let your fine hair get in the way of your bob cut dreams. If you want your hair to look well-polished and messy at the same time, these fine curls are the way to go. It allows you to enjoy the bounce and movement of curly hair minus the hard-to-tame thickness.
14. Textured Inverted Bob
If you have straight yet textured hair and want to add a stylish touch, go for an inverted bob. This type of medium layered bob will give the hair more volume and movement for women over 50 and prevent it from looking dull and limp.
15. Layered Bob with Curly Ends
If you wish to add volume to your hair but don't want to spend too much time styling a full head of curly hair, the next best step that you can take is curl the ends of your hair. It allows you to take advantage of the bounce that curly hair has without the hassle that comes with maintaining it.
16. Tousled Bob
Do you find straight bob to be a bit boring? On the other hand, is curly bob too much to handle for you? If so, go for the style in-between—the tousled bob.
With this hairstyle, you don't' have to worry about maintaining curls, but you can still enjoy the messy vibe that comes with it.
17. Thin Textured Short Bob
If you have textured yet thinning hair, try this gorgeous short hairstyle The best thing about this cut is it allows you to sport a messy look while still looking neat and polished.
18. Wavy Chin-length Bob
Going the wavy bob route is one of the best ways for women over 50 who can achieve a younger and more carefree look. Add in the side part, and you get messy and youthful hair that will certainly take years off your look.
19. Thick Long Pixie Cut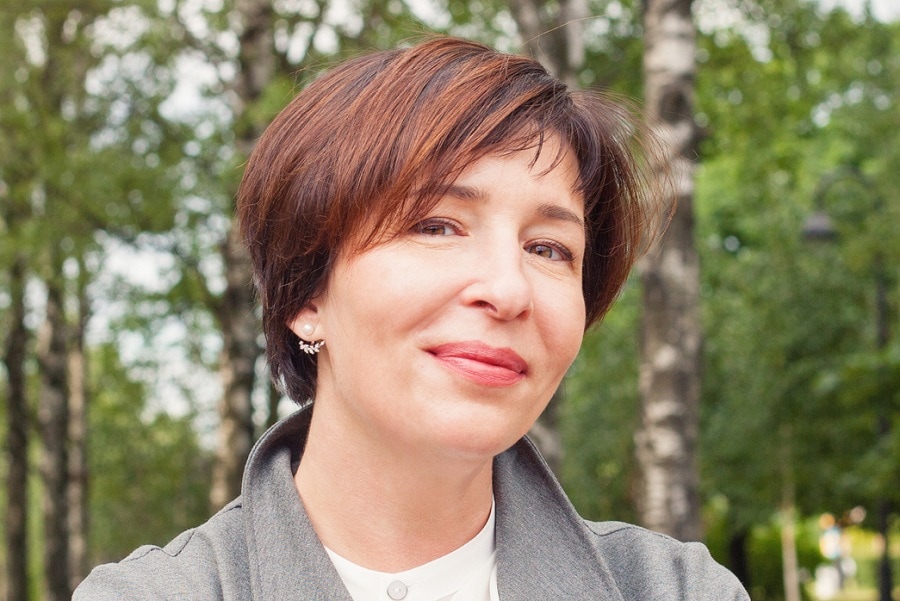 Are you in love with how edgy a pixie cut looks, but you think it's too short for you? This long pixie bob is one hairstyle that you should try. It allows you to enjoy the chic look of a pixie cut and the non-intimidating length of the hairstyle.
20. Pixie Bob with Side Bangs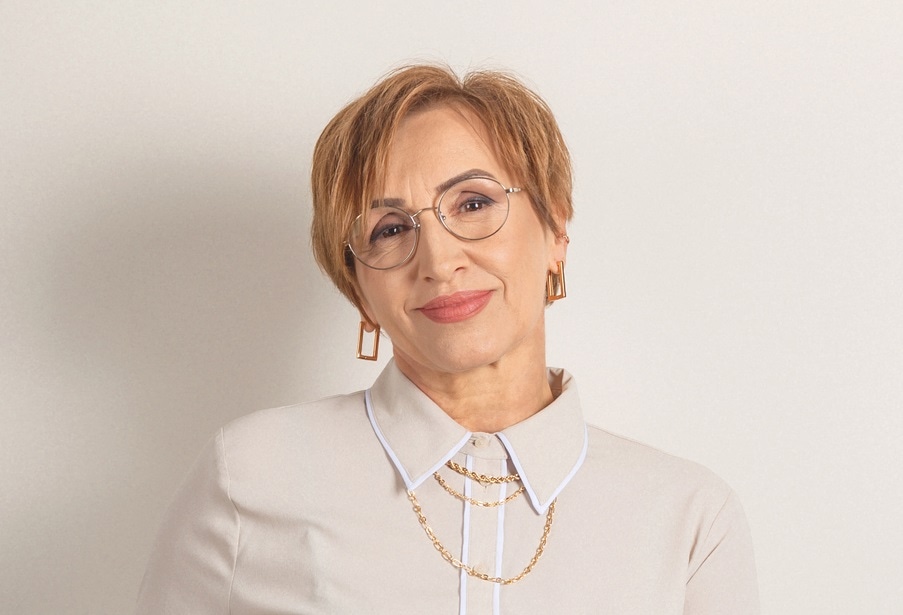 Do you want to try one of the shortest layered bob hairstyles but are afraid it will make you look fat? Well, the side bangs will solve that problem! Also, since it frames your face well, it can conceal a portion of your face, making you look slimmer.
Getting this short hairstyle might be one of the best decisions you've ever had in your life. So what are you waiting for? Choose from any of these layered bob hairstyles ideas for ladies over 50 and update your look!