Do you want a versatile haircut that works for everyone despite the hair length? From a very short chop to hair that almost touches your hips, this hairstyle is going to work for everyone. We are talking about the shag haircuts for women that have been in trend for decades now.
The essence of a shaggy hairstyle is its messiness. If you're a lover of retro looks then this hairstyle is made for you. Blunt layers are just too boring. So try out the edgy layers of a shag cut to transform your look.
25 Shag Haircuts to Transform Your Look
We've compiled a list of shag hairstyles for you to try out the next time you visit a salon.
Curly Shag
Here's an 80s-inspired hairstyle that's perfect for this fall. The curls complement the If you're a fan of stranger things, this shag haircut is going to float your boat. Pair with chunky knit sweaters and high-waist jeans, this look is going to steal some hearts.
Dipped In Blood
If you want some variation in your hairstyle you can always experiment with color. And what better way to do so than by going bold? Try out this dip-dye hairstyle that has gorgeous red color ends and beautiful straight bangs.
Curly Queen
All our beauties who have the gift of naturally curly hair can add a bit of dimension to their hair by getting a fine chop and adding some layers here and there. Not only will this give your hair the desired shape but also help you manage it better.
Drop Blonde
The perfect blend between style and elegance, this graceful shag hairstyle will have you feeling like a French girl. This neat look has the perfect face-shaping bangs and is ideal for girls with round faces. The light brown color just adds to the whole charm and ties the whole look together.
Stylish Long Mullet
Do you want a soft look that is breathtakingly gorgeous, pretty casual, and infinitely easier to style, yes? Try out this mullet-inspired shag hairstyle.
It's a variation of the traditional cut and is more modern and edgy. Different layers and cuts are incorporated to adapt a style that will be suitable to your face shape to highlight your best features.
Messy Shag Cut
If you want a long edgy hairstyle that is wearable yet gorgeous try this one out. The blown-out bangs at the front give it the look of a wolf cut. You can style this hair with a round brush and use some texturizing cream to make sure you achieve the "messy" look.
Gorgeous Curls
The shag hairstyle is very versatile and is suitable for all hair lengths and textures. However, it works best with curly hair since it already has the desired volume. The layers add more movement to the curls and are less visible. The curls add a softness to the look and make it all the more attractive.
Wavy Blonde Ends
One of the best ways to style long blonde hairstyle is to add waves to them. If you have naturally wavy hair and you want a laid-back look for the summer then a shag hairstyle should be ideal for you. This layered hairstyle will suit short, medium, or long hair alike.
The Mullet Style
The haircut is the modern shag haircut with a twist. It's a cross between the long shag of the 90s and the famous mullet of the 80s. It combines the best features of the hairstyles and has an edge over the regular hairstyles for women.
Shaggy Bob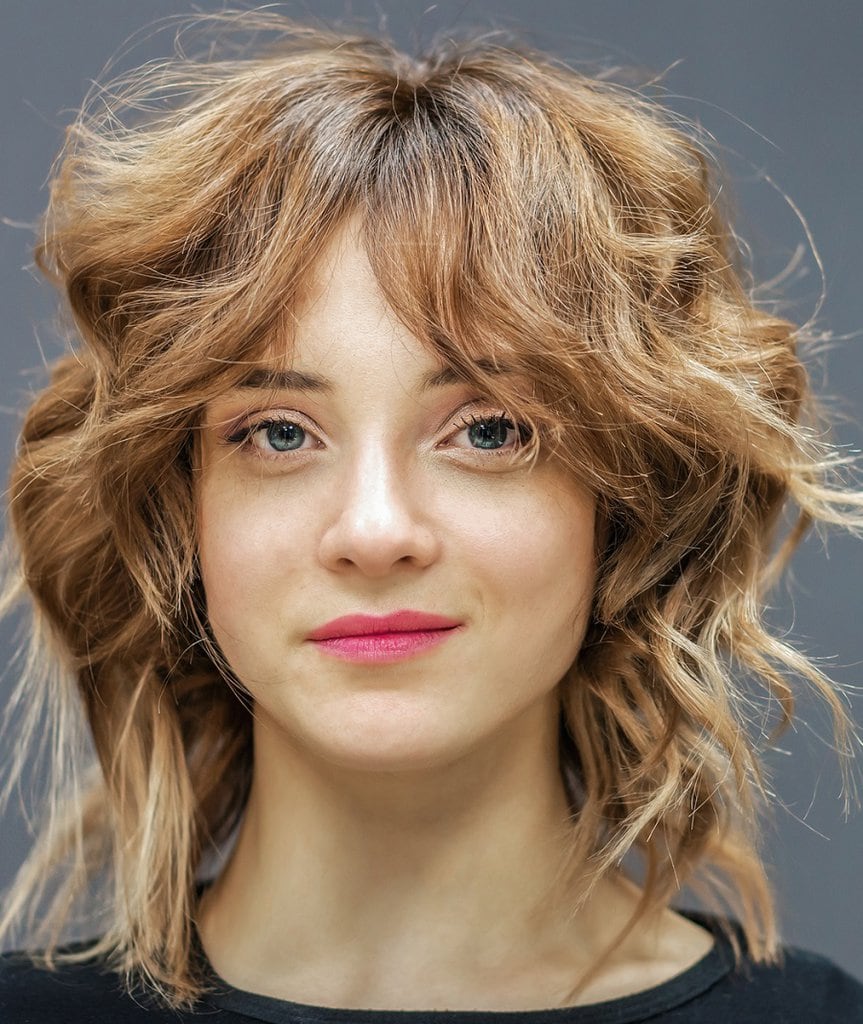 If you want to add volume and texture to your short hair, this haircut is a way to go. This hairstyle is called a shaggy bob and has an entirely different appeal than a normal bob. Any face shape can pull off this haircut if you make slight changes in the layers and fringes.
Red Feathered Hair
A great spin on any regular hairstyle is to dye it a gorgeous hair color and what better hair color is there than the beautiful red? Do try out this edgy hairstyle and make a bold statement with your unique style.
Shag Haircut for Long Hair
If you have long hair and are in the mood for some shag haircut go a bit extra with your layers. The shorter and choppier the layers, the better they're going to look on long hair. The layers give a boho twist to your long hair and add depth and dimension to your plain hair
Layered Curtain Bangs
Who doesn't love a sleek, neat look? Here's a sleek shag cut with the perfect curtain bangs that just looks like it's straight out of a fashion magazine. The shades of blue blend together seamlessly adding to the charm of the entire look.
Messy Bangs
This shoulder-length shag gives all kinds of bob a run for its money. This hairstyle is a blend of both modern and retro hairstyles. If you have a thin face frame this hairstyle would suit you a lot.
If you have fine hair you can rock the shag haircut. The weightless silhouette of the haircut suits fine hair and gives it more life and texture. Blow drying your hair would amplify the layers and add even more volume to your hair.
Multi-Colored Bob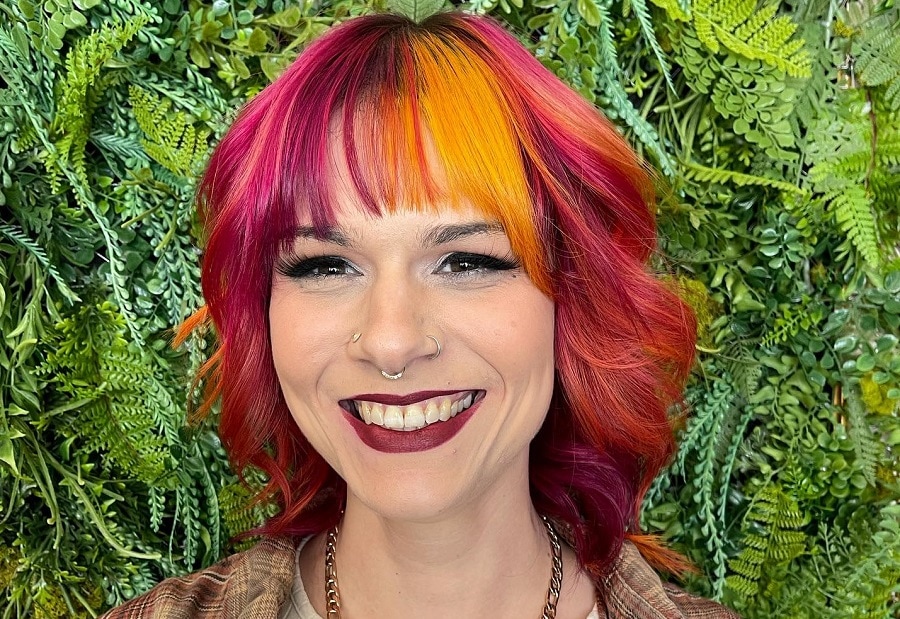 If your life is going a bit monotonous and dull, it's time to add color to your look. This unique and funky shaggy colored bob has been dyed to perfection with all kinds of colors from red to yellow. The beautiful colors complement each other just like this beautiful hairstyle would complement you.
Gorgeous Green
A shag hairstyle is always great but you could walk the extra mile to add a few elements to your hairstyle that can make it stand out. For example, you could try to add some curls and a funky green color to create this unique hairstyle that's surely going to make you stand out in the crowd.
Feathered Hairstyle
This hairstyle consists of feather layers and some gorgeous wispy bangs. This easy-to-style hairstyle is perfect for people who don't have much time to spare in the morning. This effortless hairstyle will have you ready in just a few minutes, and no one will even be able to tell.
Layered Lob with Bangs
As we have already mentioned that shag hairstyles suit hair of all lengths. If you want to try shorter hair but don't want to go too short, this hairstyle is going to be perfect for you. This hairstyle will draw all the attention to your beautiful round face and no one will be able to keep their eyes on you.
Pink Surprise
A shag haircut has intricately cut layers that shape your face just right. Add a few face-framing hair colors like this bright pink one, and add the right oomph to your hairstyle that will take your style up a notch.
Wolf Cut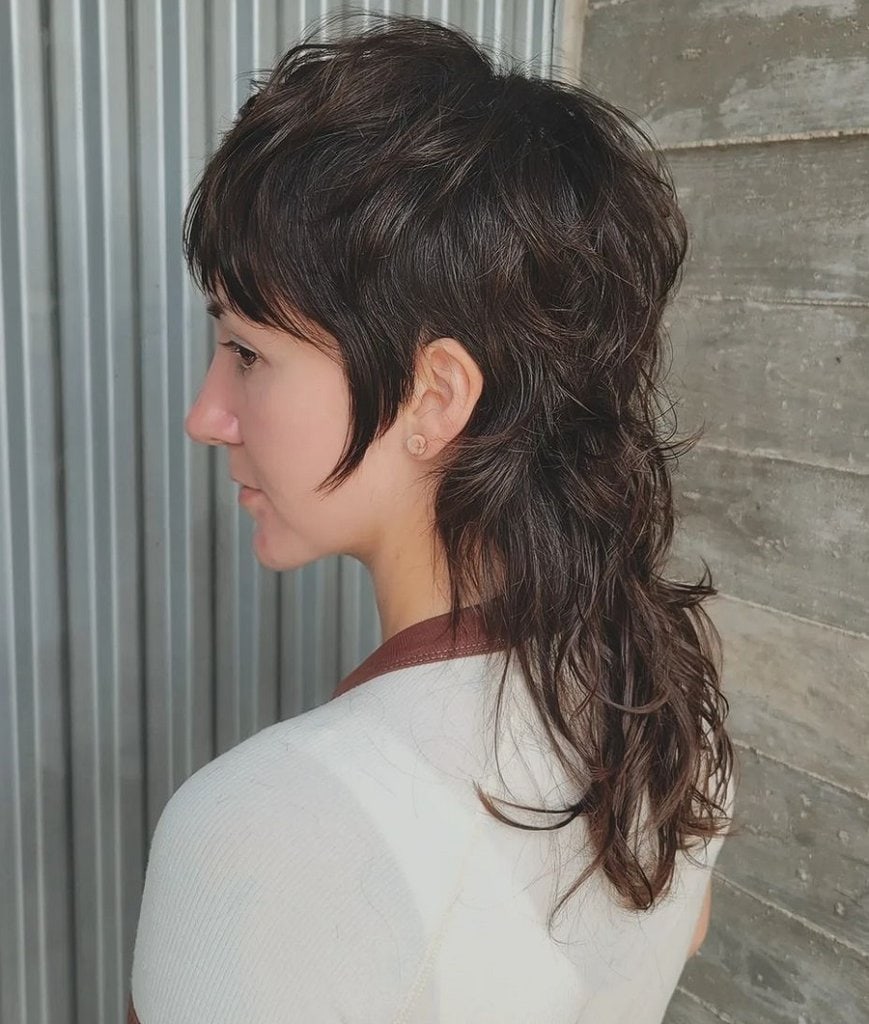 If you want to move one step ahead and experiment even more with your look, you can amplify your hairstyle by adding a mullet to it. The specialty of this heavily textured look is that it can be achieved on all hair lengths so you can either go super long or super short with this one.
Very Short Shag
This hairstyle plays with layers of lengths of varying sizes. If you think that it won't work with hair of short length you're wrong. All you need to do is add some baby bangs and side bangs to your hair you have the perfect short shag hairstyle for women.
Middle Part Bangs
Want to try a super funky and experimental hairstyle? If you want something simpler and more appropriate for daily wear, here's a simple short hairstyle with some gorgeous layered curtain bangs at the front.
Yellow Shag
In the mood to add a little bit of sunshine to your look? Here's one option that will make you light up any room you enter. This yellow-shaggy hairstyle for women with some orange hues is the perfect hairstyle for you to express your creativity and personality through your looks.
Layered Blonde Shag
A choppy blonde shag with curtain bangs is a trend to try. This choppy haircut will give more volume to thinning hair. Textured curtain bangs will create a little more fullness.
Shag hairstyles are the biggest trend right now. Anyone can hop on the bandwagon and try out this fun look for themselves since this look suits everyone. It's the perfect way to look sexy all the time. Looking for haircut inspo this season? Why not go shag! Check out these 25 trends and frankly, breathtaking haircuts of 2023 now!