With long, thick hair, one has several haircuts to try, but the choices reduce with fine hair. Thus, these shag haircuts for fine hair will be loved by them, and it's trending too.
And why shouldn't it be trending? All the layers to various lengths of this haircut give a natural texture to your hair which you can show off to others.
Now the question arises of what hairstyle you should opt for so that it gives you a classy and trendy look and goes well with your face, age, and occasion. If you are confused about your haircut, you are at the right place.
Lovely Fine Shag Haircuts for Women
Get a bouncy, voluminous look with these styles and look awesome.
Messy Baby Pink Layered Cut
Get a shag haircut for your fine hair with a light pink shade. It would go perfectly with medium-length hair.
It would make your fine hair texture look naturally medium or thick. A simple combing or messy look would be relevant for an outing with friends or family.
Shag with Curtain Bangs
You can go for diverse and creative shaggy hairstyles for long fine hair. The platinum blonde shade can be paired with any outfit.
You can go anywhere by keeping your hair open with a middle partition. Go for slight waves that would provide volume to your hair.
Feathery Mid-Cropped Look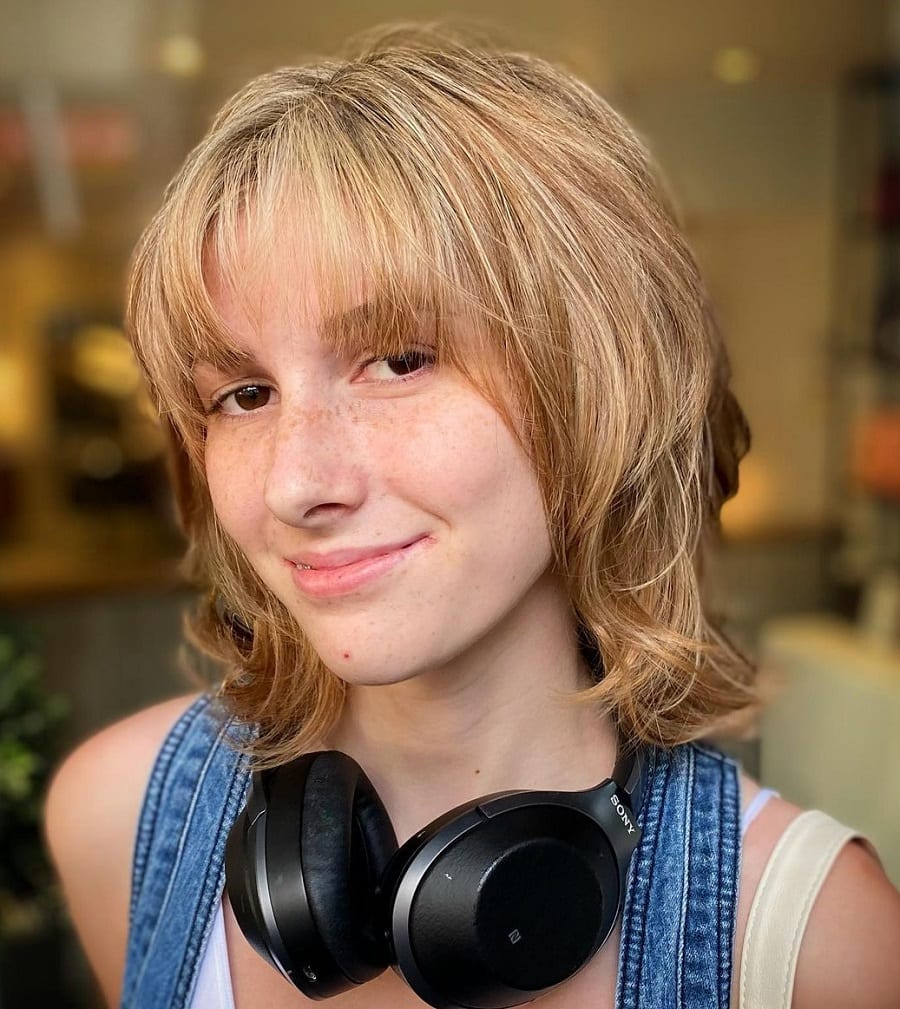 Bob haircut is a medium-textured easy-to-maintain hairstyle, and if you made this hairstyle once, you could go to bed with the same. In addition, the shiny blonde color would give you a stylish look.
Best suited for a casual look, and women of any age can go for it. You can even go jogging with this style, wherein pairing up with headphones would make you look fabulous.
Soft Purple Waves
Go for pastel purple highlights with light loose waves. Keep your thin bangs at the front to complement your square-faced shape. It's a great look for any occasion,
Messy Blonde Bangs
When you don't have much time to style your while going out, just tousle your hair. Go for the middle partition and use your finger to detangle your long shag hair.
Curl your front fringes outward to get a messy shag and add texture to your thin hair. The combination of brown and blonde colors would be stylish.
Classy Wavy Ombre
Do you want to get ready for a festival or party? Here is a brown and blonde ombre for a medium-length fine shag haircut. Creating soft waves would give medium volume to your hair with a classy look at a party or any festival.
Razored Fierce Look
Keep the longest layer of your hair just below your shoulder and the shortest in the front. The razored and edgy look to your platinum and yellow hair would make it office-ready.
If you have fine curly hair, this is one of the best shag hairstyles. First, get your hair colored in a chocolaty shade, then style it messily by making a middle partition.
It is surely a style loved by teens who have less time to style their look but still want to look stylish.
Blonde Brown Edgy Waves
Blonde-brown shade would give your medium-length hair an elegant look. However, to make your hair look thick, go for a wavy look and leave the short front bangs messy.
Style it with ear and nose accessories, and you will rock the look. People will envy your look, and your friends will not stop complimenting it.
Greenish-Yellow Choppy Ends
Love coloring your hair? Well, this time, choose something different, go for a greenish-yellow combo.
This will give your shoulder-length hair a sharp rejuvenating look with skin grazing short bangs in front. In addition, this hairstyle would create a fuller look for your fine or thin hair.
Red Shaggy Bob
Sometimes you don't want to handle long hair or want to go for a tomboyish look. So, go for a short shaggy bob, keeping front hair short and back long.
Then, go for this layered red bob for a voluminous, bouncy look. It will compliment your overall look and blends well with all sorts of outfits.
Blunt Cut with Razor Bangs
Give an edgy look to your medium-length hair by cutting it into long layers with razor bangs in front.
Golden brown color would give you a natural look, and messing a little with the hair would give it a natural texture. A silver nose ring would make you look cute and rebel as well.
Wispy Bangs
It is a big task to style your hair while going to work. But, first, you must ensure that you look presentable and professional in front of your colleagues.
Wispy blonde layers would give a stunning look to your medium shag haircut as well as texture to your fine hair.
Sassy Feathery Hairstyle
When you want short hair and a beautiful girly look to your thin hair, have a feathery layered haircut. Then, style it into sharp waves with short bangs on your forehead. Golden color would make you look younger than your age.
Short Pink Bob with Curtain Bangs
Curtain bangs are loved by those with wavy hair as it's easy to manage. Also, a combination of dark hair such as dark brown with light pink looks great on a chubby face.
Here, keep your fringes and root hair in a dark shade, whereas the rest in a light shade. Then, use a wide-teeth comb or your fingers to set your hair, and it's done. Again, a total swag look for teens.
Feathery Mullet
In a mullet haircut, you have to keep your hair short on the top and sides and long on the back.
You can choose a mullet shag that would give your fine hair a thick feather-like look. Get a combination of brown and blonde colors to look more stunning.
Multicolor Mullet with Layers
Get your thin hair a mullet haircut with various layers and colors. Keep the longest layer at the sides, on your shoulder, and the shortest on your forehead.
Leaving the middle portion of your hair in black color, get the edges and bottoms of the hair multicolored with a combination of green, purple, yellow, and orange. Then, pair it with a multicolor earring.
Rebellious Burgundy-Pink Curls
If you want a rebellious and dominating look, get your hair colored in vibrant burgundy pink with chocolate brown highlights in random bangs.
To make your hair look volumized, curl it into short waves with the longest bangs just above your shoulder. Keep the shortest bangs just above your eyes styled outwardly from the middle.
Pixie Shag
When you want to follow the trend of short shag haircuts for your fine locs, you select a cropped haircut. The burnt orange color would give you a young look.
This would be a low-maintenance and effortless hairstyle. Pairing it with small studs in your ear would make you look amazing.
Straight Silver Hair
Go for a pixie bob with blunt bangs for fine, straight hair. Getting a multilayered short haircut can help you too.
Now to add some charm to your look, add highlights. You can get it colored in grey with sky blue at the bottoms. Wearing specs would make you look cuter.
Edgy Bob with Blonde Highlights
You can easily style your thin short hair for a professional and casual look. However, sometimes you find it difficult to maintain long hair.
So you can get your long hair cropped in soft feathery layers with sharp, edgy ends. Platinum blonde color would be an excellent choice for this haircut. Also, broad frame specs would give you an intellectual look.
It becomes difficult to handle long, fine hair. You should get a shag haircut for your white or grey thin hair to keep the longest bang below your neck. It would give your hair a soft and silky look. You can pair it up with small black earrings.
Brunette Layered Haircut
Cutting your thin hair into shaggy layers would be a creative modern cut. Chocolate color would provide your hair a soft and smooth look with baby bangs falling on the forehead.
All these hairstyles would be like a cherry on the cake for your makeup or non-makeup look. No more worries about how to style your fine hair with these amazing shag haircuts.
Embrace your hair's natural texture and try these styles to flaunt them flawlessly. Of course, you should always choose a hair color that complements your complexion. So get ready with these hairdos and look fab every time you go out.