The shaggy bob haircut has been a classic style for decades. It will suit any person, preference, face shape, and combination of colors and other stylistic elements.
It is a beautiful hairstyle that you'll feel drawn to, fall in love with, and get for yourself. This style is perfect for people who need a style that looks good with no effort.
Fantastic Shaggy Bob Haircuts To Try
There are lots of ways to style shaggy bob, and some of our favorites are listed below. Take a look and see which ones you think will work best for you.
1. Shiny Silver Shaggy Bob
A silver shaggy bob is so simple yet draws the eye so well. The color is trendy and unique and it works very well with dark eyes and a male complexion.
It gives a kind of wintery vibe and makes a simple side-parted, layered bob look incredible.
2. Vibrant Pink Curly Bob
If you'd like another color-rich bob that has the color to make the hair stand out, here you go. It's a wonderful vibrant pink that's kind of on the rusty and warm side, but it's still very much a pink look.
The bob itself is delightfully messy and incredibly curly.
3. Neat and Curly Ginger Bob
Natural-looking ginger bobs with hair that falls to the chin and ends bluntly look great.
There are curls and layers to it that make it appear shaggy, and it's a very simple, natural and center-parted look overall for a perfect everyday look you'll love.
4. Messy Choppy Black Bob
This shaggy bob is incredibly shaggy, thanks to all the layers and curls that make it up.
It's very thick and chic, and it's a totally unique look as it's center-parted and full of volume that you won't be able to tear your eyes away from every time you style it.
5. Neat Pink Bob
Unique tones like this cotton candy pink colored bob are always fun. There's some darker pink towards the roots and under the hair.
It's cut into shaggy layers to create the shaggy bob look, and it's very modern and casual while also having a chic and party-ready element to this style.
6. Choppy Blonde Look
You can achieve this shaggy bob haircut by having very choppy ends and bangs to a very simple and ultra short blonde bob.
The bangs brush the forehead and the rest of the hair falls to just below the chin with some shorter parts of the hair hitting the jawline very nicely.
7. Curly Blonde Bob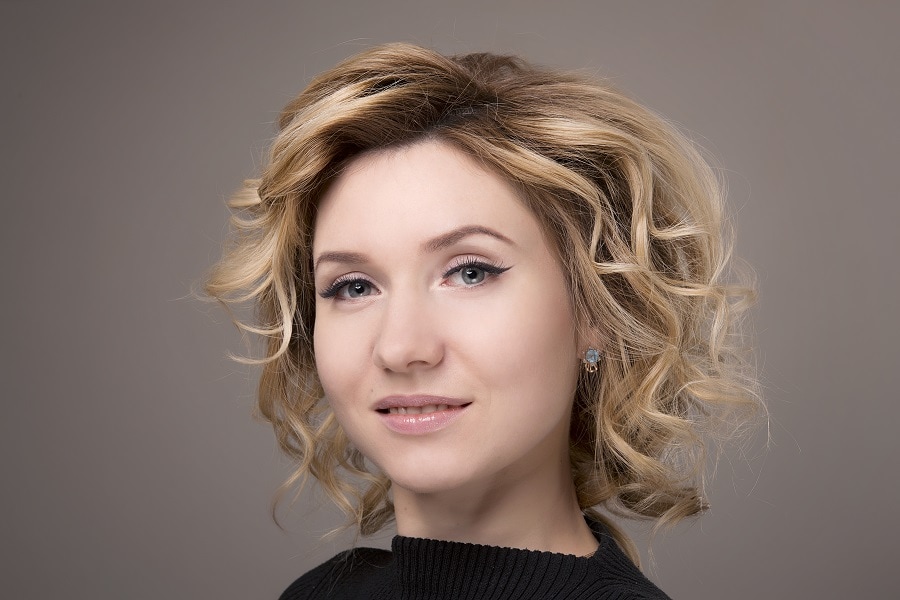 Do you want a warm-toned hairdo? This dark blonde bob is warm blonde with slightly darker roots.
It falls to the nape of the neck but there are layers in the curls that create a shaggier shaggy bob look that you can't turn away from and would love to run your fingers through.
8. Platinum Waves
Platinum blonde helps make bright colors of clothes and makeup bob very well, and it's something that you'll enjoy.
As for the haircut, it's a full shaggy bob made with thick hair styled into some nice waves by the face that could also be considered curls.
9. Grown Out Pixie Bob
Check out this shaggy bob look that resembles a grown-out pixie cut. The hair is very short in the back and very long and shaggy in the front.
It's longer on one side of the head and the hair is a natural color mix of blonde and light orange.
10. Thick Bob with Layers
Thick hair has a lot of flares. As you can see here, the thick bob gets its shaggy look from the lovely layers on the top of the hair.
There are many waves in the hair and it gets curly towards the end. The bangs are thick and loosely waved to create a face-framing effect.
11. Loose Long Waves
Rick brown looks very natural here. These waves are very loose in this long bob, making it look shaggy.
It's a center part that has more volume on one side, so that makes it look like a side parted look even though it's not.
12. Natural Reddish Look
Looking for something unique? Two strands of blue hidden on the underside of this very nice haircut add that uniqueness you're craving.
Other than that, it's a very natural style where the bob is side parted and has loose curls in the natural reddish hair.
13. Choppy Bob with Blonde Ends
Choppy cuts and layers create a wonderfully shaggy look. The hair is a delightful brown color, but there's some blonde on the ends of the hair that extends in tendrils up through some parts of the overall hairstyle.
14. Wavy Blonde
Bangs look so good with shaggy hair. Here the bangs frame the face at the front, while the rest of the hair carries a classic bob shape.
The cut is very flat to the head, but its choppy layers and messy curls still make it look nice and shaggy
15. Rich Wavy Brown Bob
Captivating colors like this are always in style. It's a very rich brown shade to it that's light and it's so light that it's almost a deep, warm blonde.
The hair has a nice wave in the front that blends the bangs into the rest of the hair, and there are some layers to add the shaggy look.
16. Orange Hair with Dark Roots
Dark roots stand out here, but most of the hair is a vibrant orange color. The hair is very stylish and shaggy thanks to the layers that construct the slightly wavy look that falls to just above the shoulders in a long bob style.
17. Dark Hair with Blonde Highlights
Have some fun with a retro and totally rocker look that has a lot of volume on top thanks to ruffled styling and lots of layers.
The dark hair is touched with blonde on the bangs and on one side of the hair at the front.
18. Pink and Orange Bob with Bangs
Longer bobs have so much elegance, and this one has shorter parts by the face and bangs that are cut in a shaggy style.
The hair is vivid pink all over but there are strands of orange that run through it, mostly towards the front. Some darkness underneath adds contrast.
19. Pastel Rainbow Hairdo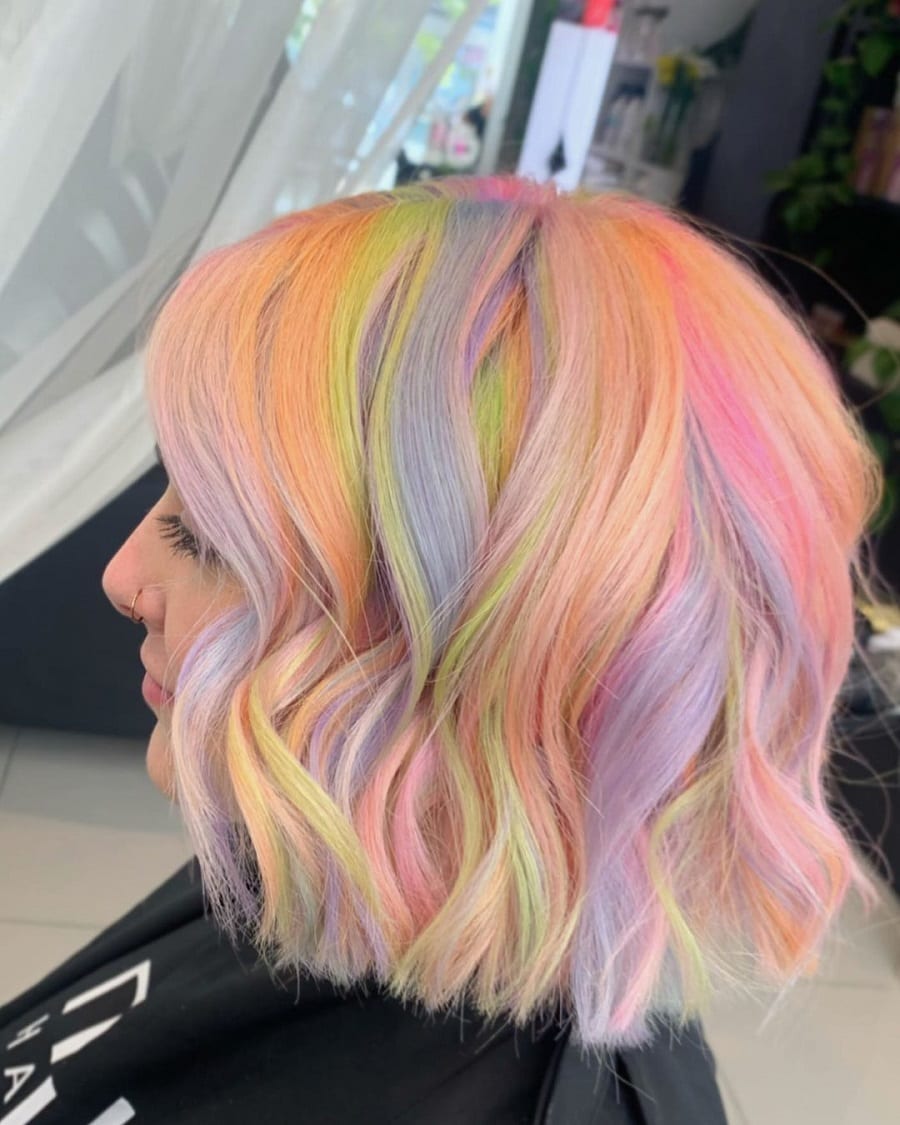 Your eyes are drawn to the colors here. It's full of pastel colors with some examples being pink, orange, purple, and yellow.
The yellow is the brightest color in it and has a slightly neon hue to it. Alongside that, the shaggy look has very neat waves and bluntly cut ends.
20. Face Framing Pink and Yellow
Face framing shaggy looks always help you look your best. Here's one with a lot of volume and length in the curls at the back.
The top has a lot of texture to it, and it's vibrant ginger all over with pink and yellow framing the face to give it an edge.
21. Dark Hair with Golden Highlights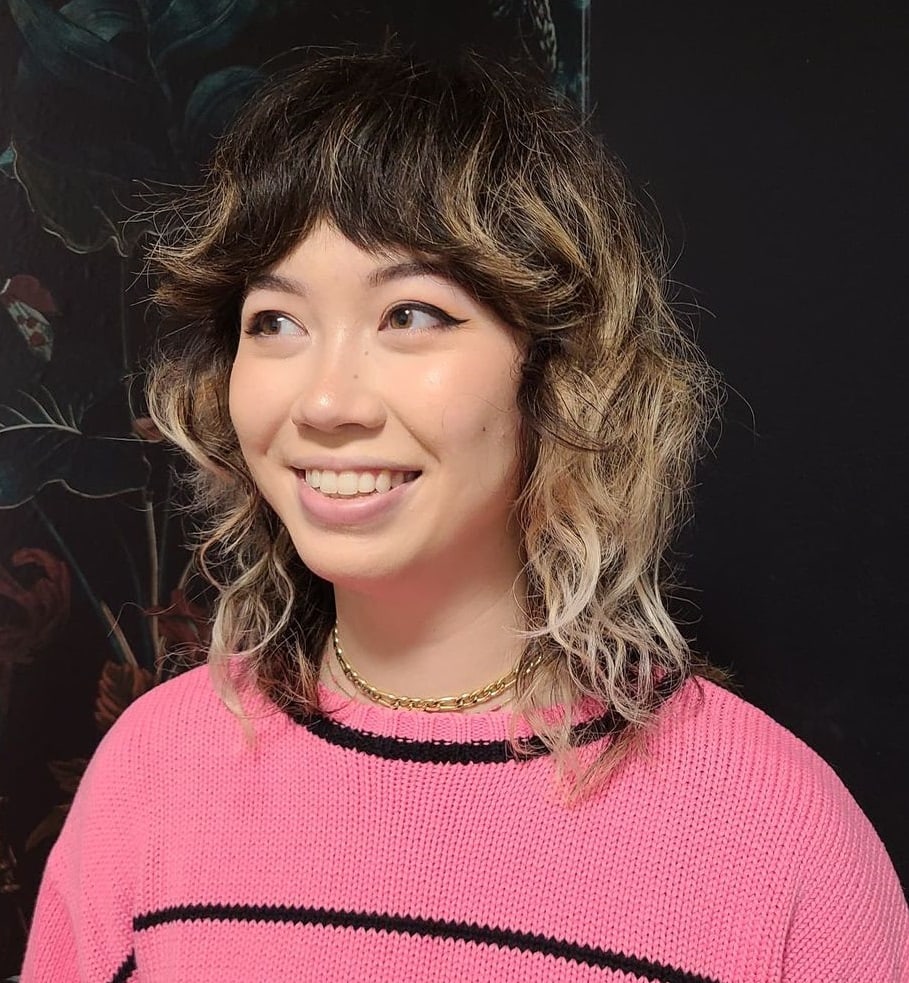 Here's a wavy style with lots of flyaways, making it look cool. It's a longer bob with a lot of shagginess, and it starts off very dark and quickly transitions into a light blonde color that looks fantastic.
Just look at all the colors and styles you can have with your shaggy bob. It is incredible how one simple little style can create so many vastly different looks for you to fall in love with and try out as your new signature hairstyle.
Your hairstylist will be able to give you lots of styling tips and tell you how often you need to return to touch up your haircut or color, and you will have a good time showing your brand new hairstyle off to all your friends and the rest of the world.