If you're looking for a haircut to make your face appear slimmer, then you are on the correct platform. Bobs are the best hairstyle for round faces as they naturally elongate the face shape.
With the help of the proper styling and cutting technique, this face shape easily diminishes with this haircut. The best bob for round faces is till chin length from the front, and you can prevent your face from looking chubbier.
Moreover, the style draws away attention from your jawline and other wider parts of the face. You can even cover up your broad forehead by adding bangs to it.
Bob Hairstyles for Round Face for All Seasons
With these bob cut examples, you'll be armed with several stunning pictures to show the stylist that'll suit your round face.
1. Angled Bob for Round Face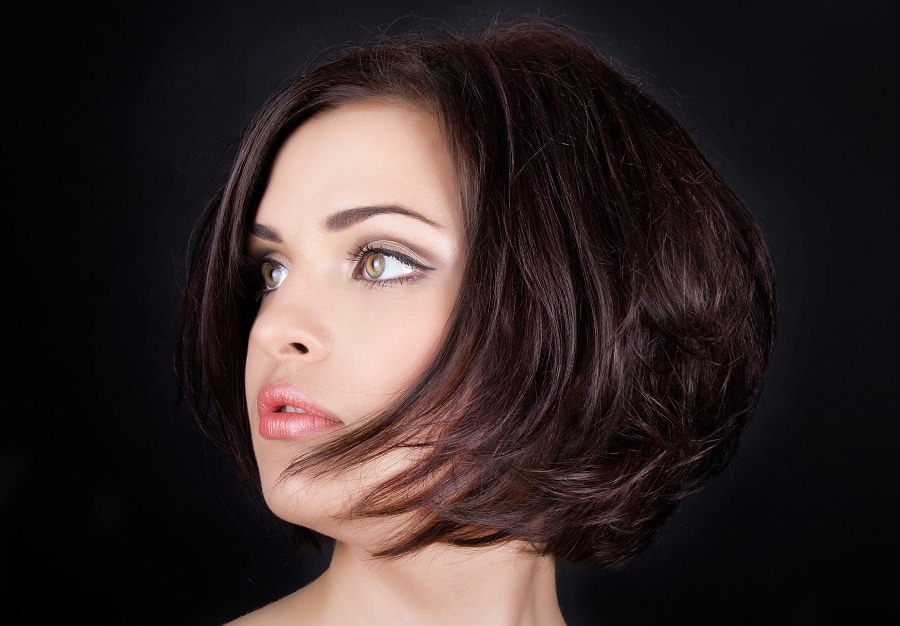 The style will further enhance your straight hair as it brings out the natural beauty of your hair. While styling, you can use a flat iron to straighten the ends towards the neck to make the cut look blunt and add some volume at the back. It looks great on thin as well as thick hair.
2. Asian Bob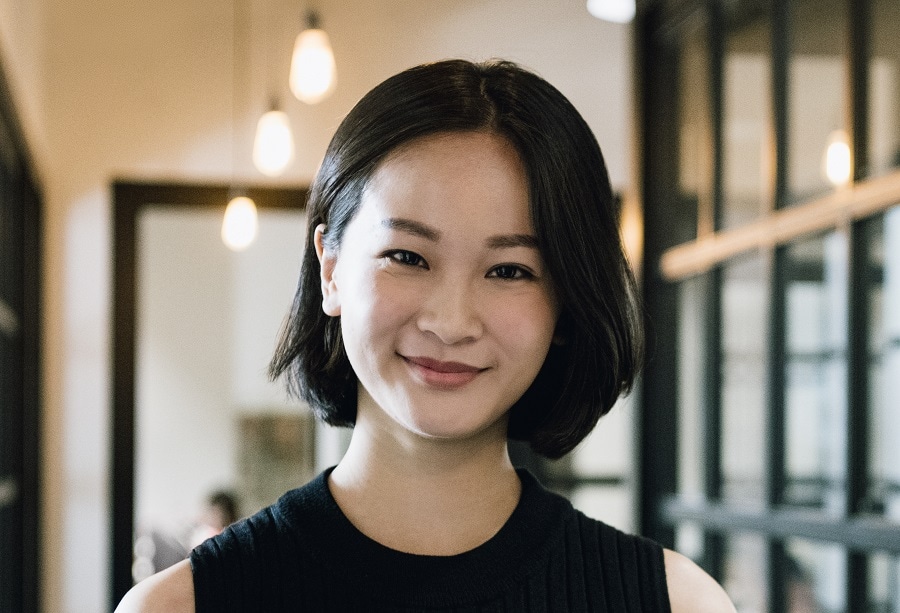 One of the easiest hairstyles for short hair which is quite flattering for round faces. Keep the hair length to your neck and choose either to center-part or side-part your hair. It will add more flow and movement while keeping the look fresh and light.
3. Messy Blonde curls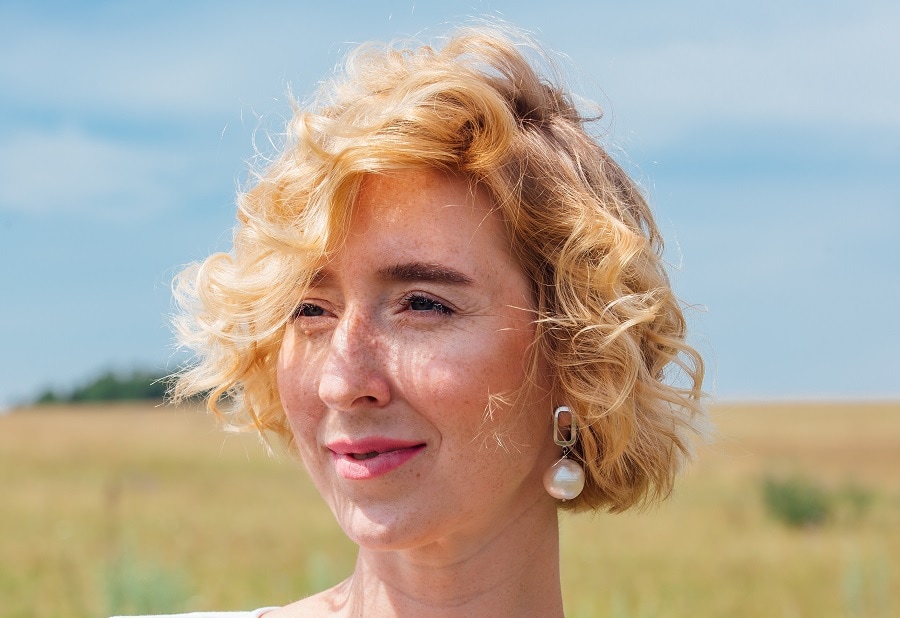 In order to get a pretty sun-kissed look, go for this style that is most suitable for a fair skin tone. This is an incredibly stylish and fancy way to style your hair that looks great if executed perfectly.
Just keep your hair below 2-inches below the ear and make curls to add more volume or bounce to your hair.
4. Shoulder Length Lob
Try this shoulder-length bob cut that can go well with a round face to have a glowing, shiny look. You can middle or side part your hair and just blow-dry the ends to give a slightly tousled look. It is a great way to style your hair for a casual outing.
5. Strawberry Blunt Cut
Keep the hair length till your neck, and go for a blunt cut. Let the hair fall freely, covering one side of your face which will make your face look slim and elongated. Add the freshness of strawberry blonde color to it, which will surely draw attention to your eyes and lips.
6. Icy Blunt Cut with Bangs
It is the perfect option if you have a fair skin tone and want a simple yet youthful look. The style is ideal for straight, medium, or thick textured hair.
Let the bangs cover your forehead as well as eyebrows, which will surely make your face look charming. You can try this look for a casual or official meet.
7. Jet Black Bob
For medium to dark complexion women, this is an ideal hairdo, even for those who love their black hair and don't want to experiment with colors. The style is easy-to-maintain, without needing many products.
Just get a chin-length cut, middle part them, and flaunt your natural locks. It will go well with medium to thick textured hair and even naturally hide your chubby cheeks.
8. Side Parted Hair
For women with glasses, this is the most suitable cut. You can give your hair a golden brown touch to make it ideal for any occasion. This is a casual and relaxed way to style your hair that frames the face perfectly while wearing glasses.
9. Sleek Lob
If you're aging and want a sleek, professional look, just go ahead with this option. This shoulder-length ombre bob hairstyle is ideal for any businesswoman with a round face and easy to style.
10. Straight Blonde Hair
If you're looking for a cool, sassy look that complements your piercings, go for a blonde bob. The side-swept bangs mix seamlessly with your locks and frame your face. This look adds depth by making the cheekbones pop and is ideal for any occasion.
11. Black Bob With Fringes
Another professional look is this medium bob cut for women with round faces. It is ideal for thin as well as medium hair. If you have thin hair, just give the ends of your hair a loose curly look to make it voluminous and add fringes to cover your forehead.
12. Short Sleek Blonde Look
Women over their 30s or 40s can try this side-swept look. The hair is swept to one side in this look, leaving just a small part on the other side. The longer side creates an asymmetrical look that changes the facial appearance. This look is cute yet sophisticated, making it ideal for any occasion.
13. Wavy Bob
In order to dress for a royal party or any special event, then this is the perfect option. Keep your hair just below the ear and add some waves to it; you will get a subtle and beautiful look.
It does not give a flat look and frames your round face. Pair it with some nude makeup, and you're all set for the event.
14. Copper Brown Hair With Bangs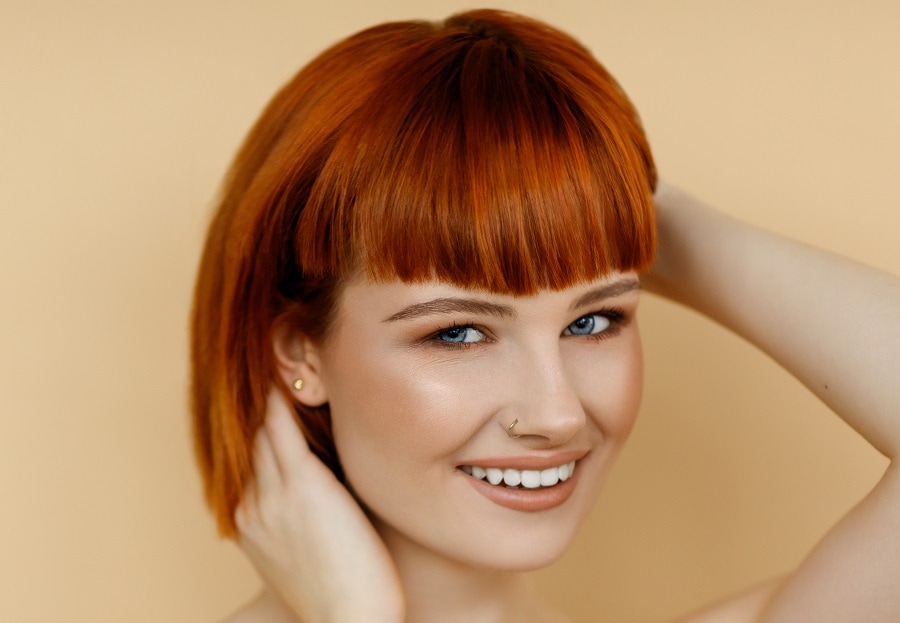 If you have a fair skin tone and straight hair, try this look. The blunt cut with bangs frames your face and gives an edgy vibe to your standard look. Thus, if you want a fiery look, you must go for it.
15. Curly Bob With Band
Curly hairstyles with bands are versatile and look elegant when worn. Choose a headband that is not too wide and give yourself an adorable look with this curly hairdo. This can also become a cute bridal style if you side part your hair and add some pretty accessories.
16. Brown Long Bob for Round Face
If you have thick straight hair and don't want to cut your hair too short, then try this simple, sleek look. It is a great way to style your hair for a casual look that will frame your round face and make it seem a bit slimmer.
17. Peachy Blunt Cut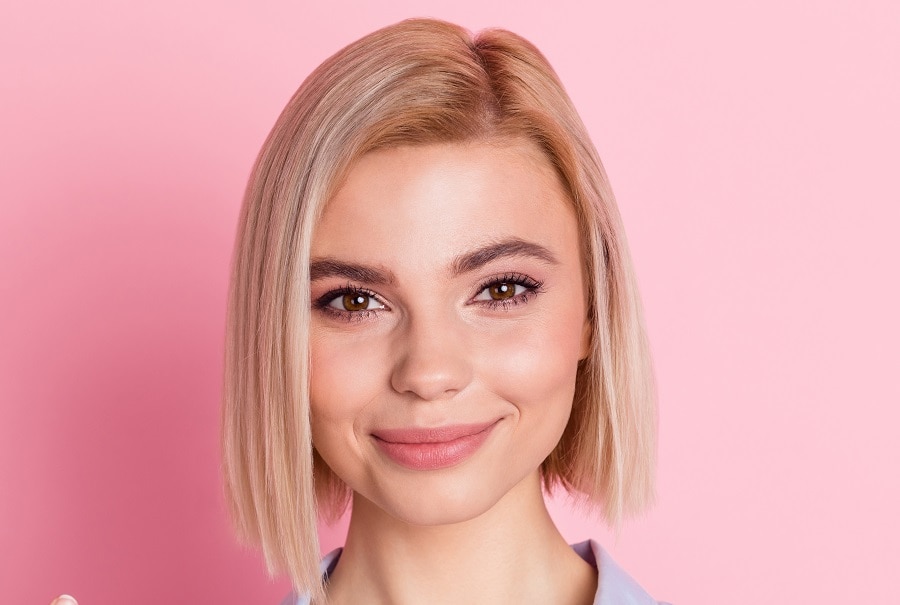 Go for this peachy pink look if you have straight, thin, or medium hair. It is suitable for fair skin tone and can go well for any occasion. This short-length cut makes the chin appear longer.
18. Curly Ombre for Short Hair
To get a prom or event-ready look, try this curly short blonde hairdo. It will best suit fair skin tones with blue or green eyes and give an elegant and adorable look. Pair it with a subtle makeup look and a white dress, and you're all set for the night.
19. Pink Lob
To give your thin straight hair an edgy look, go for this pink shade that will change your look entirely. It is a simple casual look. Keep your hair till your shoulder as length matters when you're trying to define your chin and jaw.
20. Black Pixie
Another simple hairdo for Indian or brown-skinned women is the Pixie bob. It is an easy-to-maintain hairdo as it does not require any coloring or much styling. This is one of the shortest bobs for a round face that needs regular nourishment.
So, if you're looking forward to slimming your face instantly, just ask your stylist to keep your hair short as per your choice. You can even add bangs to it to create a unique and trendy hairdo that'll suit you perfectly.
Unfortunately, the perfect bob for a round face can be a bit difficult to find; just keep in mind to create the illusion of length by choosing a cut with colors or angles that pop up, creating height at the crown. Enjoy styling with these ideas.