Pairing short hair with bangs is a super popular way to style your tresses. These days there are tons of options for you to play with your look and have a little fun with how you present yourself. So, do you want to see how you'd look with a fringe?
You may be interested in a short pixie cut or bob, or perhaps you favor a more unique style that you can pair with bangs across your forehead. Whether you opt for side bangs or a full fringe, you're going to look fabulous.
Super Fun Short Hairstyles with Bangs
Take a look at the pictures below. You'll find something you'll really love, we're sure of it!
Short Waves with Side Bangs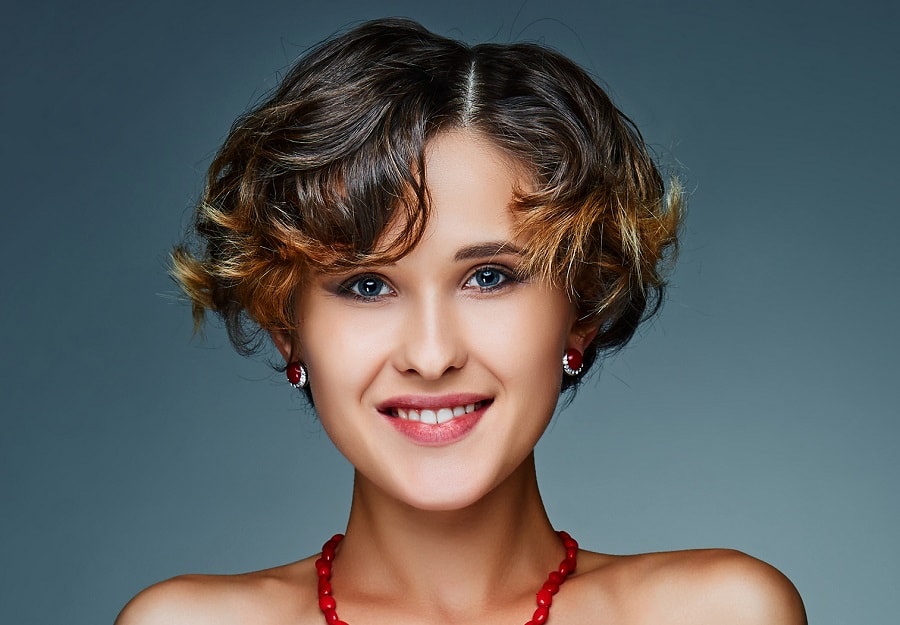 If you want side bangs for your super short hair, then why not try this look? The locks barely come down to the bottoms of the ears at the back, and at the sides, the waves make these look mid-ear length. The fringe sits on one side of the face and brushes the eyebrows.
Purple Pixie Bob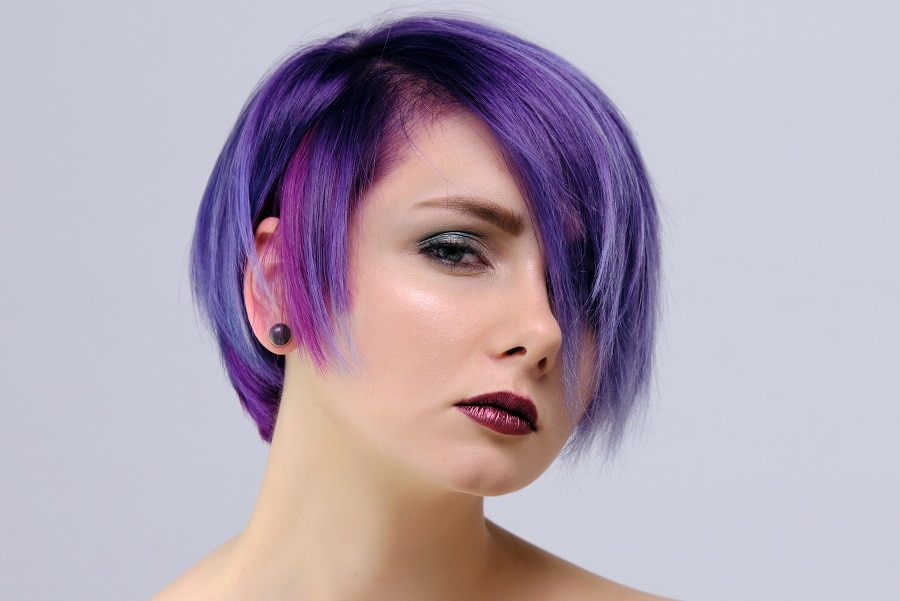 Do you have a punkish nature? Then purple will help bring that out. there are two shades here that may find fun to pair together. The short purple locks in towards the neck at the back with the thick bangs help you stand out.
Short Burgundy Hair
Burgundy and black go so well together, and they create a very unique look that you may enjoy wearing. The locks have a slightly wavy texture with ends that are flicked out. The side swept bangs cover most of the forehead, coming from the side.
Blonde Feathered Hairdo
Having short hair doesn't mean your look has to be flat and uneventful. These feathered bangs sweeping across the forehead add a ton of excitement, and they help highlight your face very well. You'll adore how much fun this style is to wear and run your fingers through.
Dark Roots and Full Bangs
Pairing your blonde locks with dark roots adds so much depth to a style. Full bangs also help add that depth to cuts that aren't very long. Here the fringe is almost full, but there's a gap on one side that creates a slightly more alluring look that you might like to experiment with.
Neat Blonde Bob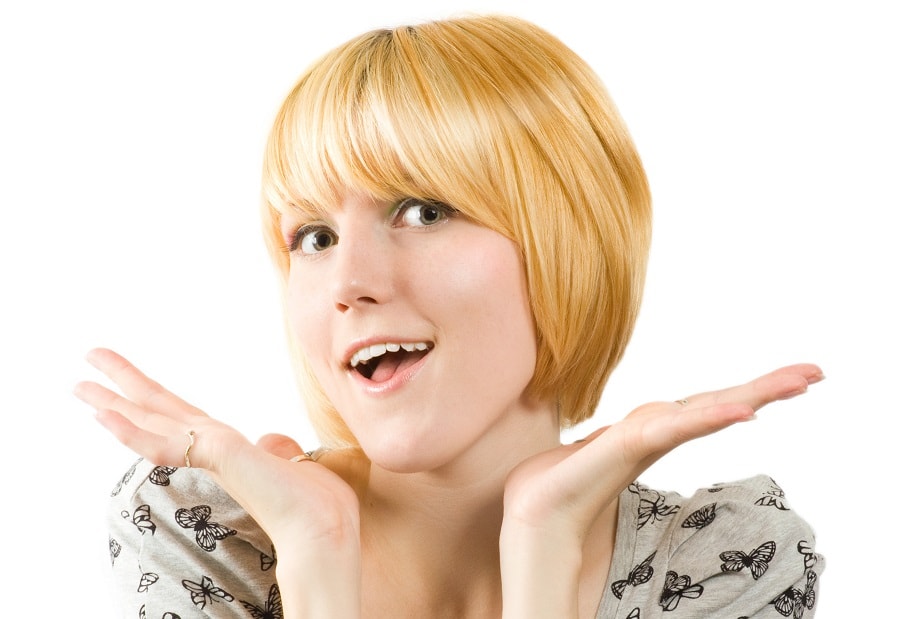 You can't beat a neat little bob. It's easy to style every day, and it can be fun to pair with different makeup styles and outfits. However, it can also be very plain, so adding some layered bangs adds some more dimension and makes it look exciting.
Alternative Blue Blunt Cut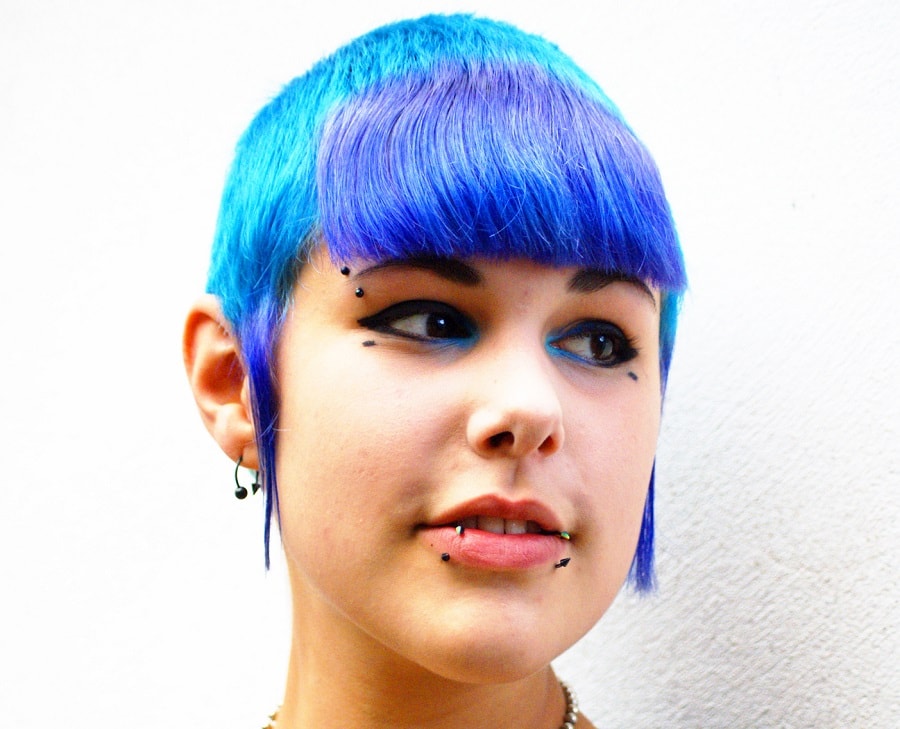 If you're a fan of the super edgy, alternative scene, then try this cut. The full bangs are super blunt and the color is dark blue. The rest of the short hair is a different, lighter and more vibrant blue shade, paired well with the blunt bangs.
Wild Purple Curls
Pastel purple helps show off your fun personality, and your natural curls look great with it.
But curls are sometimes a little difficult to maintain and deal with, so chopping your locks to ear length is a good way to minimize difficulty. Ruggle the short curls on top so they become messy, then cut some bangs to mid-forehead length.
Short Vintage Bob with Bangs
Vintage flapper hairstyles are making a comeback, and they're so nice to style and work with!
The bangs are swept over to one side, very short near the eyebrows, and the rest of the short tresses frames the face. It's decorated with a vintage headpiece with jewels and feathers.
Fine Hair Pushed Back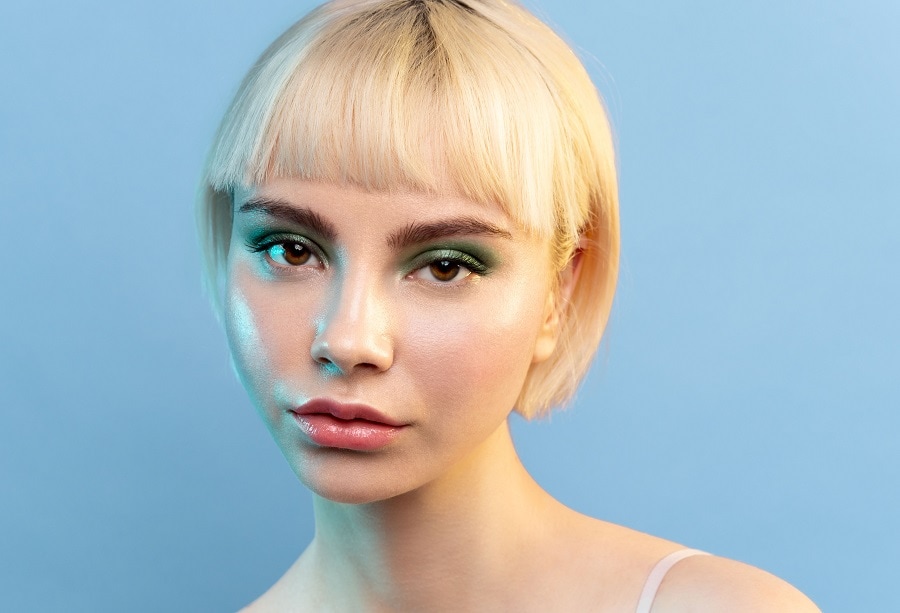 Sometimes it can be hard to style fine hair and make it look good, so use the thinness to your advantage. Push your blonde locks back behind your ears so all the focus is on your face. Then cut some nice, full bangs that don't quite reach your eyebrows.
Pink Bob with Short Bangs
Do you know what looks great with short hair? Short bangs! These barely brush the top of the forehead as the rest of the locks form a bob. It's a little edgy and has such a modern vibe to it. The light pink tone helps add to that edgy aesthetic.
Two Tone Colored Bob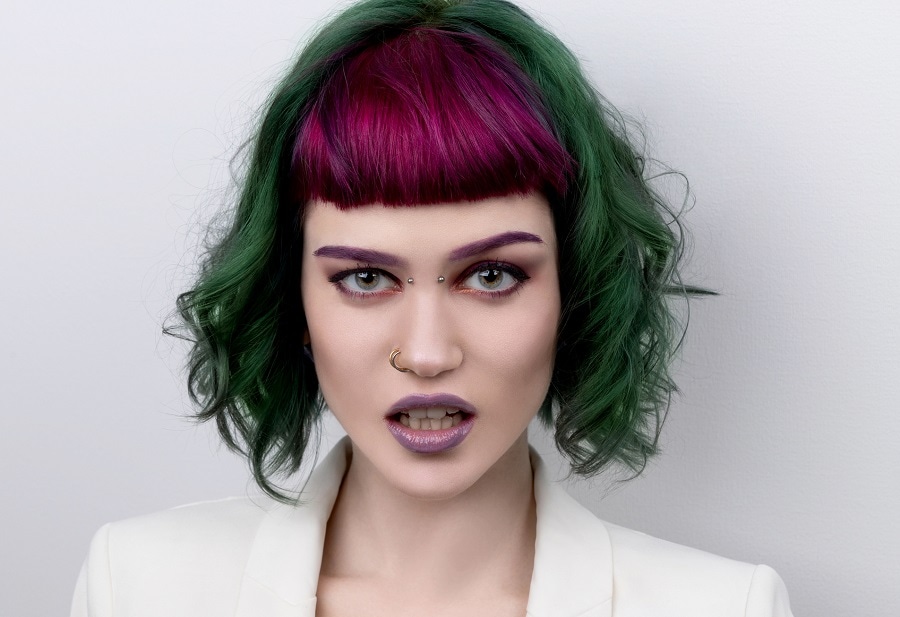 Show off your personality with these two colors paired together. A short curly bob falls to the chin in seaweed green, and thick bangs fall to midway down the forehead in a shiny, deep pinkish-purple color. It pairs great with purple lips and eyebrows.
Vibrant Messy Bob
Two-tone looks are super fashionable. Here there's a split between pink and blue right down the middle, with the locks falling to ear length. The wispy bangs across the forehead help match the overall messy vibe you'll have going on with this.
Red and Blonde Undercut
Blonde is such a calm and pale color, but the vivid red it's paired with brings this whole thing to life. However, the undercut is so unique that it's hard to define this style. Some asymmetrical hair brushes the forehead.
Layered Bob with Feathered Bangs
You can add so much depth to your locks with layers, and that includes the strands that fall across the forehead, styled from the side. The ends of this neat little bob are feathered out, and the ends of some of the layers are feathered, too.
Pastel Pink Bob
A super short bob with blunt bangs always looks good. The hair on the forehead is bluntly cut and a little thin, and the rest of the locks only come down to the ends of the ears. Two shades of pink are in this style. The roots are a dark and vivid shade, but the lengths are more pastel.
Mature Blonde Bob
More older women look great with simpler colors like this mix of blonde tones. There's a slight side parting towards the front, and some nice fringe covers the forehead. Towards the back, the parting in the style changes a little and starts coming from the other side.
Short Pixie with Bangs
Bold and daring pixies are super fashionable. This one has a blonde undercut, and most of the locks are thick and pink with hints of blonde in them. They're layered and a little choppy, and hair brushes midway down the forehead.
Edgy Bob with Highlights
A face-framing style like this is very nice. It's super short, and the sides are feathered out to add liveliness to your look. Full bangs sit on the forehead, reaching the top of the eyebrows. It's highlighted with a nice golden tone.
Asymmetrical Hairstyle
The asymmetrical haircut is very popular. Here you can see long sweeping bangs covering one side of the forehead, but on the other side, it's very short and blunt. Most of this is blonde, but the ends of it are a nice pastel purple shade.
Straight Dark Red Locks
These short dark red locks have a slight purple hue in the right lighting, but baby bangs keep the look very simple. It's all straight and it creates a nice everyday look that requires minimal styling.
Messy Layered Pixie
This blonde hair is so light it's almost white, making it a platinum style. It's a pixie with lots of layers and messiness. The front bangs are the longest part, brushing the eyebrows on one side of the forehead. The back is very ruffled to put some life into the style.
Orange Streaks
You don't have to have a crazy color all over to create a unique look. A plain brown short pixie with sleek bangs looks great, but it's made unique with this orange stripe in it. It's excellent for giving your vibe a fun flair.
Short Pixie with Long Bangs
Long bangs set this look apart from many other short pixies, and they're touched with a pink tone. Most of the hair are cut short and have a very light blonde color. The ends of the hair across the forehead are feathered upwards, adding a lot of depth to it.
Short Spiked Pixie
This short punk look has a dark purple base color, and the colored bangs sweep down to the nose and have blue and red colors mixed into them. It's a super punk look that you'll love if you like dark and bold aesthetics.
How many of these short hairstyles with bangs do you want to try? You're truly spoiled for choice here.
If you plan on chopping off your long locks, then consider bangs to go with it! They add depth and volume to every look. Plus, they're extremely fashionable and fun to play with.