Women with square faces are said to age well, with their jawline standing out. So to play up your best features, we provide you with some of the best hairstyles and tips.
There are multiple hairstyles for square faces, but bangs and layers remain the best. These aspects will help soften the features and make your face look strong.
While working on your styling, focus on volume at the roots to correct the proportions, making your face look longer. You can even use soft waves between the textures to get the illusion of an oval face. With the use of flattering hairstyles, you can look great in any situation.
Hairstyles for Square Face for Every Season
Let's move on to discovering the best hairstyles for square-shaped faces. Try these haircuts to give yourself a glow-up.
1. Caramel Blonde Curls
If you have medium-length hair, go for these blonde curls that will give you a gorgeous look. A shade of caramel blonde is best to get a completely stylish look that can be worn to any occasion.
2. Ginger Blonde Short Curls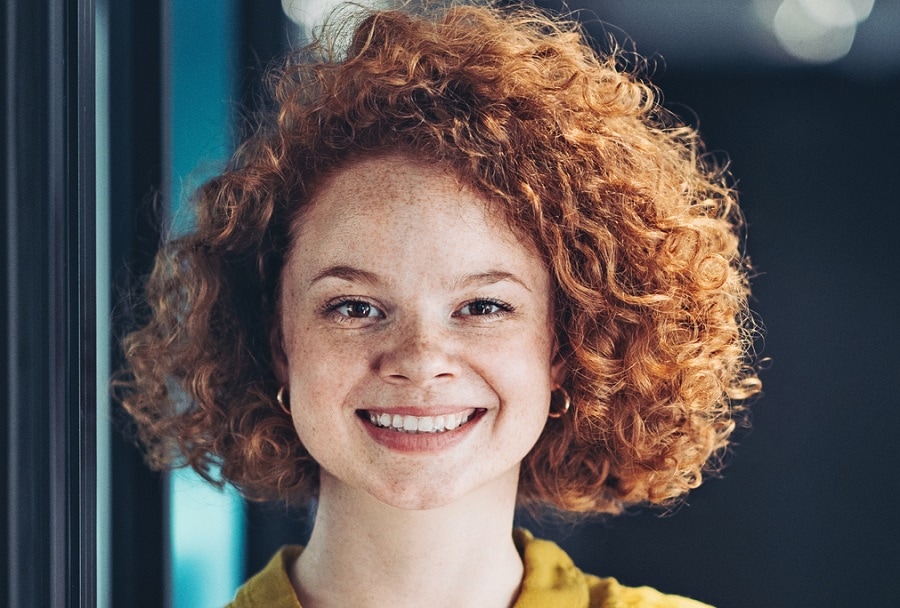 This textured bob has all the right elements to flatter your face shape. It adds volume on the top and a soft texture that frames your face. To get these perfect curls, you will have to use a curl-enhancing cream.
3. Dark Brown Hair With Bangs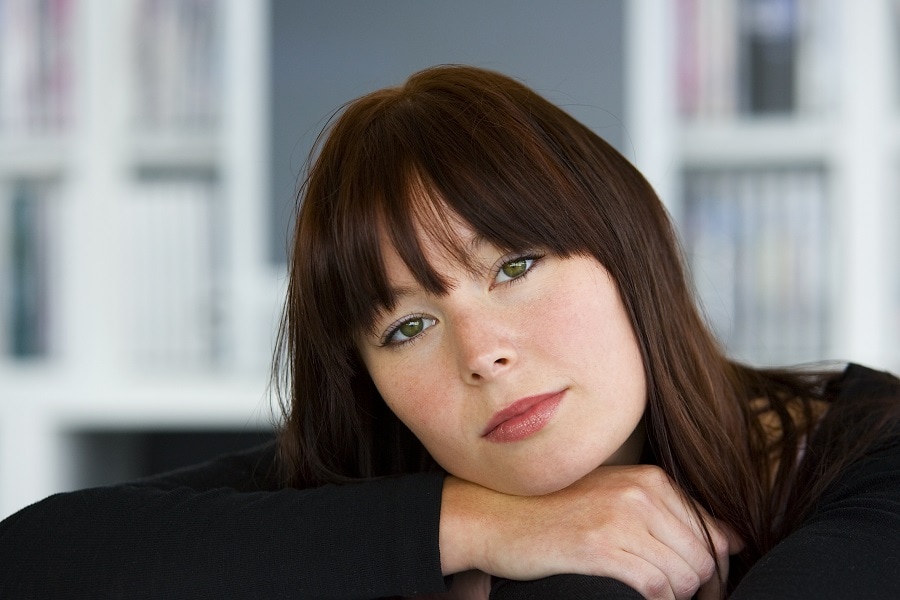 A bit sleeker and sharper, the long bob is another good option that you can go ahead with. This hairstyle is likely to lengthen and frame your square face by closing off the edges at the jawline.
However, if you want a cute, short look, then add bangs to your cut, just like the above picture.
4. Layered Bob With Side-Swept Bangs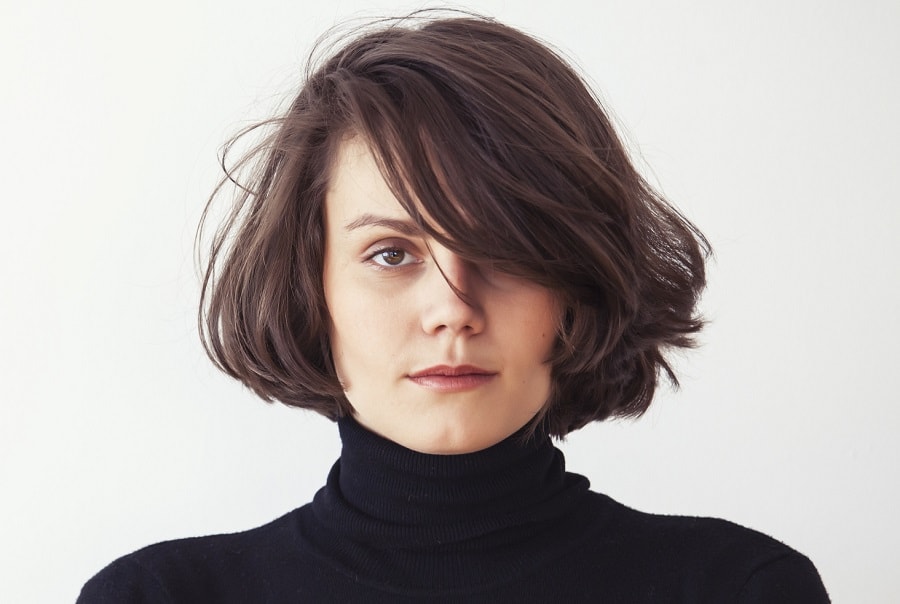 For women with square faces considering getting bangs, a long side-swept bang that does not start too low is recommended. The long bang will soften your look without pulling the face horizontally. Moreover, the short thick bob will frame yours perfectly.
5. Auburn Curls
A classic square face looks beautiful with a perfectly balanced cut, incorporated with long, loose curls. Side part your curls to get a look that can be worn casually or professionally daily. Add a dry texturizing spray to complete the look.
6. Bob With Side Bangs
Go for this shortcut with side-swept bangs to get a simple, sleek look. This is likely to give you a professional or business woman look. But, to get the exact style, you must have a bit of thick hair. Apply some serum to give your locks some shine.
7. Pinned Blonde Bob
If you want a simple, short look, go for this haircut. This style is best for those who are not a fan of keeping their locks in the middle or side partition.
You can take some strands from the front and pin them back to avoid falling them on your square face. Pair it with hoops, and you're all set to move out.
8. Afro Curls
If you have a dark skin tone and a square-shaped face, this is the ideal hairdo. Go for these afro curls that create volume on the top and frame your face. Moreover, the afro hairstyle looks lovely on any hair length. But, these curls are not easy to maintain and require a lot of effort.
9. Spiked Ashy Blonde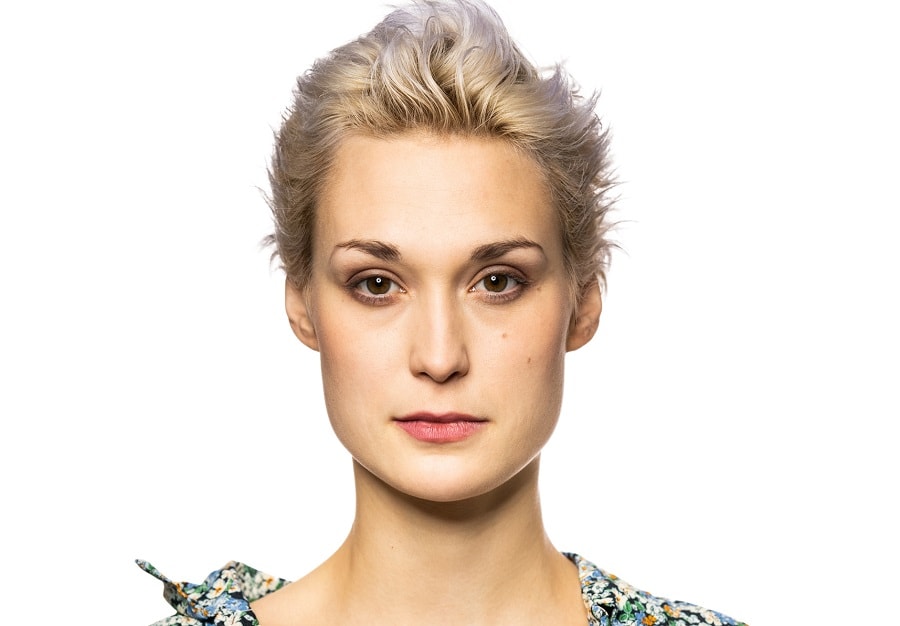 This is the perfect idea to create an eye-catching look and make your blonde locks stand out. The spiked ash-blonde with short sides is deeply desired for those who want to try a unique, out-of-the-crowd look. Consult your stylist before going ahead with this look as it is not suitable for everyone.
10. Wavy Blonde Highlights
To get a beautiful and elegant look suitable for any special occasion, go for this hairdo. This is the most preferred hairdo among the teens as it is not so difficult to style and yet gives an amazing bouncy look to your tresses. This is likely to go well with medium to long hair.
11. Messy Red
This is an ideal style for square face women over their 30s or 40s willing to try a different look. The red shade is most likely to suit women with fair skin tones and blue eyes.
Although no styling is required here, you will have to get regular touch-ups with darker roots. Additionally, if you don't want to get a messy look, use a good conditioner or serum to give your locks a bit of shine.
12. Ombre Bob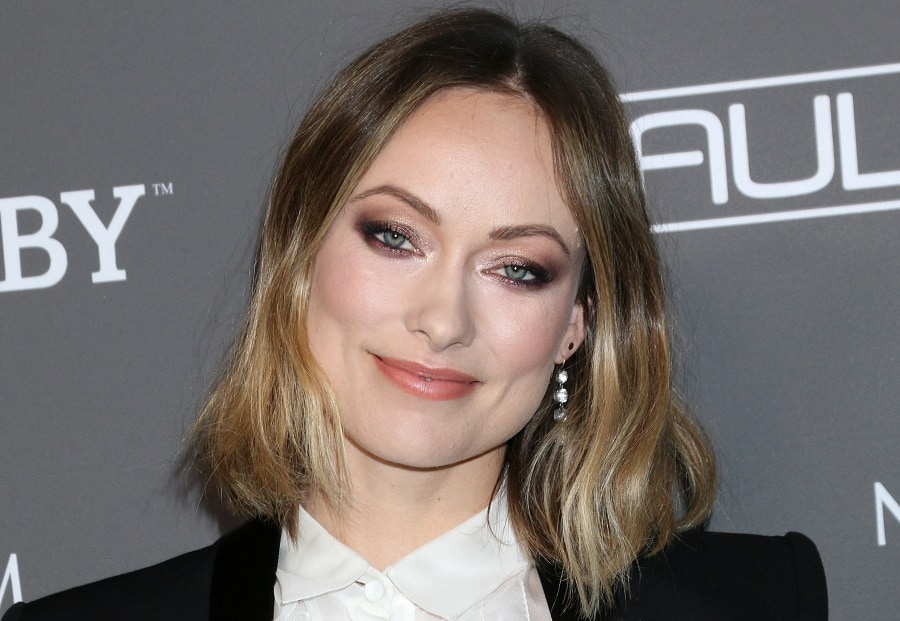 A bit longer bob with ends lying between the jawline and the top of your collarbones creates a cute look. Getting your bob an ombre shade will give you a celebrity look. Moreover, to decide the perfect length of your bob, you must consider the fullness of your face.
13. Long Blonde Ombre
This is another hairstyle for women with a square face that shows the power of little volume. The big, wavy, and bouncy hair adds a lot of softness to angular jawlines.
To style this look, use a curling iron to add a few bends to your lengths. You can even brush through the curls to break them apart.
14. Long Wavy Hair
For women with naturally wavy or curly hair, styling them in the natural texture is the best way to soften your sharp features effortlessly. Apply some serum to create a smooth look to keep your hair full and flowy.
15. Short Wavy Pink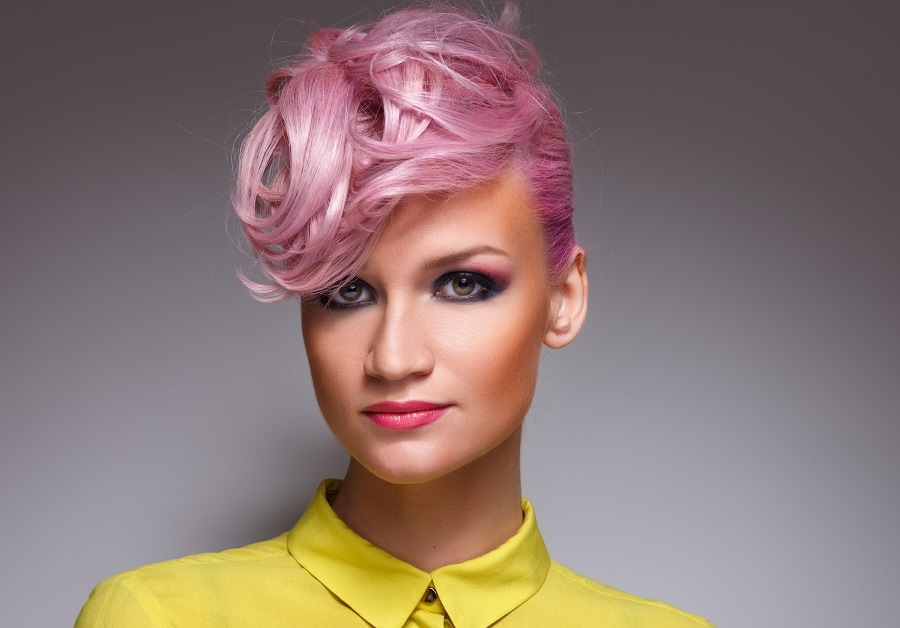 Another daring look that is not likely to suit everyone is this pink hairdo. Here, the side locks are swept back, while those on the top are messy and fall on the forehead. The pink shade adds more movement to this cut.
16. Straight Brunette Hair
A simple look that will suit almost any skin tone is straight brunette hair. It will be best if you have naturally brown hair or get this shade that is not so vibrant and gives a balancing look to your hair. This style can be worn casually on a daily basis.
17. Ginger Colored Layered Cut
A long layered cut is a classy hairdo for women with square faces, as it offers movement along with concentrating on the ends. It closes off the corners and still elongates the face. Moreover, the ginger shade adds more depth to the cut and is likely to elevate your look.
18. Well-Defined Curls
No matter what length or texture you have, a deep side-parted look is likely to be one of the most flattering hairstyles for square faces. A pro tip will add extra volume to the top to create a longer effect. Moreover, the well-defined curls add more volume to your hair and give a chic look.
19. Short Bob With Long Bangs
If you've always wanted to try a shortcut but were afraid to do so, then go ahead with this look. Here is the proof that a shortcut will suit you. Keep the overall length short, with long bangs in the front to frame your face.
20. Textured Straight Hair
Once you get long locks, you can switch to a side part, which will change your look considerably. Such a straight hairstyle for square faces will likely give you a simple, sleek look.
It will be a great way to disguise your oily roots. This look is especially suitable for those wanting to get a professional style.
These were some of the hairstyles for square faces that are likely to create a flattering look. You indeed do not have to create the exact same look. Just by getting an idea about the lines, texture, and length, you can work on an excellent hairdo for your face.