Everyone knows Ariana Grande's classic high ponytail, but she's actually had lots of different styles over the years! She's had bright red as Cat Valentine and long hombre curls as herself. She's also had a lot of styles in between.
You'll definitely find that one of Ariana Grande's hairstyles suits you best, especially if you love chic and simple hairdos for long locks that can be worn every day.
Best Hairstyles by Ariana Grande
These beautiful looks from over the years will help you reinvent yourself and find one you'll adore. Let's dive in!
High Ponytail with Ombre Shade
This is arguably one of the most recognizable Ariana Grande hairstyles out there. People talked about this for years and she wore it at every event, and it's such a simple look to recreate.
The hair starts very dark and lightens until it's eventually blonde, then it's secured into a high ponytail on top of the head.
Red High Ponytail with Knot
Here's a similar look to the one above, but it's suitable for the more adventurous among you. The pony is high on the crown of the head, and it's vivid red.
There's a knot right with a ponytail starts, then the hair flows out of it with some nice curls at the end.
Half Up Curls and Hairband
A more natural and free look is more comfortable for some people. Here she has her hair from the front and top of the head pulled back and secured.
The rest of her long locks fall in dark curls down her shoulders. She has decorated this look with a sparkly floral headband.
Short and Spunky Red
Now we're going back to her days as Cat Valentine. The red is bright and shocking, and her hair is much shorter than she usually wears now.
The ends are cut very bluntly and she has a side parting. The sides of the hair are pulled back.
Pony with Extra Volume
This is a twist on the classic high pony Ariana Grande is known for. Her hair is one color in a nice medium brown tone, and there's a nice wrapping right on the crown of the head, also made of her own locks.
This adds extra volume to the long and sleek tail that comes out of it and falls down her back.
Red Side Curls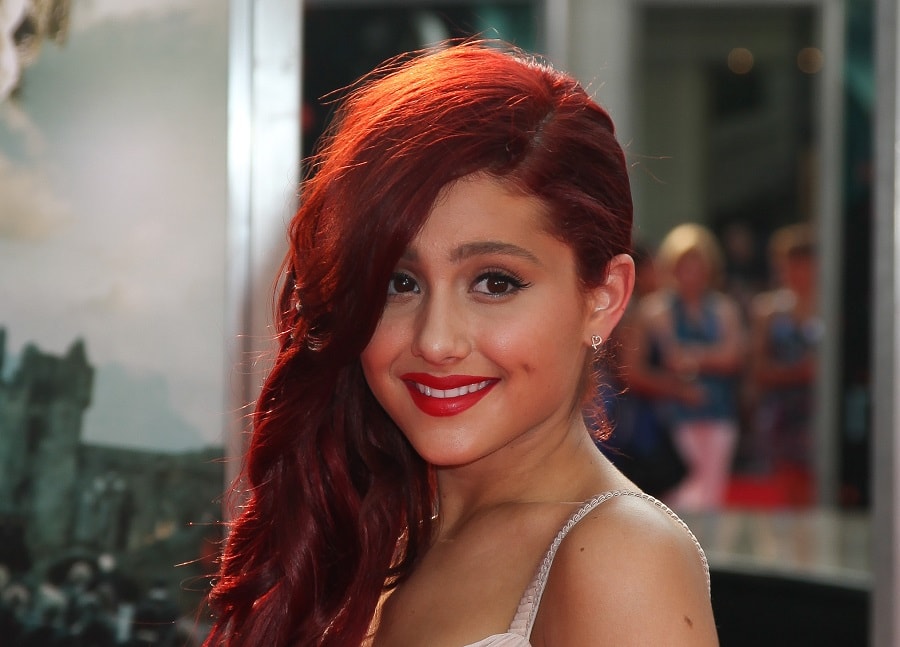 Ariana didn't just read her when she was in character. She also wore it as herself in between filming, and this style is very much a classic of hers.
It's a pretty party style where the hair is mostly brushed to one side. It's very curly and it covers some of the face. The other side is brushed back to fall over the opposite shoulder.
Low Side Ponytail
If you want a very sweet and simple look, then consider the side ponytail. The hair is actually secured at the nape of the neck, but it's all pulled over one shoulder. There's a nice twist on the side of the hair, too.
Gentle Waves and Curls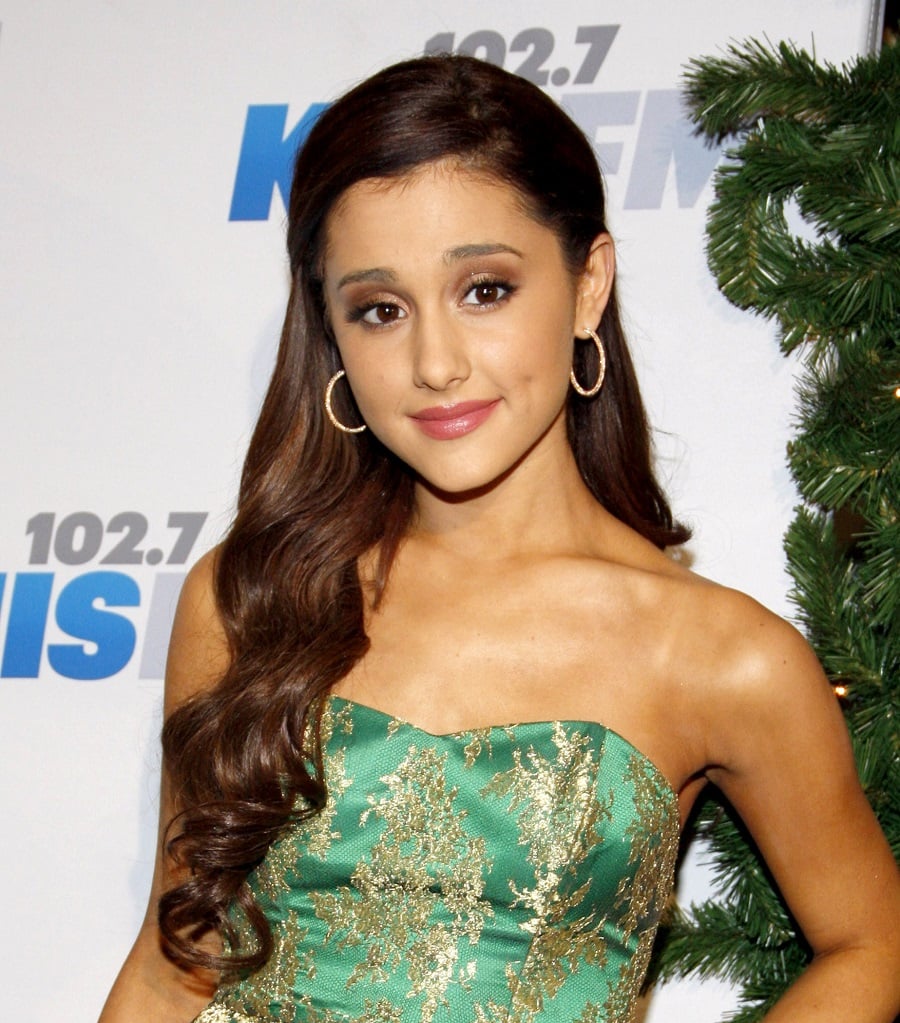 Many Ariana Grande hairstyles have a mixture of waves and curls, and here's one you may enjoy.
The hair from the sides is pulled back and secured at the back of the head. It's mostly wavy on her upper chest, but the end of the hair is curled.
Side Parted Red Hair with Layers
If you're looking for a youthful look, then consider this one. The choppy ends and prominent layers in the vivid red hair will make you look very fun indeed. The hairstyle is side-parted and very simple.
Low Curly Ponytail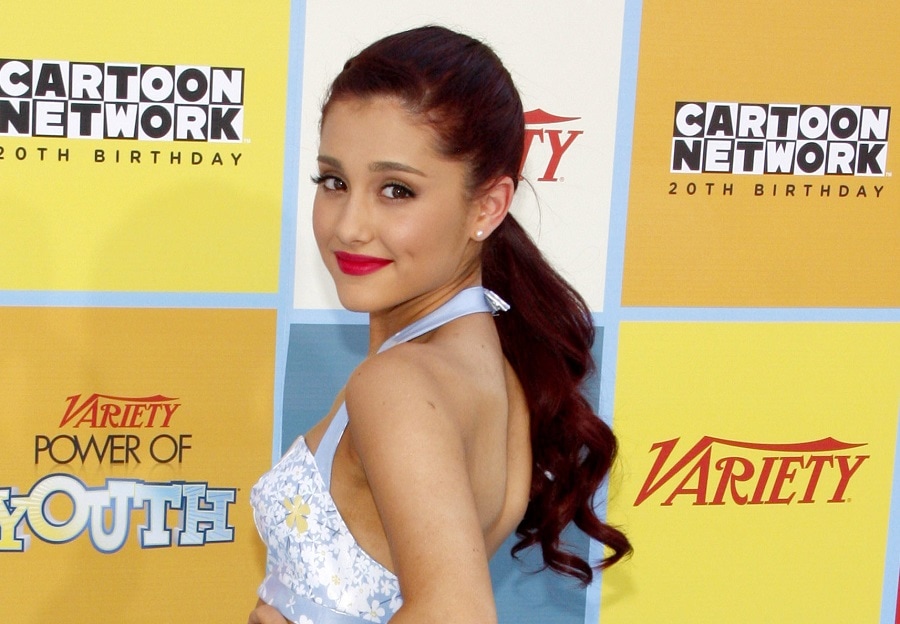 You may find it unexpected that Ariana Grande's ponytail hairstyle is low on the head. However, this one starts at the nape of the neck and falls in ringlets down her back. Most of the hair is very sleek and pulled back.
Dark to Light Brown Straight Hair
Long straight locks are definitely Ari's thing. There are two brown tones here, with the roots very dark and the rest very light.
It's a side-parted style, and the front is tucked behind the ears while the rest of the locks cover the sides of the head.
Half Up Wide Thick Ponytail
Do you want a nice wide hairdo? This twist on Ari's signature high ponytail will suffice.
There's a knot on the crown of the head that adds extra volume, and very thick hair is coming out of it, so it falls over each shoulder. Some of the hair is left down so it looks thicker.
Cute Ombre Pigtails
Pigtails create such a sweet look, so it's no surprise that this is another Ariana Grande hairstyle you may like to recreate.
The ends of the hair are blonde and upturned, and some blonde locks circle the pigtails and add extra volume to them.
Bright Red Bun
With this one, we return to the vivid and bright red of the Cat Valentine days. There's a lot of volume in the top and sides although it's all slicked back.
A large bun sits low on the back of the head, creating a very elegant look that's perfect for formal events.
Loose Curly Highlighted Hair
Instead of ombre, there are some highlights here that add a blonde touch to the ends of some long curls.
One piece is tied up at the crown and it blends in with the rest easily. The bangs are pulled to one side and folded back. The rest is tied back very sleekly.
Edgy Space Buns with Bows
Now we're getting more adventurous. Most of these long, dark locks are down, and some long bangs frame the face. Then you'll see big, loose space buns on the sides of the head, decorated with bows.
Pure Platinum
Nobody could ever forget the time Ari went platinum. This blonde hairdo by Ariana Grande is so beautiful and simple.
It parts in the middle and the locks fan around the face and fall down the shoulders. It's very thick, very free, and nice and straight.
Retro Beehive
This isn't one of her typical looks, but it will be fun to wear all the same. It's a little retro and has a beehive right on top of the head, very sleek.
The lengths of the hair fall into long ringlets at the end. It's slightly inspired by Amy Winehouse.
Braided Top with One-Sided Style
If you're a fan of one-sided looks, in this one the hair is pulled over one shoulder. The sides of the hair are pulled up into little braids that run along the top of the head and blend in with the back of the hair.
Crimped Ponytail with Bangs
It was a major change when Ari got bangs, so it's no surprise this is an Ariana Grande hairstyle that many fans love to recreate. The bangs are touched with blonde and mostly light brown.
The hair slicked to the head is dark, and the ponytail is a very nice medium tone with some crimped sections.
You can mix and match these looks all day. These Ariana hairstyles are easy to create on your own locks every day, and you're sure to have lots of fun while recreating these classic Ari looks. Shake things up and have some fun!