If we talk about common hairdos, middle part hairstyles will stand at the top. But being common doesn't make this style any less beautiful. You just need to make a few changes here and there. It's a subtle look that suits any hair length.
Whether you're attending a party or your class, this iconic look goes everywhere. However, some creative changes can make your hair look unique in this "common" look. Today, we'll be discussing how you can get creative with your hair.
So, want to part your hair in the center? The wait is over because the list is here! Once you look at it, you can't stop yourself from trying these stunning Middle Part Hairstyles.
Caramelized Long Waves
Caramel hair color looks beautiful on all skin tones. Simply divide your hair into two halves and keep them at the front.
Apply hair serum for extra shine and give your hair a wavy texture. The style can be made in just a min for those who already have naturally wavy hair.
Kinky Hair
Slightly center-parted hair can look gorgeous, especially when your hair texture is kinky. The partition will create a neat look, keeping the hair away from your face. In addition, it will let the weight of your hair fall equally on both sides.
A mixture of colors like brown and black will look pretty with style. Keep your hair hydrated to lock the curls and avoid frizziness.
Symmetric Chin-length Bob
You should get a new haircut every now and then. This time just go for a chin-length bob cut and divide your hair from the middle.
Again, the champagne ombre will add more charm to the overall look. The symmetric bob haircut will suit round faces perfect.
High Bun with Thick Curtain Fringes
Keeping your hair open all the time can look repetitive. Why not try a high bun? Make a twisted bun with a little puffed crown hair.
If you're worried about having a big forehead, then get thick fringes to frame it properly. It's a great middle part hairstyle for working women.
Sleek Hair With Hairband
A sleek division looks good on women looking for middle part hairstyles. You can use a headband to achieve this style.
Make a neat partition using a fine comb, then neatly place the headband just where the partition ends. Color your hair with a peachy blonde shade and let them flow naturally.
Neck-Length Hair
A center partition is a great way to style your short hair. It looks simple and beautiful. You can style your hair this way, especially when you're busy, as it only takes a few seconds. It's a great style for school or college-going girls.
Wedding Hairdo with Tiara
This wedding hairdo is going to make your day more special. Center part your front fringes till your ears, then tie all your hair into a puffy bun. Wear a tiara to add some elegance to the look.
Finally, attach your beautiful veil to your bun. Let a single bang fall on your cheeks to add a sassy look to it.
Magnetic Purple Hair
Bored of coloring your hair blonde? Why not go for a new shade, i.e., purple. It will surely make you look younger, fairer, and gorgeous.
If you have straight hair, then it's good to go. But if not, then straighten your hair and add some hair serum for the extra shine and middle part of your hair. Keep them in the front, and you are all set to go out.
Ponytail with Long Fringes
In place of parting your hair from the middle, try parting your long fringes from the center. It will give you a curtain fringe look. You can loosely curl the fringes too.
Talking about tying your hair, a low ponytail will go well with the fringes. One can wear it to any place with any outfit.
Vivid Pink Hair
When you're looking for cool middle part hairstyles, have you thought about coloring too? Well, if not, then have a look at this style.
Pink is a gorgeous color and is preferred by many girls for their hair. Now keep your hair straight and divide it into equal parts. Keep it simple, and the look goes well with jeans and a t-shirt.
Glamorous Diva Look
Party around the corner but don't know what to do with the hair? We know the pressure of deciding which hairdo will go with which dress and vice versa.
We've got a party hairdo for backless and deep-neck dresses. Simply make loose curls on your layered cut to flaunt them beautifully.
Magenta Bangs
Want to do something creative with your medium-length hair? We've got an idea. First of all, get a shoulder-length cut with wispy bangs. It will suit the hairstyle as well as cover your big forehead too.
Now, go for a magenta hair color which will add more charm to your look. Anyone with thick or thin hair can go for this style.
Puffy Updo with Fringes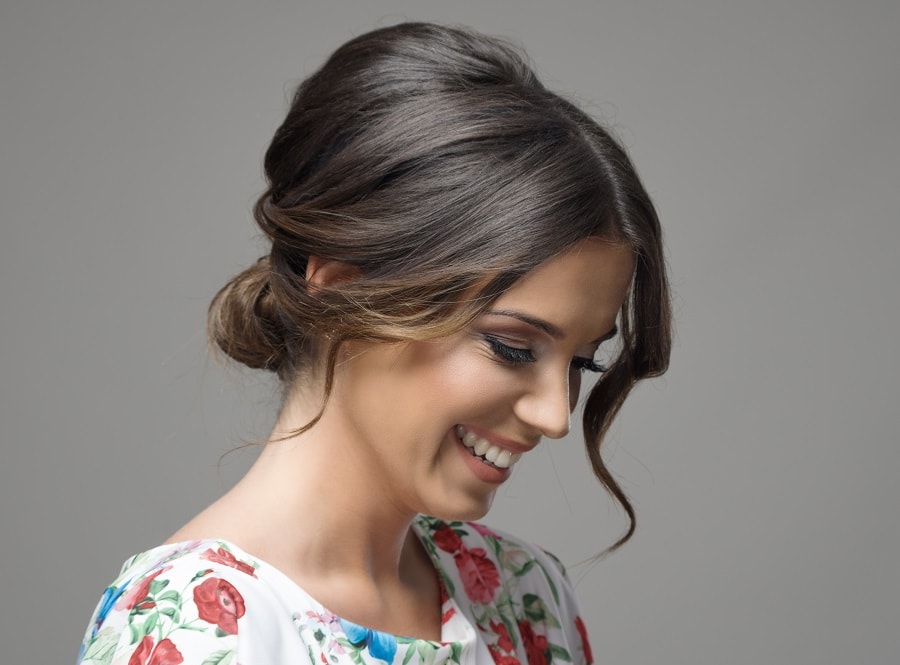 Firstly middle part your hair till the ears, then grab your hair loosely to make a bun. You can even use a puff maker to add some height to the hairstyle. Finally, shift your look from casual to classy with some curly layers on the front.
Vintage Curls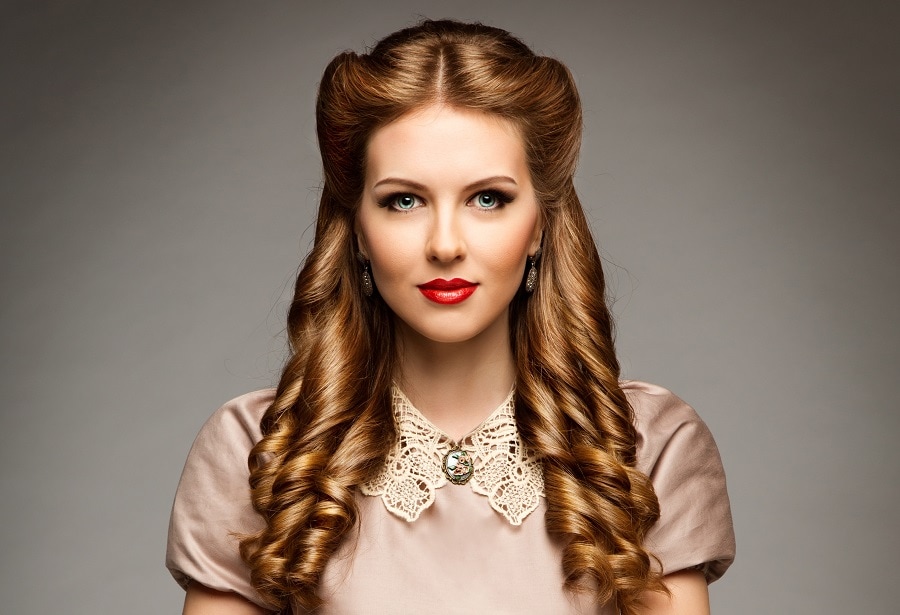 If you're searching for middle-part hairstyles for a 90s theme event, have a look here! Vintage curls are the ones you should be going for.
Make an equal division and twist your hair loosely from both sides. Make outside curls with your remaining long hair and keep them falling on your shoulders. Use hairspray to keep the look intact.
Warm Blonde Balayage Hair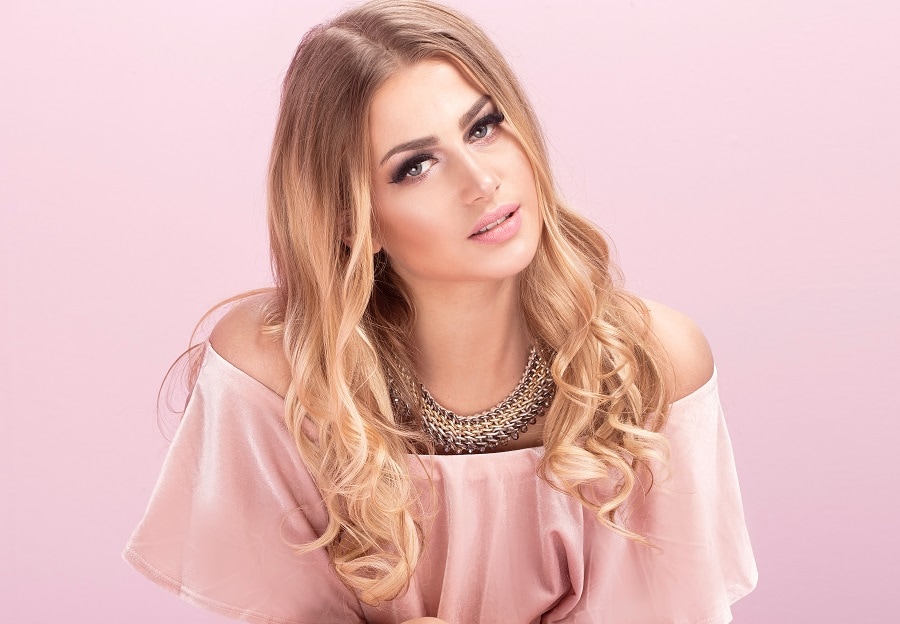 A balayage will bring the much-needed shine back to your hair. Golden blonde balayage matching your light brown hair will be great. You can lightly curl the ends for a stylish look.
Bright Blue Curls
Do you love the color of the ocean? The dark blue shade will look so beautiful on your hair. Plus, the slightly wavy hair will bring true ocean vibes. This bright color will bring a glow to your face.
Ginger Red Hair
You should start with a subtle color if you're coloring your hair for the first time. Ginger red is a subtle color and looks completely natural. This color suits fair to medium skin tones.
Jet Black Bouncy Hair
When your hair is voluminous, it looks so bouncy. What makes them look even bouncier is loose curls. However, if your hair lacks shine, you can color it in jet black color. It's bright, shiny, and looks natural.
Long Blonde Ombre Hair
The longer the hair is, the more beautiful ombre looks. A light black to blonde ombre will suit fair skin tones. Curling your hair a little will look beautiful.
Curly One Sided Look
Planning a date night? Try this exotic hairdo, then. Though these are just normal curls, the messy hair looks gorgeous. Attach a daisy flower near the ear to get more attention as well as compliments.
These amazing middle part hairstyles for women will surely rock this year. Try them out if you want to be a part of this rock journey now. It will take only a few minutes off your schedule. But those few minutes are going to be worth the result.
You'll be the first or next fashion icon in your area. So what are you waiting for now? The list is here, along with tips and tricks to steal the spotlight. Get all eyes on you once you make any of the above hairdos. Compliments are coming your way!