Some say there's no such thing as a bun hairstyle for short hair. We're here to prove them wrong! There are lots of ways you can style your locks into a delightful updo.
It takes a little more skill than it would for people with long locks. However, you too can rock these looks. Wearing the updo low on your head is common, but you can even achieve a top knot if you put the effort in.
Easy Bun Hairstyles for Short Hair
Want to know how you can create high and low updos with a bob and similar haircuts? Check out the styles below!
Sleek Top Knot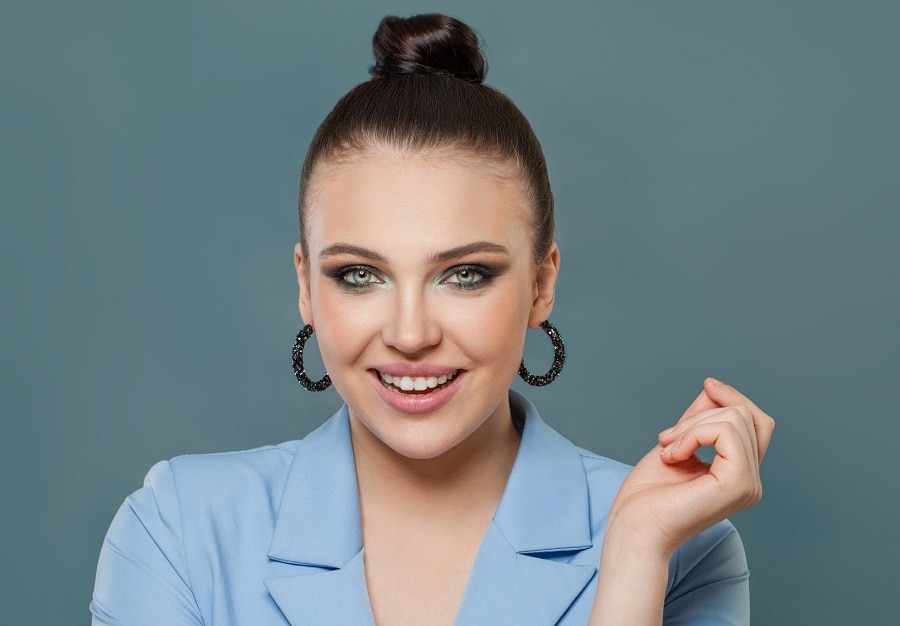 It's a little harder to wear a high bun hairstyle when you have short hair, but it's not impossible. The sides and front of your hair will definitely be easy to scoop up and secure into this knot.
The locks are slicked back nicely, and the knot twists around itself to look very chic. Bobby pins will be your best friend for the back strands that can't reach the highest point of the updo.
Loose Flat Updo
Locks of this length don't often lead to updos with a lot of volume in them. You can see that with this relatively flat, circular bun. It sits just below the crown of the head, and the locks are pulled loosely into it. It's a very casual but neat style.
High Twist
Here's another high bun hairstyle for short hair for you to play with. It's worn just below the crown of the head. The hair pulls into it tightly, but it's not too tight.
The updo twists around itself and is decorated with a ribbon. The locks at the back are a little loose and are just about long enough to be tucked into the updo.
Messy Doughnut Bun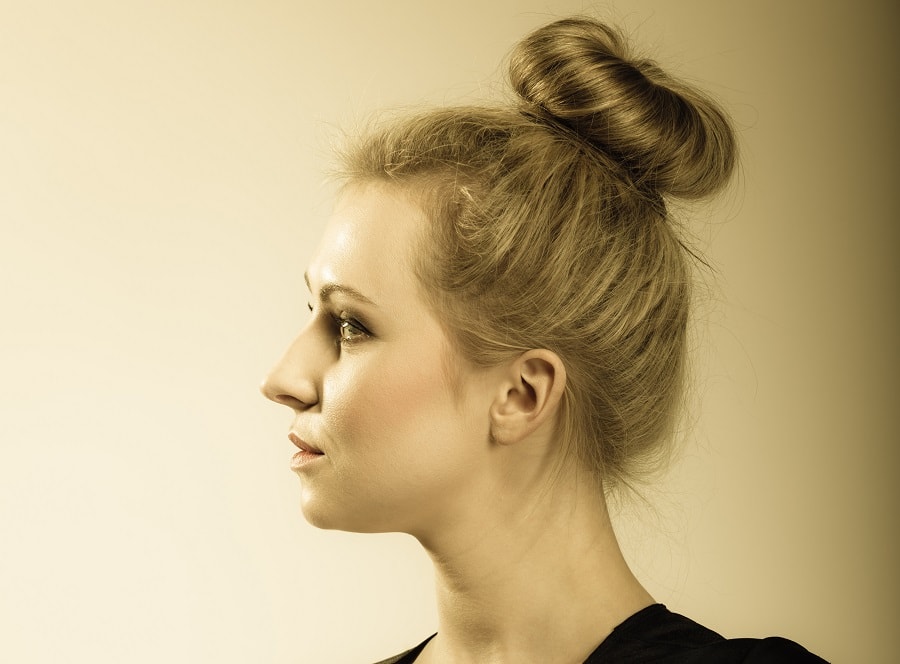 Doughnut bun hairstyles for short hair are a little trickier to achieve on short hair. It can be done, though. The locks wrap tightly around the doughnut accessory.
You can also achieve this using a doughnut bun hair extension. You'll tuck your real tresses into this, hiding the ends from sight.
Low Updo with Curly Bangs
Wearing your locks lower is easier to achieve. The sides are drawn back loosely and tucked into the back sections. A nice low, rounded shape hangs by the nape of the neck. Thin, curly bangs frame the face.
Cute Space Buns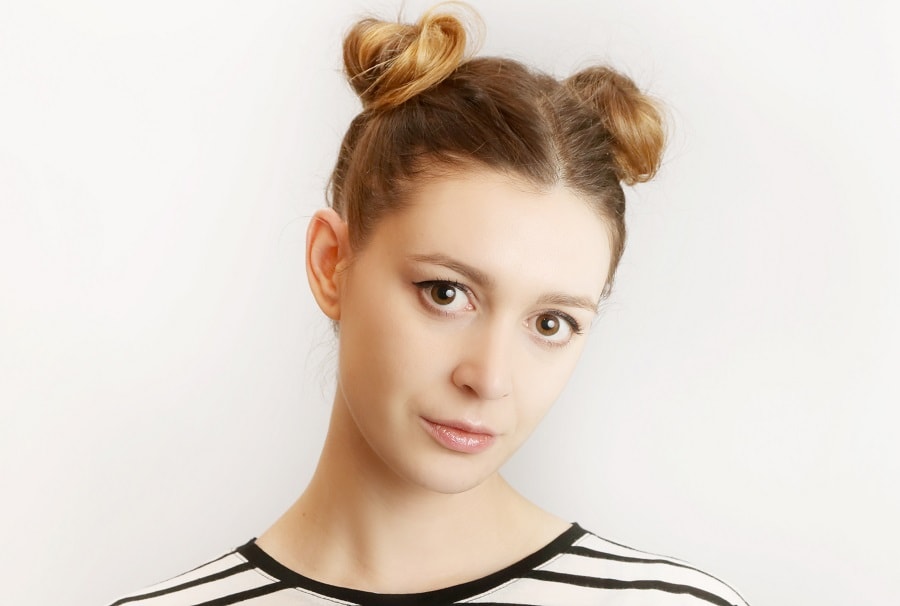 Space buns will suit you perfectly if you want to look super cute. The tresses are pulled up into little round shapes on each side of the head. A center parting makes this even sweeter. It's a cool everyday look that's fun to wear.
Loose Volumized Bun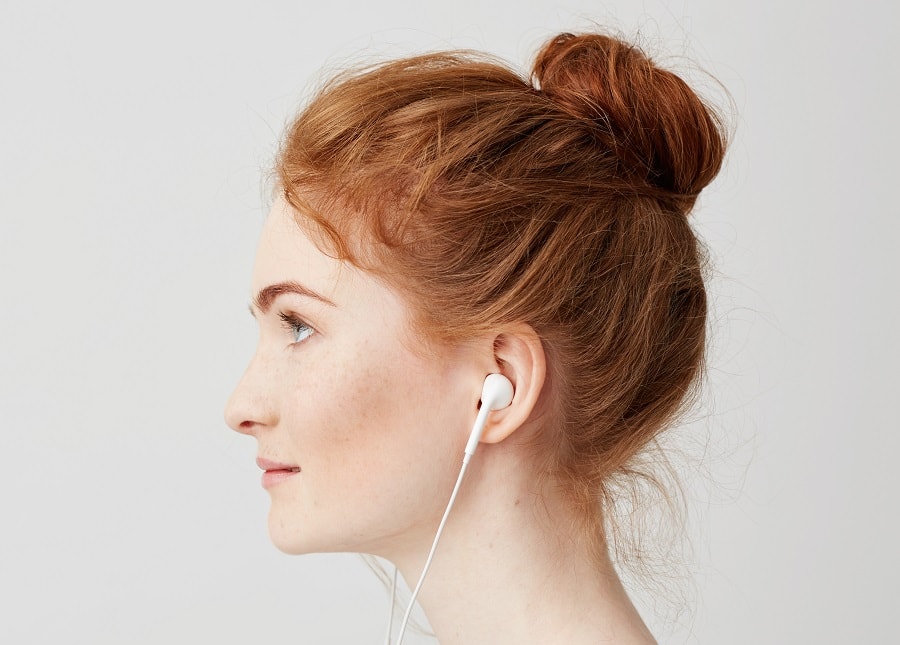 Loose bun hairstyles for short hair help to give you volume that shorter locks sometimes lack. The front is drawn very loosely into the neat, swirling bun. This gives the impression of a lot of volumes. The back is also loose, creating the illusion of volume.
Tucked Updo with Loose Ends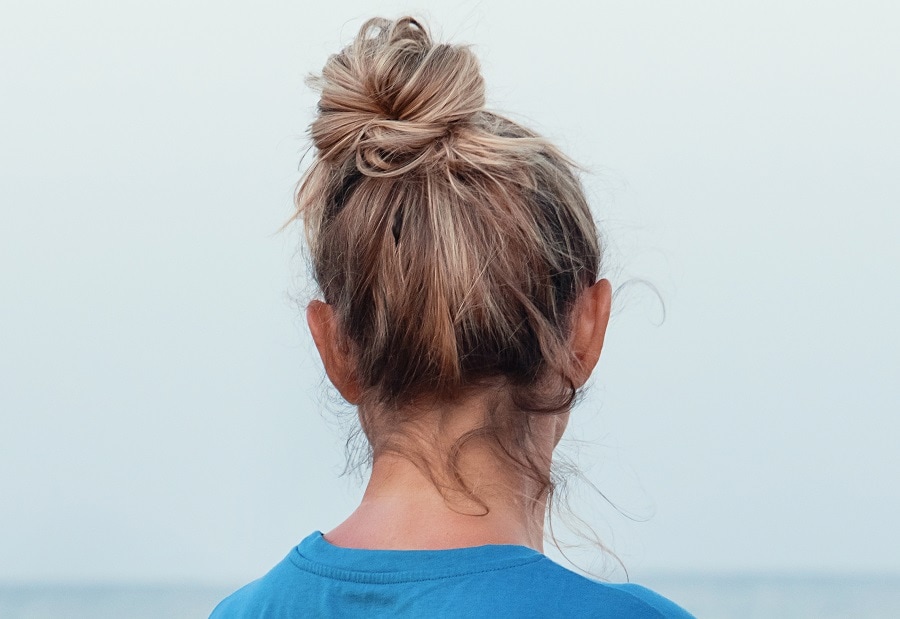 With this look, the updo sits on the crown of the head. The hair is all tucked into a section that wraps around the base of the knot. The bottom layer of locks isn't long enough to reach into it, so they're loose and wispy on the neck.
Loose Low Bun
This is a style you can do each morning quickly. The blonde tresses are pulled back lovely and loosely.
The hair on top is dawn across the sides of the head instead of brushed back. The locks sweep together into a low hairdo pinned at the nape of the neck.
Volumized Top Knot
There are ways to make your top knot look volumized. This one looks far thicker than you'd expect from short hair. You do this by gathering the locks up into the style.
Then you can pull the locks apart to make them appear volumized. It's best to do this trick with a bun that tucks in under itself.
Tight Updo for Sleek Hair
Sleek hair makes you look chic. Gelling down loose ends is a great way to keep your style very neat. All the locks are pulled back to the base of the head. A tight, small, and very round bun secures the tresses in place.
Thick Updo with Side Swept Bangs
Women with short hair will need extensions to create a bun this thick. There are many nice bun extensions you can pin in place. Then style your bangs so the front section is swept to the side. Longer sections of locks perfectly frame the face.
Twisted Style with Flowers
Tucking flowers into your hair is perfect for spring and summer. It helps capture that rejuvenated energy in the air. Flowers also go well with twisted styles that sit in the center of the back of the head. It creates an overall sweet vibe.
Rounded Bun for Brunette Locks
Short brunette hair always looks rich and alluring thanks to its pleasant color. You can make any style look good with it, including this little round bun.
It sits right in the middle at the back of your head. It's perfect when you want something simple and neat.
Messy Bun
With a little skill, you can create a messy bun with your shorter locks. Some of the messy aspect is based on how you pull your tresses back.
Leave little bumps around your center parting, so it looks casual. When forming the updo, fold the tresses over to form the shape. This adds volume and the messy element.
Tight Top Knot with Scrunchie
If you want to look extra casual and sweet, add a scrunchie. A scrunchie securing a nice folded updo is a great everyday style. It's also a wonderfully sporty look for going jogging or heading to the gym.
Low Bun with Bangs
Here's a very business-casual style. A low bun with bangs is an effortless everyday style to wear. The locks are drawn across the sides of the head and secured at the back. The bangs then add some depth.
Low Updo for Weddings
Sometimes you need something more elegant. A low, loose updo forming a circle low on the head is excellent. There's some volume around the crown of the head. A flower crown adds further elegance. Wispy, wavy strands frame the face.
Kinky and Curly Locks
If you have kinky or curly hair, updos are great for controlling it. Black and mixed-race women with this hair type will benefit significantly from this style.
The locks are pulled back tightly against the scalp. The updo sits at the nape of the neck.
Long Bob with Half Up Bun
It can be fun to wear your hair half up, half down. Here the back section of the long bob flows freely to the shoulders. A neat, rounded knot on top of the head secures the front and sides of the tresses.
As you can see, there's no shortage of ways to look glamorous with bun hairstyles for women with short hair. There are tricks to add volume, and bun extensions are a significant help.
Half up, half down styles are beautiful ways to play with your look. Experiment to find what you like best.