A ponytail is one of the most wholesome hairstyles ever. Black women are also in love with ponytails because of their low-maintenance classy looks. Whichever aesthetic you desire to nail down, be it dreamy, sporty, sassy, or edgy, there's a ponytail variation that can assist you in looking the part.
The naturally challenging nature of the hair of black women often makes them apprehensive about trying out new updo hairstyles. We are here to shatter all the myths surrounding black hair and tell you that there exists a perfect ponytail hairstyle for each one of you to rock.
Stylish Black Ponytails Ideas to Set Yourself Apart
Check out our special round-up of the top 15 ponytail hairstyles for black women of every hair type that will leave everyone around you in awe.
Black Half-up
An eye-catching way to show off your thick and natural curly tresses is with a half-up hairdo.
To create this ponytail hairstyle, tie your hair into an ultra-high half style, secure it with a thin elastic and then take a weighty strand of hair to wrap around the pony to hide the elastic.
High Afro Puff Updo
If you are looking for a ponytail for black women that allows you to stick to the basic wash-and-go hair routine, the high afro puff style is perfect. The experts of HairstyleCamp shared some tips to achieve the perfect ponytails which should help you.
For extra lift and volume, tease your hair gently and then gather all of it at the crown of your hair before securing it with elastic and bobby pins on the underside. This ponytail powerfully highlights the afro texture of the hair.
Disheveled Long Black Ponytail
This black-colored updo is for all the women who want the unique mix of a disheveled and effortlessly cool hairstyle.
To tame the flyaway strands in the front of your head, use a bit of styling gel and a toothbrush. This hairstyle is versatile enough to look good with most kinds of outfits.
Black Bubble Braids
Are you in the mood to challenge yourself creatively regarding hairstyles? The quirky bubble braid is the hairstyle that you need.
Firstly, you have to make a mid or high ponytail. Then, a few inches down the length of your updo, place small hair elastics at equal intervals. To ensure overall neatness, begin to gently tug at the sides of the new hair sections with the end of a rattail comb to form round bubbles.
Black Side Updo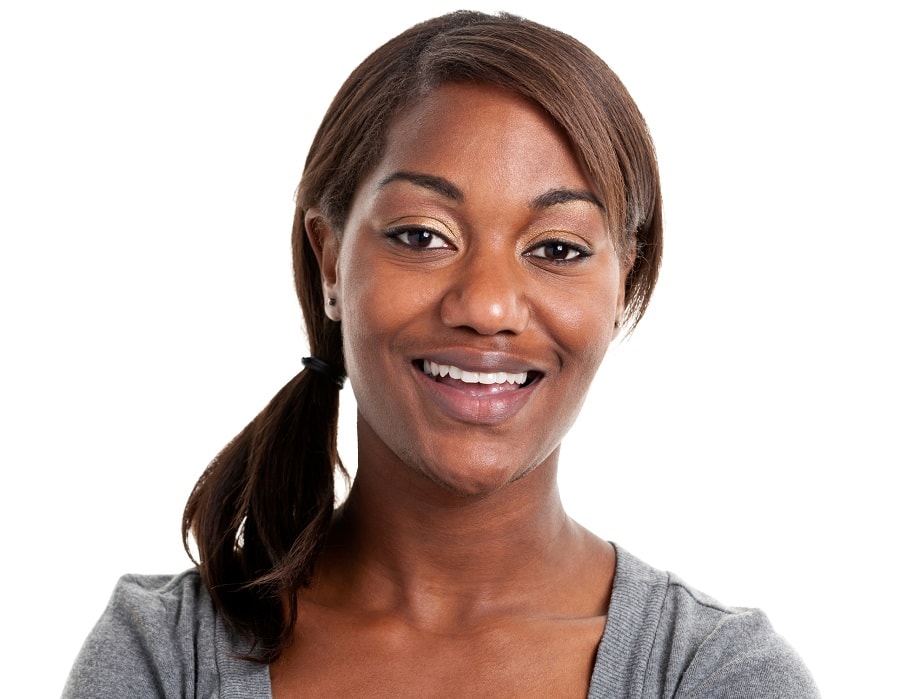 Side bangs are an amazing way to define your face structure, and what better way to do it than with a side updo that complements the bangs and screams stylish. To make this updo, you have to partition your hair to the side of your bangs and then loosely tie it into a pony.
Voluminous Mid-Hairdo
The voluminous mid-level ponytail for black hair is a cozy look for dealing with your curly mane in the spring and summer.
This hairstyle is suited to heart, oval and oblong face shapes. You can use a bit of texturizing spray to enhance your curls. This updo is great for everyday wear to college.
Side Twist Ponytail
If you always wear your hair in dread twists, a loose black side ponytail can be your new go-to hairstyle. This updo promises to add an extra layer of dimension to your regular hair and make the twists pop out even more.
Black Curly Updo with Thick Bangs
This curly ponytail is perfect for your Afro hair if you are eager to add a touch of softness and elegance to your usual style. You need to pull out a thick section of hair for your side bangs before you tie your hair into a voluminous mid-ponytail.
Extra Long Knotless Braids Pony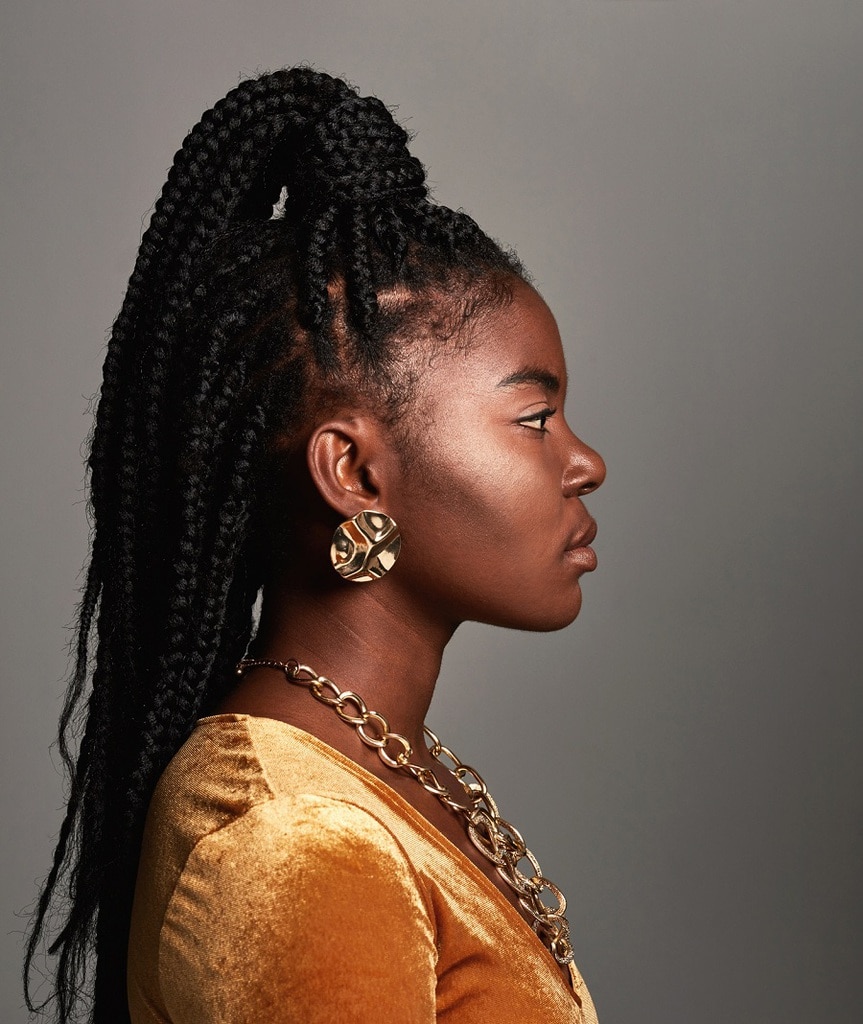 A knotless braids ponytail that embodies the right amount of fierceness and boldness is the extra-long pony that incorporates twists. This hairstyle can be easily accessorized with statement jewelry pieces to get you ready for a glamorous night out or party.
Low Dreads Half Ponytail
This loose half hairstyle is a low-maintenance yet carefree style to embrace your dreadlocks fully. The shaved side makes this hairdo more exciting and fun to try out. Remember to pull out two to three thick hair strands in the end to frame your face.
Messy Fluff Ponytail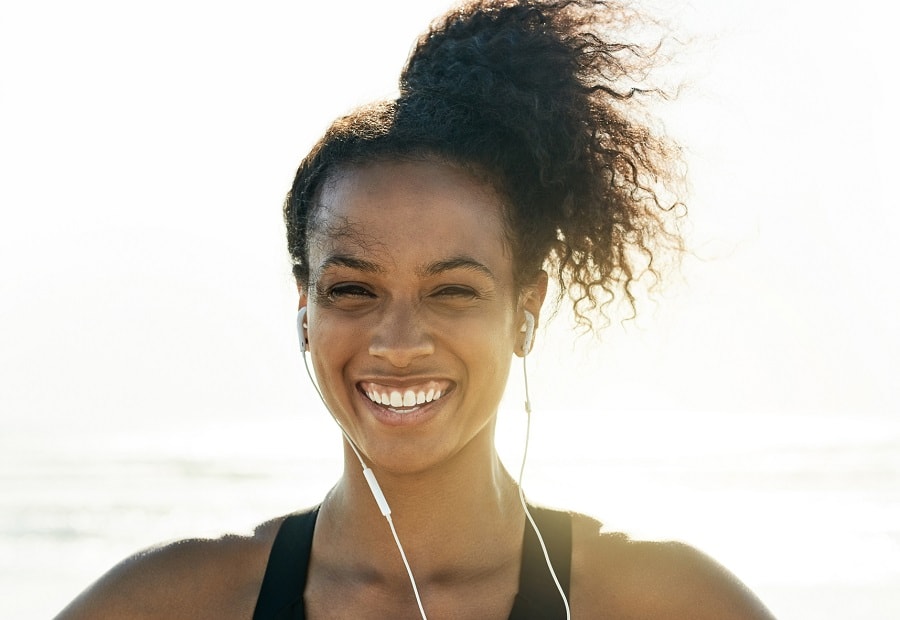 An easy-on-the-hand hairstyle for curly hair is the messy fluff updo. Fluff up the classic top updo for a casual elevation to the hairdo. This black ponytail hairstyle is perfect if you have a long day of chores.
Box Braided Low Ponytail
Box braid your hair into thin micro-braids and then wrap up the braids into a low updo to achieve a gorgeous braided hairstyle for black hair. Light pink and bright red highlights add a vibrant touch to this black ponytail.
Box Braided Half-Bun Pony
There is nothing like a fun mixture of box braids, buns, and side ponytails to create this sleek black-colored hairdo. To make this hairdo, box braid your entire hair, sweep a section of the braids to one side of your head, pull up some of the remaining braids into a bun, and tie the rest of it into a pony.
Short Curly Double Updo
You can never go wrong with double ponytails to deal with young black girls' frizzy and curly textured hair. To create this adorable hairstyle, you have to brush the hair and pull it back into two ponies with elastics or scrunchies. This cute hairdo is great to be worn to school, picnics, and family day-outs.
Single High Black Braid
When combined with a fluffy twisted braid, the good old classic high ponytail proceeds to create one of the most trendy and beautiful hairstyles of all time. Braid your hair to the ends and ensure no hair strands are left out for an edgy and grunge-inspired hairdo.
Now, that you know that this updo can be far from boring, what are you waiting for? Jump in on the popular ponytail bandwagon and try out a creative black pony hairstyle today.