Having a good hair day daily is every women's dream, but sometimes the dream gets shattered when we face unmanageable thick hair. But not anymore; with these bob cuts for black girls, you can easily manage and style them.
We have considered various hair lengths, face types, hair textures and then listed these out-of-the-box ideas which you can quickly try and have a good hair day daily.
Long gone is when we think bob cut is for a specific length. With time, a lot of variations have been added to it, which surely enhance your overall appearance.
Stunning Black Girl Bob Hairstyles
Let's explore some of the best black girl bob ideas to get an impressive personality.
1. Coily Blonde Ombre Bob
It's the simplest haircut to style your coily hair. Go with the blonde ombre to add some color to your black hair. Side-swept your hair and let the hair flow naturally. Use a wide-tooth comb or fingers to set your hair, and you are ready to go.
2. Greyish Bob
Styling with grey hair can be a little complicated, but it's quite easy with this haircut. Have a neck-length bob, wherein keep the hair a little wavy. It can make your thin hair look voluminous. Use hair spray to set the hair for an even texture.
3. Sleek Lob With Blunt Bangs
For those who want a sleek look, this is the best choice. It's professional, classy, elegant as well as a vintage look without any doubt.
Most of the celebs also love to carry this, because of its low-maintenance and lovely appearance. Add blunt bangs to it, which will suit all face types, and can be worn in any season to both casual and official meetings.
4. Layered Black Bob
For curly hair, a layered black girl bob is an ideal option. According to Child Insider, It's the simplest way of accepting your original curly hair but with a shorter hair length!
Get a stylish, sleek, edgy look with this style. It's best suitable for oval, round and square faces. Your style blends well with an excellent top, denim, and other dresses.
5. Afro Hair With Flowers
It's one of the stunning black girl bob hairstyles paired with flower accessories to make it more charming and attractive. It can be worn at weddings, social outings, etc. Just manage them with hair gel or spray to keep your hair intact and lessen the frizziness.
6. Coily Black Hair With Fringes
Simply cut your coily hair into a layered bob with front fringes and let the hair fall freely. It will hide the chubby cheeks making your face look slim and charming. Use some hair products to keep them intact with the same texture throughout the day.
7. Golden Afro Bob
Who says one can not play with colors with afro hair? Add golden color to your afro bob and more charm to your personality. It looks quite amazing on darker skin tones, giving a mix of casual and formal looks.
8. Feathery Lob Cut
Another sleek look wherein your hair will be a bit longer than your neck and cut in layers. Keep a center parting and let your hair fall on your shoulders. It will make your face look slim and long. It's a very classy look worn to the office and casual outings.
9. Side Swept Bob For Girls
Side-swept your hair to cover half of your face with them and let the rest fall behind your ear. This look is quite a cool chic style which is famous amongst the teens. College-going girls would love to wear it, making it a trend amongst black girl bob hairstyles.
10. Sun-kissed Curly Bob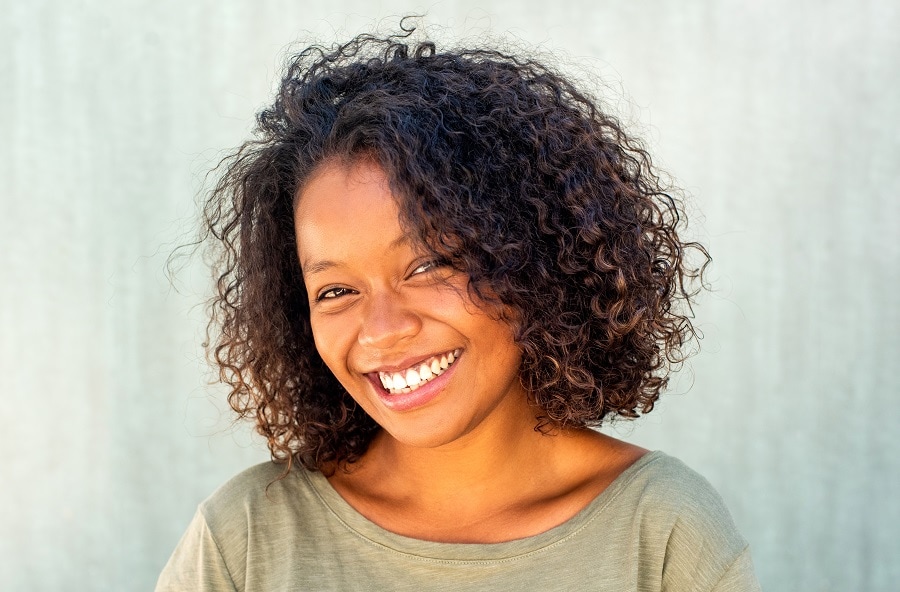 Sun-kissed hair is always in trend; introducing it with a curly bob will make it look even more attractive. You can wear it anywhere, on any occasion, and easy-to-maintain as well.
11. Kinky Middle Parted Afro
No need to make styling your coily hair difficult or time-consuming. Let the afro coils fall freely by just parting it from the middle. Keep the length up to the ear only, which will add a softness to your look and make your bouncy coils more attractive.
12. Asymmetric Afro Bob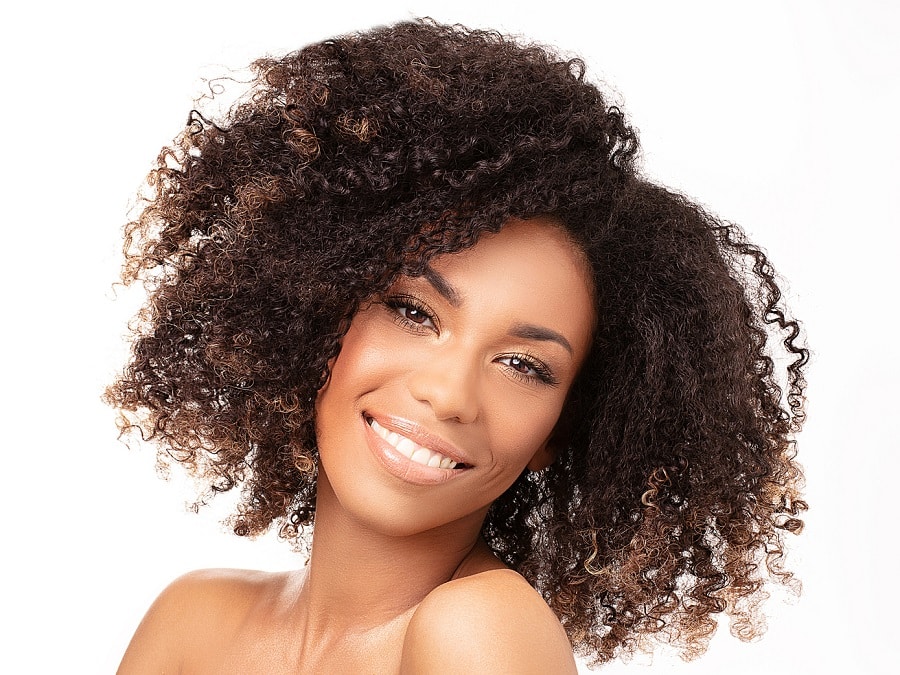 It's an asymmetric afro bob wherein the root ends are colored with blonde or caramel color, keeping the rest of the hair black.
Let the fringes be kept in a zig-zag way, covering your half of the forehead. It brings attention to your eyes, making you look more confident and appealing.
13. Short Sleek Bob
Another sleek black bob with fringes where the hair length is kept till the ears only. Straighten your hair in case they are wavy.
Let them sit in a sleek way, having just a few fringes on your forehead. It's one of the charming hairstyles for black women. Most of the celebs love to wear it too.
14. Textured Bob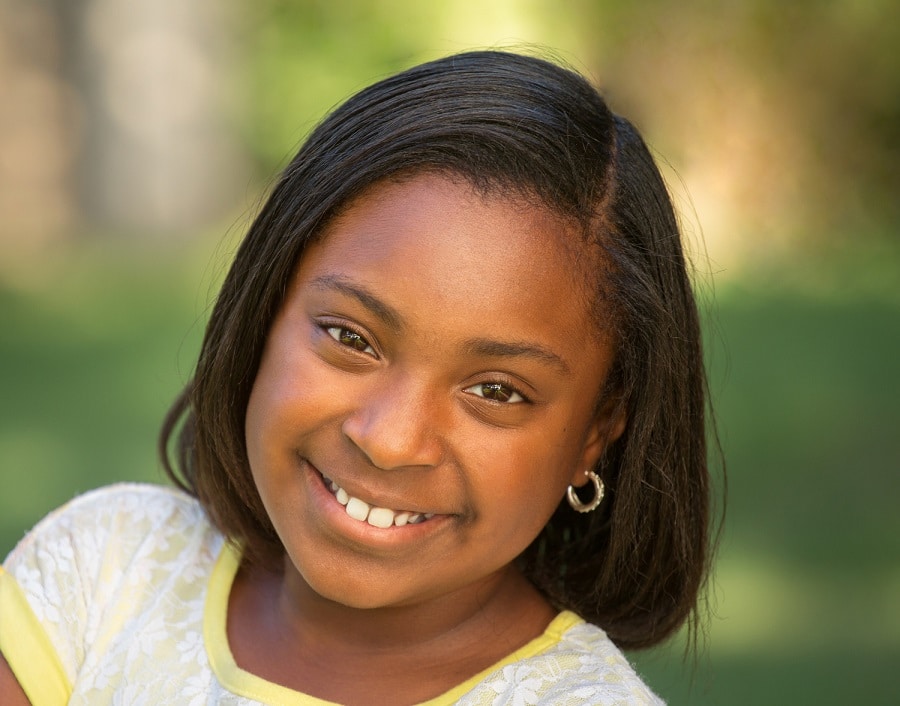 Keep the frizziness away with this sleek hairstyle. Side parted the hair and kept the hair away from your face to bring all attention to your eyes and lips.
15. Textured Bob
Bring the facial features ahead by keeping your hair tucked behind your ears. Simply comb your hair backward and use a hair spray or cream to keep them intact.
The look is quite a bossy look and brings more confidence to you. A trendy bob cut for black girls, you must try.
We have listed some of the best black girl bob hairstyles which women of any age can wear. It's mainly for the black women with thick hair to experiment with the hair in no time.