Women with shorter hairstyles are considered brave and risk-takers as they are breaking from the long hair norm. While pixie cut is already considered a unique and cute hairstyle, there's one short hairstyle that takes the androgynous look to a whole new level—the undercut.
It's bold, edgy, and striking. But above all, it's out there—definitely worth the risk. Read this article to know more about what it takes to get an undercut, along with some of the stylish undercut short hairstyles for women that you can explore.
Things Women Need to Know Before Getting an Undercut
Getting an undercut is a big step for most women as this means they will be shying away from the norm, but that doesn't mean that it should be a grueling experience for you. To make your experience as stress-free as possible, here are some of the things that you need to know:
Undercuts may not work well on thin or fine hair
Therefore, you must assess the texture of your hair before you decide to go for an undercut. You may want to reconsider if you have thin hair, as this haircut will make your hair look more limp and thin.
On the other hand, it would work well on thick and coarse hair, as this cut can make your hair look less puffy and bulky.
Need to decide your undercut style (location, size, and depth)
You must decide on these factors before you get your cut. When it comes to location, you should consider if you want to show off your undercut or hide it. The side of the head is an excellent location if you wish to tit to be visible, while the back of the head is a perfect choice if you want to keep it hidden.
On the other hand, the depth of your undercut will depend on the length of your hair. If you have short hair, you can't have a deep undercut, while having long hair will allow you to go for a deeper or subtle cut.
Lastly, the size of your undercut will define how dramatic the look will be. For a bold look, go for a bigger undercut. But if this is your first time to get such a cut, it's better to stick with a smaller one.
Undercut maintenance would require frequent trips to the salon
To be honest, maintaining an undercut is not an easy or affordable feat, as you may need to visit your hairstylist more frequently to ensure that your undercut will look its best at all times. The bigger and more visible the undercut is, the higher maintenance it will need.
Edgy Yet Classy Undercut Short Hairstyles for Women
If you're ready to rock this unique look, here are some undercut hairstyles that you may want to try out:
Short Slick Back with Undercut
When discussing undercut hairdos, the first style that has captured the fancies of women of all ages is the Undercut Slick Back Short Hairstyle.
Staying true to the basic nature of this trend, the hairstylist will buzz off the back and sides with precision. It will leave longer strands on the top of the head. The look is not for all, and if you are not confident, then it is better to keep away from this hairdo.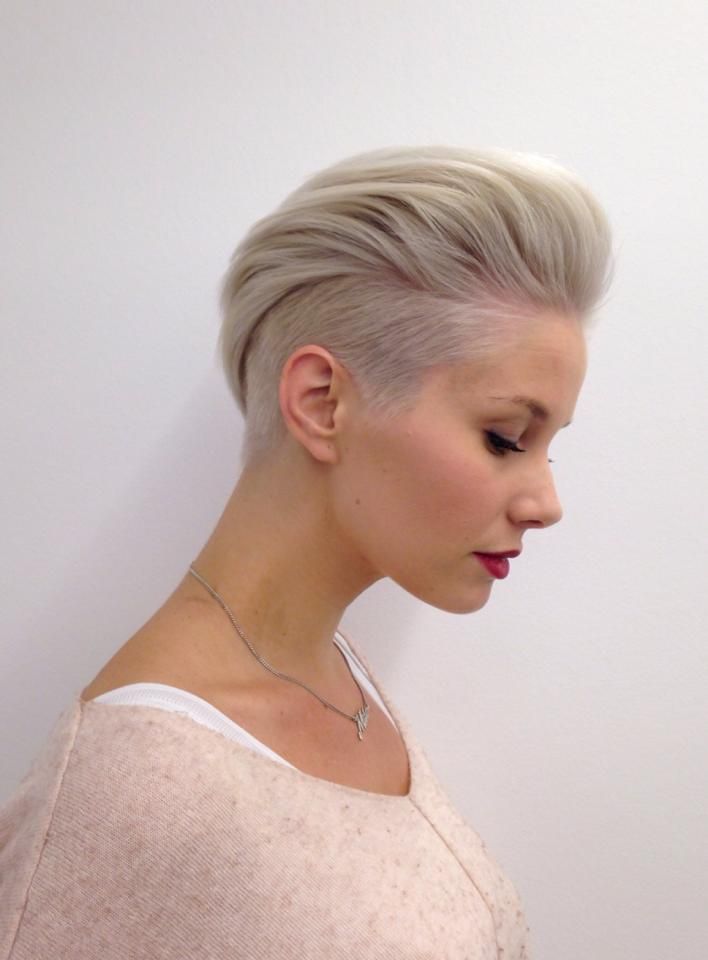 Undercut Quiff with Purple Hair
Women working in the showbiz or the fashion industry not only get information about the hot trends in advance but also get to try quirky styles, without worrying about what people will say.
If you want to highlight your bold personality, and your love for purple locks, then opt for the particular hair tint, and then go ahead, and give yourself a new look with the Undercut Quiff with Purple Hair. The longer strands on top will have purple color, while the buzzed part will highlight the actual hair tint.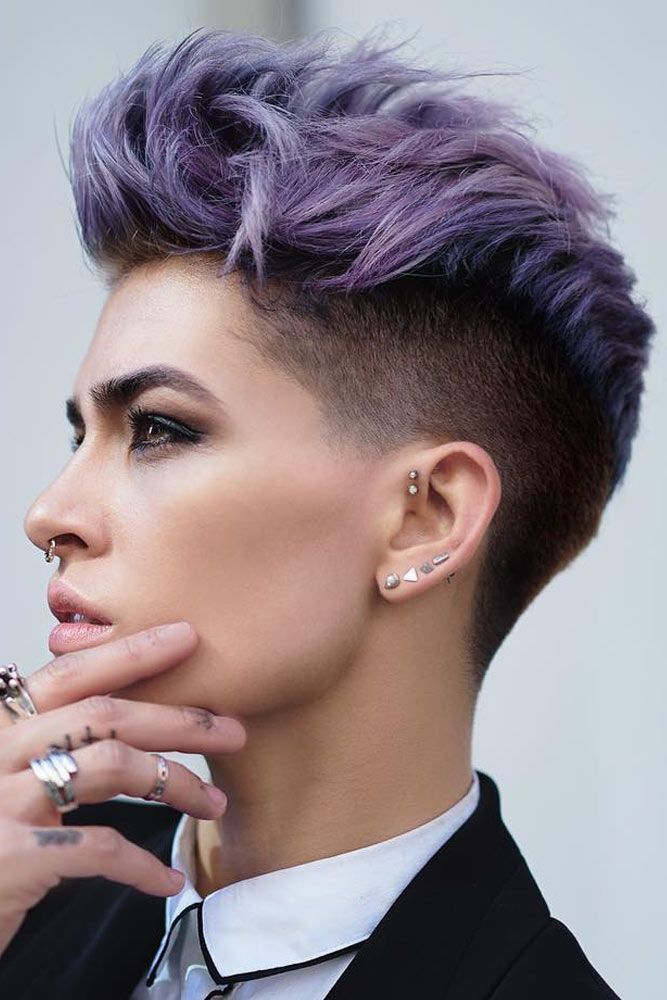 Bowl Cut with Undercut
If you are looking for something that is unique but not as bold as the earlier cut, then you need a subtle version of the undercut hairdo. The Undercut Bowl Hairstyle is one that will offer you the desire results.
Though it is much toned down, it is rare enough to give you a distinct identity in the room. If you follow fashion magazines, then you must have seen supermodels with this hairdo.
High Quiff Undercut
If you desire to imitate the unique hairstyles of Kelly Osborn, then you must opt for the High Quiff Undercut Hairstyle.
As the hair strands on the top of the head are longer than in other Quiff styles, you can use a hair gel to place the segment on any side you wish. In case you want to flaunt the quirky style, then you can use a holding spray to make the tresses stand in the middle of the head.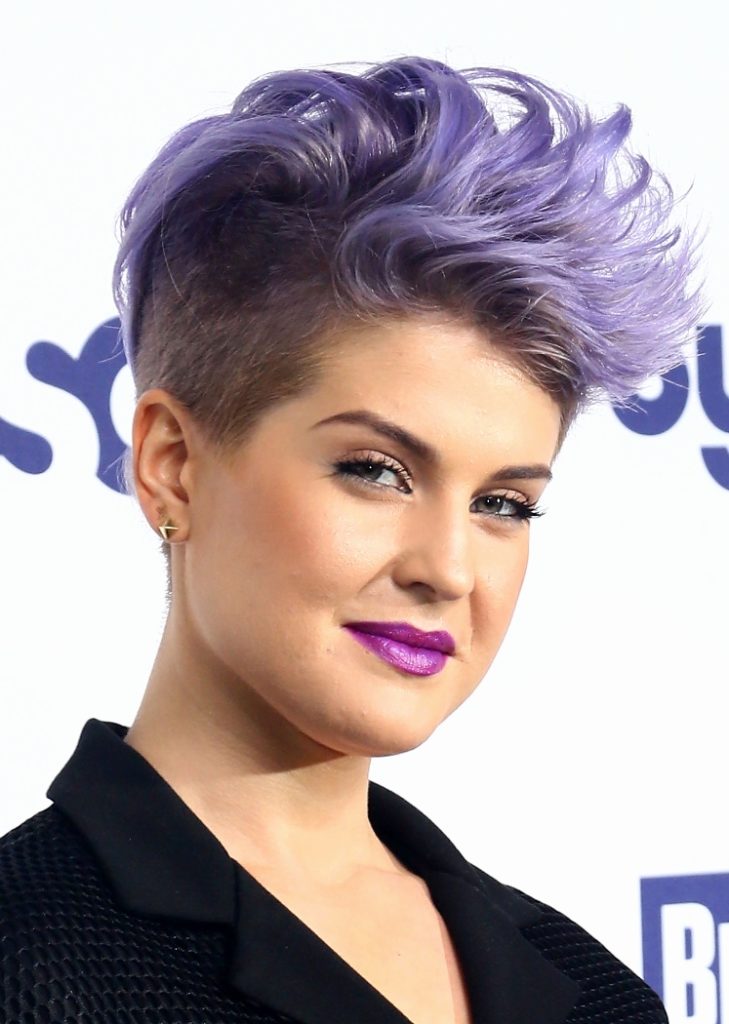 Faux Hawk Undercut
Another hairstyle that Kelly Osborn has sported on several occasions is the Faux Hawk Undercut hairdo. She has a bold nature, and if you are like Kelly, then you will be able to carry any weird look with panache.
She often uses bright colors to highlight the hair in the middle of her head. It makes the haircut even more pronounced. It is the perfect hairdo for your porn night if you have followed an unconventional path for the rest of the year.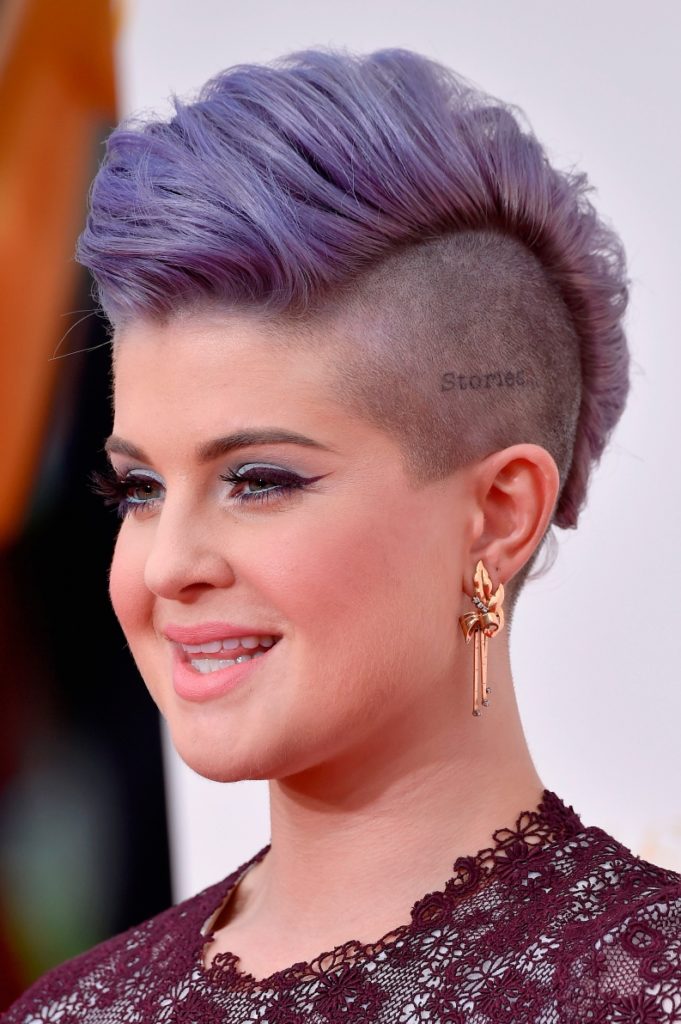 Undercut Pixie with Side Bangs
Women who are young and daring can opt for the Undercut Pixie with Side Bangs. The look is very rare as candidates go for it only on special occasions.
If you are in college, then you can try this look without any hesitation. But is definitely not the hairdo if you work in a 9 to 5 office setting. Most of the hair is buzzed off, with only a small segment that originates in the middle, and falls as a bang on the forehead.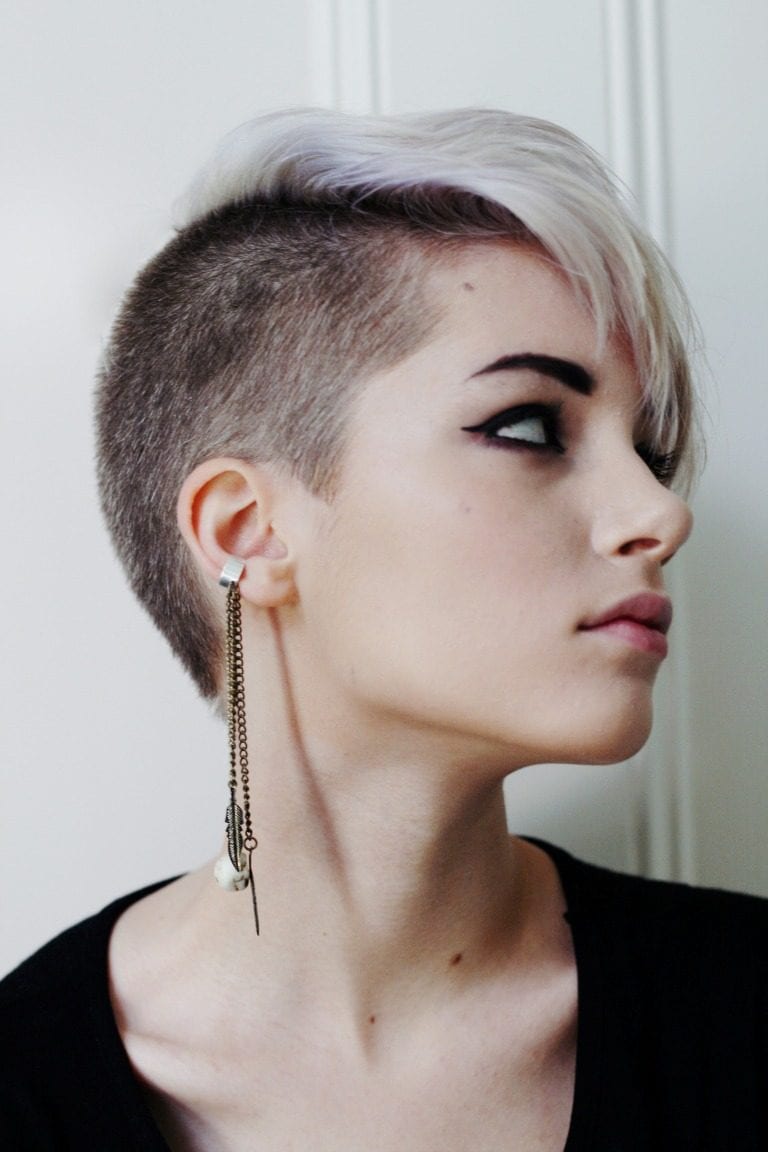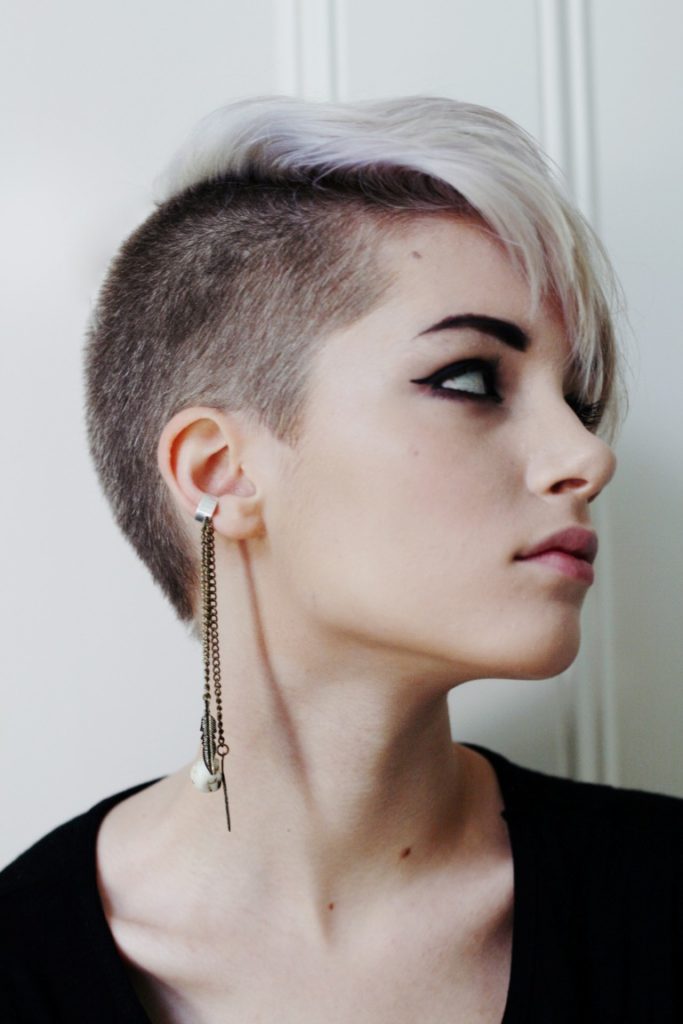 Short Curly Hair Undercut
If there is an undercut hairdo that will suit a candidate who works in a regular office, then it has to be the Undercut Short Curly Hairstyle.
Women who have soft curls or wavy locks will look best in this hairdo. It is perfect for candidates with heart-shaped or oval faces. The presence of longer hair strands on top, and shaven sides, add drama to the entire look. Tomboys often opt for this style.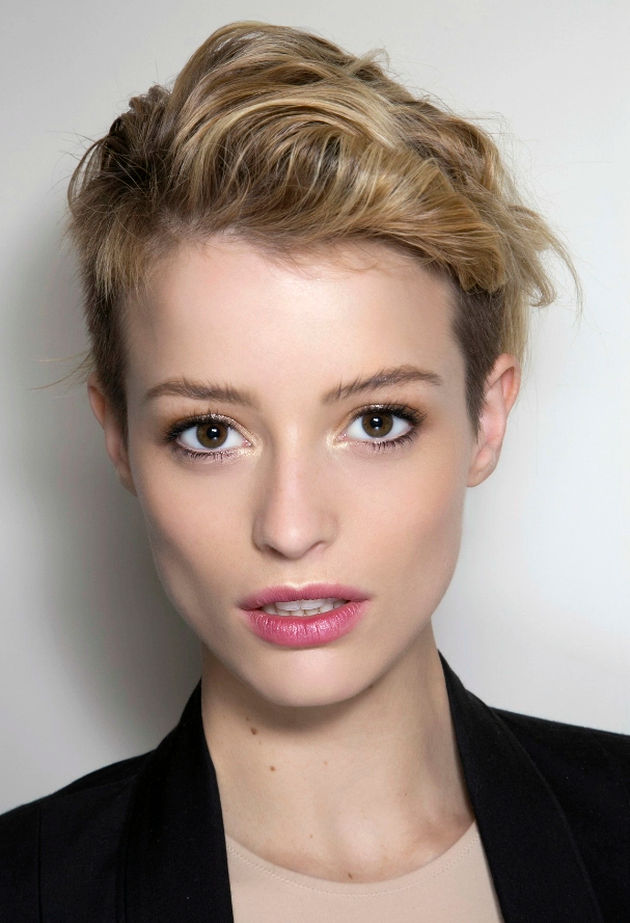 Pointy Spikes Undercut
As mentioned earlier, there are several versions of the undercut hairdo. One that allows you to highlight your spikes is the Pointy Spikes Undercut Hairstyle. To opt for this haircut, you need medium length hair on top.
When the sides and back are shaven off, you can accentuate the hair on top with gel. It will assist in creating spikes, which will set you apart from the others in the room.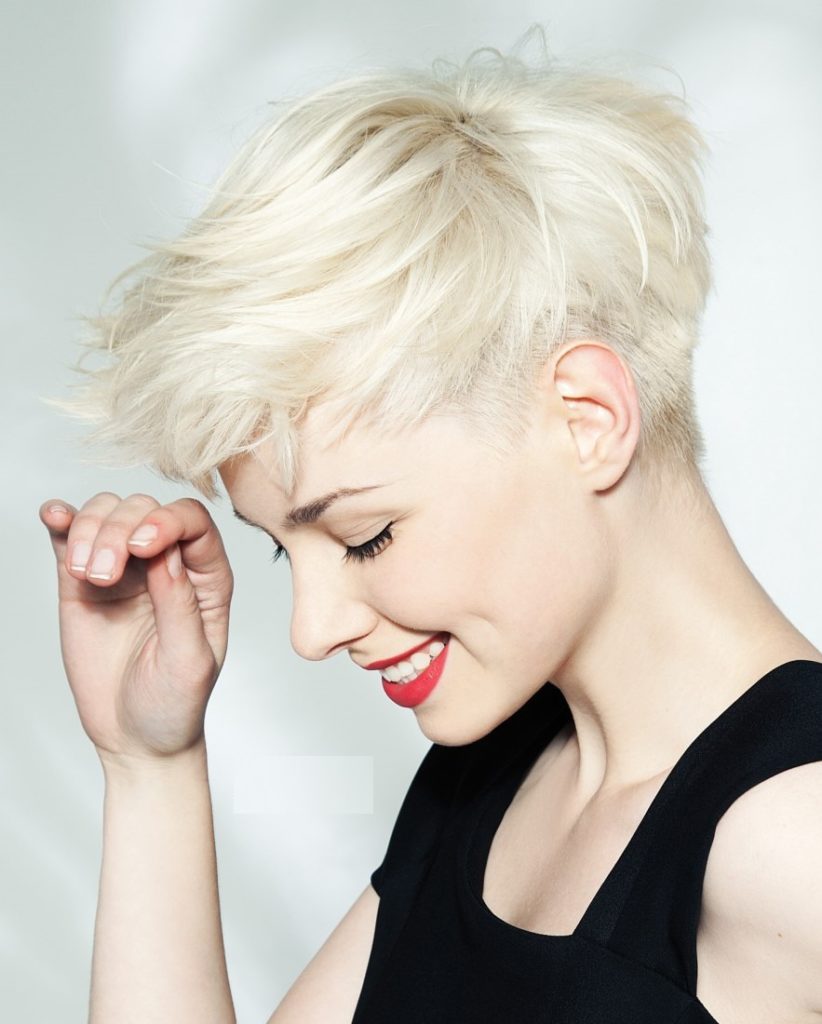 Brown Pixie with Green Highlight
Women with all kinds of hair can opt for the undercut hairstyles. But it is true that women with straight hair find it easy to maintain the look. If you have thick hair, then you will not need gel or spray to hold the strands in place.
Women with thin tresses will need the assistance of gels and hairsprays. If you have brown and straight locks, then the Brown Pixie Haircut with Green Highlight will attract the attention of every person around you. Filter out the criticisms, and bask in your own glory.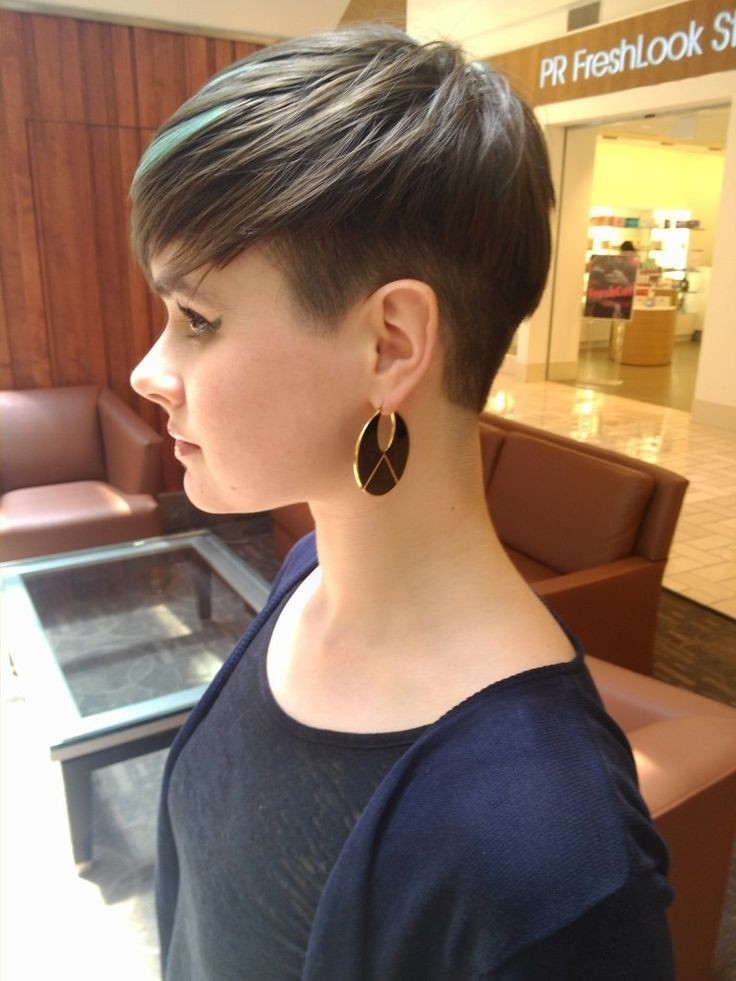 Short Mohawk
Pink is one singer who has been a strong supporter of short hairdos. In fact, she has a distinct liking for all kinds of undercut hairstyles. She has been spotted with the Mohawk Short Hairstyle on several red carpet events.
It is perfect that complements her strong face and physique. If you have similar physical features, then you can rest assured that the style will also accentuate your face and personality.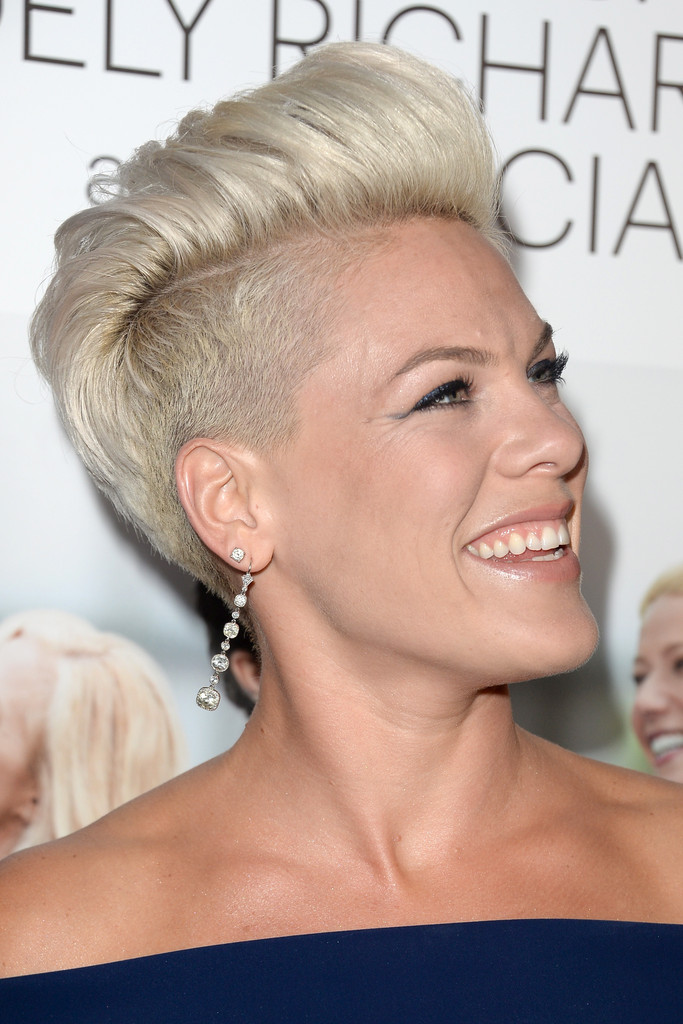 Retro Hair with Undercut
If you do not want to shave off the hair from the sides and back of the head completely, then you can opt for a haircut that allows you to keep your hair a little longer.
In case you want to sport the undercut look to a party that has a retro theme, then opt for the Undercut Retro Hairstyle. It will suit the occasion perfectly. Famous singer pink was also seen with this hairdo, and she teamed it up with a metallic boat neck short dress.
Slick Back Undercut
If you have a notion that the undercut look and gowns do not gel well, then you need to see the red carpet look of Scarlet Johansson, during one of her movie premiers.
The quintessential girl was able to pull off this strong look with a lot of grace. She wore a deep green high neck gown and added small drop earrings to finish the look. The hair on the top of her head was brushed back to give a sleek and futuristic look.
Short Inverted Bob
You need not spend thousands on shoes, clothes, accessories and bags to look like a supermodel. Changing your hair color and cut will give you the desired result if you succeed in picking the right hairdo.
The Undercut Short Inverted Bob Hairstyle is one such look that will help you to create your own style statement with ease. It is edgy and futuristic, but it is rather hard to maintain. So, if you are not fond of spending a fortune on hair care products, then it is better to give this look a miss.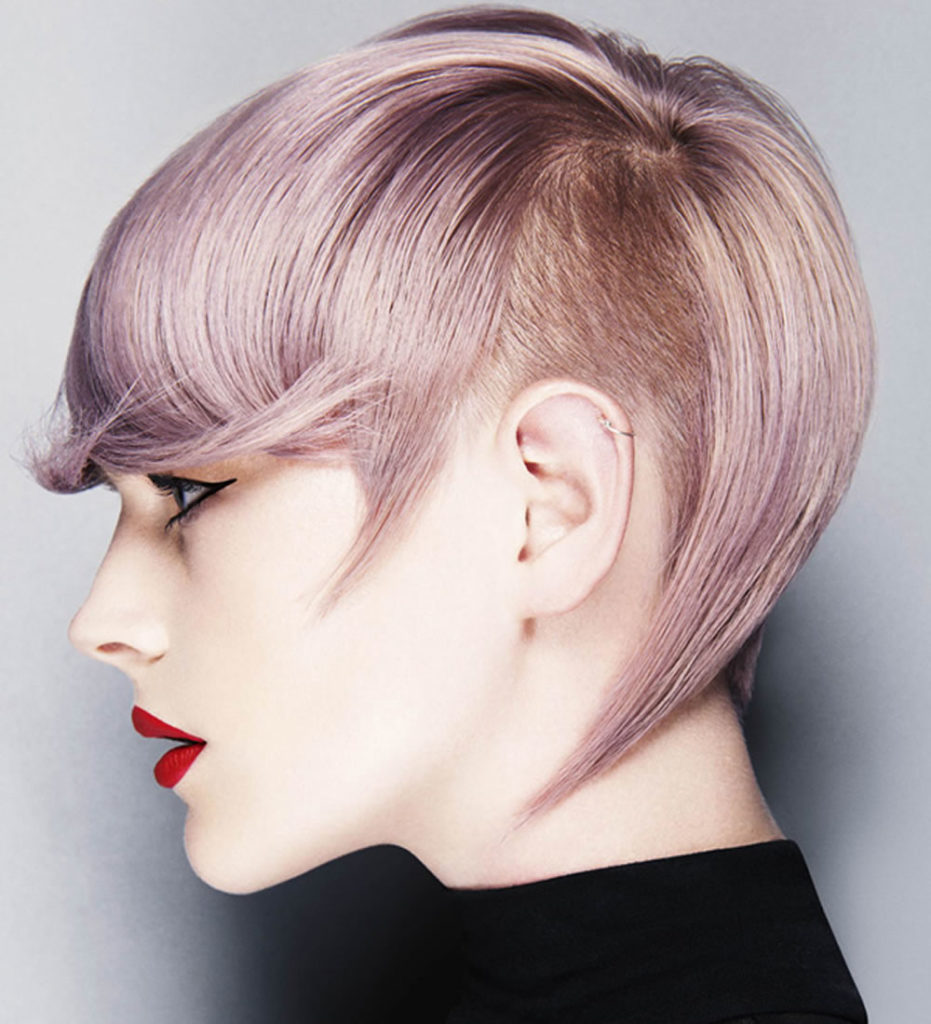 Two-Toned Undercut Short Hair
The undercut hairdo is basically for the bold. Such women can carry themselves confidently in any situation. The Two Toned Undercut Short Hair is different from the similar undercut styles as it highlights two different shades.
To attain this look, you need to color the top of the hair in a tint that sits in stark contrast with the color near the roots. Once you get the haircut, both colors will show on the sides.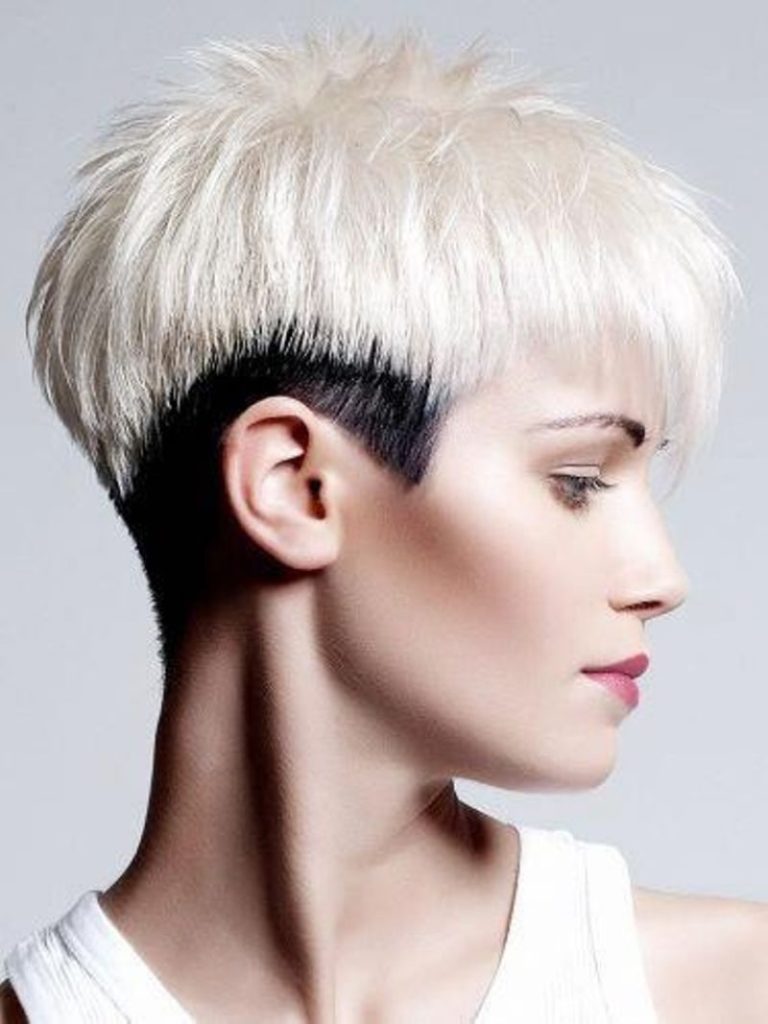 Short Curly Hairstyle
For those women, who desire to create drama in daily life, with their hairdos, they need to opt for the Short Curly Hairstyle with Undercut.
As the name suggests, women with wavy tresses or soft curls will be able to do justice to this hairdo. It is unique and super-edgy. So, take the advice of the experts before going under the knife.
One Side Pompadour Mohawk
Gel the undercut and comb them neatly. Style your hair to one side in a pompadour mohawk. A slight puff with the length will make your face look longer. Have all hair to one side without layering, and voila! It's done.
Curly Hair Mohawk with Undercut
One of the simplest undercut hairstyles, get a quiff of your short brown curls and have an undercut of just an inch long. The back hair can be of the same length as that of the crown.
Grey Short Hair with Shaved Undercut
Partition your short locks on one side. Pull them into sections and give a unique razored undercut to the remaining hair without leaving sideburns. Have the locks cover a side of the forehead to make your temple look smaller.
Pink Quiff with a Blue Undercut
Want to get some funky undercut short hairstyles? Make a quiff of the crown without layers in red color by getting an undercut in blue. Let the sideburns be of the natural color to match it perfectly with your face.
Brown Quiff Undercut
Pull all the short hair up and give a unique undercut with an edgy design. Apply some spray or gel to keep the crown intact, have it colored in light brown with the undercut of similar deep color.
Highlighted Pixie Undercut
Give the natural grey color some unique deep highlights. Comb them in a messy look and get an undercut on both sides. Remember to have the undercut colored in a dark color to let the pixie crown dazzle prominently.
Short Hair with Layered Undercut
Give the classic undercut a unique design. Layer them outlining the ears till the back and have short hair over the top of the head. You can either comb it neatly or leave it messy.
Pink Ombre Bob Cut
Why not color your bob in pink while having pure natural black color on the top? Have a layered undercut on one side just till behind the ear, and the length falls on the other.
Blonde Undershave Pixie
Want to try a simple pixie undercut short hairstyle? No fringes or no layers, this haircut has a simple boy cut with a side partition. Put your hair to one side and color them blonde for a cool look.
Smoky Natural Color Undercut
You do not need to have the undercut only at the back. Side partition the hair and give the right side a total undercut. Give some layers to short hair and put them on one side. You can keep it chin length or just a little longer.
FAQs
Here are a few frequently asked questions about undercut hairstyles.
How long does my hair have to be for an undercut?
You can get an undercut with any length of hair. Whether you have a shaggy pixie, shoulder-length cut, or long locks to your waist, you can achieve an edgy, fun undercut look.
Is an undercut good for thick hair?
Thick hair is ideal for an undercut. Those with thick hair can cut back some of the bulk while still maintaining the ability to style it.
Is an undercut difficult to maintain?
An undercut can be slightly harder to maintain than your usual hair routine, but if you are committed to the style it can be well worth it. To maintain an undercut, you should get it shaved at least once a month to keep the edges sharp and prevent it from looking fuzzy or unkempt.
Are undercuts unprofessional?
Every workplace has a different definition of professional, so you should examine your workplace dress code to get a feel for whether an undercut would be an acceptable style.
If your workplace has a business professional dress code, you may want to rethink the undercut style. Fortunately, undercuts can easily be hidden under the rest of your hair if you get it above the back of your neck or a subtle section on the side of your head. Just be sure to wear your hair down at work and no one will notice.
What does a soft undercut mean?
A soft undercut has nothing to do with shaving your head. It's a different style completely. A soft undercut is a long lob cut that rests near your collarbone. It is a cool, textured look that provides volume and movement to the hair.
Make sure you know the difference between the two before going to the salon. Bring a reference photo, so your hairstylist knows what you want.
Are undercuts feminine?
Undercuts are edgy and cool and can be as feminine or masculine as you want them to be. If you want a traditionally feminine look, keep the rest of your hair long. You'll still get the chance to curl, straighten, and style it as you please, but have the option to show off your fun, new look.
All the undercut short hairstyles, which have been mentioned in this article, will highlight the edgy personality of today's women. Some may find it difficult to carry the look on a daily basis. If you have the same doubts, you can get in touch with the hair experts.
They have information about the fresh trends, but they will also keep your age and face structure in consideration. Then they will pick one hairdo that will complement your looks and personality perfectly. Let the experts work their magic and you can rest assured that you will attain a look that will be a head-turner.