In recent times, women are quite concerned and fascinated with their beautiful makeovers. When it comes to getting a complete makeover, they think of their hairstyle, and most importantly hair color. So, basically, you will get a huge range of Hair Colors for spring to wear with any traditional and contemporary outfits.
If you have a darker skin tone, then choosing the ash blonde, platinum blonde or even icy blonde can be the finest hair shades. But if you want to go absolutely bold, funky and ravishing, then you can easily choose the blue, pastel shade, purple or even chrome yellow color to fulfill your desire.
Women with a brighter complexion can go with the blonde brown or even rose gold blonde, which will add beauty on their personality. These colors will suit the bright skin and along with that, it will provide an edgy look too. So, selecting the right color for your hairstyle according to your skin complexion is important.
Smoky Silver
The silver-blonde is the type of highlight that is more of the cool-toned kind. The stark silver color looks absolutely best with a lighter complexion.
The silver-blonde is the type of highlight which is more of the cool-toned kind. Make a half bun at the backside of your head and set the rest of the smoky silver strands accordingly.
Chocolate Mauve
Blonde highlights are an excellent way to add some flair to your regular brunette hair. If you have short and wavy hair, you can go for the Chocolate Mauve hair color.
This one has taken you to the route of keeping it simple and sweet. The curls at the bottom make the highlights blend in even more. It looks absolutely excellent on you.
Charcoal Hair Color
The fact that you can go edgy with the blonde highlights is proven beyond doubt by Charcoal Hair Color. Just put the streaks of whitish blonde color in your thick strands all across your hair.
You will require having dark-colored hair for these highlights to be discernible properly. So, those along with the natural light color of hair will need to get the hair coloring done first.
Rose Gold
The Rose Gold medium hair is a gorgeous hairstyle that can be carried with any gorgeous dress or outfit. The medium and wavy hair is parted in the side.
The front layers have been made to look prominent by making them wavy while the rest of the hair is also curly in an amazing way. It also adds some extra charm to your personality.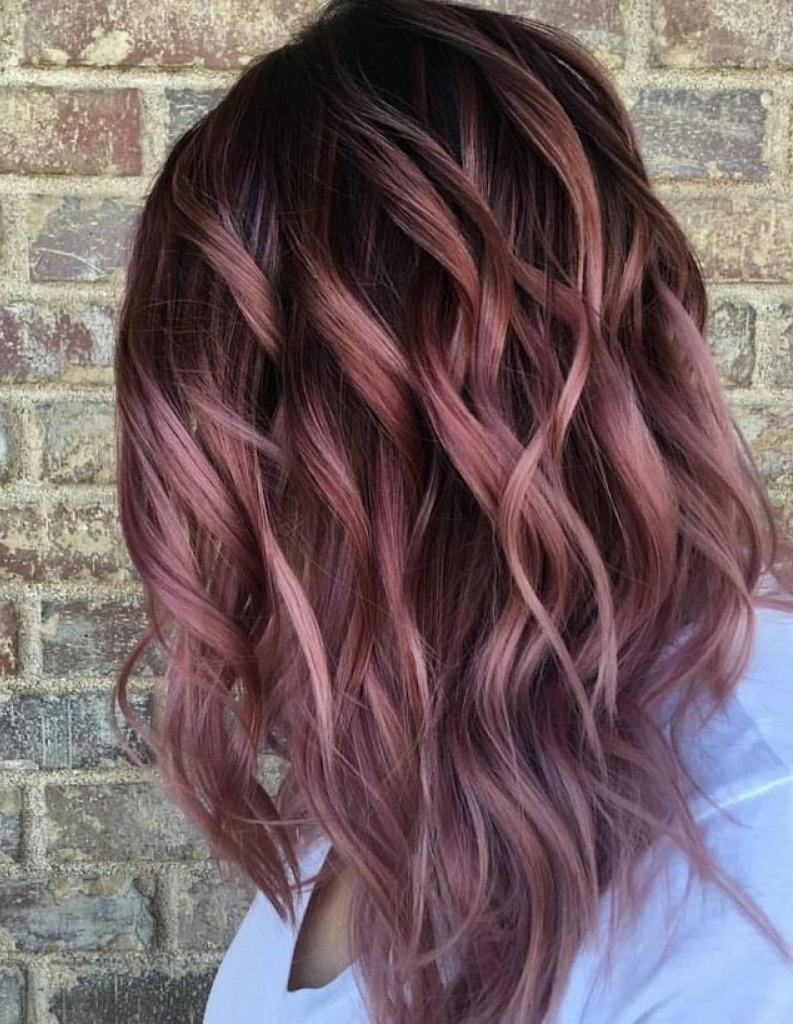 Brunette Hair Color
The Brunette Hair Color always provides you a beautiful, smart and elegant look. This is a sophisticated way of adding highlights to your hair.
Those who prefer to keep it subtle with their highlights can go for this brunette style of highlights. The light brown highlights on your darker black hair will look absolutely excellent on you. It will also give a sharp and edgy look too.
Blonde Hair
The Blonde Hair looks actually vibrant and vivid. This is the kind of highlight, which makes you stand out gorgeous from the crowd. It gets even better if you already have light blonde hair color.
When these specific blonde highlights are blended into the light blonde hair color, the result is pure magic. You will surely love this look on you as it will suit your bubbly personality rightly.
Brazilian Blonde
The Brazilian Blonde color of highlights has been a classic favorite among women across the world. This is just because of the fact that these highlights suit all kinds of skin tones and facial shapes.
It is both safe for office and great for parties. Here, the light blonde highlights have been done on light-colored hair to bring a nice balayage effect to it.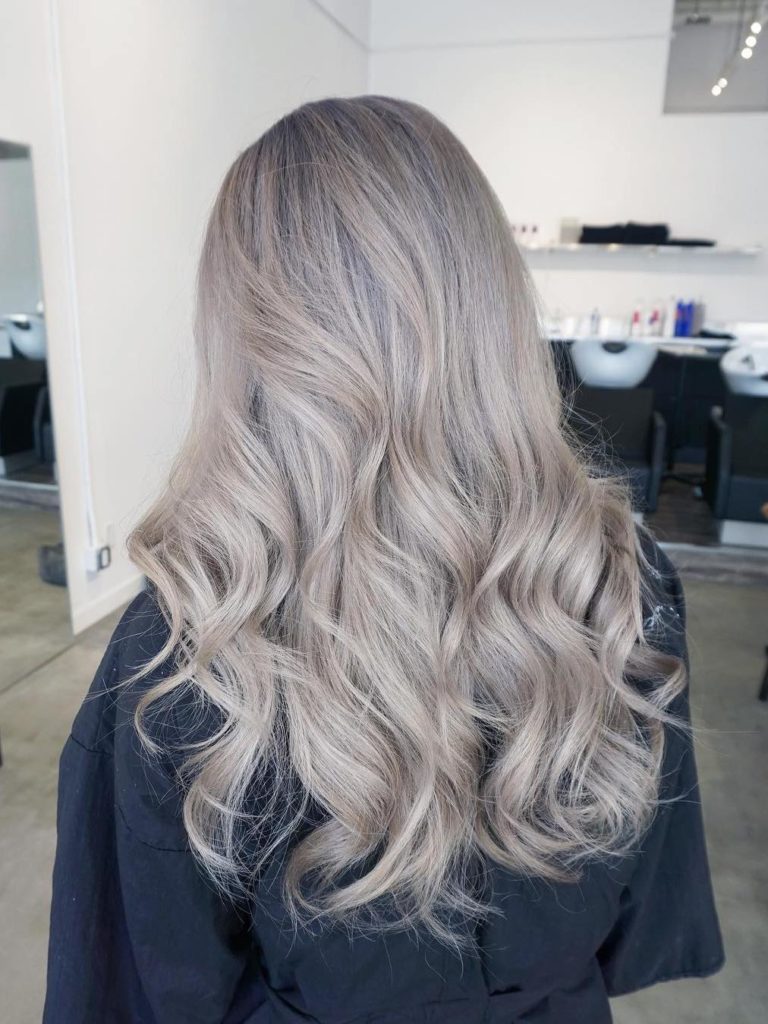 Ash Blonde Balayage Hair
When it comes to choosing the right kind of hair color for your skin tone, you can easily go for the Ash Blonde Balayage Hair. It is one of the trendy and popular hair colors that look excellent on you.
If you have a darker skin tone, you can easily try this hair color. You can wear it at any office party or even corporate event too.
Pastel Blue Blonde
The Pastel Blue Blonde requires the proper confidence and attitude to be carried. The bright shade of blue ombre suits the long hair length. The thick and long hair is straight at the top.
The ends of the hair have been made wavy and are highlighted in Pastel Blue Blonde shades. Making a loose half-circle braid at the end just keeps the strands fall at the back.
Brown Balayage
The Brown Balayage provides a soft and pretty kind of look. This is a sophisticated way of adding some highlights to your hair.
If you have medium wavy hair, then you can go for the brown blonde color in it. It is one of the trendy and fashionable hair colors that add some extra charm to your personality.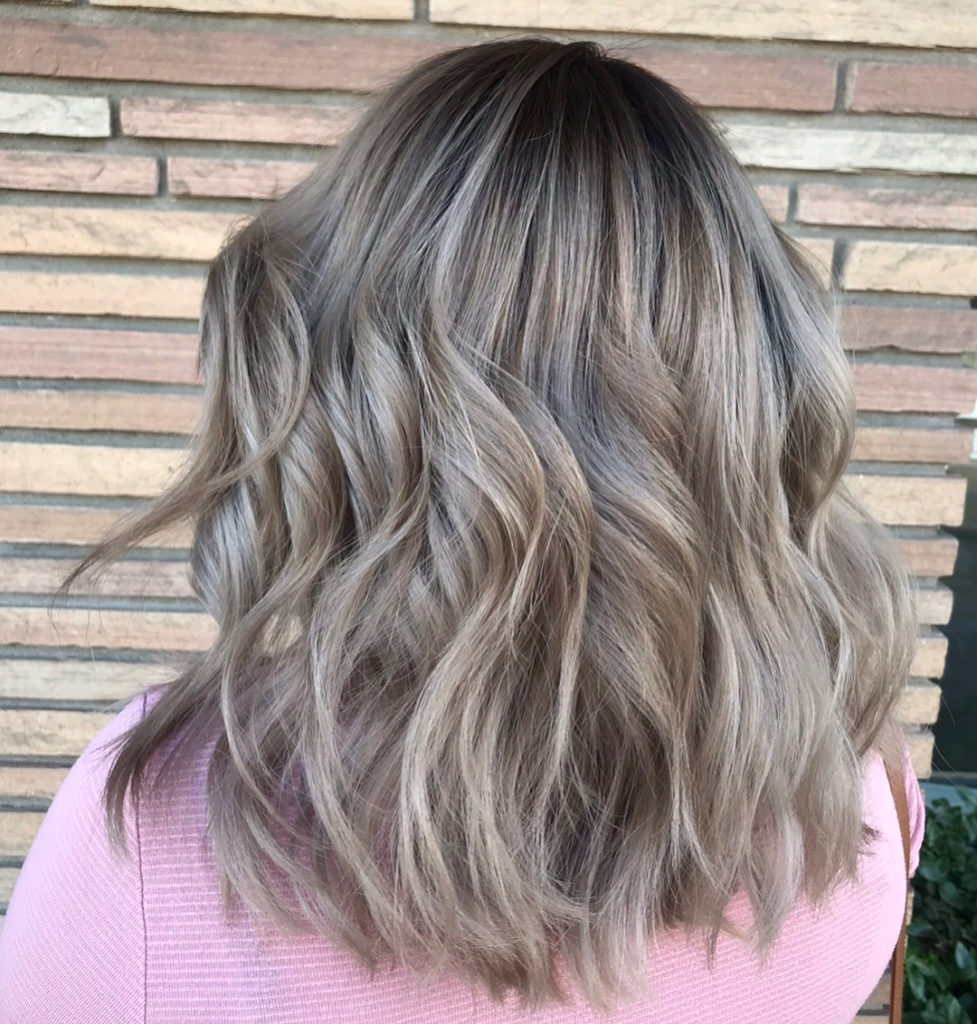 Goldilocks
Go bold and absolutely beautiful along with your hair color if you have naturally light brown hair and want to opt for blonde highlighting.
Apart from other hair colors, this Goldilocks has gained immense popularity amongst women. If you have medium blonde and wavy hair, trying this specific hair color, you will be able to flaunt your beauty.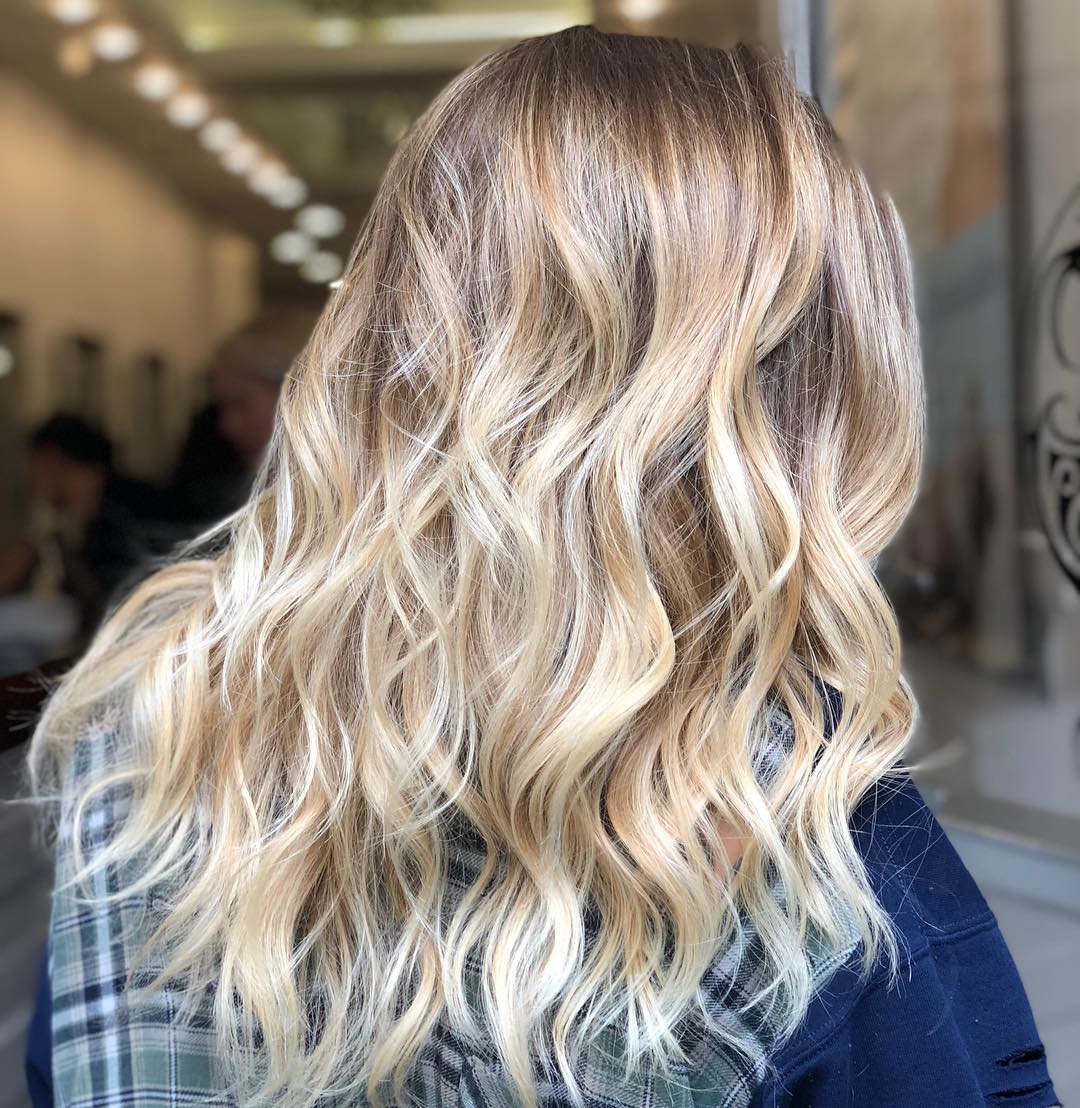 Light Blonde
The amazing thing about the Light Blonde is that they are actually understated, but they look super fashionable. It has been suggested that you should get the highlights like this one against brown hair color.
If you have long blonde hair, then it will look gorgeous on you. Sporting this color on the wavy end of the strands will look quite fashionable and trendy as well.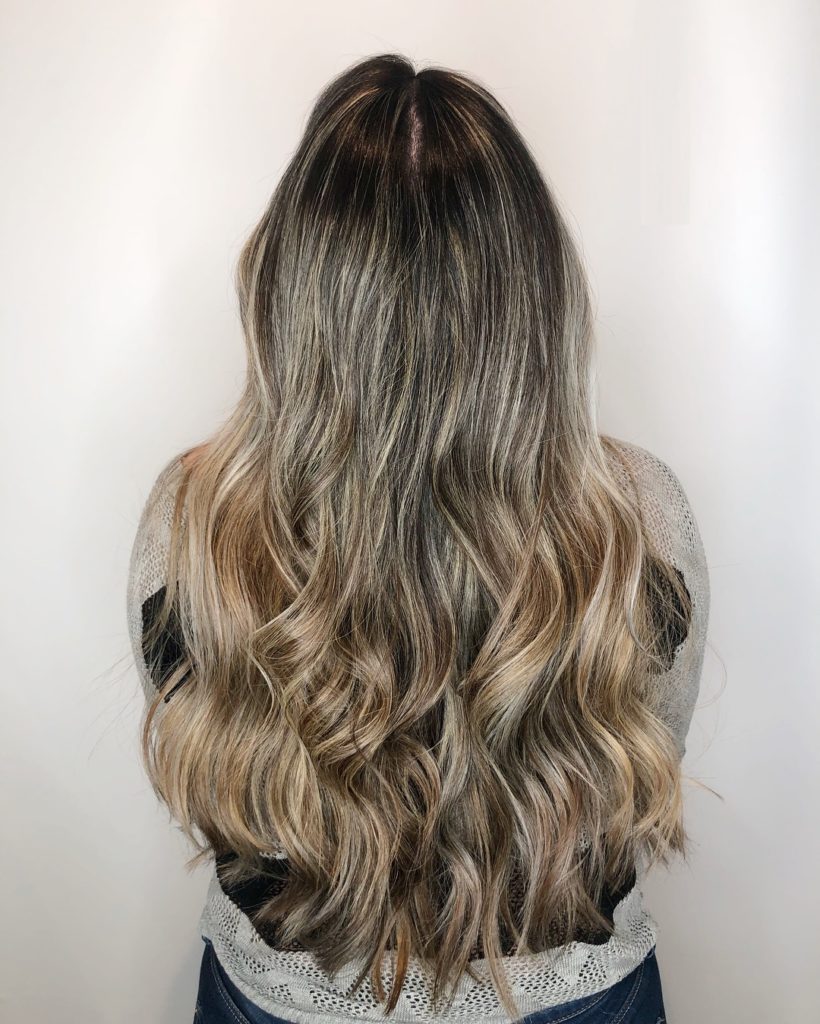 Beach Blonde
As the name suggests, this is the highlight, which looks like you have spent your days on the sand, under the sun, and with loads of fun.
This Beach Blonde is one of the fashionable hairstyles that a lot of women want to try. The hair color is a little unique and interesting too, which leaves a creamy and shiny finish on your hair.
Sunkissed Hair
A big advantage of placing Sunkissed Hair highlights on brown hair is that it makes the hair look thicker than it actually is. There has been kept a contrast of strips of color with the ends of the hair completely made soft blonde.
If you want to get a beautiful yet bold look to add to your personality, then trying this particular hair would be absolutely the finest choice.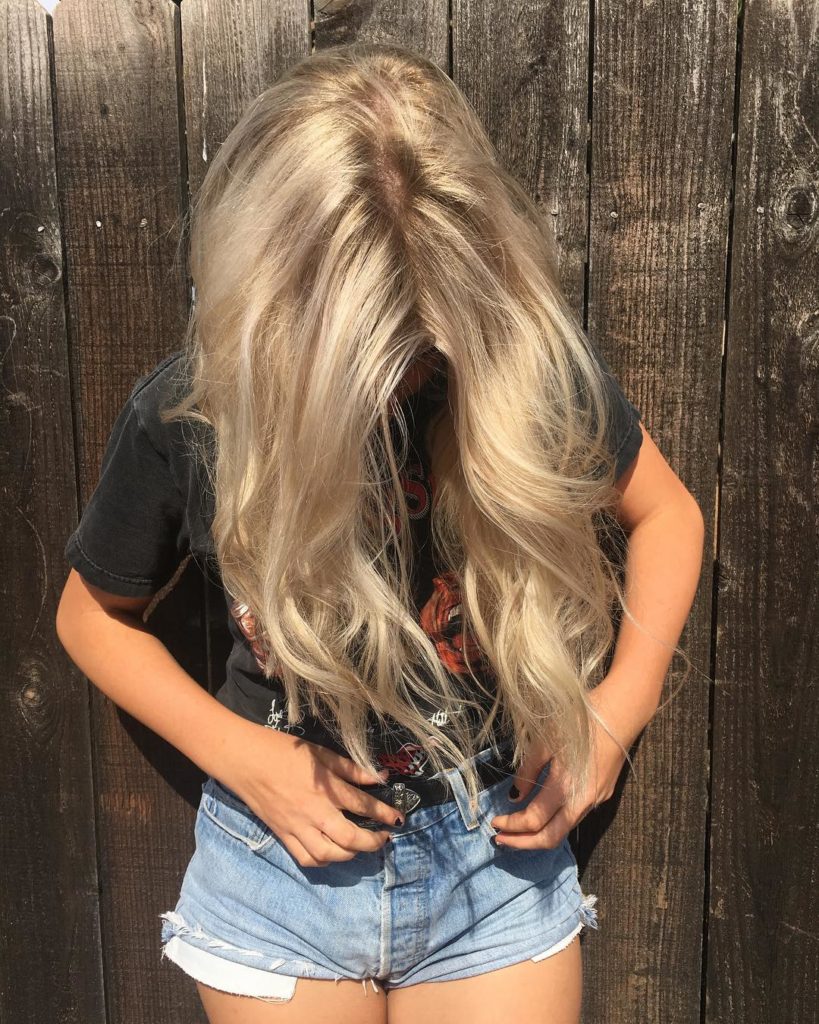 Baby Blonde
The Baby Blonde highlights will surely make you more like the cute and beautiful woman that you are. It is one of the best examples of the balayage style of highlighting.
This one is for you if you want a noticeable but not chunky color on your highlights. Trying out the Baby Blonde in the wavy hair, you will look absolutely noticeable.
Purple Hair
The purple color itself looks radiant and vibrant. Along with the ombre hair, this look is perfect. The length of the hair is long and the hair is cut in layers. The dark Purple Hair with ombre strands is kept at the top of the head.
Try to curl up the back portion of the hair and then make it a pastel purple shade, which will give a stunning and ravishing look as well.
Steel Balayage
Steel Balayage will be the hair color of choice for the ones who actually like to make a statement with their hairstyles. This color is surely for those women who love to experiment with their hair. You need a lot of panache to carry it off.
You need to take some strips of hair and make them pastel blonde with the ends of the hair completely platinum blonde in color.
Dark to Light Hair
When it comes to choosing the right kind of hair color, this Dark to Light Hair is one of the excellent hair colors that have gained immense popularity.
Women with medium or long hair can try this one. The front section of the hair is sleek and has darker black color and the end section contains a light color.
Silver Grey Hair
The silver-grey style is for those who want to style their hair with an edge. This is an ombre hairstyle with a ravishing look.
The long hair is straight at the top of the head. It is made wavy at the bottom. And the bottom section of the strands has been colored in grey, which adds some charm to the personality as well.
Bronde Hair
For Bronde Hair and sleek and straight hair, long hair is suitable. The long hair is straightened from the roots till the tips.
This particular sleek hair is dark at the roots and the top portion of the head and is lighter towards the ends. The haircut is also kept neat and is equally cut towards the ends.
Ash Blonde Ponytail
In recent times, women are quite fascinated with the ash or platinum color hairstyle, which is absolutely trendy. So, if you have medium-length or long hair, then trying out this one would be absolutely amazing for you.
Make three parting and three thin braids on your hair and then keep the rest of the silver hair and create a ponytail.
Baby Light Blonde
The Baby Light Blonde highlights are classic and that means that its appeal is here to stay for a long time. The hairstyle is absolutely easy to maintain and it gives you a classy and absolutely elegant look as well.
When it comes to choosing the simple yet beautiful hair color, this baby blonde is one of the perfect choices.
FAQs
Is red hair color suitable for spring?
Red hair is suitable for spring. Opt for a more copper-toned or lighter-based red to match the airy vibe of spring. Red hair can bring out a sense of freedom and excitement in some people, which is perfect for the adventurous spring season.
When can I have spring hair colors?
People start to embrace springtime in their hair color choices around late March. You can color your hair a lighter color before then or after then, but generally, people schedule their hair cut and color appointments for late March or early April.
Is blue a spring color?
Blue is a classic and timeless color. People tend to lean toward a light blue or a pastel blue when matching blue with spring. If you want to dye your hair blue, opt for a light pastel color that leans more towards the blonde side. This will provide an effortlessly fresh look perfect for spring.
Can two hair colors be mixed together?
Mixing two hair colors is a tricky process but an achievable one! The best part is that you get a new color unique to you. It is best to do this with a professional, but you can also do it at home.
Be sure to mix two complementary colors from the same brand. Be aware of the lightening strength of both colors. The color that has a higher number will lighten your hair more. Lastly, be sure to use a 1:1 ratio of each color.
There are multiple Hair Colors for spring available to choose from, but considering your skin tone, you should choose the right one to get the perfect hairstyle and makeover.