A pretty long hair is always very attractive as well as worth every effort. Long hair is a bliss. For women who have long hair, they are exposed to a variety of hairstyles and numerous other style options.
Long hairstyles can involve various styles like two buns, braids, weaves, crochet hairstyles, and many more. However, with long hair, one has to be very careful when it comes to taking care of it.
Here are 5 important style tips that you can implement in your daily hair care regime to have great long hair
The first step is always very easy, and most women do not understand the importance of it. Do be gentle while combing your hair. Any kind of knots or lump should be tackled smoothly; else, there will be a lot of torn hair and pressure created in the scalp area for forceful knotting, which is harmful to the hair cuticle.
Secondly, one should keep track of the nutrition quotient of the scalp. In this section diet, ample water, and a good amount of sleep are mandatory.
Now comes the products you use on your hair. Make sure that you do not use extreme heat and products laden with Chemicals too frequently. It is always best to give your hair some natural rejuvenated time while a style transition is going on.
Moisturize your hair with oil and use a shampoo that helps in balancing the pH level and thus does not make the scalp area too dry.
Things like castor oil, onion paste, olive oil, coconut oil and the pulp of Aloe Vera leaf are good for the growth of your hair. Once in a week, such natural hair remedy packs can be applied to strengthen the roots and give your hair a nutritional power boost so that those long lustrous locks remain healthy.
So what is the wait all about? Let's get started. Here are the top 25 cute long hairstyles.
1. Cute Long Princess Hairstyle
As the name suggests this particular style trend has been spotted over a lot many Bollywood fictional and animated princess series, one would notice that the hairstyle has a pretty wavy texture that adds a lot of volume into the look.
So the color which has undertones of white and blonde mix gives the hair color a mystical look. Hairstyle in the looks royal and has that princess kind of a look. If you have long hair to create this hairstyle, all you need is a hairstyling iron and a hair-setting gel.
2. Gorgeous Wavy Long Hair
This hairstyle is pretty broad and elongated in its appearance. Women who have frizzy hair will be able to relate to this style immediately. All you need to create in this look is a side partition of your hair and then keep it on just one side with the heavier locks.
For the clip, you can use a dazzling hair accessory that will make the look even more glamorous. The lower portion of the hair incorporates highlights in blonde that accentuate the look even more.
3. Dark Brown Hair with Blonde Highlights
If you have thin hair then one trick to make it look thick and dense is to incorporate in the haircut some amount of layers and highlights. The Perks of doing so is that it will introduce a lot of thickness and texture into the look, and the highlights will be, giving a Shiny edge.
The color palette between the Brown and the blonde gives a very subtle classic hue. If you want a trendy hairstyle in long hair, then this is the one to go for. Also, the hairstyle itself is so romantic that you don't need to tie or accessorize it. Let down your hair open.
4. Bouffant Ponytail
Long hair can be styled in many ways and maybe there is where the advantage lies. It can be kept open or tied and in both ways, long hair looks great. The Bouffant pony hairstyle is a typical example of an adorable hairstyle.
To make this style first with the help of an iron curler, give your hair the wavy curl it needs. After that, make a Centre section and small pony that will be creating the front short bouffant.
The focus areas of this style are the front portion and the side hair locks. Together with the hairstyle, indeed weaves the magic that will attract a lot of gazes.
5. Pony with a Single Braid
Ponytails are always cute and make a great hairstyle. It is not only easy to do but also has quite an effect on the look. Here the novelty is added with the small narrow braid in between. The braid works as a surprise element and makes the style fashionable.
So to do this hairstyle first comb your hair clean and tie it in a High rise pony. Thereafter taking a narrow strand of hair separate into three even narrower strands, form a very thin braid.
Secure the end with a transparent rubber band. The hairstyle is both cute and cool and the braid adds a not of quirkiness into the look.
6. Long Curly Hair
Not every time do you have the mood to sit and tie your hair. Maybe you are in a hurry and lack so much time to be invested in making a detailed hairstyle. In such a scenario, a quick fix is all that you need. If you love a style that flaunts your open hair, then this long curly hairstyle will amaze you.
The style has a wide lot of trendy tricks going on. First, the curls are done with the styling iron. Make sure that the curls you do should be short and wavy. This will make the hair look beautiful and also, as a contrast, make a face look slimmer.
With the highlights, you can go on colors like soft Golden or blonde tones to strike a balance with the otherwise darker base. For a cute finishing touch do not forget to add a minimalistic hairpin on one side of the hair. This will seal your adorable look further.
7. Golden Colored Long Hair
Have you ever heard of the character named Goldilocks? Yes, her Wavy hair weaves the real magic and Charm. That lustrous shine had the power in attracting a lot many gazes so why not bring the dreamy style to real action?
If you have long hair, then all you need to do is color with a proper soft golden tone. Make sure that there is no concentration of one color at a single point. Now make a Center partition and clip on with the headpin taking them all along at the back.
This gives the other side of the hair a pumped-up look. Make slight waves at the lower portion of the locks with the help of either hair rollers or a styling rod. The ultimate look that is created is worth it.
8. Blown Up Side Braid
For long hair, such kind of hairstyle is art created on the Canvas of long hair. It is splendid and indeed a creative one. The one-sided alignment of the blown upbraid flaunts the cute look even more. To do this one, you need to tie a French plait along the side of the hair and thereafter hold it together to tie a ponytail.
The blown upbraid style can be created by pulling the strength of the braid to make a broader base. The strands of the braid look like small little blown-up bubbles and enhance the cute look.
9. Blonde Balayage
The hairstyle is just too beautiful and pretty would be an understatement. The side braid has both the blown-up style and the normal braided structure, which is done towards the end. The rest of the hair is left open and the hair highlights do the job.
Make sure to pull out the strands of the braid along the side of the scalp. As the braid goes down the structure thins. Such hairstyles can be worn at parties and events to make the look jaw-droppingly eye-catching.
10. Brown Hair with One Single Narrow Braid
If you want a hairstyle that is effortless and very low on maintenance, then this one is your smart bid. Just make a center partition of your hair and bring it in front.
Now taking one narrow strand randomly from one side of the head very narrow and tight long braid, secured the end of the bread with a Bobby pin cute careless look in the style.
Not entirely Bohemian, this style has a very pretty carefree charm and is quite attractive. The color tone adds up to the warmth of the look.
11. Top Bun
Top knots and buns are a lot in trend in contemporary fashion. The bun adds height to the look and also next to look cute and adorable. If you have long hair, then having a top bun is a good idea.
Coimbatore hair and gathered up a strand to form a top bun on the Crown area. Keep the rest of the hair open. This hairstyle has a cool vibe to it and imparts a summer vacation-friendly look.
12. Red Hair with Soft Curls
The actual USP of this particular hairstyle is its color. The color chosen is a beautiful mix of soft red and burgundy.
Together it is such an illuminating yet soothing color-tone that it makes the entire look very cute yet stands out as a new one; also the front fringe adds to the cuteness quotient of the look. Styling iron you can introduce soft curls at the base or throughout the layers of the hairstyle.
13. Korean Long Hairstyle
This hairstyle is super cute. The style is perfect for long hair as the locks fall nicely. The haircut Falls loosely on the shoulders and has a layer style. Thus the locks have strands that beautifully cup the face.
You can pair the hairstyle beautifully with a dress or even types of denim. You do not have to take any extra effort in styling. Just keep open and let your hair do all the talking.
14. Crown Braid
Replete with feminine Grace and Charm particular hairstyle will be an ideal match for women who like to style on their long hair. If you already have long hair, the pretty quotient is raised. It is a fact that this long hairstyle is indeed a winning combination.
You can keep your hair open and focus on the Crown area for this particular brown braid. It looks like a beautiful braided Tiara that becomes the focus point.
15. Brown and Purple Hair
One of the prettiest in this top 25 list is this one. The color makes a beautiful and charming combination. Until and unless you incorporate these two colors in your hair you will not believe the enigmatic charm it weaves.
First, go for the haircut and make sure that the feather cut together with layers gives the curls a hint of Bounce with hair setting spray.
Now the colors will fall so beautifully that you will always want your hair to stay open. The hairstyle is elegant and has a unique spell about it. Also, the color purple adds a distinct note of royalty to the look.
16. Multiple Braids
When you have long hair, it is like you have a lot of colors to paint on a beautiful Canvas. In this particular hairstyle, multiple braids are going along the structure. There are waterfall braids, cross bun braids, and weaved knitted braids.
Together this hairstyle is an intricate pattern flaunting creativity at its best. The hairstyle is no less than a beautiful show that people will look at in awe. The multiple braids also make the look quite thick.
17. Two-Sided Braid
A middle school charm added to this hairstyle; it is extremely adorable. The hairstyle focuses on two side braids from the back area after the center partition. The hairstyle is sweet and fits teenagers the best.
There is a distinct playfulness that the Vibe of this hairstyle has. A cute one-piece dress would make a pretty adorable match with this hairstyle.
18. Long Celebrity Hairstyle
The hairstyle went pretty famous as Camila Cabello was spotted with such a simple classic style. This hairstyle is indeed very easy. Much of it is already been done when the hair is cut by your stylist or the hair Salon guy.
The haircut has a graduation portion and as it goes down, it incorporates subtle layers within it. For the styling part, you can make a middle partition and keep the locks as they are cut.
For that extra amount of shine and gloss, you can put a serum or a hair-setting gel. To see the look become more classy, go with nude shimmer lipstick and a smile on the face.
19. Pompadour Braid
Well, many women like to experiment with hairstyles that are a bit out of the box. In such a scenario hairstyle like this make a great mark. This hairstyle is bold, a bit over the top and dramatic and that is where the USP of this hairstyle lies.
As the name suggests, the Pompadour is created for that extra dramatic appeal on the Crown area. The latter portion of the hair is formed into a structured, narrow trail with a braid. That adds a very classy and theatrical look to this hairstyle.
20. Honeycomb with Braid
The hairstyle has a very cute note added to it because of the hair colors. The hair color chosen is that of a warm Honey tone that adds so much of a soothing effect to the entire style. If you are wondering that a lot needs to be done then this is a very effortless style.
The style requires combing your hair from the middle partition and then bringing two strands from either side which enter at the back. Now, these two will have a braid that comes along clasping the crown area. The hairstyle has a very romantic charm added to it.
21. Wavy Black Long Hair
If you have long hair, it can be styled in a numerals way. One such trend is incorporating some initial waves on your hair. If your hair is black then best or else you can also dye your hair Jet black.
Now, comb your hair making a side partition and with the help of hair rollers, you can set the sides in proper waves by keeping the rollers for quite some time and spraying hair setting spray on it.
After you open, you will see that there are petite curls at the side. One side of the hair can be combed up and a gorgeous hairpin can be added.
22. Messy Braided Bun
Well, if you have long hair, then this hairstyle can be created very nicely. First, you need to understand that this is one hairstyle where the Messy appeal is the actual USP. Hence one need not get very tidy with this style.
For this style, there will be two cross braids going down from either side of the temple connecting in the middle section at the back and then there will be an elongated braided bun. After the hairstyle has been done you can pull out strands of hair from everywhere to give a volume-boosting messy appeal.
It is the careless vibe that makes them look so natural. The color Golden adds to the web of Magic that this unevenly fashionable hairstyle flaunts.
23. The Carefree Boho Look
In this hairstyle, the front has two very tiny narrow braids that bring along the head in its place after a middle partition is done. The style enhances the look which is very Bohemian in its Outlook. Also, you need not be very cautious of your locks and let them loose and work their spell.
Also, with this hairstyle, lowlights would be a smart addition. Pair up the look with gorgeous glasses and make it look even trendier.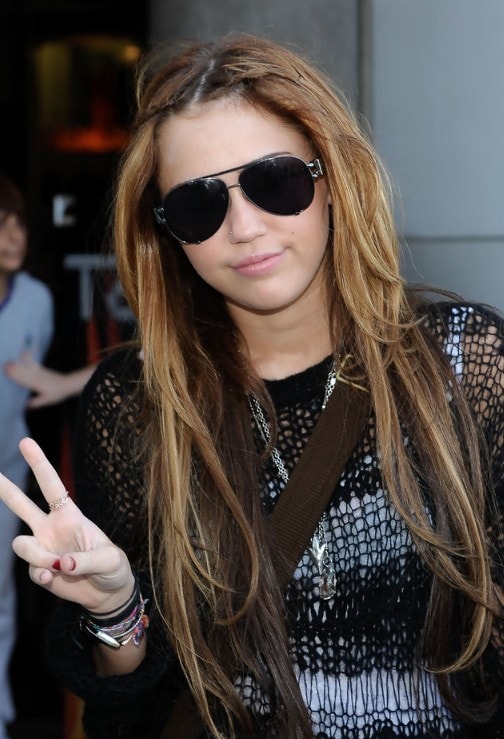 24. Cute Pony on Top
A ponytail is one such effortless hairstyle that can be done on the go and that too in seconds. Comb your hair clean and then incorporate some waves in the locks and at the front a narrow little ponytail.
Well, your hairstyle is complete and you are already to look just adorable and set on your path. If you want to have a glamorous look with this cute hairstyle, then the color palette of blonde or golden for your hair color is the right one to choose.
25. Classic Long Straight Hairstyle
Last but not the least the Classic long straight hair is the perfect end to this top 25 list of adorable hairstyles. One cannot just deny the fact that when long hair is kept straight and open the magic that it weaves is incomparable and unparalleled.
The color palette of the hairstyle is gold in and that makes the entire look even more royal with a touch of sophistication and elegance measured in the right balance.
It is indeed a fact that a hairstyle can make women look way different and that too, to an unrecognizable degree. With a proper hairstyle, one can indeed look gorgeous and different. The above-mentioned top 25 hairstyles are very adorable and give you a very cute look.
Women who have long hair can take up styles. So if you want to try it on, do select the best one that suits your face, personality and choice and look the diva you are. A happy hair day is just a selection away!