Tired of trying things to keep your hair healthy and gorgeous? Always struggling to keep them nice and shiny? We can understand this problem. The increased pollution takes a toll on not only your health but also your skin and hair. Increased hair fall, dandruff, itchy scalp, frizzy and rough hair, and many more problems happen mainly due to pollution or lack of proper care and hygiene of hair. Using different shampoos, conditioners and serums can deal with the problems but in the long run, using so many chemicals can damage your hair further. Also, you cant always rely on saloons for your hair care. You gotta do this yourself too. So, here we have got you a solution and an alternative for all these.
The solution is to go back in time, and recall the hair advice given by our grandmother. 'oiling your hair', it's probably the best and least heard hair advice. But now these must be considered as golden words for you all looking for a miracle to save your hair. Regular oil massages can benefit your hair in great ways. But many oils in the market may also contain many chemicals. Therefore, homemade oils are best to use.
Using oils to boost hair health is one of the greatest and easiest ideas to nourish your hair completely. Not only do they enhance your hair quality and make them shiner and gorgeous, but they also solve many other hair problems.
At times, it seems difficult to find a suitable oil for your hair. And yes, you going for cold-pressed organic oils could be the best you can do. But there is something much better you can do, and that is by making your own oil blends at home. Following, we have bought you a list of 10 homemade hair oils for different hair problems.
1. Aloe Vera Hair Oil

Aloe Vera has amazing benefits for the hair. It gives you silky hair and lustrous locks. It prevents frizz and rough hair. Its a great hair oil to prevent hair fall. This homemade aloe vera hair oil also treats dandruff by soothing a dry, itchy scalp. It is also good hair growth as it strengthens weak hair and nourishes them. It helps in balancing the hair pH level.
Method
Cut the aloe vera leaf into two halves and scoop out all the aloe vera gel from inside into a small bowl.
Now Mix ½ cup of this aloe vera gel with ½ cup of coconut oil. Mix both ingredients in a ratio of 1:1.
After mixing, Heat this mixture on low heat for around 5 to 7 minutes.
Wait for the solution to cool down completely. And then, to the cooled solution, add 5 drops of rosemary essential oil.
Pour the mixture into a dark bottle. It is best to store the solution in a dark bottle and a cool place. Keep the solution for around 2 weeks before use for the best results.
2. Tulsi Hair Oil For An Itchy Scalp

Tulsi is known for its antibacterial and antiseptic properties. Its other benefits include that it is a rich source of vitamin C and antioxidants. This herb is very good to promote scalp health. Along with this, it also has a cooling effect, which helps soothe inflammation and irritation.
Method
Take tulsi leaves and grind it with some water to make a thick and consistent paste.
Add this paste in a pan of coconut oil, which you have already heated.
You can even add a teaspoon of fenugreek seeds to this pan, which is optional.
Heat this entire mixture for about 10 minutes on low heat and then set it aside to cool.
Massage the oil once in a week into your scalp and leave it on for 15 minutes.
Then wash your hair and then proceed to condition.
3. Amla Hair Oil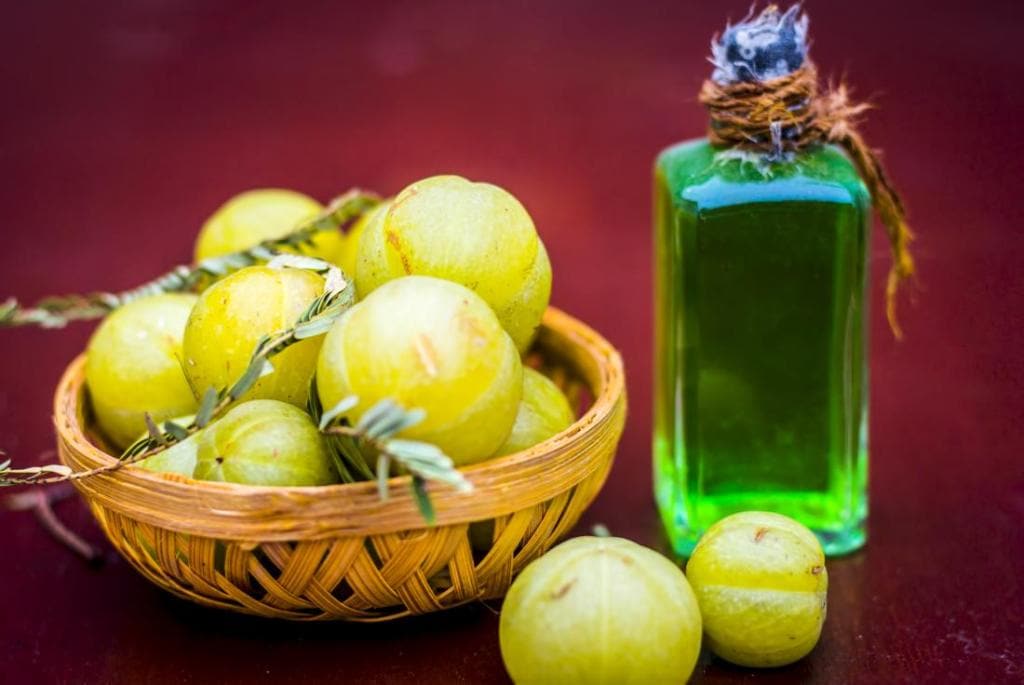 Amla or gooseberry is one of the best treatments for hair loss. It is also used as restorative oil for premature hair greying. Homemade amla hair oil is better than the one in the market. It is an ideal oil for men and women, which helps them repair their damaged hair, premature greying as well as hair fall. It also boosts hair growth. Along with this, it also provides a cooling effect on the scalp and therefore helps in easing stress. It will definitely make your hair darker, silkier, and softer.
Method
You will need an amla fruit for this. Cut this fruit into four pieces. Keep them in the shade and let them dry for at least an hour.
Take these amla pieces into a small pan, along with the sesame oil and coconut oil. Heat the mixture till it starts bubbling on a low flame.
When it starts making bubbles, stop the heating let the oil cool down. The only is ready to use. You should store it into a dark bottle and try to keep this bottle in a cool place for a week before use.
4. Hibiscus Hair Oil

Hibiscus is a miracle flower. It is highly filled with Vitamin A, Vitamin C, and many other nourishing minerals. Therefore, it helps in hair growth and prevents hair fall and hair greying. It enhances the growth of thick, dark hair, leaving it silkier and bouncier. Hibiscus is rich in many essential hair growth nutrients, which include amino acids and vitamin C. this oil will nourish your scalp and stimulate hair growth from dormant follicles. Hibiscus is also used to condition your hair. This oil strengthens the roots and therefore prevents hair fall.
Method
Dry the hibiscus flowers and leaves in the sun or using an oven after washing them in cold water.
Add the hibiscus petals and leaves to into a pan. To this pan, add coconut oil and badam oil and heat the pan.
Heat this entire mixture for 5 minutes on a low flame. After 5 minutes, stop the heat and let the mixture cool.
Strain out the oil using a sieve or strainer. Pour and store in a dark bottle and keep it in a cool place for a week. It is suggested to warm the oil a bit before using it.
5. Onion Hair Oil

Onions may make you cry, but they will definitely make your hair happy. Onions are rich in sulfur content. Therefore it helps treat a variety of hair problems along with promoting hair growth. Homemade onion hair oil is also a great solution for baldness. This homemade onion oil also helps in treating scalp infections as it has cleansing and antibacterial properties. It is rich in many vital vitamins and minerals which strengthen hair roots, giving you strong and dense hair growth. Use the oil and get glossy, gorgeous hair!
Method
Add one finely chopped onion into a saucepan. Also, add coconut oil and garlic cloves to this mixture.
Heat the mixture under a low flame.
Stop the heat when the mixture stops bubbling. Let it cool down completely.
Pour the oil into a bottle and keep it in the fridge for about 10 days before use.
6. Curry Leaves and Coconut Hair Oil

The hair oil with curry leaves is a magical cure to treat hair fall and hair greying. This homemade curry leaves hair oil makes your hair strong as it increases elasticity and flexibility. Curry leaves help in preventing greying hair as it restores the pigment melanin in your hair follicles, which is responsible for giving color to your hair. It is also high in Vitamin B; therefore, it promotes healthy and luxurious hair growth. Along with all this, it also gives a nice smell.
Method
Heat the curry leaves along with coconut oil in a small pan under low heat. Heat this mixture until a black residue forms.
When the black residue is formed, stop heating and let the oil cool.
Once cooled, pour and store the oil into a clean and dark bottle. It is better to Heat the oil slightly before every time you use it.
7. Refreshing Citrus Hair Oil For Dandruff

Citrus peels are very good to treat dandruff as they are a rich source of vitamin C and also have excellent anti-inflammatory properties. These properties help in soothing your scalp and also helps in relieving itching and flaking.
Method
For this oil, firstly prepare a citrus peel powder. For this, take some orange and lemon peels and sun-dry them until they start to harden. Do this for a couple of days. When they get hard, grind the peels and make a fine powder.
Now take a tablespoon of your citrus powder and heat it in a pan along with your carrier oil. Make sure that you are using only cold-pressed oil as it retains more nutrients as compared to other oils.
Heat the oil until it starts to fume.
Let it cool, and the oil is ready to use.
8. Jamaican Black Castor Oil For Long Thick Hair

Castor oil is great for thickening of hair. It helps in stimulating hair growth from dormant follicles. Also it helps in strengthening and maintaining the health of your hair shafts. It makes a perfect oil for boosting hair growth and increasing hair volume.
Method
In a bowl, combine all the ingredients with coconut oil to get a smooth blend.
Massage this oil blend into your scalp.
Let it sit for an hour and then wash your hair with a mild sulfate-free shampoo.
Condition your hair
9. Mustard Oil and Castor Oil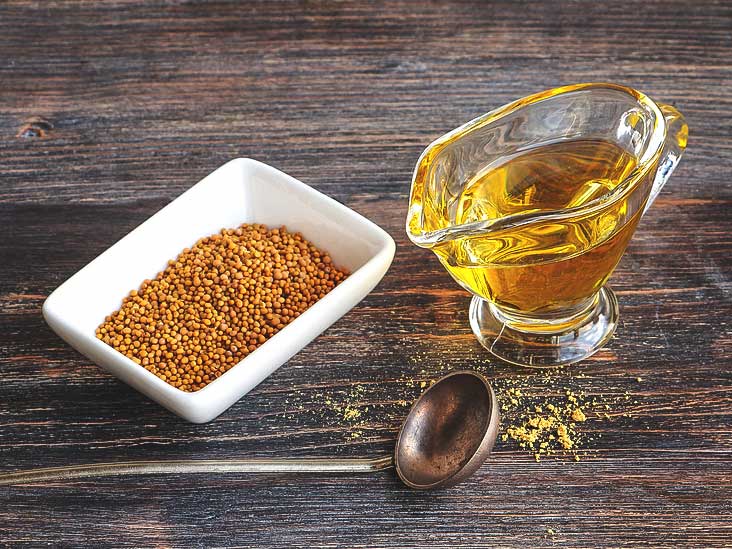 Castor oil helps in improving the hair growth by boosting blood circulation to the scalp. This happens because it contains ricinoleic acid and omega- 6 essential fatty acids. It has high protein content, which helps in nourishing the scalp and strengthening the roots, whereas Mustard oil is enriched with zinc, calcium, iron, magnesium, and selenium. These minerals keep your scalp nourished. For a perfect homemade oil, You need to mix 1 tablespoon of castor oil and 2 tablespoons of mustard oil.
Method
Take both the oils in a saucepan and heat them for a few seconds.
Apply this warm oil blend to your scalp and hair evenly.
Massage the oil gently and keep it for one hour before washing your hair.
Don't overheat the oil, and don't use very hot oil on your hair.
10. Black Seed and Olive Oil

Everyone knows the benefits of Olives. They are not just good for your health but also for your hair. You will be surprised to know that Black seed oil is an exceptional remedy for hair loss. So when both these things get combined, they make a great oil. This oil blend will not only nourish your scalp but also gives you smooth and strong locks. For this, You will need one tablespoon of olive oil and one tablespoon of black seed oil.
Method
This is very easy to make. All you need to do is mix both the oils in a bowl. The best oil blend is ready to use. Now, apply the blend on your hair and scalp and massage gently.
Leave it on for an hour before you shampoo and condition your hair.
Precautions for Homemade Hair Oils
You need to keep some things in mind while making homemade oils. These are as follows
Never stand very near to the oil mixture when you heat it. Stand away from it to avoid any hot oil from the ingredients splattering onto your skin.
Never heat any of the oils beyond 350 degrees Fahrenheit, as this will destroy its nutritional value.
Always let the oils completely cool down before you use them to avoid getting burnt.
Always store your homemade hair oils in dark bottles and a cool, dry place.
Try oiling your hair minimum once and maximum thrice a week.
These homemade hair oils are definitely going to help you fight all your hair problems. We tried our best to get you a vast variety of products that are good for your hair—also explaining how to customize your own homemade oil from these products. Do give these a try, at least once. You will observe the difference from the very first time you start using it. The most amusing thing about these homemade hair oils is that they are chemical-free and have no side-effects.