The women's hairstyle in the 90s was all about having long, thick hair that you could style any way you wanted. Many singers and actresses such as Britney Spears, and Jennifer Aniston popularized the big hair look. While some hairdos from that era are no longer in style, a few are trendier than ever and can be worn today.
Women would use lots of hairspray and mousse to create big bouffants and curls. While this look may seem dated now, but if you're looking for a change, why not try a hairstyle from the 90s?
Bring Back the Best of 90s Hairstyle
If you want to add a little bit of 90s nostalgia to your look, here are a few styles you can try today.
Crimped Hairstyle
Although crimped hair may have had its heyday in the 80s and 90s, the style is making a comeback. Women are now sporting crimped hair in various ways, from subtle waves to full-on volume. So, if you're looking to add a retro touch to your look, crimped hair is the perfect way to do it.
Wavy Blonde Bob
The bob hairstyle is a classic haircut that has been around for decades. The 90s version of the bob was a blonde, layered style that was popularized by celebrities like Cameron Diaz and Winona Ryder. The style was simple and easy to maintain, and it suited women of all ages. You may use hair spray to make curl or wave on the side.
90s Blowout Style
The blowout hairstyle from the 1990s is styled in a big, bouncy volume. Celebrities like Taylor Swift and Selena Gomez are bringing back the style and have seen it in their music videos or onstage performances.
If you have thick hair, you can try towel drying your hair. Next, apply a styling cream or mousse to your hair and use a diffuser to dry your hair to get a wavy look.
Box Braids Updo
This style of braiding is not that tough and anyone can do it with some patience. You can achieve the look by parting the hair into squares or rows and then braiding each section individually. Box braids can be worn in a variety of ways, from sleek and straight to curly and voluminous.
Braided Pigtails
Braided pigtails were popular in the 90s; you may recall Britney Spears' style from "Baby One More Time." You can style it by braiding the hair into two pigtails. The pigtails can be braided close to the head, or they can be made into larger, more voluminous braids.
Curly Frizzy Hair
Looking back at the 90s, women's hairstyles were often big and curly. Many women with frizzy curly hair wore their hair shoulder-length or longer. Julia Roberts was the pioneer of this style, who rocked the look in Pretty Woman movies.
Feathered Hair with Bangs
Earlier feathered hairstyles with bangs were extremely popular. Actress Hillary Duff sported this look, and it quickly became one of the most sought-after hairstyles. You can achieve the look through a flip or bob cut, and it features draped bangs.
Messy Half Up Half Down Style
This style is perfect for curly hair, as it keeps your hair out of your face while still showing off your curls. It's easy to create. All you need is some bobby pins. First, pull your half hair up into a high and then use bobby pins to secure the hair in place.
Messy Feathered Layers
Women with dark brown hair typically wore feathered hairstyles. This look involved cutting the hair into long layers that were then styled with a blow dryer and a round brush to create a soft, voluminous effect.
Face Framing Highlights
The half-up style with face-framing highlights is perfect for anyone looking for a low-maintenance hairstyle that is still stylish. This style is achieved by pulling the hair back into a half-up, half-down style and securing it with a clip.
Long Hair with Bangs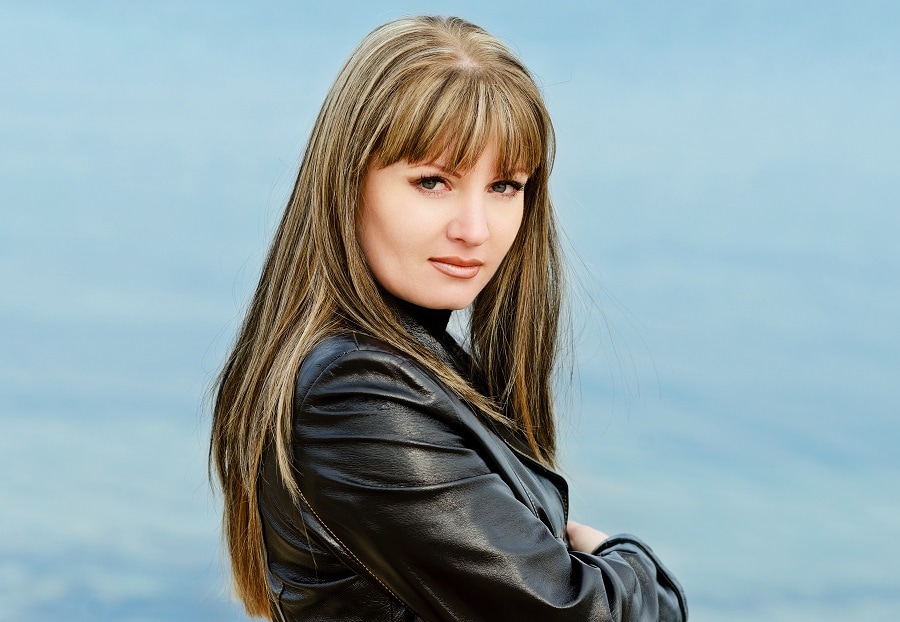 Long hairstyle with bangs is a versatile look that you can wear sleek and straight or tousled and wavy. This 90s hairstyle is perfect for adding a touch of glamour to any outfit and can be easily adapted to suit any occasion.
Cute Pixie Cut
This pixie hairstyle was popularized by celebrities like Halle Berry, Meg Ryan, and Cameron Diaz. It was often worn with bangs and could be styled with waves or straight hair. Further, it is a versatile style that can be worn both casually and professionally.
Messy Ponytail
In the 90s women's hairstyles were all about showing off their long locks. While many women opted for a sleek, straight style, the long pony was still the go-to hairstyle for long hair. You can easily create a long ponytail using a hairband and some hairspray on your head to hold the hair in place.
Scrunchie Bun
To do the bun hairstyle with a scrunchie, you would put your hair in a bun and then wrap the scrunchie around the bun. However, if your hair is long enough to stay in a bun without any support, you can even do it without a scrunchie.
Side Ponytail with Scrunchie
The side Horsetail hairstyle with scrunchie is great for long hair, which is beneficial for summertime and can be achieved in minutes. The best part is that it's easy to do by pulling all your hair on the side and doesn't require any special skills or tools.
Funky Space Buns
Space buns, a hairstyle popularized in the 90s, were two buns worn high on the head. To create space buns, first, divide the hair into two sections and create two buns. Secure one to the one side of the head with a band and repeat on the other side.
Blonde Updo
It is a classic easy-to-do look. To create the updo on your blonde hair, the first step is to tease the hair at the crown of the head. Then, pull the hair into a ponytail and secure it with an elastic band or clips.
Wavy Blonde Hair
One of the most iconic hairstyles has to be the wavy blonde look. Actresses like Pamela Anderson and Christina Aguilera made this style popular, and it was a way for women to show off their natural wave while still looking stylish
Wispy Bangs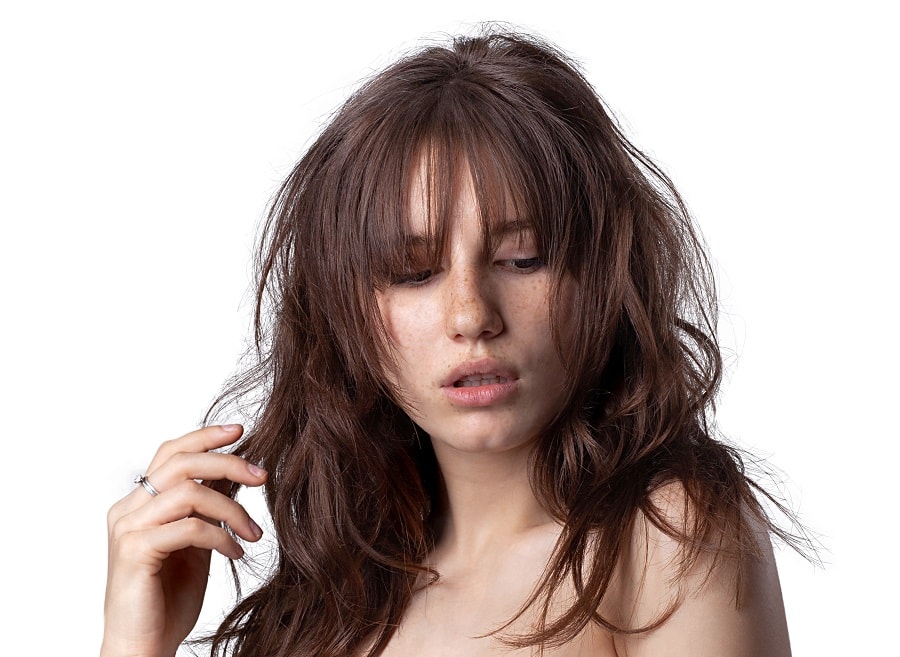 If you were a brunette with long, wispy bangs, you were the belle of the ball. To get this look keep the bangs long and wispy with layered, and keep them away from your face. Additionally, you can use a light-hold hairspray to keep them in place.
Bantu Knots
To create Bantu knots, you divide your hair into small sections and twist them into tight knots. Then you secure them with a hair tie. However, you can wear Bantu knots as a standalone style or as part of a more elaborate updo.
Chunky Highlights on Wavy Hair
In the early 1990s, many women sported wavy hair with chunky highlights. You can achieve this look by using a crimping iron to create waves in the hair and then adding highlights in a contrasting color.
90s Rachel Haircut
The Rachel haircut was named after Jennifer Aniston's character on the popular TV show "Friends." The haircut was a popular style in the 1990s and early 2000s. It is a layered bob haircut with long, feathered layers.
Half Updo
It is a half updo style with two bubble-shaped pigtails on either side of the head. To create this look, part your hair in the center and then down them through your shoulder. Take two small sections of hair from two sides and divide them into several sections. Then tie each section with a rubber band.
If you're looking to channel your inner 90s goddess, there are many hairstyles to choose from. So, whether you're a 90s baby or you just appreciate a good throwback style, go ahead and rock that iconic look!