Long hair always appears attractive and feminine, but the short hairstyles have its own charm and grace. It not only makes you feel liberated but also gives a cute and modern look. Short hair is great for those who are tired of taking extra care of their long hair and keep them managed all day long as it is easy to carry and looks really stylish and girly.
When one chooses to go for a short hair, Bob hairstyles are one that is enduring, ageless and always in trend. Bob hairstyles are for every face shape, hair type, and hair length. One can choose the bob cut with lots of mix-n-match with a touch of current and newfangled takes, to make it customized only for you and makes it look perfect to match your personality. It can be worn by everyone irrespective of age, appearance, and occasions.
The bob haircuts along with decorative fringes are so in, look very stylish and indubitably the love of celebrities and leading personalities over the years. Now, today is the time to go for a bold and hot hairstyle and embrace it. If you are looking for a short, elegant, progressive and contemporary hairstyle then here, are some of the best bob haircuts with fringe that will make you look confident, beautiful and groundbreaking.
Wavy flip layers
This hairstyle is very apt for those having thin hair with medium length. The wavy flips give the hair a bounce and make them look dense and fluffy. The hair color is also complimenting the style a lot by making the pattern visible and contrasting the style with two different shades. It goes well with oval-shaped or round shaped face and gives a charming and bubbly look to attract onlookers.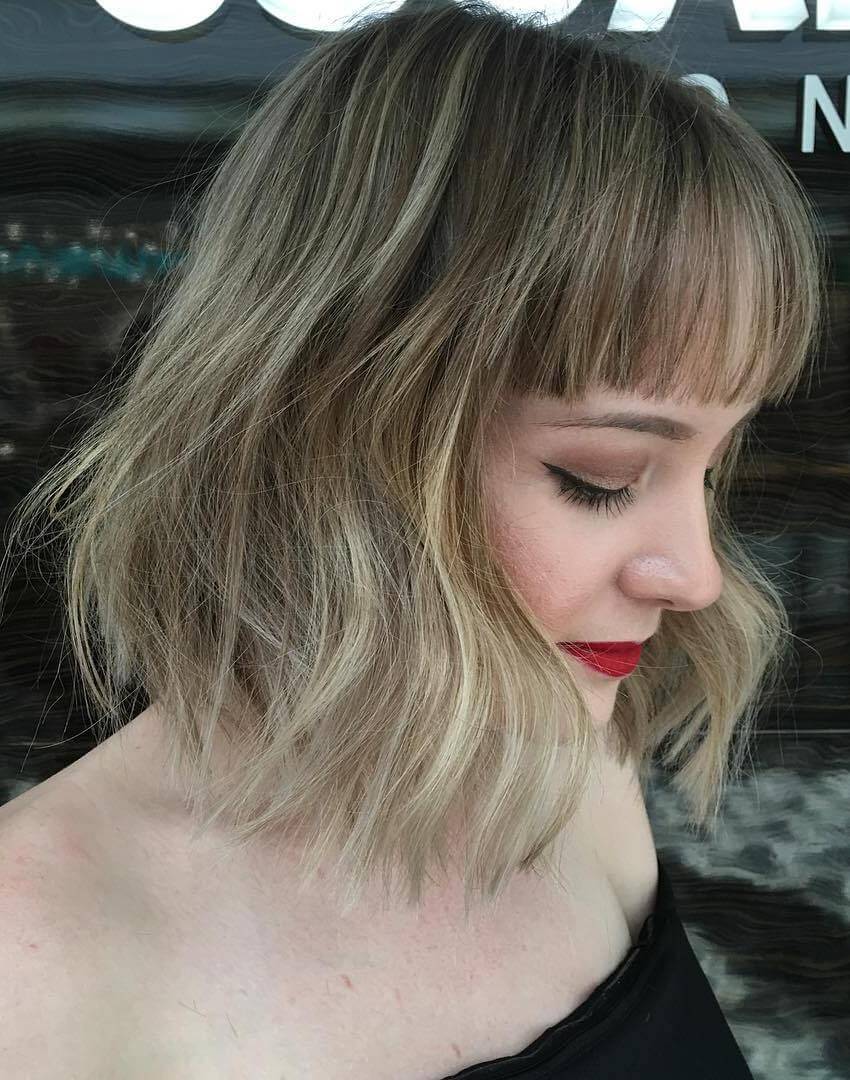 Frizzy Permed bob
Who can think the one with frizzy and messed hair can look that magnificent with this frizzy permed bob hairstyle. This hairstyle solves the entire problem for those bugged up with unmanageable hair. The chin-length hairdo is looking super cute as well as hot with a shaded color job done along with perms. It will make you look effortlessly gorgeous, feel confident, and ultra modern.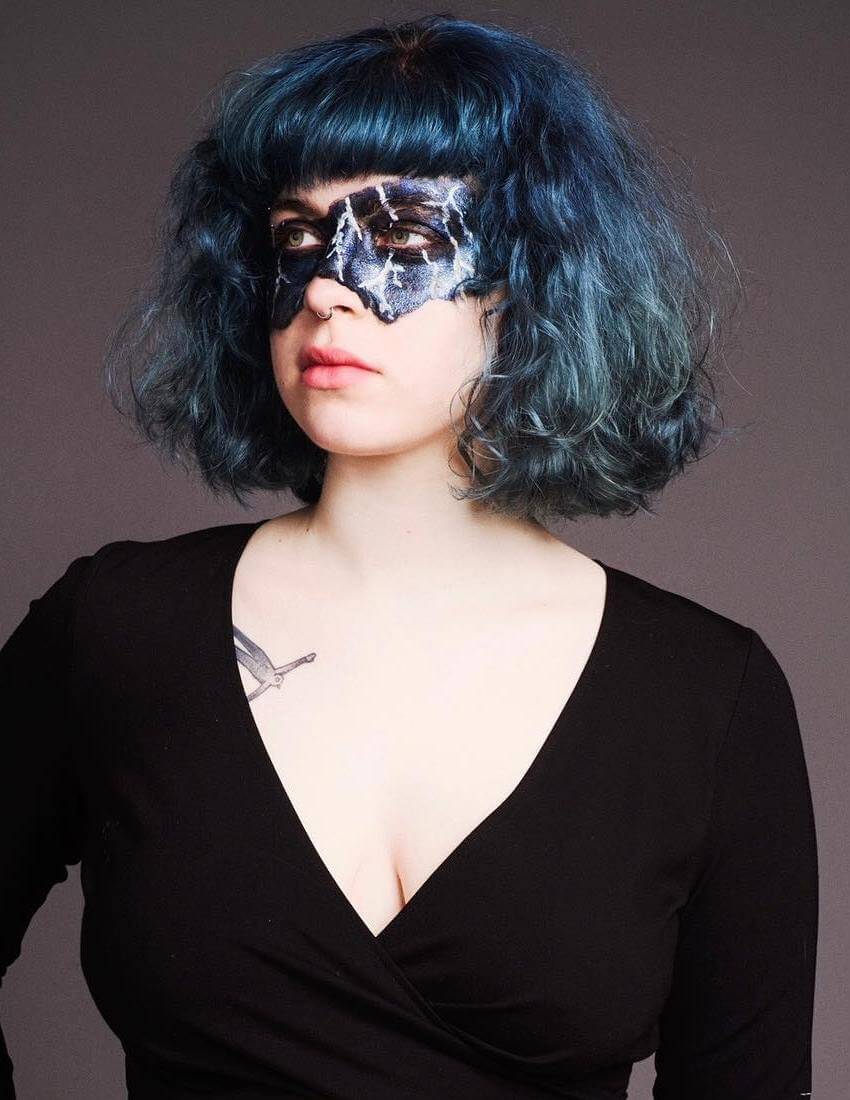 Soft curly bob
This bob haircut features soft curls with layers. It looks absolutely perfect on long or round faces. The fringes coming over on forehead is complimenting the haircut and enhancing the cuteness of face. The hue of blonde touch is making it look sophisticated and contemporary. It is perfect for office goers, teenagers, and party persons and goes well with all kind of attires.

Maroon bob with a bang
Anyone who wants to look unconventional and avant-garde should go for this hairstyle. The uneven side cuts with straight and silky hair are looking really stunning and uncommon. The soft and silky short fringes are flattering the look. And what to say about the color, it is looking absolutely bold and excellent. This hairstyle is apt for triangular and heart-shaped faces and is perfect for an outing, traveling, and parties.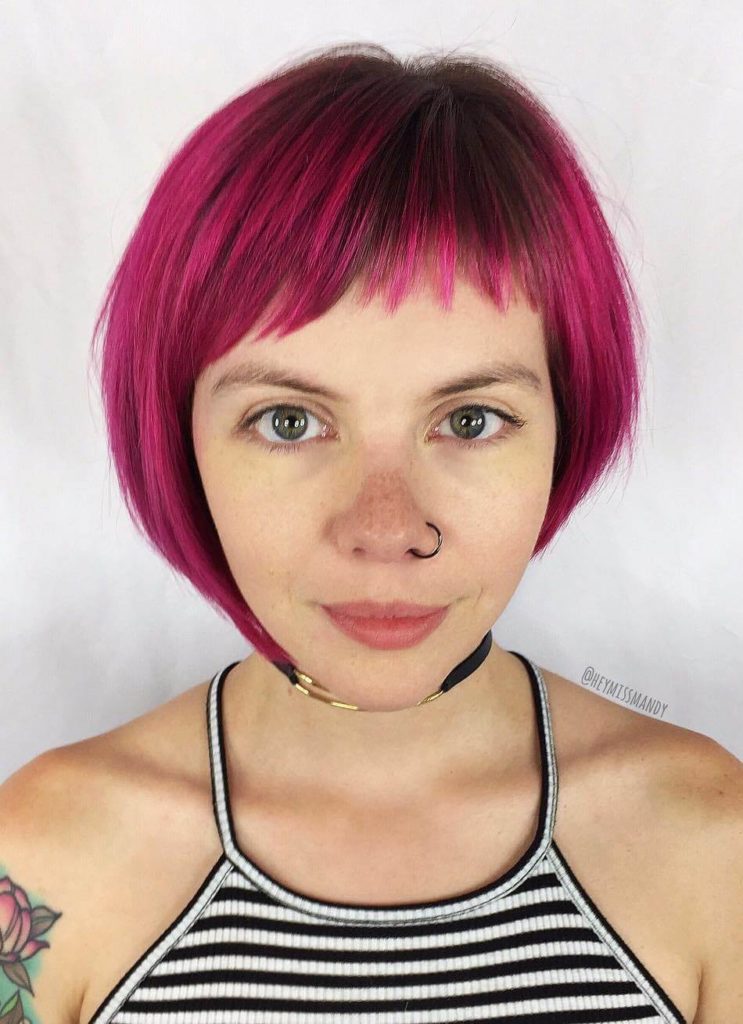 Simple sweet bob with curly fringes
This is one of the ordinary bob hairdos that can never go out of trend. It is perfect for those having black silky and straight hair and can be worn on any occasion and any outfit. This looks very modish on senior women and working woman. The natural black color with simple and sober bob cut makes the person look mature and uncomplicated, and the softly curved fringes give this elegant look a touch of modernism.

Feather-light fringy bob cut
This hairstyle is befitting for all the women who want to celebrate their feminism as this hairstyle gives a soft, delicate and vivid glance along with the bold and dauntless look. The off-white soft, silky and straight bob cut hair with long front fringes is looking really elegant and girly. This look is the best option for youngsters and is suitable for every type of face. If you want to steal everybody's attention and guys' heart, this look is for you for sure.

Inverted black bob with fringes
If you are looking for an elegant, discerning yet sassy haircut then you should not look any further than inverted black bob with fringes. This hairstyle looks great on those with thick and smooth textured hair. The back short hair with inner curves and the front long hair with straight ends are contrasting each other and give an impression of fuller appearance. It is perfect for any age and is best suited for long or oval shaped face.

Brown sunset tangled bob
This messy hairstyle with partially tangled and partially soft curled looks very funky, cool and easy going. All the carefree girls can go for this chic and flashy hairstyle. The chin short length hair with curly tangled bob and long fringes covering half of the eyes is an excellent combination together to give the sunset tangled bob cut a complete look. The natural light brown color is perfectly complimenting the hairdo. This look is perfect for small faces, square faces, and even round faces.

Open braided step bob
This hairstyle is for short and thick hair. The messy braided look is appearing very hot to handle. The simplicity of front hair and creativity on back hair making this modest girl look a bombshell. This look is apt for college goers, party and even studious girls who are into professional studies as they might not find time to groom their selves every time to look attractive and hot. The color is very soft and natural looking making it look effortlessly cool. This look is perfect for everyday routine and suits every type of face.

Straight asymmetric layered bob
This hairstyle is apt for short to medium length hair. The very straight hair with sharp ends are perfect for this hairdo as those type of hair would not require much effort to maintain the style. The separated look of each and every hair with an uneven asymmetric cut is looking very daring and fearless. The bold diva with their own fine attitude can carry this hairstyle gracefully and make her selves look more confident and more progressive. This look is perfect for a big, square, oval or hexagonal face.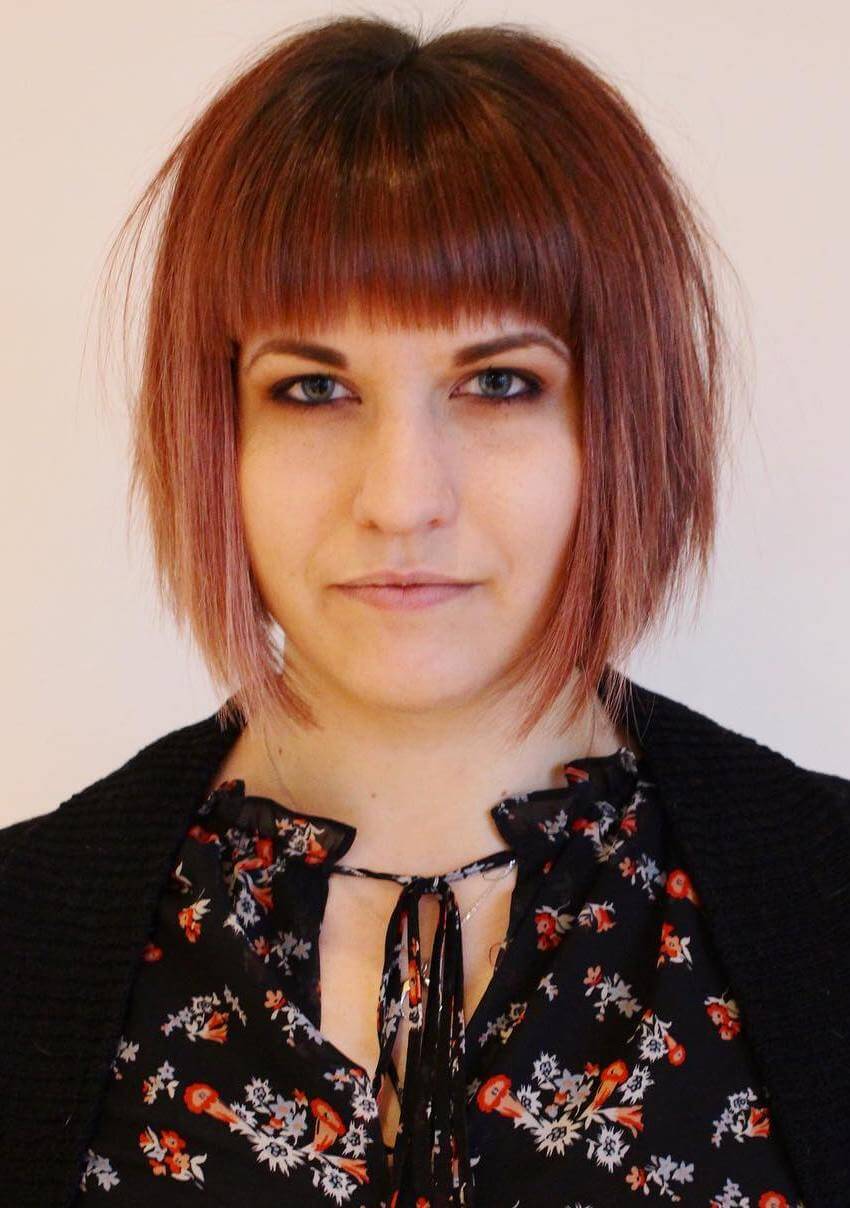 Short bob with feathery fringes
This hairstyle solves all the problems for those having thin and light hair. This hairstyle has remained age-less and in fashion since forever. Short or very short hair is apt for the look, and it hardly requires any effort to maintain this hairstyle. This short bob cut with feathery fringes is for everyone and all types of faces. It looks simple yet very stylish and perfect for all occasions. The feathery fringes slight curled on one side making it look very feminine and arresting.

Long straight bob with marry fringes
This hairstyle is for all the girls who want to look damn sexy and attractive in any social gatherings and social events. The silky, smooth and straight hair itself looks very arresting, and giving such hair a bob cut is like putting a cherry on a top. The natural blend of golden and brown shaded hair is looking outstanding in this hairstyle. The long front fringes with layer cut are completing the look. So get ready to look irresistible with such a super awesome bob look and flaunt your long and thick hair.

Very short fringed bob
If you have very short and thin hair or a big forehead then no need to feel bad about it. This hairstyle will solve all your trouble and give you a lovely and elegant look. The soft and smooth feather like fringes covering the forehead so nicely and backward curved side hair is making the look magnificent and lively. This is felicitous for square face or oblong faces and can be worn everywhere.

Curly permed bob with brown
If you have curly or wavy hair texture then curly permed bob is the best option for you to look trendy and smart. It requires short or medium hair length to nail the look with perfection. Front straight fringes with curly permed short hair are looking so good and classy. This look is effortless to carry for all age groups and can be worn anywhere with any attire. If you want to look smart and outstanding without making any extra effort, then go for this look, and shine.

Rose pink with wavy bob
The chin length short hairstyle with contrasting rose pink and metallic brown color is looking very appealing and adventurous at the same time. The upper base with silky and smooth hair followed by a lower hair with matt finish and free waves is making the style very complimenting and complete. It gives a hippie look and carefree appearance and can be worn by teenagers, college goers, and travel lovers. It is a latest and trendy choice for youth to look innovative and eye-catching.

Gold touch wispy fringe bob
Golden shade with off-white color gives the haircut a sophisticated and elegant look. This hairstyle is best suited for thick and straight hair. The matt finish color hue with mid-length hair and wispy fringes swinging towards left forehead is looking very gorgeous and charming. Those with a long face or big forehead should definitely go for this hairstyle as it covers the forehead beautifully leaving it to look very stylish. There are many steps and layers on the hair that making it looks asymmetric and fashionable.

Black bubbly bob
Black is the color that naturally makes the hair look beautiful and attractive. Those who don't like to experiment with hair and yet want to look gorgeous and fresh should go for this hairstyle. The one with thick, silky, smooth and straight hair is a perfect candidate for this hairstyle as they will need less maintenance and effort to stay in this look. This style is suitable for all age groups and all types of faces and is befitting for all occasions as well.

Curvy end fringy bob
This style is for medium short hair. Those with thin and light hair can also carry it off with elegance and worldliness. The balayage and the curly effect at the end of hair are giving this hairstyle a contemporary touch. Traditional and perfectly teased curls make the look practically like royalty.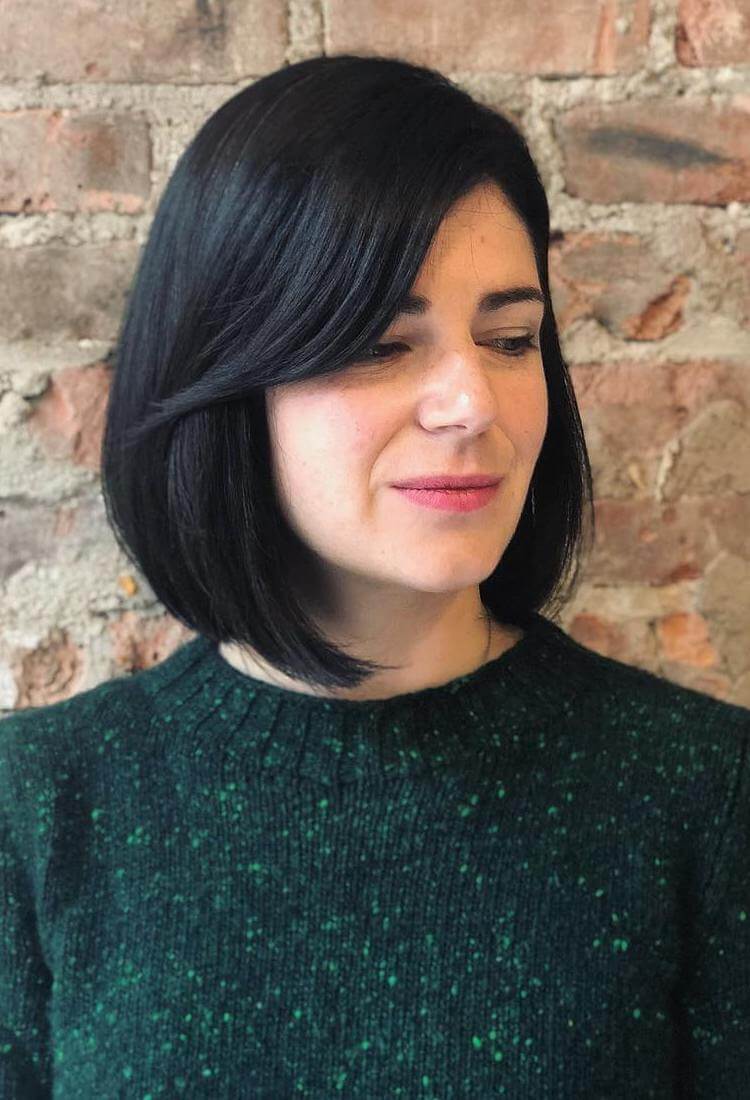 Pure and mesmerizing yellow bob
A daring yellow bob cut is not everyone's cup of tea. It is apt for those with very short hair with smooth and silky textured hair quality. This look is adventurous, fearless and is very bold to handle. The hair is cut in a pattern that it is giving an overall round appearance. It provides a hippie or dauntless look and can be carried off well by bold and ultra-modern women.

The black and blond scissor bob
The youth and celebrities are in love with this hairstyle. This hairdo makes you love your feminism forever and gives you a perfect sexy look. The blend of black and blonde color with scissored layers and craggy fringes is making the hairstyle look gorgeous and seductive. This hairstyle is best suited for oval shape, and heart-shaped faces and apt for night parties and beaches.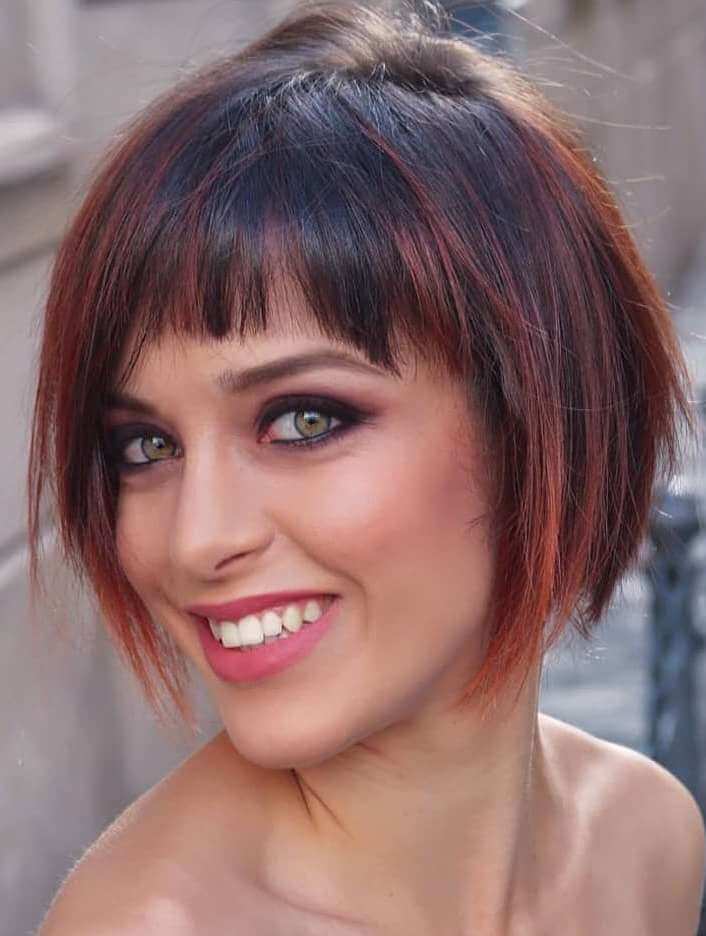 Flawless rounded copper gold shaded bob
A subtle, amicable and neat look with flawless rounded bob is what every woman wants. The one with thick, straight and smooth hair, who wants a stylish haircut, without doing much experimentation with hair texture, should go for this hairstyle as this particular hairstyle gives an unblemished and neat look and requires less time and effort to maintain the style. The color combination is looking really soothing to eyes and looking nothing less than ultimate.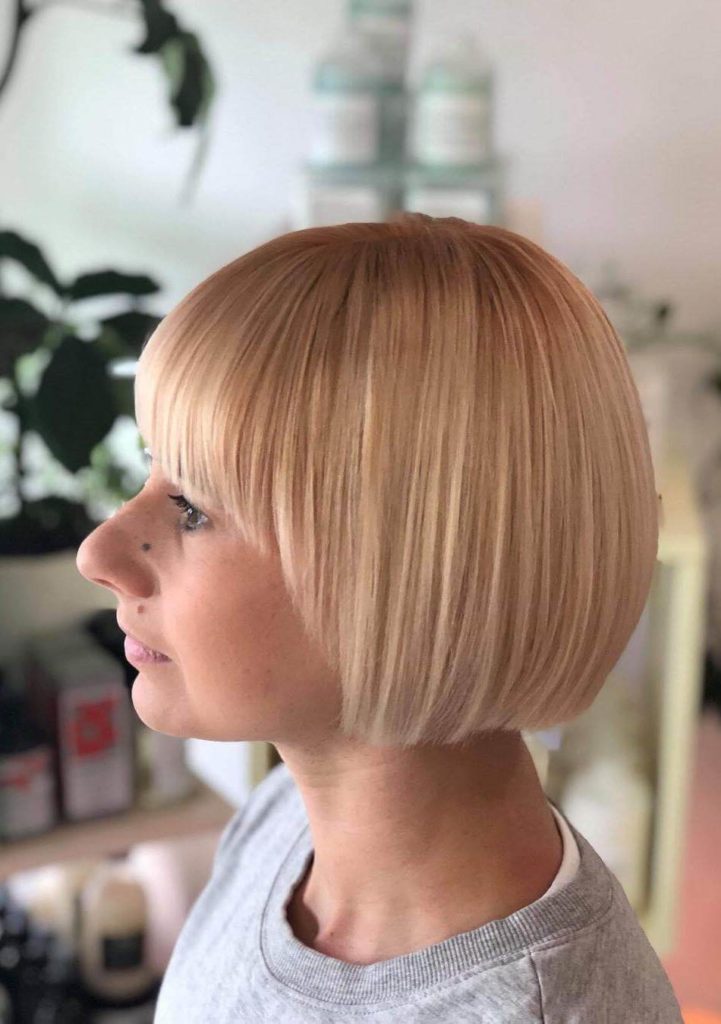 Smoky brunette balayage bob
The brunette brown looks so inherent and natural. I love the combination of grayish brown shade with serious and at the same time sassy bob haircut. The fringes with the bangs are a bang on. It gives a soft and modern effect that will make you look both delicate and confident. This hairstyle is perfect for big, triangular, oval and square faces with a big forehead and appropriate for all age groups.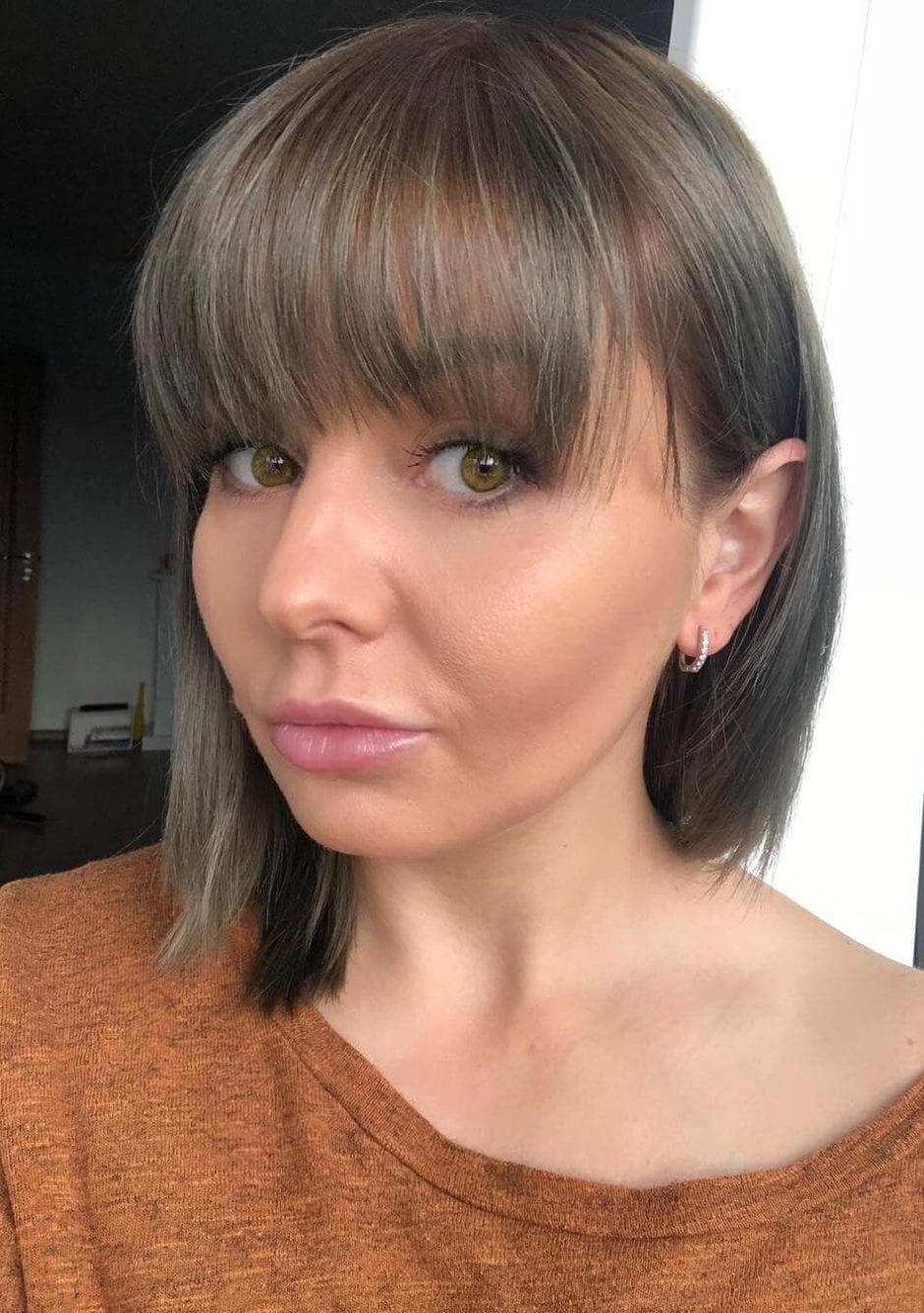 Soft fringed bob with airy bangs
The super cute and beautiful look for thin, light, smooth and silky hair. Those who are not happy with their light and shallow hair and want to cover their scalp as much as possible, this is the style you should definitely try. It gives you fringes with airy bangs and the dark base color followed by light ends gives the impression of dense hair. It gives you an elegant and cuteness overloaded glimpse with a fresh appearance.

Jazzy graduated banged bob
The metallic brown touch with black is such a fantastic take on bob haircuts. It looks voluminous and traditional with rich black chocolaty shade. The uneven cut long from a front that is going shorter at the back is giving this timeless look a fashionable touch. The short fringes falling over the forehead gives a bubbly and lively look.

Wined chestnut fine-drawn bob
This color is ultra-modern and very much in vogue. This is the unbeatable style and is a real eye-catcher for both private occasions and normal days as well. It gives you a smart look, with sassy, fun loving and active personality. The neat and fine-drawn cut makes this daring look less complicated and neat. This look adds volume to the hair and makes you look blessed with rich, silky, straight and dense hair.

Short messy permed bob
When you want to look attractive and stylish without taking the pain of managing and maintaining the medium or long hair, this is the hairstyle for you. Very short and crisp yet stylish and feminine. The carefree look with short messy permed back hair and long softly curled front hair with very short fringes is very complimenting and balancing style to ensure the girly look without having to think about the length.

The ginger and grey ombre bob
The chin-length bob with grey and gingerish brown is the talk of the town. This style can be carried nicely no matter if the hair is dry, dull or frizzy. This look is exquisite, mature and seductive at the same time. The hair is cut in a way to get disband all over the head and look capacious. This look is appropriate for all age groups and can be carried off gracefully in all occasions.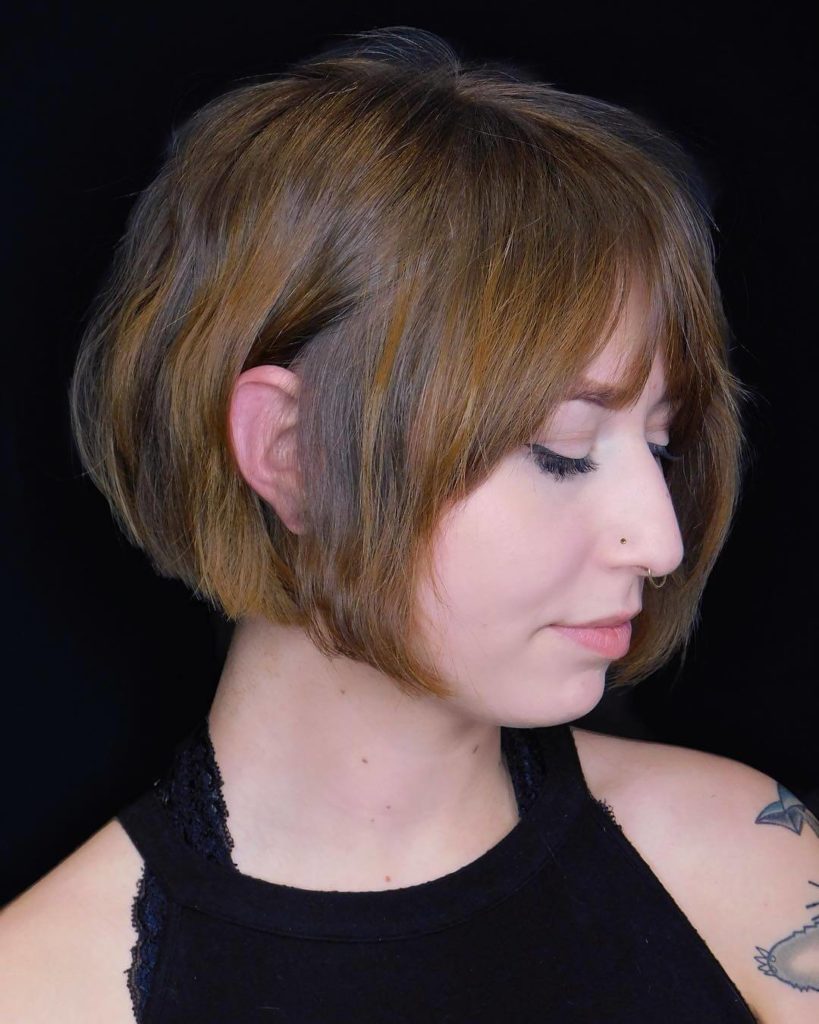 Brunette gold autumn bob
This soft golden brown balayage complements this lush, highlighted shades and texture. The cut is looking, even more, striking with platinum hue at the ends and inverted curves. The style is very impregnable and easy to carry off. It gives a simple, elegant, natural and uncomplexed flawlessly. This style is suitable for all age groups and suits best on an oval, square and heavy faces. This glance is commendably out of the ordinary.

Metallic black inside ashy silver bob
The hairstyle is designed for very short hair. It is a perfect jazzy look for teenagers and youngsters. It gives a sense of old Hollywood waves and a baby-doll like. The short bangs are making this summer fresh look cute and young and the silver color peeping from inside making this look incredible and futuristic. This look is best suited for small, rounded and triangular faces and apt for college goers, party rockers and travelers.

These are the 30 latest, and trendy bob haircuts with fringe; I have sorted out for you, to look graceful and progressive everywhere and every single moment. Today is the time when we should learn to live on our own terms. So, stop thinking much, and pick a trendy style that suits your personality and to flaunt your beauty and style statement. Looking bold and beautiful boosts the confidence and keeps you presentable all the time. Bob cut is the age-less style with lots of variations and customization that makes it appropriate for everyone irrespective of age and style.