Box braids are a traditional African hairstyle, which is quite popular even in today's time. Classy and charmingly intricate, box braids are not just beautiful; they also serve the purpose of protecting your hair, especially thick, luscious, and curly African hair, which can be quite difficult to manage. They come in different lengths and sizes, with stunning highlights in various colors, metallic threads, beads, and whatnot. Box braid is a braiding style popular among black people, also known as a protective style and boxy. In this hairstyle, synthetic hair is used to add thickness to your real hair. The installation process of this hairstyle is lengthy, but once it is done, it can last for 6-8 weeks. They are also known as easy to maintain.
The term "box" has been given because the style is done by separating the hair into many square-shaped divisions. Typically, most box braids consist of synthetic extensions to provide support, thickness, and the desired length to your normal hair. Human hair extensions are considered to be a much better alternative than synthetic ones. Box braids are not just about style; they are also culturally very important and stands synonymous with the beautiful and versatile African culture. Hair braiding styles help differentiate tribes, power, and location.
History of Box Braid
The box braid style was not given name until the 1990s. It gained popularity by an R&B musician Janet Jackson. This style comes from the Eembuvi braids of Namibia or the chin-length bob braids of the Nile valley women from 3000 years ago. In Africa, hairstyles are used to distinguish between the tribes, religion, wealth, and marital status. In some countries, braids were the form of communication. For making these braids, women usually have thick hair, and they use tree barks and oils to uphold the hairstyle.
In Africa, the hairstyle was considered a very important and symbolic part of the different communities. Members of royalty often wear elaborate hairstyle as a symbol of their stature. Hair was also seen as the symbol of fertility; long thick hair symbolizes the ability to bear healthy daughters. Different hairstyle pattern was made during weddings and social ceremonies and for war preparations. Their hairstyle patterns easily identified the members of the tribes.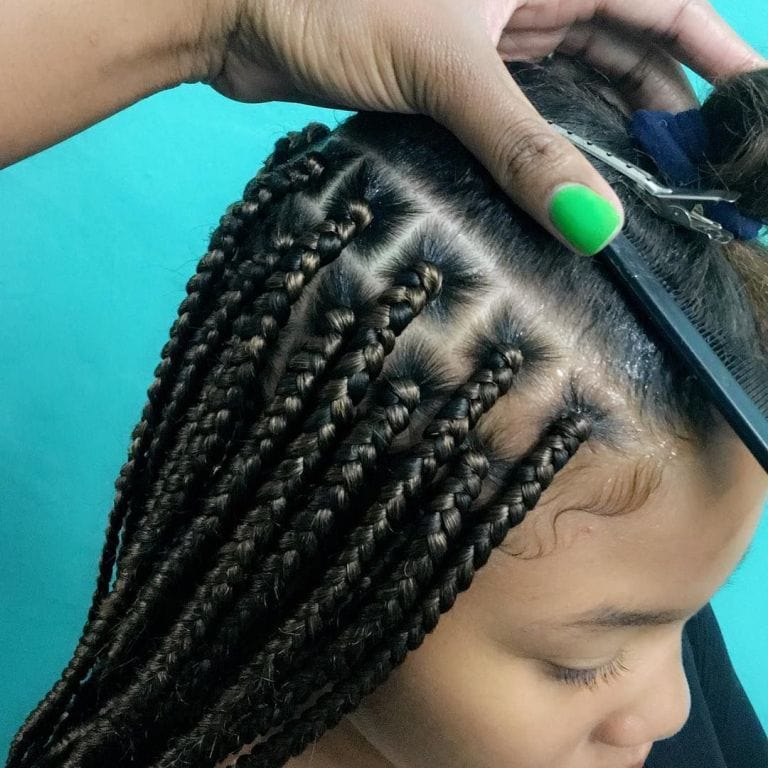 Supplies You'll Need to Make a Box Braid
Hair extensions – Make sure not to install the extensions on your hair too tightly since it can cause hair damage.
Comb.
Hair styling wax – to reduce frizz (optional).
Hair styling gel – optional.
Steps to Make a Box Braid
1. Wash Your Hair With Shampoo And Conditioner
This step is essential since your hair is going to be locked-in for a long time, so the hair must get enough moisture. After that, air dry your hair and detangle it using a comb. If your hair is too curly to manage, then you can try straightening your hair using a blow dryer, but don't forget to apply a heat protectant.
2. Divide Hair Into 4 Sections
Using a wide-toothed comb, divide your hair into 4 box-shaped sections. The sections should be evenly parted. In this initial stage, you can use the hairstyling wax, which will help to reduce frizz. But this is completely an optional step and totally up to you. Tie up the sections you won't be using first with a plastic tie or anything similar. This is to prevent the hair in one section from overlapping with the other.
3. Use The Extensions and Start Braiding
Take your extensions, fold them, and lightly pull them on the ends. Then start the braiding process by placing this folded extension over your hair tie so that it looks natural enough. After this, start braiding your hair in the normal three-strand braid style and using the extension as your middle strand. Keep doing this till you reach the end of your real hair. Now, the remaining sections can again be divided into three and braided in the same manner till you reach the tips of your extensions.
4. Repeat The Process
Now, you just need to repeat the same braiding process on the rest of your hair by taking strands or sections of equal thickness so that you get an overall even look. Make sure you work section by section, one at a time.
5. Secure Your Braids
Finally, to secure your braids neatly, you can either try dipping the ends of your hair in hot water for a few minutes, or you can also cover your entire head with a hot towel to even it out. And there, your box braids are ready. If needed, you can also secure the strands on your hairline by using any styling gel.
Uses of Box Braids
Box braids are popular among black women; it protects afro-textured hair from split ends and damage from heat and humidity. The box braids have become very popular; it is also a protective hairstyle. There are several claims that this braid provides proper growth to your hair. Don't try this style on dry hair as it can cause hair loss, breakage, and detangle. So before doing this hairstyle, first make sure your hair is well moisturized, and it is recommended to take a thorough cleansing and deep conditioning. However, it's a lengthy hairstyle but not that difficult. The box braid prevents hair loss in women who do tight knots. This braiding style is worthy and beneficial for the hair and scalp. It's a better option as it reduces stress and tension on the hair scalp.
How long should you keep your extensions on the hair?
An ideal period is around 6-8 weeks and not more than that since the extensions can start damaging your hair and cause it to break. The box braids may look fine without any signs of trouble but never keep them longer than 8 weeks.
How to care for your hair while wearing extensions?
The first tip is not to wear them for more than 6-8 weeks. Another thing you should take care of is not to get a new set of extensions just as soon as you remove the old ones. Wait for at least a month before you get new ones and give your hair time to heal and recover.
How to maintain my box braids?
Keeping your scalp moisturized is the number one tip for maintenance. Other methods of maintaining include washing your hair at regular intervals, avoiding unnatural hair products, and even if natural products, avoid using them every day. Keeping your edges neat and trimmed is also good enough.