Long and thick hair is every girl's dream but it comes with its own set of problems too. And these problems only seem to be more for black women who have long and frizzy hair that is almost always very difficult to manage.
And we would say that the best solution to all such hair woes would be trying out a jumbo braids hairstyle instead of deciding to cut off all your hair or go for expensive treatments.
Not only are all these styles very stunning and sure to attract everyone's attention, but these hairstyles also provide maximum protection for your hair.
1. Cornrow Braids With A High Bun
It is a great jumbo braids hairstyle that combines cornrow braids as well as jumbo braids. The hair has been done in a cornrow shape in an intricate shape and then on the sides have been done in the jumbo braids styles.
The thick chunky braids help to make a face look bigger and brighter. On the back, though, all of the hair has been neatly tied up into a huge bun that simply enhances the overall style.
2. Braids With Blonde Highlights
Highlights are an important part of fashion trends these days, and the most premier one of them all would be the golden blonde highlights that seem to go well on most types of hair.
In this style, the hair has simply been parted into various sections and then the hair has been braided in thick and chunky braids which give a sense of fullness.
On the upper portion of some of these braids, the golden blonde highlights are clearly visible against the contrast of the dark brown hair.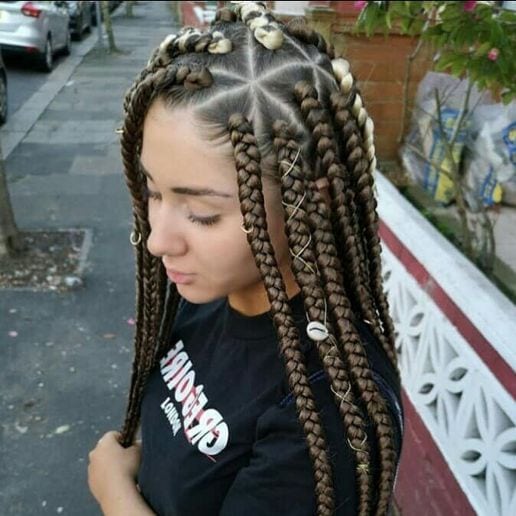 3. Classic Braids With Blue Highlights
The real beauty of the blue shade is so clear from this picture. It is simply shining with brightness, and the gorgeous blue shade is one of the hottest colors of the season so there's no harm in trying it out.
The hair is tied up in the normal and classic jumbo braids style where the upper portion is thicker and it gets thinner as we reach towards the tip of the hair.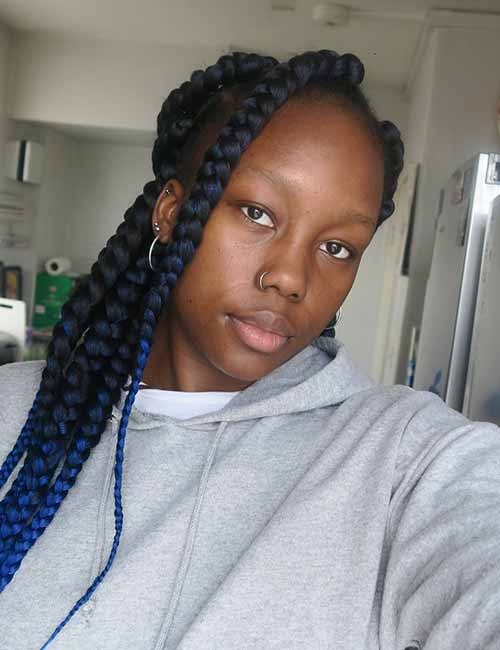 4. Triangular Shaped Box Braids
The triangle-shaped braids have also become trending quite recently so we might as well try it out and see what all the rage is about.
The main part would be that the triangle shapes that have been created by parting the hair into various sections is something of a unique style and so more people are embracing it in order to get a variety look that also stands out well.
While jumbo braids surely look beautiful in any style, the triangle parting helps to make it look even better.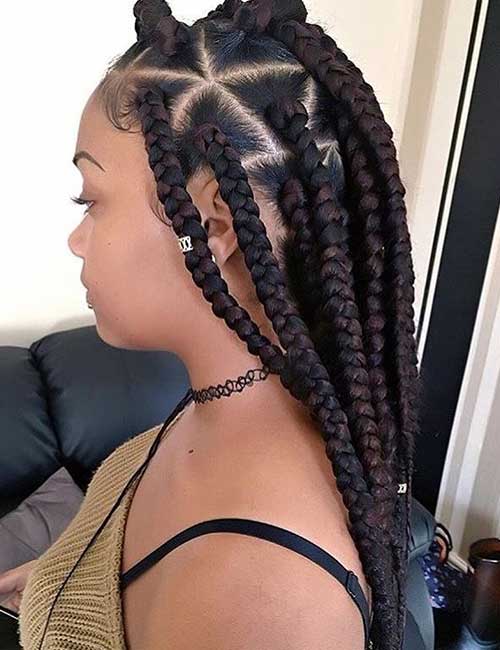 5. Brown Jumbo Box Braids
When highlighting or dying your hair, you must blend the hair colors well so that it goes well with your original or basic hair color.
If you would take a glance at this hairstyle, you will definitely notice that what actually stands out more than the jumbo braids is the beauty with which the honey brown shade blends together with the black roots of the hair.
If you've got your coloring part correct, then you don't need ever to turn back.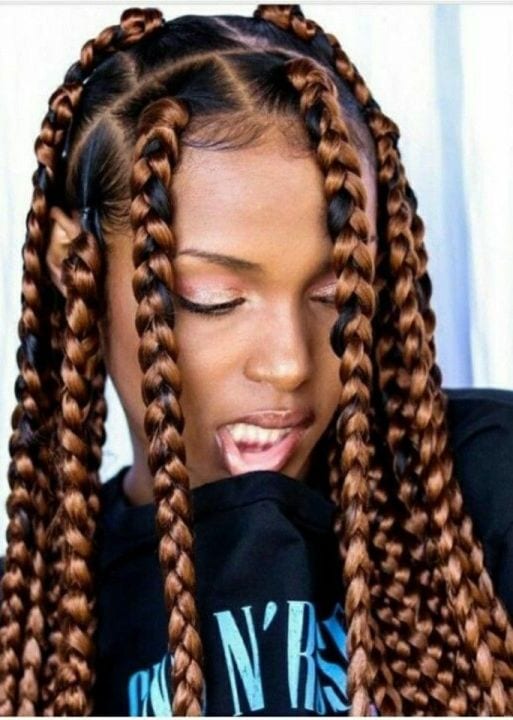 6. Parted Braids Tied Up Into A Bun
The upper part of the head has been simply parted into 4 huge sections and the hair in each of these sections has then been pulled back in straight rows, thus creating a perfect dimension of the hairstyle.
These sections of hair have then been firmly tied up into a bun. The rest of the hair below has also been straightly braided down but instead of tying up, they have been let down freely flowing.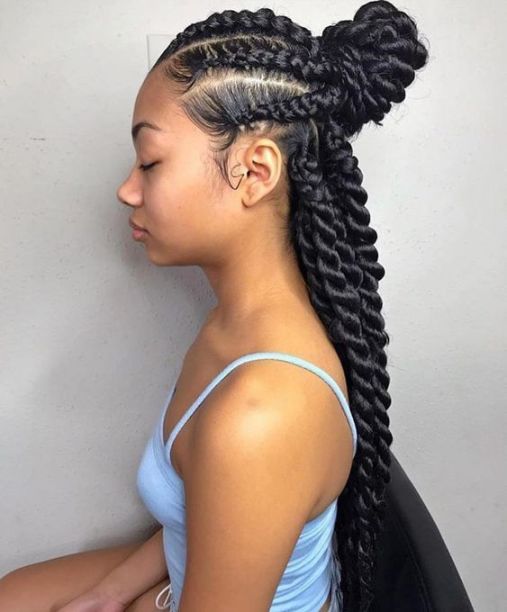 7. Rihanna Style Fulani Braids
Fulani braids are an amazing way to style your hair when you need having to create a sexy and glamorous look just with your braids.
One of the most protective hairstyles that also looks dashing thanks to the beautiful way in which the cornrows have been created, this hairstyle is a must-try for all the pretty ladies out there.
The hair here has been simply divided into sections and tied up in the style of cornrow braids that are all of medium thickness.
8. Classic Black Jumbo Braids
No matter how many styles are developed, classic styles always remain the most coveted hairstyles ever and a lot of people whose to get their hair done in such classic styles themselves without going for dramatic or bold looks.
While the style choices of people may vary with personality, you can always try out this classic black braids hairstyle when you are not sure of how exactly you want to get your hair done. It's beautiful, classic, and miles away from looking boring.
9. Triangle Shaped Box Braids On Long Hair
Long hair is surely a thing of amazing beauty, and that fact is quite visible from this hairstyle itself. It is a great hairstyle that you should try out if you have really long and thick locks of hair that are waiting to be flaunted.
All you need to do to achieve this hairstyle is to simply divide your hair into triangular sections on the upper part of your head and then simply tie them up in long jumbo braids.
Either leave it in the normal straight style, or you can part it to both sides to get a chic look for yourself.
10. Twisted Havana Braids
There are many different types of braids hairstyle out there and while you may not be knowing all of them, you must be aware of this hairstyle which is also known as the Havana braids.
They are a great way of adding some spice to your normal everyday look and with this hairstyle, it's also easy to switch up between styles every other day.
This style is also a great example that shows that even when you're going for a protective hairstyle, you don't need to do it over the top just for the sake of trends. You can simply choose to get a fun hairstyle like this one instead.
11. Jumbo Braids With Red Highlights
Red highlighted hair is totally a game changer as is visible from this beautiful hairstyle. The hair has been highlighted in a beautiful gradient pattern, that too in a gorgeous shade of red which is what makes this hairstyle a killer look.
On the upper portion, the hair has been triangle parted to create divided parts that look great when looking at an overall view of the hair.
The yellow hair elastics also help to make this hairstyle look a great one.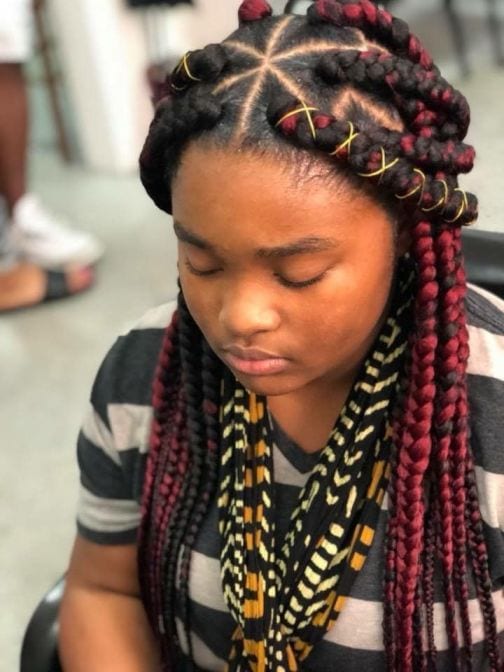 12. Long Brown Braids
This is one perfect hairstyle that you can try out if you have really long hair that stands out. The hair has been divided into wide sections so more hair can be braided in a single section itself.
It has been braided in the style of the normal braid itself so this makes it a basic everyday look that you can wear for many days without having to worry about switching up your hairstyle every other day.
The brown highlights are done on the black roots of the hair also look great.
13. Jumbo Triangle Box Braids
There is something unrivaled about the triangle box braids hairstyle that makes it look amazing.
It simply stands above many other braids hairstyles due to the sheer beauty of the patterns it creates on the scalp and the head when done in triangle partitions. It's a great way to update your normal braided look creatively and interestingly.
The hair has simply been done in the triangle braids style with long black hair and accessorized with elastic hair bands that add beauty to the look. A classic hairstyle that we are sure that you won't get tired of.
14. Short Bobbed Hair With Braids
Braids hairstyles surely look amazing on long hair but when tried out on shorter hairstyles such as short bob or a medium bob even, they tend to look quite great too.
The beauty of the braids is solely focused upon and so they really stand out even if the hair is quite short. It's a simple braids hairstyle where the hair has been parted into sections and the braids in each of these sections have been tied up similar to a high ponytail.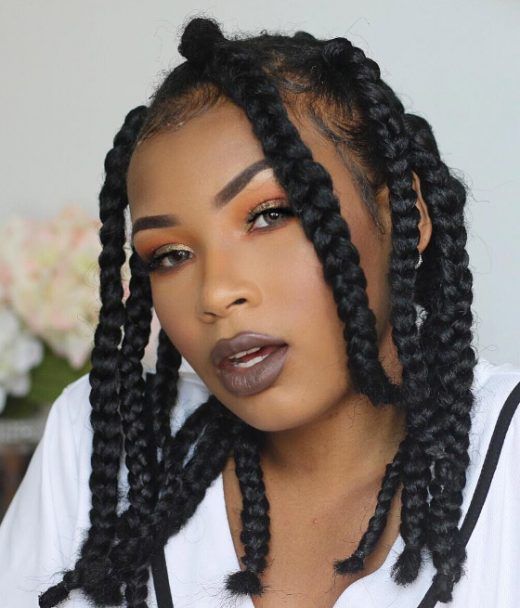 15. Jumbo Braids With Caramel Brown Highlights
This hairstyle is a whole sun-kissed style that is simply serving looks.
The entire highlight of this look would be the hair that has been dyed in a beautiful shade of caramel brown shade that is glowing when faced with the sunlight.
The rest of the hairstyle is as simple and basic as it can get with the jumbo braids being styled in the normal triangle braids style.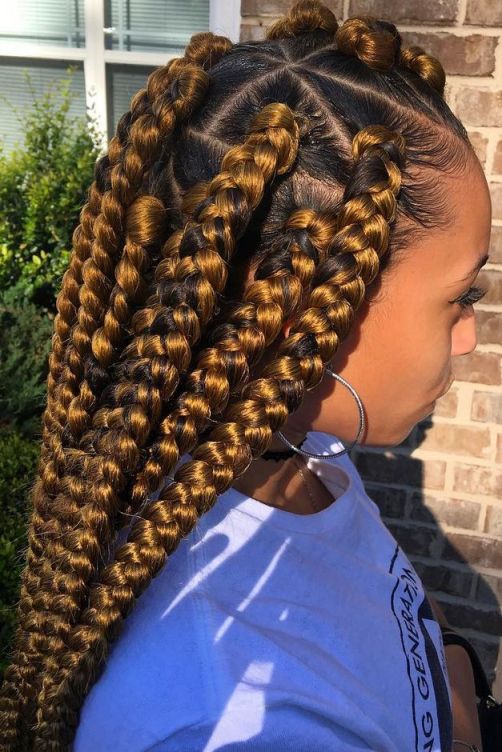 16. Jumbo Feed In Braids Hairstyle
This hairstyle makes use of feed-in braids that are thinner at the upper portion but get thicker and thicker as it comes down to the tips. This helps to make it just the perfect jumbo braids hairstyle that you need.
The braids are done in a curvy manner, which helps to create the right shape that accentuates the head as well as the facial features. Subtle highlighting is done on the hair also adds some shine to the overall look.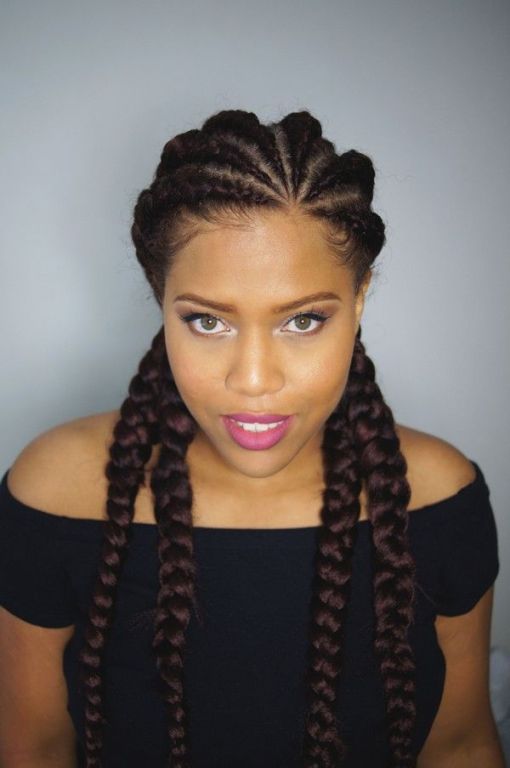 17. Middle Parted Braids With Beads
This is another classic black braid hairstyle and could also be hailed as one of the styles of the most iconic braid of all time.
The hair has been middle-parted to both the sides in equal length and thickness and thus, it lies beautifully across the shoulders.
The hair has been first swept over to the side in a low ponytail style and then fully braided up. You can spice up the look by adding in some hair accessories like beads or even elastics.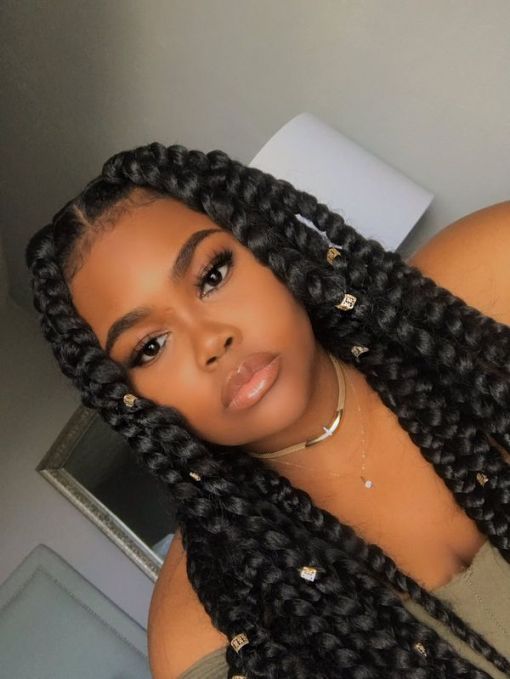 18. Classic Twisted Braided Hair
Jumbo twisted hairstyles are a great way to add a fun and creative element to your normal everyday hairstyle with class and elegance.
It's a simple hairstyle where the upper part of the hair has been done in triangle partitions. The triangle partitions are one of the hottest trends these days and they simply make the hairstyle even more gorgeous.
The hair has then been done in a twisted hairstyle which is a style that requires some effort, but when done, you'll have a perfect look.
19. Purple Jumbo Braids
Triangle-shaped purple braids are a great way of flaunting your hair perfectly. The hair is significantly thicker at the top of the head and gets thinner as we come down.
This is one of the most beautiful jumbo braids styles available out there and surely adds a charm to your hair.
While the hair is primarily maintained in the normal braids hairstyle itself, what makes it really stand out is the purple highlights that have been done all across the hair.
20. Brown Highlighted Hair
When it comes to jumbo braids hairstyles, we could really consider the fact that black women are the luckiest in those terms since they are mostly born with natural and black frizzy hair that can be styled in a wide variety of ways.
The best protective hairstyle available out there is also the popular one and a favorite hairstyle for many women who want to manage their hair fashionably.
The brown highlights also are done on the hair simply look adorable.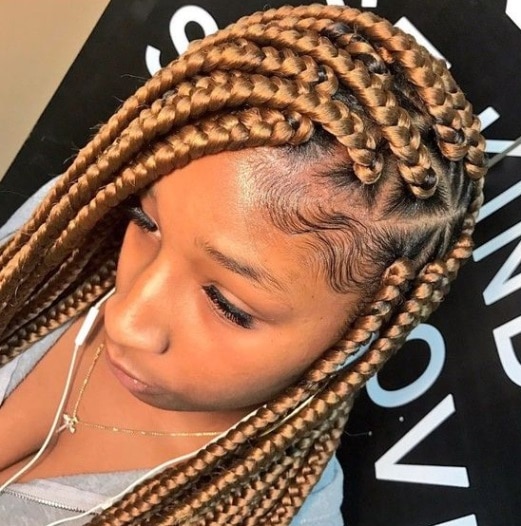 21. Long Braided Hair
If you're not sure how you want to style your long hair and are always confused about a style to choose, then worry not because we have got you a great hairstyle.
It's quite easy to do so it doesn't require much time or effort. Simply divide your hair into thicker sections of equal length and thickness and just braid it up and your hairstyle is ready.
The crown-like up-do on the top lifts the hair up, thus giving a sense of fullness and making the hair look quite voluminous.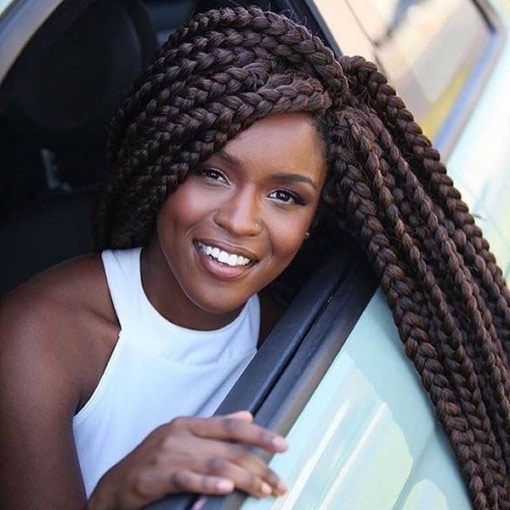 22. Blonde Jumbo Braids
When opting for a protective hairstyle. The best choice you can go for would be to make sure that your hair is done in big jumbo braids so that not only is it easy to style up your hair, maintenance, and protection also becomes an easier task.
This weave braided ponytail is one such look that will definitely make it easy for you to wear a jumbo braids style. The blonde extensions only add more beauty to the look as they blend in well with the rest of your hair.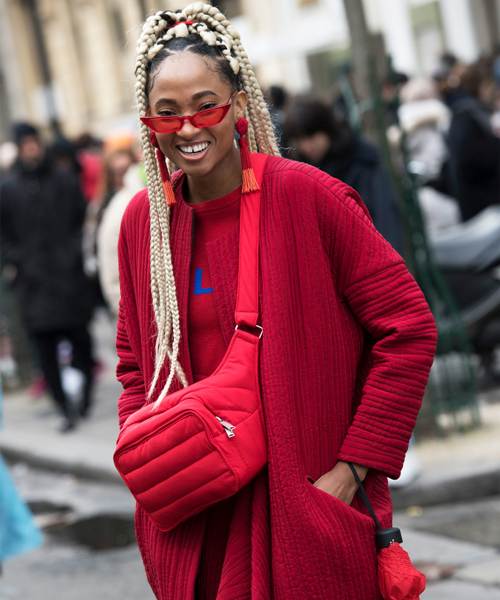 23. Black Cornrow Braids Style
A box braids style like this not only protects your hair at all costs but will also help to ensure that the life and health of your hair are extended.
Most box braids come in long hairstyles so it is a perfect look that you can try to create when you want a fun and cool look that is also an everyday go-to look that goes well with almost all outfits.
Get your hair highlighted in some parts with any color of your choice, and your jumbo braids style is ready to serve looks.
24. Blue Jumbo Braids
Jumbo braids themselves are a great thing of beauty to the ye, and when you pair it with a gorgeous shade such as an ocean blue one as shown here, then it makes for the perfect hairstyle.
Not only is it a trendy hairstyle but it will also make sure that all heads and eyes are turned to you while you are at it.
The braids are cerulean shaded braids that are one of the chicest hairstyles out there. This hairstyle is best suited when you have long or even medium-length hair.
25. Chestnut Brown Hair
The perfect shade of chestnut is just what you need if you are someone who is looking to get a hair makeover. It's all sorts of beautiful and you simply cannot take your eyes off this look.
The hair has simply been done in ponytail braids, which makes the brown hair very visible.
Creating thick braids on the hair will ensure that your hair is full of volume and fullness. This is a great hairstyle for natural and thick hair.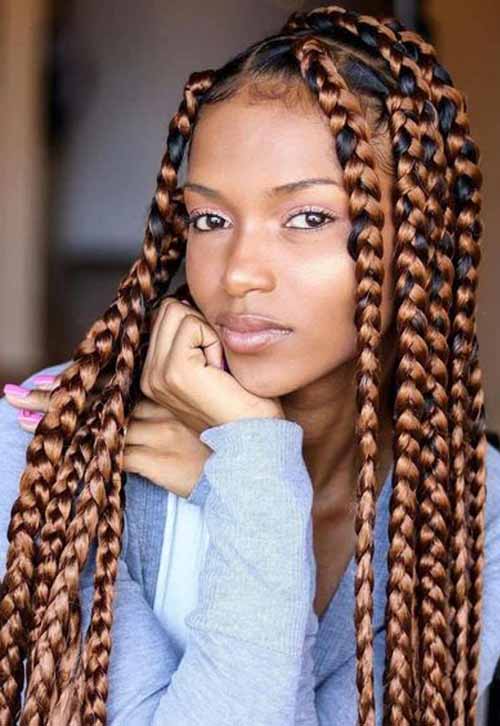 26. Jumbo Lemonade Braids Style
This look is somewhere between looking low maintenance and looking dramatic all at the same time. These feed-in braids cum jumbo braids hairstyle are a simple look that you can try out.
It's a much-loved look by most people since it is a quick hairstyle that has come to be very essential in most people's lives.
To make this look even more colorful, you can choose to get your hair highlighted in any bright shade or even add some colorful strings or hair elastics.
27. Short Braids With Beads
looking for a style that is not too complex but still manages to make you look a little sophisticated? Then this style is ideal for you as it is a short braids style that can be quickly done.
The hair length should be kept at shoulder length which makes the styling of the hair very convenient to anyone.
The hair has been swept in all directions and then done in a normal braids style itself. It has then been further accessorized with golden beads
28. Straight Back Cornrows Style
This is a style that requires enough patience and effort but once it is done in the right way, then it is a perfect braids hairstyle you could ever ask for.
Thick sections of hair are used to create this straight look with cornrow braids and hair that has been pulled back flawlessly.
It's a great hairstyle that will look good for casual outings and events as well as for other events like parties and weddings. A hairstyle that is best suited for women with round faces and thick hair.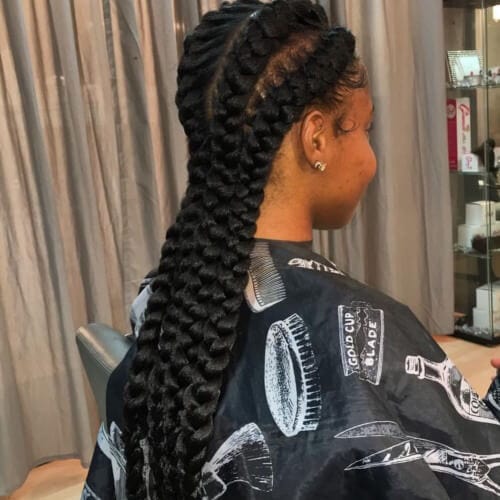 29. Golden Blonde Braids
Dye your hair with a beautiful golden blonde shade that is simply shining. Best suited hairstyle for those who have very thick hair as it is a style that can help you to show off your thick strands of hair in the most fashionable way possible.
A hairstyle that is very popular among high schoolers and teenagers, you can also try this hairstyle provided you have thick hair and texture needed to rock this look.
The main highlight about this look is the jumbo-sized braids o it doesn't matter the length and color of your hair. The size is the prominent factor here if you want to try this lookout.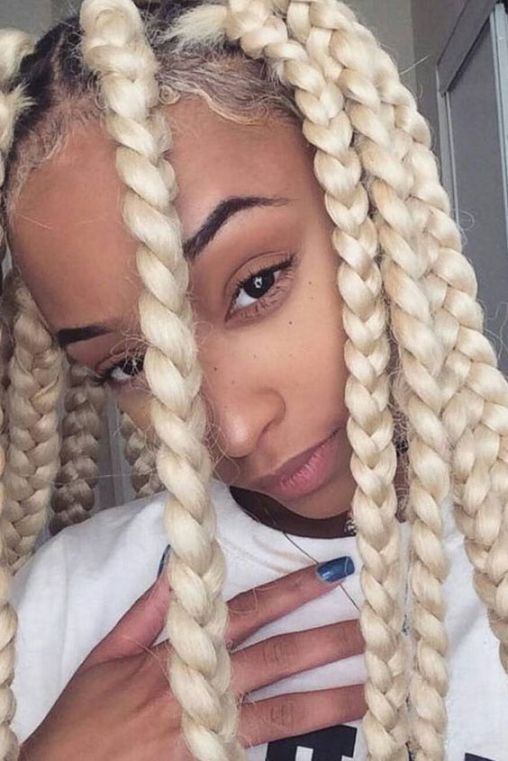 30. Simple Black Box Braids
Listed above are some of the most versatile hairstyles in jumbo braids styles that will make you look like a million dollars.
And this hairstyle here is also no exception but we have decided to end this list of braids styles with a simple and natural hairstyle that looks very elegant too.
The hair has been middle-parted very neatly to both sides and then tied up in the ponytail braids style. It's an adorable look that will make you feel as pretty as you can be.
31. Pigtail Braids and Ringlet Curls
The braids here are piled up into pigtails for a youthful, adorable, and very trendy look. The baby hairs are gelled down so they look sleek and well-styled. The ends of these box braids end in ringlet curls which adds sweetness to the look.
32. Silver Beaded Braids
These braids have a lot of volume as they start with a large knot, and the ends are decorated with silver beads. The focus is mostly on the thick tops of the braids, but the beaded ends make for a nice little decal to set you apart from the crowd.
33. Sleek and Simple Box Braids
These box braids are very large, very simple, and very sleek. There isn't too much volume or styling going on with this style.
The hair falls gracefully down the shoulders and back for a very put-together look. The baby hairs are gelled down and swept back.
34. Colorful Braided Ponytail
Braids are long and heavy, so securing them back into a ponytail is often wise. That's what's done in this style. However, the focus is still very much all on the braids as they're colored in turquoise and yellow that makes for an unmissable style.
35. Beaded and Banded
The braids here are quite simple, thick jumbo braids that fall loosely away from the scalp. However, they're decorated with large wooden beads on the ends and gold bands along some of the braids. It's a very carefree and beachy style.
36. Undercut Jumbo Braids
The undercut is a very popular hairstyle, but it's not often seen with braids. Here it is, though.
One side of the head is shaved, and the rest has the braids falling over to one side in a big, thick sheet of beautiful braided texture. The hair is dotted with brown patches for a little more uniqueness.
37. Golden Decorated Patterned Braids
Some jumbo braid hairstyles lend themselves well to self-expression, and this is one of them.
You can let your personality shine by decorating some of the braids with gold, and you can show off your uniqueness by having some smaller braids snaking their way across your scalp. The rest of the braids are large but sparse.
38. Extra Thick Silvery Braids
These braids are thick and shiny and enormous. They're attached to the scalp with a nice little knot, but from there they hang very loose and free. They have a silvery hue and end in white for a very unique look.
39. Curly Ends Jumbo Braids
Many jumbo braid hairstyles look amazing with a little curly hair at the ends, and this style doesn't disappoint. The jumbo braids hang thickly around the face, but they're tied off early so some vibrant curls can decorate their ends.
40. Braided Into Bun
This is a sleek hairstyle where the braids are tight to the scalp and pulled into a bun at the base of the neck. The baby hairs are gently styled into place, but they're not gelled down. This provides a casual look.
And while this list has ended, we are sure that all of the styles mentioned above will definitely inspire you to try out these looks or even recreate any of these styles in a fun and creative manner.
These hairstyles will surely last for many days without losing their charm and shine, so make sure you choose the hairstyle that is right for you instead of simply going with any hairstyle you see.