If you are an all-time braid person, there must be many times when you get bored of these. It's only because you love them, that you are unable to get rid of them. Here, we have come with a great idea that will help you through this.
This little change to your ordinary braids will help you keep your braids and still bring that change in the look you have been wanting. These are triangle braids. The difference lies in the partitioning of hair while making the braids.
Instead of square partitions or irregular patterns, the partitions are made as triangle boxes. This sounds like a very interesting idea and immediately refreshes your look. Here is the step by step guide on how to do triangle braid.
1. Hot Red Triangle Braids
For the first hairstyle, very big triangle boxes are made to do braids. Braids are kept very thick and jumbo. Along with the change in partition, you can also change the color of your hair to make your ordinary braids look different.
There are a lot of colors to choose from but what could be better than a hot red. The color red is forever known for its boldness. So the red braids make you look bold in a good way. To go further, add golden cuffs or accessories to your braids. They will make them look more fancy and glam.
2. Jumbo Triangle Braids
The triangular boxes for partitioning the hair could be made in different patterns. And this one looks creative. The boxes are made in a centric pattern. The triangles are very large, which makes each partition of hair very voluminous and braids extra thick.
If you love yourself in jumbo braids and have thick hair, this one is a must-go for you. The partitions and braids look more clear because of their size. This can suit any face type. This pattern flatters every face type. Show your stylist this picture and go for this one at least once, and you will surely end up loving it.
3. Micro Triangular Braids
As we mentioned earlier, there are several patterns to choose from while making triangle box braids. This one is amazing. This one is made by making very small boxes and a lot of braids. Hence the pattern formed looks very mesmerizing.
The blonde extensions are added to the braids to make them look more enhancing. The braids are very thin, therefore, adding color highlights enhances them very well and makes them look even more beautiful.
You can color your hair by adding brown-blonde highlights or add any artificial color extension. The braids will look beautiful and elegant both ways.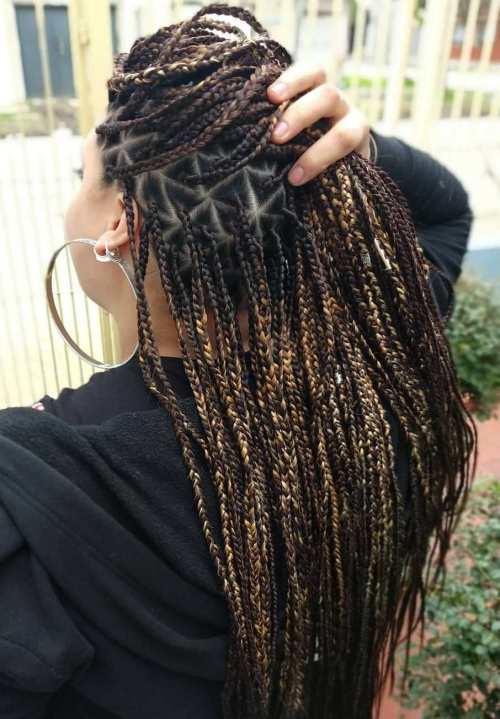 4. Royal Golden Triangle Braids
Who says the braids are very basic. You can make your braids reach another level of the class by making them golden. Adding a golden extension to your braids instantly makes them look so royal. Not only this, extensions help to make thick braids.
So if you are someone with thin hair and want some volume in your braids, this is going to be a perfect idea. You can choose other colors also, but nothing will beat the royalty that comes with the golden. Also, the pattern made here is along with the center partition which makes it classier.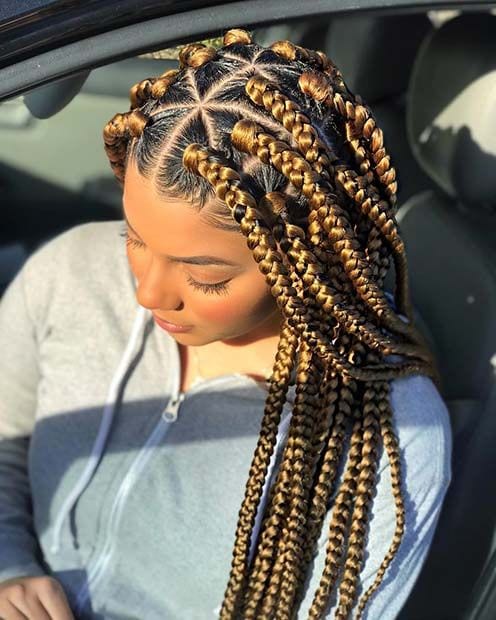 5. Silver Braids with Cuffs
Another color to go for to enhance your braids is this rich grey, silver. This will be perfect if you want to be the center of attraction. This hairstyle will get all eyes on you. It looks very bold and mesmerizing.
Though, not suitable for all face types as sometimes it can look a little too much but you should never forget that you have got only one life which is worth taking all the risks. To make it more extra, silver hair jewelry or cuffs are added. They make the hairstyle look more attractive.
If you are looking for a complete change, you need to go for this hairstyle. Try this because you will end up getting a lot of compliments.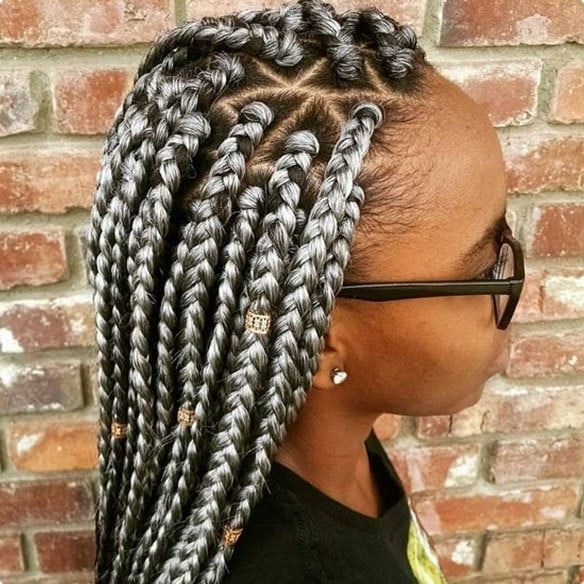 6. Basic Brown Black (BBB) Triangle Braids
Adding color is always a good option to bring an instant change in the basic black braids. Triangular partition brings a big change but sometimes it's just not enough. And coloring hair becomes too much for some people. So here's the best solution. Go for a very basic hair color.
Brown is nearest to black and goes very well with it. It brings the change you need without making you look that extra. For occasions where you want to glam up a bit, try adding accessories to these braids. Golden cuffs look best with brown-black braids. They are also easy to add and remove whenever you want.
7. Half Bun with Triangle Braids
Braids are as gorgeous as un-braided hair. Also, they are very easy to style as un-braided hair. So you should always keep experimenting with your braided hair by styling them in different hairstyles. The most common of them are the half-up bun, full bun, and ponytail.
Our favorite is the half-up and half-down bun. It is the most versatile of all. And this is known for a very pretty addition to your overall style.
The triangle box braids are kept very small but large in number. They are made in a stunning pattern. A large number of braids make a voluminous and bold bun that looks very gorgeous.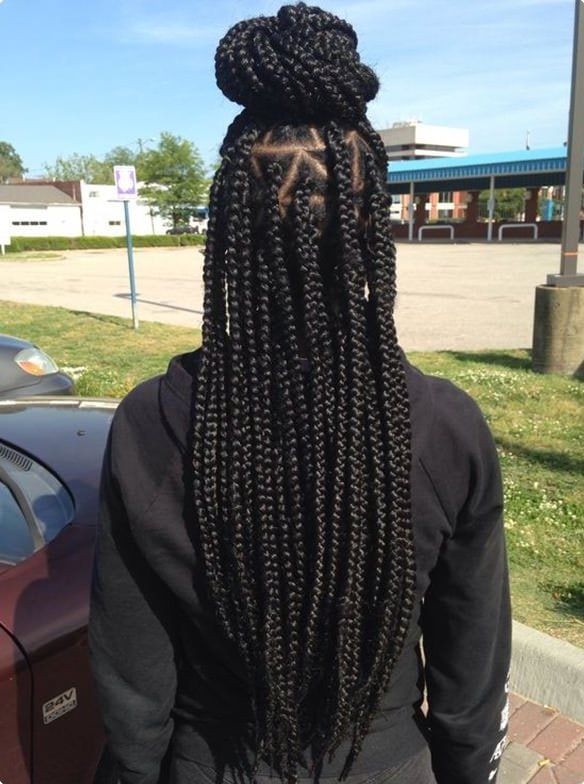 8. Blonde Irregular Triangles
A brunette with blonde is always a perfect combination. This combination has always been for its gorgeousness. It is a completely new hairstyle in itself. The changes this combination brings to any style are so immense and flattering.
The braids are made very thin but the color enhances them. Also, the small triangular partitions are made in a very irregular manner which makes this hairstyle look very casual and messy in a good way.
Hair accessories are again added to the braids. This is a very common trend these days because these accessories make your braid look so gorgeous.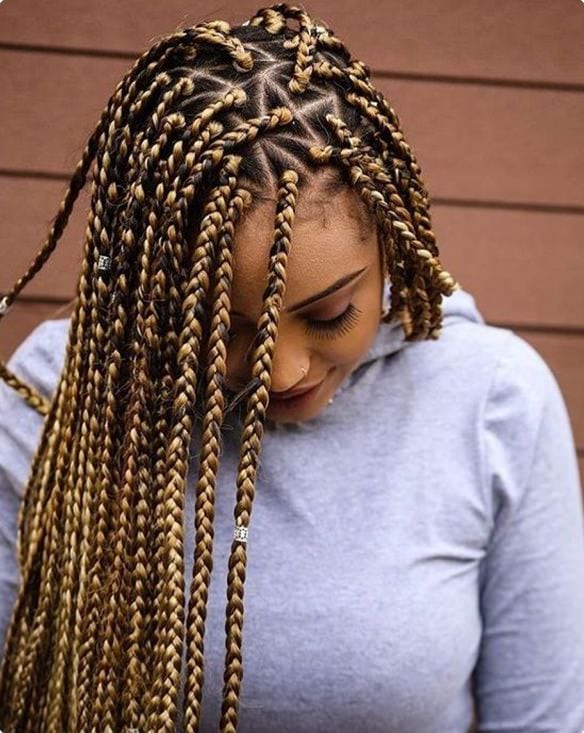 9. Cuffed Up Jumbo Braids
Adding jewelry like cuffs, string, and cords to braids is a traditional way of styling African braids. And this has also become the latest and common trend nowadays. The fact that jewelry is not at all limited only to the body is, in itself a great concept.
Using these different pieces of jewelry for hair or hair accessories as they are called adds an immediate touch of elegance. These when paired with the triangular braids, make a very extra hairstyle that looks very great and all put together.
You can see how adding some different types of golden accessories makes basic black braids look so gorgeous and extra.
10. Bronze Braids
The triangular pattern is formed along the side-partition. This looks very girly. the caramel color added to these braids makes them look new all again. The color gives a bronze touch and makes them look antique.
This gives birth to a new hairstyle, and you feel new and fresh. very few people have gone for this. So if you are someone who wants to go differently than other people always want to look unique then going for this color with triangular braids is perfect for you.
If you are ready and dying to get a lot of compliments, don't think and just go for this hot-looking hairstyle.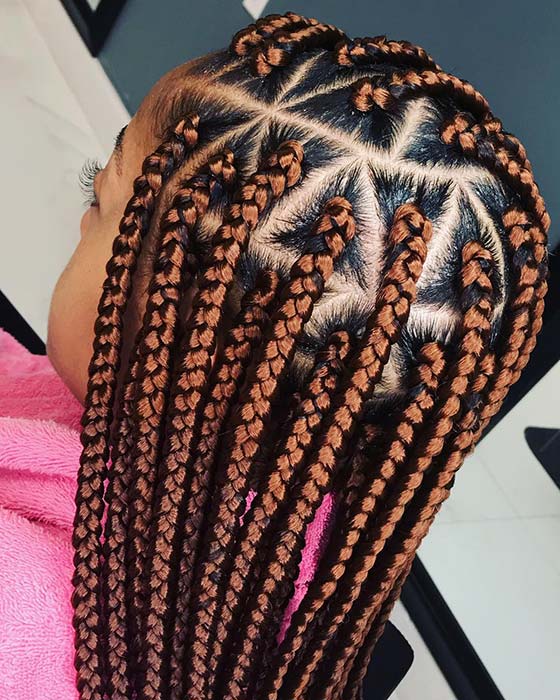 11. Triangle Goddess Box Braids
Triangle box braids are unique and trendy nowadays. These braids are seen from any side, and one can easily identify that these are goddess braids. An alternative way you can enhance your braid is by adding a combination of curly hair.
To make this hairstyle firstly divide your hair into two parts, then each part divides into many triangular sections. Take three hair strands from each triangular section which are converted into goddess braids.
This hairstyle consumes a lot of time because one has to make many separate braids to execute this hairstyle.
12. Long Accessorized Triangle Braids
Accessories look so cool in any hairstyle because it enhances the overall look of braids. This hairstyle is so cool and gorgeous. All triangle braids take time but these accessorized triangle braids are less time-consuming.
To make this hairstyle, several intersections are made throughout the entire scalp, further, this scalp resembles the shape of triangles. Then make braids from each triangle and add accessories like cords with shells or beads.
These little accessories make the simplest of braids look amazing. You can choose accessories according to your choice of color choices.
13. Multicolor Triangle Unicorn Braids
These multicolor triangle unicorn braids are so stylish and classy. This hairstyle is a combination of triangle partitions and unicorn braids. Colorful hairs are installed in braids through the crochet method.
To make this hairstyle divides your hair into star-like shapes and then by the crochet method make colorful braids. Bold color can be taken to new heights with fun braided hairstyles, accessories, etc.
This party hairstyle looks so different and refreshing. You can also wear any shimmery jacket or outfit for more fun.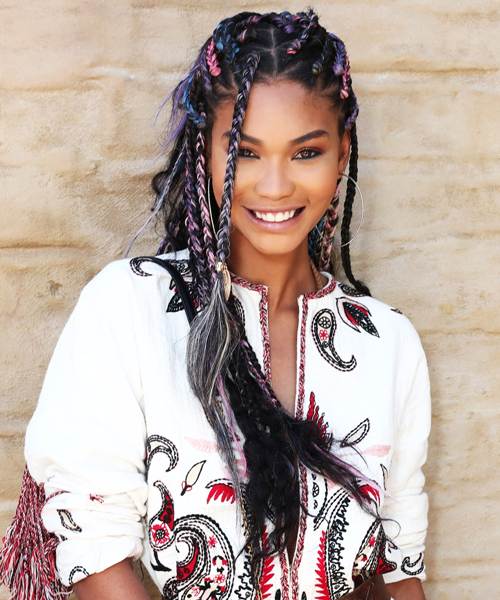 14. Thick Triangle Part Braids
Afro-American hairs are rich in volume and color. In this hairstyle, the triangle pattern looks so neat and stylish. Divide your hairs from the mid and create two slanting lines on both sides to achieve triangle-like shapes and take another section under the tip of your ear to the back of the head.
Thick braids are continued to the end of the hairs which provides texture to your braids. This hairstyle is perfect for the summer season. These thick braids are lasting from two to three days. Some Hollywood pop singers love these hairstyles for stage shows or concerts.
15. Burgundy Triangle Braids with Natural Roots
Colors are always eye-catching and classy. In today's hairstyling industry there are several color shades are available. But this bold burgundy color suits everyone. Burgundy color is available in much brighter or darker shades from which you can choose.
This hairstyle looks so unique because of its braiding style or coloring style; roots are not colored in this hairstyle. Take four strands from each triangular section and make a braid of three strands the fourth strand is rolled around the starting of the braid this technique shows your root hair color which looks amazing with bold burgundy color.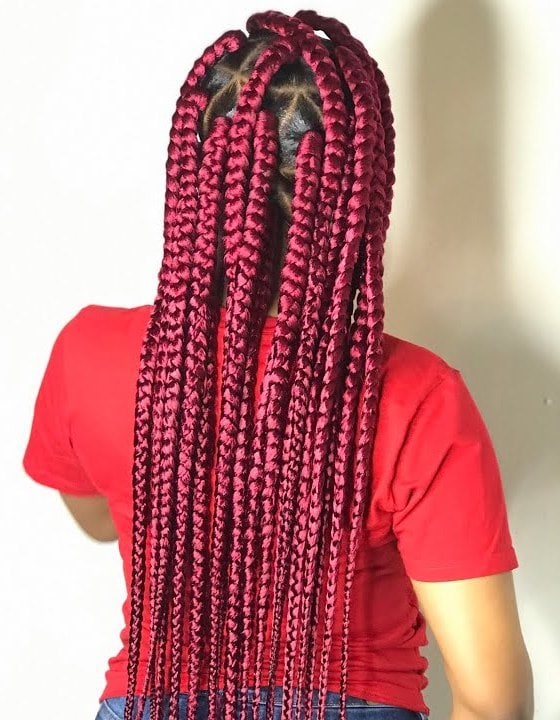 16. Sleek Side-Parted Triangle Braids
This sleek side-parted hairstyle is for thin hairs. The triangular pattern is smaller and different in this hairstyle. To make this hairstyle you need to divide small horizontal and vertical sections. Each section has three strands of hair to create braids.
To add more volume you can curl your hair and then make braids. Now, side part your braids to show your triangle pattern! You can also wear round earrings with a bold lip color.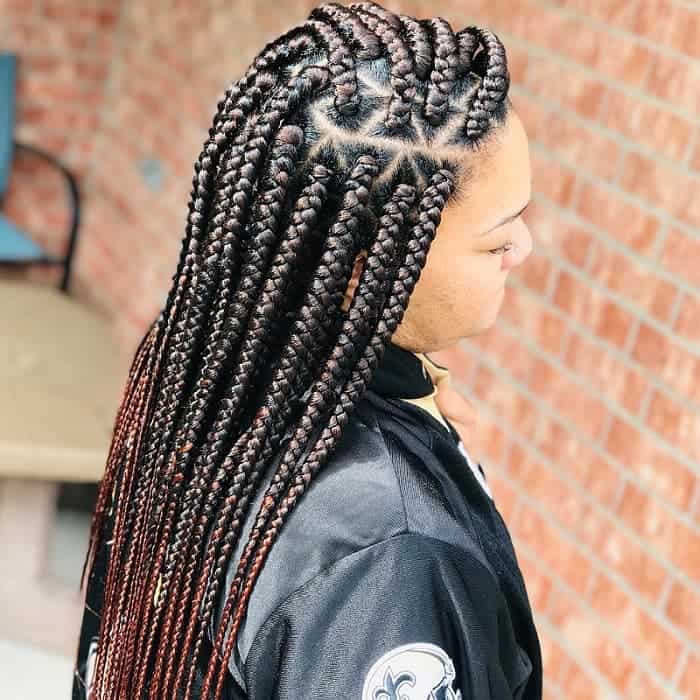 17. Crab Design Triangle Hairstyle
This hairstyle looks like the outer body of the crab. All the hair strands of hair are moving in the down trail direction. In this hairstyle, very small triangles are created which is very time-consuming but looks beautiful. Very thin braids are making in each triangle section.
You can also style your braids into a bun or high ponytail. You can also add some artificial extensions or beads to enhance the beauty of this hairstyle. This hairstyle is perfect for every hair length.
18. Sun-Kissed Caramel Blonde Braids
Caramel blonde color is perfect for highlighting your hair. Divide your hair from the middle and create four to five horizontal lines connected to the middle line. From the side, part takes one line which completes the triangle shape.
Braids look so shinny because of its caramel blonde color. You can wear some off-shoulder dress which looks so good with this hairstyle. If you want to add some color then you should go for bright colors.
19. Red Beaded Triangle Braids
If you want some fabulous hairstyle then this beaded hairstyle is so cool. Hairs are styled into chunky braids with triangular partitions. This gorgeous hairstyle will make you eye-grabbing in the eyes of the public.
Large triangular partition with colorful two-shaded braids looks so fascinating. Silver beads give a traditional touch to this hairstyle. You can also add red or pink eye shadow for a simple and cute look.
20. A Look Above Triangle Braids
This is a widely popular and standard triangle box braid. When you look from the above triangle pattern looks so vibrant. To make this hairstyle you need to make larger triangle sections. This hairstyle is simple but not difficult to do. Triangle braids are unique but beautiful.
This hairstyle is perfect for college-going girls. Most Hollywood stars or singers follow this hairstyle which different styled outfits.
Triangle braids are different from other braids. Triangle braids come in very different styles and techniques, names, etc. With these triangular hairstyles, you can decorate your face structure beautifully.
These braids have many advantages like its summer-friendly, protect your hair from night freeze, or reduces your hair loss. You can also add some creative designs to the triangle braids hairstyle. Triangle braids are easy to style. It consumes time but looks stylish.
If you try three to five types of triangular braids then you know that it is perfect for every hair length, color, volume, etc. which is the best part of this style. According to time, new modifications are added.
Many Hollywood actors or singers like this hairstyle because of its uniqueness. Different color extensions or beads, cuffs are also used in his hairstyle.