Getting ready every morning can feel like quite a struggle at times, but that doesn't mean you should compromise on the style quotient of your hair. There are several types of everyday hairstyles that you can try out and avoid blending in with the crowd.
No matter where you are spending your day, at college, at home, on the train or plane, or walking down the street to your office, your hair should be in prime and polished condition.
23 Diverse Everyday Hairstyles
Keep scrolling to discover our list of the top everyday hairstyles that are sure to enhance your personality and overall style.
Blonde Subtle Waves
It's time to eliminate the misconception that putting more effort into a hairstyle is a great one. The everyday hairdos that require minimum styling are the ones that look effortlessly charming.
For example, this open wavy style is simplified perfection. If your hair is naturally wavy, you can air-dry your hair after shampoo to achieve this look.
Half Up Bun Hairstyle
This half-up bun hairstyle will seal the deal for you if you wish to get a chic Soho glam look.
Start this hairdo by spritzing texturizing hair spray, then pull back some hair to create a front puff and a small top half-bun. The overall semi-messy feel of this auburn hairdo with the pulled-out strands makes it ideal for wearing to day events.
Blonde Ombre Ponytail
For all the girls and women for whom their daily morning runs and walks are essential, you need an athletic hairdo that you can roll out of bed and style.
This mid-rise ponytail hairdo is a suitable everyday hairstyle that you can consistently make for days on end. The medium blonde ombre get one shade lighter as we move down the hair length from the scalp.
Dark Brown Cropped Bob
Often, you may feel like you are trapped in a cycle of repeating the same old hairstyles again and again.
Going dramatically short with your tresses is the easiest way to bring yourself out of this hair styling rut if you don't have short hair already. This super-cropped rounded bob with a separated fringe answers all your prayers.
Curly Ponytail with Headband
Who said black women must conform to restrictive styling norms in the humidity and heat? You can always tie your hair into an adorable short ponytail to make for a lovely everyday hairstyle.
If you love accessorizing your hair, wrap a knotted cloth hair band around your head to fully channel the summer vibes.
Lavender Blonde Bob
The office space isn't only meant for monotonous hairstyles; you can step out of your comfort zone and have some fun.
There's no harm in exploring subtle coloring options such as this visually pleasing lavender hue. The lavender color blends seamlessly with this short bob hairstyle's platinum grey blonde base tone.
Blonde Bun Wrap Hairstyle
Are you looking for an everyday hairstyle that can take you from morning to night? The bun wrap updo is the perfect transitional hairdo that screams elegance.
To create this updo, gather your hair into a low bun after leaving two partitions at the front, and then wrap the front locks around the bun as the finishing touch.
Crown Braid Updo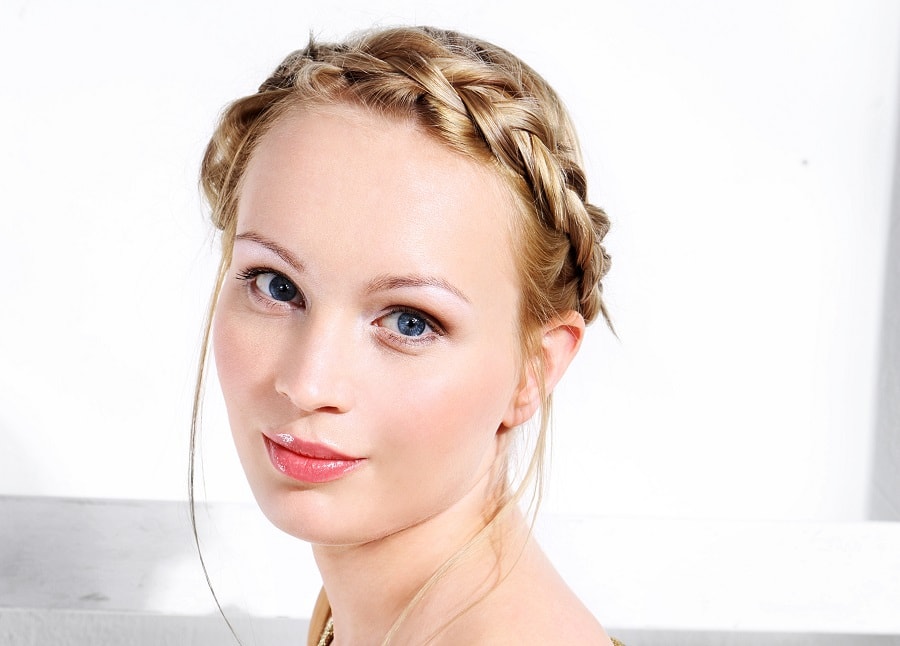 The crown braid updo is the ultimate versatile hairdo for almost all hair types, densities, and textures. The greek goddess aesthetic of this braid type is what draws all the ladies towards it and establishes it as a popular everyday hairstyle.
Bleached Blonde
Sometimes less is more, as proved in the case of this long open hairstyle! The lengthy bleached blonde locks get the chance to show themselves to the world without the hindrance of any hair tie or complicated updos.
This will be a suitable hairdo for older women in their 40s wanting a minimalistic look at work.
Accessorized Side Ponytail
If you adore feminine hairstyles that beautifully highlight your facial features, you should try this side ponytail hairstyle.
The side-swept bangs give the ponytail some exciting dimension. Secure your ponytail with a white flower hair scrunchie for a refreshing and delicate spring aesthetic.
Double Fishtail Braids
Go for a spunky and fun everyday hairstyle with these double fishtail braids. These double braids will make your work easier if you want to achieve a youthful look with your long hair.
Dreaded Ponytail
We all are familiar with dreadlock braids, but how about taking a new route with hair to wearing a dreadlocks ponytail?
The intricacy and thickness of the dreads give this hairstyle a strong and determined vibe. You can wear this hairstyle to your college or work every day and even to the gym afterward.
Voluminous Curls
You do not need to wait for any special occasion to embrace your curly mane in all its glory. Let your long hair down to get the desired texture and volume! The side parting and almost monotone dark hair color lend the look an intense aura.
Ginger Top Bun
When you have a long day of work ahead filled with multiple deadlines and important meetings, you need a proper hairstyle. This top bun will allow you to do up your hair in an organized manner and have high productivity levels.
Brown Space Buns
If your mother always styled your hair into pigtails when you were a kid, it's time for you to upgrade to space buns in college/university. As soon as you sport this everyday hairdo you will be transported to the 90s era with an edge.
Auburn Open Waves
The middle part hairstyle with brown hues is layered so beautifully that it reflects a light auburn hue outside in the sunlight. While the upper portion of the hair is wavy, the ends are separately curled for a more cohesive look.
Honey Blonde Pixie
Replace your long locks with a short pixie cut to get more attention on your tightly defined curls. In addition, the honey blonde dye creates an attractive distinction between your hair and skin. You can apply a few pumps of a hair mousse to ensure that your curls remain soft.
Layered Brown Lob
If you are in the mood to be carefree with your hair today, this wind-blown mid-length dark brown style can initiate that for you.
The loose waves and side-parting easily boost the volume of the hair. This layered style goes up to your collarbones, making this an ideal everyday hairstyle for angular face shapes.
Highlighted Side Bun Updo
The side bun updo is classiness personified; it's perfect for wearing to places that require you to keep your hair tied up at all times, such as the office. The subtle medium blonde highlights from the side add an exciting element to this sophisticated hairstyle.
Classic Blonde Highlights
Are you looking for a quick everyday hairstyle for your bad hair days? This semi-wet-down style with a fedora hat is here to rescue all the long-haired girls. The yellow blonde highlights against the chocolate brown roots create a fantastic two-toned hairdo.
Grey Choppy Bob
As an older woman, you don't need to stick to just updos and straight styles; a choppy bob is an excellent everyday hairstyle. The nuanced layers and grey tone create a graceful and dignified hairdo that will get you endless compliments.
Textured Blonde Pixie
You will adore this rocker chic pixie cut style if you are a tomboy. The messy hair locks towards the top front of the head add a considerable amount of texture to this bleach blonde hairdo.
Auburn Half-Updo
When a full messy bun seems like too much of a commitment, a half updo is always there for getting the ultimate diva look. You can pull out a few hair strands to frame your face better.
Now, you won't be running out of ideas to style your hair on all days of the week and seasons. We hope you enjoyed this ultimate guide on everyday hairstyles for all hair types and have found enough hairdos that you cannot wait to rock.