Looking to turn your hair into a masterpiece that you can be proud of or a work of art that people will compliment you on every day? Well, finding such a style can be difficult as well as time-consuming.
But we can tell you braids with beads hairstyles can give you the style you want, with a little extra protection to keep your hair in place. Moreover, this hairstyle with beads can be elegant, fun, and even funky.
However, many braided styles can be created using hair jewelry. You can add different colors and sizes of beads to the end of your hair, or they can be threaded through the twisting hair as it is being done.
Gorgeous Braids with Beads Styles for Every Occasion
Are you looking for a new, funky braid style with a fun pop of color and texture beads? Read on to try your style.
Long Box Braids
This style is perfect for long, thick hair. Part your hair into 15-20 even sections and plait each one using a standard bead. Secure the end of each portion with a small elastic band.
The good thing about this style is that it gives a more natural look because the hair isn't pulled tightly from the scalp.
Braided Bangs with Beads
This unique style is a great option for those who want to keep their style for a long without too much effort. However, you cannot do it by yourself. Although this bangs style is best suited for those with medium-length black hair but can be achieved on any hair length.
Tribal Braids
The tribal braid hairstyle with beads gives a unique identity to any black woman. But it requires a lot of time to style, and you must need a hairstylist. Also, you need time to undo your hair. The good thing is that you can keep it for days, even for a month, with proper care.
Knotless Style
Long hair can be a hassle to deal with, especially when you have to keep it up and out of the way. A knotless hairstyle is a great way to keep your afro hair under control while still looking stylish. Further, you can wear it dressy and casual while dyeing your hair red.
Simple Knotted Bun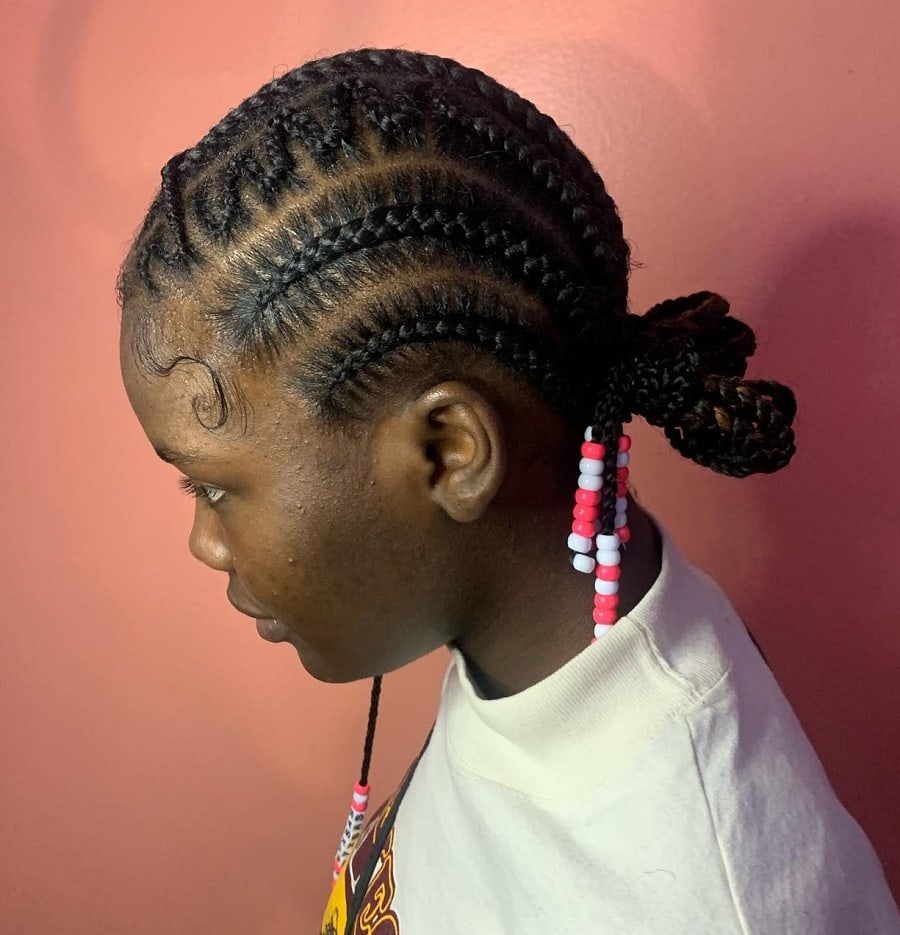 The knotted bun is a perfect hairstyle for work, school, or any casual occasion. And it looks great to teen-aged girls. You can just pull your hair into a low ponytail and tie it with a portion of your hair.
Beads on Curly Hair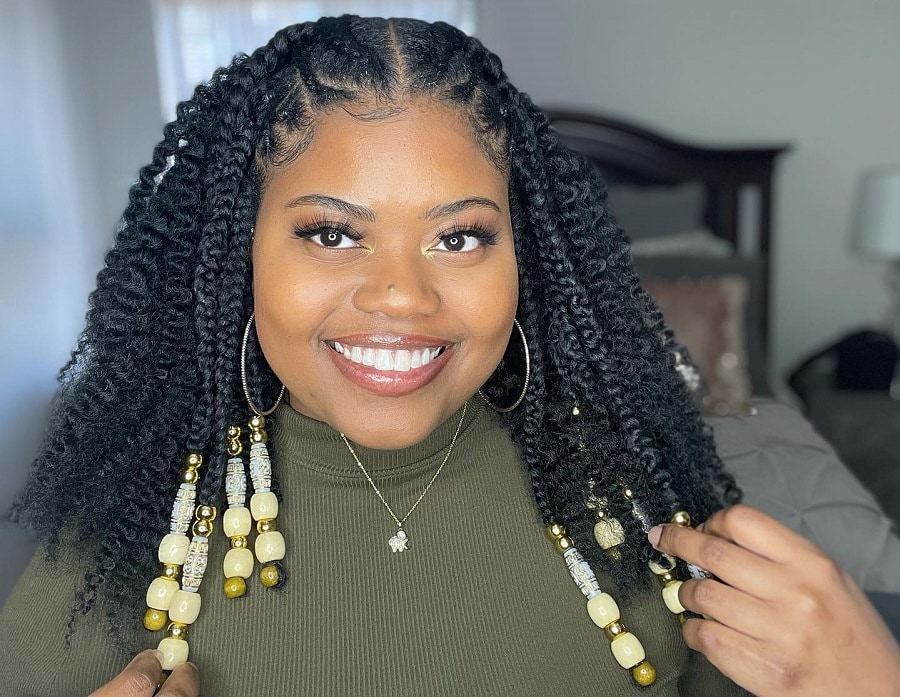 If you have curly hair, you may find that it is difficult to keep your hair styled in a braid.
However, with the addition of beads or jewelry, your hair will be both stylish and secure while adding glamour. Curly hair is often dry and prone to breakage, and this style will keep your hair safe from damage.
Long Knotless Braids
This hairstyle is a great way to show off your long hair while you keep it down. It is a popular hairstyle among African-American women. You will need a few supplies to get started, including elastic bands, beads, and a hairbrush.
Thin Brown Braids
If you have brown hair, one of the latest hairstyles to hit the scene is making braids and using beads on your hair. This style is perfect for women who want a look that is both stylish and unique. The best part about this style is that women of any age can wear it.
Twisted Updo
This kind of updo style is elegant yet can be casual. You can dress them up or down, depending on the occasion. Moreover, this style is perfect for any type of hair, whether it is long or short.
Thick Box Braids
Box braids are a versatile style that can be worn in so many different ways. But knotless one gives an elegant look.
This style is created by dividing the hair into small subsections and then creating knots with each subsection. These black braids can be adorned with beads, charms, or other accessories for a unique look.
Long Blue Braids with Beads
This hairstyle is perfect for women who have long hair and want to show it off. It is perfect for a day out in the sun. It is also great for a casual date night or party.
However, this style will take some time to create and will require your hair to be pulled back into ponytails and tied with a scrunchie.
Red Stitch Braids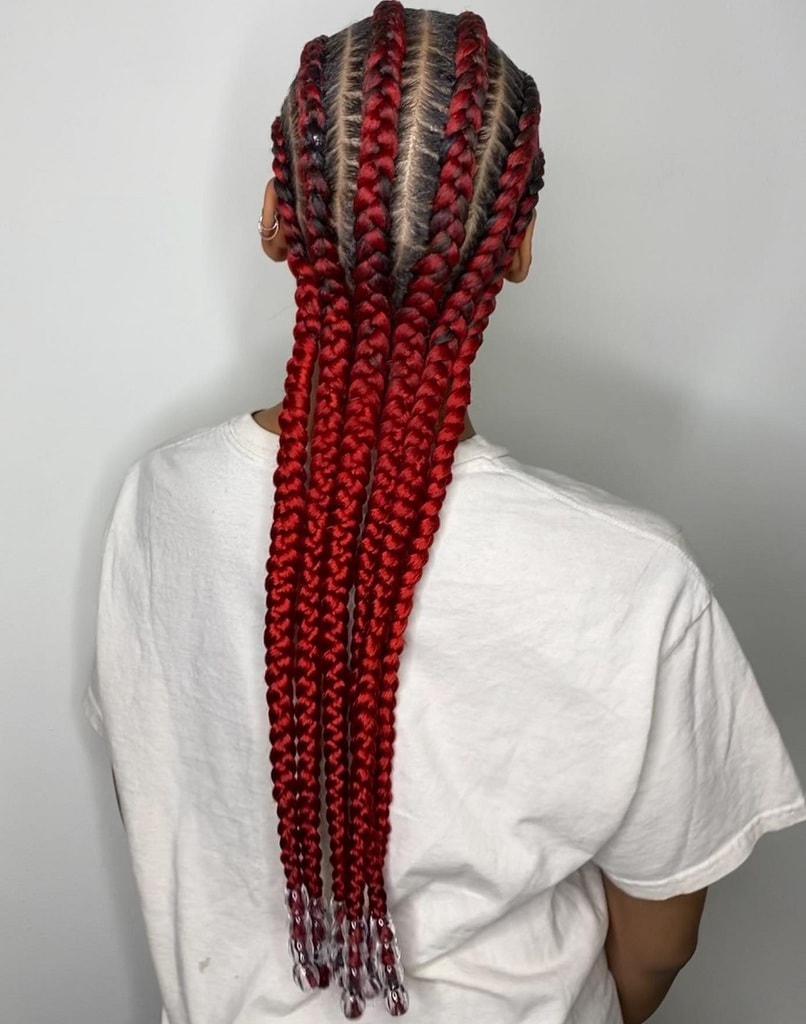 It is created by twisting your hair into small sections and stitching them together. You can use any type of hair accessories for this style, but we recommend using colorful beads to add some flair. This hairdo is perfect for summer because it is light and airy.
Pink Updo
It is perfect for those who want to show off their natural hair texture but still want a style that looks polished and put together. The box twisted updo is perfect for any occasion, whether you're going out on the town or just need something polished style for work.
Red and Black Knotless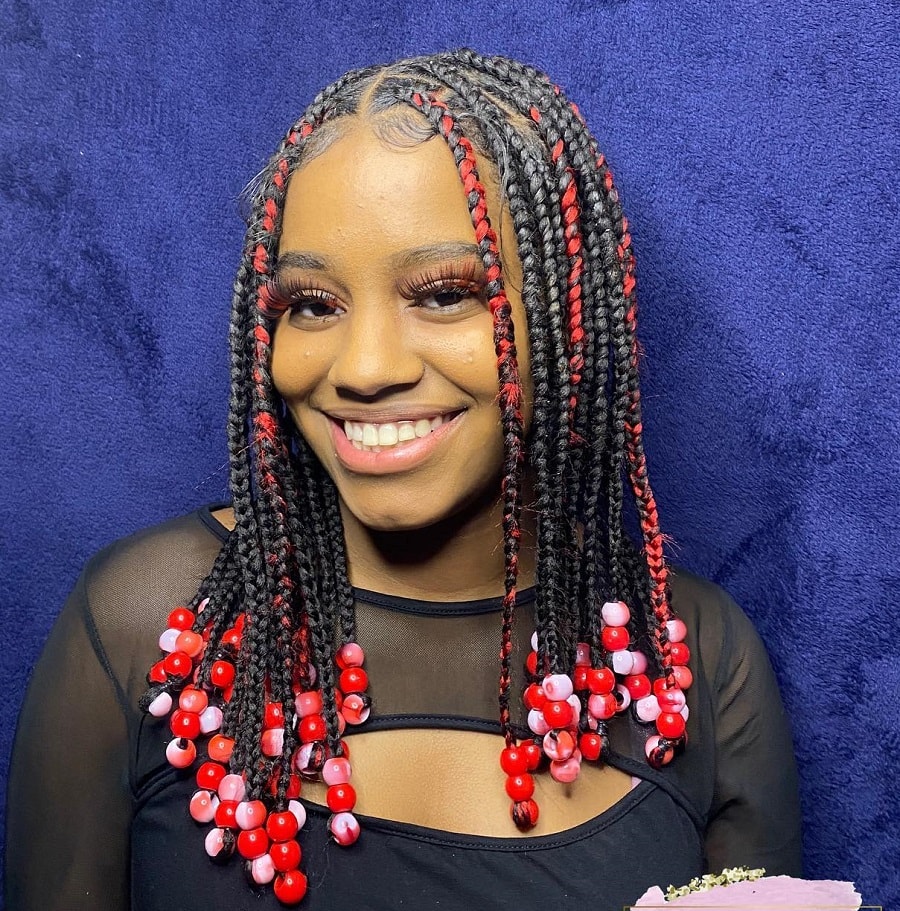 If you are looking for a new, fun, and trendy hairstyle, try a knotless braid hairstyle using colorful beads for long hair. Adding a few clears and a colorful bead to the end of your hair will make you appear elegant and cozy.
Sleek Cornrows
Cornrows are a popular African American hairstyle for long hair. To do this, section your hair into numerous parts.
Take one section and cornrow it. When you reach the end of the section, add a few beads. Then, take the next section and cornrow it. Repeat this process until you have cornrowed all of your hair.
The next time you are looking for a new style for your hair, consider trying out one of these intricate and dazzling braids adorned with beautiful beads. There are styles here for everyone, regardless of hair type or length. So, get inspired and get braiding.