Everyone wants to be in line with the current fashion and look fabulous. So let us predict what will be trendy in 2023 – magenta hair color. Yes, girls, you hear it right. You know there's something magical about this color that you can't stop looking at.
Everyone tries to use that color in their daily life that's pleasing to their eyes, and so do you. So why not color your hair in this magical magenta color so you can see it every time you look in the mirror? You'll feel so beautiful and happy whenever you look at yourself.
Iconic Magenta Hair Colors
Coloring your hair is the first step, but how you style it also matters. Let's see the ways to style your colored hair.
Straight Blunt Lob
You can color your entire hair in bright magenta color, but you need to style it in a way that looks appealing too. We recommend you get a straight lob for your fully colored hair.
It's shoulder-length so that it will surround your face only. You need to have symmetry for a neat look, so get a left-right symmetric haircut.
Side Swept Curls
Curly hair is beautiful, but when you have decided to color your hair, why not get a little creative with the haircut? Side shave your curly hair to have a whole new look.
Combine maroon red color with your magenta hair color. The side shave look is suitable for long as well as short hair but will look better on long.
Layered Cut
When you have thin hair, natural waviness is not enough to make it look thick. A layered haircut is what you need to create a voluminous look. You should get a violet wine color to enhance the overall look.
Messy Bob
When the natural texture of your hair is frizzy, long hair will look quite messy and untidy. We want to create a look that looks messy but beautiful. Short hair can do that, and a bob haircut is the one you should go for.
Braided Updo with Hairband
You can't always keep your short and curly magenta-colored hair loose or open because it can look repetitive.
A braided updo would not be such a bad idea and will also keep you cool in the summer season. Make an asymmetrical french braid, and going all the way back, pin-up all the braids together.
Magenta Highlights
It's unnecessary to color your entire hair when you can have a gorgeous look with the highlights only. For example, magenta pink highlights will look very beautiful with your black hair. Keep your hair straight as it will show the highlights clearly.
Curly hair can be difficult to manage in the summer, so this year try a pixie cut. And to add a lovely color to your hair, go for dark magenta hair color. The natural curls will surely look charming and goes well with all sorts of attire.
Blonde And Pink
Why not go for two colors instead of just one? A combination of blonde and magenta will look perfect on long and wavy hair. You can color the visible portion of your hair blonde and the slightly visible portion pink.
Fiery Red Wavy Hair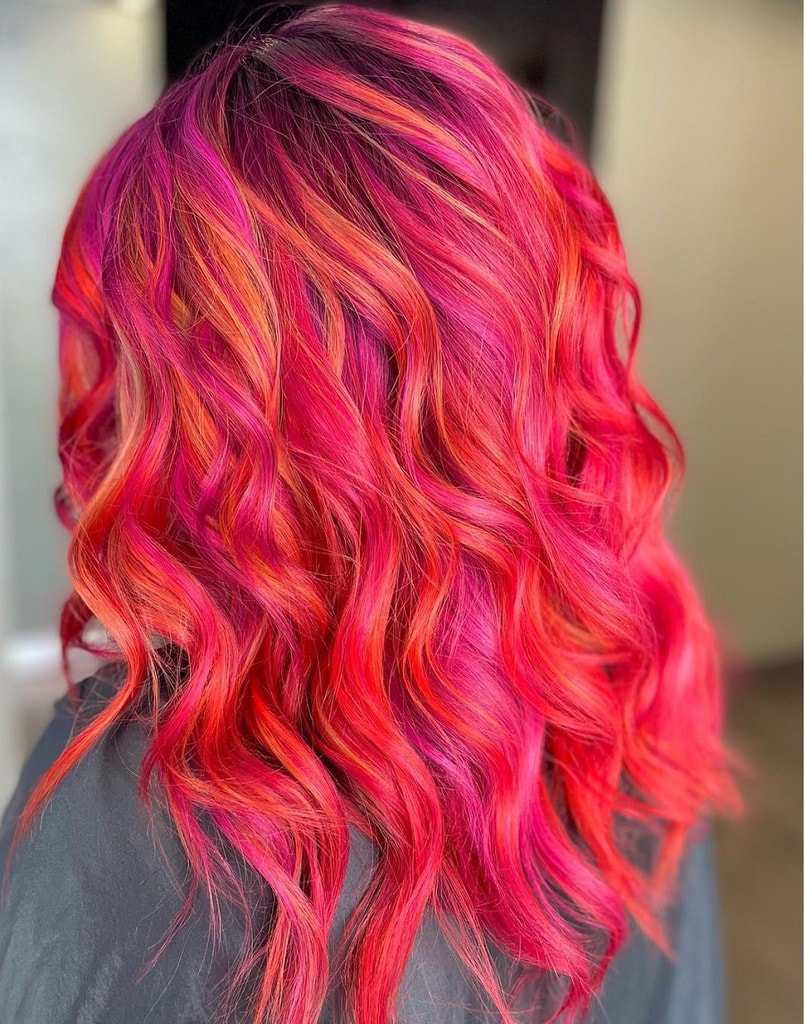 As we said, when you want to color your hair, a combination of two colors looks more beautiful than one single color. For example, you can get a fiery red color along with magenta and pink. Curly hair will be the ideal way of styling your hair as the curls will show each color very beautifully.
You will get a similar look to the flames of fire, which will surely be an attraction to everyone and everywhere you go.
Balayage Bob
If you have decided to get a bob or already have a bob haircut, you should get a balayage.
A balayage will allow you to show your natural hair color along with this one. Plus, magenta will blend perfectly with naturally brown hair.
Loose Curls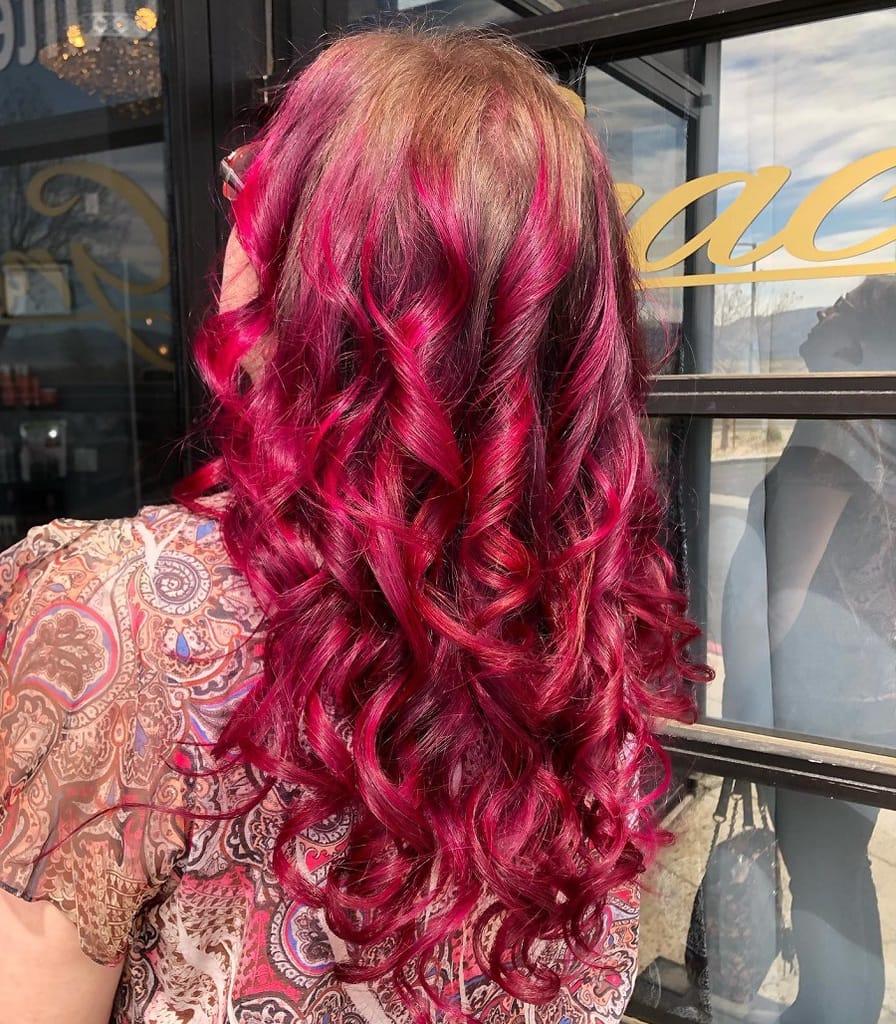 Loose curls are a beautiful way to style your long hair for a special occasion. But when you color your hair in magenta red, the loose curls show more beautifully because they're colored now.
Having this darker shade on your hair will drive attention away from it if you have thin hair.
Curtain Bangs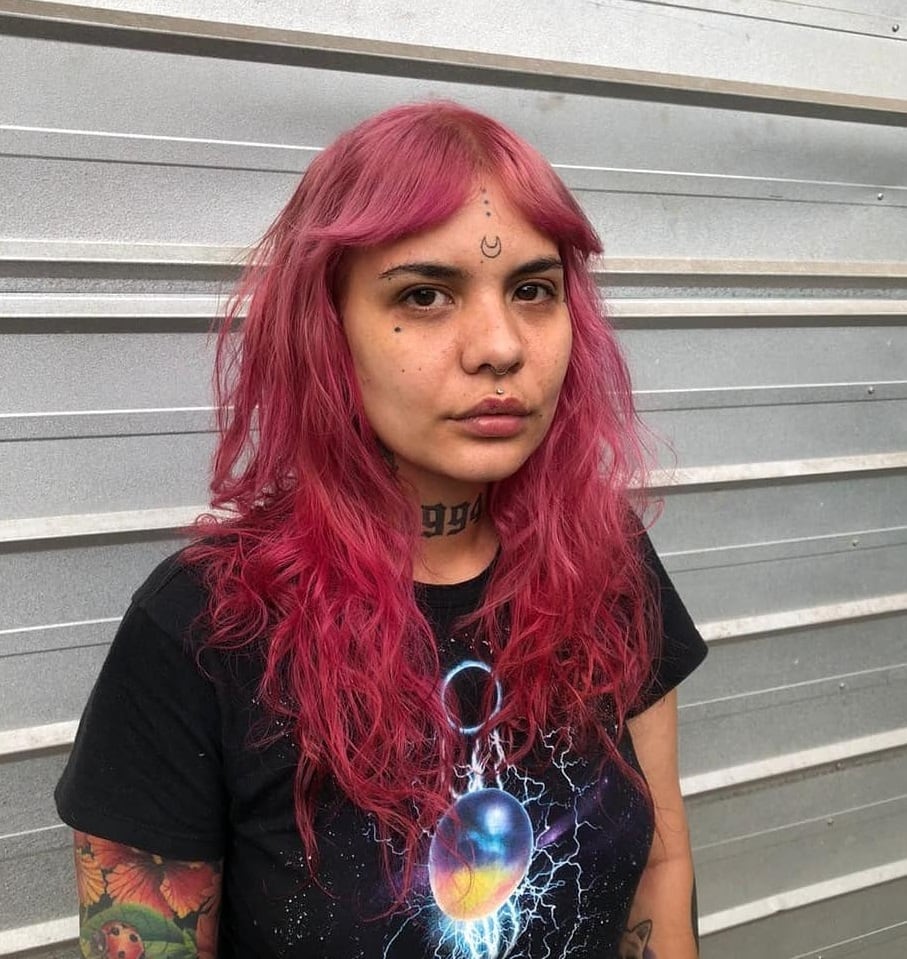 Coloring your thin hair with a warm tone of color is the first step towards shifting the attention from the lack of volume in your hair.
The second step will be to get short curtain bangs for your thin hair. It will drive attention to the front of your hair. Finally, keep the curly texture of your hair.
Mix Colored Dreadlocks
The beauty about dreadlocks is that your hair doesn't get tangled, and each layer can be clearly seen. And when you color them in different shades of magenta, each color will be seen beautifully.
Blunt Bangs
Trying a funky hair color can be quite interesting. Firstly, get a new haircut with blunt bangs. It looks awesome on curly or wavy hair. Plus, it will cover your whole forehead if you're worried about having a big forehead.
Pink Balayage
When you have very thick volumed hair, you have a variety of ways to style it. Getting loose curls will be the best choice you can make for your hair. Talking about coloring, a pink hair color will suit loose curls and enhance the overall look.
Rainbow Curly Ends
We always seem to get creative with the crown area of our hair, like getting highlights or bangs or a balayage but ignore the ends.
This time take care of the ends of your hair by coloring them in rainbow colors. Then, keep the crown area in fuchsia and tightly curls the ends, and voila, you are ready to rock.
Box Braids Ponytail with Beads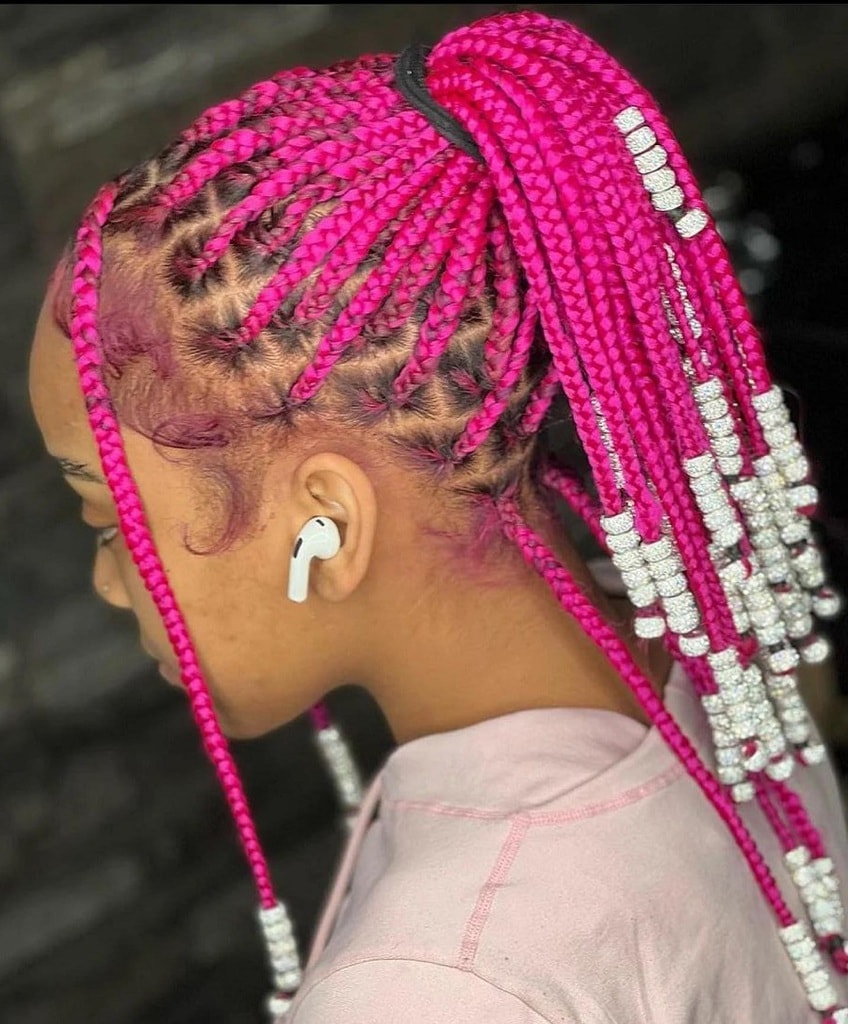 Keep the roots of your hair in their natural color and get the rest in magenta pink hair color.
We are saying this because when you make a box braids ponytail hairstyle, all your braids will be covered in this magical color. You can also use shining silver beads on the ends.
Wavy Bob
Styling your thin hair is not a difficult job anymore. Use a bright shade, add some waves to your hair, and get the volume you want for your thin hair.
It goes well with all attires, suits all face types, and can be worn to any casual or formal place.
Shaved Pixie with Long Fringes
Pixies can be styled in different ways too. So, start with trying some new colors which will suit your fair skin tone, and then go for a shaved pixie.
Keep the shaved portion in natural black color and the remaining in magenta, giving your hair a 3D impression.
Blue Highlights
You should get creative with your colored hair every now and then. Like you can get highlights on your colored hair.
For example, a combination of magenta with blue highlights will look like a magic stick spun around your hair. Keep the texture of your hair wavy for the highlights to show clearly.
We hope you have finalized your decision to get magenta hair after looking at how to style your hair. But, trust us, once you get your hair styled in any of the above hairstyles, prepare yourself to be flooded with the number of compliments you will get. Everyone will be asking you how you think like no one else does.
These hairstyles have been picked keeping in mind your hair needs. Suitable for most informal occasions, you can even try this color as a spontaneous decision.