If you want to create a very natural look with unique hair color, then rose gold balayage is a great choice. Hairstylists paint the hair without foil to create a very soft and organic-looking style of highlights.
Rose gold balayage is a highly popular hair color that suits people with various hairstyles and different hair textures. It's one of the best shades to use with this style of hair coloring. You can create such a glamorous appearance with it in all hues.
Eye-Catching Rose Gold Balayage Hair
If you're looking to covet this excellent hair color, then check out the many styles below.
Balayage for Fine Hair
A balayage creates such a rich and dynamic look such as this one. You can clearly see the rose gold balayage pairing with the light brown natural hair in these gentle waves.
It creates a very shiny hairstyle that looks glamorous even when worn casually.
Half Updo for Wavy Hair
Little twisted buns create such elegance in a hairstyle. This one is created using a small section of hair from the top layer.
It sits loosely at the center of the back of the head. The rest of the locks are gently wavy with some curls at the sides.
Long Wavy Bob
Sometimes a dark balayage will create several different tones in the hairstyle. Here we start with a dark base. The lighter tones of gentle brown are painted on top. You can see the most rose gold in the face-framing highlights.
Two-Tone Ombre
Rose gold and pink go hand in hand. They're worn together in this two-tone ombre-inspired style.
The hair starts with a more vivid shade of pink and gently transitions into rose gold balayage waves. These shades are perfect for someone coveting a unique hairstyle.
Layered Bob with Orange Tones
If you'd rather have a straight balayage bob, then adding some layers can add depth to it. Full bangs help round out the shape.
This color has more orange tones than pink ones. It's focused more on the golden element of the rose gold balayage. It looks very nice with fair skin.
Pink and Rose Gold Pixie Cut
A uniquely colored pixie cut is a great way to keep your hair short but still incredibly eye-catching. Here we start with a base of pink.
The lighter tones are painted in a balayage style onto the thicker hair. The highlighted sections have a darker tone than some of the styles we've seen above.
Chic Babylights
Some people prefer a more subtle look, and that's fine. Babylights are very good for that. The natural hair is quite dark, and the babylights help create a unique tone for the hairstyle. There's a steadily growing shadow root in this hairstyle, too.
Shag with Pink Highlights
Shag haircuts with curls create such an edgy and easy-going hairstyle. If that's your preference, then check this out! You can then make it more fun with pink highlights that frame the face.
There are also some highlights in the full bangs. Overall there's a gentler, more rose-like tone. There are also dark roots that create a lot of depth all over the heat.
Ombre Balayage Hairstyle
Check out this very gentle rose gold balayage ombre. It pairs a light and dark tone over deep brown hair.
The darker tone is made look like the natural roots and it's blended very well with the natural hair color. The locks then fall in wavy strands.
Thick Wavy Bob
Bobs are very popular hairstyles these days. Adding a thick wavy texture and a unique hair color can make them more interesting.
This color is very close to blonde in some places. There's just a slight pink tint to it to create the color you desire.
Wavy Bob with Full Bangs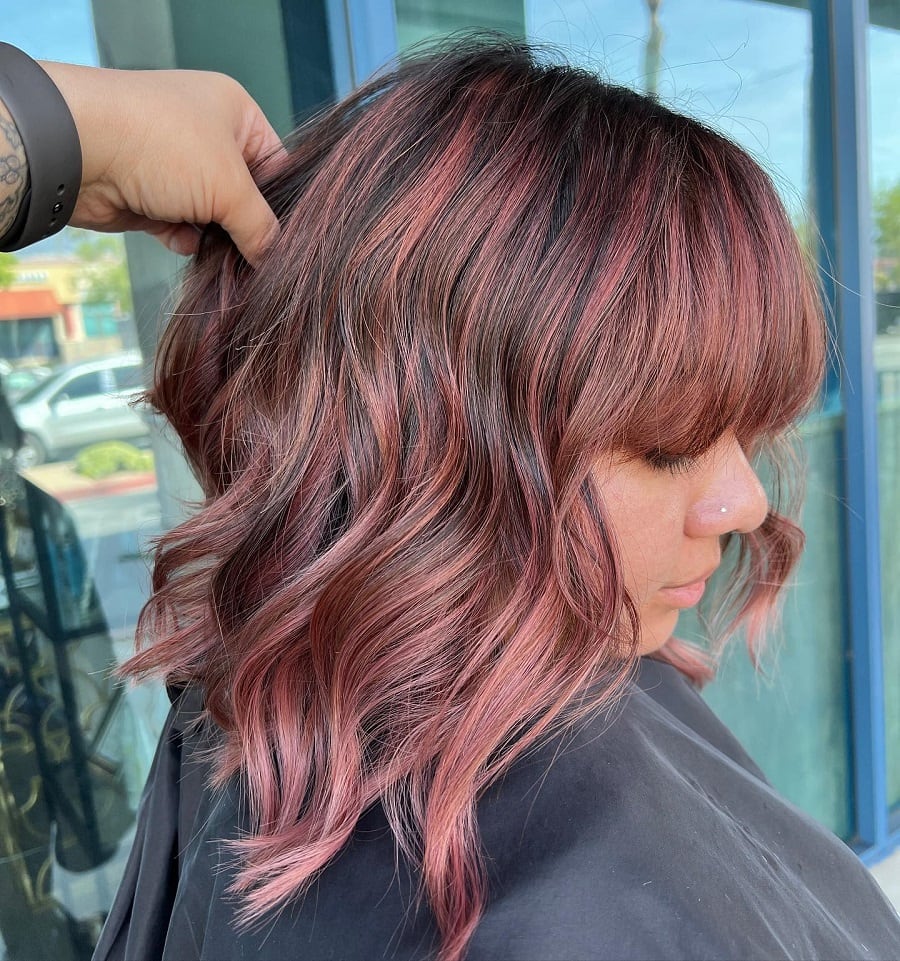 Here's another example of a balayage bob hairstyle. This one has larger waves and full bangs to create glamorous styling. The dark base layer is more visible here. The highlights are tinted pink and painted on in the balayage style.
Long Straight Locks
Long straight locks can look absolutely fabulous. This lets your color stand out more than your hair texture and cut.
The color here is very close to blonde. The roots and some sections on the sides of the hair are left in a very natural brunette tone.
Long Waves with Highlights
Now we're back to a rose gold balayage tone that looks more pink than orange and gold. There's a lot of black visible thanks to the base colour in this hairstyle.
The pink tone is then painted on top. Some sections have a slightly lighter tone to create subtle highlights that catch the light perfectly. The waves help these highlights pop.
Thick Long Hair
If you have very thick hair then you can use that to your advantage. Make sure your hair is very wavy, long, and shiny.
It creates an entirely mesmerizing and eye-catching tone. The light parts of the hairdo pop more thanks to the dark undertones that look like shadows.
Two-Tone Long Wavy Hair
Ombres are usually created with natural tones such as brown and blonde. This one pairs two shades of rose gold.
One has a more orange and ginger hue, and the other is peach. It looks fabulous in this long wavy hair. It's also very natural in everyday hairstyles.
Long Straight Bob
If you're looking for another easy everyday style, then you really can't go wrong with straight tresses in a long bob.
You can then spice up your hairstyle using this rose gold balayage shade. It's painted over a light brown base so it creates a very natural and deep look.
Light Curls with Large Bangs
A large sweep of bangs helps draw attention to your face and it complements the rest of your hair nicely.
The rest of the style is brushed back into the curly locks. It's a very light color with pops of highlights in various places throughout these curls.
Faded Ombre with Short Bangs
Full bangs always look great, but keeping them short makes you look slightly edgy and more fun. It also helps keep your features unobscured.
The very long locks fall to the upper chest then look fabulous. They're dark brown and transition into a faded pink-tinted color.
Thick Curtain Bangs
This is a very simple rose gold balayage hairstyle that looks incredibly chic. It's all straight with a very blonde tone that has pink hues painted on it.
There's also a shadow route that helps add depth. Further depth comes from the thick curtain bangs.
Beautiful Loose Curls
Light shades go very well together as you can see here. The pink-tinted rose gold ends of the hair length seamlessly with the more natural tone. The locks then form curls that add a lot of texture and life to the hairdo.
Have you considered trying out one of the gorgeous hairdos above? We really recommend it, because the rose gold balayage is here to stay.
It's one of the year's trendiest hair colors. No two shades of this color are alike, so there are many options to choose from. It's impossible to get bored when this is your signature look.