Hair accessories can make every style appear more fun, elegant, or otherwise different. Headbands are one accessory in particular that can do a lot of your look.
All hair types can benefit from wearing one of these bands, and they're great for short and long locks alike.
So, if you'd like to explore your appearance a little, read on. You can use headbands to create cute hairstyles and have fun with your look.
Super Cute Headband Hairstyles
There are lots of different styles below for you to check out. Come and see which ones appeal to you!
Donut Bun with Simple Hairband
Sometimes you just want an easy everyday look. Buns create that easily. This donut bun sits just below the crown of the head and is very voluminous. The hair pulled into it is sleek. A simple, chunky beige hairband adds sweetness to the style.
Fishtail Braid with Cloth Accessory
Fishtail braids are one of the most complex and interesting-looking styles of plait. This one starts at the crown of the head and falls over one shoulder. Some nice wispy, wavy bangs sit against the face. There's also a bump at the hairline.
A nice, pink cloth headband separates the bump from the braid. Nail Design Code says that this hairstyle will also look great with red nails and lips!
Double Hairband with Blonde Curls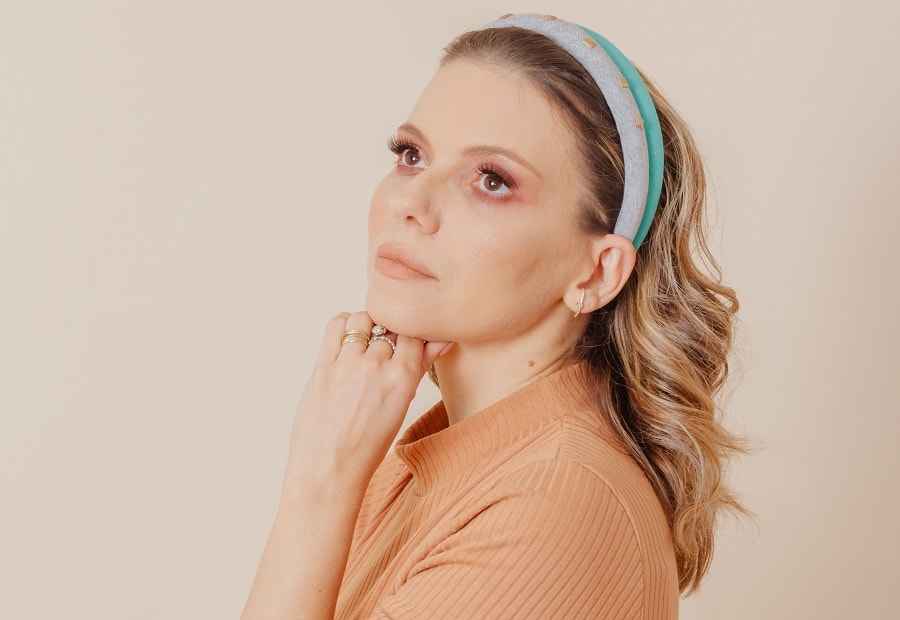 Simple blonde curls are another easy everyday style. The curls are very large and give the hair a lot of movement. The double headband look pushes the hair back out of the face so they fall down the back.
Blonde Afro for Black Women
Here the natural afro hair is highly voluminous and dyed a pleasant shade of sandy blonde. A very large hairband wraps around the hairline to keep the hair out of the face. This hairstyle of the knotted headband is more commonly seen worn by black women.
Wavy Pink Bob
Pink and white look super sweet and fashionable together. A wavy bob is an easy style that always looks fantastic. The pink color makes it stand out. Accessorizing with white helps you keep an overall soft aesthetic.
Sweet Blonde Hairstyle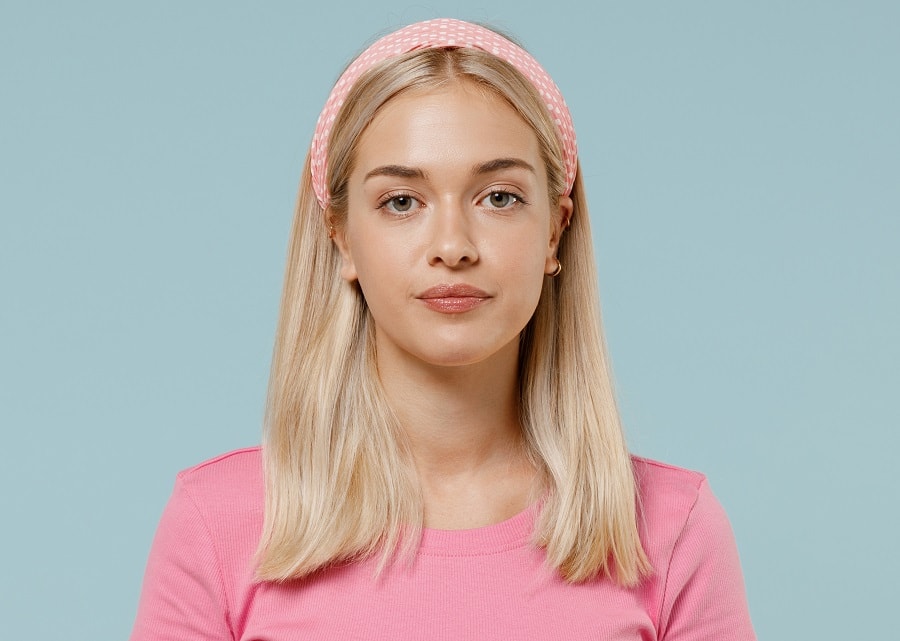 Blonde and pink are other color combo that goes excellently together. Here you can see the tresses are split down the middle and pushed behind the ears. The pink band helps secure them there. These nice blonde locks then fall to the upper chest.
Ombre Bob with Silk Headband
There's something about silk that just makes you look so elegant. Here it's tied at the top with a little bow. It helps push back the natural, mostly straight locks. It also creates a distinction between the dark and light shades in the ombre.
Balayage Ombre Style
Bows are super sweet and great for making everyday styles appear more fun. The hairstyle here is an easy and natural look. The hair is brown, and blonde has been added to create an ombre balayage. It's a classic and common trendy style.
Multicolored Asymmetrical Hairdo
Are you looking for something a little punkish or edgy? Long pink and purple bangs going down one side of the face pair well with this short and spiky turquoise look.
You can also see hints of the natural dark hair on the sides and at the hairline. A nice red bow separates the bangs from the rest of the style.
Auburn Bob with Full Bangs
Creating a distinction between bangs and the rest of the hair can be difficult when your locks are thick like this.
This shiny purple headband across the middle of the head helps make that distinction easier. It also ensures none of your hair will get in your way when you're going about your daily business.
Short Choppy Hair with Bow
Here we see yet another stunning combination of blonde and a pink bow. It's a much sweeter bow this time with a simple band. The hair has a lot of layers that hide the headband, but the bow is still visible.
Natural Boho Hairstyle
You really can't beat long, wavy hair with a few shades of blonde in it. It creates a super boho-chic style that's very popular.
A golden band settles around the crown of the head. It's adorned with roses and leaves. You'll look truly hip and laid back with this cut.
High Bun with Cloth Hairpiece
Neat buns with bows make perfect everyday styles. They keep your long locks up and out of your face. Adding a cloth headband around your head helps make the style sweeter. The bow adds a little flair to it.
Short Wavy Bob with Spiky Bow
Waves add a lot of fun texture to the hair. The spiky bow helps keep that texture looking vibrant and eye-catching. The hairdo itself is a very nice, simple shade of brunette. The ends of the waves feather away from the face.
Low Updo with Flowers
Low updo creates a very peaceful style. It's a bun with neatly pinned curls surrounding it. Some loose strands of waves frame the face.
Here the headband wraps around under the bun. It's decorated with large pink and gold flowers with pretty leaves. It's great for spring and summer vibes.
Long Wavy Ponytail
Are you looking for a way to make your simple wavy ponytail look a little chicer? This nice fabric hairband wrapping around the head can do that. It keeps the wispy bangs separate from the long locks on the ponytail.
We highly recommend all of these styles. There are so many of them that one is bound to jump out and make you fall in love. There are girly, punk, and simple ways to wear a headband with your everyday look.
Some are even suitable for weddings and other parties. If ever need to make a style more fun, just grab your favorite hair accessory.