The driving force between an 80s hairstyle is for women to have bigger, fluffier hair with a ton of style and character. There's just something special about this decade's hairstyles that you just can't beat.
Are you interested in bringing back some of these iconic looks? Then feel free to! It's impossible to forget the 1980s decade of fluffy hair, leg warmers, and bright colors that make you stand out above everyone else.
Unbeatable 80s Hairstyles for Women
Perms, layers, and big fluffy blowouts are totally in fashion, so take a look at some of the looks below for ideas!
Blown Out Bob
Bobs looked a little different in the 80s. As you can see here, there was a lot more volume in them back then.
The short hair is blown out to perfection. Some nice bangs are very distinct towards the front, forming a large curl on one side of the face.
Half Up Ponytail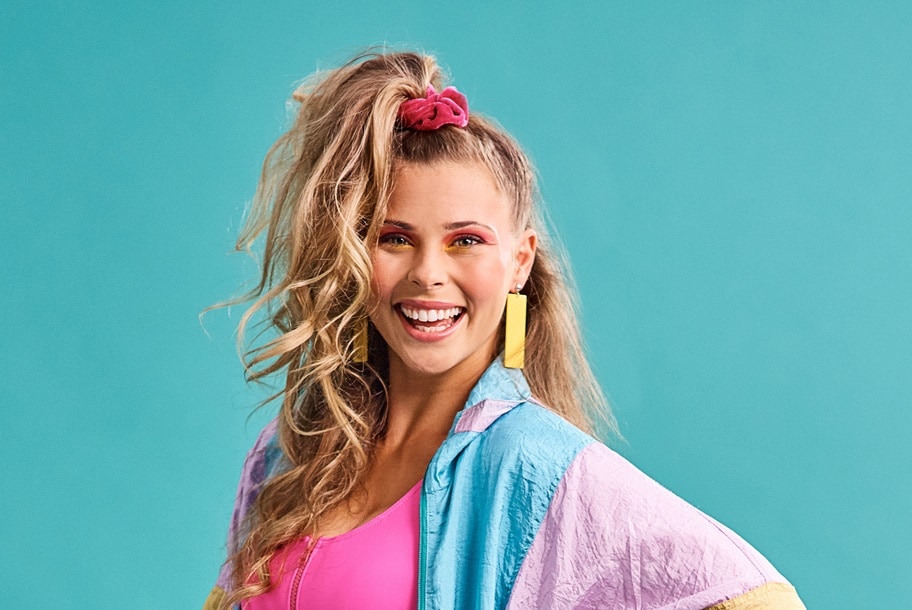 Who could forget the iconic curly ponytail? The hair from the top and sides is pulled up and tied with a scrunchy right hear the hairline, cascading over the face.
Curl your hair, and you'll have an unbeatable look that you won't want to miss out on!
Classic Perm
Perms are another staple of an 80s hairstyle, and they were one of the most fashionable looks for women.
These ultra stylish curls are still super on trend, so have your hair styled like this and have some fun. There's a side parting, and some bangs are blown to the side.
Simple Curls with Headband
Are perms not your thing? That's fine. Then perhaps you'd like this simpler style instead.
The hair is thinner and the curls are looser, so they almost look like waves. They hang to the shoulder. Decorate your look with a sweet headband.
Layered Shag
Layers were a huge 80s hairstyle. Here they're very choppy, and the ends are feathered.
These long locks are teased and curled to perfection, and a couple of brown strands hang near the face to add some depth and style.
Messy Ponytail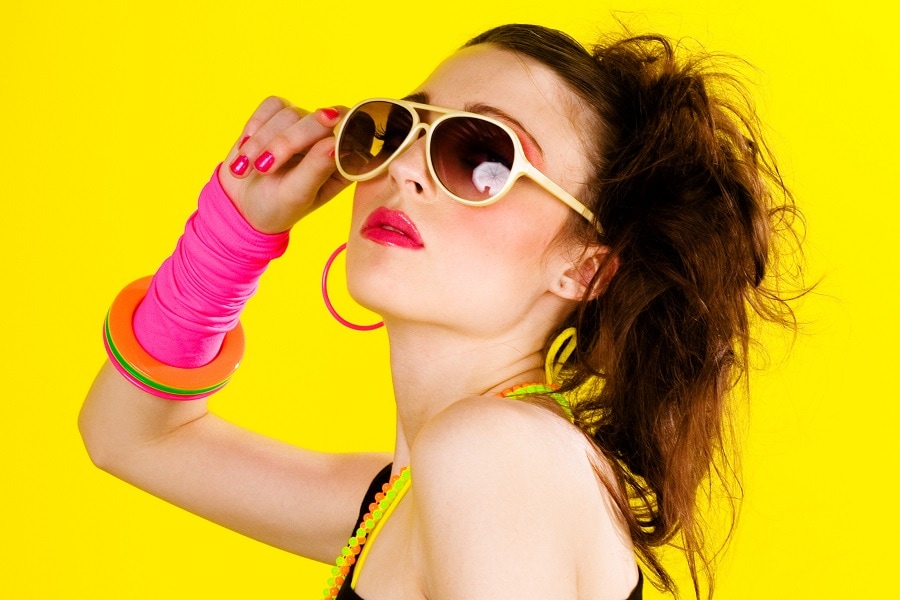 Anyone can wear a messy ponytail and look good. Throw your hair up into a normal ponytail, then tease and scrunch it until it comes alive. It's a super youthful and fun look to play with.
Teased Fluffy Hair
Remember that volume we talked about earlier? This hairstyle is full of it, and it's full of little curls that could also pass for very small waves.
The hair is wild and untameable, and the delightful blonde color only makes it look even better.
Choppy Crimped Hair
There's a lot going on in this style, and it's difficult to see thanks to the crimped texture. However, this is a simple hairstyle.
The hair is thrown up into a ponytail, and a lot of hair is combed over the top of the head to add volume.
Thick Corkscrew Curls
Are you looking for a 1980s curly perm hairstyle? Then go for the corkscrew curls look! The voluminous hair on top is pulled over to one side so there's no definitive parting, making this lively and alluring.
High Pony with Bangs
Looking for an easy, low-maintenance style? Then here you go. This high pony can be worn every day and is secured with a scrunchie.
Light, full bangs fall over the forehead, right over this 80s headband that was totally rad for women to wear.
Ruffled Pixie Cut
This short hairstyle from the 1980s looks very elegant. This little pixie cut is ruffled and has the ends fanned away from the face, making sure there's a little volume and interest in the look.
Sleek Side Parting
If you're looking for an 80s hairstyle that could also pass for modern, then this is the one to pick. There's a heavy side parting and side bangs. Most of the hair is straight but flipped towards the ends.
Side Ponytail with Headband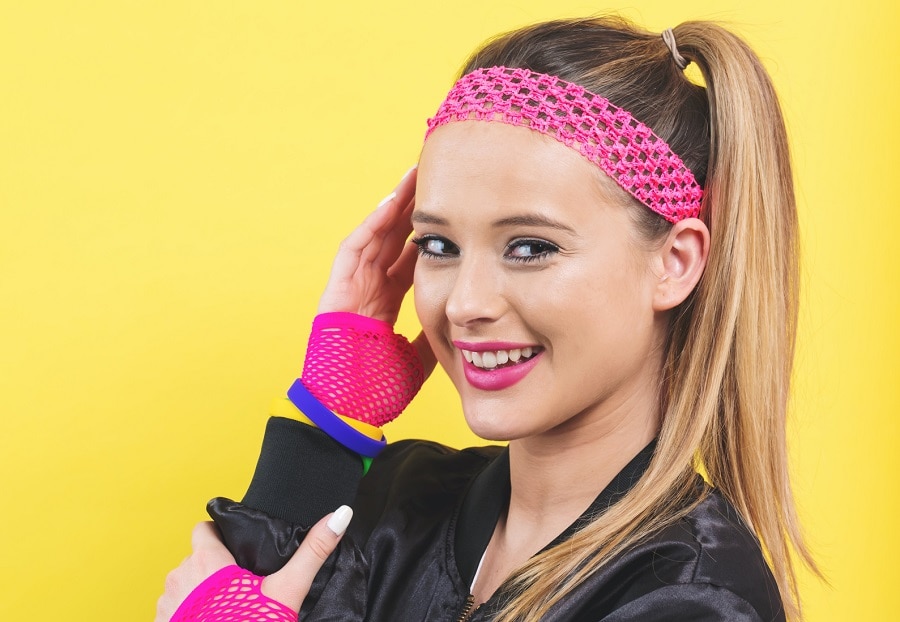 Side ponytails are still a popular trend. This one is right on top of the head and just slightly to the side. It's paired with a mesh headband that was super trendy in this decade, and it's still chic today.
Slicked Back Straight Locks
There are many modern hairstyles that use slicked back hair to make a statement, but this one is very much 80s style.
The locks are slicked back, yes, but there's a ton of volume! The lengths of these tresses are simple and straight.
Natural Afro
When you see this afro hairstyle, you know exactly what era it's from. Black women can let their medium natural hair shine by slicking back the sides and rounding out the front.
Vintage Updo
Are you looking for something more formal? This classic vintage updo will look great. The bangs are pulled to one side, and the left side is pulled back. The hair on the crown forms a bump and is nicely formed into an updo.
Huge Voluminous Curls
This 1980s hairstyle is huge, blown out in all directions. There are a few curls in the hair, hanging by the face and sitting on top of the huge blown out pieces.
It's a totally glam party hairstyle that people can't help but want to touch. Only wear this style if you can handle all the positive attention you'll snag up!
Side Swept Curls
This cornrow braided hairstyle easily transported us to 60s curly hairstyle which was also popular in the 1980s.
Most of the hair sweeps over to the side with tons of volume and lots of very small curls that look utterly gorgeous. It's a very bold look that suits someone with naturally curly hair, but it would also look good with permed locks.
Textured Bob
If you'd like to be a blonde bombshell, then this bob will do it. Bangs curl over on one side and the bob overall has a ton of texture and movement thanks to the layers in it.
It's very glamorous, and you'd look great if you wore this to a party.
Front Puff
A big puff in the front of the hair was a super common trend for women in 80s hairstyles. The rest of the hair is crimped and falls do the shoulders. The crimping adds a nice texture and some volume to the look as it frames the face.
Messy Hairstyle
Older women really rock this look. The locks have a nice flyaway texture, and the top of the cut has lots of layers that add volume and fun.
Some wispy bangs fall lightly onto the forehead, very sparse. The ends have some light curling to them that add some texture and movement to the look.
Textured Mullet
Who could forget the mullet!? This super stylish haircut is still trendy today, but you really can't beat how it looked in the 1980s.
Business in the front, party in the back, with lots of texture thanks to layers and choppy ends. There's a ton of texture on the top of this hair, as some of the hair is combed over to one side.
If you're a huge fan of 80s hairstyles, then check them out! There are tons of looks for women to rock and play with.
You can modernize them, or just keep them as they were back then. Seriously, you can't go wrong when wearing these looks! These will never, ever go out of style.
Recommended Topics