Whenever we see a 1960s actress photo, we surely want to try the amazing 60s curly hairstyles. Whether we have done that earlier or not, we are up for giving it a try. Whether you have short or long, thick, or thin hair, we've got gorgeous hairstyles for all of you.
The great part about trying such 60s hairstyles is that women of any age can try them. Moreover, they are easy to make at home, require less maintenance and can be done in less time.
Outstanding 60s Curly Hairstyles
Get a hairstyle you adore! So grab your curling iron and try these hairstyles now.
1. Caramel Curls
If you've caramel blonde hair, you should try highlighting your hair golden. Short and thick hair is perfect for ribbon curls.
Don't just stop there; you can try wearing bold lipstick and a neckerchief to get a full vintage vibe. Complete the 60s curly look with a classic eyeliner style and a checked shirt.
2. Finger Waves
Finger waves were very popular in the 60s, and they are still in fashion. When you try finger waves on your short blonde hair, wear a small fascinator hat.
Such hats were in fashion back in the 1960s. Well, you're trying this hairstyle now, so why not dress fully according to it. Small pearl earrings and a black dress are what make this look perfect.
3. Medium Length Loose Curls
Ever wondered how women used to style their hair on a daily basis back in the vintage era? Well, you can know that now by trying 60s curly hairstyles for medium-length blonde hair.
Of course, loose curls are still in style but what makes this hairstyle unique is how you make it. First, curl your hair just like you would normally do, then use hairspray to create volume in your hair. This makes them look fuller.
4.
Curls With A Twist
Yes, when you twist your hair with a curling iron, they get curly. But this is not the twist we're talking about.
Curl your hair as you normally do, but the twist here is you tie each curl with a small rubber band and let the curls hang. It gives you a unique hairstyle. You will look more sincere and disciplined with this vintage hairstyle.
5. Blonde
Tight Curls
Tight curls look beautiful on every hair length. This time try something unique with your curls to create that 1960s curly hairstyle.
Try wearing a beret hat on the side and big earrings to create a pop look. A printed sleeveless tank top and a beaded necklace will make you look like a teenager who will hang out with her friends.
6. High Vintage
Bun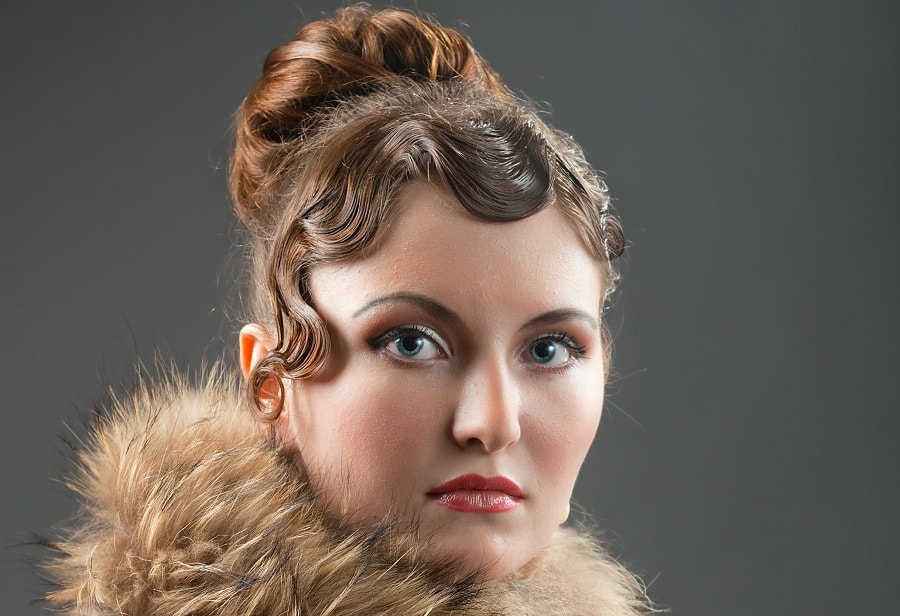 Create a classy look with front finger waves and a curly bun. This vintage bun updo can work well in winter with a fur jacket and small earrings.
Keep your makeup light but on point to create a natural look. Use hairspray so that this hairstyle stays for the whole day.
7. Headband Hairstyle
Most of the 60s curly long hairstyles are party styles, but you can make this hairstyle on a daily basis.
Keep your hair center-parted, and you can make your hairstyle look more beautiful by wearing a headband. Bold eyebrows, classic eyeliner, red lipstick, and tada, you look gorgeous!
8. Fluffy Curls
If you're going to the club, try club curls this time. It's nothing, just simple curls with a pouf impression. First, curl your hair, then take your front curls and take them back with your fingers. Now use hairspray to settle them.
9. Victorian Rolls
Get an innocent yet evil look with these victorian rolls. They look beautiful when you have long hair.
Go partying or attend a wedding with this 1960s long hairstyle; we are sure you'll look gorgeous. If you have a round-shaped face, you should definitely give this hairstyle a try.
10.
Frizzy Curls
If anyone has ever told you that frizzy hair is not beautiful, show them one of the 60s retro hairstyles.
Feel like a princess with these frizzy curls. You can wear head accessories to give an overall look royal feel. We recommend you use bold makeup here.
11. Messy Half Up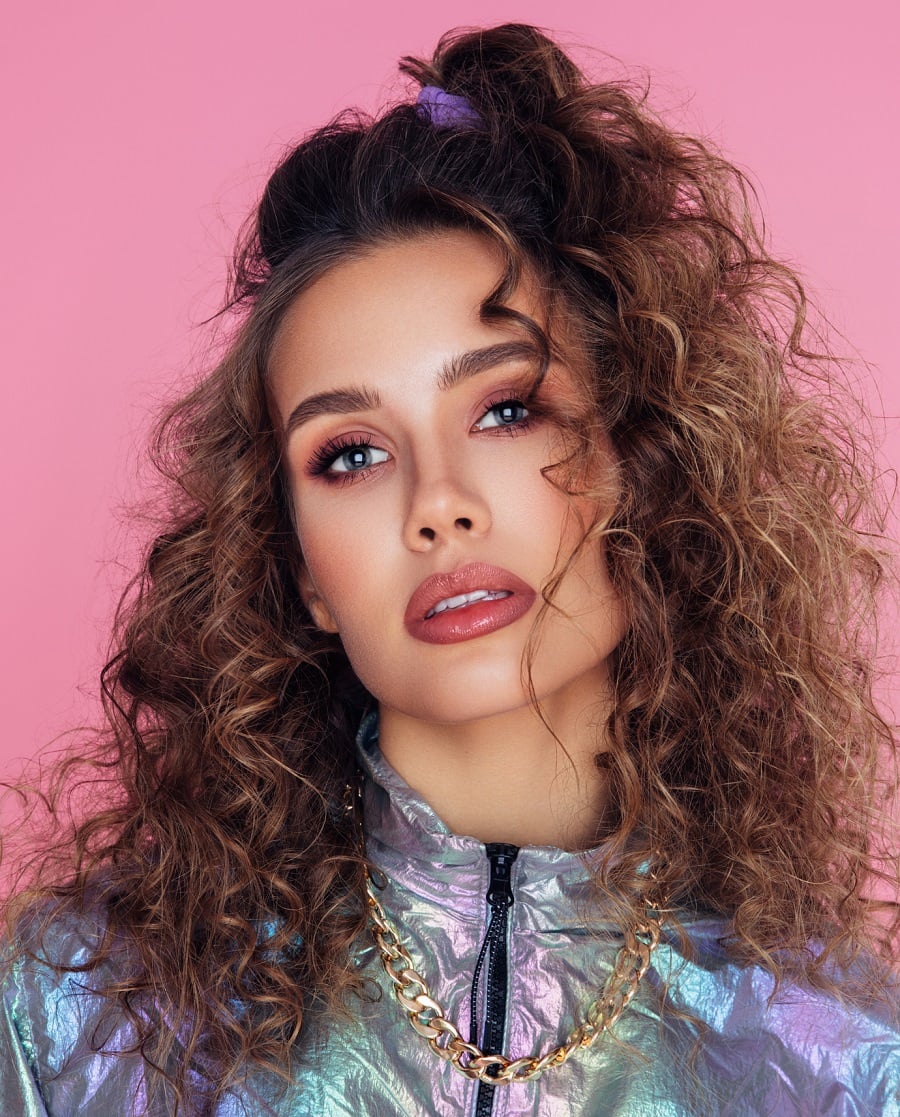 It is time to turn that simple curls into something fun. Try a loose half up hairstyle with your curls.
If you ask us, we think this hairstyle gives you a childish look. But, it represents that you are out there to have some fun and take some risks. Wear a chain to add something unique to your look.
12. 60s Short Hairstyle
Looking for short curly hair? Well, ladies, this hairstyle is for you.
It is time to make a bold move by copper coloring your hair. Loose curls will enhance this color and give you a beautiful look. This hairstyle is suitable for square face shape girls.
13.
Curly Retro Bob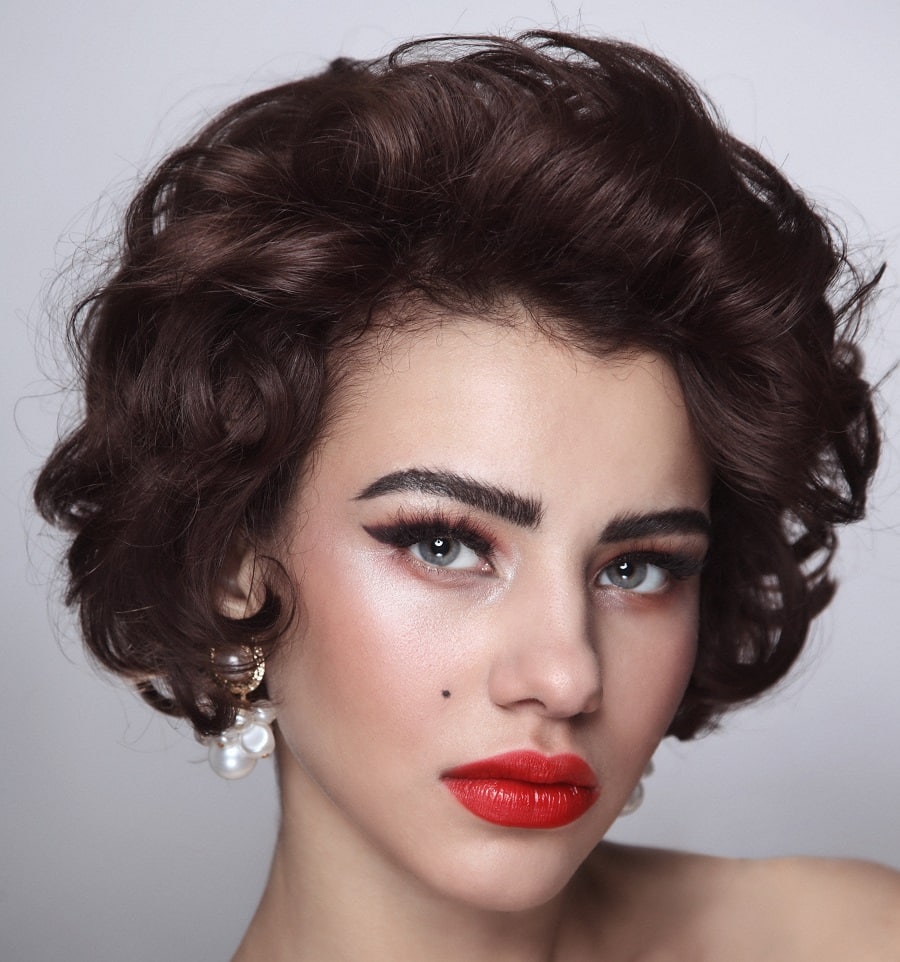 A curly bob is a classic hairstyle, but it was famous in the 1960s too, but it was a little different. Try the 60s curly short vintage hairdo with a puff impression in the front. There's no need to make a natural pouf; just spray your hair backward.
14. 60s Ribbon Curls
Center-parted curls will make you look like a 60s pop dancer. Add fun to this hairstyle by wearing a bright-colored ribbon hairband. This hairstyle will look lovely if you wear bright-colored clothes and bright makeup.
15. Voluminous Blonde Bob
Look like a 60s beautiful blonde actress with this curly bob. This hairstyle calls for a bold look: bold western dress, bold makeup, and big eyelashes. Make sure to get your pictures clicked like an actor.
No matter which hairstyle you try, the key to rocking each hairstyle is to wear confidence. Say goodbye to boring hairstyles with these 60s curly hairstyles. You can wear any of these hairstyles for any occasion.
All your gal pals will be taking tips from you on maintaining such hairstyles so flawlessly. So the next time you go to a salon, show your hairstylist the hairstyle you want and how you want it. Be a little adventurous this time.