Didn't we all have an emo phase in school? In case you didn't, the hairstyles were a way for angsty, rebellious kids to express their styles through their looks.
Emo hairstyles are bold, outrageous, and unique. They have a range of variants within them but usually, are characterized by bangs, spikes, uncut layers, outrageous hair dyes, and colors.
In case you're looking for a fierce hairstyle that will express your emotions and creativity, we have compiled these unique emo styles that you will surely enjoy. Continue reading and explore these bold new-age looks, and maybe you'll find some inspiration for yourself.
Best Creative Ways to Adorn the Emo Hairstyles
In this article, we have given you 25 options, from edgy to spunky, from bold colors like red and blue to soft pastels like lilac and baby pink, we have covered all hairstyles for emo girls.
Rough Chop
Let's start with a typical hairstyle preferred by most girls.
This hairstyle for emo girls has long straight bangs in the front and short, rough layers at the bangs. It's best to straighten the front bangs to get a sleeker look.
Fiery Red Flip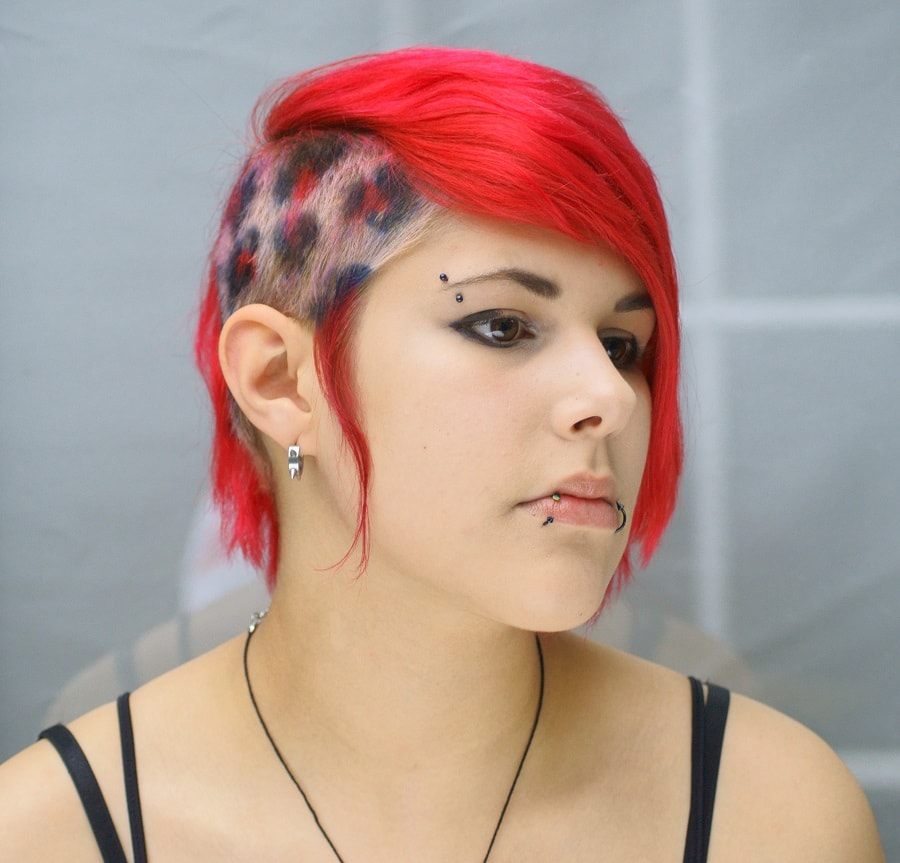 This fiery hairstyle can look super stylish if you have the guts to pull it off.
This hairstyle is a blend of unique elements, coming together to form a head-turning hairstyle for emo girls. Fiery red hair is swept to one side, while the other side is shaved with funky patterns added on top.
Edgy Layers
If you're just starting your journey, you might wanna start with something simple. A combination of strong layers with side bangs shouts the angsty look to us.
Electric Purple Cut
If you want your hair to be a reflection of your free spirit and creativity, don't be shy to go bold. This purple dye done on an edged Bob cut, with messy layers, is the bold look for your bold soul.
Blue Ombre
Who doesn't love a burst of color? This bold electric blue ombre hair color is bright and stylish.
The roots are left black to tie the whole look together. If you're not ready for anything too crazy, then this emo hairstyle is the right one for you.
Rough Cut
These hairstyles are all about the rough cuts. This edgy hairstyle can be a perfect representation of your unpredictable nature.
The bleached look with black peeping through from places is just a spectacular emo hairstyle for bold look.
Bright Pink and Black Pigtails
Pigtails add a cute touch to your look, no matter your age. Then why not add pigtails to the cuts? These bright pink and black pigtails are perfect for girls who want to look edgy, yet cute.
Side Shorn Red Ponytail
If you wanna go all out, if your heart desires to risk it all, if you want to make a statement then this hairstyle is right for you. With shortened sides, front bangs, and a ponytail for a feminine touch, this hairstyle is just magnificent.
Blond Layered Cut
If you're just stepping foot into the rebellious world, a heavily layered cut with side-swept bangs will be the right pick for you. This hairstyle for edgy girls is easy to maintain without compromising on the style factor.
Dreaded Space Buns
Just because you're going for this look, that doesn't mean you can't experiment with the latest trends. It looks usually combines two contrasting elements, and here we've mixed dreads with space buns. And we have to say, the end result is pretty amazing.
Edgy Undercut
What's cool about these hairstyles is that they can be done on any hair length. For example, this short and straight cut can be styled into a hairdo by adding a fun undercut to one style. This sexy style is to totally die for.
Puff With Side Shave
This offbeat style isn't for the weak, of course. This unique emo hairstyle will set you apart from anyone in the crowd.
The salmon pink crown adds color while the shorn sides add edge and boldness to the look. The high pouf on top, secured with pins, adds uniqueness to the look.
Classic Cut
The most important element of any goth hairstyle is the famous side-swept bangs. This hairstyle is the best example that has these famous side bangs. A simple short bob cut with side-swept bangs is a classic hairstyle.
Fiery Red Shades
Red is the most 'emo' color out there. To take the red one step higher on the scale, it is transitioned into light blonde hair.
Contrast is very important when it comes to looks, and this contrast of red and blonde, makes the hairstyle look fiery and bold. Some short bangs and a bold lip just make the whole look come together.
Double Tone
This lilac and baby pink half and half hair color will make you feel like a walking, yummy double swirled ice cream.
This girly colorful emo hairstyle is perfect for the younger ones who want to experiment with their style. And this is another one of those hairstyles for emo girls that isn't too dark or daunting.
Layers With Blue Bangs
Who doesn't want blue hair? The blue bangs add a splash of color to an otherwise boring cut. This layered hairstyle with bright blue sidebands has funk, edge, and style.
Single Side Pigtail
These rebellious girls need their hair to be unique and creative and what's more creative than ditching one pigtail? This single pigtail on short hair, with some side bangs, is the perfect hairstyle for younger girls.
Lilac Locks
Isn't this pretty lilac hair color the hair color of your dreams?
Who says that these looks always have to be daunting, outrageous, and out of the box? This hairstyle is here to prove you wrong. This lilac hair color is surely gonna make you feel like a gothic flower child.
Rainbow Top Bun
There's no better way to show off your unconventional and wild side than sporting this avant-garde hairstyle for girls.
This multi-dimensional hairdo has a top bun that consists of all the shades of the VIBGYOR. If that wasn't enough, this hairstyle for emotional girls has also a fun undercut with little hearts.
Pink Ombre Dreadlocks
If you want to take your hairdo to the next level and try something unique and gorgeous, try dyeing AND dreadlocking your hair.
These ombre pink dreadlocks are nothing like you've ever seen before. And if you want a hairstyle that will leave a mark on people, this one is it.
Asymmetrical Cut With Bangs
These girls don't conform to rules and they surely are against any sort of symmetry.
This asymmetrical shortcut paired with some straight bangs perfectly expresses this sentiment. A black headband just adds more character to the look.
Rainbow Overgrown Pixie
These looks don't only have to be black and dark. This overgrown pixie is dyed with a lot of fun colors to make it stand out. Turquoise blue, purple, red, brown, and light blonde, all these colors are added to make this sporty emo look.
Simple Bob With Pink Streaks
If you're not ready to commit to a full-blown pink dye, why not start with pink streaks? These hot pink side streaks paired with some blunt bangs are a perfect way to step foot into the chaotic world.
Spiky Brown Hairdo
We can all agree that spikes are spunky and cool. And you add them to an emo look, they're even better.
This spiked hairdo with bangs in the front is oozing with style. The half and half, brown and black hair color paired with a spiky, roughly cut short hairstyle is just out of this world!
Baby Pink Ombre
Contrary to popular belief, the hairstyles can play with subtle colors also.
This hairstyle is a stunning ombre hair color, which pinks on top, white in the middle, and black at the ends. The pink color contrasts beautifully with the white-blonde hair, which is a must in such hairstyles for girls.
Emo hairstyles are a great way for you to express your emotional and creative side. Get inspired by these hairstyles for emo girls and carve your own version. Don't shy away from making a statement by sporting one of these looks.