Uniform hair lengths aren't the only way to be in style anymore! V-cut and U-cut hairstyles are increasingly popular. With these styles, the sides of your tresses are shorter than the back. The length graduates to form either a V or U shape depending on your style preferences.
Styles like these look incredible from the back and they can really spice up a haircut. If you're interested, there are lots of different styles and lengths for you to test out with these hair shapes. You'll have a lot of fun figuring out which look is best for you!
Most Popular V-Cut and U-Cut Hairstyles
Wondering where to start with these looks? Check out the options we've compiled for you below so you can get a good idea of your options.
Top U-Cut Hairstyles to Try
Pixie Bob
Pixie bobs can be a little dull when you wear them the classic way. It's time to spice things up by shaping the back of the haircut in a U-shape!
Let lots of hair fall over your eye to create a messy vibe that shows you're effortlessly stylish.
Feathered Layers
One of the defining features of these haircuts is the many layers it takes to properly create the look. You can show off these layers by feathering the ends of them to one side.
You'll create so much life and movement in your hair if you style it this way!
Long Ponytail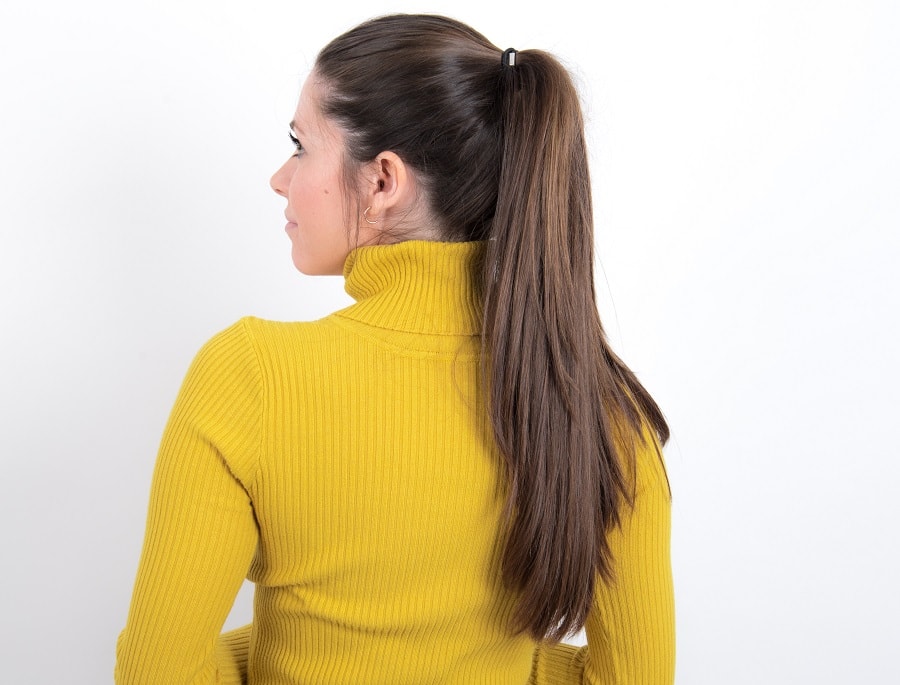 Want an easy everyday look? Consider throwing your tresses up into a high ponytail at the crown of your head.
It'll look multi-faceted thanks to all the layers creating the shape of a U at the ends of your hair.
Bright Red Bob
Women seeking the ultimate unique look should consider dying their hair a bright color such as red. Then it's easy to wear a basic haircut like a medium-length bob.
Let the hair remain straight so you can show off all the shape and color.
Pink Balayage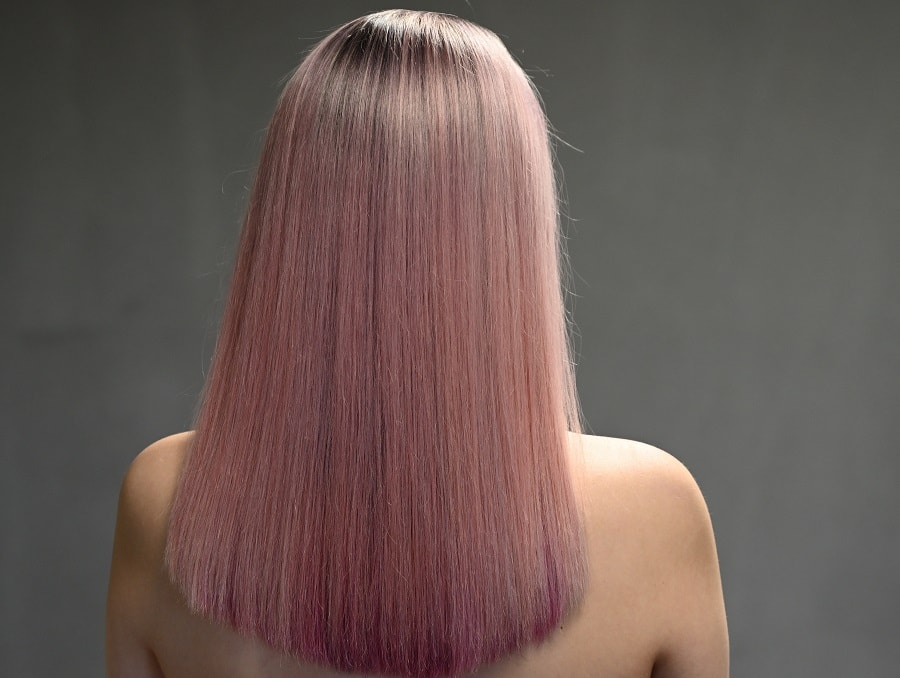 One of the easiest ways to spice up a U-cut hairstyle is by adding a fun color like pink. Get the pink painted on in the balayage highlight style.
Ensure the base color is a light, ashy tone so the colors mix with each other well.
Loose Curls
If you want to create a memorable look, then curls are always the way to go.
Carefully create a pattern that curls away from your face using a thick-barreled curling wand. Don't forget heat protection spray!
Straight Medium Look
Women seeking a look that requires minimal effort should wear their hair straight. The shape of your cut will make sure you stand out from someone with a more basic style.
Blue Waves
Ladies who love standing out should pair a unique color with a wavy texture. The waves will really bring your hair to life!
As for the color, consider pairing a few shades of pastel blue. It's commonly regarded as one of the most eye-catching shades for hair.
Long Straight Locks
Straight hair is the easiest to maintain and style, so women without patience or time for hair styling should wear it.
However, if you want your tresses to stand out, grow them very long. It'll make the U shape of the ends even more defined to all those who glance at you.
Long Brown Ombre
Extremely long hair can easily start looking plain and washed out. Get a U-cut and add some waves to the ends of your tresses to keep things looking exciting.
Get an ombre from a dark to a light shade of brown to make sure the color remains pleasant to look at and isn't flat.
Long Blonde Waves
Natural shades and uniform colors can still look good on super long hair. You just have to do something fun like add a wavy texture to keep the hair dynamic.
Focus all the waves toward the mid-sections and ends of your hair to create a flowing effect.
Ice Blonde Waves
Here's a U-cut hairstyle similar to the one above, but the u-shape is a little more pronounced. The color is much lighter and less natural to help you stand out more.
The waves in this cut also begin higher up in the hair but they're more subtle and easier to maintain. Make sure to use the lowest heat possible to avoid damaging the bleached hair.
Top V-Cut Hairstyles to Try
Messy Blonde Waves
Due to the sharper nature of layered wavy hair with V-cuts, the hair can often look a little messy. It's perfect for that effortless, "I woke up like this" vibe. Waves strengthen this vibe.
Short Pixie
The back of a pixie cut can often look messy or boring. You can make it neater by shaping it in a V. The hair gets gradually thinner towards the ends to create the effect of thicker hair on top.
Choppy Pony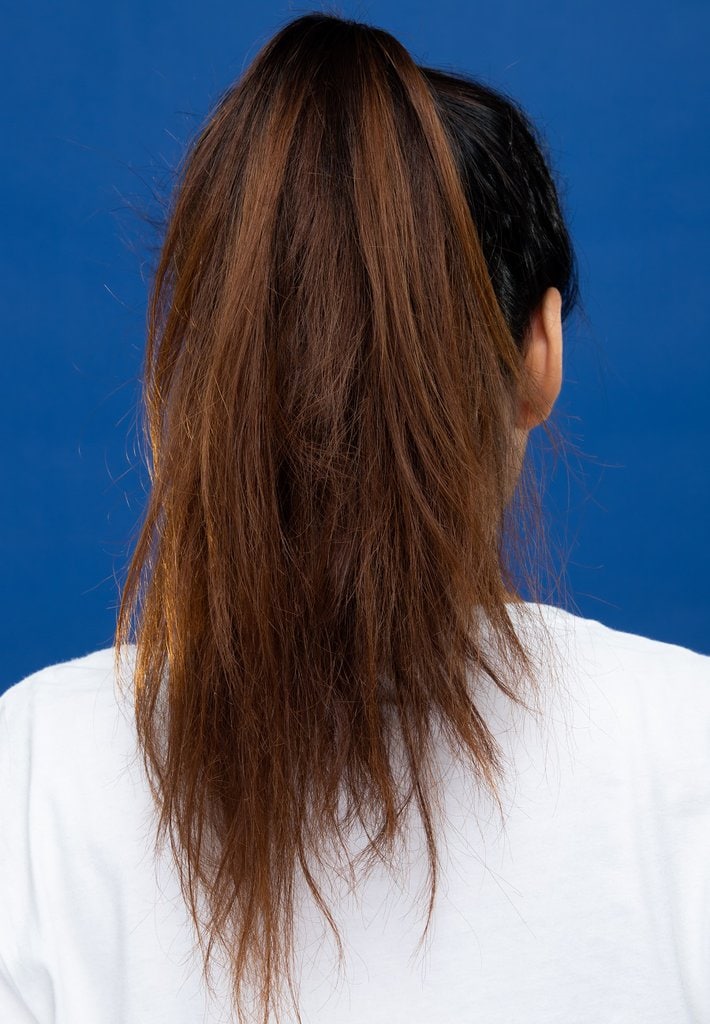 You can also create an everyday ponytail when you have this haircut shape. It'll look messy and choppy and create a look of effortless beauty.
Wear the ponytail high so people can see the sharp ends of all the different layers in your locks.
Long Layered Look
A long V-cut hairstyle always forms a very defined shape that will capture people's attention. The layers are easy to see in it. especially when they're such different lengths.
Part your hair at the side and let some of your hair fall over one side of your face to keep up a trendy appearance. It also enables you to flip your hair out of your face which can be fun.
Giner Red Waves
If your hair is a little thin then consider wearing it in waves. The wave clumps have lots of movement that disguise the thin nature of the tresses.
Dye your hair a ginger shade if you don't already have this color naturally. It's so attention-grabbing that people won't notice the thinner sections.
Bright Pink Curls
Bright pink is sure to dominate any room you walk into. Curl your hair with a thick barrel to achieve these loose, almost wavy-looking curly shapes in the ends of your hair.
Keep the top half of your hair straight so it's easier to style your hair and maintain it each day.
Blue Balayage
Aqua blue is another shade you should consider wearing. Get the color added to dyed black hair to create a sharp contrast between the dark and light tones. Wear your hair wavy to keep your V-cut looking lively.
Grey Curls
Light grey locks have become trendy over the last 10 years and it remains one of the best colors to get if you want to stand out from the crowd.
This hair is very shiny so let it catch the light by wearing it in long curls. Keep the curls tight towards the middle and let them get looser towards the end.
Medium Length Light Locks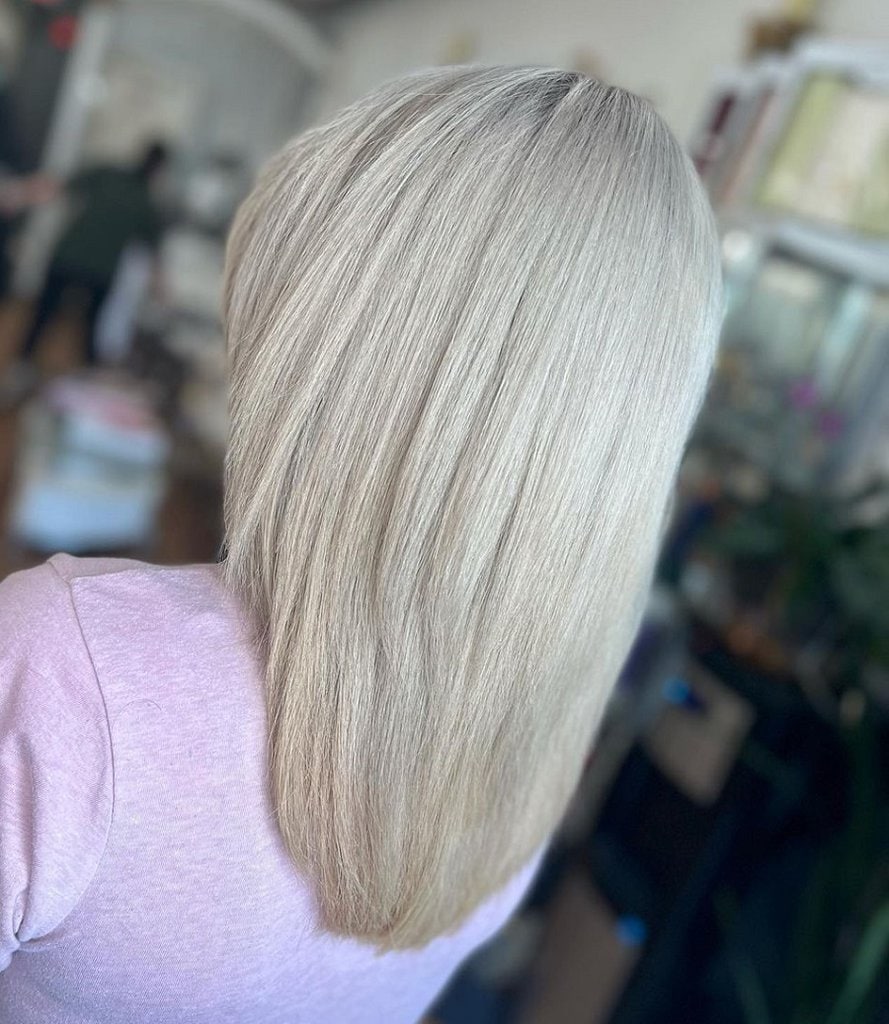 Bright, ashy shades remain one of the best colors to get if you want people to see all the detail in your haircut. The shade makes it easy to see individual hair strands.
Make your haircut drastic so it goes from very short to considerably longer. However, keep the overall cut medium-length.
Half Up Tresses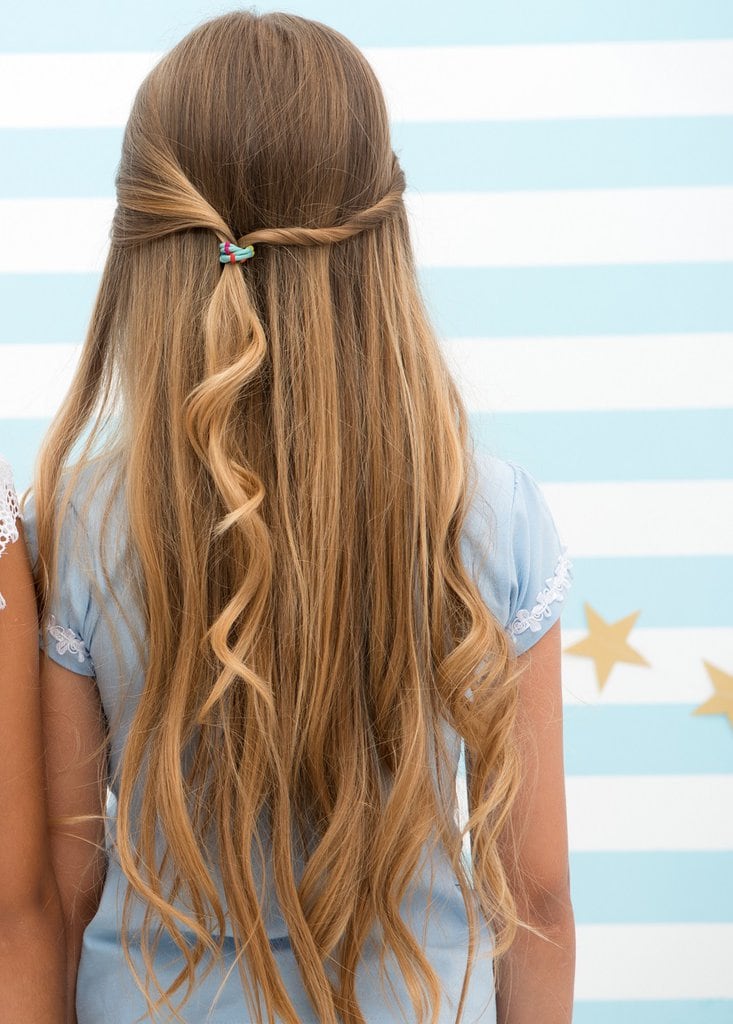 Long hair can be hard to keep long hair out of your face. Tying the side sections back is an easy way to achieve it.
If you'd like to make the half-up section look nicer, curl the part that's secured. Leave the rest of your hair in its natural texture or add some slight waves.
Long Green Locks
The V-cut hairstyle can be perceived as edgy so pairing it with an edgy color is always a good idea. Green is often seen as one of the best colors to wear when cultivating that vibe.
Leave the hair long and straight to make it easy to style. All you have to do is brush through it and you're good to go.
Straight Brown Tresses
Extra long tresses make it easier to see the desired shape of the haircut. Keep a natural tone such as brown to minimize the damage done by bleaching locks of this length.
Let some darker roots remain visible to add depth to the top section of the haircut.
Wine Red Locks
Looking for a standout but subtle color? Consider wine red. Red is always a notable shade but the wine color makes it darker and less prone to catching people's attention.
Keep the V-cut straight for easy upkeep and wear the sides drastically shorter than the back if you want to look your best.
As you can see, super long hair is common with V-cut and U-cut hairstyles. However, you can also wear pixie cuts and create a really neat look with them if you prefer shorter locks.
Finding the right length and color for you can be a challenge, but it's worth it because you'll feel so confident with your new look.