Going to the beach in a outfit is not the only look, your hairstyle should be top-notch too. Thus, we have listed some of the gorgeous beach hairstyles that will take everyone's breath away.
Not only the beach hairstyles are super cool but will also make you stop worrying about your hair, and let you enjoy the water with your friends or family. So if you are planning a pool party or going out on the seaside, try these hairstyles.
Breathtaking Beach Hairstyles for Women
Easy-breezy hairstyles for jolly girls like you. Get ready for a summer-fun look for the hot summers.
Half Pony With Front Braids
Keeping your hair open suits on a swimming outfit, but when you style it in a different way, that's when your look gets complete.
Half-up French braids are a beautiful beach hairstyle for your long hair so that they don't get in your face while you run on the seashore. Also, you can color your hair in different shades of pink.
Loose Braid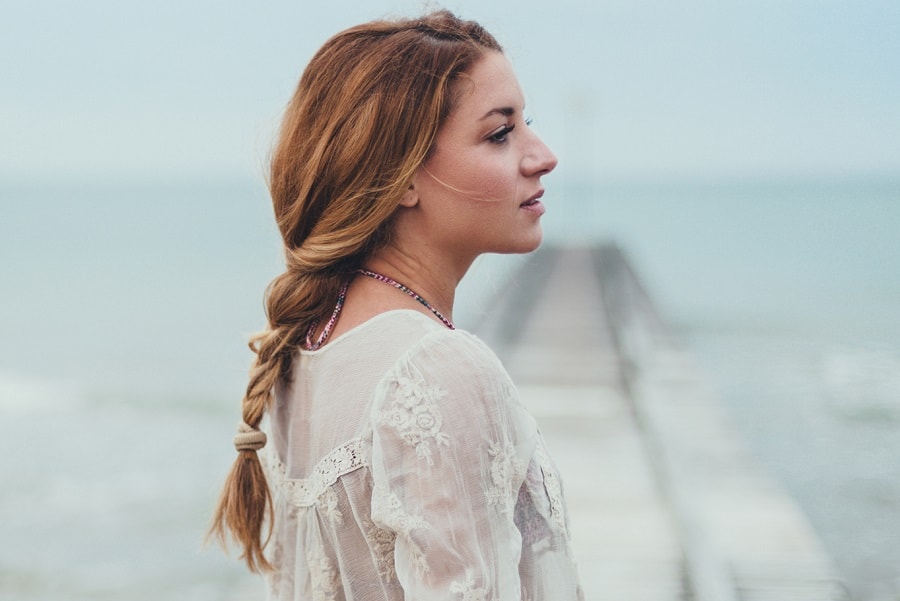 Sometimes we go to the seaside just to relax and sit there quietly. Tying your hair in a loose braid after a long day at work will help you enjoy the cold breeze.
There's no need to comb your hair, just run your fingers through your hair and pull them back gently. Then, tie in a very loose braid.
Wondering what can be a perfect beach hairstyle for your blonde hair? Just add some waves to your look and blend in with the sandy shore.
Enjoy playing games, making sandcastles, or taking a sunbath, your style will look awesome and makes your photoshoot ready.
Caramelized Ombre Hair
If you've been thinking of coloring your hair for a long time and now you have to go to the beach too then, ombre hair would be the best choice here.
You won't even have to think twice because ombre is a color that goes with any natural hair color and gives you a very bold look.
Neck Length Bob
Bobs are a fashion statement in the hairstyle world. It's the perfect summer hairstyle for a casual hangout with your friend's group.
Any light-colored tee and shorts would go with this hairstyle. A straight long bob would be the ideal choice here. Don't forget to click lots of fun pictures.
Dutch Braided Bun
If you're one of the girls who like to keep all their hair up, go for this beautiful braided beach updo.
You can make dutch braids in four sections when you have curly hair and then tie the ends of all four braids in a low bun. Golden hair extensions would not be such a bad idea.
Red Ombre Pony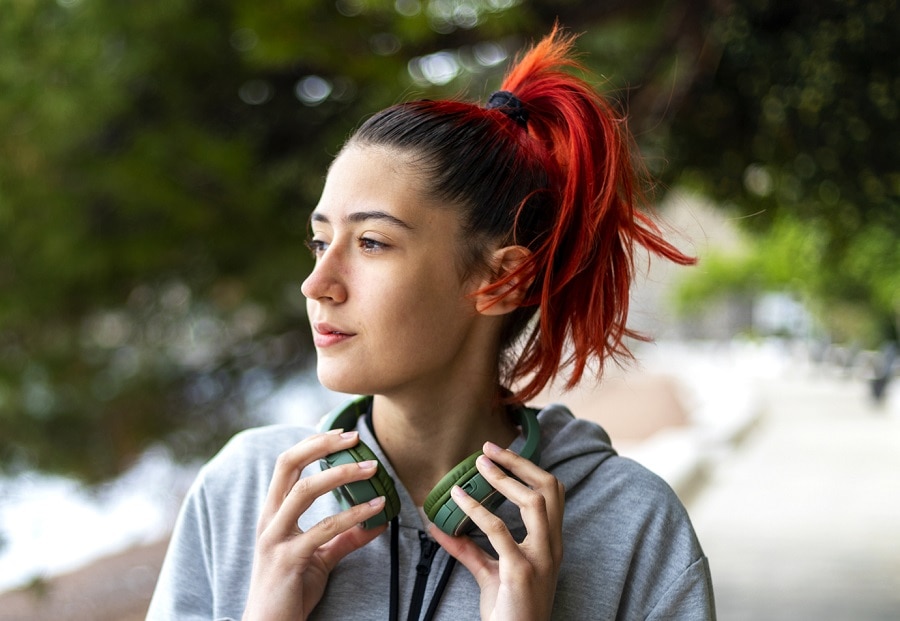 Ponytails are a classic way to keep your hair up, but here's a little twist here.
You should color your hair with a brick-red ombre, and your look is ready. Make your light jog fun across the seashore. Everyone will be impressed by your bold choice of color here.
Short Afro Hair
Only those who have afro hair know the struggle of maintaining long hair.
So if you're struggling to maintain your long hair every time you go out, cut them short this time. Believe us, it would be a huge relief, plus it will suit your every beach outfit.
Glamorous Wedding Hairstyle
Are you planning to arrange your wedding at the seaside? If yes, you have made the right choice.
As per your venue, keeping your hair open and straight would go well with your gorgeous white gown. This beach wedding hairstyle will flow so beautifully when the cold waves fall on your face.
Long Thin Braids
If you are looking for some trendy beach hairstyles where you get to keep your hair open but tied at the same time? Don't worry; we know what you're looking for.
Tie your long hair in very thin braids starting from roots to ends. You can also make two half buns to create a unique look.
Lob With Bangs
We think bangs were invented to go with any style you want. You can carry bangs with any outfit to any place you go, be it a night out, office, or beach party.
Blonde hair and a lob will go very well with your bangs style. Talking about bangs, wispy bangs look good on short hair.
Dark Brown Curls
Keeping your natural curls can be a great beach hairstyle where you don't have to spend hours styling your hair.
Instead, just take your curler, and your hair is ready in 10 minutes. Or even simple, tie your hair in braids overnight, and the next morning you have beautiful curly hair. Make loose curls instead of tight curls.
Long Box Braids
What's a better way of styling your long hair than box braids? You get to show how long your hair is and your hair remains tied too.
This way, your hair doesn't flow here and there, and you get to enjoy your day. It's a beautiful hairstyle for a picnic or date.
Half Updo With Twists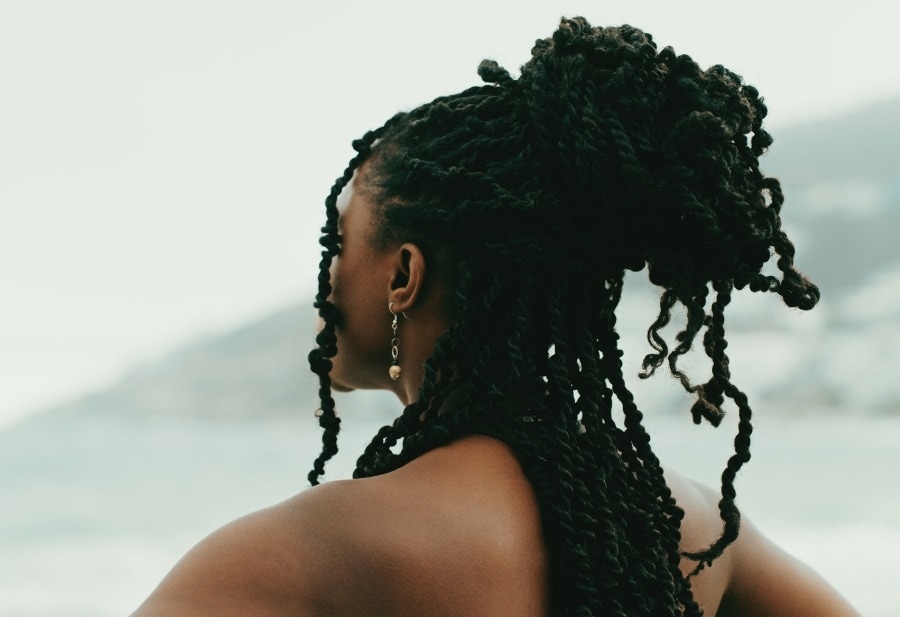 Managing natural curly hair is a job, especially when you have long hair. Normally, people go to the beach in the summer season, and we all know how sweaty we get when we keep our hair open.
However, if you want to keep your hair open but tied too simultaneously, then a half updo would be the perfect beach hairdo for you.
Messy High Bun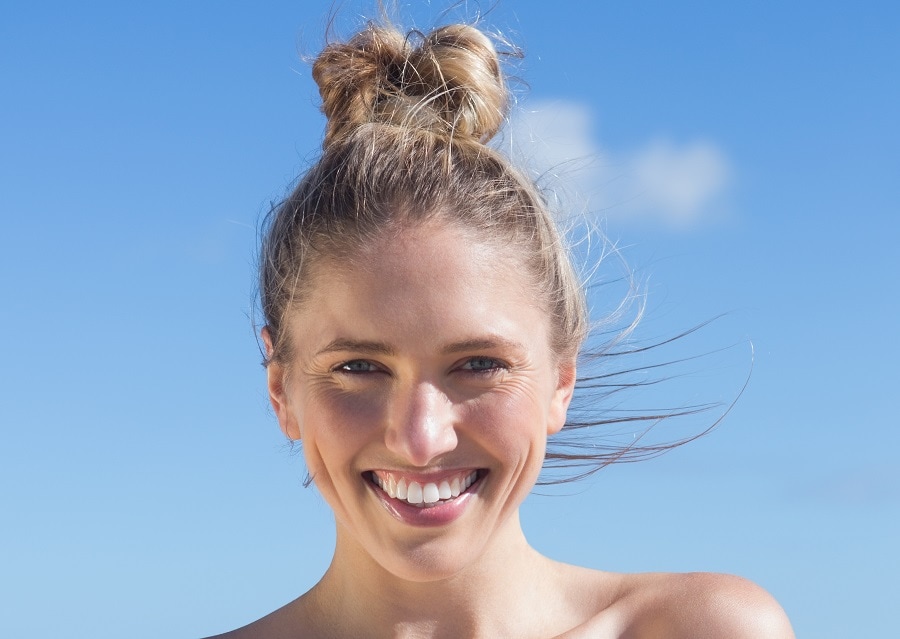 What if we tell you that there are beach hairstyles where you get to keep all your hair up? It's your favorite messy high bun hairstyle. No effort, just run your fingers along with your hair and make a messy bun.
The best part about this hairstyle is that you can make it while walking to tie your hair and enjoy the cool breeze on your neck.
Ginger Red Curls
Make some changes to your simple curly hair and get your hair colored ginger red color.
It looks beautiful, plus it suits the beach environment. Everything will be breezy, and so will your hair. It's a look you should try on casual outfits like a dungaree.
Blonde Pixie
Have you ever tried pixie cut for a beach day? If not, this is your hint to get your haircut in a pixie. Get your natural black hair colored in blonde color too. Then, choosing between a wavy and straight pixie, we pick a straight pixie.
Cool Space Buns
Space buns are the right look for a sunny day at the seaside party. You don't feel the heat or sweat, and you get to keep your hair up beautifully. With this hairstyle, you can even be twinning with your little sister or daughter. You two will look so cute; we know that.
Notice how beautiful the sea waves look while you walk along the shore or sit on the sand enjoying the water touching your feet?
Get noticed by keeping blonde highlights on your long hair, which is an ideal look for a day at the beach with friends or your partner.
Half Up Braids
A simple but extremely beautiful hairstyle for the beach is side braids. Just tie each side of your hair in a thin and loose dutch braid. You can make this hairstyle for a date, a wedding, or for a casual meet-up with your friends.
High Afro Bun
Thick afro hair can be difficult to manage during the summertime so why not tie them all? Grab all your hair and tie your afro hair in a tight and high bun, and tada, you are ready. Now you can say bye to the heat and enjoy the cool breeze.
With our beach hairstyles, you have a perfect look every time you go out for a walk or party along the seaside. Everyone will be amazed by your style and overall look and might even ask for some tips. Even the mermaids will be jealous of you (just kidding!).