Braids and twists being the trend this season, it is rightly said braids never go out of fashion. They have evolved drastically over time, being invented to keep unruly locks at bay within numerous experiments and variations has now become one of the trending hairstyles with a braided hairstyle to go with for every occasion or mood.
If you belong to the thoughts that braids are all about fishtail and cornrow, allow us to bring you a compilation of 27 trending Goddess braids that would give you the chic, sophisticated runway model look just by adding twists to your hair.
How to make Goddess Braids?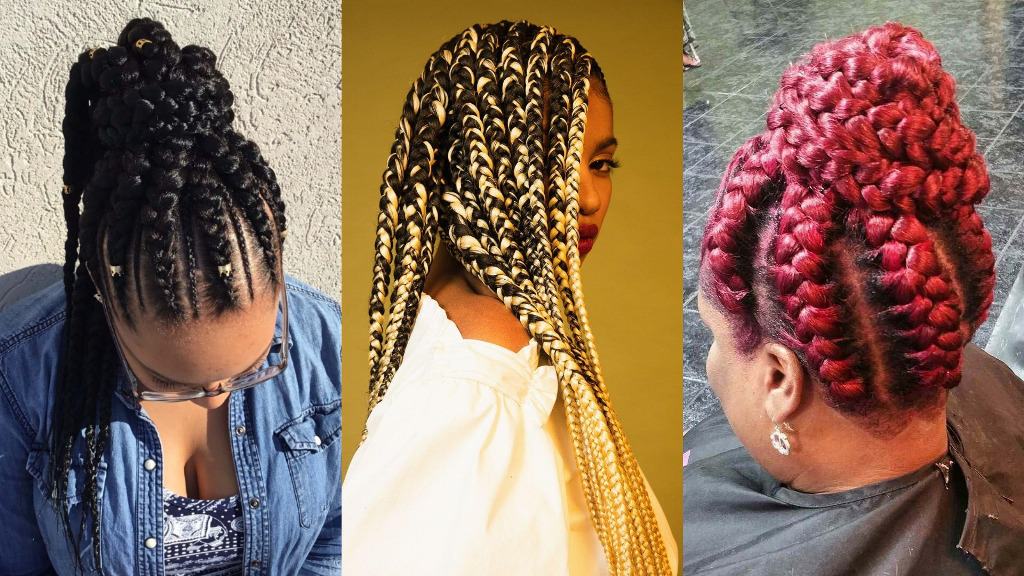 Here are few tips which you can follow to get these fine and lovely goddess braids.
Wash your hairs with a mild shampoo, followed by a deep conditioning treatment to make the locks softer; you may as well try a hair mask for better results or a natural fruits and yogurt pack that deeply nourish your locks.
Towel dry your hairs to remove excess water, avoid rubbing your hairs just dab on the towel and let your hairs towel fry on its own.
Once your hair is dry, take a wide-toothed comb and untangle the knots gently.
Once all your hairs are neatly straight and untangled partition your hair, go for a fishtail comb it gives sharp partitions.
Go for a section-wise braiding pattern, take a particular chunk and clip out the remaining hair to get an elegant braid.
We suggest adding hair extension to your locks to add the pop of color and to make a style statement that shall last for the season.
You may as well try using hair gel to tame your frizz while braiding for a sleeker look.
Post the hairdo; hair care is an essential factor to maintain the health of your tresses.
Untangle your hairs with patience as braids often tend to tangle up, we suggest using a conditioner or cream that shall help you handle your hairs better, wash your hairs off the gel or and product and go for deep warm oil massage over your scalp to ease the tension.
This winter, go with the goddess Braids hairdo as the whole fashion world is going voila over it from celebrities to runway model the look is everywhere on the screen, the reason being they really do give you a makeover bringing out the explorer in you.
The goddess Braids is here to stay and give you a makeover you would fall in love with, just carry it with the right attitude.
Two Goddess Braids
This Chic Updo should be your hairstyle if you are looking for something fabulous and beautiful. This look can be achieved with a thick cornrow section of cornrow tied up in a high bun.
This look is ideal for an evening event or a date night out. They are absolutely beautiful; the best part is once tied up, one doesn't have to worry about the hairstyle throughout the event.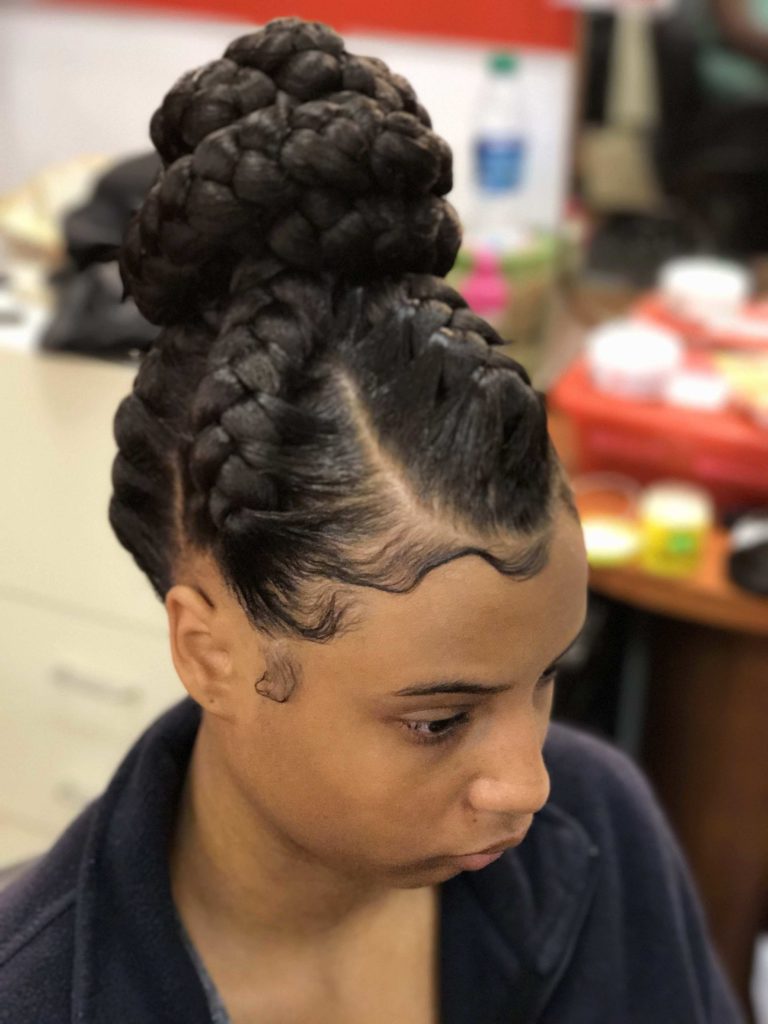 Four Goddess Braids
Go for this hairstyle if you are going for a broad daylight event, it is a simple yet fabulous at the same time. To achieve this look, divide your hair into four equal section and then tied up into massive cornrows towards the back.
Goddess Braids for White Women
This belongs to the list of classy hairstyles best suited for dinner reservations or night party.
This look can be achieved with parting the hair into 4 major and minor section wherein the large goddess braids are tightly secured and surrounded by small  tiny braids to create a more detailed and sophisticated look.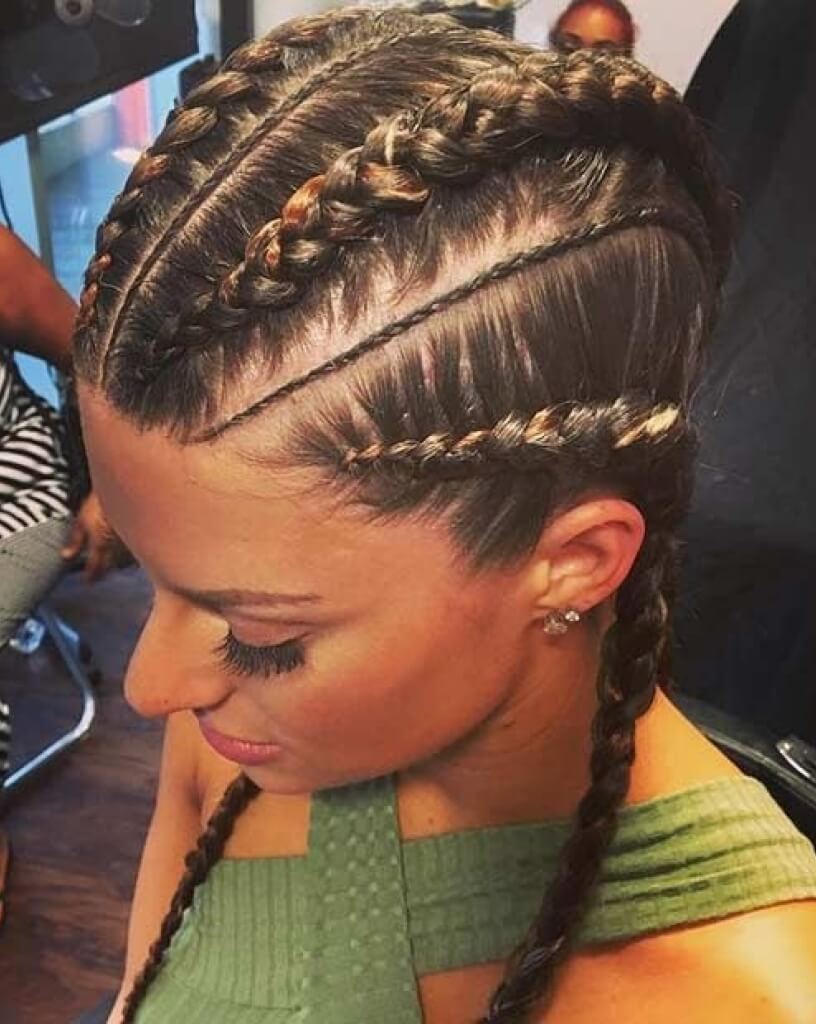 Jumbo Goddess Braids
This is more of a fun hairdo apt for the youth or a fun outing; this hairstyle can be achieved by tying up the hairs in multiple corn rows and taking the top section, to tie up in a high braided bun fashion. This hairstyle speaks volume of attitude just by the way you carry it.
Waist Length Goddess Braids
If you are trying goddess braids for the first time, this hairstyle should fit the bill. It is simple to achieve look, basically, just an oversized or goddess version of the age-old cornrows yet defines elegance with an E. This easy to achieve look goes well with hair accessories to give a more classy look.
Ponytail Goddess Braids
If you want to rock your western attire with braids, then Ponytail goddess braid is a perfect match for you.
You can create this warrior princess look just by braiding cornrows into a ponytail, simple said than done this look speaks volume of attitude and makes you look more like a runway model.
Updo Goddess Braids
This should be your go-to hairstyle from the goddess dairy when you are not in a mood to let it loose and yet be the chic you can.
This look can be achieved with oversized cornrows tied up into a high bun. They look absolutely stunning and can be carried with ease.
Goddess Braids Bun
This is one of the most stunning hairstyles from this compilation, would probably require a professional unless you are an expert yourself.
To achieve this look cornrows are tied up to create a unique curvy pattern and then tied up to form a cornrows braided bun. This look could go well for the next wedding, to have the head turner attention.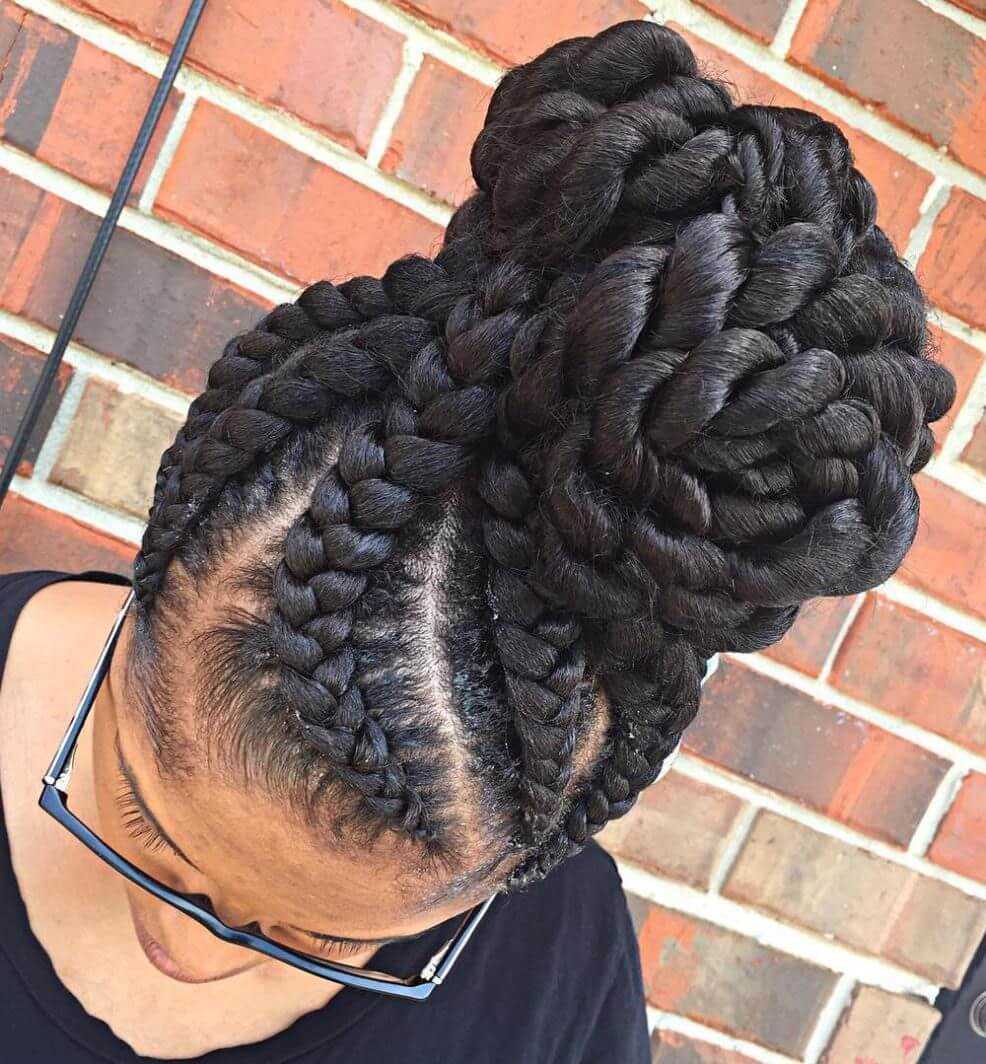 Side Part Goddess Braids
Goddess braids along with highlights are the ethereal combination that is sure to make you nothing less than a supermodel. This look is easy to achieve with side-parted alternate thick and sleek cornrows.
Highlights are trending statement that can add charm to your look, add some color to your mane to rock the diva Side parted Goddess braid look.
Long Goddess Braids
If you are a ponytail fan, then give this look a definite try, this incredible hairstyle tightly woven to the scalp and then pulled together into a ponytail with sleek cornrows to add the drama to the look.
Go for this look for day or a night event it is sure to go well with every occasion to up your style quotient.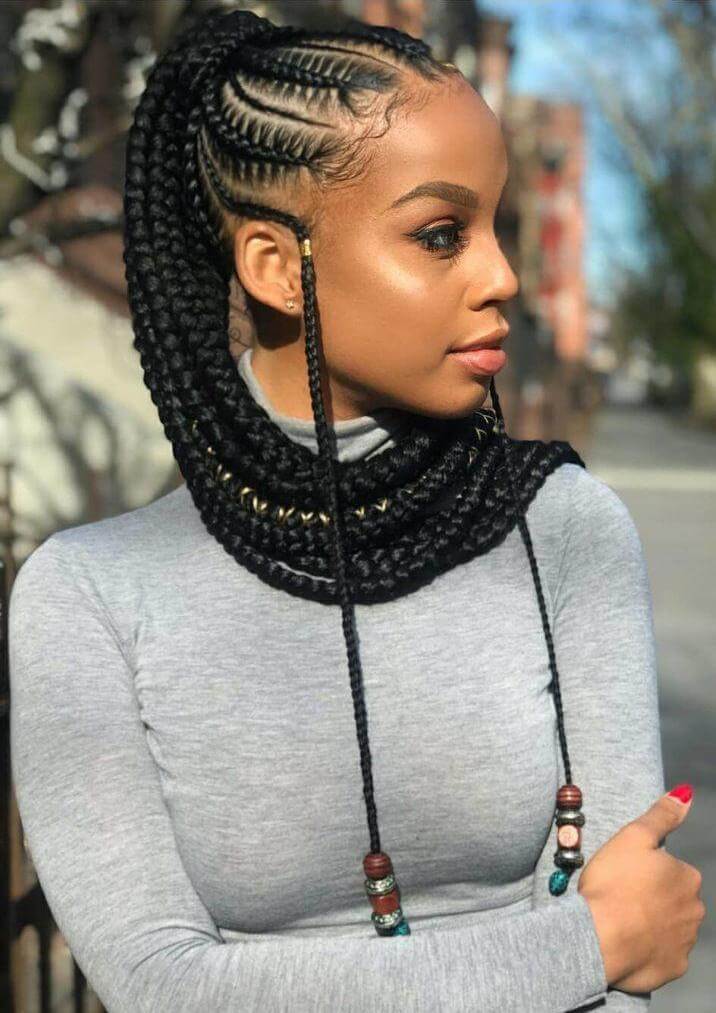 Colored Goddess Braids
Add color to the locks this season, if you are a sucker for experiment and adventure this hairstyle is sure to rock your boats.
This look can be achieved with coloring your hair with spunky colors and then tying along closely knit cornrows diagonally in the front top section while the back section is tied up as a loose bun with few stands of cornrows on either side giving a sportier look.
Goddess Cornrow Braids
This is a classy runway model hairstyle, trending forever among the fashion lovers. This look can be achieved with parting your hairs into five sections and the top three into a small section on its side to make an alternate thick and sleek cornrow look tied up into a low ponytail to give a breath-taking look at once.
This all cornrow look is all gorgeously badass in itself; try it out for the next sports game you play on or on an adventurous trip.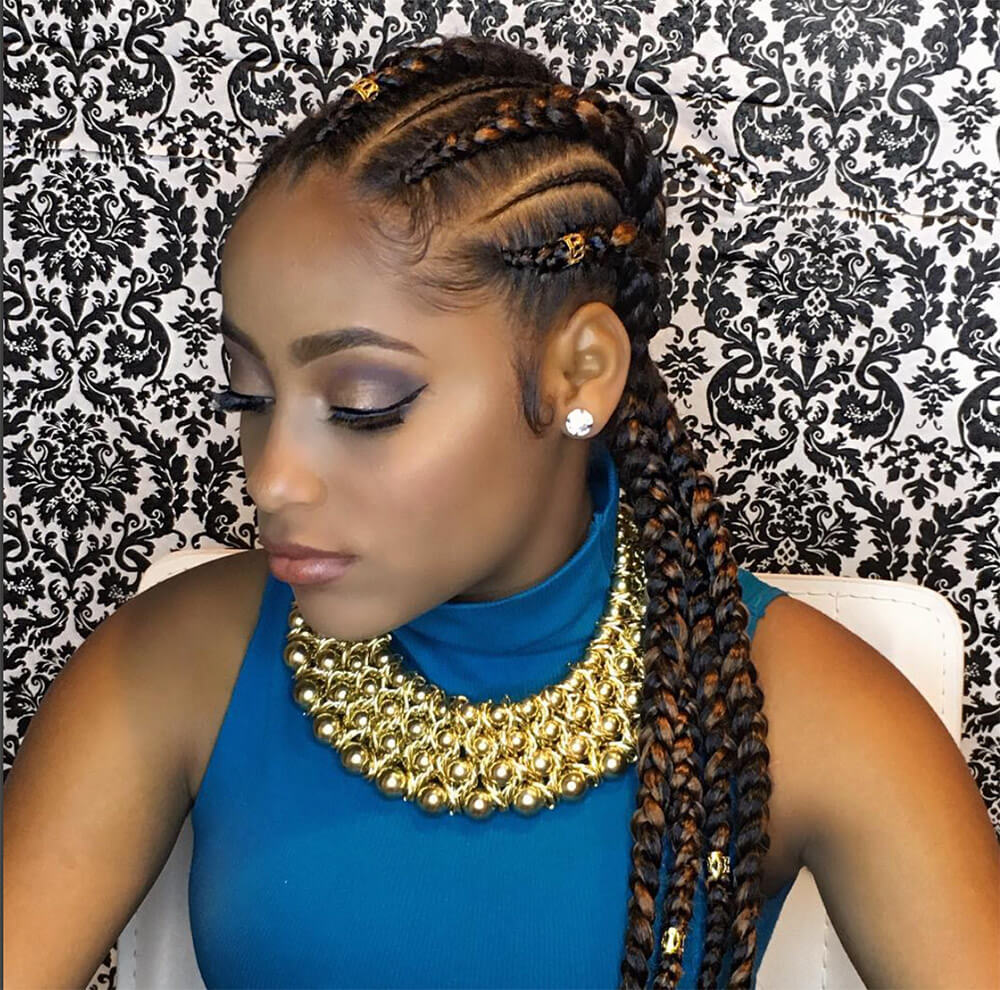 Goddess Dread Braids
Dreads have been famous for decades. Now, one can fashion faux dreads in short span of time to make braids look like dread.
Enjoy this boho chic like look with a rope like texture on hairs that give you a mystic look that is sure to be an attention grabber at every walk of life. Rock the hairstyle with an elegant hair cuff to complete the look, try it out on the next birthday or cocktail party you are scheduled on.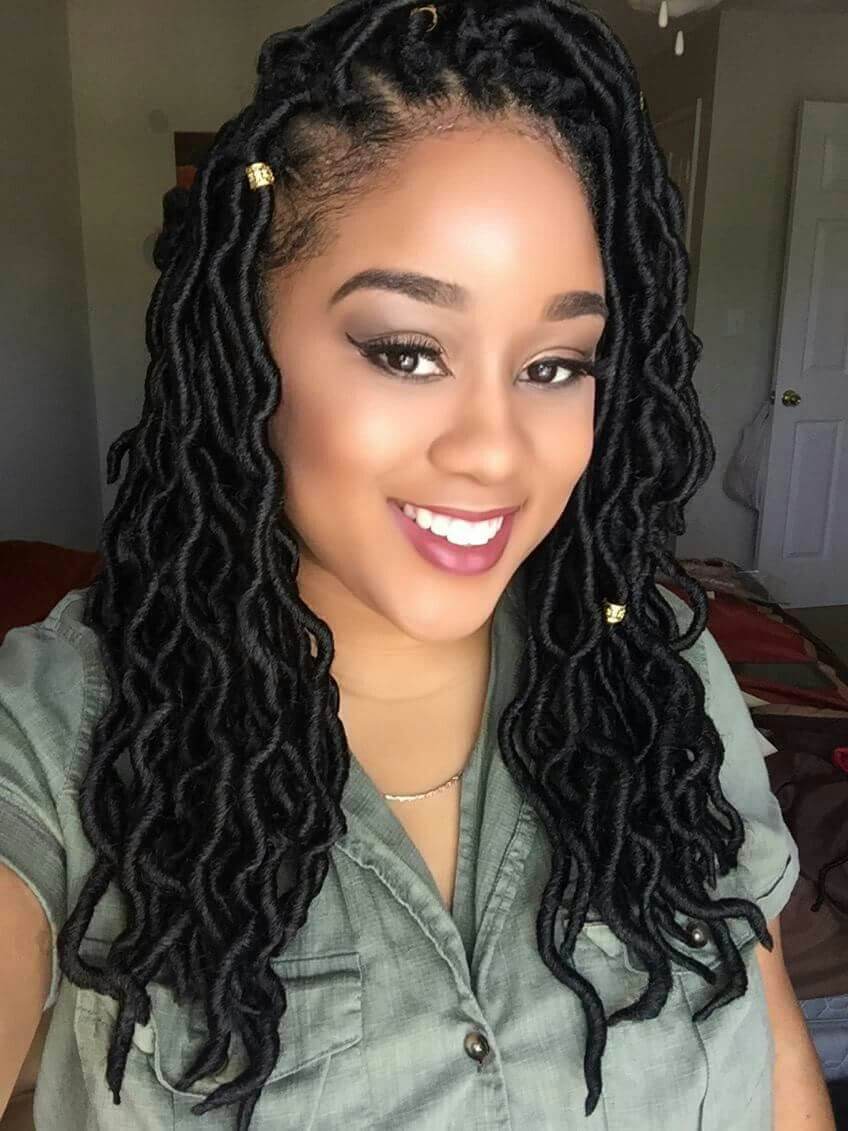 Goddess Dutch Braids
Goddess Dutch braid brings rather cute yet sexy look, back to school kind of expression on your face.
Tie your locks on both sides the Dutch braid style while slightly teasing your hairs back to give a fuller look to your locks bring back both the end to complete the look. This goes well for a back to school event, sporty event or on an adventurous trip.
Goddess French Braids
French braids have always topped the number of popularity among the rest, this look takes less time and gives you that oomph look needed at any spotlight event.
Be the trendsetter you always craved for, to get this look, partition your hair into three parts, one of the top section and then following to one side each, now French braid each portion to get back. Accessorize this look to add some x-factor.
African Goddess Braids
African Goddess Braids are braided overlap pattern knit closely to the scalp to create an overlapping effect that looks mesmerizing when taken to the back to tie a low ponytail.
This is more of a vacation look when you have the freedom to experiment with your locks. With prom season all around flaunt it on your day to make a style statement that lasts for the season.
Goddess Braids with Kanekalon Hair
Goddess Braid with Kanekalon hair has to be on your wedding list hairstyles; it is sure to make you the head turner of the event.
To get the look, start with a clean side partition and braid out from both the ends taking strands. It gives you the classic look that goes well with the traditional attire. This look will look even more mesmerizing so with brown highlights.
Gold Goddess Braids
2018 is all about being bold, take a day off use bright gold highlight extender to kick-start the party. Life with added color is living life to the fullest, and what better color to express the enthusiasm than Gold itself.
Braid out one-sided using small portion or section of hairs using gold extensions in every braid to get the look, leave the braids loose to get the hot and sexy vibes. The hairstyle bold enough looks stunning when pulled off with oodles of confidence and attitude.
Silver Goddess Braids
For all those who feel gold is a bit too much, we have the undertones try out the silver extensions instead.
Silver makes the change subtle for those who aren't all up for experimenting and trying out the delicate silver lining on the party look, give your scalp a zigzag partition, ditch the straight line so accentuate the silver more prominently, braid out using small sections of hair to get the details and use the extension in every braided part.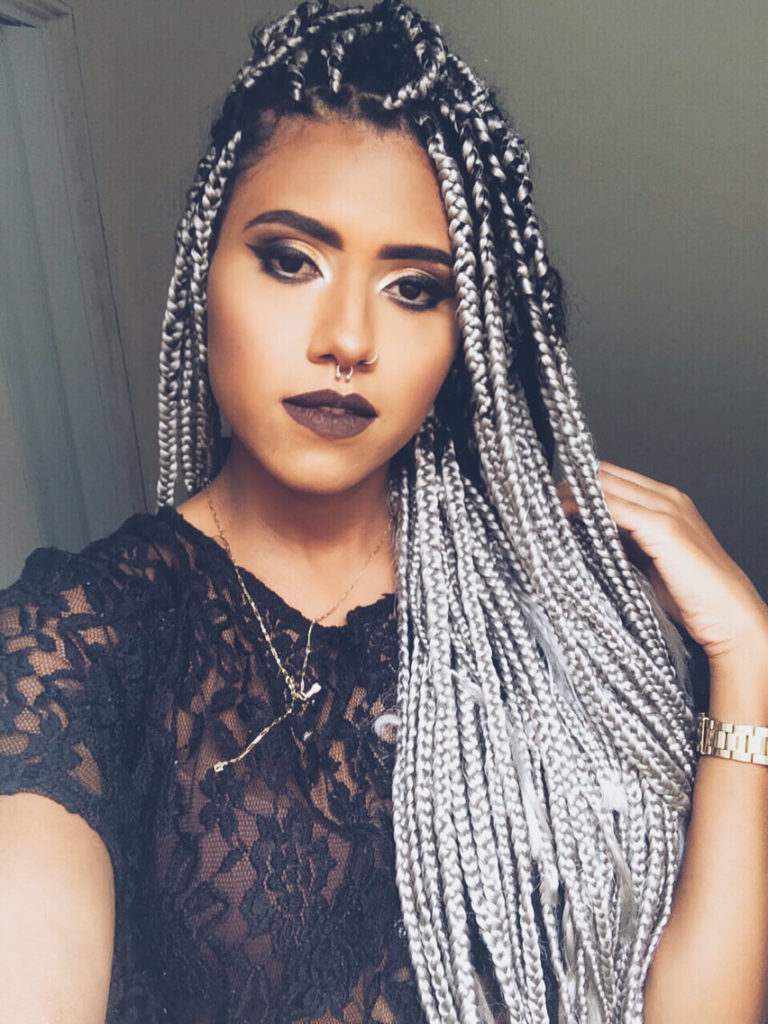 Neat Goddess Braids
Neat isn't just for students; adults can try it too. Neat Goddess Braid is braided to perfection with neatly partitioned hairs into three section; each section is French braided till the end of locks to create this charming hairstyle.
Do give it a try on girl's day out to get the perfect look that one craves for going back to old school days, cocktails or birthday parties.
Criss Cross Goddess Braids
As the name suggests Criss Cross Goddess Braid is all about braiding up the hairs in smaller section in a criss-cross fashion to create a repetitive x pattern only in the top section leaving the behind locks straight.
The look is finished with a diagonal partitioned braid just above the ears on both the side and a voluminous braid at the end to top section hanging with the free locks on both the sides. Go for this look when you feel like going wild. It gives you a rather cute yet sexy look to die for.
African American Goddess Braids
African American Goddess braids are a fabulous getaway vacation hairstyle to opt for.
To get this look side partition your hair and braid small sections of strands to form many small sleep boxed braids, bring them all together to the sides to make a side ponytail. It looks very chic gives you a very appealing look.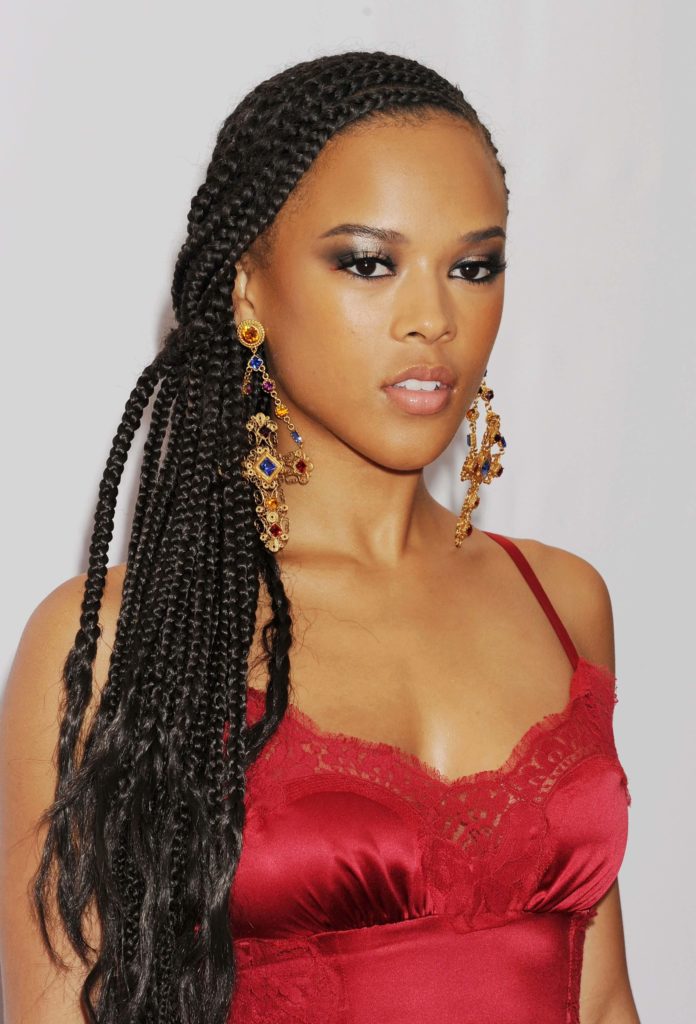 Caucasian Goddess Braids
Back to school hairstyle that is all about goodness. At times its great way to distress as well and bring back the old school memories.
To get the look, middle partition the hair, take three to four sections of hair on each side and tied it with a rubber band at an inch distance. 2- 3 times when at ear level bring each half together to tie up into a braid fashion to complete the look. Accessorize to get the maximum out of this cuteness overloaded look.
Hispanic Goddess Braids
Hispanic Goddess braid with such intricate detail is sure to be the most time-consuming hairstyle on the list but with great efforts com greater rewards.
To get the look braid up the hairs is smaller section making a pattern or curve around forehead bringing all the braided strands together to the back of the head to create a high ponytail effect.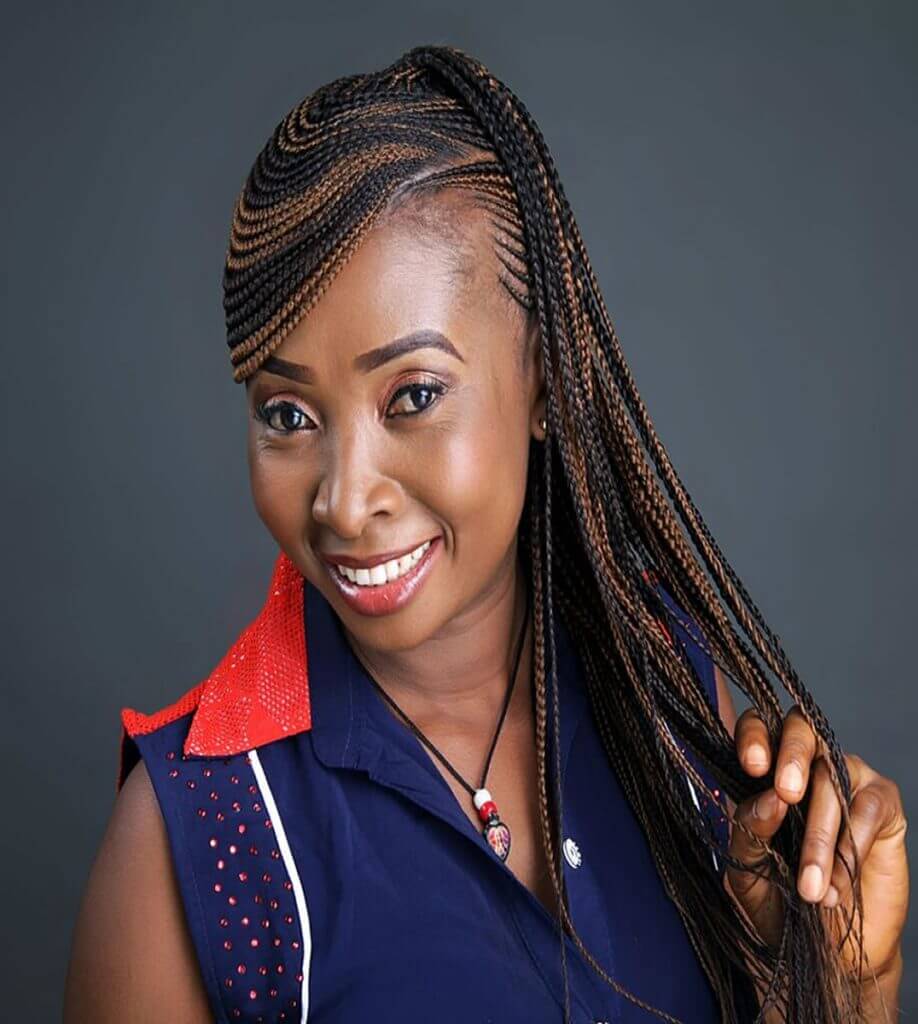 Goddess Braids for Prom
This is the most sophisticated and chic hairstyle from the list. It is closely knit to the scalp box braids that make you stand out in the crowd all tied up high to give a super sophisticated look which is sure to make you a party stunner in all events.
It is the hairstyle that not only completes the look but makes the guys go weak in their knees. We suggest trying it out to sense the magic for the very next event you are scheduled on.
Bohemain Goddess Braids
If curls are your style of fashion, then this hairdo will make you fall in love with the bohemian braid style. Bohemain Goddess braids are all about curls gone wild.
This winter-go Gypsy hairstyle is best to your way to the nightclub or just an outing with the girl gang. This braid style has goddess written all over accessorize the look with hair cuff and beads to get the look right.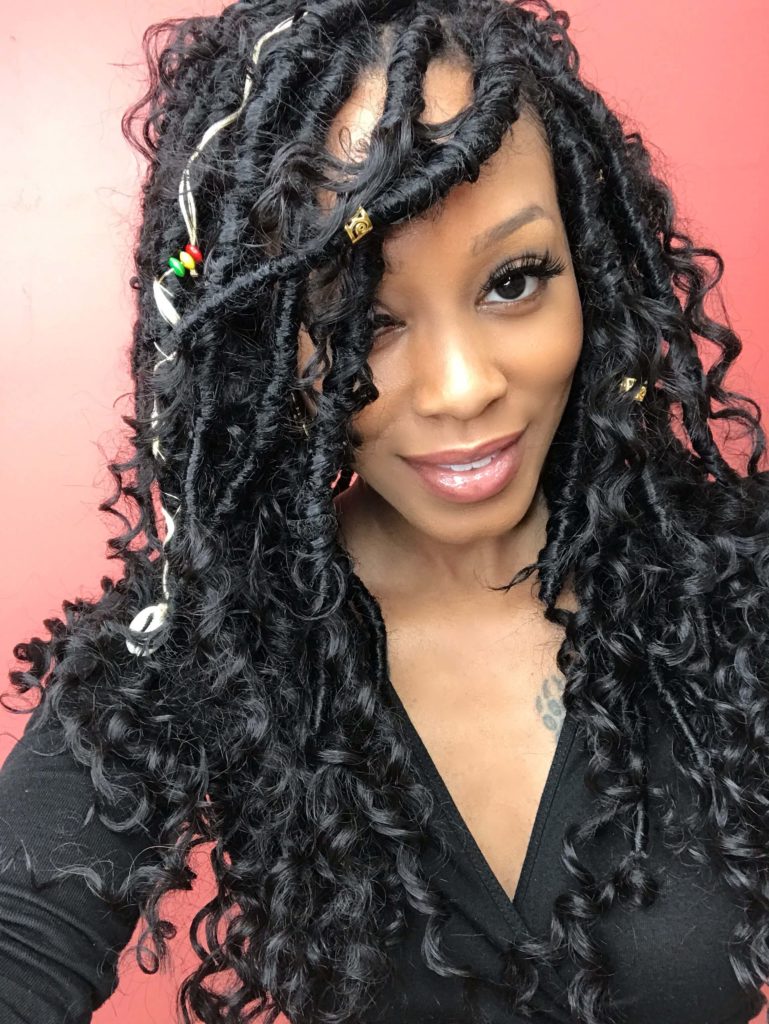 Weave Goddess Braids
Weave Goddess braids are a combination of square and regular braid alternating between more of thick box braid with a few numbers of sleek braids all neatly and firmly knitted left loose to give a chic boho look.
Try this look on your seashore vacation as that is where it shall spread its magic blowing with the sand and winds, twirl it up with the wind.
This winter ditch the plain and go the goddess braids way, post your selfie the boho chic way or rock the braided hairdo with crisp make up. Pick your favorite among the list and personalize it by adding your bit of personal touch to the hairdo.
Find your secret hairstyle or fall in love with the naturally messy look, a stunning hairstyle which is unique in its own magical way as no two braided styles can ever be the same.