Fade haircuts are in trend for so long, and they don't seem to go anywhere. Men all over the world adore them and let's face it, these hairstyles make any guy look sharp and stunning.
Fade haircuts are versatile because they can be mastered in so many ways: with a low, mid, or high fade, bald, or taper. Also, if you want a more formal look that is perfect for office days or if you are an older guy, a taper haircut that gets shorter in the neck area will be ideal.
But, for those who desire a shortcut down to the skin, the fade haircuts will make quite an impression! All these cuts will highlight your top hair, and they can be arranged in so many different ways.
Because we want you to meet the potential of these fades, we gathered here some marvelous examples that will certainly make you go for a fade haircut.
Fade Hairstyles & Haircuts for Men
Fades have long been associated with shorter haircuts. Even so, the trends are changing and they are seen in haircuts that feature longer hair at the top of the head like in Mohawks, faux hawks, pompadours, and so on.
This is a great trend and has been widely accepted by men all over the world. It has become a trademark for a lot of men. This variance of the fade haircut has led to the rise of interesting haircuts. These haircuts include the following.
Taper Fade
Taper fades are usually styled with scissors and are very popular among men with all sorts of hair. Create the taper effect on sides and back and style your crown hair on one side, fixed with hair gel.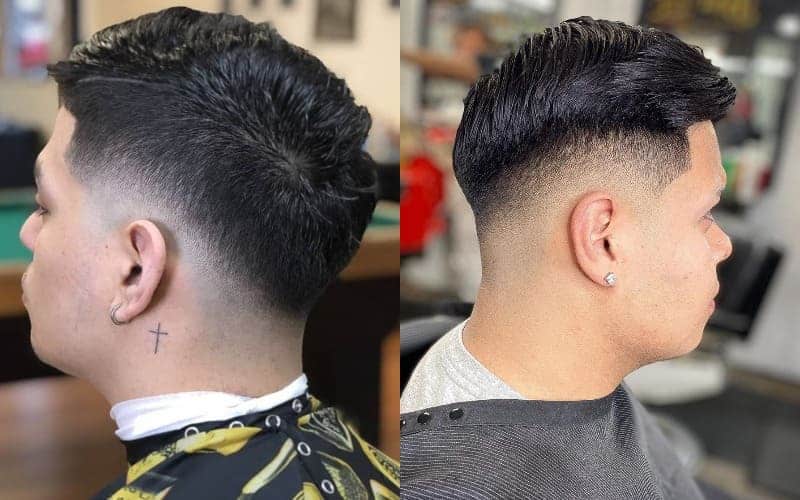 Low Curly Fade
Low fades are very close to your ears and look fabulous if you keep rich top hair. Also, create an undercut or a fabulous design that will make you look breathtaking.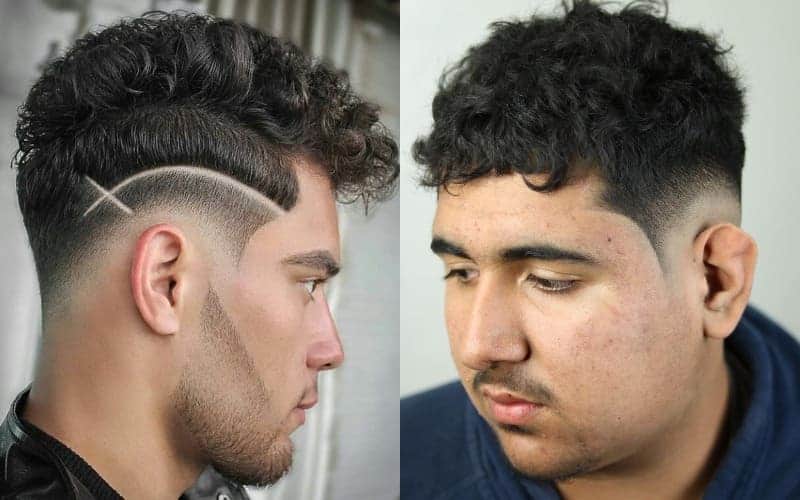 Straight Hair with Mid Fade
A mid fade can draw all the attention to your rich crown hair if you choose to combine it with a bald fade. Style the mid fade in the middle of your sides, above the ear.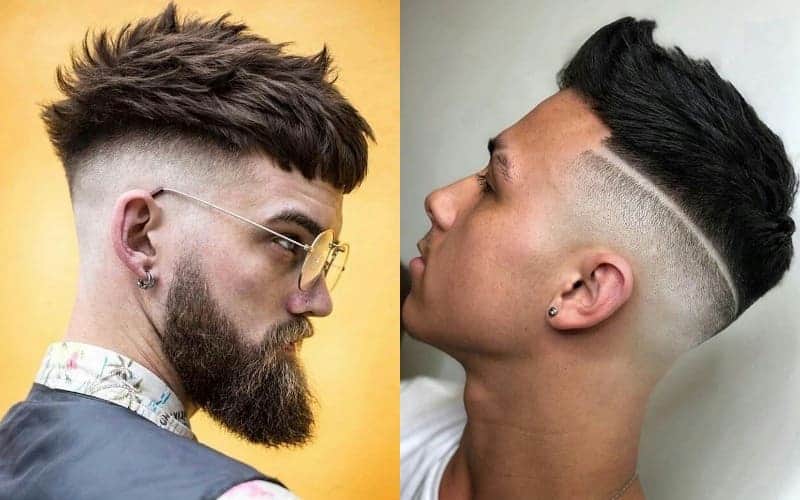 High Fade
High fades follow the corner line of your forehead and are pretty low-maintenance hairstyles for men. You can make it into a bald fade that transits into your beard.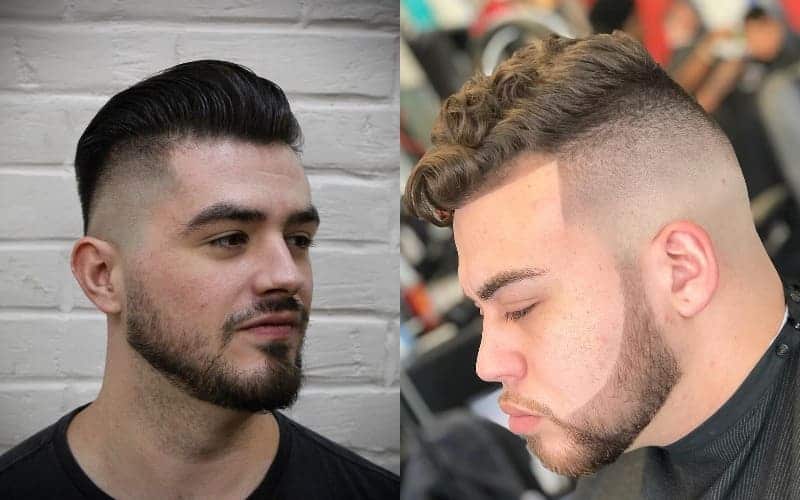 Long Top with Fade
A long hair fade means that you will have your sides covered with short hair just near your temples. You can keep the top hair long and pin it in a ponytail.
Short Fade
Taper your hair from your neck to your top, where you can keep your crown hair as short as you want. This short military hairstyle is ideal for men who wish for a low-maintenance haircut that makes them look sharp.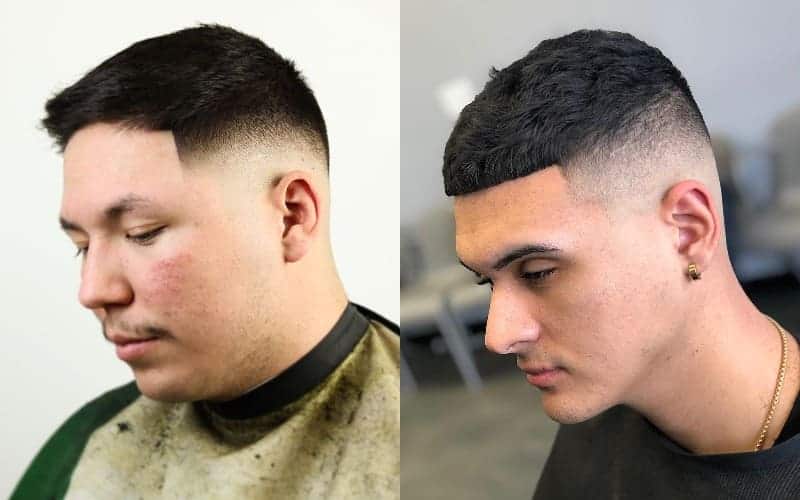 Curly Fade for Black Men
If you are a black man with dense Afro-American hair, a taper for the sides that draws all the attention to the top is the ideal hairstyle for you. You can style your curls and even wear the crown hair long.
White Guy with Fade
As a white man, you can style the fabulous well-known pompadour hairstyle, or simply go for a low maintenance haircut, such as buzz cuts or any short top hairstyle that doesn't require your too much of your attention.
Tapered Skin Fade
A skin fade is also known as a bald fade and involves a taper that shows off the skin and gradually grown to the top. You can use it to create designs and for better face-framing.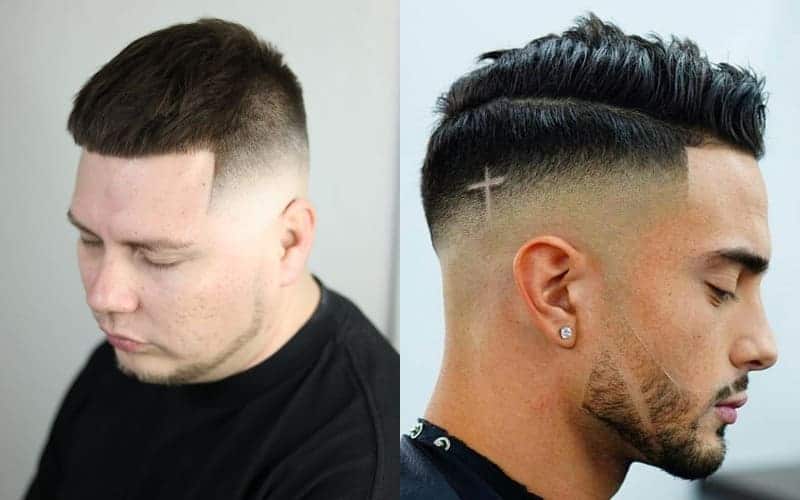 High Bald Fade
Bald fades are so popular among men, especially because they give that badass military look. Also, they are low maintenance, and they look so damn good.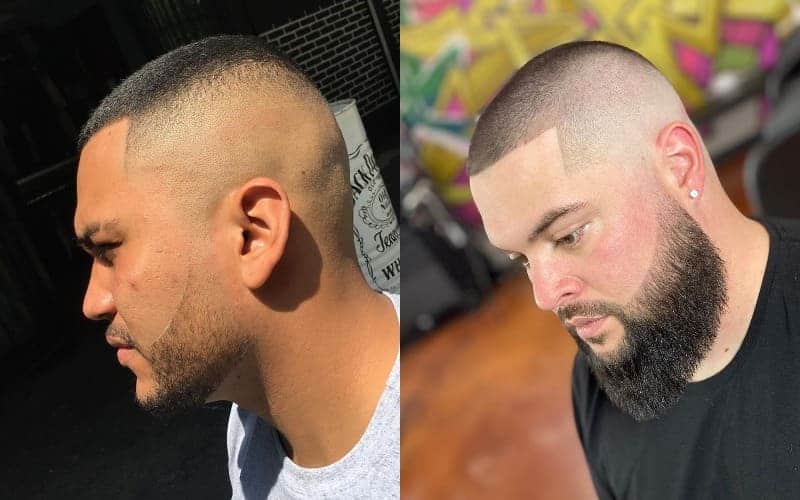 Mid Drop Fade
For this hairstyle, the fade drops just behind the ears and leaves plenty of room for designs. Create a circular line that will highlight any mohawk or simply draw all the attention to your top hair.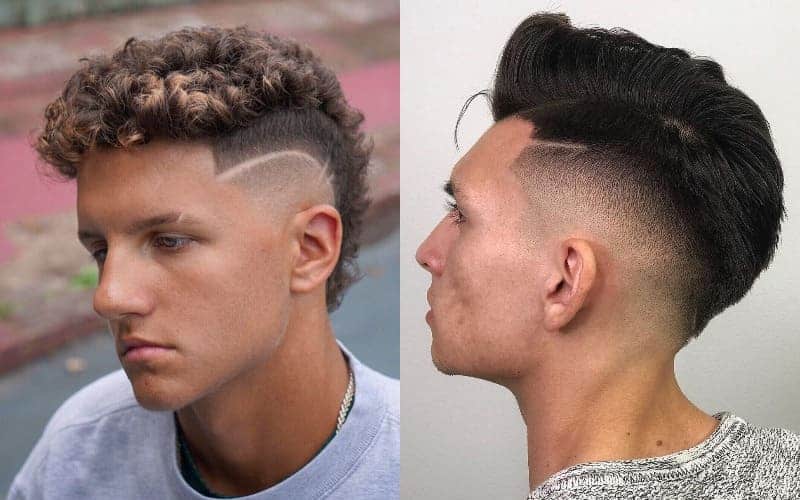 Short Temp Fade
Temple fades involve a taper that is styled only in this part of your head. This way, you will create a disconnection between your beard and temple hair.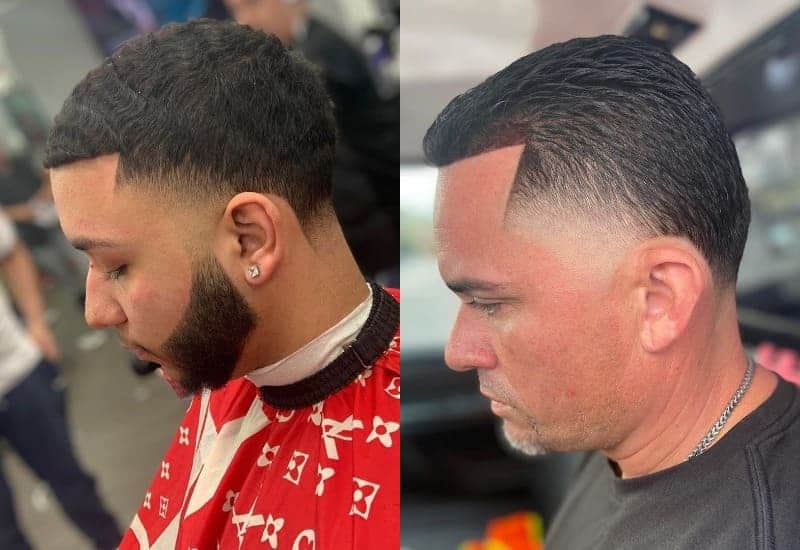 Dyed Side Fade Haircut
Make a fabulous look by dyeing your hair in your favorite electric color and choose a fade cut to enhance your top crown hair. Make your hair fall on your forehead or style it upwards.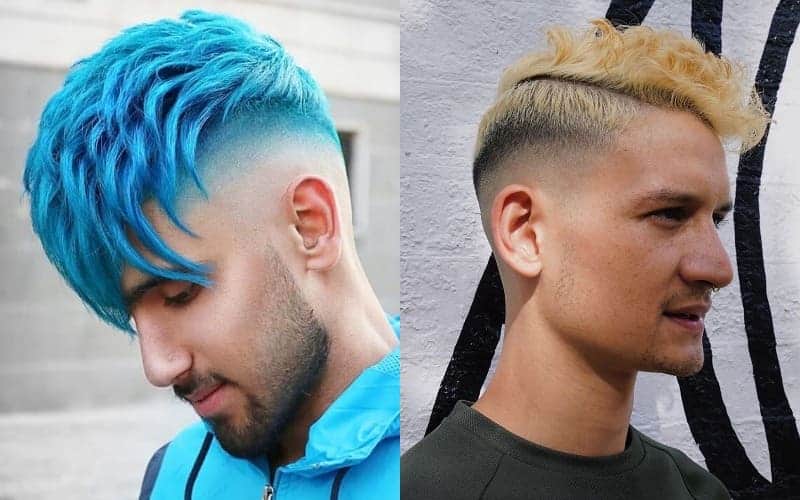 Mohawk Fade
A mohawk fade is a fade that goes around your ears, giving your hairstyle contour. You can connect your hair with your beard and style a gorgeous hairdo that does an excellent job of highlighting your facial features.
Fohawk Fade
Faux mohawks are highly adored by men, mainly because they easily get that formal look.
One of the best things about this hairstyle is that it's pretty easy to adapt to office days or for crazy parties. Choose a long top that gradually fades in the back for a stunning appearance.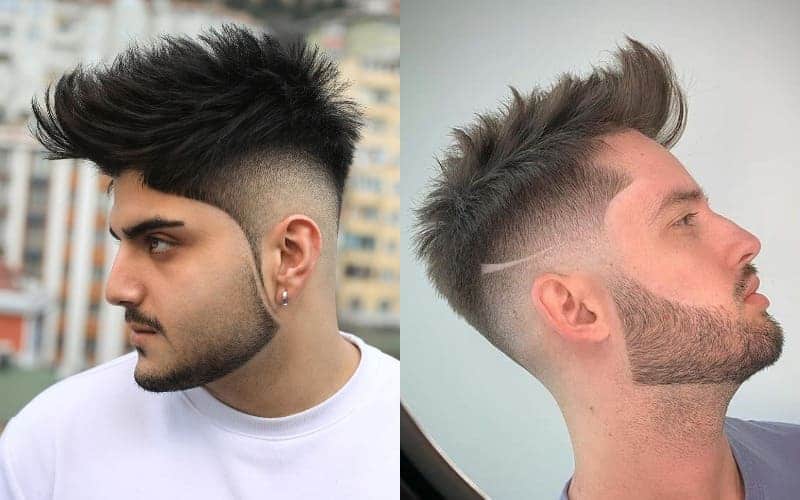 Comb Over Fade
Get your favorite fade and part your hair to toss it on the other side. You can use hair gel to style and keep it in place. You can also play with colors and choose a blonde shade to dye your hair.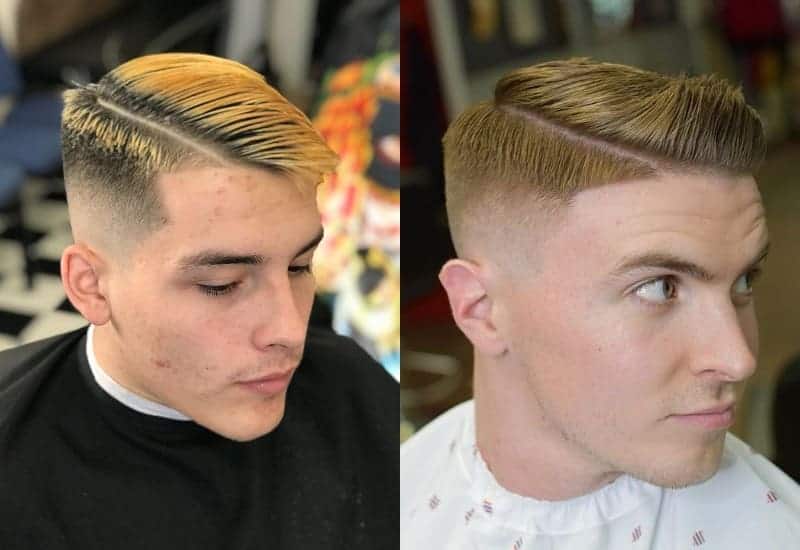 Pompadour Fade
Combine a taper fade with a beautiful pompadour style for your crown hair. Make it look glamorous by styling a few spikes that will give your hairstyle a lot of value.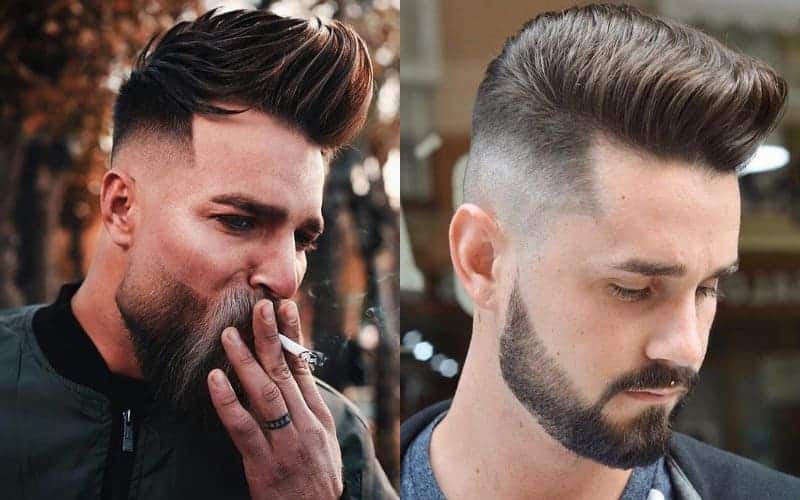 Slick Back Fade
If you love those stunning gentleman looks, a fade with top hair combed on the back will help you achieve that image. Make it look sleek by using hair gel or foam.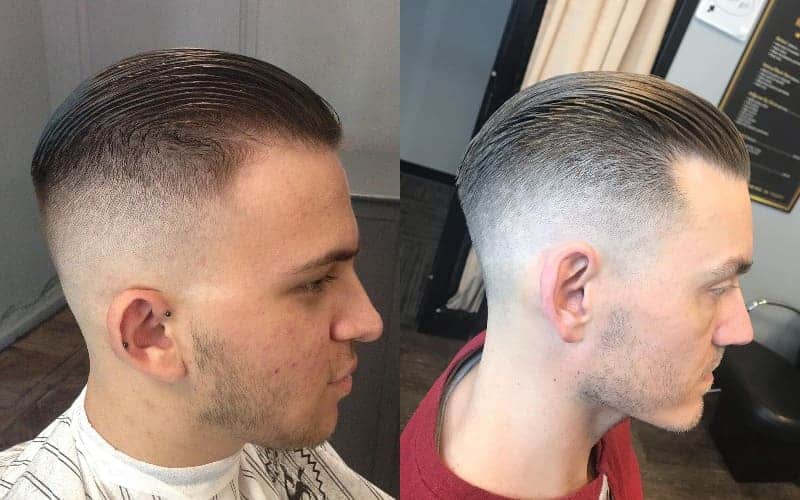 Twist Fade
Fades are great cuts especially because you can style your top hair however you like, in this case, with twisted braids. This is a low maintenance hairstyle and is ideal for men with Afro American hair.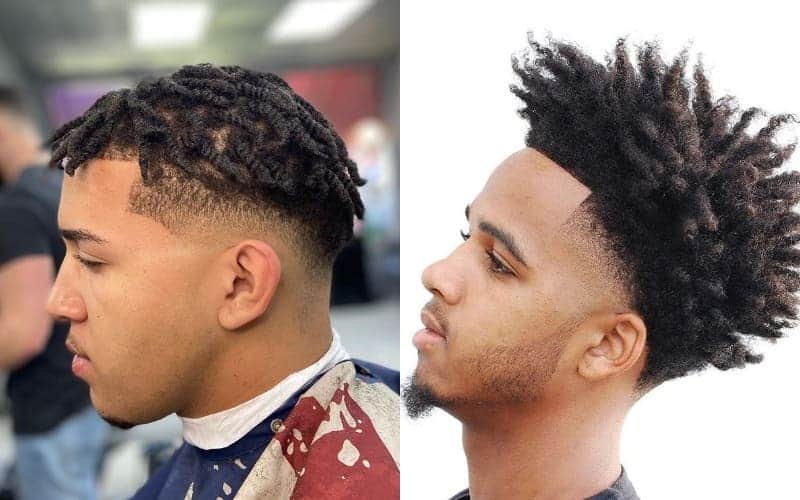 Braids with Fade
If you want to make your hair look stunning, choose your favorite fade for the back and sides and keep the top hair long so that you'll be able to create two French braids.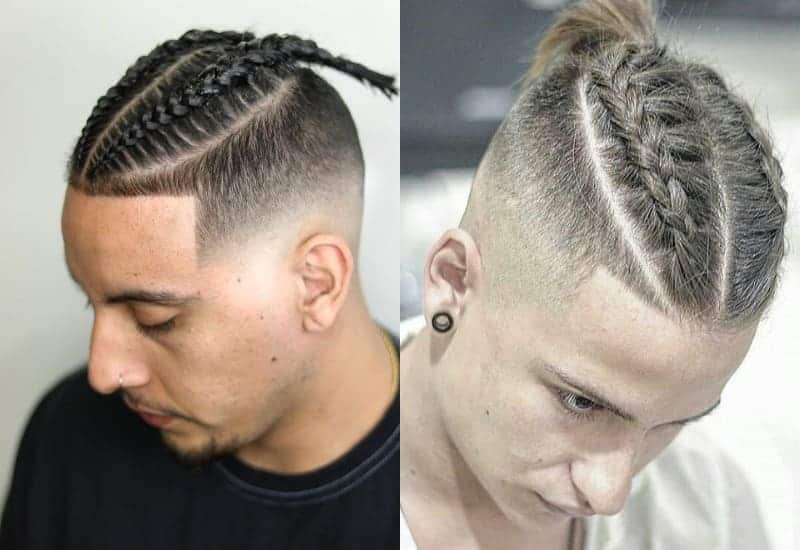 Man Bun Fade
Choose a medium fade for the sides and back and wear your hair long on top. This way, you'll be able to style a small cute bun. You can even create razored designs to make your hairstyle look more spectacular.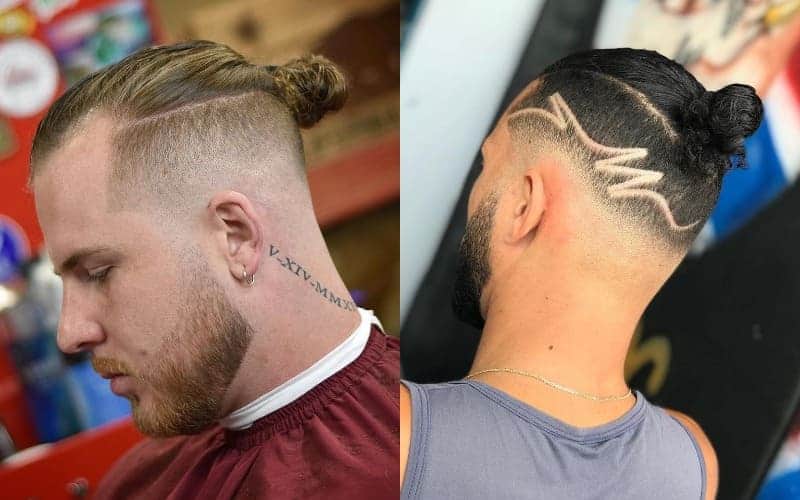 Crop Top Fade
A crop top goes hand in hand with a fade and is ideal for face-framing. You can style bangs and wear them short or long, covering your forehead. Your fringe must have a straight cut.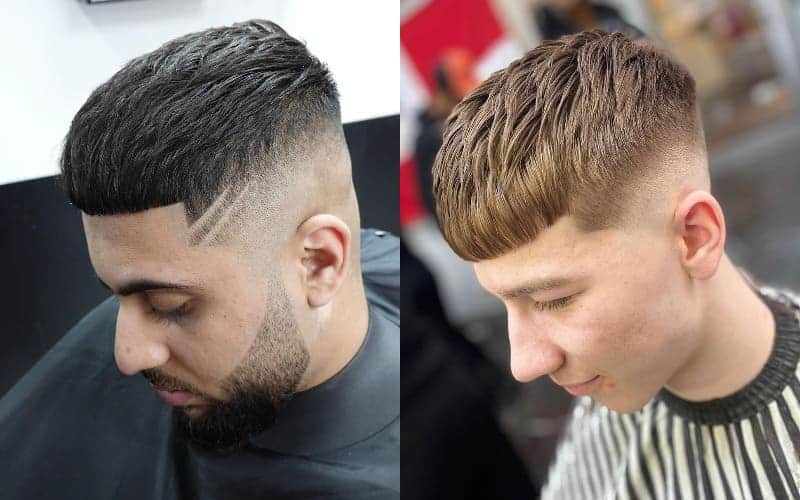 High Top Fade
A high-top fade involves a fade styled on your sides and back and is perfect for men with Afro-American hair. Because of its coils and density, your hair will have dimension, and you can style it however you want.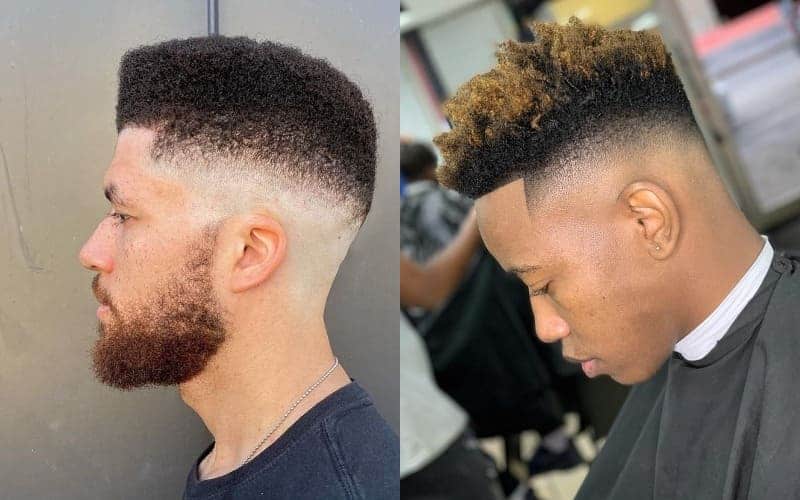 Flat Top Fade
When you have rich, thick hair, create a flat top that will perfectly mix with your fades sides. To make the hairstyle look more impressive, you can design a razored line on one side.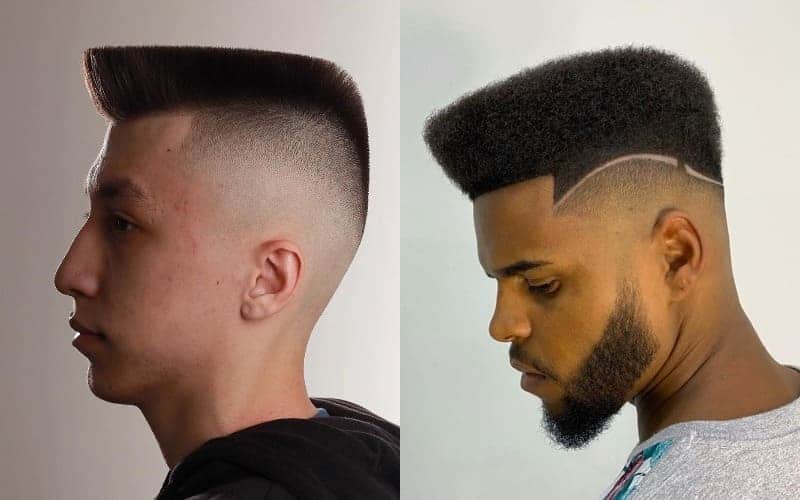 Undercut Fade
An undercut fade is ideal if you want to create a stylish haircut. Make a razored design on the sides and choose your favorite color to dye the top hair. Style it upwards or slightly covering your forehead.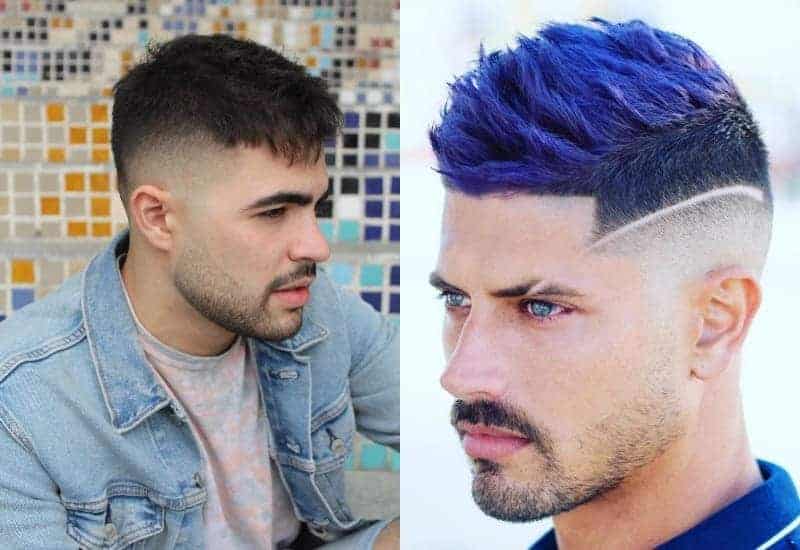 Medium Straight Fade
The beauty of medium fades is that it is a perfect balance between high and low fades. It is a type of fade that gives a great contrast in the hair lengths. This look has a perfect length size of the cleared neckline and temples.
It blends perfectly with beards and the sideburns appear to be taper-faded. The look is sharp and the lineup haircut defines the shape of the face and head. The hair has perfect texture and length. It forms a beautiful quiff.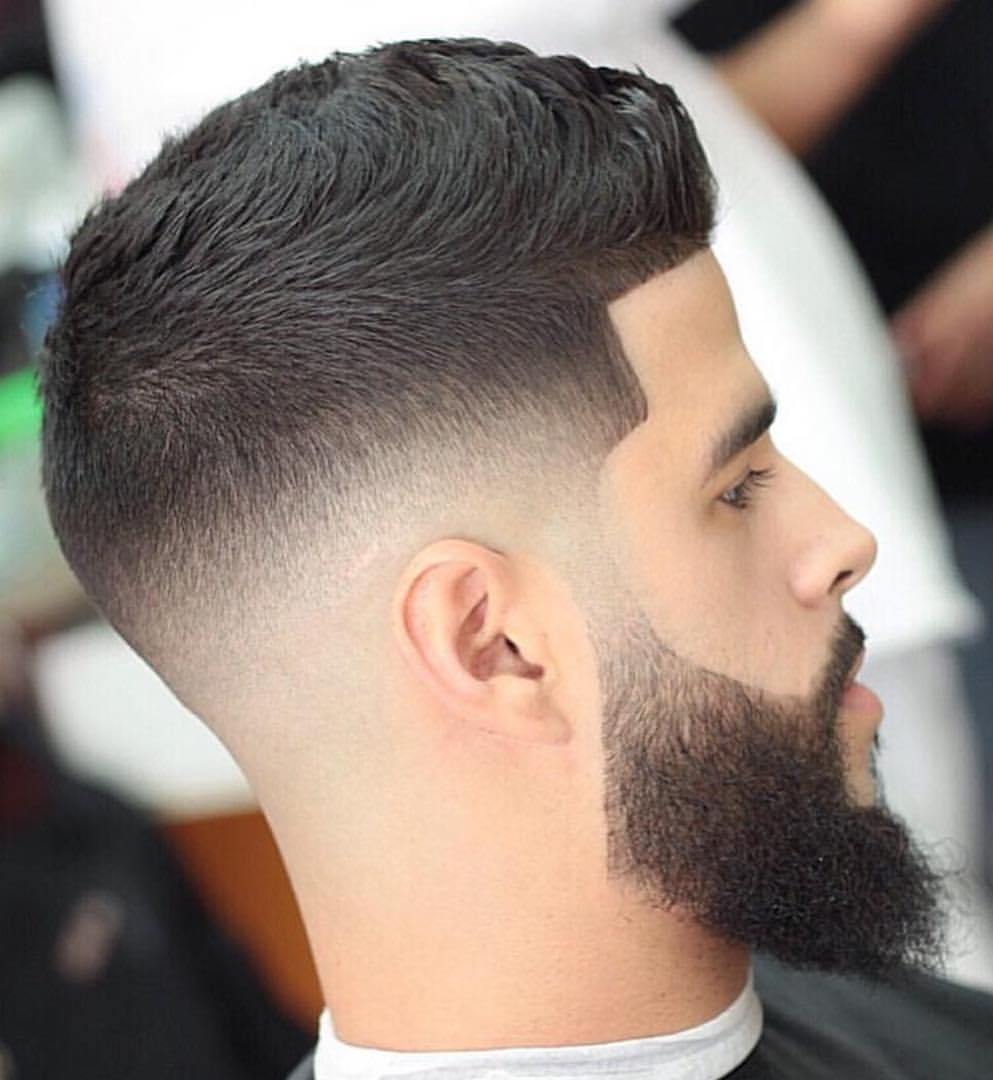 Low Fade
The low fade starts lower on the sides and the back of the head. This hairdo is not too conspicuous and is perfect for a gentleman who does not like attention-grabbing haircuts.
It is subtle and can be used with different haircuts. This type of fade can work for hair with different lengths whether short, medium, or long. It is neat and very sharp. It is a perfect official haircut.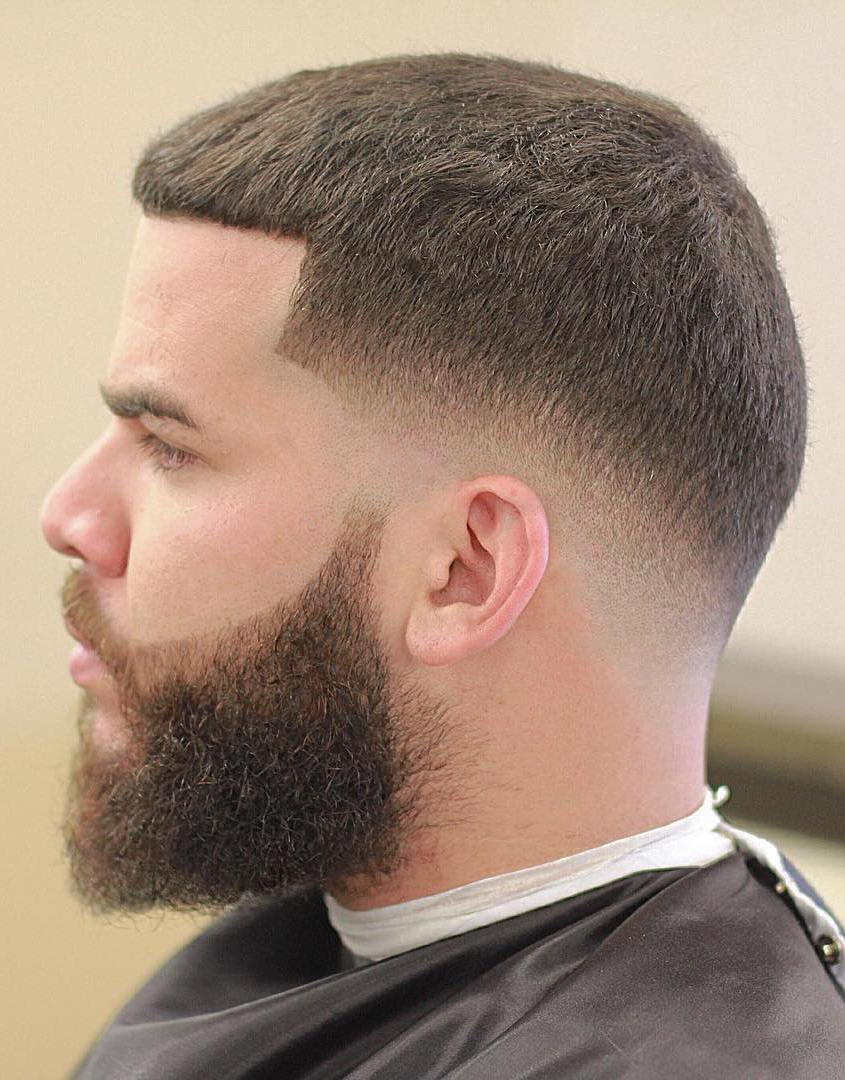 Short Temple Fade
The temple fade is also known as the temp fade and is very popular. This haircut is all about incorporating taper fades to line up the temples of a man. Temple fades can be incorporated on any haircut and it pairs beautifully with hair of any length.
Men love the temple fades as they are not so conspicuous and they are very trendy. They are subtle yet stylish and sophisticated. It is perfect for all kinds of facial shapes. It also goes well with or without beards.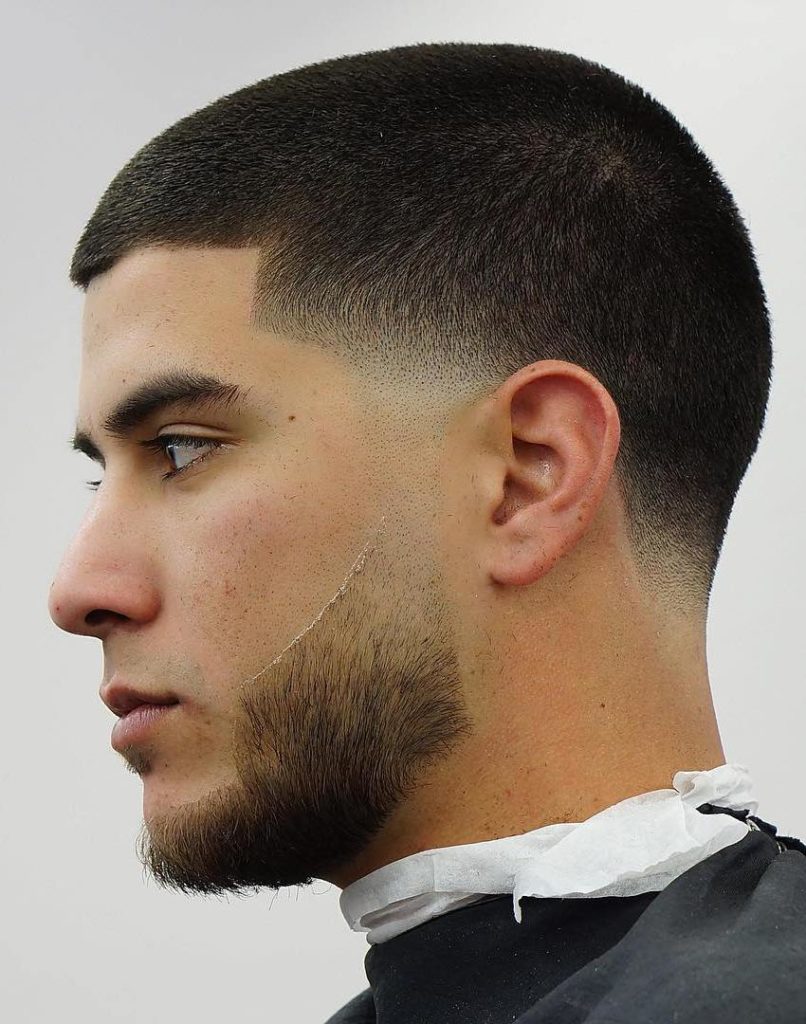 Blurry Fade
Blurry fades are also becoming very famous and this hairdo is one of the best that features blurry fades. It is a haircut that gives you that samurai look.
To get the look, part the hair at the top of the head and hold it with a hairband. You can also make a knot. The full beards accentuate the beauty of the haircut. You can also use blurry fades on other haircuts.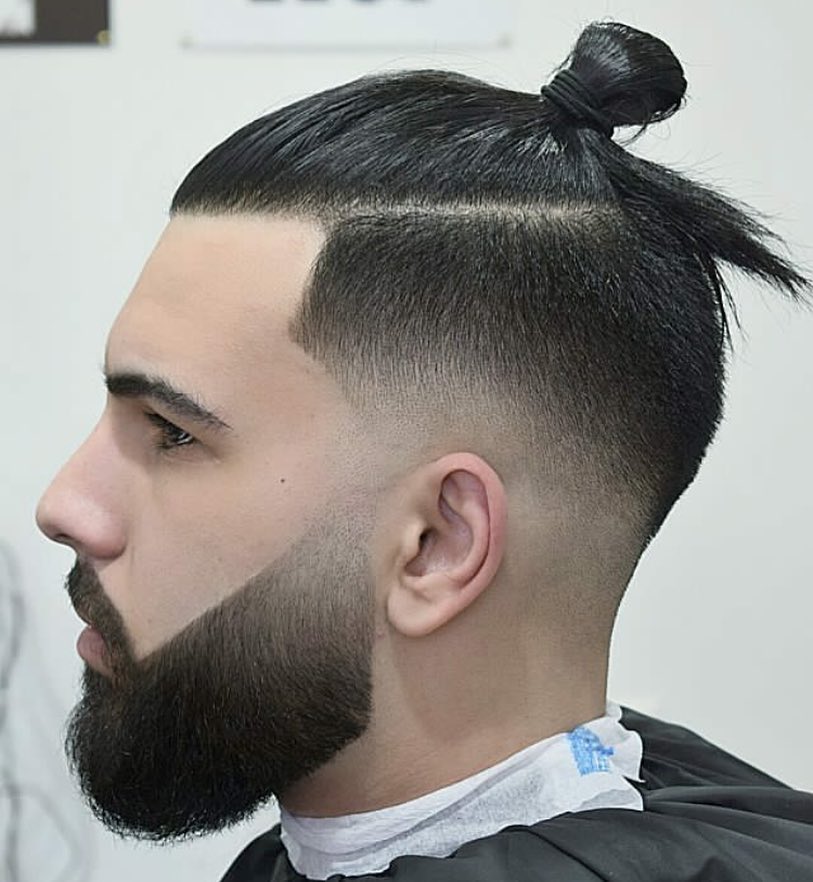 Pompadour with High Fade
This haircut feature fades that have high ends around the head. It is a bold look and offers a greater contrast of tapered hair as compared to medium fade.
This fade will also work excellently with short hair, medium length, and long hair. For this look, the hair at the top of the head is medium length. This gives great room for creating a comb-over look.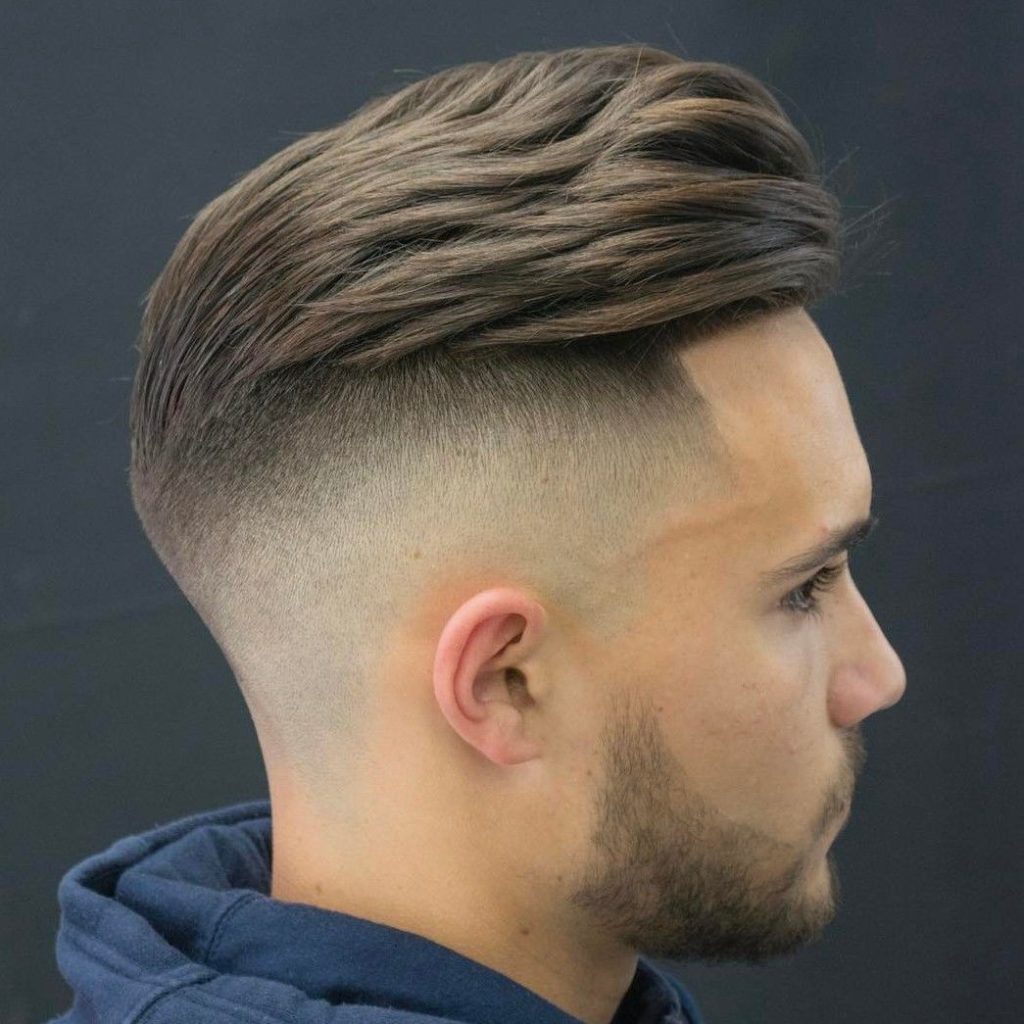 Curly Drop Fade
This type of fade is a perfect break away from the classic fade. It derives its name from the fact that it drops down behind the ear to form a curve. This drop fade uses taper fades to achieve the look.
This hairdo is perfect for black men. The hair length is perfect and the kinky tips are lovely. With or without beards, you will rock this look.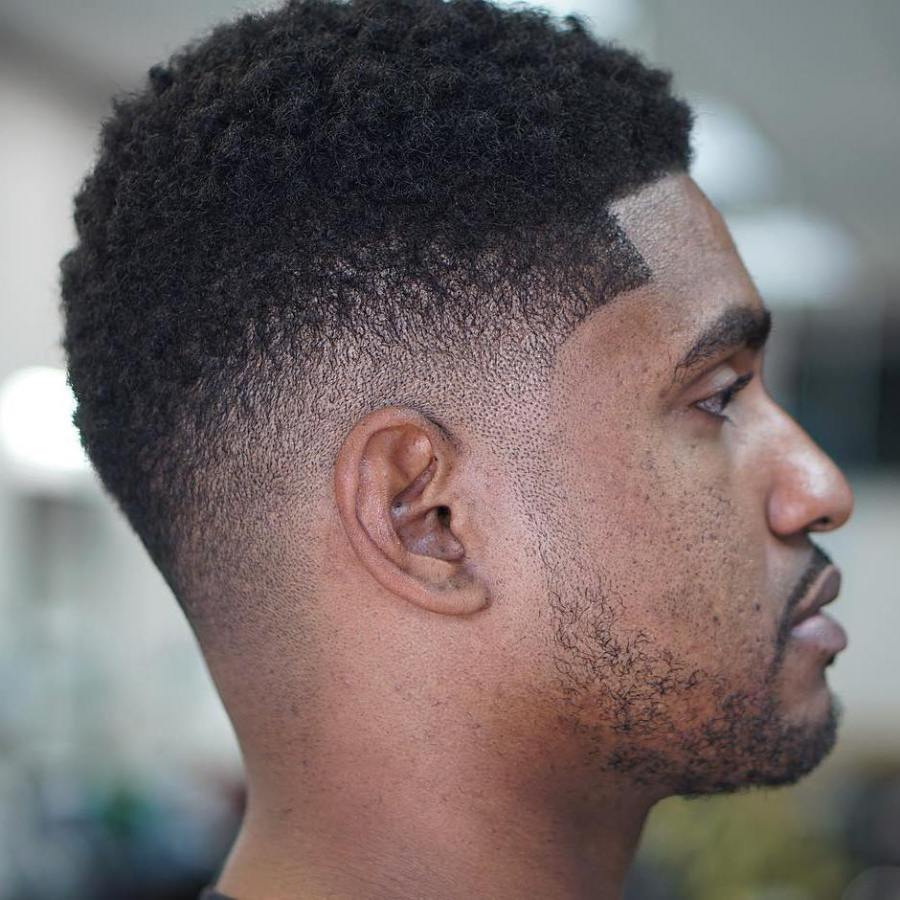 Buzz Fade
Buzz fades are gaining popularity as time goes by. Men are no longer drawn to the buzz haircuts but their preference leans more on the trendier version.
This fade cut features high fades or sometimes medium fades. The hair at the top of the head is cut very short. It's a sharp, neat, and clean look. It is the perfect official haircut. It is subtle and works best without any beards.
Box Fade
This look is perfect for black men. The hair texture makes it beautiful and helps the hair to stay in place. It is also very dense and thing. The afro kinky top is attractive and trendy.
The look features perfect rectangular-shaped hair. This is paired up with either high fades, low fades, or medium fades. This look is rough and masculine. The lineup haircut makes it sharp.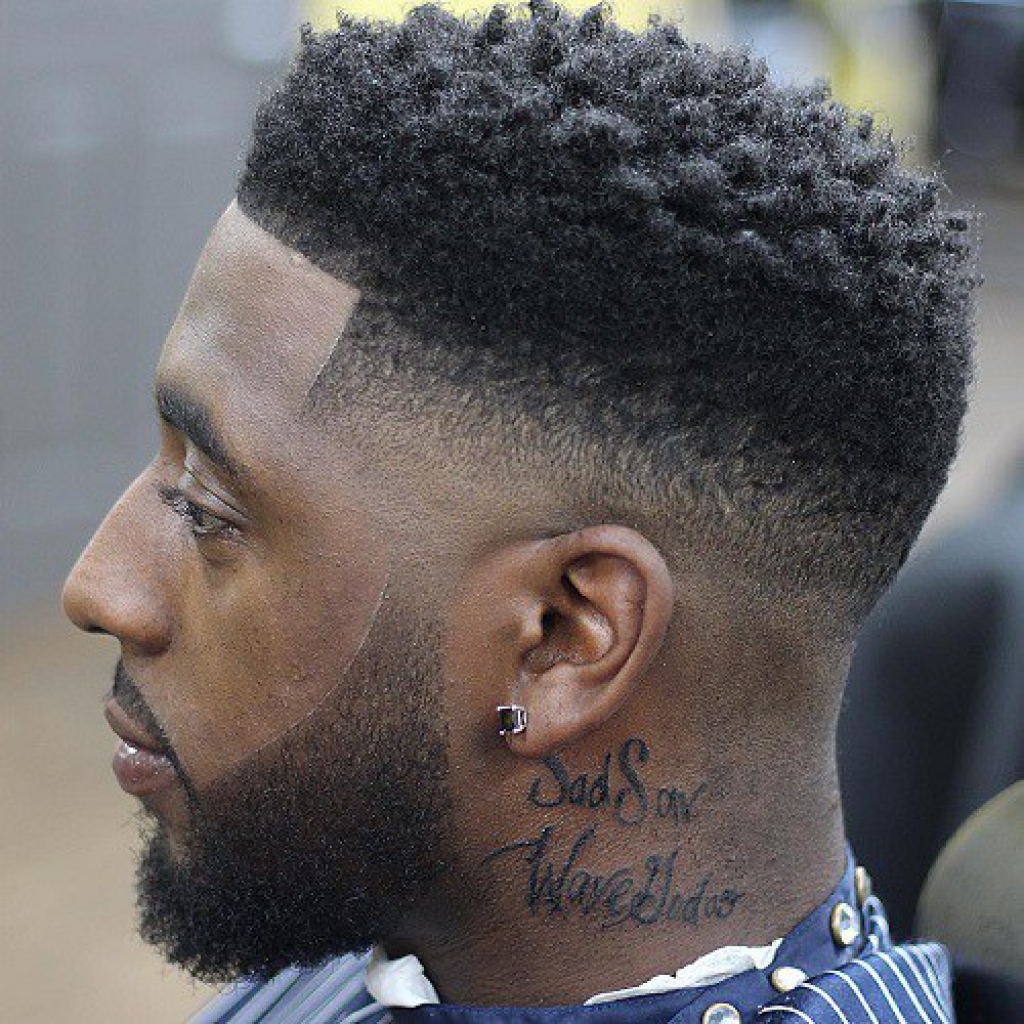 Side Part Fade
This hairstyle is a perfect pompadour with a distinct side part and medium fade. It is attractive, trendy, and very attractive. It has a great personality and character to it. The haircut will flow perfectly with full beards or circle beards.
It can also go well with a smooth and clear face. The hairdo is simple to maintain. All you need is a perfect texture, perfect length, and appropriate hair products. Here are 15 more Men's Side Part Hairstyles.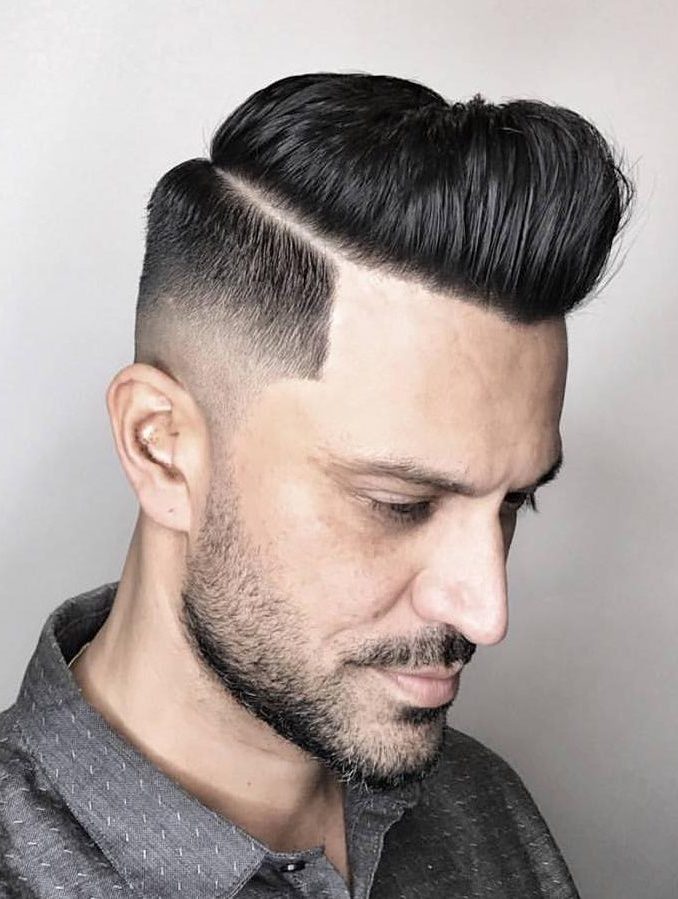 Fade with Curved Line
For this look, you can go with any type of fade but a high fade will bring it out excellently. The hair at the top of the head should also be short. Even so, to create a varied look, you can vary the hair length at the top of the head.
The hard curved line haircut is what makes the haircut look attractive, stylish, and trendy. It is the element that gives the haircut an edge. This hairdo is neat and elegant; it is perfect for any function.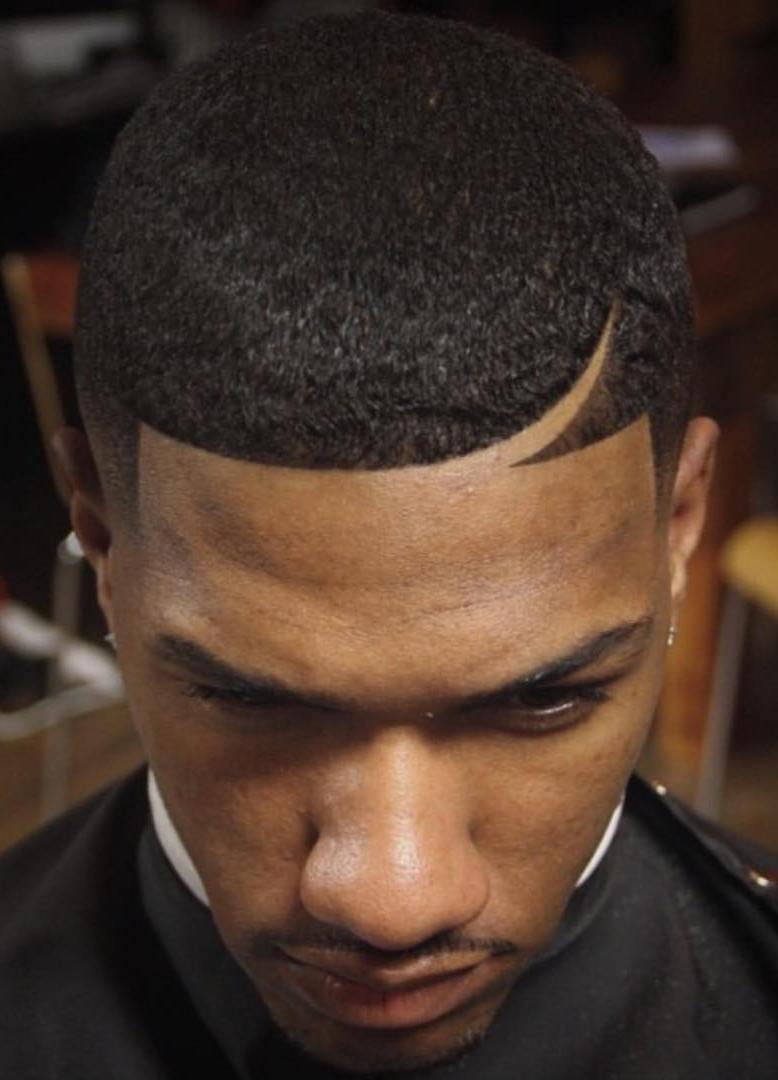 Fade with Designs
This haircut is unique, stylish, and has a great personality. It is a bold look that attracts attention and makes one stand out. It works for men of all races as well. It features a drop fade haircut with short hair.
To create a varied look, you can have different hair lengths. What makes the haircut stand out is the hard part haircut design on the side. It makes the hairstyle fancy.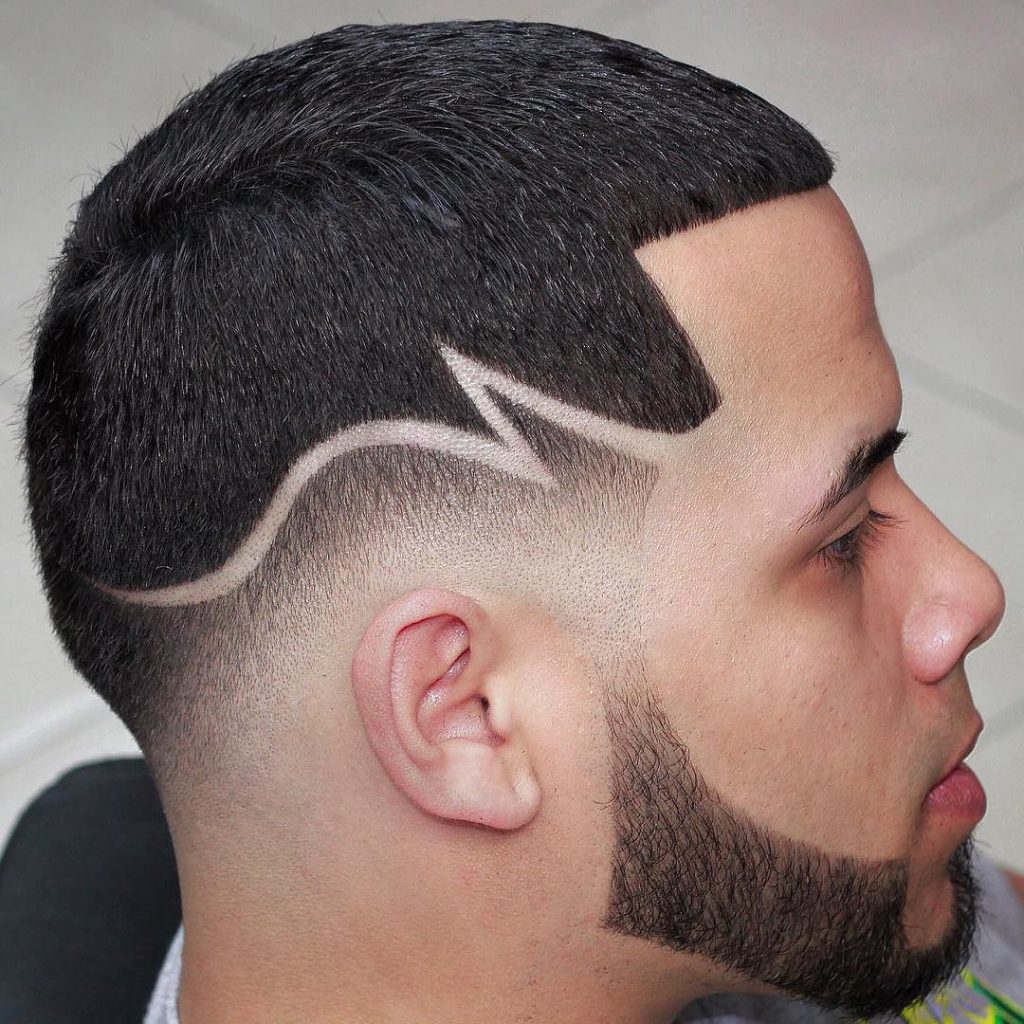 Comb Over with Bald Fade
Comb over hairstyles have been around for a very long time and it keeps getting better. This comb-over hairstyle features a bald fade which gives great contrast and makes the hairstyle conspicuous.
The hair length at the top of the head is perfect and with the right products, you will get the perfect pompadour. The beards accentuate the look.
Classical Fade
This style is trendy, edgy, and bold. It features mid classic fades and a hard part haircut that accentuates the look. The hair at the top of the head is relatively long but decreases in length towards the back.
Use your hairspray or pomade on the hair and comb over the hair to get this perfect look. It is a classy and attractive look that goes a long way when paired up with beards.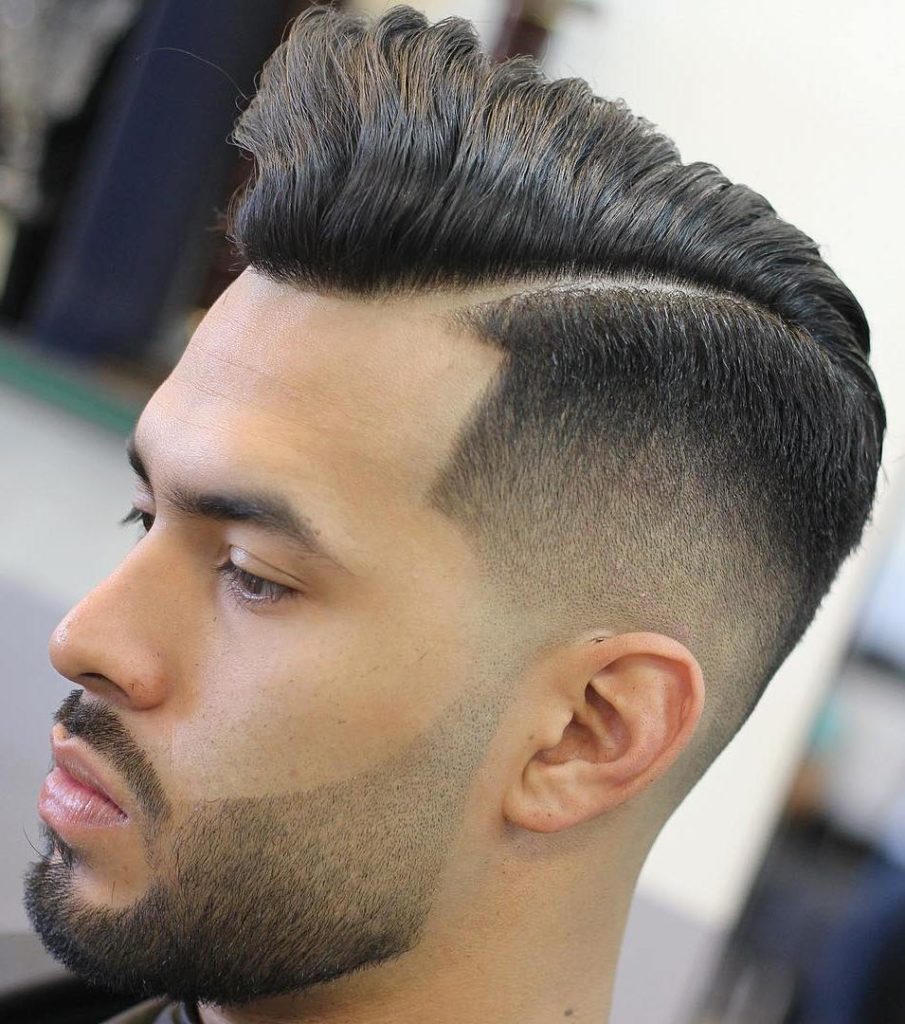 Wavy Hair with Taper Fade
This haircut requires hair with amazing texture so as to get the perfect hair waves. These waves add a lot of personality to the haircut.
To achieve this look, your hair length must be long or medium. The temples and the back of the head have been excellently tapered to give it a perfect finish. It is a perfect casual look. Check 20 more trendy men's taper fade hairstyles to try in 2023.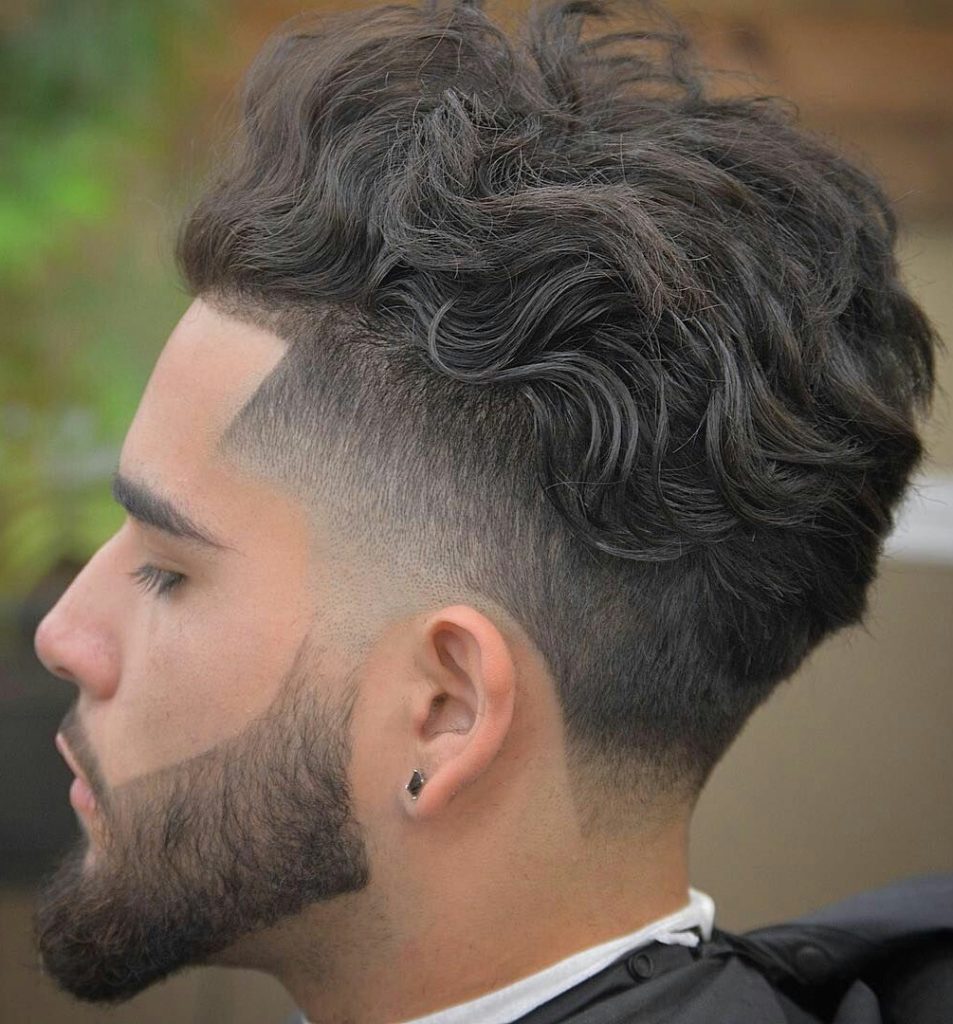 Scissors Fade
Scissor fade is a unique type of fade. As the name suggests, it is a type of fade that is done using scissors and not clippers. This means that it requires your barber to have sharp skills so as not to mess up the look.
This type of fade works well when you want the length of the hair on the sides and back to be relatively long. Even so, it will still have the tapered feel. It is a fade that works best with long hairs.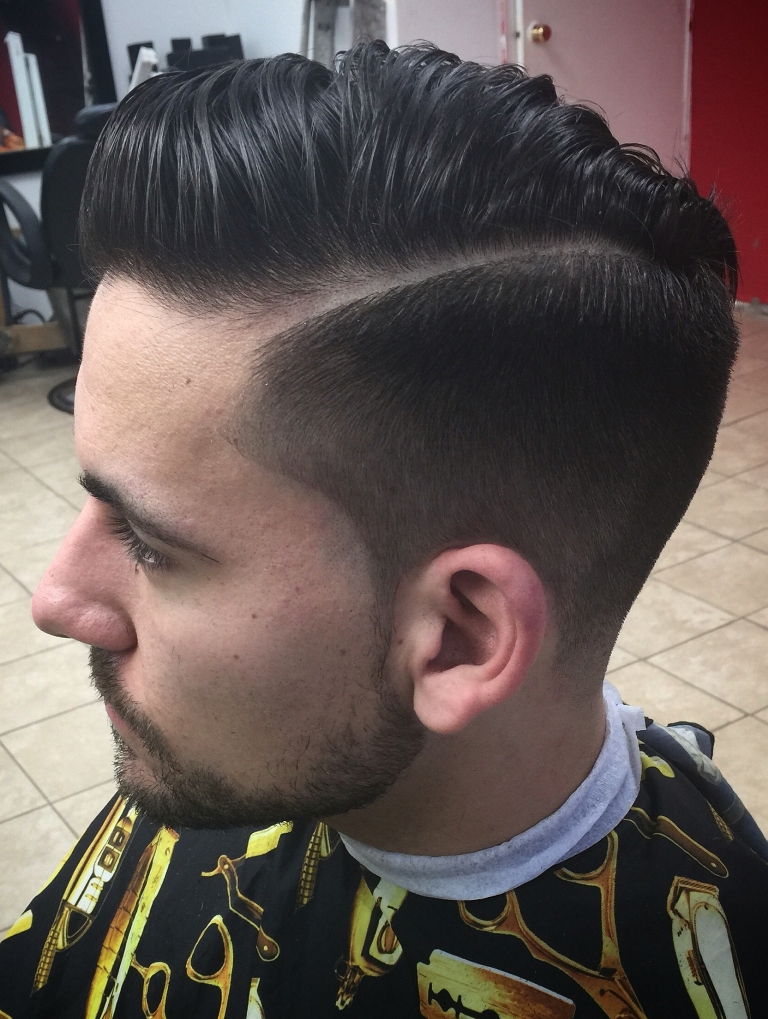 Line Up Fade
This hairstyle is elegant, simple, subtle, and stylish. It goes perfectly with a smooth and beardless face. The texture of the hair is perfect and holds the natural curls perfectly in place.
The haircut features low fades and the lineup haircut gives you a clean and sharp finish. It is a magnificent look for a gentleman. It will work perfectly for official duties.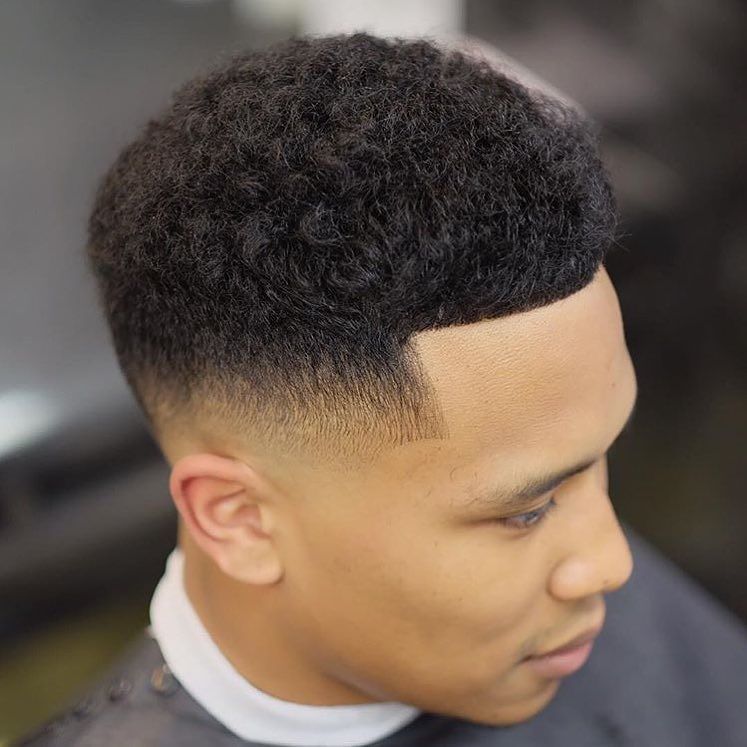 Fade with Short Curls
This hairstyle features a perfect drop fade that forms a curve. The hair is curly and the length is perfect. To get the perfect look, do not trim the hair too short.
This look will work for all functions. It is smart, simple, and easy to maintain. The hair should be tapered towards the back to create a contrast in length.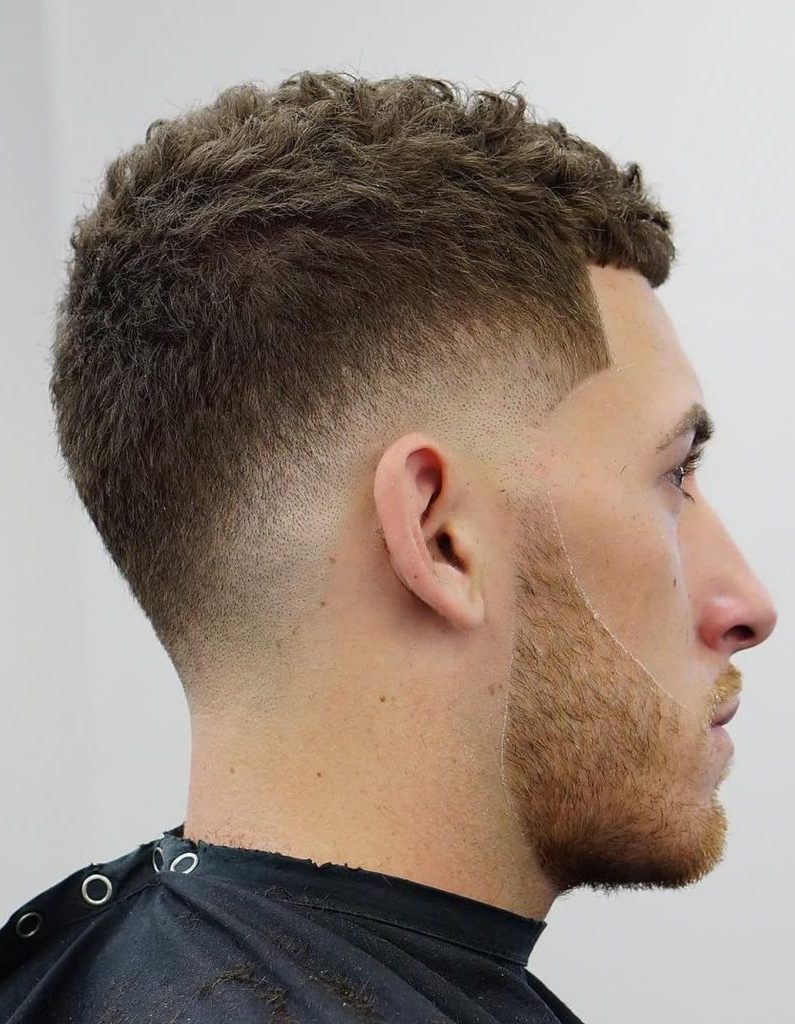 Faded Undercut with Long Hair
If you are a fan of long hair, this is a perfect style. It is a style that is elegant, attractive, and neat. When you go for this hairdo, you can either choose high, mid, or low fades.
The rest of the hair at the top of the head is left to be as long as you want it. You can tie a not at the back or on top of the head. This look is sharp and gives you a samurai look.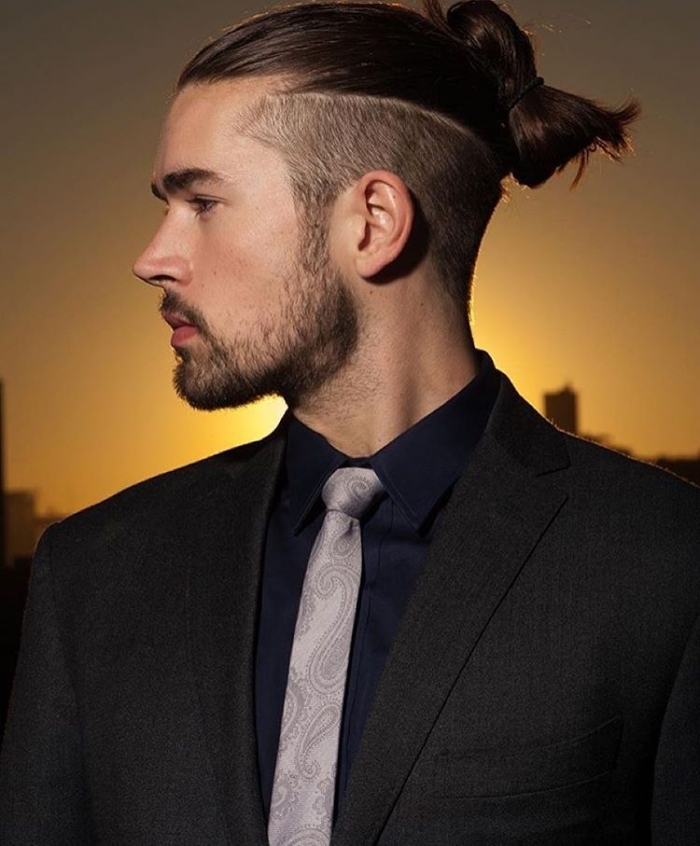 Fade with Receding Hairline
Many people do not know the kind of haircut that will work best for them when they have receding hairlines. But this haircut gives them an idea of what works. Also, you can choose any kind of fade whether high, mid, or low.
This specific haircut features low fade. Apply a pomade or spray your hair and create a quiff. It is perfect when you have a widow's peak.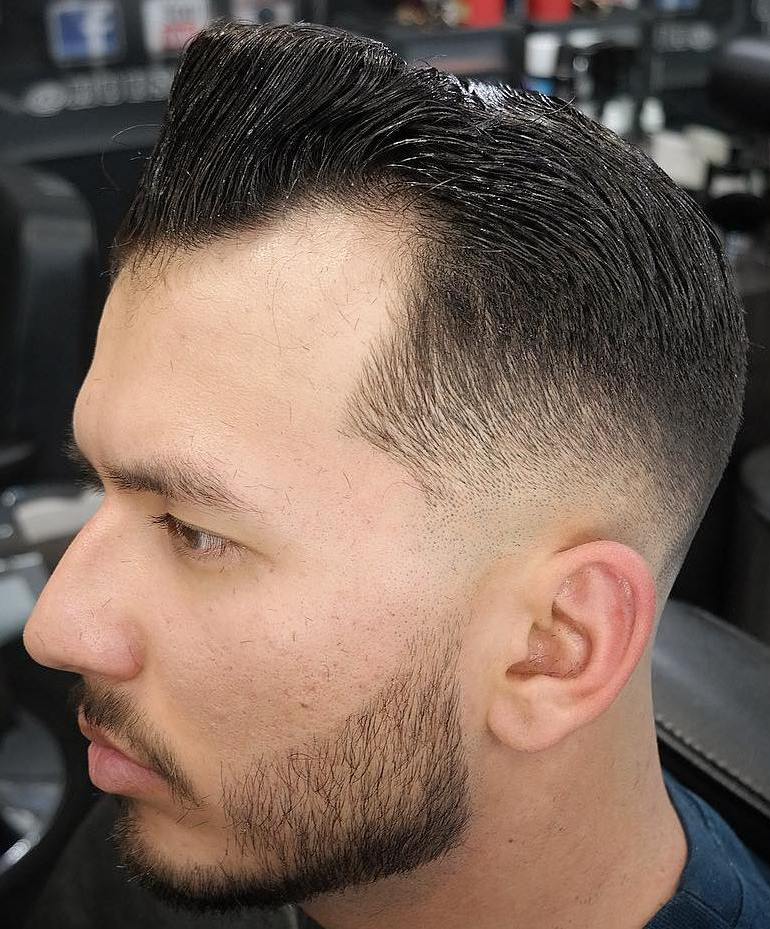 Fade with Thick Long Top
This hairdo is very bold and no one will be able to resist looking. The thickness gives the hair a perfect density and volume. The haircut features taper fade and a great distinct side part.
The hair at the top of the head is long and it reduces in length towards the back. Use the right products to give it that perfect glow and comb it over. The light curls make it outstanding.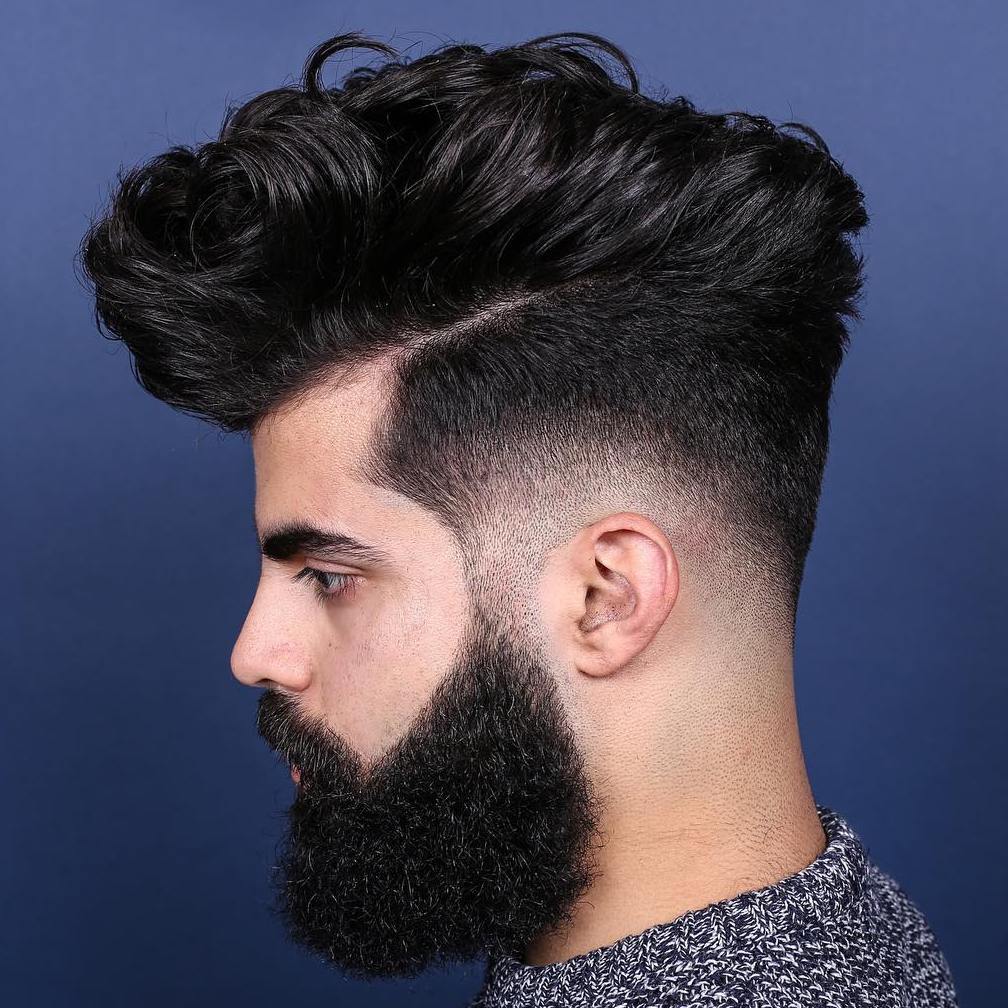 Curly Hair with Highlights
This haircut features hair that is not so thick and is curly. The highlights on the edges pair beautifully with the thinned-out curls. The medium fade is excellent. Maintaining this look is easy.
With the right hair product applied, comb out the hair. The length of the hair should be medium and not too long. Men with window's peak can rock this style. It is rough and edgy.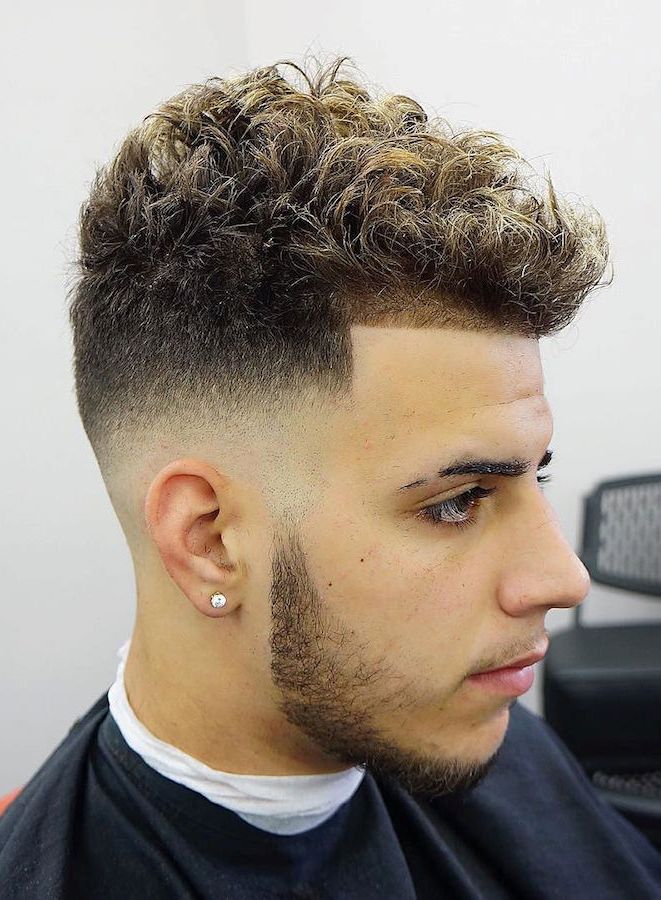 Fade with Messy Hair
This hairstyle features an amazing scissor fade that is wonderfully executed. The hair at the top of the head is relatively long at the front but reduces in length towards the back.
The hair is combed like a quiff with the difference being its messy state. It is rough, attractive, and depicts a carefree attitude. It is a perfect casual haircut.
Fade with Beard
This is a perfect quiff pompadour hairstyle that features high fade. It is a masculine look and the beards help a lot in displaying masculinity. It is a style that will work best with long and full beards.
The beards give your look a bold personality. Use the right product to hold the quiff in place. Comb the hair forwards then brush the front part backward.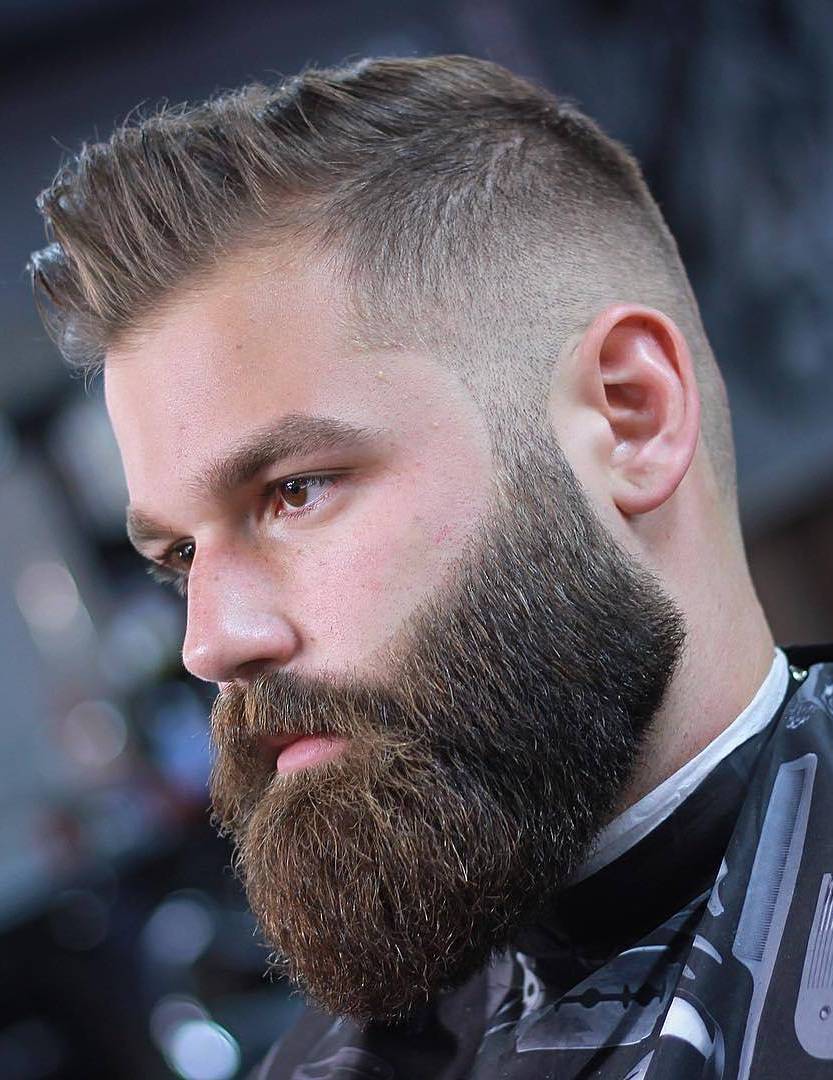 Fade with Widows Peak
The scissor fade has also been wonderfully executed in this haircut as well. The combination of the quiff pompadour and scissor fade is a perfect idea. It gives the look a classic appeal.
Part the hair with a brush and ensure that the hair at the top of the head is of perfect length. It should not be too long or it will create a big quiff pompadour. The widow's peak helps in defining the shape of the head and face. The full beards add a touch of masculinity.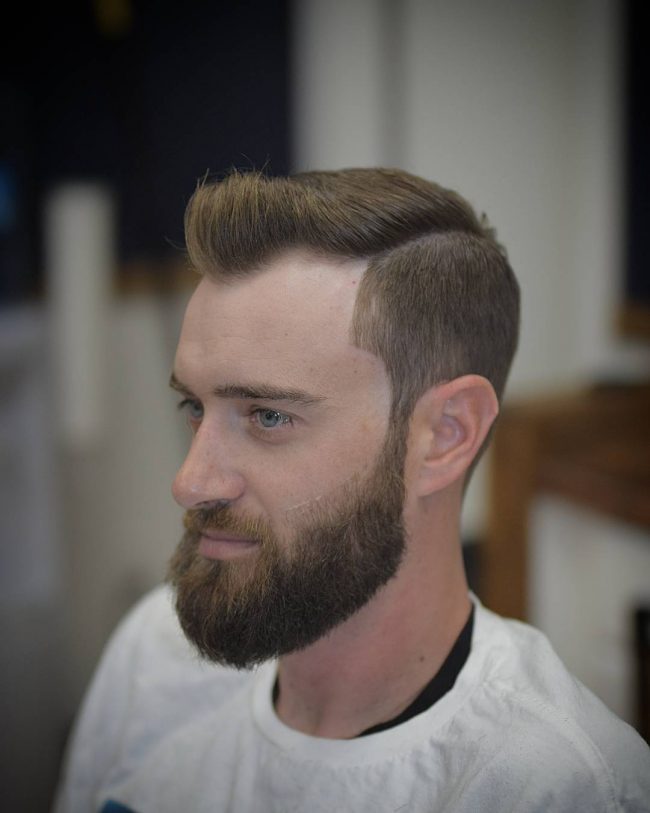 Fade with Quiff
This hairdo is edgy and a little messy. It has a café-free attitude that is attractive. The quiff has a perfect size sits excellently over your forehead. It shows that it is another perfect haircut that will suit men with widow's peak.
The mid fade is excellent. Maintaining this hairdo is easy and only requires the right hair products. Use a comb to comb out the hair and create the quiff.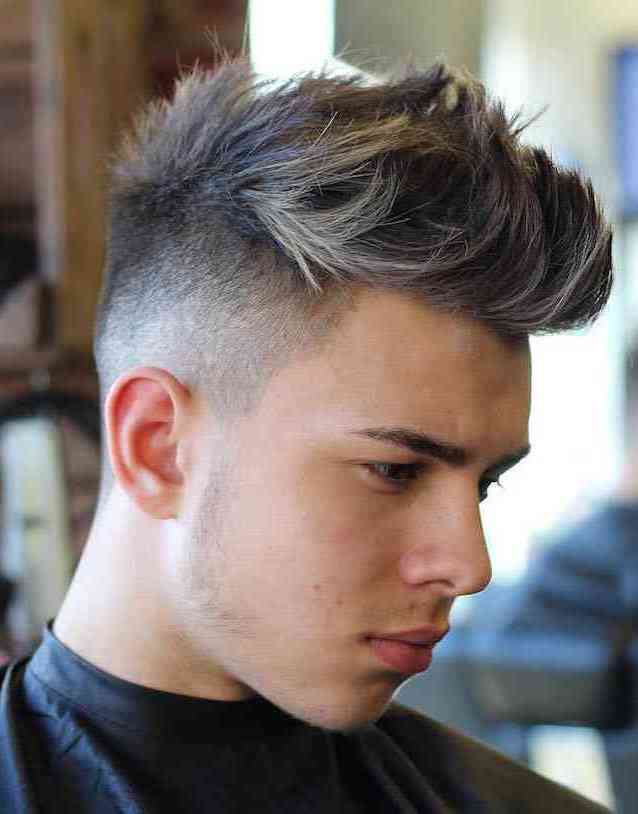 Fade with High Pompadour
This is a neat, elegant, and clean look. It is a simple haircut and it features a high pompadour and to get the perfect pomp, your hair length has to be great. It also features high fades. The high fade makes the hairstyle outstanding and conspicuous as well as the pomp.
Get your pomade, cream, or hairspray ready because you will need them to hold the pomp in place. The hair product will also give it an amazing shine.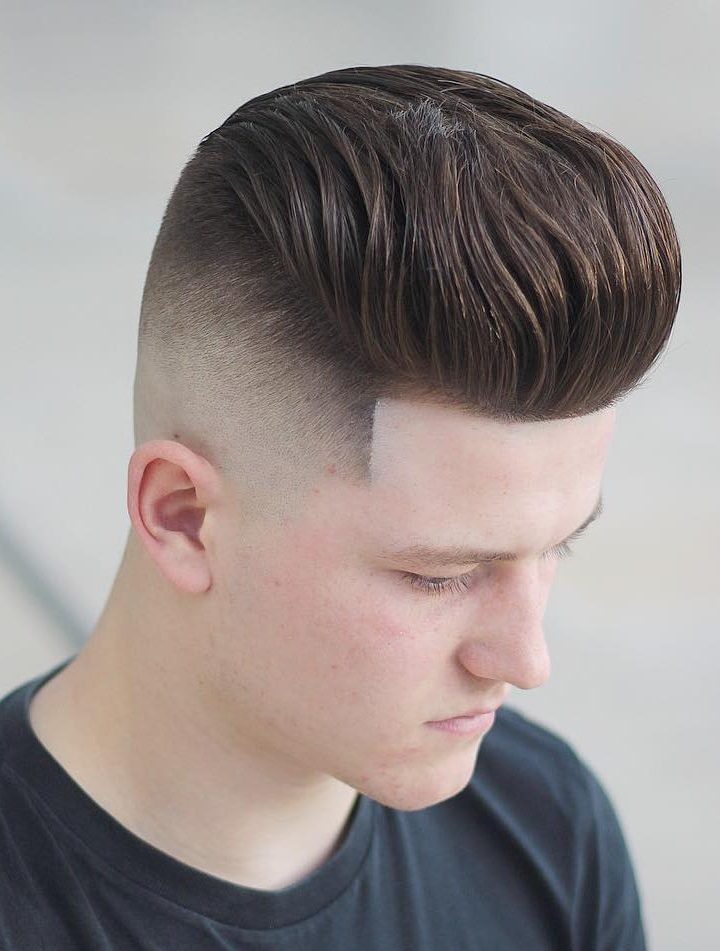 Fade with Hipster
This hipster hairdo is rough, edgy, unique, and stylish. It is a hairstyle that has a lot of personality. To get the perfect look, you will need thick and dense hair.
The hard part haircut line gives a distinct parting. The high fade makes the haircut more noticeable. Trim the hair to a perfect length at the top of the head to get this perfect look. The beards accentuate the look.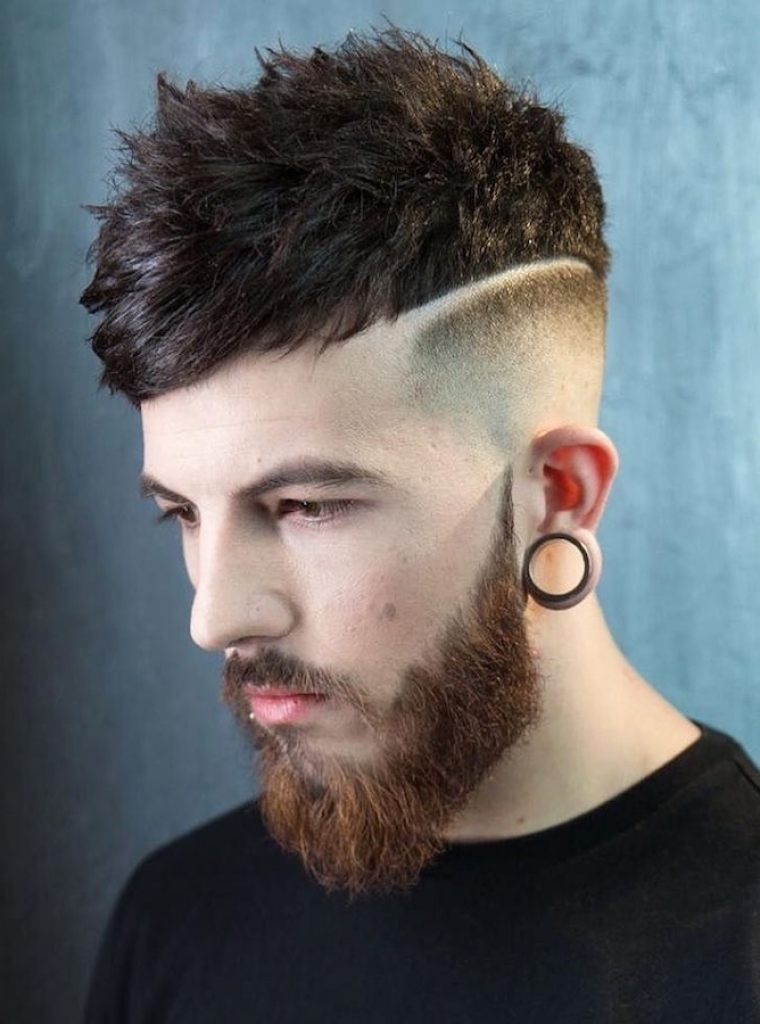 Mid Fade with Slick Back Hairstyle
This is a perfect look for a masculine macho man. Slicking back hair may seem like an ancient practice but when it is as attractive as this, no one will mind. This hairstyle features a high fade and a slicked-backed comb-over.
The hair length is excellent as it should not be too long or too short so that you can get the perfect pomp. The full beards take the look to a new level. It is a perfect look for people with rectangular and long faces with widow's peak.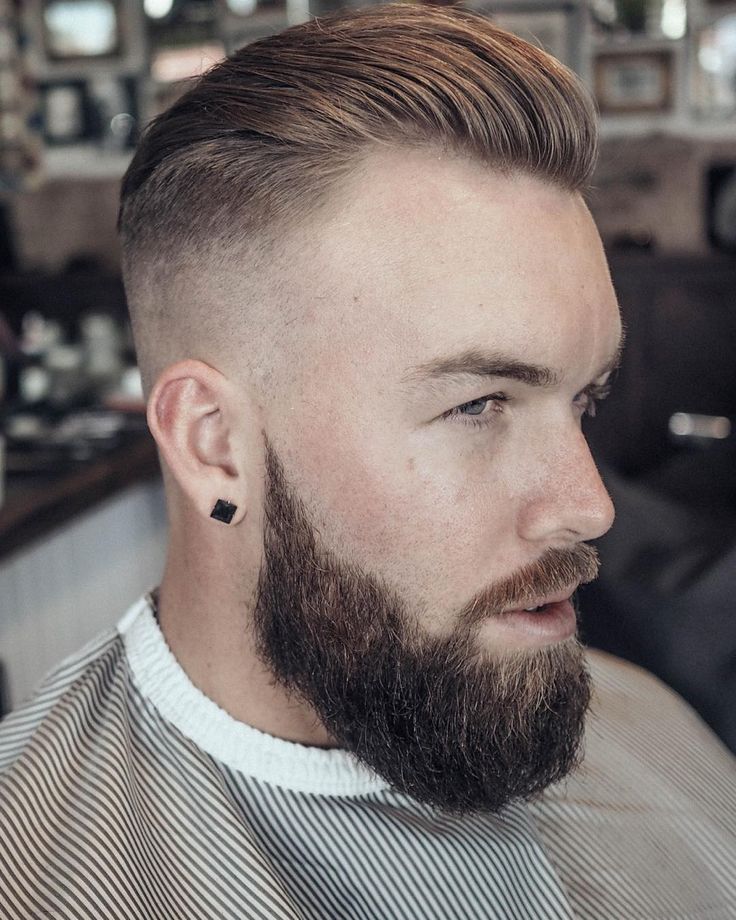 Mid Fade with Mohawk
Mohawks are very trendy and especially with young men and young boys. This haircut is stylish, outstanding, and unignorable. It commands people's attention anywhere and everywhere with its bold personality.
The texture is brilliant and has light curls. The hair at the front sits on the forehead perfectly. The hard part haircut line adds to the beauty of the look. The length is amazing and you will need the right products to hold the hair in place.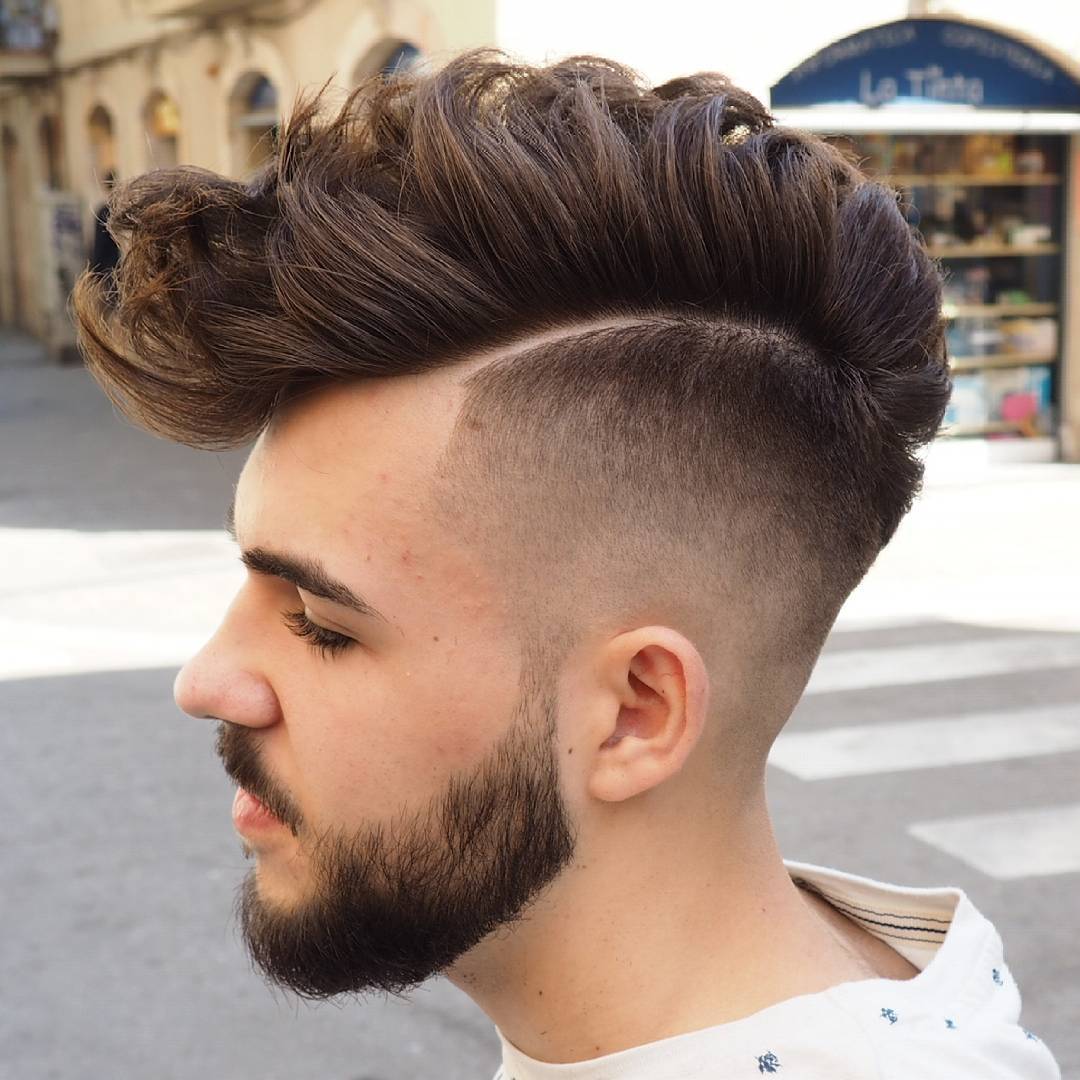 Short Fade with Faux Hawk
Faux hawk is yet another trend that many other people prefer instead of Mohawks. This haircut is amazing and you can choose the fade that you want whether high, low, or medium to pair up with the faux hawk.
It is edgy and trendy. It is perfect for casual events and you can rest be assured that you will stand out.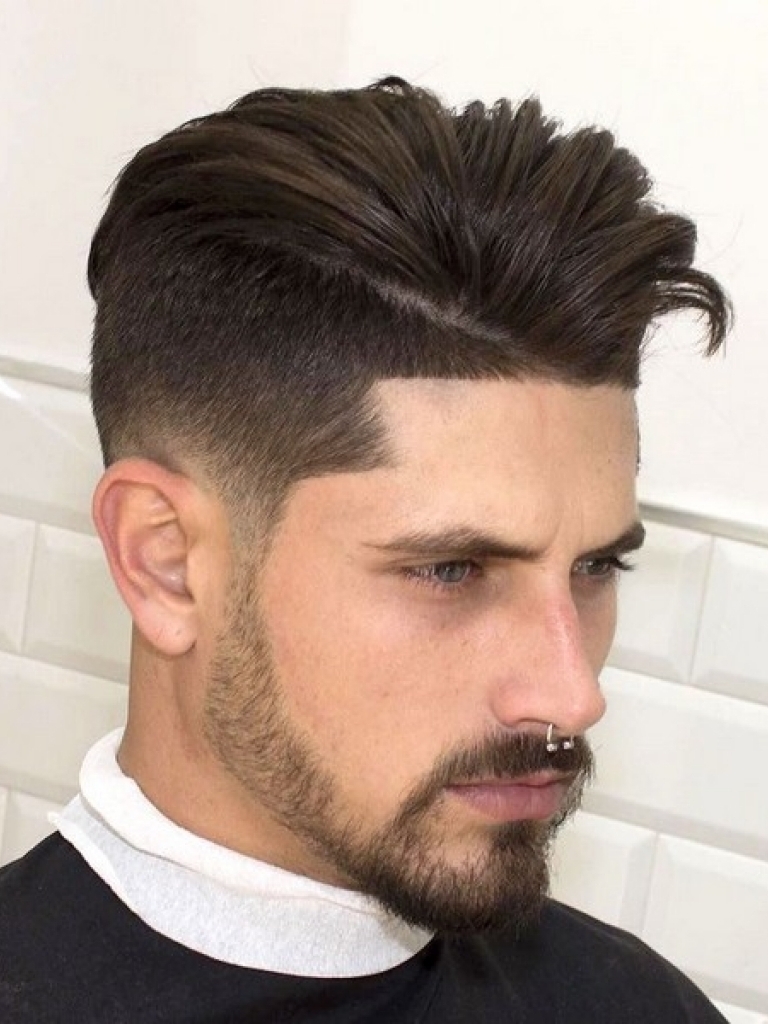 High Fade with Line
This fade haircut is really easy to achieve and great to carry off. The good thing about this fade haircut is that you can carry it off even if you are not too experimental with your hairstyles.
Keep both sides of your hair fading and the center portion of the medium length. Make sure that the parting to your hair is done having the right amount of definition. You have the perfect edgy hairstyle on your hand.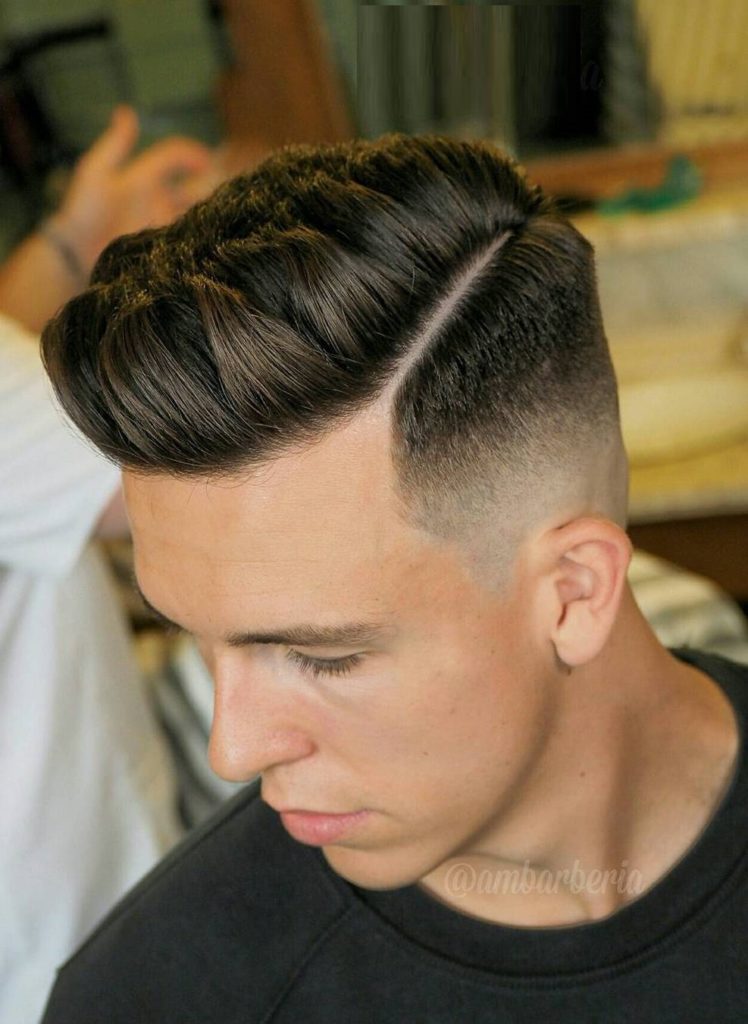 Short Curly Fade
There is no reason to think that fade hairstyles only work on straight hair. They look equally stylish with curly hair. There is no need to create a parting for this one.
Just do the fade haircut on both of the sides of your hair. The center part must be kept of medium length to bring out the style in a better manner. You can always ask your stylist to make curls on your hair if you do not have naturally curly hair.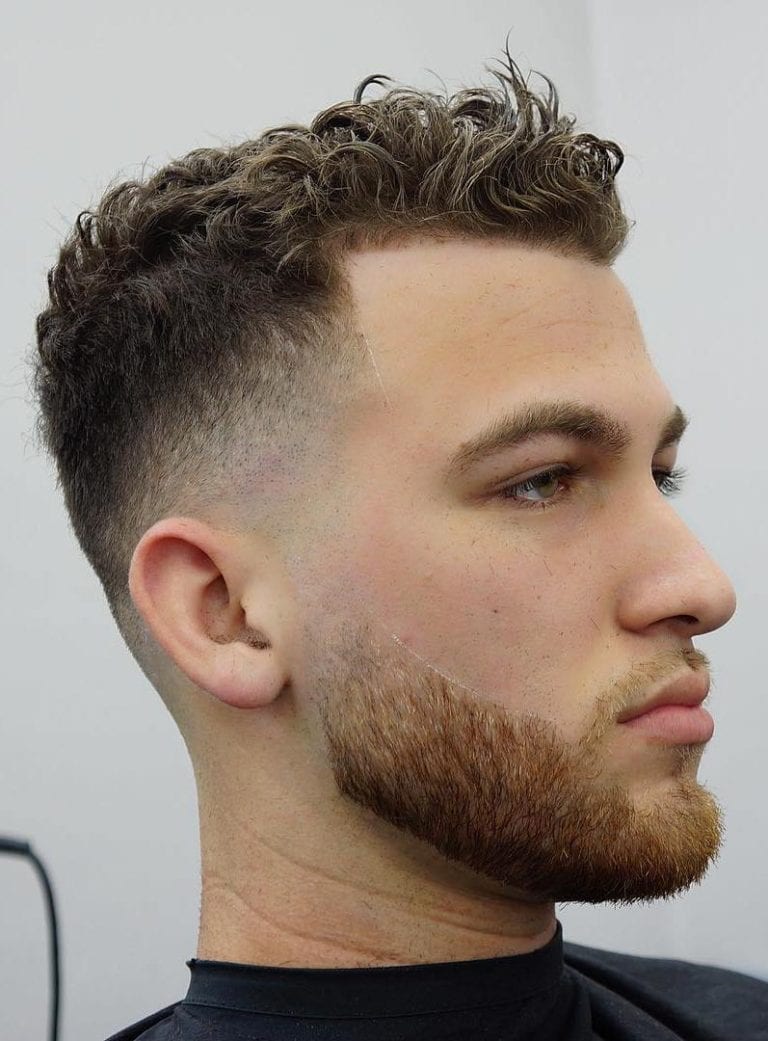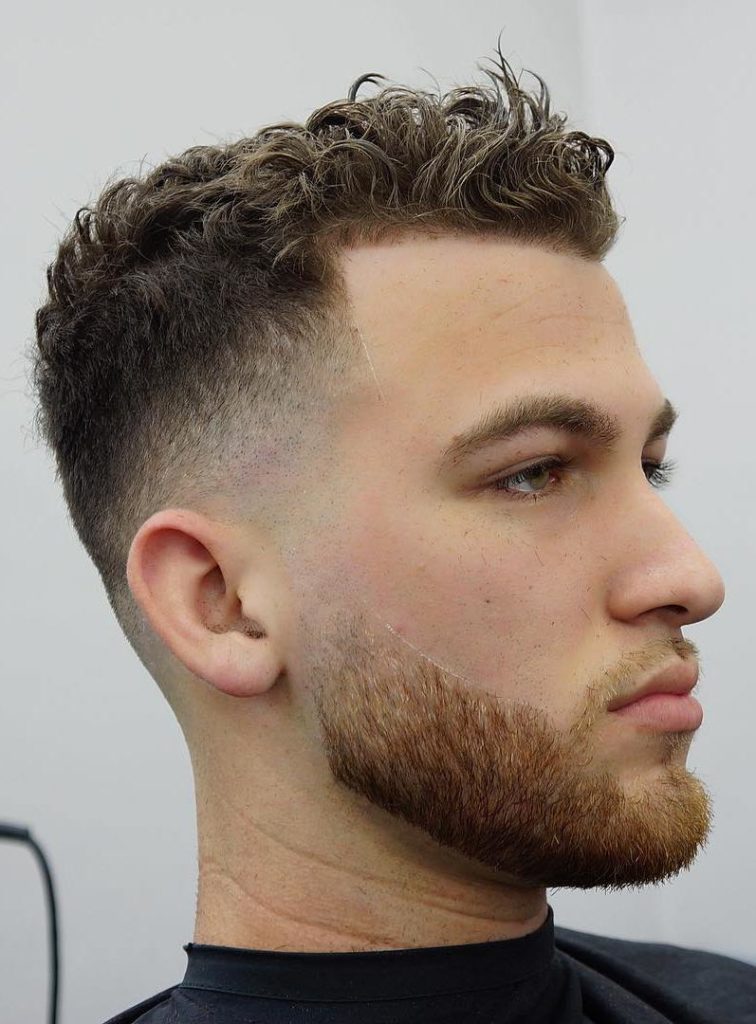 Razor Faded Pompadour
Make the faded haircut on both sides and the back of your hair. The rest of your hair needs to be kept at a long length to make the really popular pompadour hairstyle.
In the pompadour haircut, the hair is rolled back to complete the look. This is one of the coolest hairstyles that you can try. The best part is that it looks great on any kind of face shape.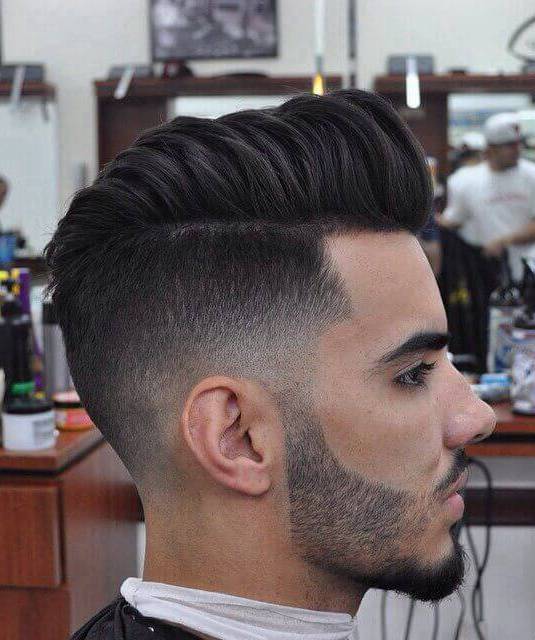 Blended Fade Haircut
If you are not daring to go too far into the faded haircut trend, then this style is the one for you to try. This one is for beginners in the world of haircut experimentation.
The faded part is blended well with the rest of the hair, and it is not kept too starkly noticeable. The hair in the middle of the head is kept at medium length. Spike up the hair in front to complete this wow look.
High Low Fade Pompadour
If you are going to go all outdaring with the haircut, then this is your ideal match. This one will make sure that all heads turn towards you in admiration of your sense of style.
There are two clear partings made on each side of the head for this cut. The hair in the exact center of your head is kept in a pompadour style to complete the look. It looks great on dark hair.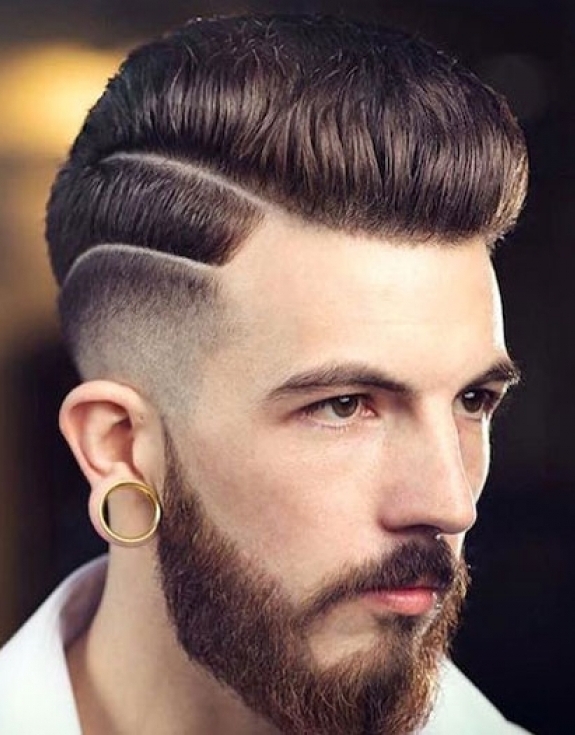 Slick Back Fade with Undercut
Fade haircut also looks great with the very common and popular hairstyle of slicking the hair back. Keep the hair at the center long enough to make sure that it looks stylish when you try the slick back look with ample hair gels.
Both the sides and the back of the hair must sport the very trendy faded haircut. This look brings edgy and cool in one seamless combination.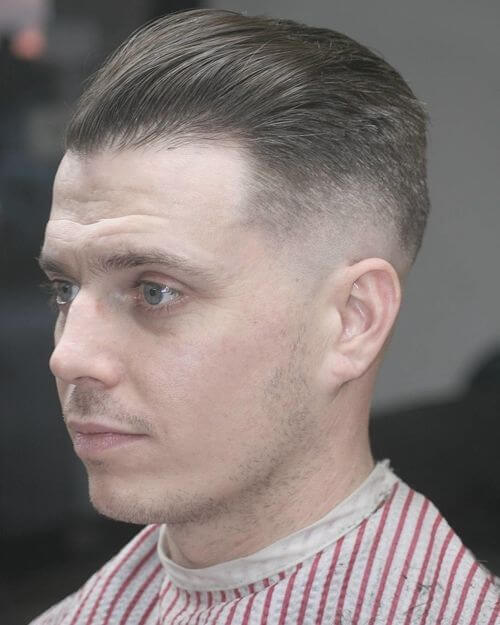 Mid Fade Short Hair
The fade hairstyle will also work if you are someone who is not too fond of keeping long hair. You can add the extra oomph to this look by having the rightly trimmed beard to go with it.
Sweep the hair in the center of your head frontward to complete this fashionable look. It looks amazing with tee shirts and casual shirts. Try this one for your next party to make sure all eyes are on you.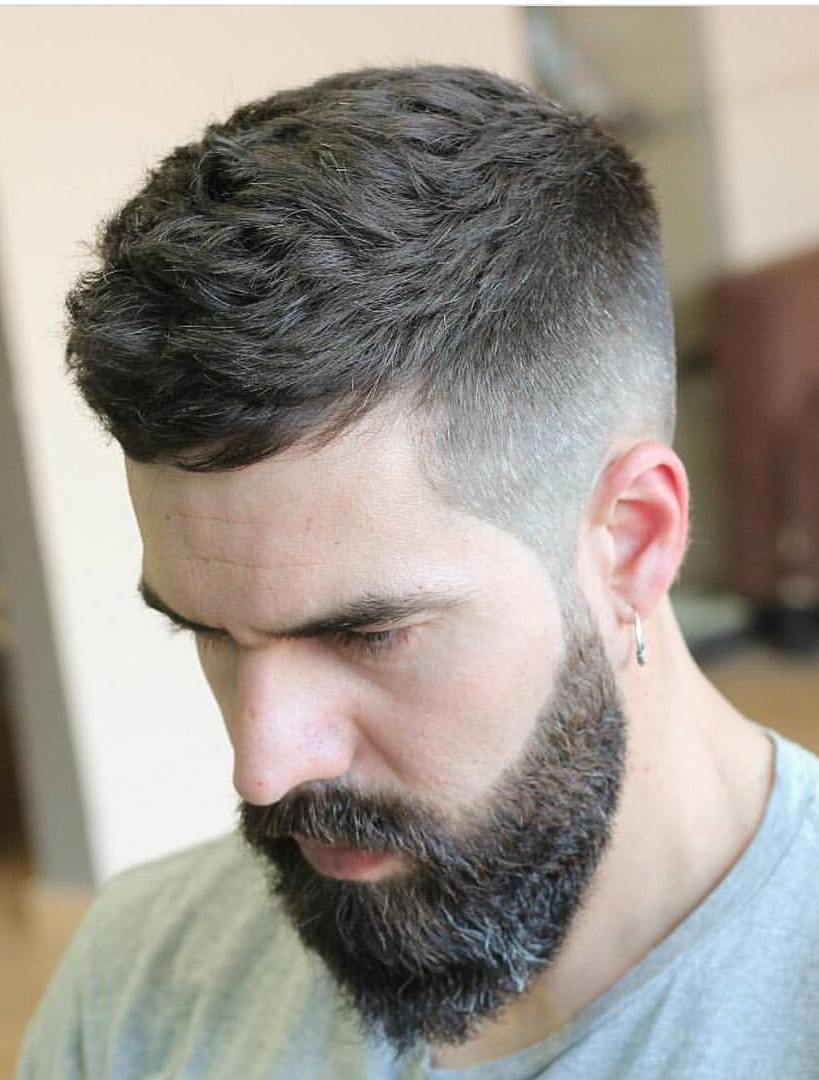 Messy Low Fade Haircut
This is one hairstyle that looks cool without trying too hard. If you are planning to rock your look for the next party, you must give this look a try.
Just sweep off the long hair at the center of your head frontwards and leave the rest of the haircut to fade naturally into buzz cuts. Accessorize it right, and it can be the ideal look to try out to garner compliments from all quarters.
Skin Fade with Part
The thing about this hairstyle is that the fading haircut is done so intensely that at the ends of all the sides, your skin starts showing. This look is not as difficult to achieve as it looks.
All you need is ample amounts of hair styling products like hair gels and a really fine-toothed comb. Comb over all the hair to the right of the parting after keeping the parting to the left side of your hair.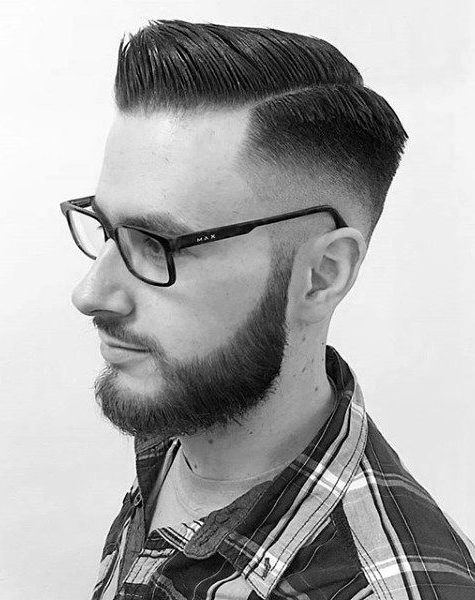 Bald Faded Side Part
If you are tired of playing it safe with your hairstyle, then now is the time to go all out with experiments. The fade haircut is the best way to start the daring experiments and it becomes even better when you add the always popular Mohawk style to it.
Make sure that the parting on both side is well defined enough to make both the fade haircut and the Mohawk stand out prominently.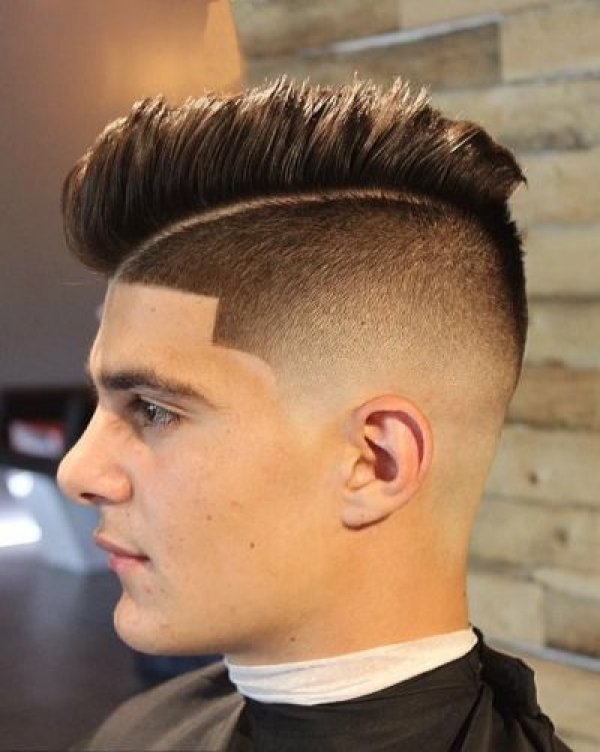 High Fade Medium Hairstyle
Just stepping foot in the world of hair makeovers? This style has tailor-made for you as a beginner. Here the fading is kept at a minimum and the long hair at the center of your head keeps the fading from being too visible and stark.
You can sweep your hair back and brush it well to get the look. It is great if you can add some volume to the hair in the center by making it puff up. That will bring more definition to this look and make it look even better than ever on you.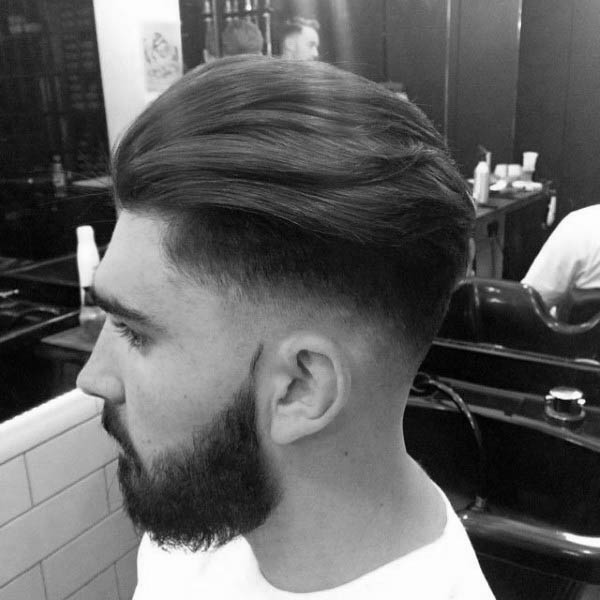 Faded Pompadour with Slick Back
When you mix up two of the coolest hair trends of fading and pompadour in one style, the results are nothing short of superb. This hairstyle is the biggest proof of the fact. Make sure you have a fancy beard to go with it for it to look really powerful and masculine.
The main requirement for doing the pompadour right is making sure that your hair in the center is long enough. There are no partings with this one so that makes this hairstyle even easier to achieve compared to the others.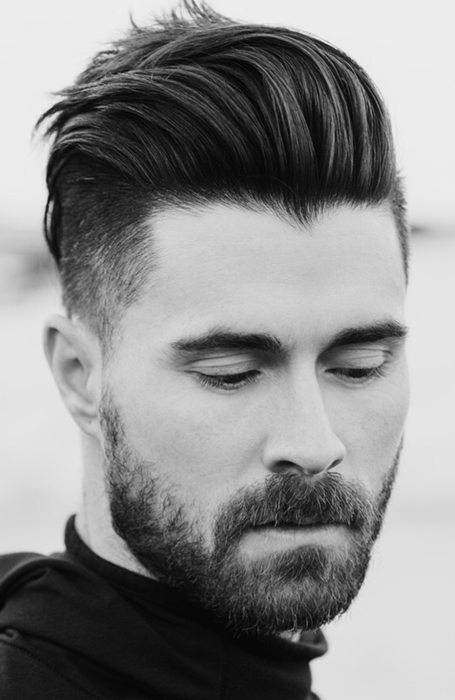 Taper Fade with Beard
Men with extremely short hair need not fret that they cannot get the fade hairstyle done on themselves. They can do it too and rock it just as well as men with long hair. The fading looks seamless and even better with this one as the hairstyle.
If you are someone who always wanted to have a low-maintenance but super stylish haircut, then this one would be the perfect choice for you. All you need in the morning or before going out to a party is a hairbrush to comb the hair well and sweep it frontwards.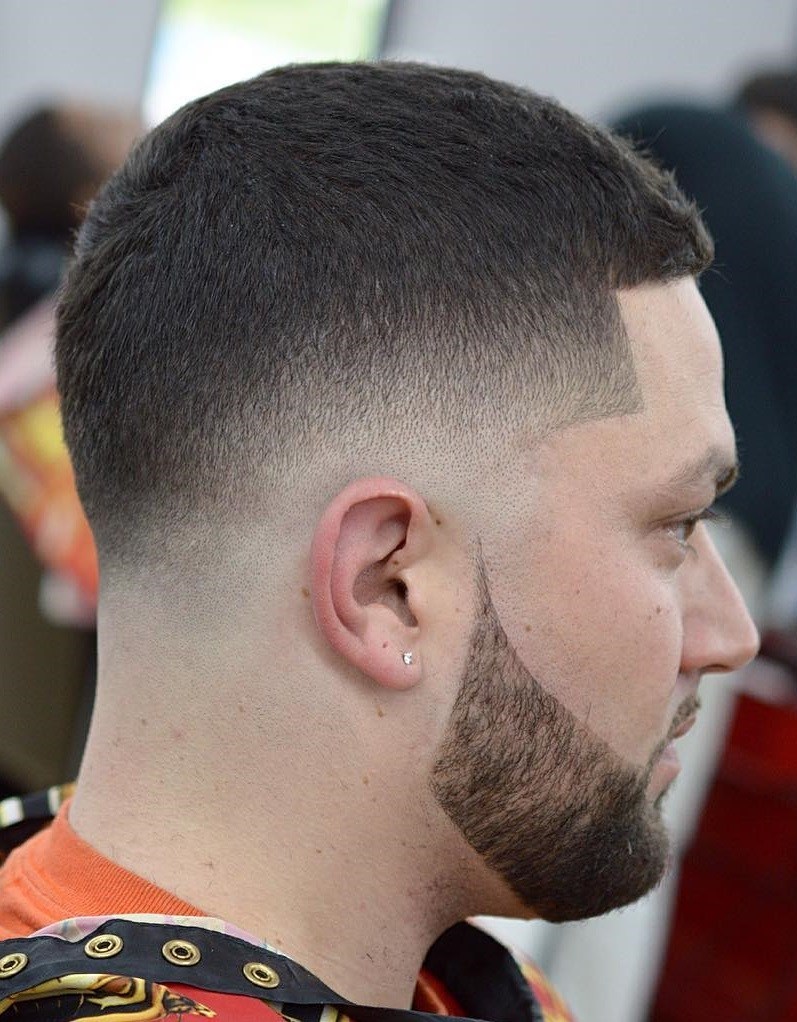 Tapered Fade Pompadour
The really interesting thing about this hairstyle is how it looks like it is tapering from the front to the back of your head. This is one of the favorite styles of men across the world. If you have a thick mass of hair, then this is the style to try out for you.
The hair looks like a gradient falling from the top of your head to both the sides and the back of your head. The best part is that you do not need to have a particular facial shape to rock this look.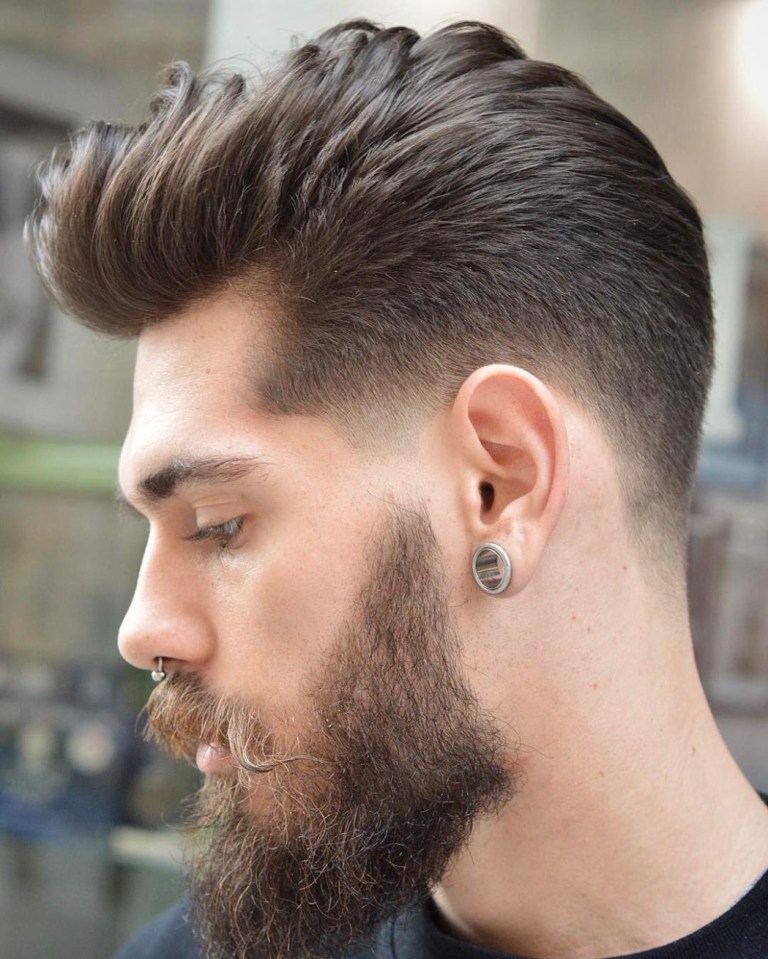 Fauxhawk with Low Fade
Not really fond of the typical Mohawk? Try the latest entry in the market of hair makeovers called the Faux hawk. The hair in the Centre is swept upwards like a Mohawk but it is not kept as defined as a Mohawk is.
In fact, the hair is messed up to create a casual and bohemian vibe to the look. Try this one with your jackets and overcoats and you are guaranteed to fall in love with this one.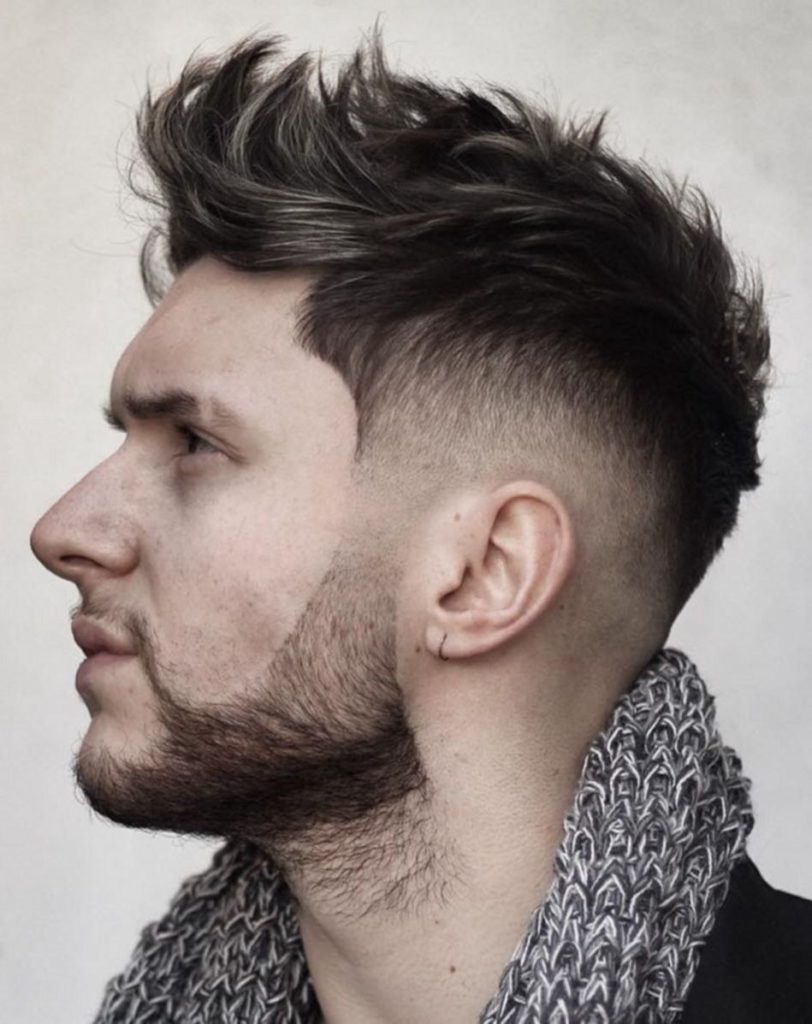 Mid Fade with Waves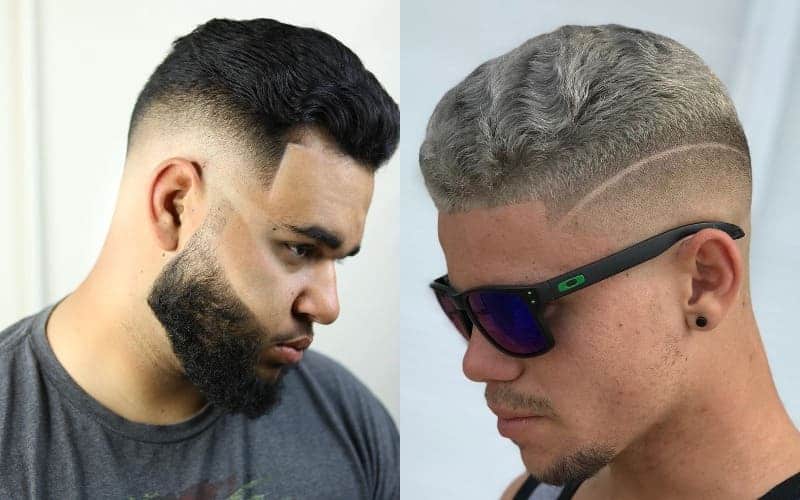 Blonde Fade with Part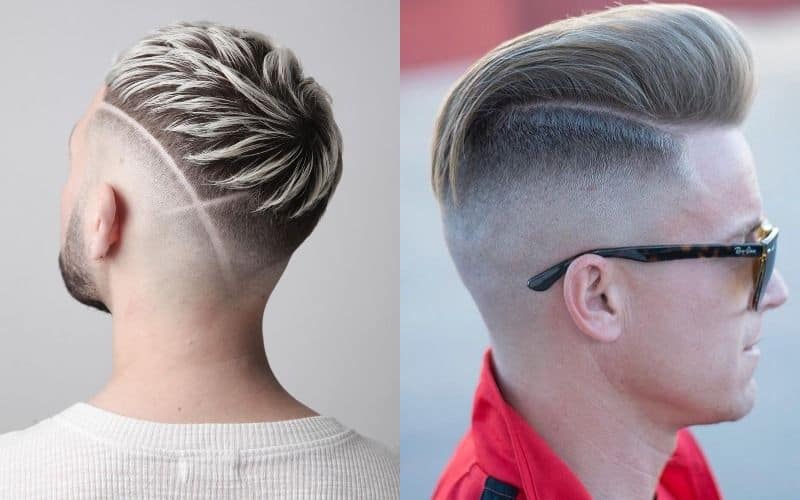 Burst Fade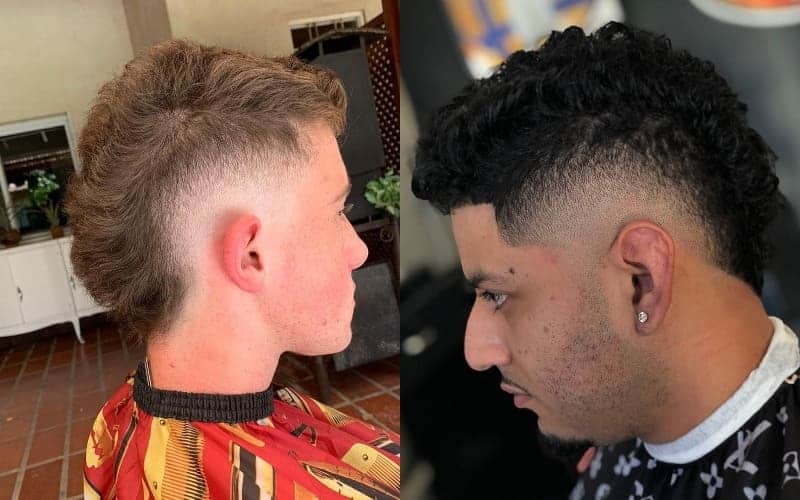 Southside Fade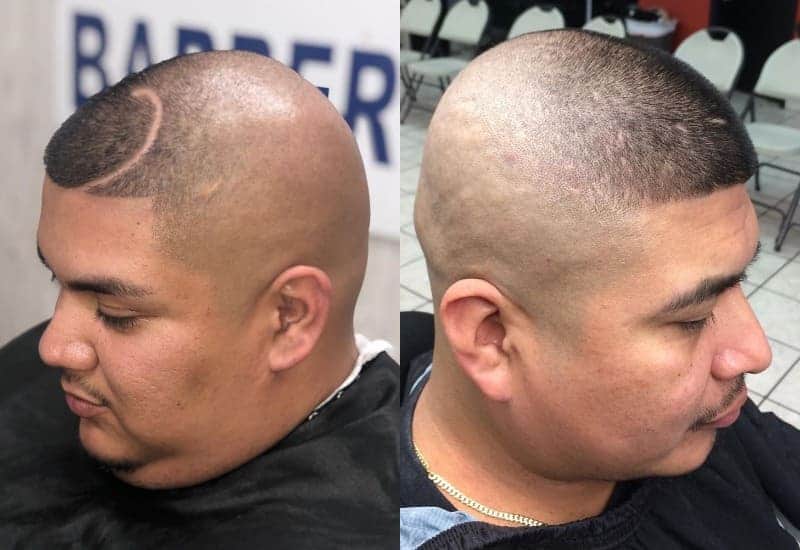 High and Tight Fade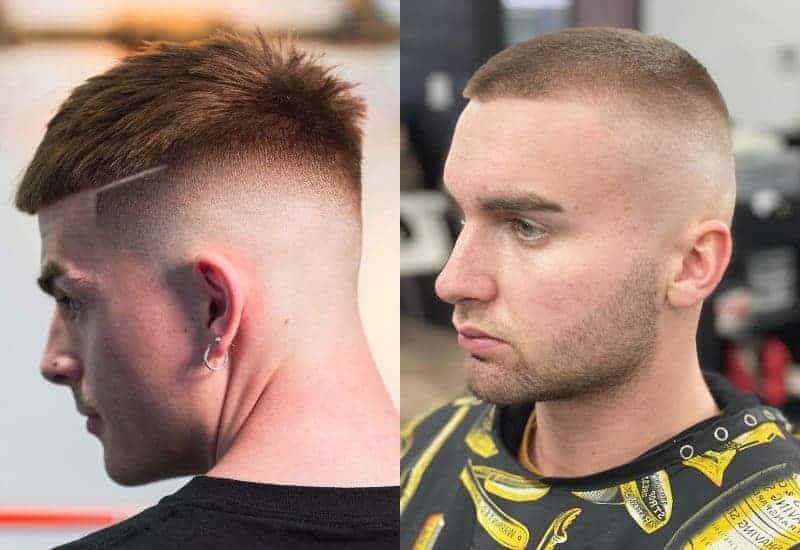 Military Fade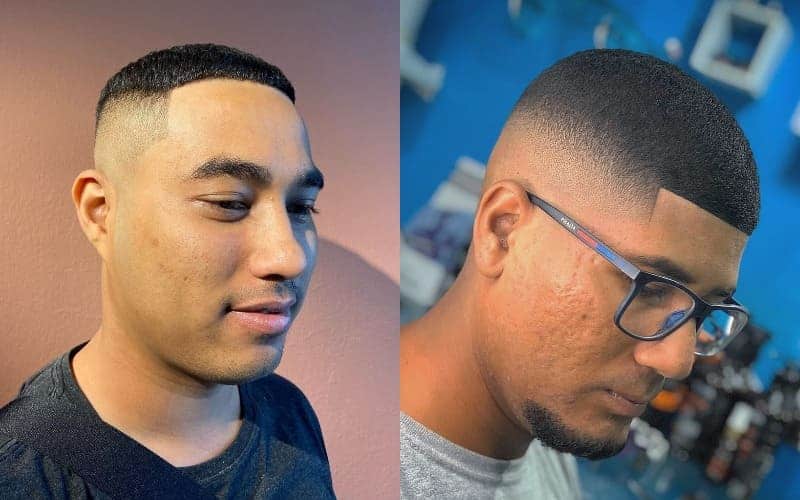 Razor Fade with Pomp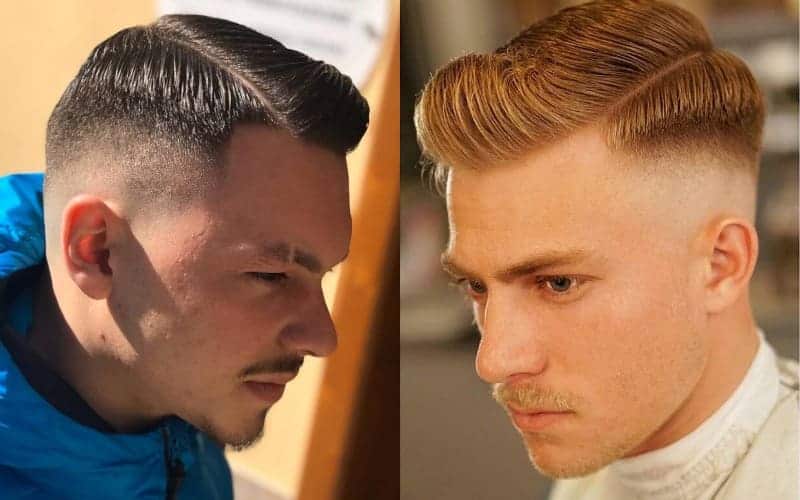 Zero Fade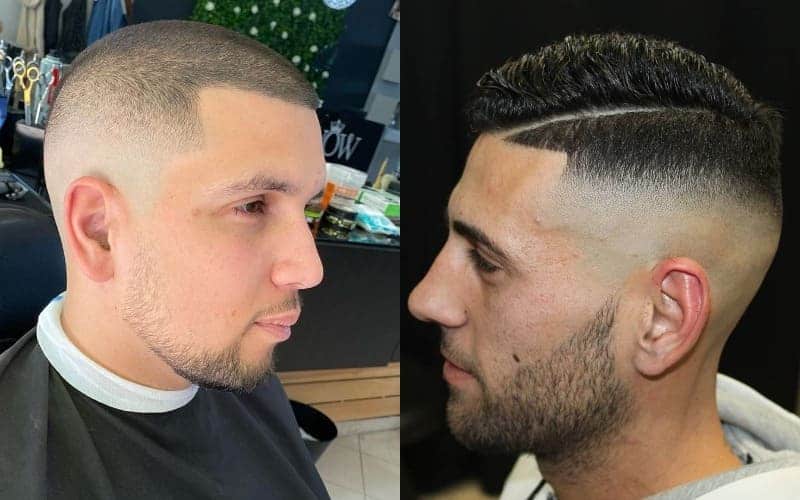 Curly Blowout Fade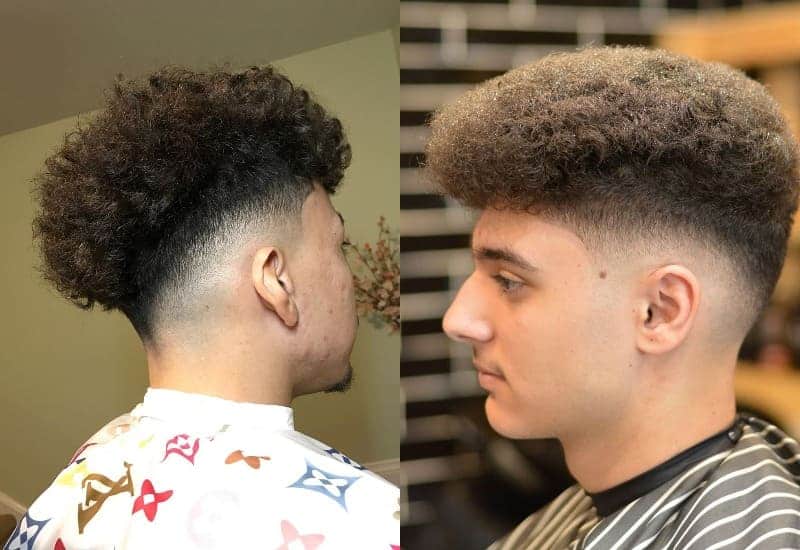 Buzz Fade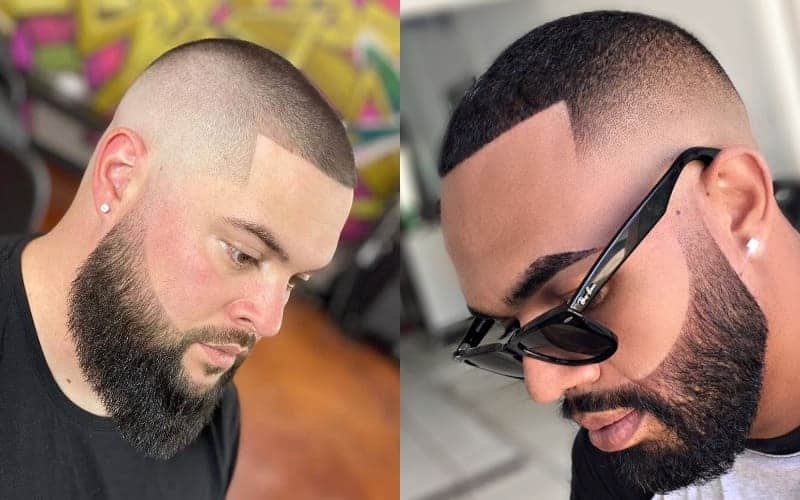 Crew Cut Fade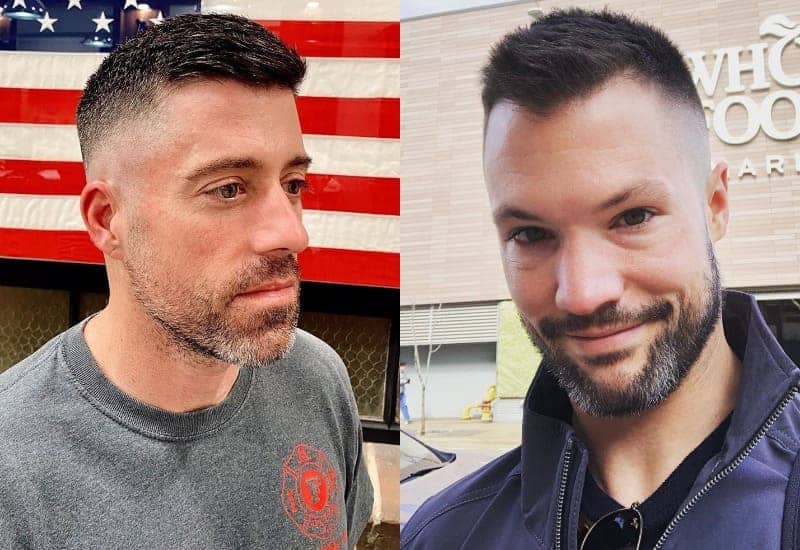 Low Box Fade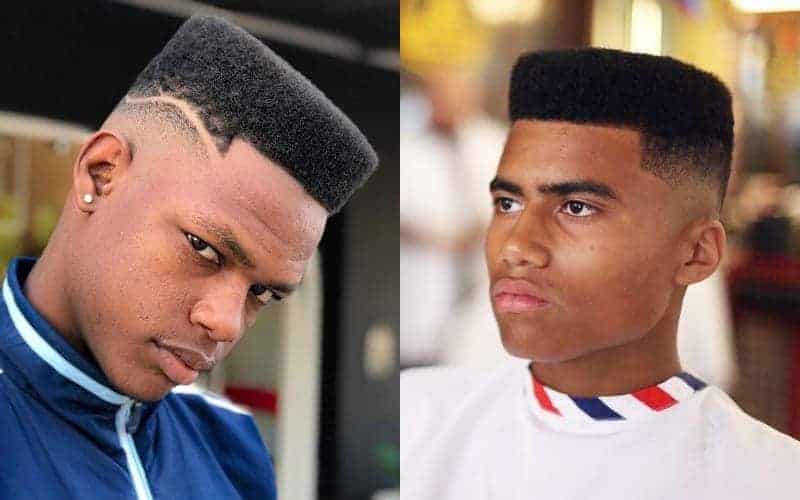 Shadow Fade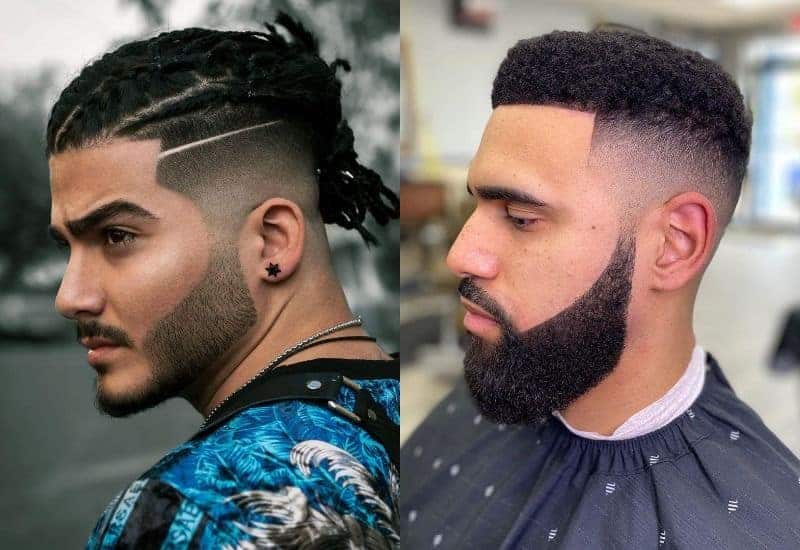 Afro with Mid Fade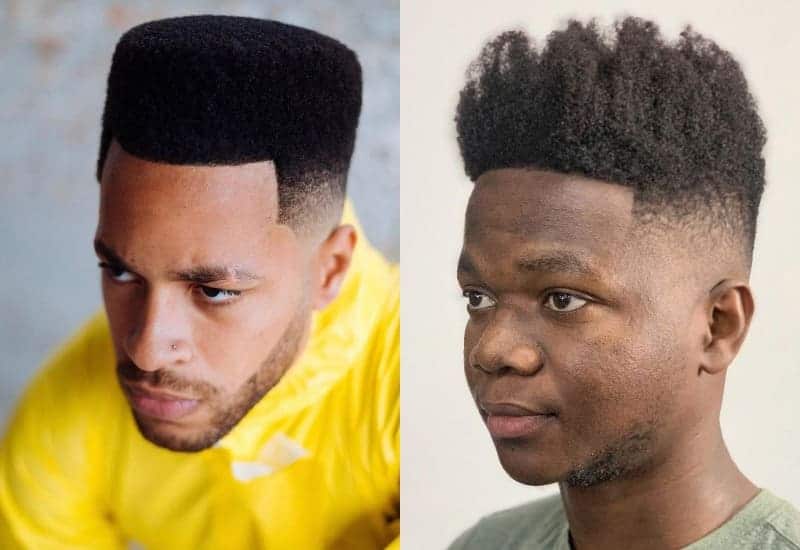 Dyed Fade with Designs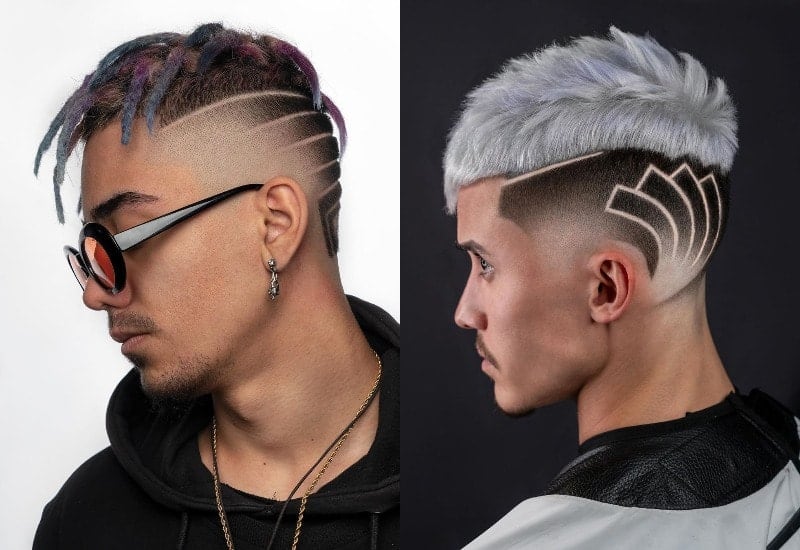 Low Curly Hair Fade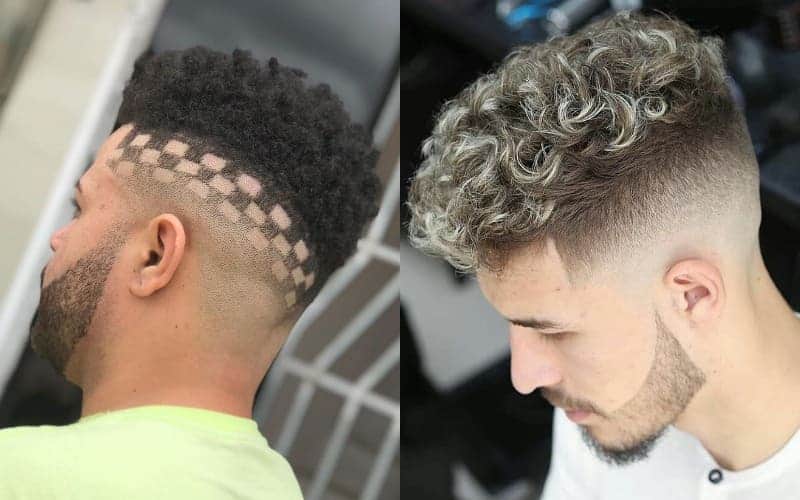 Asian Fade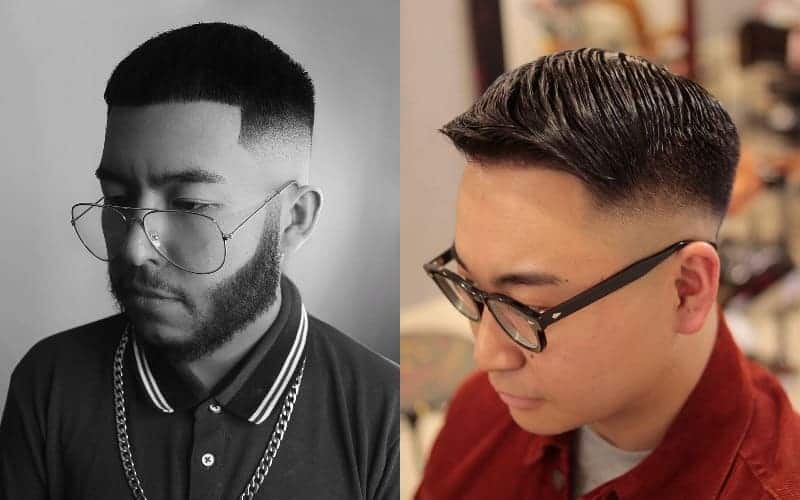 Uptown Fade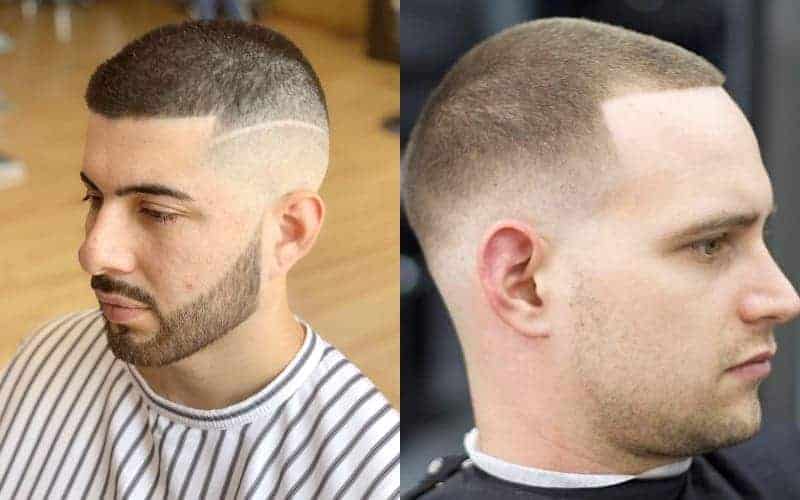 Low Fade with Line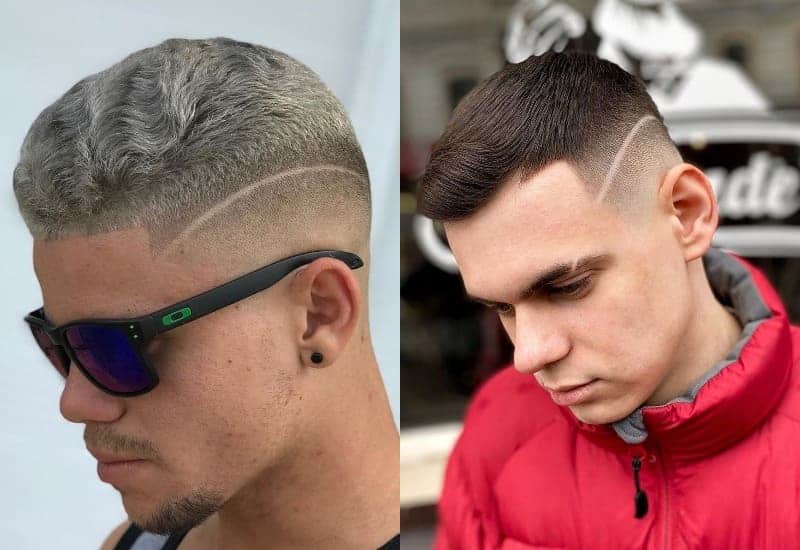 Mid Fade with Beard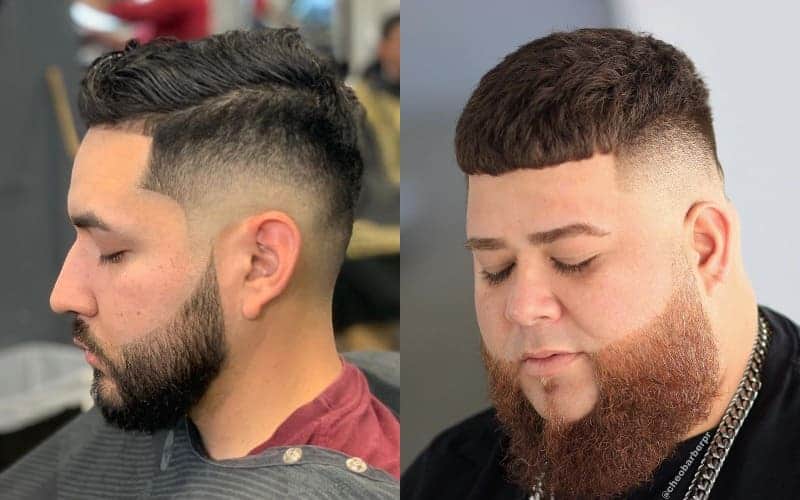 Large Fluffy Spikes
For men who love volume in their hair, this is a great style. You'll have lots of fluffy, spikey hair on top, and the hair on the sides of the head is tick. The line between the hair and the skin fade is harsh and unmissable.
Buzzcut Skin Fade
This hair is buzzed short and tight to the head, but there's still enough hair there to do a gradual fade to skin on the sides. It's a neat look for a guy who likes a little hair but doesn't want to pay too much attention to styling it daily.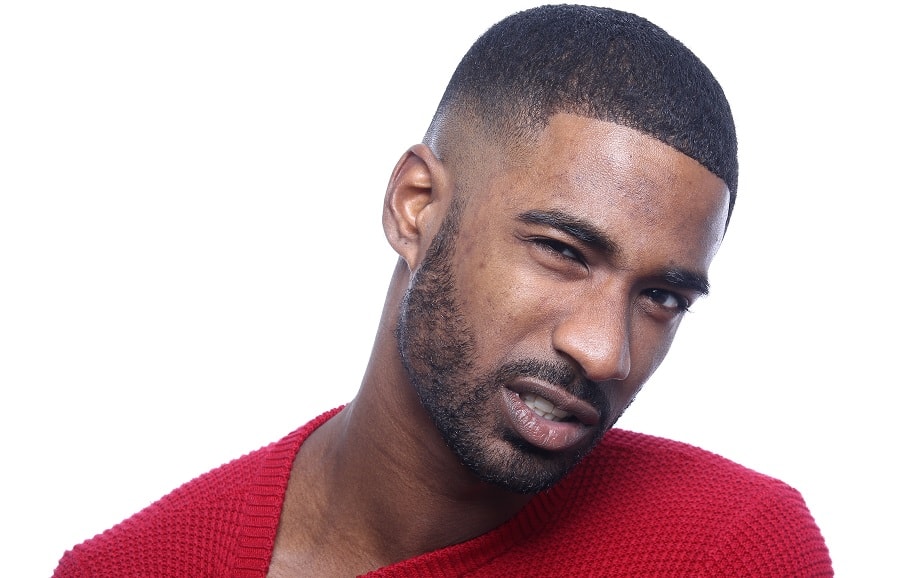 Mohawk Fade Style
All eyes will be on you with this mohawk style of fade. The mohawk is light and fluffy, spiked at the back and curling to one side on the front.
There's a sharp line shaved into the hair before the skin fade. If you want to show off your uniqueness, this look is perfect.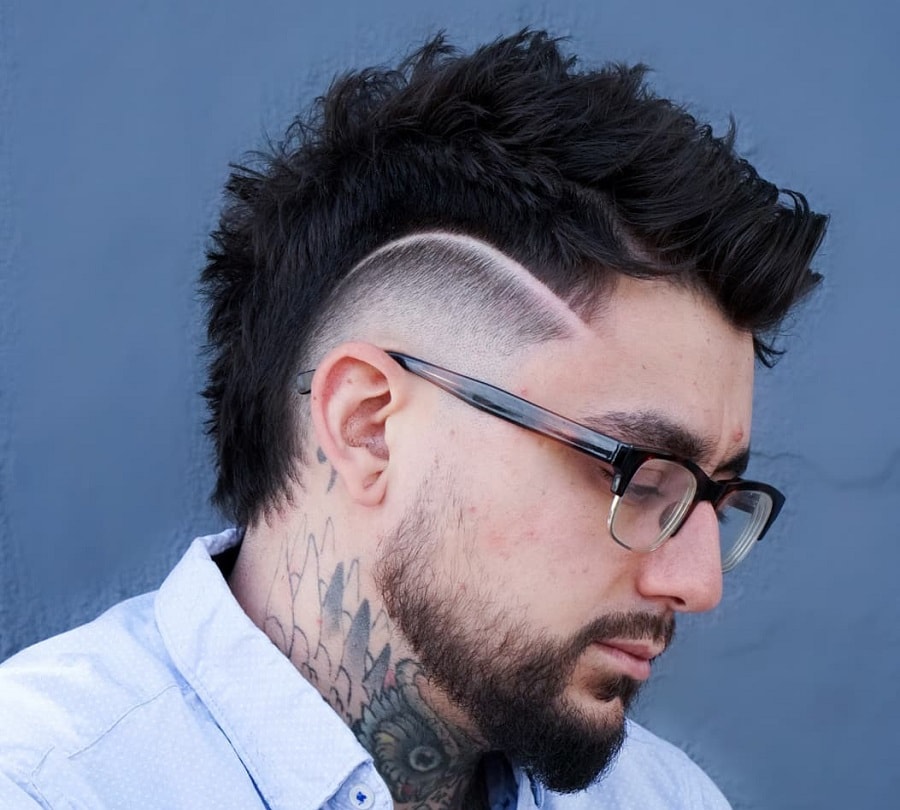 Sharp Blue Fluffy Fade
A sharp edge to your hair can make you look bold and edgy, and the cool blue tone of this hair helps with that.
The fade is very high up and gradual, with a light distinction between the hair and beard. The hair on top is fluffy with gentle spikes, adding lots of movement to the hair.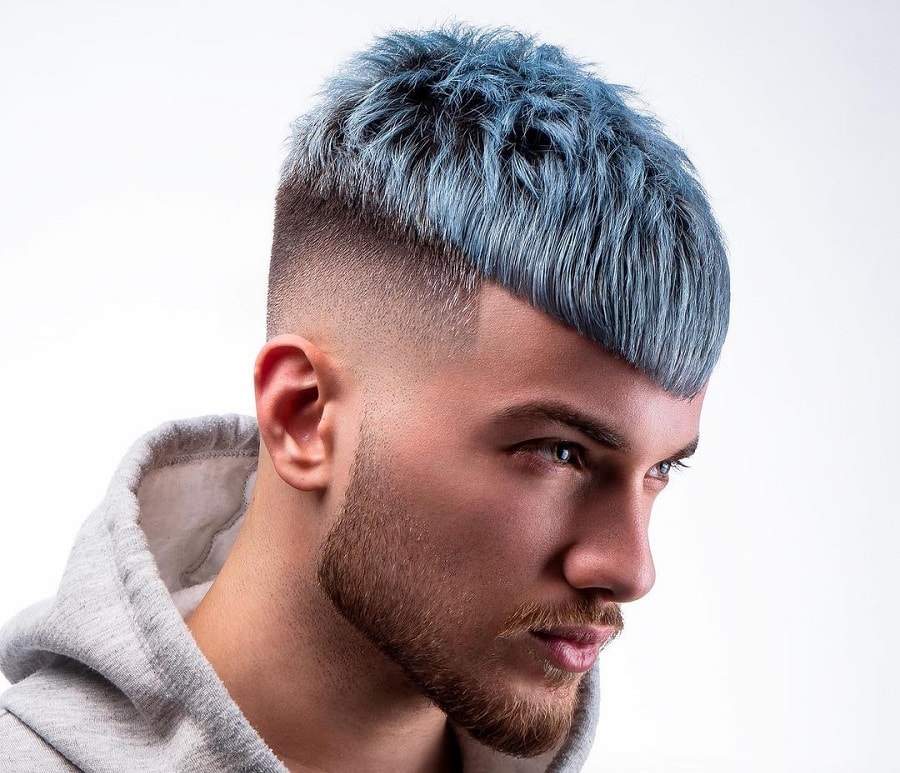 Side Swept with Hard Part
A side-swept look suits any man, and this look has the hair swooping to one side, exposing a very high skin fade. The part is shaved hard into the hair, and there's a small line of thick hair before the skin fade.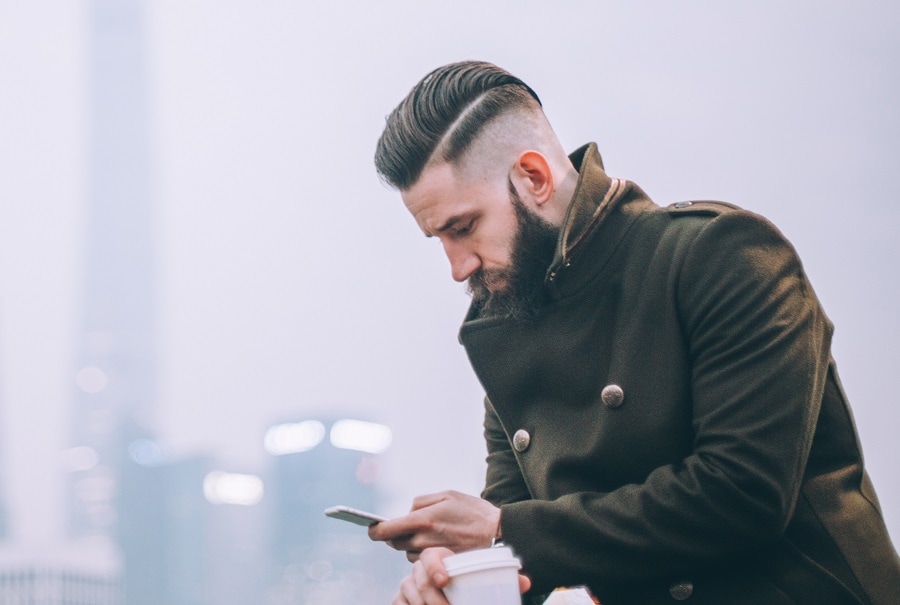 Slicked Back with Hard Fade
If you want a classy look, consider this style. The hair is slicked back but still looks very soft and fluffy, and the fade starts thick, but it's a hard fade to skin. There's a distinct gap between the hair and beard.
Gentle Spikes and Skin Fade
Here the fade isn't the focus of the cut. Instead, you focus on the hair ion top which is fluffy and finger-styled into spikes. The fade is very harsh midway down the side of the head.
Top Bun with Skin Fade
If you want a very modern look, fade hairstyles and haircuts for men with longer hair on top are very trendy.
The hairline is cut perfectly straight and there's a hard part between the gradual skin fade and the long hair on top. The long hair is tied in a loose bun.
Waves Into Fade
This hair starts with some gentle waves tight to the head, and it's a gradual and even fade to the skin, and then it fades back in to the hard-edged beard, giving a very unique and put-together look.
Retro Skin Fade
This is one of the retro fade hairstyles and haircuts for men. The sleek, combed-over side part looks a little like something a soldier would wear in the 40s. However, the hard parting and the skin fade make it modern.
A fade haircut keeps the sides and back hair sharp and gives you the chance to create astonishing designs and marvelous hairstyles for top hair areas.
By also styling a beard, you can complete a full super hot look and you'll have plenty of options and tons of combinations that need to be discovered!