You've probably heard of the fade haircut by now, but do you know what a drop fade haircut is? It's a variation of the classic fading style. Usually, your barber will create an even line around your head when you opt to wear a style with faded sides. With this variation, the fading gets lower as you move around behind the ears.
Drop fade creates a softer, more rounded look that some men may find desirable. It's perfect for guys who like to run their fingers through the back of their hair, as there's a little more growth back there with this haircut.
Top Notch Drop Fade Haircut Ideas
Without further ado, let's get into the looks. There are lots of different ways you can liven up this style.
Hard Part Ivy League
The best way to style a unique haircut is by combining lots of looks to create something new. For example, here you see a classic Ivy League haircut but there's a hard part and a drop fade.
It has truly modernized the Ivy League haircut for guys who prefer to keep up with the trends.
Slicked Back
There's something so satisfying about wearing a haircut that has a very distinct shape. In this instance, the shape is round.
The way the hair is slicked back forms a rounded shape on top of the head. This matches the shape of the fading and the sides.
Soft Quiff
Styling the hair upwards and pushing it towards the back of the head forms a quiff which is a timeless style.
There's a slight side parting where the hair goes from thick to thin quite drastically. The fade starts midway down the forehead.
Dreads with Highlights
Dreadlocks will never go out of fashion. A couple of them have been bleached and dyed light brown to make them stand out a little more.
The sides feature a high drop fade that starts with stubble and ends with skin.
Short and Textured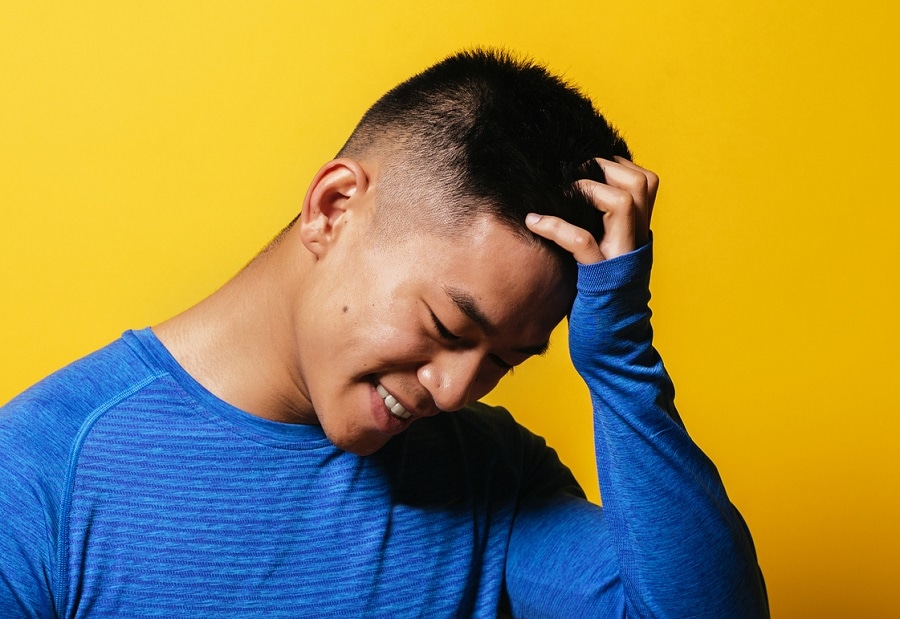 Do You want something you won't have to style every day? Consider getting a short haircut. The hair will stand up and look bristly on its own.
The bristles create a texture you can run your fingers through without having to put any styling products in it. Fade out the sides to create a more fashionable look.
Defined Curl Tendrils
Black men have such a nice hair texture so you should definitely show it off. Use a coal sponge to help separate tendrils of your hair and let different curl clumps stand tall.
Make the overall look neater by getting a skin fade with a very gradual slanted shape.
Slick with Hard Part
Slick haircuts and hard parts often go hand-in-hand. Push most of your hair over to one side and secure it with gel that creates a sleek appearance.
Shave a hard line into the side parting. Create contrast by getting a high faded look that has thick hair suddenly become stubble.
Mini Man Bun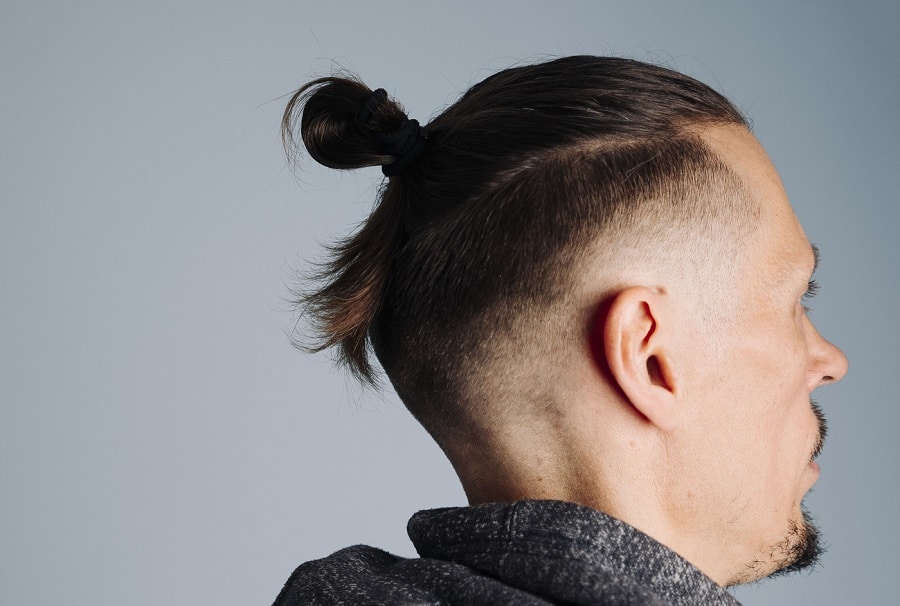 The classic man bun always goes well with a drop fade haircut. It helps draw more attention to the longer hair on top. There isn't a lot of hair tied up but it's enough to make a statement.
Mature Fade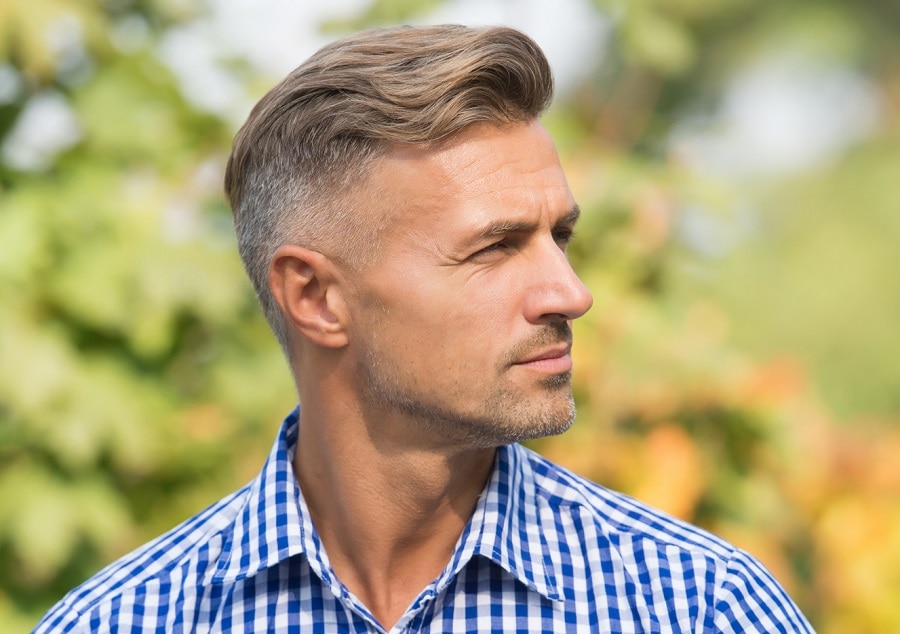 Older men with hair that is going grey always look fantastic with faded-out hairstyles. It helps you display multiple colors in your hair.
The locks on top are light brown and form a thick quiff. The sides feature multiple shades of grey.
Thick Afro
Mixed-race and black guys should let their natural hair texture stand out by creating an Afro style. Keep it contained by making the sides and back considerably shorter.
The hairdo fades out skin pretty high up on the forehead and ensures the look is easy to tame.
Simple Look with Beard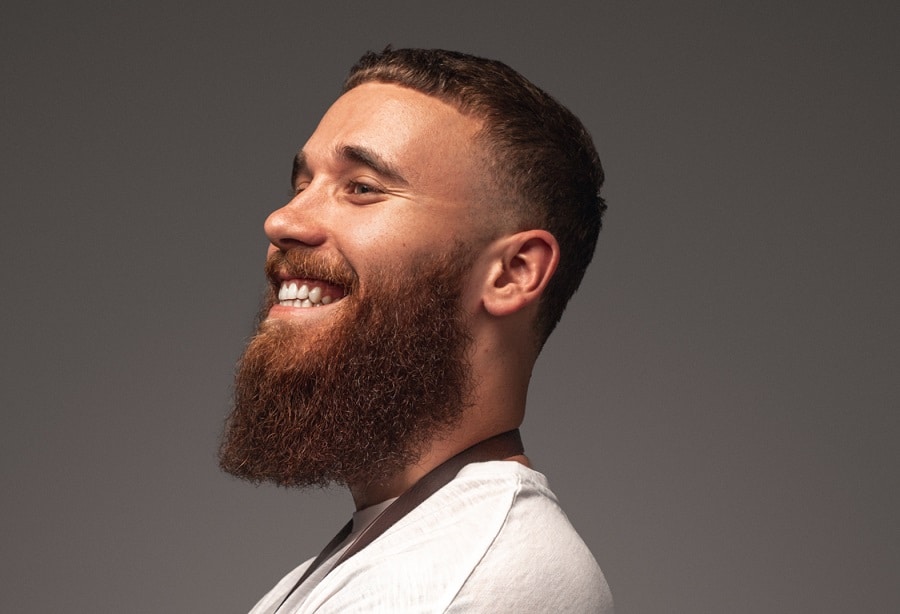 Some men may prefer to keep the hair on their heads short and simple so they can pay more attention to grooming their beards.
Keep your tresses trimmed and brushed them just below the hairline. Add some shaping on the sides. That way you can grow a bushy beard with trimmed edges.
Business Haircut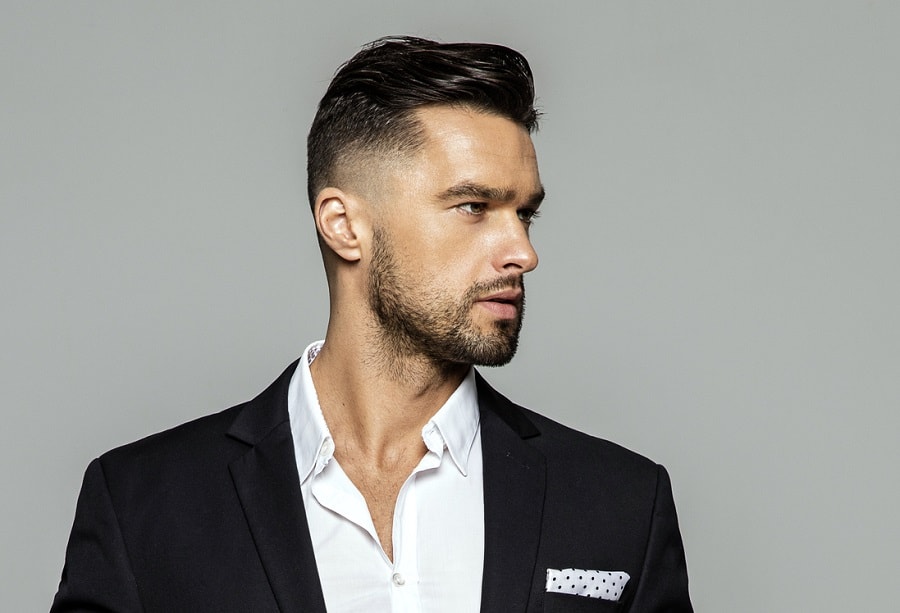 Men who often wear suits to work and are involved in business need a minimalistic and formal hairdo. Keep the top just long enough to slick back with a little rounded shaping. The sides are shorter and have drop fades.
Drop Skin Fade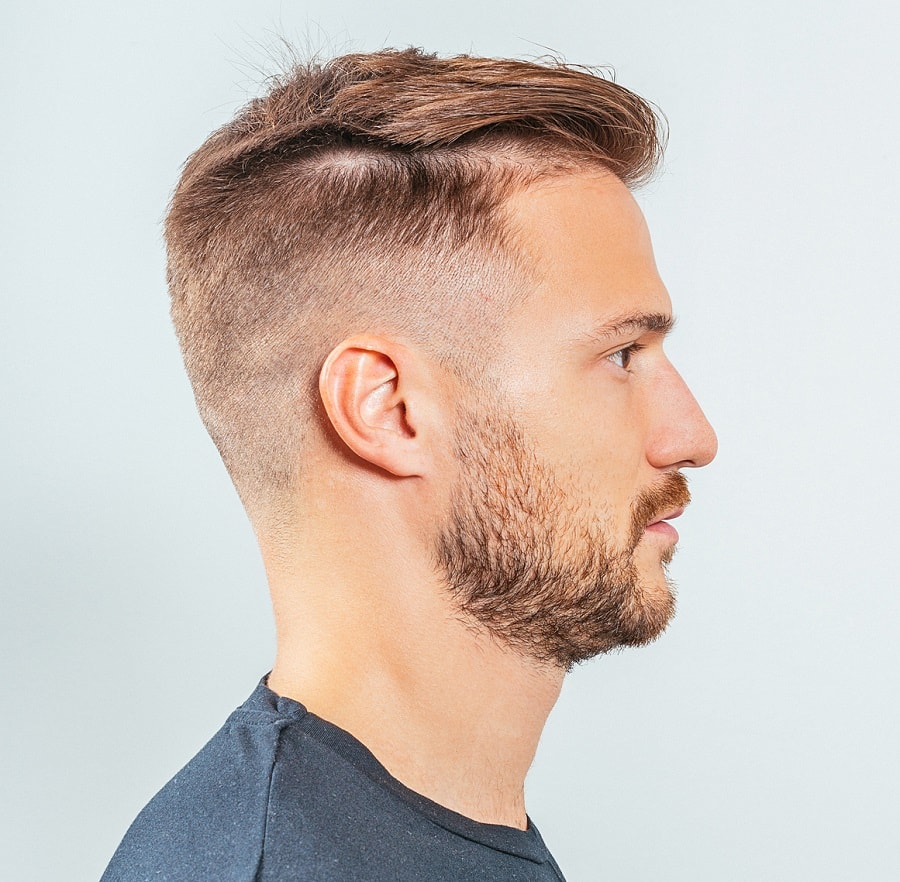 It's okay if you have finer hair. You just need to find a way to style that minimizes the thin areas. Brushing your hair towards the back of your head will give it a little extra volume naturally.
Shave most of the sides and back. You can add a beard to help distract from the thinning and your head.
Curly Fade
You can definitely use a drop fade haircut to your advantage if you have curly hair. By keeping the sides short you'll help draw further attention to the voluminous curls on top.
Ensure you fully define your curls by using the appropriate products if you want to look your best.
Bristly Crew Cut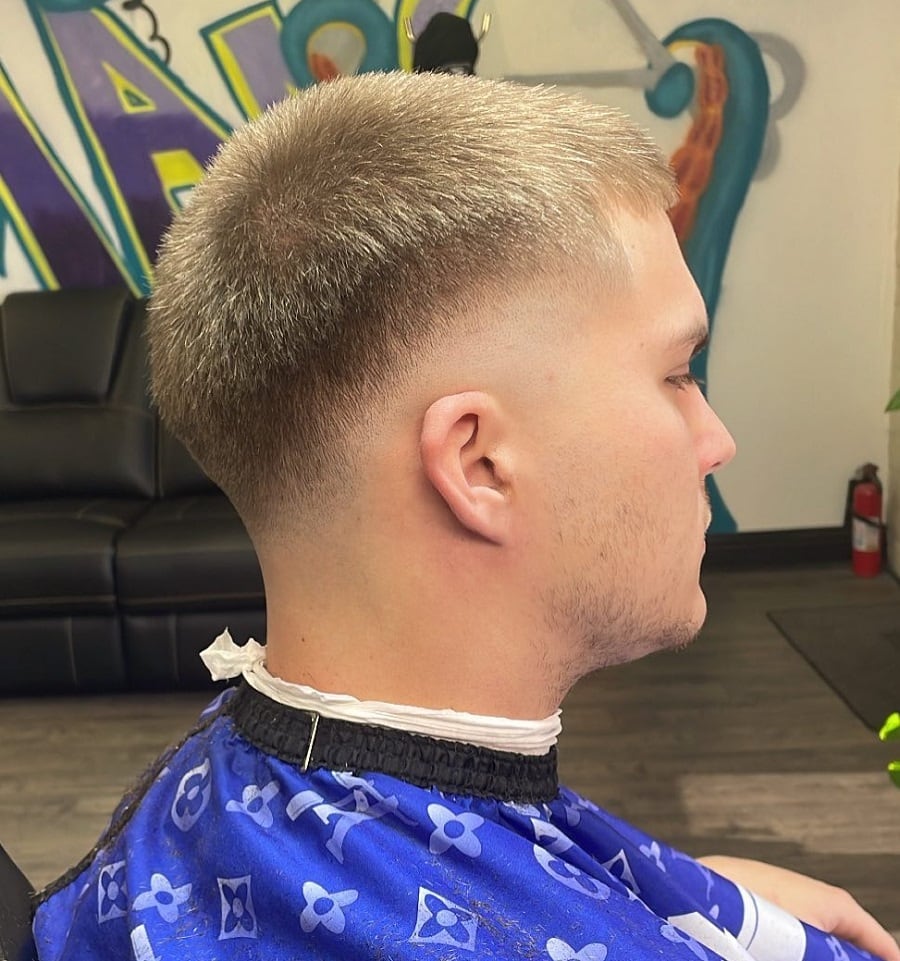 Men who don't care too much about making their hair fancy should get a simple hairdo like a crew cut. It doesn't require any styling if it's short enough as the bristles will create texture.
Spiky Look
You can never go wrong by getting a spiky haircut. Gather your hair into thick bunches and style it upwards.
Pinch some of the ends to create spikes and use plenty of gel to hold them in place. A high fade will help amplify the spikes on top.
Layered Look
Are you looking for a haircut that will get you lots of attention? Consider getting layers with drop fade. It makes your hair look extremely thick and women will have a lot of fun running their fingers through your luscious locks.
Colored Hair with Texture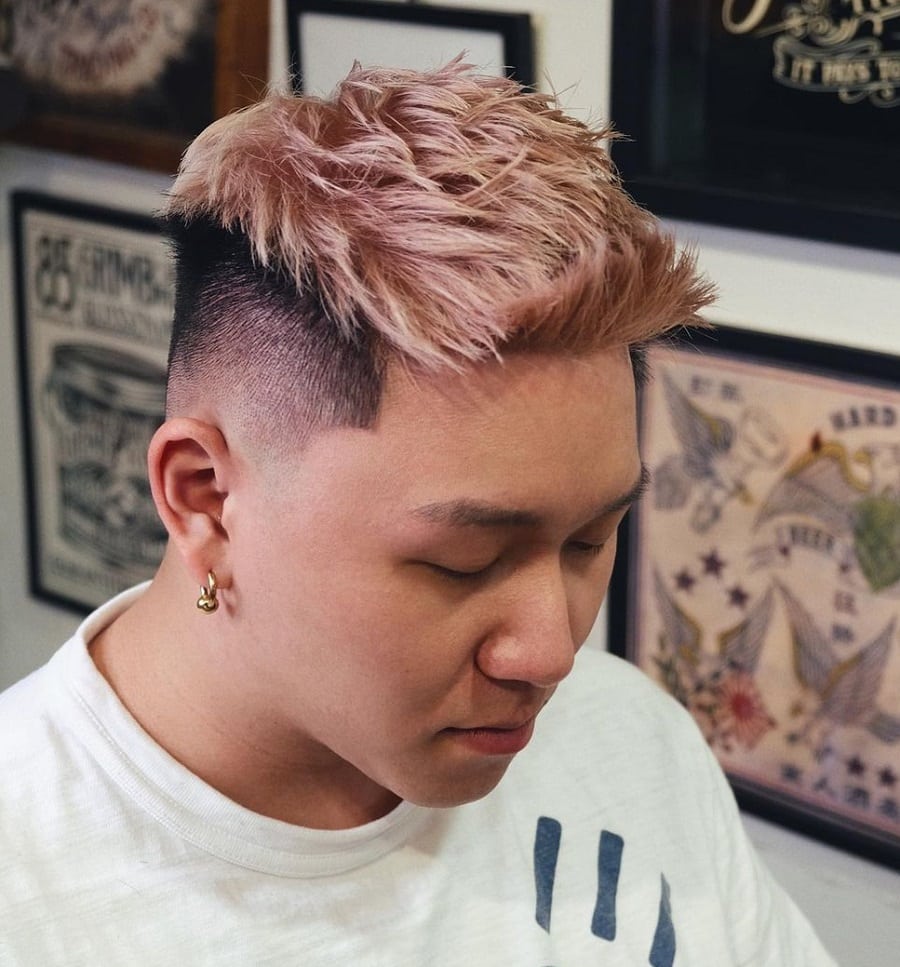 If you truly want to stand out, then dye your hair a shade that is considerably lighter than your natural color.
Let the sides show your natural color to serve as a contrast to the top. Add lots of texture to make your look visually interesting.
Forward Brushed
Brushing all of your hair forward from the crown to the hairline is Something you can do every day. You won't even need to use products to hold it in place if your hair is all the right length.
Get a very gradual skin fade and the sides if you want to keep your overall look neat.
Pink and Blonde
White blonde hair with drop fade definitely makes a statement, and you'll be even more unmissable if you add a stripe of pink from front to back. You don't need to have very long hair if you have these colors in it.
Curly Mohawk
The mohawk is a classic style that lots of guys like to experiment with. If you have natural curls then you already have the volume required to wear this style.
Fading out the sides of the mohawk ensures it's easier to pay attention to the top of the hair. Add a curly beard to match.
Funky Design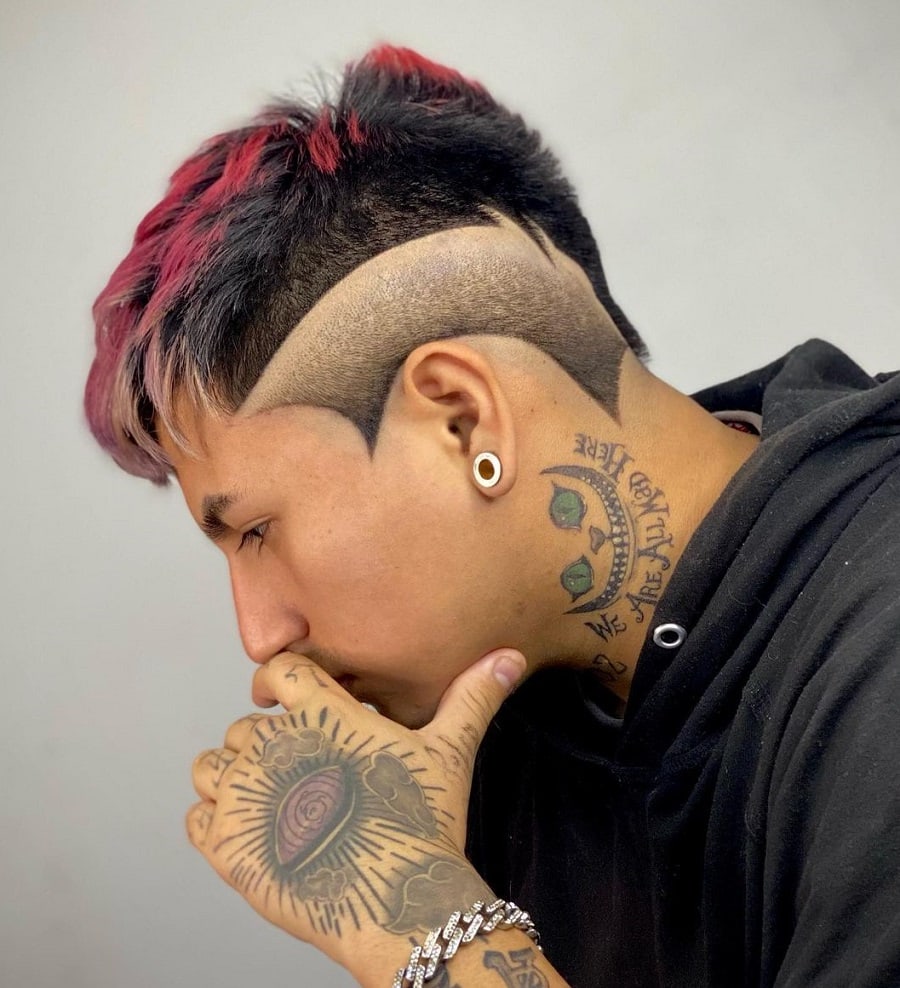 Guys who want to wear an edgy look can do lots of different things to their hair at once. Highlight your black hair with red then get a design.
The drop fade actually appears upside down as the head goes from thinner to thicker instead of vice versa. The edges of it have been carefully shaved into rounded sections with pointy edges.
The sheer variety of ways to wear the drop fade haircut can be a little overwhelming. Browse the list several times to see what kind of looks will suit you best.
Most of these looks suit men who want something pretty casual, but there are a few unique styles that you can wear, too. See what kind of look will work best for you in your day-to-day life before you make your decision.