There are lots of trends for black hair that you won't see on anyone else. This makes fade hairstyles for black men more varied and interesting than a typical fade cut.
Plenty of guys will get a kick out of finding new ways to style their hair around this cut. It's handsome, super on-trend, and incredibly bold, so you'll attract a lot of positive attention with this cut.
Trendy Fade Haircuts for Black Guys
If you need help keeping up with the latest fashions, then look below. You'll find a vast array of looks that will keep you looking your best.
Afro Twists
If you like your natural hair and want to embrace a little length, then form Afro twists right on top of your head. The sides and back are shaved evenly into a nice curly stubble.
This gives you a lot of appeal and makes you look super approachable. Plus, having the sides and backs faded is a great way to limit thickness and keep you looking clean and fresh.
Blond Mohawk-Inspired Look
Blond fade haircuts for black guys stand out a lot because there's a lot of contrast in them. The light color of the hair contrasts your dark skin, and the density of the tresses left on top contrast the bald sides and back.
Here the look takes the shape of a mohawk by having the sides and back completely stubbly with just a section of curls right on top.
Medium Fade with Twists
These medium-length twists look amazing and are very controllable and easy to style in a way that suits you.
The fade on the sides is very gradual and goes from thick to thin halfway down the forehead. It's a cohesive look that looks super fresh and on-trend.
Temple Fade with Dreads
A nice temple fade is best for black men with dreadlocks. The long hairstyle with dreads are half pulled back to show off where the nice style is on the side.
The lighter brown mixes well with the natural black color of these dreads to add a lot of dimension and a visually interesting element.
Short Temple Fade
You can still look great with super short hair. The nice temple fade makes sure you look interesting and handsome despite having minimal hair to work with. The shortness of the look lets people focus on your features.
Tight Curls
Make the most of natural tight curls by forming a perfectly rounded hairstyle that makes you look interesting and well put together.
The side has a contrast where you can clearly see the difference between the thicker and thinner areas of the tresses.
Square Hairline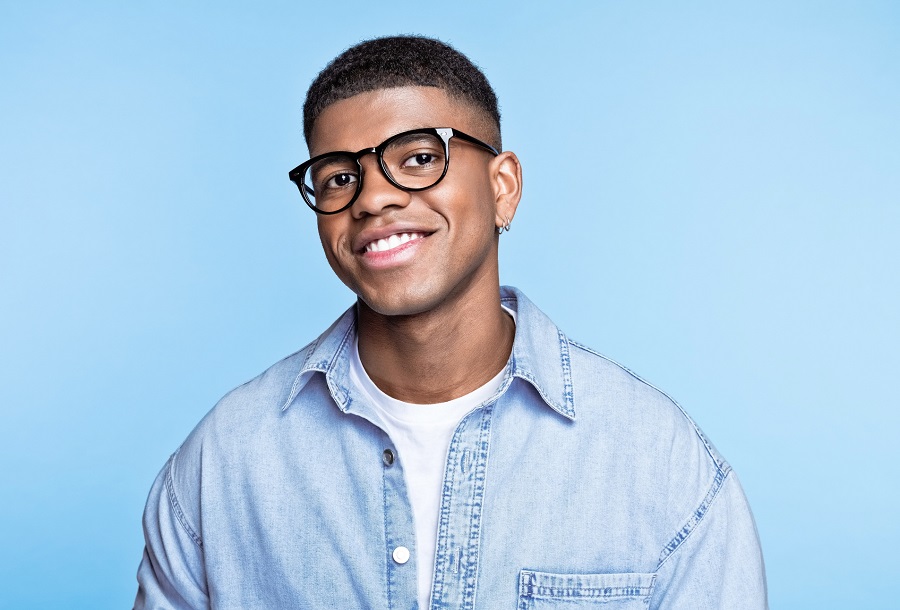 There's a trend in black hair to make sure the hairline is perfectly square. It's very subtle, but you can see that in this fade haircut for black guys.
The rest of the look is super round as it curves around the head very distinctly. There's a big difference between the short curls and the faded sides.
Long Tall Dreads
Swept-back dreads are a really chic and handsome look that make sure everyone can see your wonderful features. The faded sides add a little more depth to the overall vibe of this look.
Super High Fade
The fade here is incredibly subtle with just a tiny bit of stubble just below the main section of this short and tight cut.
Keeping your hair short like this make sure easy to style yourself in the morning, and it stops longer locks getting in the way of your face.
Unique Highlighted Look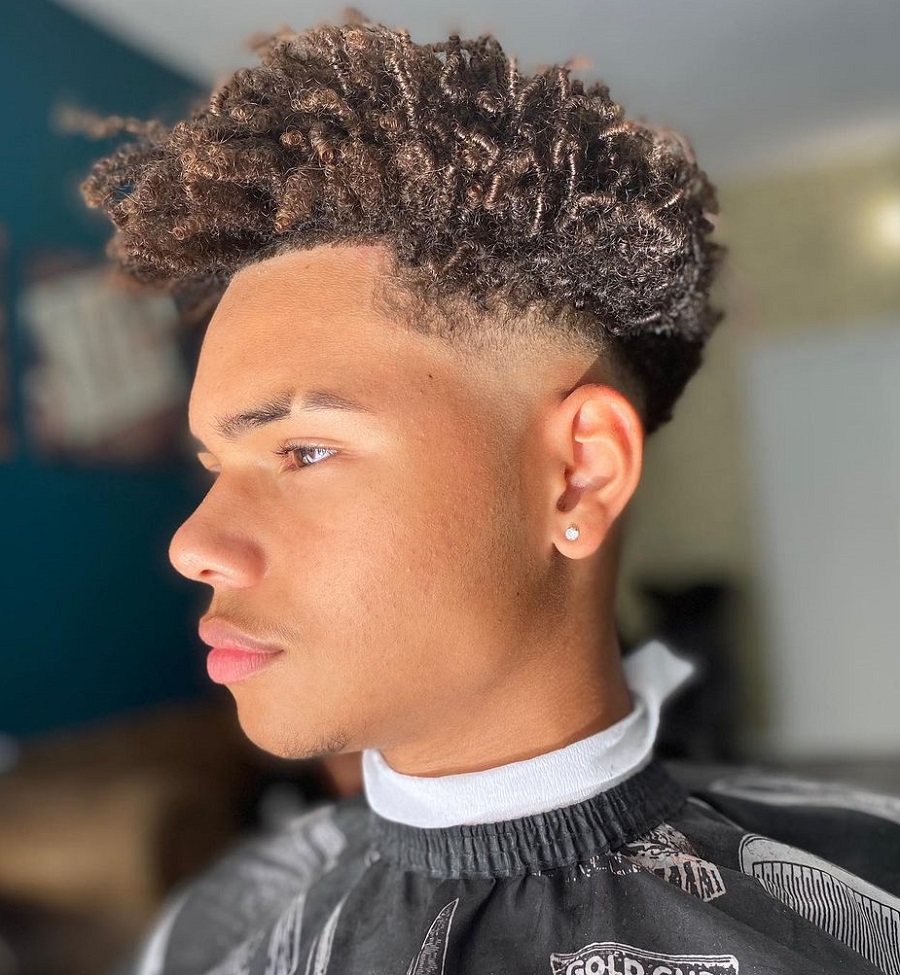 Highlights with fade look stunning on black men with curly hair. It pairs amazingly with the unique style of the sides where there's only a very small patch featuring a faded look.
Braids with High Fade
Here you can see a trendy squared hairline that's just one element of a very interesting cut. It features braids running from the hairline across the top of the head.
The sides are just left with a very light stubble that's so sparse you can see all the skin through it.
Blue Curls with Hard Part
Do you want something that will make you stand out a ton? Black men with this fade haircut will never blend into the background.
The light blue curls stand out greatly. There's also a shaved line in just above the faded sides that makes you appear incredibly trendy and edgy.
Curly Topknot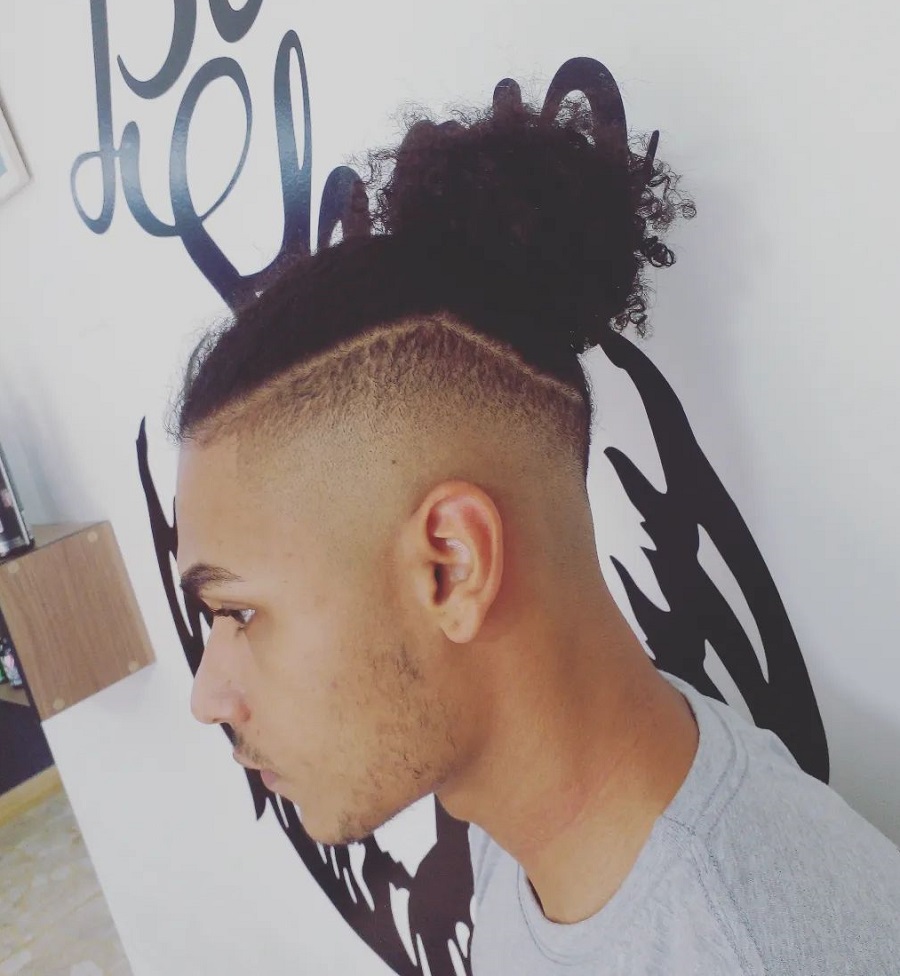 Topknots are one of the trendiest and most fashionable hairstyles that stand out a lot next to the hard part. The sharp angle of the shaved line will also draw a lot of attention and give you an edgy vibe that you might be looking for.
Hightop Fade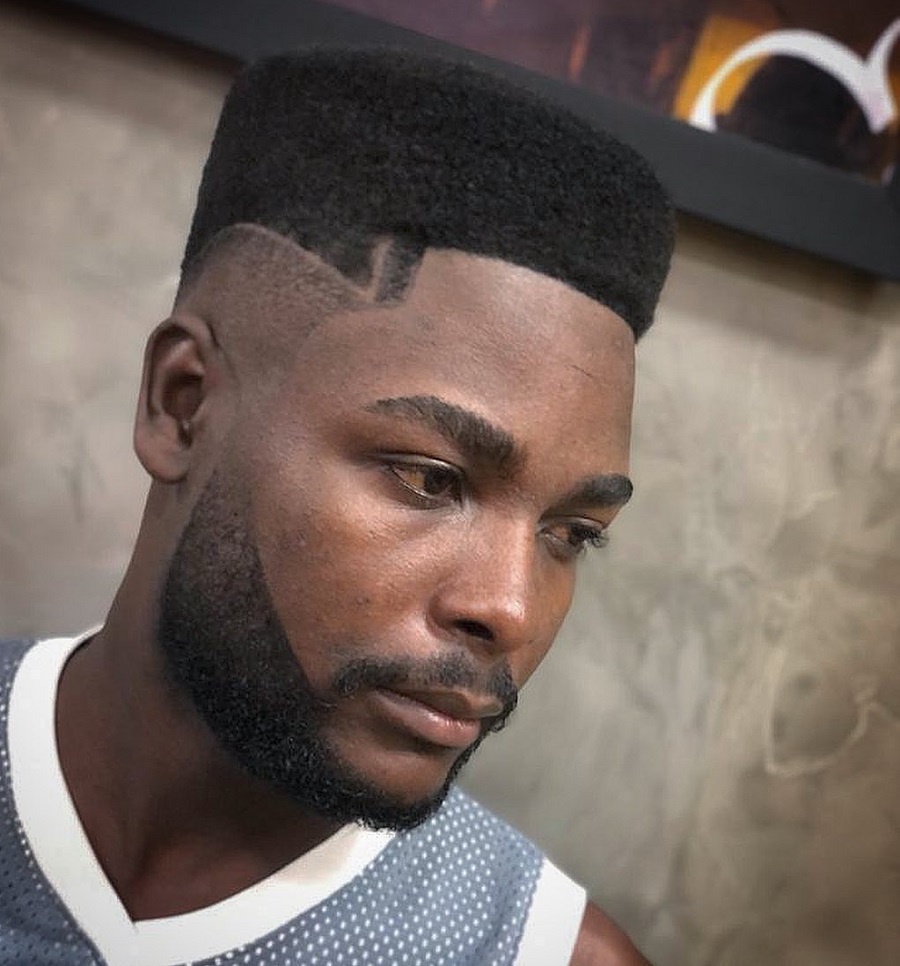 A hightop is one of the most eye-catching looks a man can wear because it's so uniform. There's not a single hair out of place in this dense, square-shaped hairstyle.
Having the sides in a faded style brings more emphasis to the top of the look to make you appear bolder.
Gelled Curls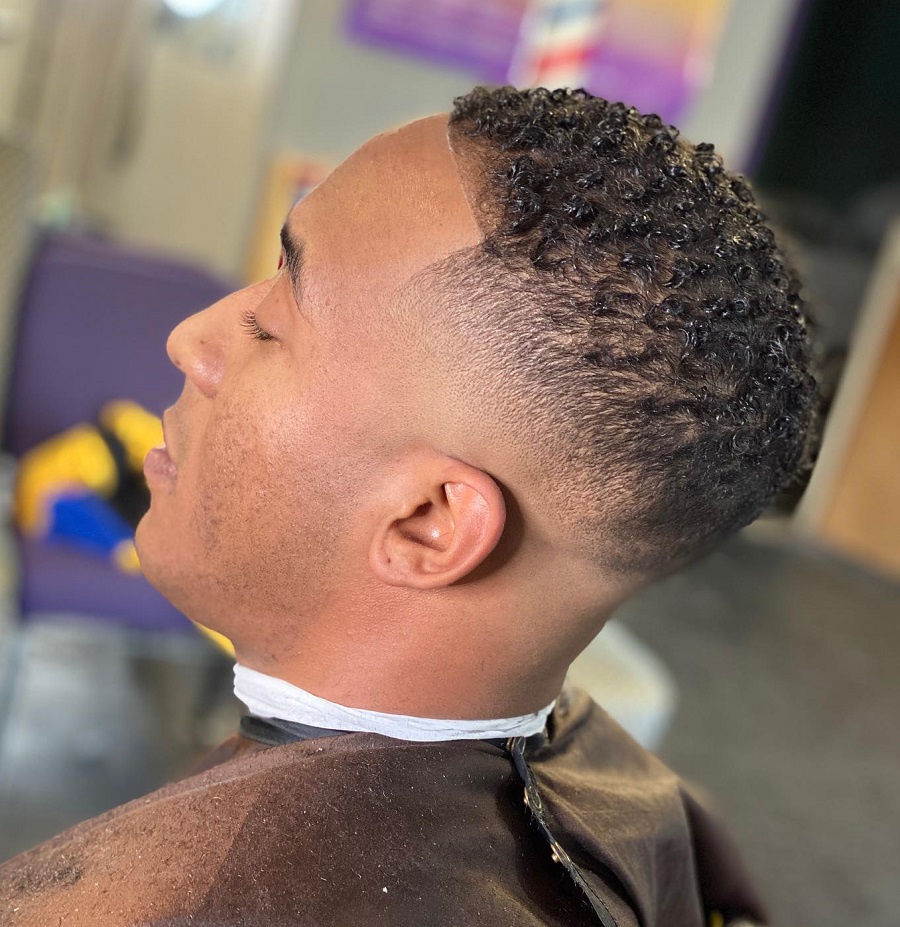 Slick and wet looks are super popular these days, so add some gel to your curls to achieve this style. The curls are very understated on the head and there's a lot of attention drawn to the low fade.
Skin Fade with Hard Part
As you can see, hard parts are a very trendy look in many fade haircuts for black guys. As the hair on top is very short, the hardline shaved into the head helps distinguish the faded sides from the rest of the cut.
Blue Mohawk with Pattern
This look contains numerous elements that will make all heads turn in your direction. The dark blue style goes really well with the natural black.
The mohawk shape stands out a ton and is flanked by two strips of hair with a striped pattern shaved to add a touch of uniqueness to your look.
Waves with Design
If you have the hair type that allows you to form a wavy pattern on top of your head, then keep your hair short and that those waves shine through.
The main star of the show is the design that has two smooth curving lines shaved in above a skin taper fade.
Some of the fade haircuts for black men above are very understated and modern. Others are unique and stand out as they include patterns or funky hair colors that you can have a lot of fun with.
There's a faded style for everyone out there as it's such a classic look. Hopefully, you found the perfect one for you above.