If you are a black man and want to shake up your look, have you considered wearing your hair long? Long hairstyles always look great on black men. There are so many great styles to consider.
Having afro hair of this length is advantageous. You can create different looks for different days, so you'll have plenty of fun experimenting.
Best Long Hairstyle Ideas for Black Men
Are you looking for some ideas to keep your look fresh? You can look at the many long hairstyles for black men below to help you with that.
Long Thick Twists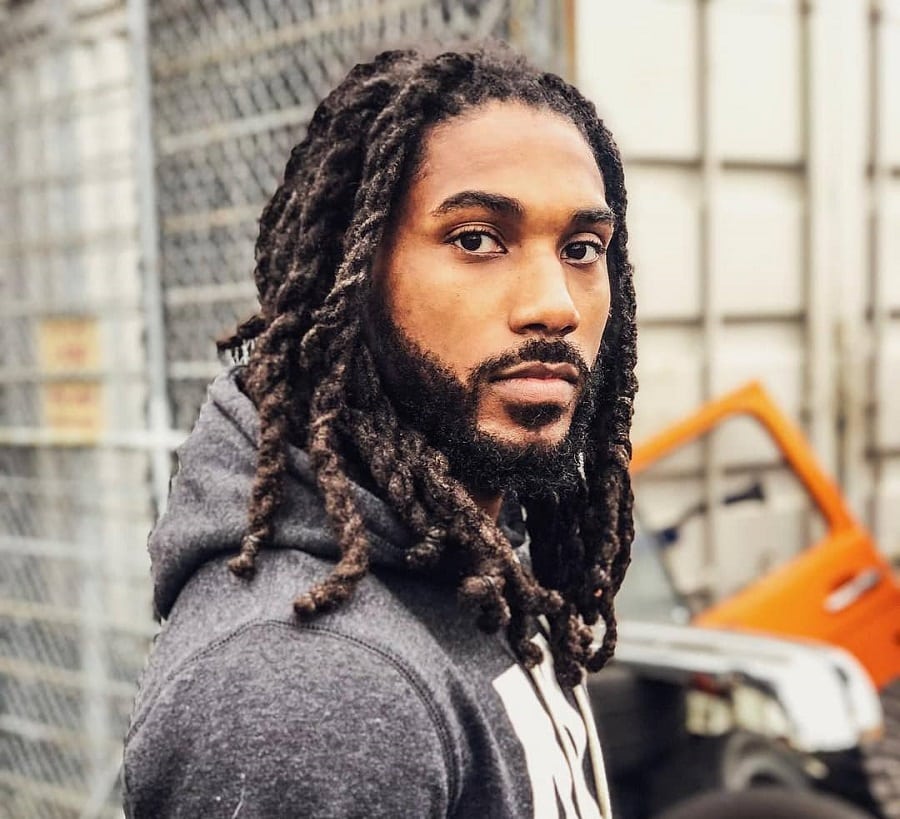 Twisting strands of hair together is a nice way to add some texture to your look and stand out from the crowd. Here the twists are very thick and hair nicely with a beard. It's a protective style that's trendy and versatile.
Dyed Natural Curls
Curls create highly voluminous hair. This is very eye-catching and appealing. You'll look great with it. Let your natural curls grow out and tease them a lot so they appear large. Coloring your hair a light tone like this helps you stand out even more.
Cornrows with Top Knot
If you're a black guy who wants to show off his curly hair texture, then buns are a great way to do that. They gather all the hair into one place and make it look fabulous.
Here cornrows pull all of the hair back tightly. The tight cornrows against the big curly section creates a nice contrast.
Tall Wavy Bun
It can sometimes be hard to control very long locks. This is why piling them all up into a bun is a good idea. It's an everyday style that shows off your look, but your hair won't be in your way. It makes you look incredibly handsome and shows off your features.
Ombre Corkscrew Curls
Layering your hair as it falls around your face is a great way to show off your look. Emphasizing and carefully styling each tiny curl will make you look very dedicated to your appearance. The red ombre here adds a little variety and help you show off part of your personality.
Thick Pigtails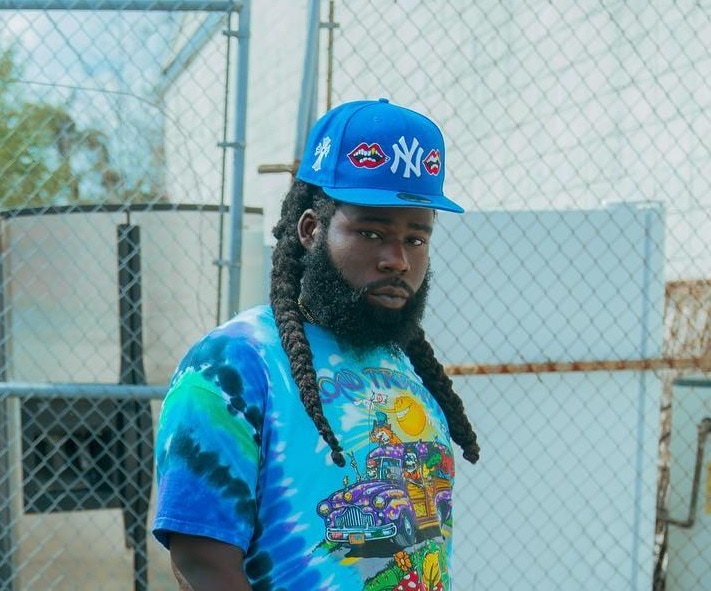 Long pigtails can create a unique hairstyle for black men. The pigtails form stiff strands of hair that's tightly packed together. It's a simple look that's a little edgy when worn with a thick beard and a hat.
Long Twisted Ponytail
Ponytails are so unique when worn in a twisted fashion. Here the sides of the hair are drawn back and wrapped around some long twists. This creates a thick ponytail style that keeps your hair out of your face. One twist has some orange highlights in it to add a little flair.
Long Unique Locs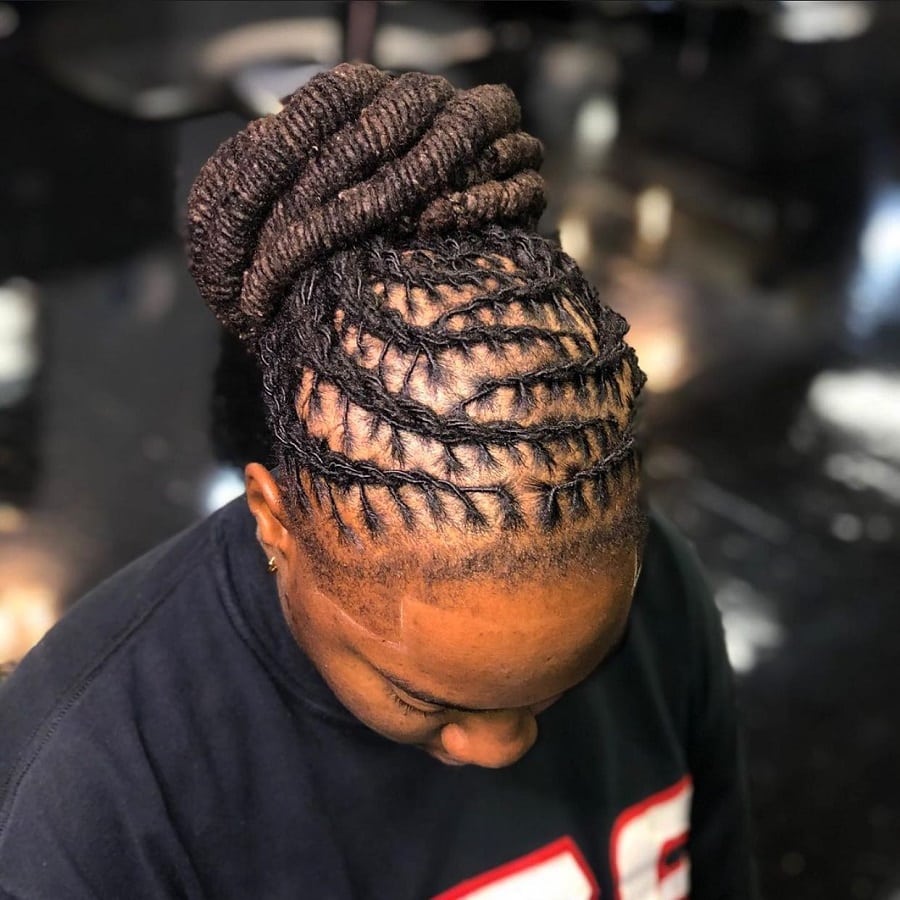 Are you looking for a really unique way to show off your style? This is perfect. It's a style that will require a very skilled barber for black hair. Very complex and sharp twists cover the scalp. A large and tight dreadlock style sits on the crown of the head.
Half Up Man Bun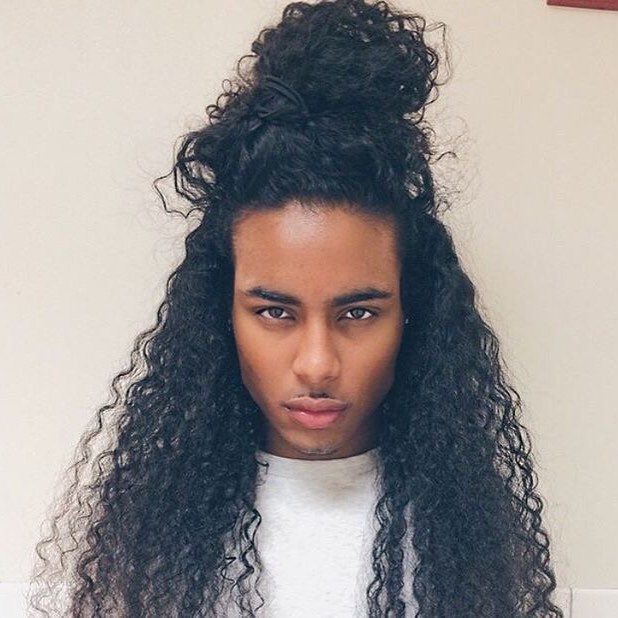 Just letting your natural curls grow longer and longer is a great way to show them off. Here the sides are piled up into a huge messy bun on top of the head. It helps keep your face looking handsome. People can really see your sharp jawline this way.
Thick Curls with Bangs
These thick curls form a highly voluminous hairstyle that frames the head. There are also bangs that help bring people's attention to the lower part of your face.
Here the look is shorter at the front and longer at the back. This helps keep the face visible. The curls are then left very free with some loosely defined clumps.
Long Curly Undercut
Undercuts are a very trendy look that appear great on black men. Here you can see the sides are shaved down to stubble. Much of the hair is pulled towards the back of the head to show this off. Some subtle red highlighting helps you stand out.
Dreadlocks with Highlights
Adding highlights to your hair always draws the eye. A unique style like this helps, too. There are four large locs in the hair. Small twists are pulled into the dreadlocks It's a protective style that's also very cool and edgy. The ends of the locs are secured with bands that look great.
There's a wide variety of long hairstyles available for black men. Some are very simple and work with loose curls. Others will need a lot of skill and time to create. This shows there's something that suits every person's preference.
If you want to show off your personality and wear long locks, then go ahead. As you can see, you'll always look utterly divine and incredibly handsome.