The consensus is in: curly hairstyles for black men are entirely on-trend. So, if you want to look modern and keep up with the times, then you'll need the perfect hairdo to help you do that.
There's no shortage of haistyles you can consider. If you have long locks or short spirals, then there's a myriad of ways you can play with your hair. So stick around and see what we can offer you because we're certain we can help you find something you really like.
Best Hairstyles for Black Men with Curly Hair
Check out the fun hairdos below, and figure out which one you'd like to rock.
1. Long Layered Spirals
If you're a fan of a longer look, then this is one to consider. The black curly hair is very long, but the spirals make it look shorter.
It falls midway between the chin and shoulders when styled. There are some light layers towards the top, which are eyebrow-length.
2. Curly Mohawk
A mohawk is a highly unique look, and your natural hair will give it a whole new vibe. The top of the hair here is bleached, and there are some funky patterns shaved into the sides.
3. Sleek Cornrows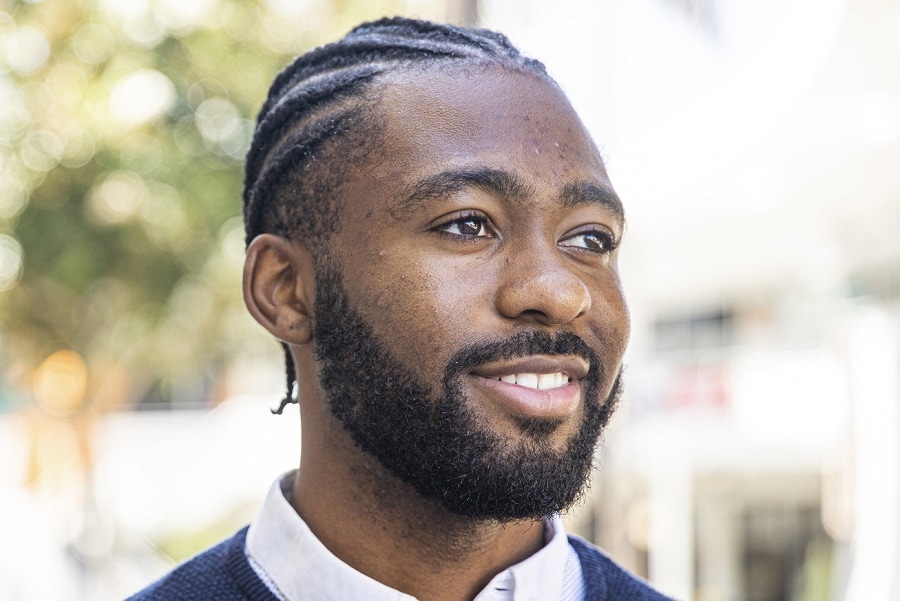 Want to keep curly hair easy to control? Cornrows are the perfect hairstyle for men with curly black hair. They remain neat while still benign edgy and cool. Here they run from the hairline to the nape of the neck, and the ends are curled nicely.
4. Curly High Top Fade
A high-top haircut is highly fashionable. You tease the hair upwards and style it so it's flat on top. The sides feature a high fade, and the hairline is squared off so the whole vibe coordinates well.
5. Rounded Long Curls
This is a great long hairstyle for black men with loose curly spirals. The sides are short.
The top has tons of volume and the loose sections of hair form a circle around the head with the volume on top. It's dyed light brown on top but remains dark on the sides of the head.
6. Short and Faded
Fades never go out of style, and there's a high skin fade on the sides of this style. What's left behind is very short and tightly curled. It's also neat, as there's no section or spiral out of place.
7. Bleach Blonde Afro
Short, bleached blonde afro hair is something else that's very popular these days.
It's particularly prevalent among African American men who want an edgier look. The style is kept all the same length and is pushed back from the hairline to keep a sharp appearance.
8. Fade and Tall Top
Yet again we can see a side fade here, and the hairdo on top is dense and curly with some height do it.
It's also got some volume on the sides. Overall the shape is slightly rounded, matching the shape of the neatly groomed beard very well.
9. Zig Zag Sharp Patterns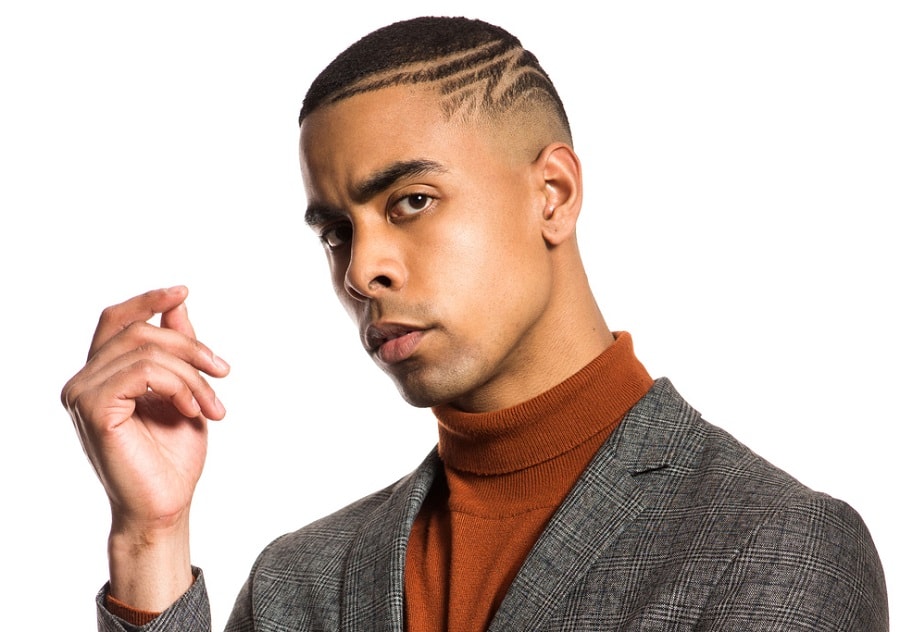 The focus here is all on the patterns. You can choose unique patterns to showcase your personality.
The overall unique hairstyle is very short curly hair with a fade, and shaved design. You can also see a line, a curve, and an arrow shape.
10. Blonde Top
A contrasting look of black and blonde always looks fantastic. The black hair is nice and short on the sides with temp fade. Blonde highlights with spirals styled to stick out in different directions.
11. Deadlocks Ponytail
Dreadlocks are a wonderful way to keep your hair in check. There are lots of thin dreads here, and they're looser at the ends to show off a curly hairstyle. The ends are also dyed light brown. The dreads are pulled into a half ponytail.
12. High Fade Dense Look
Want to try something trendy? Try this short curly hairstyle with skin fade at the very back of the head.
The sides still have stubble right above the ears. What's left on top is thick and dense and tight. It's a nice, neat afro look for black guys.
13. Older Black Men Hairstyle
Curly hairstyles with greying locks can help emphasize the salt and pepper look for older black men.
A neat, short hairdo like this keeps the hair very natural and simple looking, and the white hairs through it are evident. They pair with a short grey beard.
14. Mid Afro Fade
We've seen a lot of high skin fades, so this one starts midway down the head instead.
It's a great alternative if you like more growth on the sides. On top, there's a wave pattern that adds more volume toward the center of the head. The hairline is kept neat.
15. Long Shaggy Ringlets
Does your African American hairstyle have a ringlet shape? This is a great look for you.
This shape leads to a lot of thickness, and you can form a sort of hair helmet that falls below the chin. Some thick ringlets also cover the forehead.
16. Tiny Box Braids
Box braids can be large or small, so here we see small ones. The size of the braids leads to there being a high number of them in this style, forming a very thick look. The braids are all the same length at the front and sides, but the ones in the back are slightly longer.
17. Flat Top with Rounded Front
The above look of the black guy with a curly flat top is slightly retro and fluffy.
It's modernized with a slight fade on the sides. Everything is kept very tidy all around the head, but at the front, there's more freedom and more flyaways. The hairline is perfectly straight all around.
18. Natural Medium Afro
This isn't quite an afro as the curly hair is too loose. However, it has that classic afro shape but it doesn't have as much height or volume. It falls around the head and is pulled back from the face.
19. Short Blonde Mohawk
Some black and blonde pair together in this look, creating contrast. The blonde part is inspired by a mohawk, but it's wider and not tall.
It goes from the hairline right along to the back of the head. The sides have minor stubble towards the top, then they're shaved clean.
20. Light Brown Highlights
Black men who want curly hair with highlights will like this hairstyle. It stands in tendrils that are dyed light brown. Each piece is very distinct and obviously styled with precision and care. The sides remain short and dark with a square shape.
21. Fuzzy Rounded Shape
Here's a variant of the classic squared shape you've seen above. The top is rounded, and the hairline is also kept more natural and round. Once again, therest of the hair above the ears remains short.
22. Extremely Dense
Do you love to show off your thick, natural locks? This is the perfect look for black guys with thick curly hair.
It stands tall, thick, and very dense, and it sticks out at all angles around the head except for at the very back. The nape of the neck is shaved down, creating unexpected contrast.
23. Side Parted Layers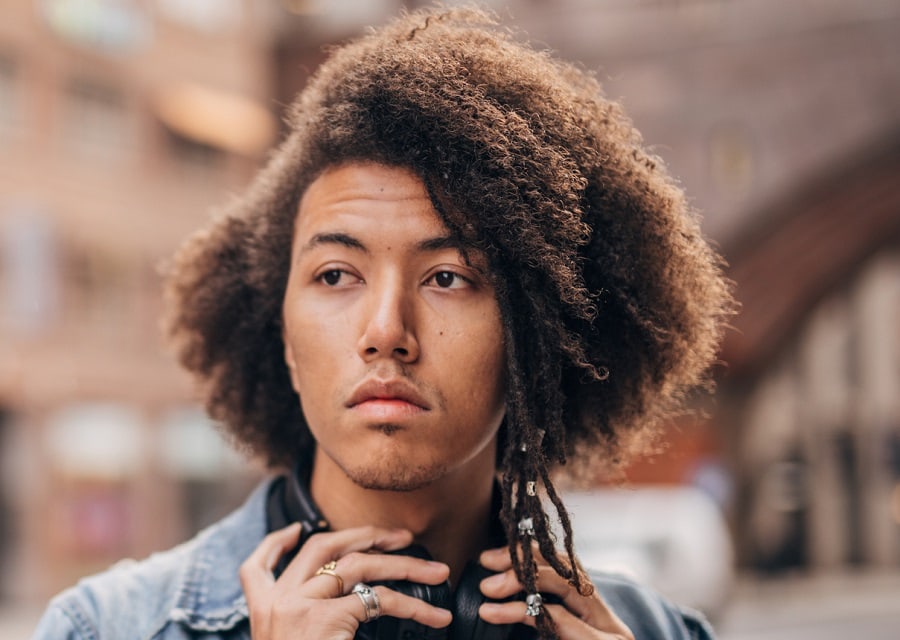 Side partings always look so good with thick hair like this. Most of it is styled to the left, and some layers add volume and help the shorter bangs blend in. The right is pushed away from the face, creating asymmetry that's very eye-catching.
24. Ultra-Defined Twists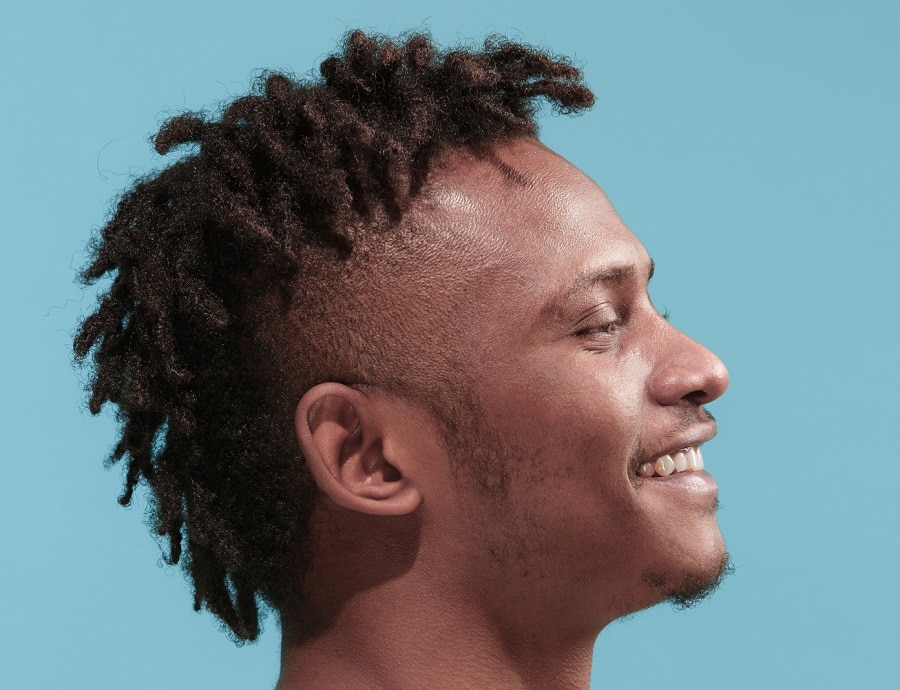 Forming twists with your locks is a nice alternative to dreadlocks. The hair isn't clumped together quite so much, so it can more easily be untwisted. The twists are tense and go from the hairline to the nape of the neck in a mohawk shape.
25. Small Twists
Twisted ends give a classic look to the black men's curly hairstyle. Most of the twists stand tall with shaved sides, but there is an undercut s along the hairline. The top has defined peaks that add some fun and movement.
You don't have to choose just one of these appearances to wear every day. These hairstyles for black men with curly hair have some looks that are similar. You can experiment with similar fashions and see which ones you like most.
Get your barber to give you tips on how best to create these looks at home. Many of them will be easy enough with the right care and the right tools.