If you're looking for a totally timeless and popular style, then dreadlocks for men should be one you consider. They can be very simple or highly complex. And they're definitely always unique.
You can easily express yourself through dreadlocks by styling them in different ways. There's a way to style them for everyone whether you want a natural style or something outlandish.
Timeless Dreadlocks Hairstyles for Men
Are you looking to get dreads, or do you want a new way to style what you have now? Check out the many styles below for some ideas.
Short and Spiky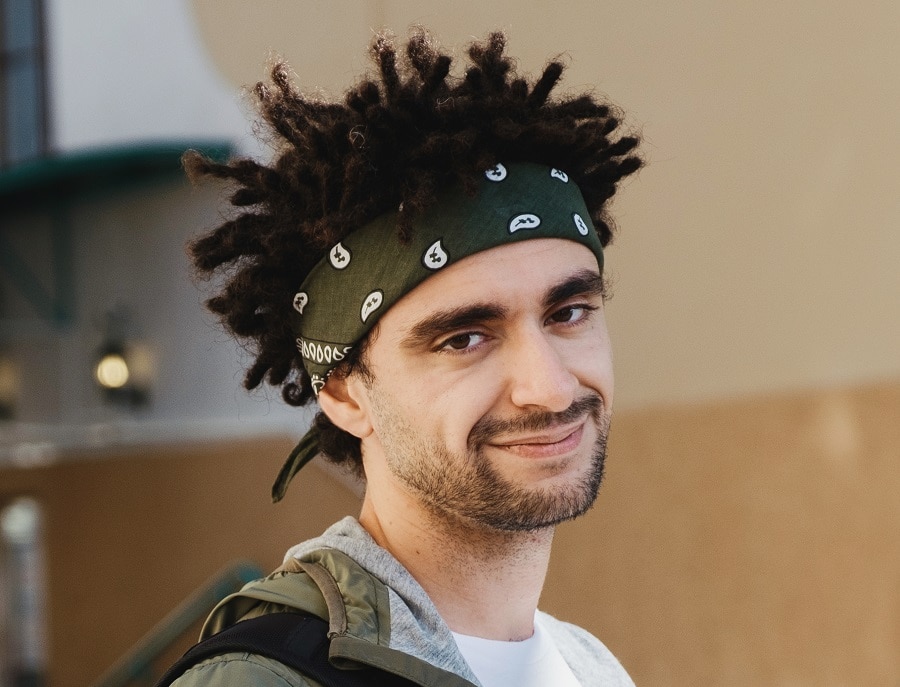 When most people think of dreads for men, they think of very long locks that are difficult to tame. However, you can also have this hairstyle with short hair.
These locks stick out from the head in all directions to create a very fun and messy look. A bandana wraps around the hairline to help push them out of the face.
High Bun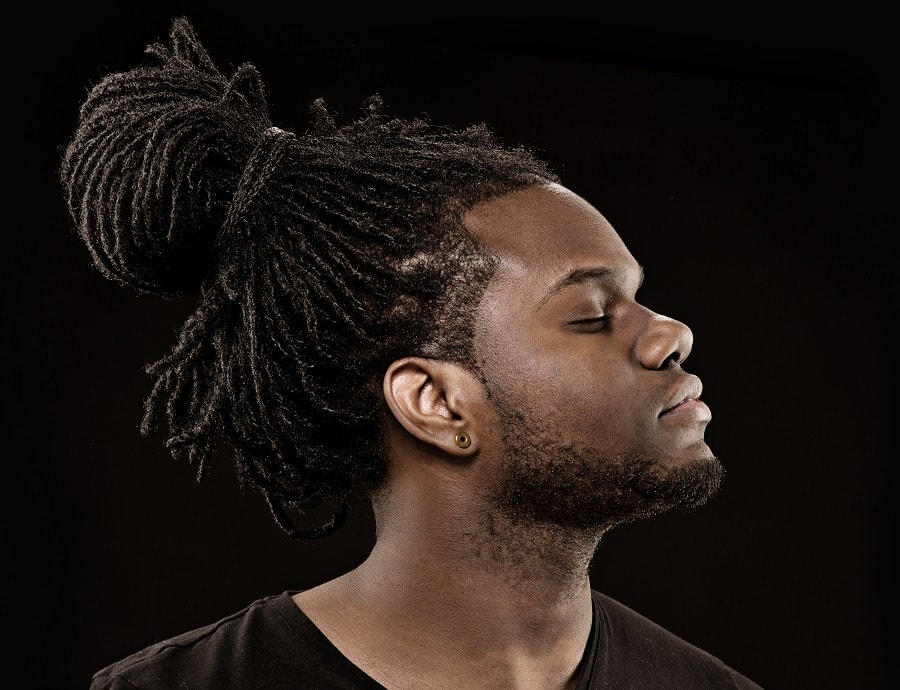 If you're a guy with dreadlocks then you'll need a way to keep them secure sometimes, especially if they're long. You can do this by piling them into a high man bun on the crown of your head.
A shaved section around the hairline helps them stay out of your face even more.
Side Swept Locks with White Section
Here's another short style for you. The locks are swept to one side. The side of the head is shaved. There are two white strands in the hair to help you stand out a little.
Long Side Ponytail
Guys with long, cascading hair will need a way to keep it neat without taking up too much space. Ponytails are great for this. You simply secure the hair in a big bundle to keep it controlled.
Pulling this ponytail over one shoulder will ensure you can still show off your hair.
Braided Dreadlocks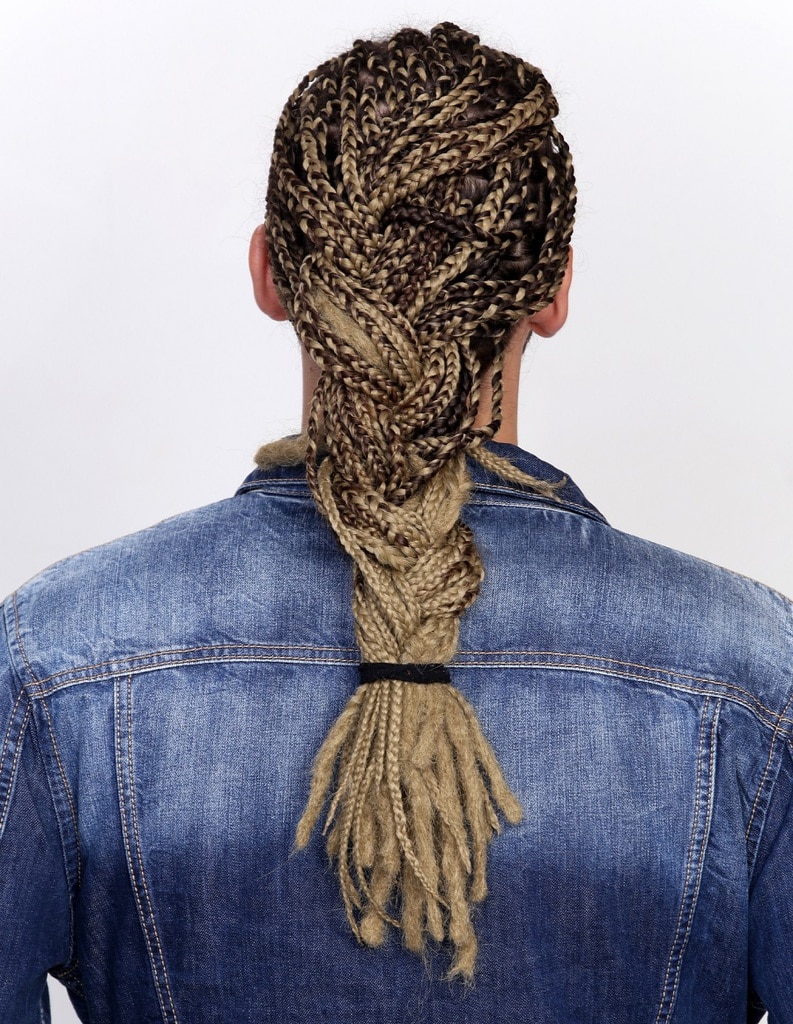 This combination of dreadlocks and braids for men is a super unique way to have some fun with your hair. There are more braids than locks. They come together and form a thick braid that goes down the back.
The combination of dark and light hair colors makes a very interesting pattern.
Simple Swept Back Hairstyle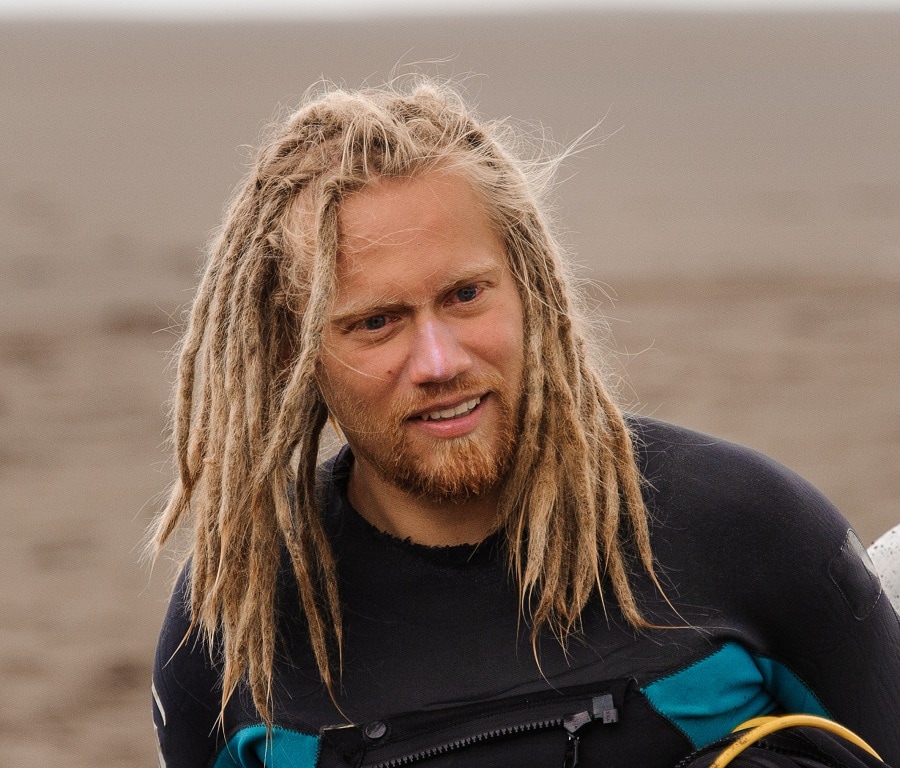 You don't need to do any crazy or fun styling for your blonde dreadlocks to look good. Here they're mostly worn loose. There are a few strands swept back across the head to keep them out of the face. Other than that it's a very tame hairstyle.
Short Dreads with Bangs
Black guy can create all kinds of different styles with their dreads. Here they form curtain bangs as they frame the forehead. Some shorter strands form a croppy shape towards the back of the head. There's some volume but not a lot of length.
Thin Dreadlock Wrap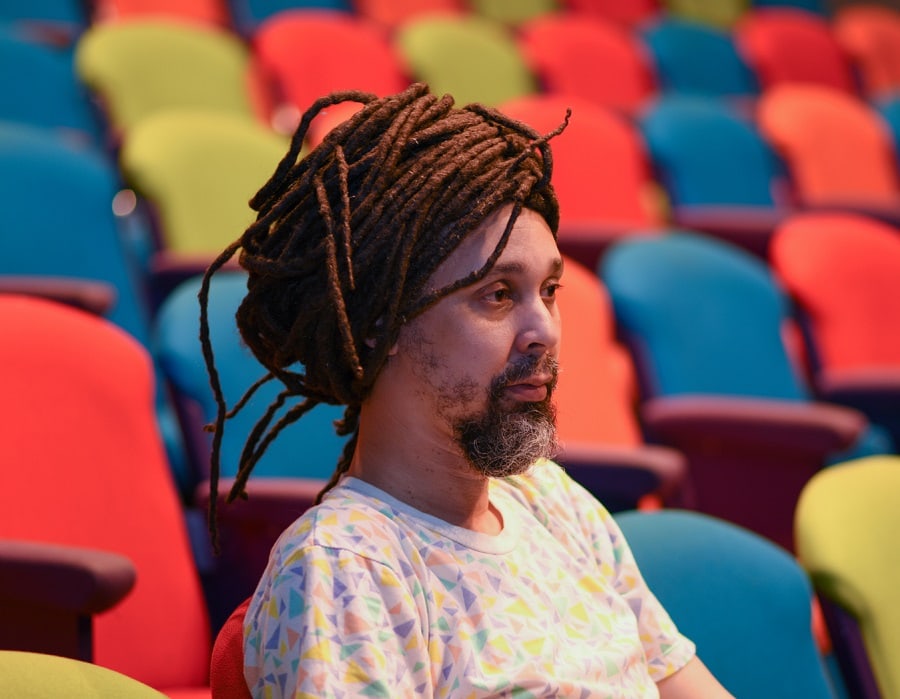 Many guys wear their dreads very long and thick. These ones are much thinner. This makes them more versatile and easier to style.
Here you can see they're wrapped around the head in a style of a turban. Some strands hang loose to add some life into the hairstyle.
High Top Dreads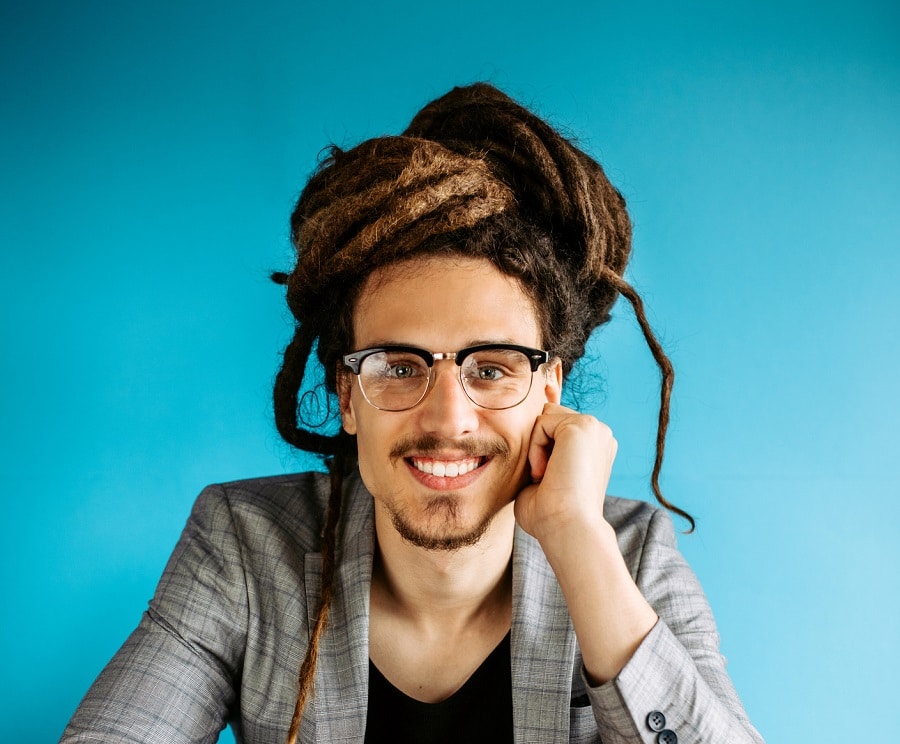 Here's another updo you might like. This is formed with long dreads. They're piled up on top of the head. They form two sections that look very neat and keep the dreads out of the face. A few loose sections add some dimension.
Fade and Highlights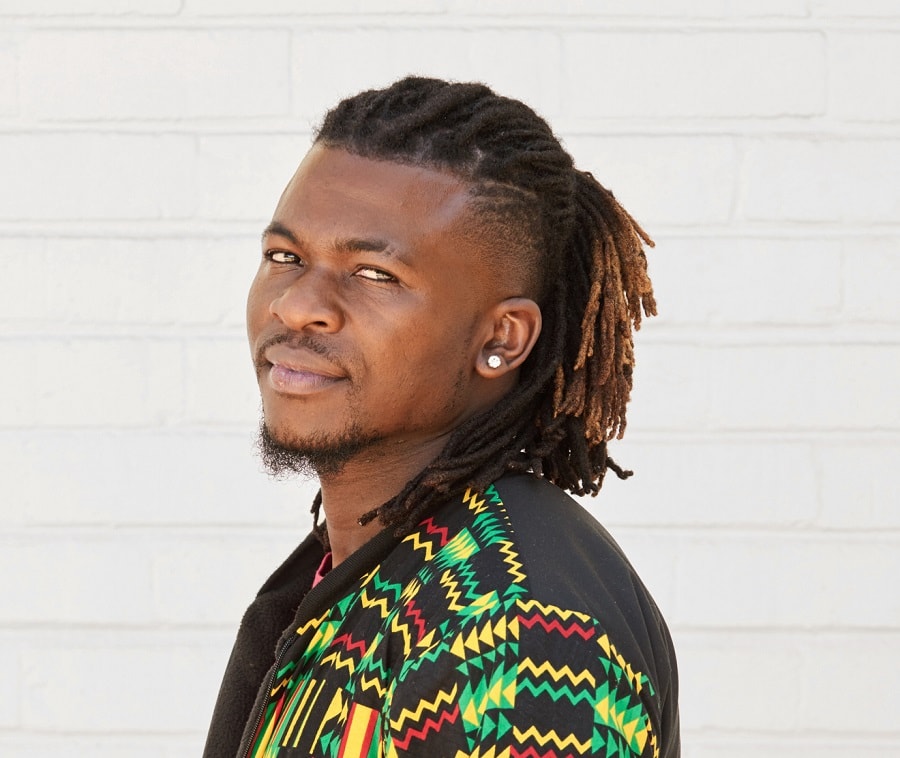 There's a lot going on in this hairstyle. You'll find it very fun to wear. The sides are shaved to form an undercut fade which is a trendy men's hairstyle.
A lot of the hair is pulled back into a ponytail with light brown highlights. Some of the hair is left loose at the back.
Side Swept Ombre
Blonde ombre look great on black hair. The locks are kept short here as they sweep across one side of the head. The sides of the hair are shaved short to help the top of the hair stand out more.
Curly Half Updo
If you have curly hair, then you can definitely add a slightly wavy texture to your thin dreads. It makes you look more unique than people with a traditional style.
The sides are drawn back into a knot at the back of the head. The back sections of hair fall down over the shoulders. It creates a very stylish and classy look.
Layered Thin Dreads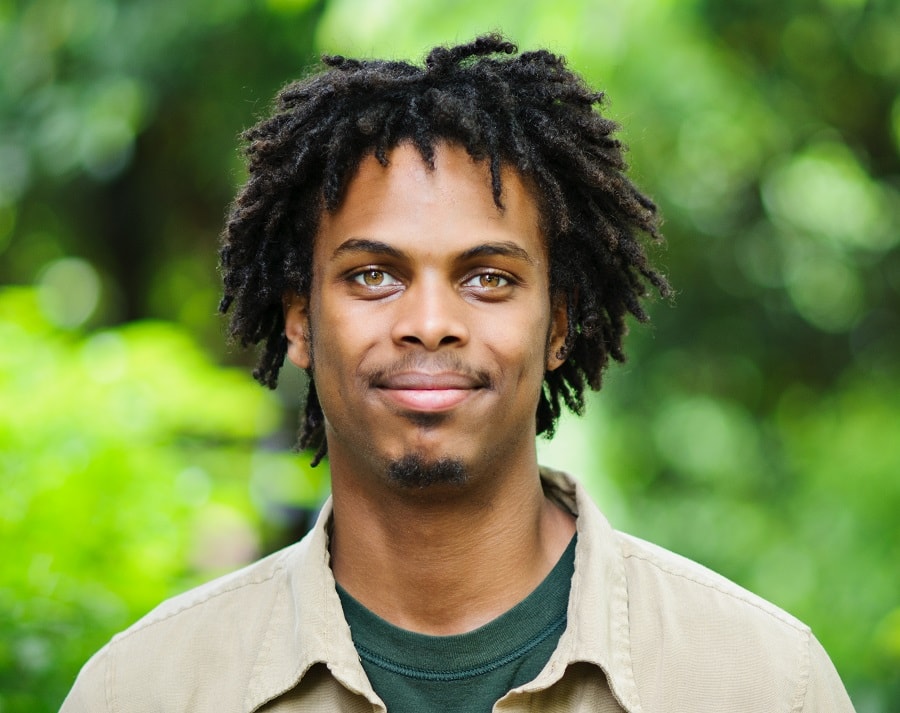 Dreadlocks for men don't have to be big and bulky. Here there are lots of very thin ones that form a voluminous haircut around the head. They're layered nicely so there's lots of volume to the hairdo.
Messy Dreads with Undercut
Undercuts are very popular hairstyles for men. Pairing them with dreads creates an incredibly unique look that you'll love playing with. Here the very thin dreads are parted a the crown of the head.
Some are brushed forward and fall over the forehead. Some are brushed back and fall down the back of the head. The undercut is visible. Overall it's a very messy and edgy look.
High Man Bun
High braided buns are usually reserved for women, but men also make them look great. This bun sits on the crown of the head and is very voluminous. A few loose strands fall over the shoulders.
The dreads create a braided look. There's a mix of dark and blonde in this hairstyle that creates a very interesting texture and contrast.
Loose Dreadlocks
Guys with dreads typically create very tight sections of hair. However, here you can see the locks are clumped together more loosely. This creates a very casual and laid-back appearance. There are lots of flyaway hairs that emphasize this.
Long Side Swept Locks
Black men can create a very casual look by sweeping their long locks to one side. Here the hair is very long and swept over one side of the head. It's super casual and creates a lot of height on top. It's an excellent style for everyday wear.
Men who are looking for a way to make their look more fun, then they definitely give dreadlocks a shot. They can replicate more common hairstyles or create a totally outlandish look.
Braids and dreads go very nicely together. The style also looks great with a mixture of dark and light hair. Anyone can rock this style in both classy and edgy formats.