Modern people highly enjoy customizing their appearance in any way they can. You can easily do this by changing your hair to reflect your personality, and there are so many different styles to choose from. The most eye-catching hairstyle you can create is a haircut with design customization.
Pick a pattern, shape, or something else, and show it to a skilled barber. They'll be able to replicate it in your hair. You can go with something subtle like lines, or you can shave a whole picture right into the sides of your head.
Funky Haircut Designs for Men
If you don't know what kind of design you want in your hair, then check out the looks below. One of them may be the perfect cut for you.
Afro Fade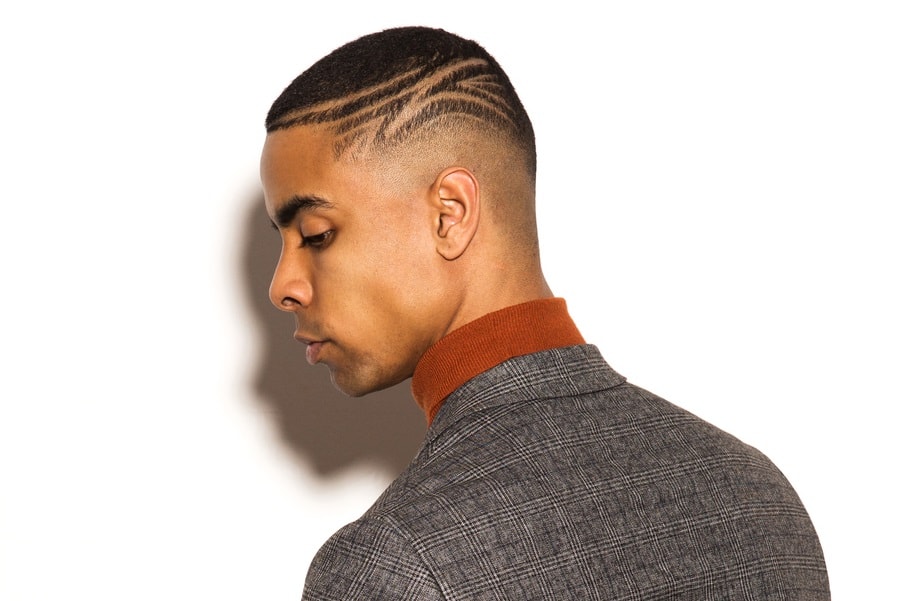 Black and mixed-race men often wear designs in their haircuts. The texture of the hair always adds extra visual interest.
Keeping the hair short makes it much easier to control the difficult texture. Plus you can easily see the lines and triangular shapes on the sides.
Curly Highlights
Sometimes all you need is a super simple hair design. Here it's just a single line raising it into the head. This hard part separates the hair on the side where there's a fade.
There's a lot of attention paid to the longer tresses on top. Highlighting it blonde makes it pop.
Slicked Back with Hard Part
Some guys can't risk getting a really intricate design in their hair. It may clash with the dress code at work or something.
In these instances, you can simply shave a line where your parting would be. It separates the long, slick hair on top from the high fade.
Cool Mohawk
This one is the total opposite of the one above. It stands out the most and is perfect for guys who can wear their hair however they please.
The mohawk is made of extremely long multicolored spikes. The sides have tufts of longer hair in unusual shapes.
Mullet with Lines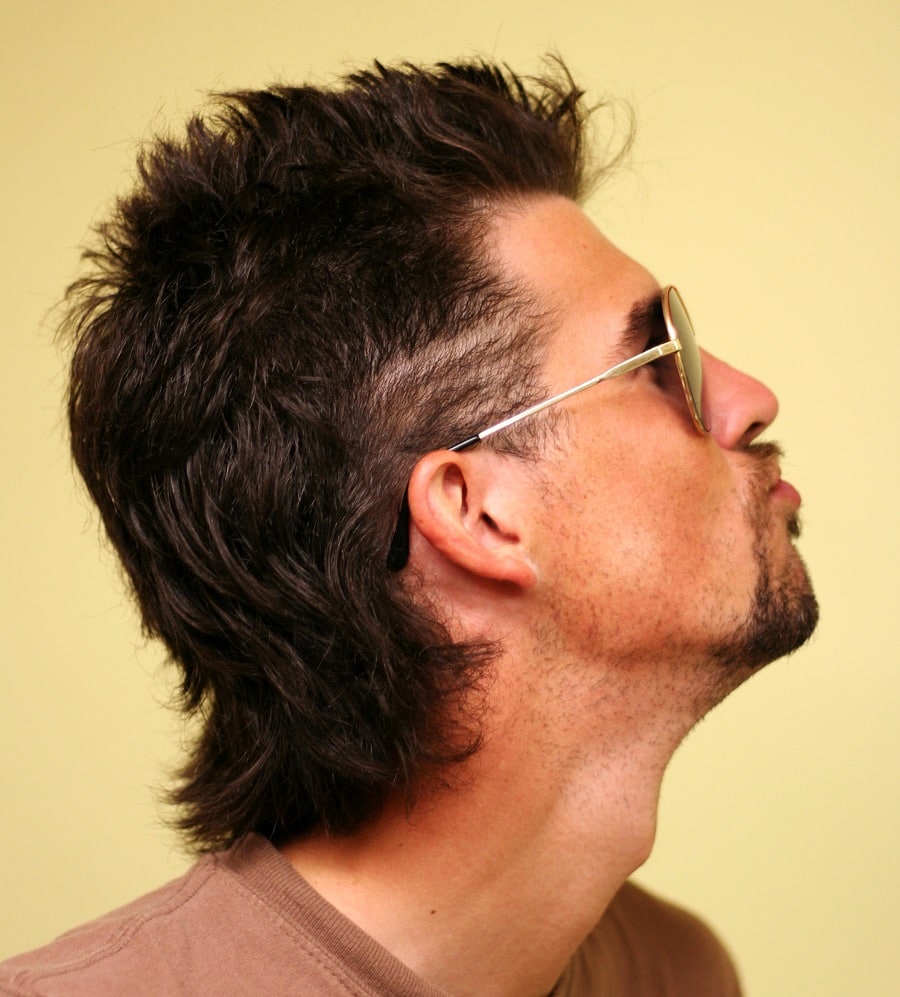 Looking for a style that's a little retro? Wear a mullet that business in the front and party in the back. Don't let the back be too long, and spike up the top.
There are a few lines shaved on the sides. The lines are in the area where a temple fade would usually be in a lot of modern haircuts.
Intricate Swirls
Do you want to show the world how talented your barber is? Let him shave swirling patterns into your hair. There are also a couple of letter shapes and triangular areas.
You'll want a guy who really knows what he's doing when you let him design a haircut of this type.
Topknot with Undercut
Get an undercut if you need to hide your design sometimes. You can let your hair down and it will cover it. Form a topknot when you want to show off the triangular geometric pattern on the back of your head.
Edgy Quiff
Silver and red dye will show the world you're edgy without a doubt. Create a quiff so people can see your hair stand out more.
Then, shave a series of curved and thin lines into the sides of your hair. Create a fire pattern shape with your beard to add to the look.
Skin Fade with Pattern
A skin fade is a modern haircut that many men like to adopt. The baldness surrounding your design helps it stand out more and makes it easy to see.
Do you like square-shaped symbols? Then a hair design featuring the number five or the letter S could be perfect for you.
White Line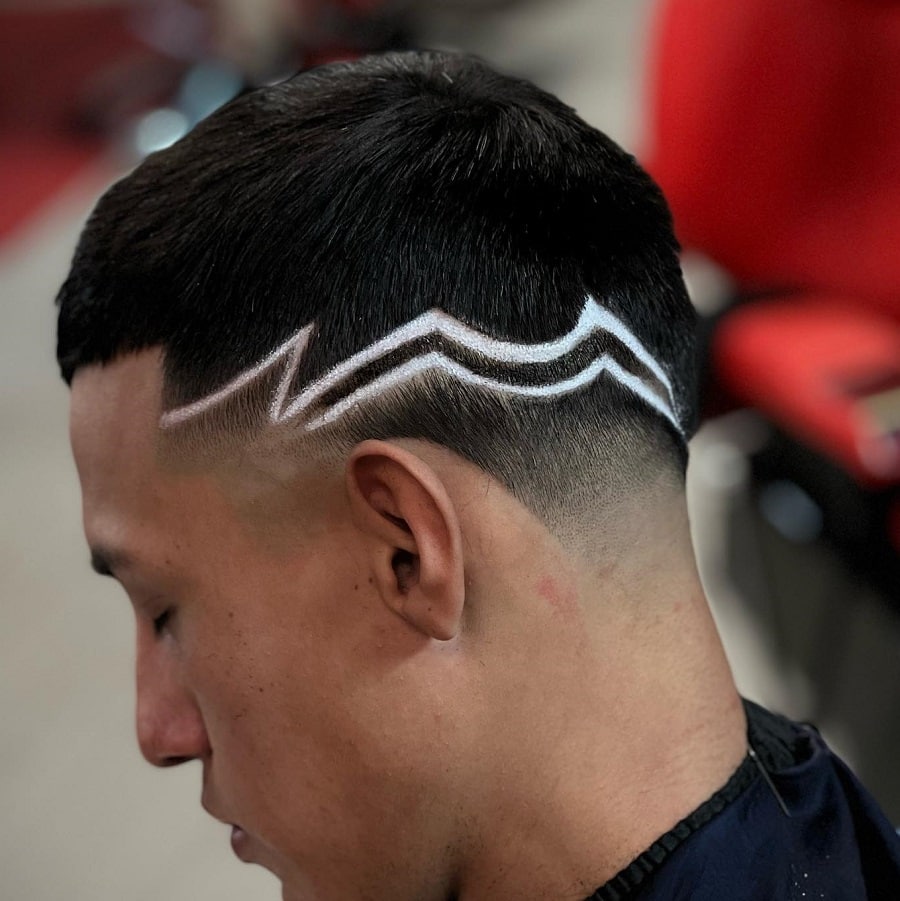 Most men just wear their patterned haircut normally. You can make yours stand out more by dying the stubble white when you shave a design into your hair.
The bright color contrasts the simple black cropped cut and fade.
Nearly Hidden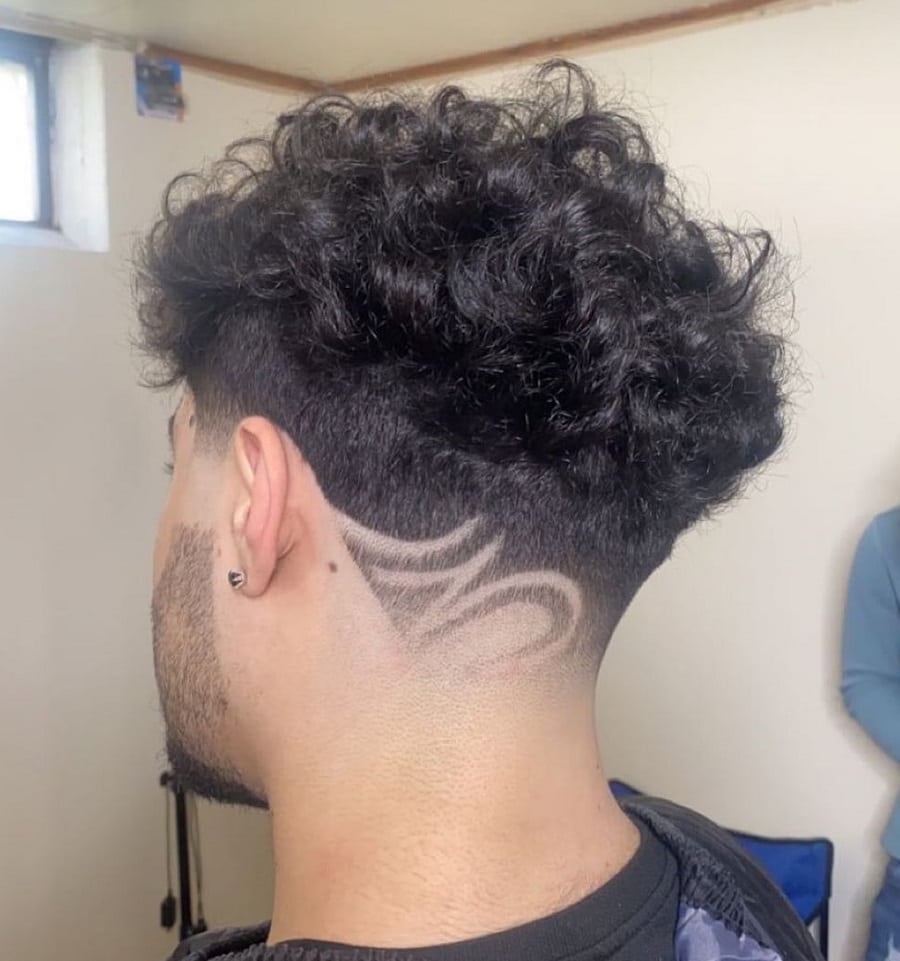 Sometimes you won't be able to see the pattern in your hair when looking at you from the front. You'll simply see the curly top and assume it's a completely normal hairdo.
However, anyone looking at you from behind will see the curved shapes shaved behind your ear.
Broken Heart
Not a lot of men will be brave enough to wear a heart shape shaved into the side of their heads. It will definitely help you stand out.
Connect the heart to a Z-shaped line if you want to make the design blend in with your fade.
Curly Mullet with Zig Zag
Here we see an example of a more modern mullet that has a lot less hair on the sides of the head. The sides have a high fade with a zigzag pattern and two lines shaved in.
Highlights and Bold Pattern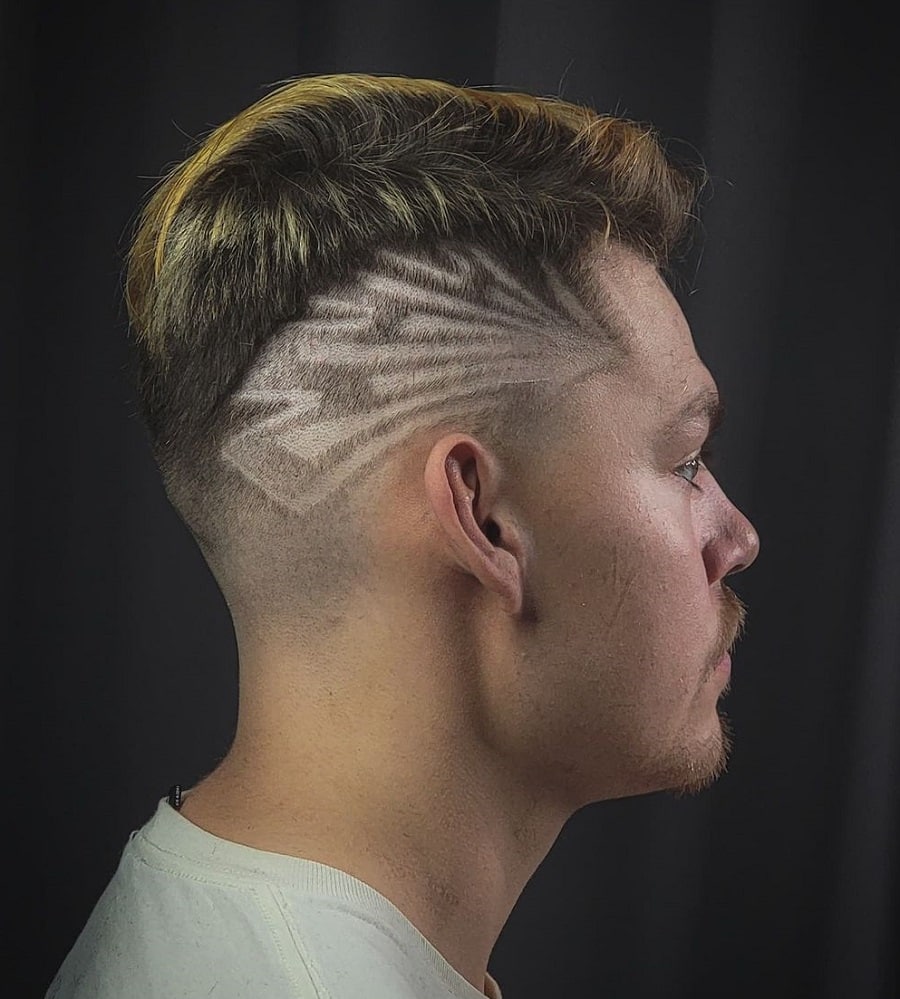 The design of your haircut can stand out if you want it to. The pattern gets bigger as it moves away from the temple. The lines go from thin to thick and fill all the space on the side of the head.
Bald Fade with Design
Here we see another man with a broken heart shaved into his head. It appears to be a trendy pattern to get. The lines of this one are cleaner and have more contrast when paired with the skin fade.
Mohawk with Lines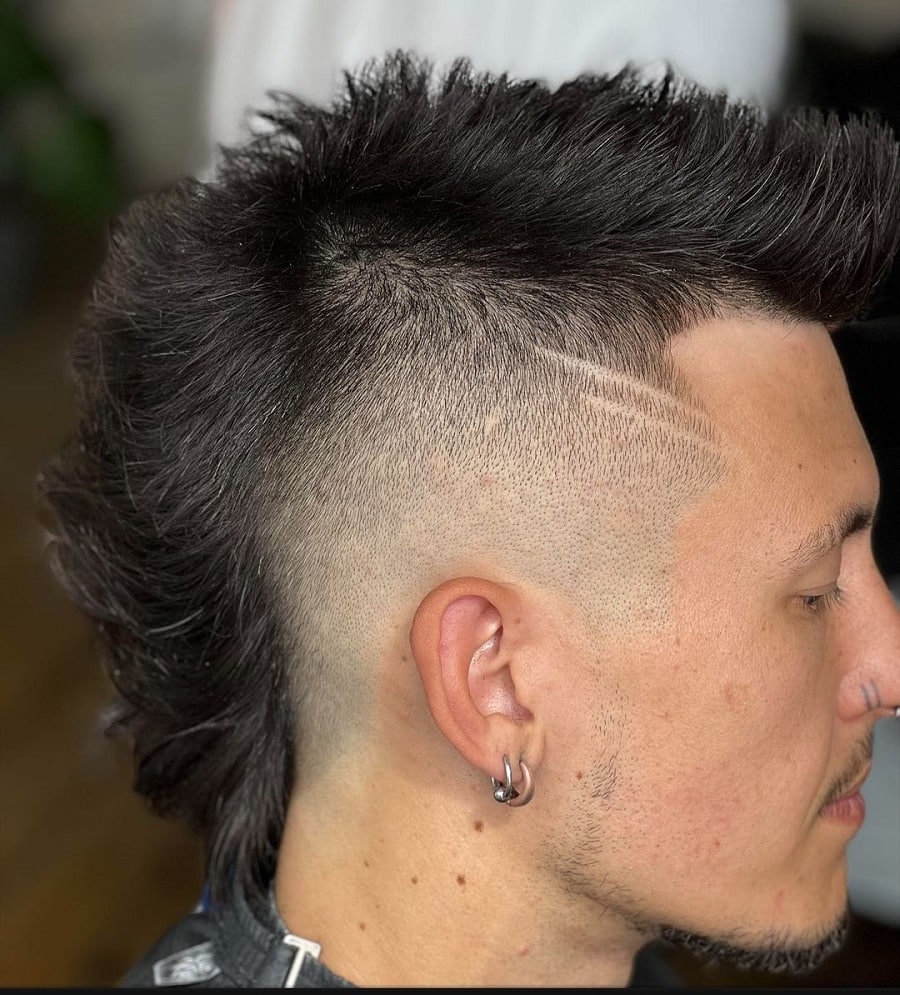 Not all mohawks have to be over the top. This one has a fluffy texture and is far more understated than the one we saw earlier.
There are two thin lines shaved high up on the temple. They match the double ear piercing and the two lines tattooed on the nose.
Heartbeat Zigzag
Have you ever seen the zigzag-shaped line on a heartrate monitor? It makes for a cool design when you shave that shape into the side of your hair.
Keep most of the hair short and bristly to ensure the design in your haircut is visible.
Comb Over with Side Part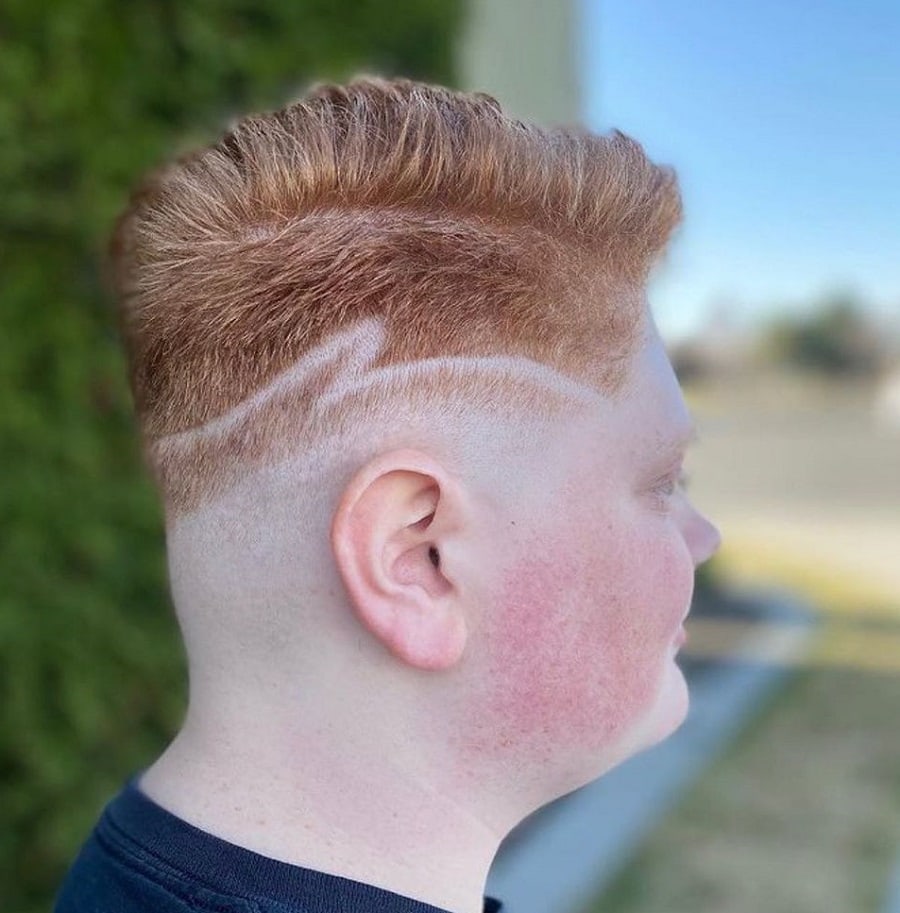 Not all men choose to wear their hair incredibly short when they have a pattern shaved into their hair. Combing your hair over to one side is just as effective for showing off the zigzag on the side here.
Bleached Dreadlocks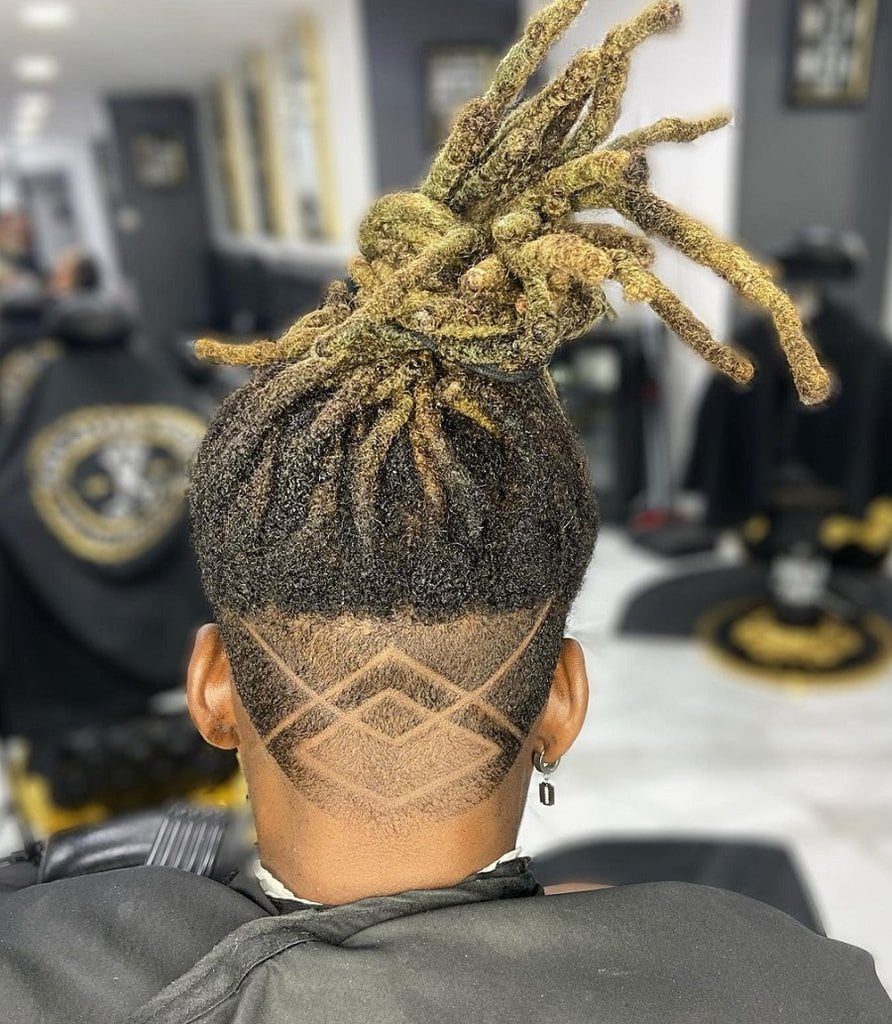 Dreadlocks always stand out on their own. If you pile yours high you can show off a geometric design on the back of your head too. Bleach your dreads to make them pop in comparison to your naturally dark hair.
Slick Temple Fade
Adding a curved line above a temple fade helps distinguish between the long, slick locks on top and the shaved sides. It connects to a line shaved along the nape of the neck, too. The lines together create a cohesive and neat look.
Texture and Line
Wearing a lot of texture in your hair will always make people want to run their fingers through it. The texture stands out more due to the light color of the locks.
Some darker hair is visible on the site of the skin fade. There's a curved line shaved into the side and into the eyebrow. You will really give off an edgy vibe with this haircut.
There are a lot of really cool ways to wear a haircut with design and patterns shaved into the sides. There's a wide range of all kinds of looks. It's almost difficult to pick just one!
If you like to keep things simple, then you should definitely choose one of the haircuts with the line shaved into the sites. More creative guys can select one of the highly intricate styles from the list.