Many styles are making a comeback this year, and spiky hair is one of them. It's one of the most popular cuts for men, and there are more styles than ever to experiment with. Undercuts, taper fades, and more have become go-to looks.
You can also experiment with the length of your haircut. Plus, you must decide whether you want pointy or fluffy hair. There are other variations you can test out, too.
Modern Spiky Hairstyles for Men
So, is your hair in need of a new go-to short hairstyle? Check out the 15 spiky hairstyle trends for guys below to find the one that works best for you.
Fluffy Spiky Hair for Business Men
Everyone can wear spikes, including businessmen. However, you'll need a look that's a little softer. Here the locks are pulled forward and have a fluffy texture. It looks terrific while paired with sideburns. Ladies will love it.
Punk Hairstyle with Bangs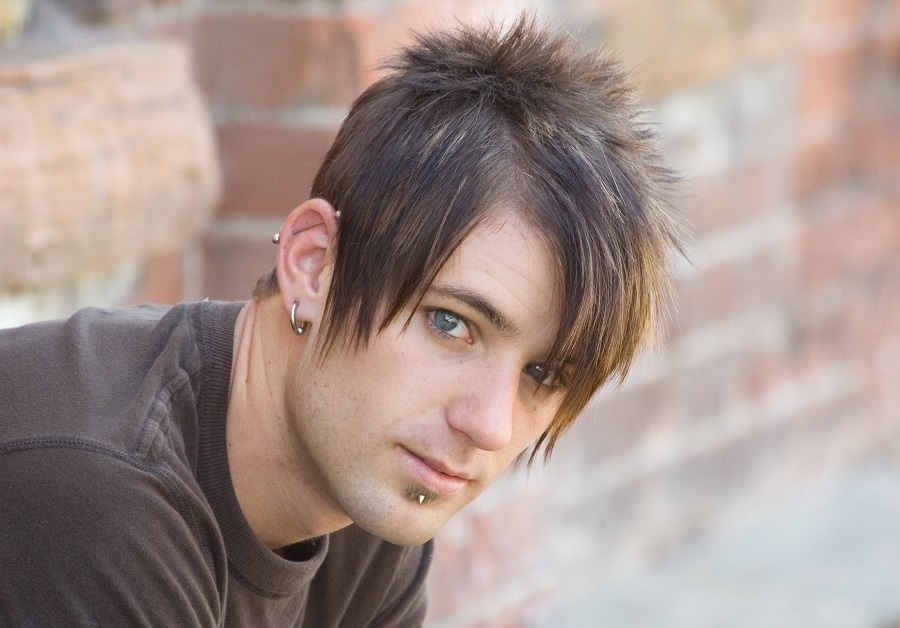 Those who live life on the edgy may prefer an edgy punk hairstyle. Bangs are common in these looks. The choppy bangs are brushed towards the face with some highlights. The locks in the center of the year have a spiky texture.
Undercut Style with Sharp Points
Undercuts are ultra trendy and modern. The shaved sides pair well with beards, as you can see. The mid-length hair on top can then form the pointy look with a very sharp texture. Using lots of gel will help you achieve your desired style.
Colorful Mohawk
The mohawk is one of the most recognizable styles for men. It stands tall from the hairline to the nape of the neck. The sides are shaved. The fluffy, pointy style is then colored green and orange for a true punk vibe.
Tall Blue Quiff
Tall hair is very on-trend. It makes a major statement and makes sure all eyes are on you. You need very long hair in the front to style your quiff this high.
The blue shade also helps you stand out in a crowd. This is great for helping your unique personality shine, too.
Fluffy Ginger Hair with Bangs
Ginger always looks fantastic when streaked with more vivid red. It's very noticeable in the bangs that fall in front of the forehead here.
The spiky hairstyle for men has a majorly fluffy texture. This makes it great for guys who want to run their fingers through their hair.
Retro Style with Highlights
Back in the early 2000s, it was common to see small spiky hairstyles for men highlighted with blonde. Well, that's back in style! Cut your locks short, get bright blonde highlights, and style your hair with your fingers. You'll look perfect.
Punk Look with Colorful Highlights
There's a lot of hair here, but it's styled to look wispy. It creates a very edgy yet carefree aesthetic. It's also totally punk with a white base color and lots of darker tones highlighting the strands.
Bleaching your eyebrows or having very naturally light ones helps enhance your look.
Spiky Style for Thick Hair
You can create a lot of texture if you have thick hair. It'll take some careful styling, but you can achieve it if you're patient.
The strands on the side are very long and loose, but there's a sharper and shorter look on top. There are also some sharper pieces towards the back of the head.
Short Finger Styled Spikes
Do you have limited time in the morning to style your hair? That's fine. Keep it short, grab some styling products, and create a super easy style. The front comes up in a little quiff, and the back is styled randomly with the fingers.
Head Framing Style with Bangs
Wild and experimental styles are always fun. This is one where the spikes frame the head all across the sides and top. Some pretty thick side bangs help frame the face. There's a lot of stiffness and volume in them.
Brown Hair with Two Tone Highlights
Two-tone highlights are very unique. Light and dark colors have been put into this brown hair to help it stand out dynamically. It's styled to be purposefully messy with very thin points. Those points have been pinched and made very straight.
Side Swept Style for Medium Hair
Medium-length locks are great for forming this style. You can create easy, side-swept, and slanted styles that look very casual. These are also easy to achieve every day. It's a wonderful look for guys who don't have a lot of time on their hands.
Short Style for Blonde Hair
Short blonde hair is wonderfully youthful, so men in their late teens and early to mid-20s might like this one. Older men can still wear it and look great, too!
The sides are kept soft and lay flat. On top, the hair stands tall and has a nice and soft texture. Make sure you use cream or mousse instead of gel to ensure you keep that soft look.
Kinky Hair with High Fade
High fades with a squared hairline are very common styles for black men. The natural hair is then drawn upwards as tall as it can go. Only the very tips are spiked straight. This creates a style with various textures and makes it very eye-catching.
With so many cool spiky haircuts available, it can be difficult for men to pick one. Hopefully, we helped you decide what cuts to experiment with. Some of them might take a little extra time to achieve, but it's worth it.
Make sure to play around until you achieve your desired look. Many hair lengths and cuts allow you to cycle through several of these styles until you find the one you're going to stick with.