The mullet was once a staple of being fashionable, but unfortunately, it fell out of style for a few decades. Luckily, all trends make a return eventually, and now it's entirely back in style.
Nowadays this classic look has a modern twist, but you can also keep it classic if you wish. There are so many ways to wear mullet haircuts for men that it's difficult to narrow down your choices.
Rocking Mullet Haircuts for Men
Thankfully we're here to help you narrow down your choices and choose the absolute best hairstyle for you!
90's Mullet for Thin Hair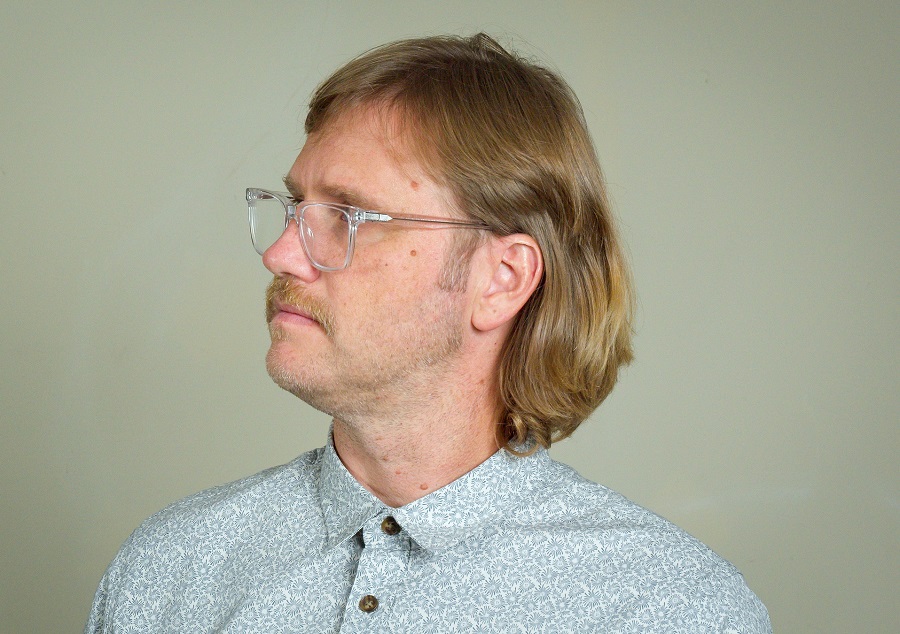 Mullets for men with thinning hair keep things simple at the front. The hair is light and wispy as it falls into the forehead and at the sides, it blends in with the longer locks.
All the length is kept to the back and pushed behind the ears in this respectable haircut.
Messy Mullet with Headband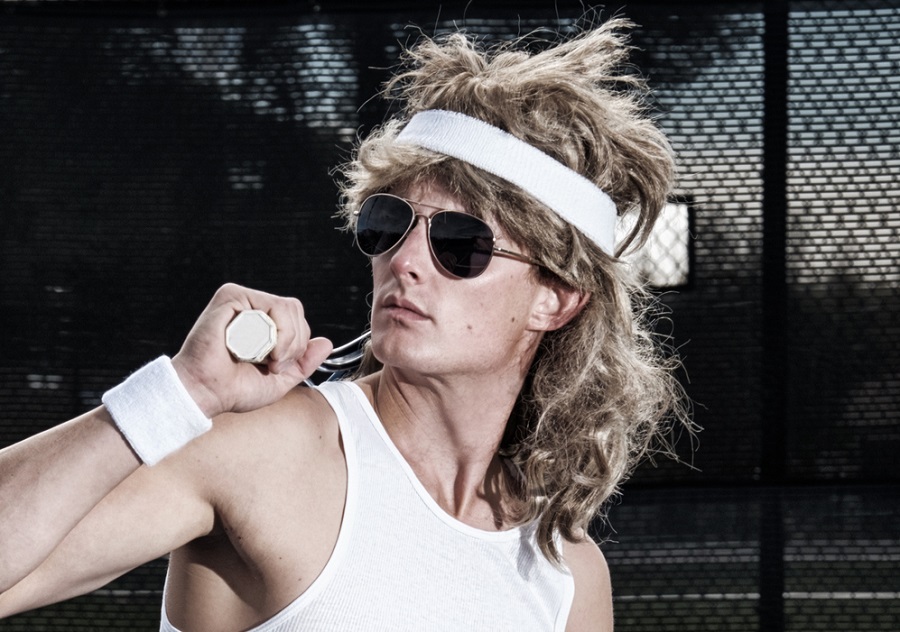 Messier looks were very much in fashion when this hairstyle trend was first making the rounds. There's a lot of strategic tangling and frizzing in the back of this mane.
The hair on top stands tall around the headband and the bangs create a nice, choppy texture to add to the look.
Super Thin Youthful Look
Young guys with fine locs might like this mullet haircut as it's super subtle. Most of the hair is brushed forward onto the forehead and is a little wispy as it lays across it. The sides are incredibly short so there's only length right at the back near the nape of the neck.
Spikes and Fade
You can jazz up this hairstyle in lots of ways. For example, shaving the sides is a great way to emphasize the back, and having a fade makes this look modern. At the front, spike up your long red hair to create an edgy and eye-catching effect.
Two Tone Croppy Look
Guys with blonde hair stand out really well as it's not a typical color for men to dye their hair.
Here you can see the natural dark brown underneath the longer parts of the haircut to add some contrast. The top and front have an alluring cropped texture for a laid-back effect.
Asian Spikes with Low Fade
Mullet haircuts for Asian guys who like edgier looks are sometimes difficult to come by. This is a perfect example of one. The hair on top has a lot of texture and spikes to it. Meanwhile, the low fade is bold and stands out.
Colored Hairstyle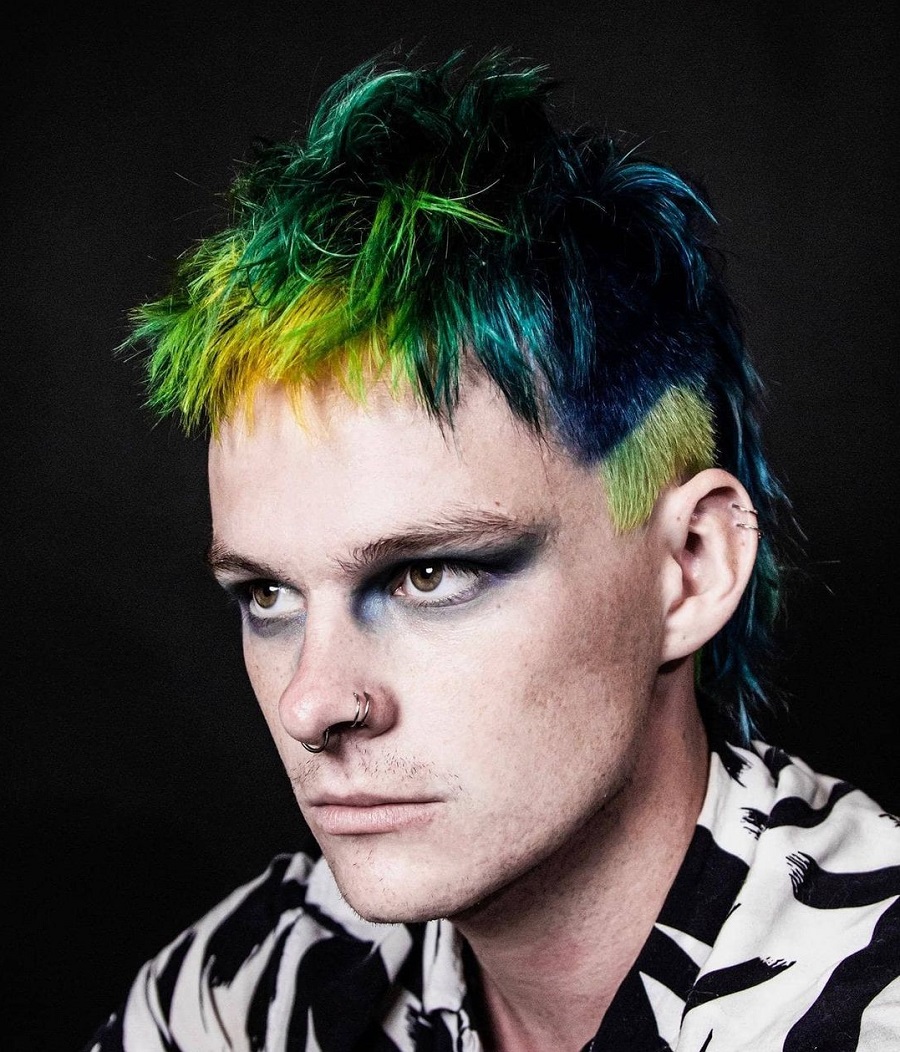 Men who are into punkish and alternative looks will really dig this mullet's vibe. It's full of blue, green, and yellow colors that will turn heads whenever you walk into a room.
The messy texture on top has such a modern appeal while retaining the shape of the classic haircut.
Long Mullet with Bangs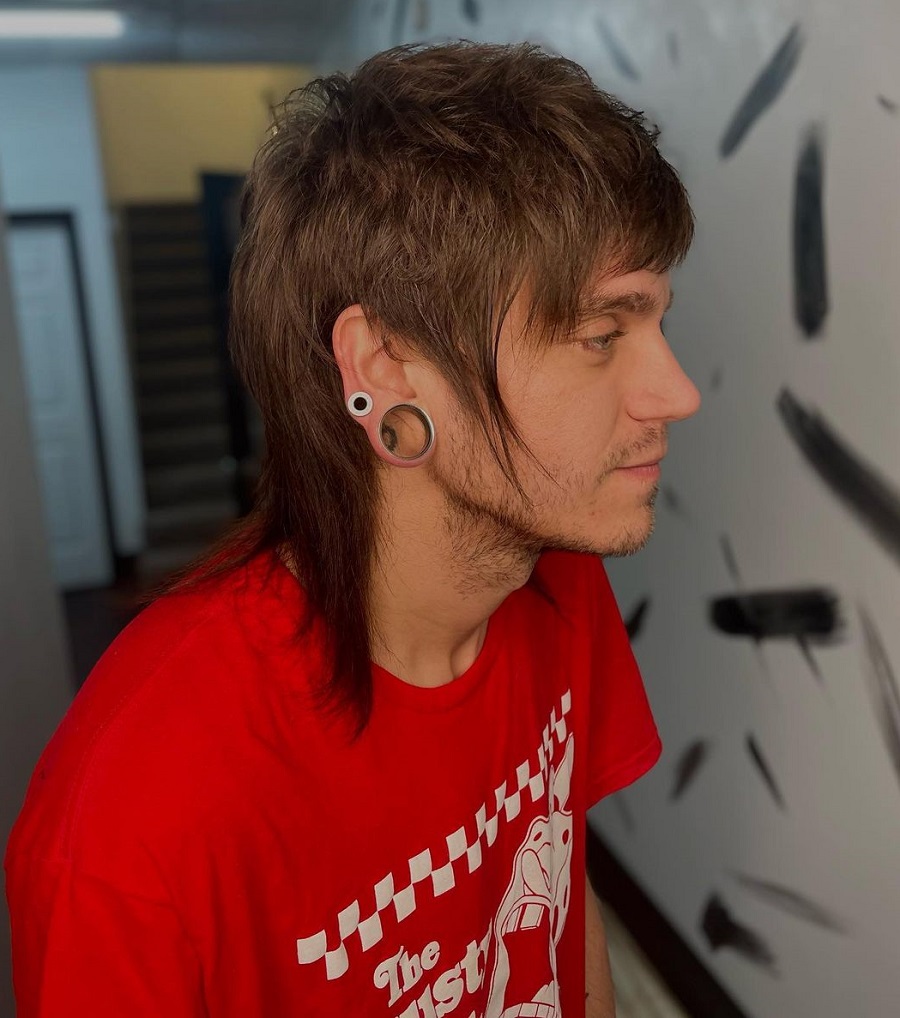 Here's another look with an edgier vibe. The bangs sweep across the forehead and are flanked on one side by a long strand of hair that ends in a point.
It's a very late 2000s punk/emo look. The back is long and straight so it matches the pointy and edgy vibe of the rest of the look.
Blonde Curls with Shaved Sides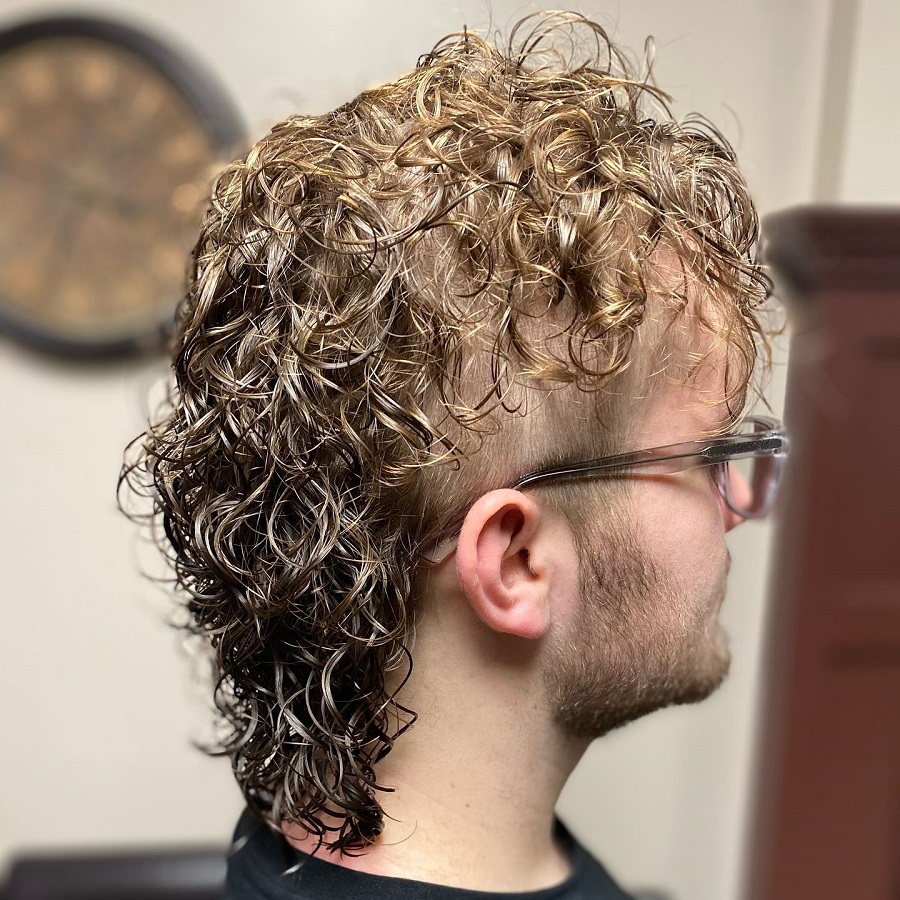 Some guys are so lucky to have an interesting and curly hair texture so they need to show it off with a mullet. However, curly hair can get very thick, so shaving the sides helps handle that.
The hair on top is nice and thin and pretty short, but the back is much denser and falls almost to the shoulders.
Layered Wavy Hair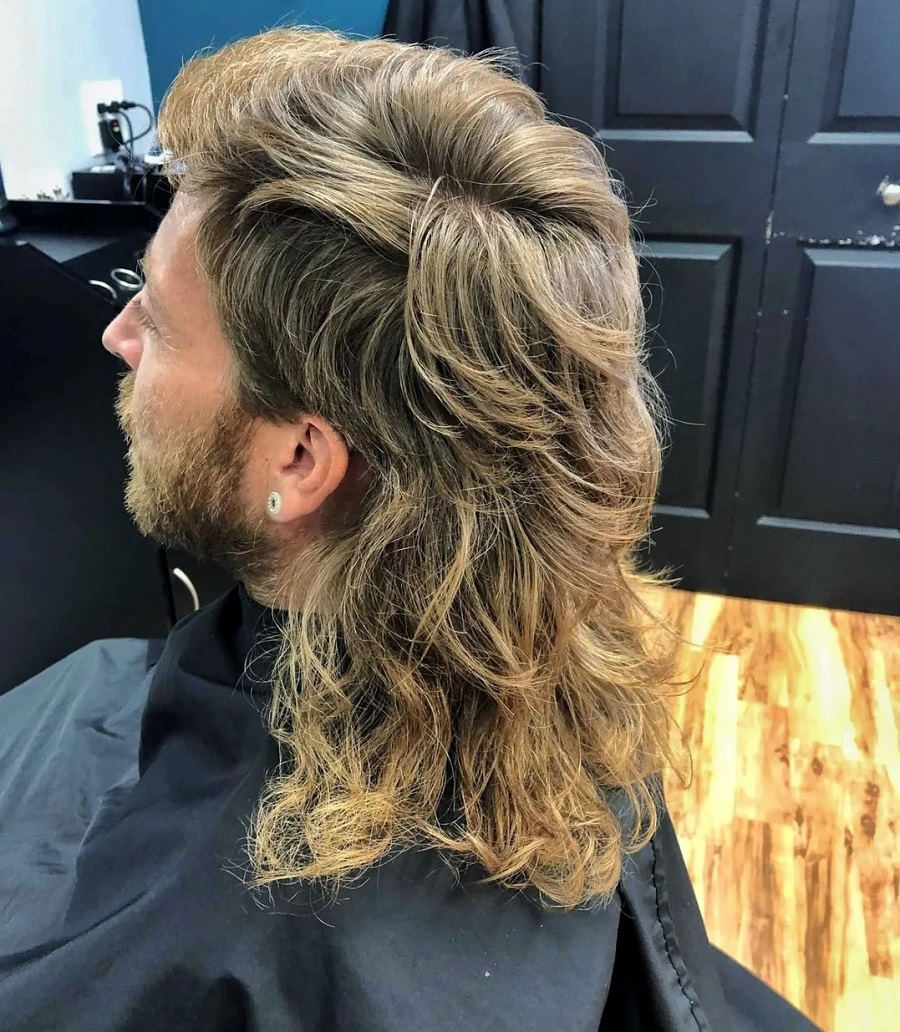 If you're one of those men who's blessed with a thick mane of amazing tresses, then don't waste it. This mullet cut is super sleek with the fluffy hair swept over to one side at the front.
There's a total party in the back as the thick hair cascades past the shoulders with layers and lots of waves.
Vibrant Orange Curls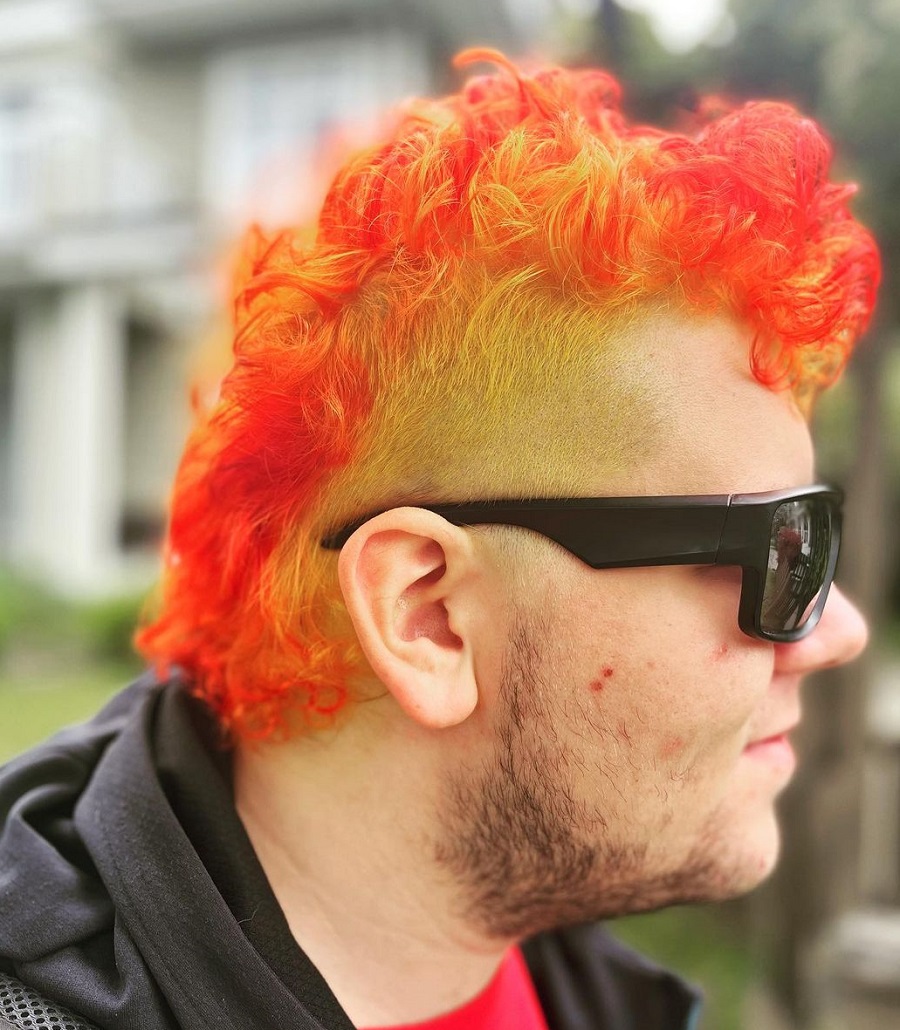 Want to really stand out in the crowd? You can't go wrong with a bright orange dye job to do the trick. It'll help your curls pop a ton. Shaving the sides of your head will do even more to emphasize the mullet's shape.
Thick Mullet Mohawk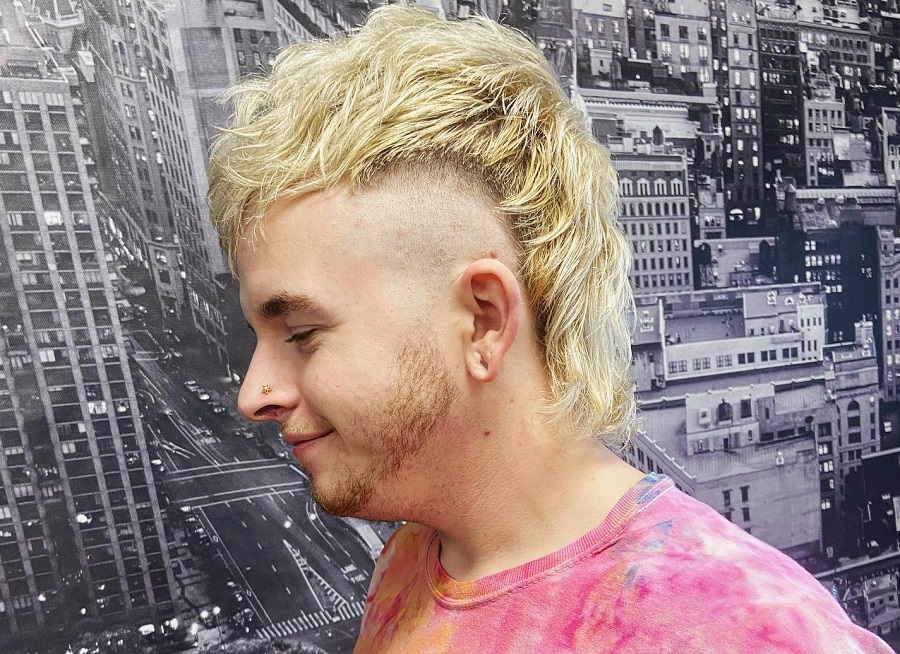 Combining two hairstyles is always a cool way to be unique. This men's mullet mohawk hairstyle is a surefire way to get people talking.
The hair is super thick as it takes the shape of a classic mohawk. The top is all brushed toward with a nice textured effect.
Middle Part with Curtain Bangs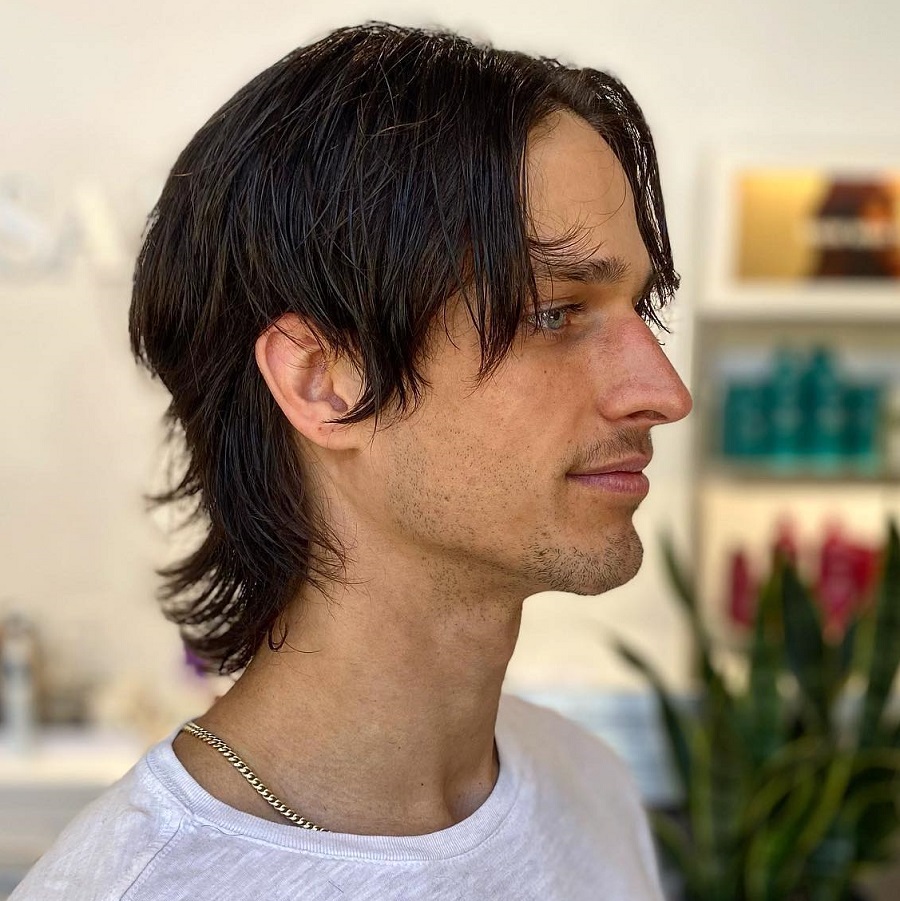 Some styles, like this, are a little longer at the front. The curtain bangs will make you look incredibly handsome and frame your face nicely. The extra length at the back is great for adding some texture and life to your look.
Thick Black Hair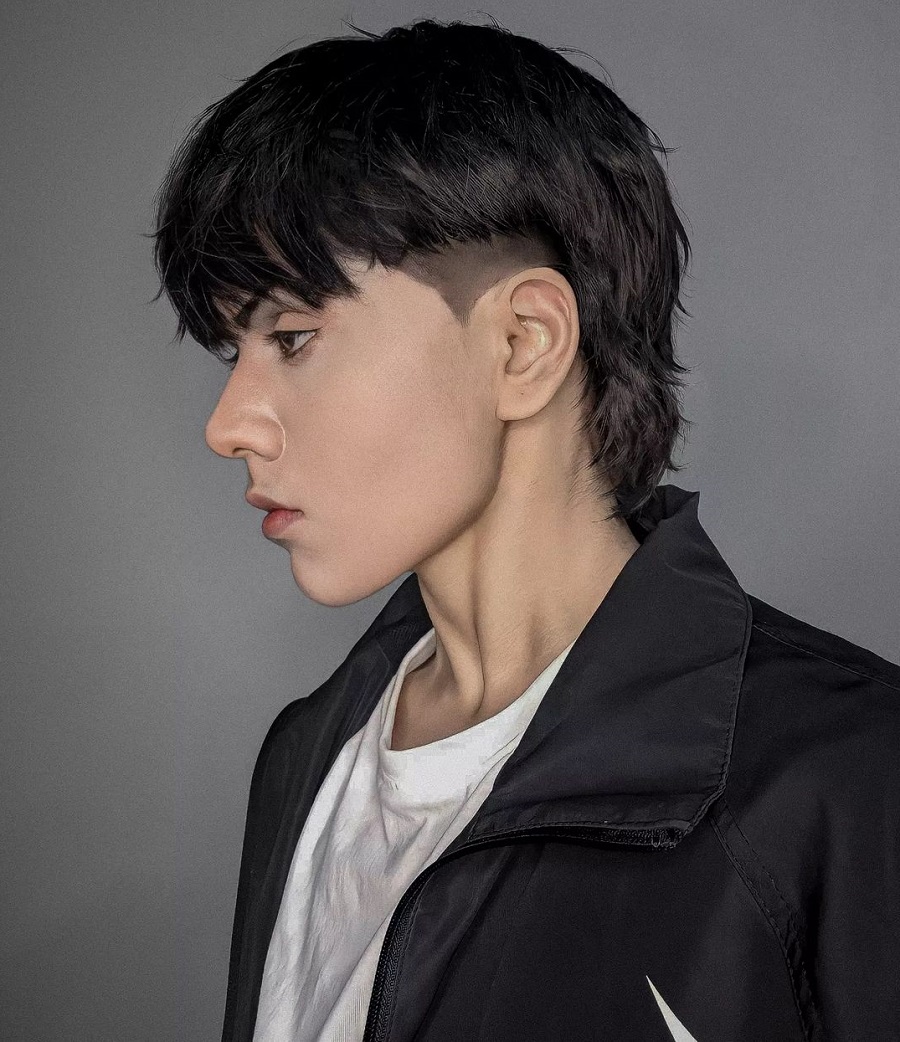 Undercuts are really edgy and they look dark and mysterious when paired with a black dye job. It's a very modern take on this look.
The top is super thick with bangs that fall to the eyebrows while the back is pretty subtle and falls to the nape of the neck.
Messy Wavy Bangs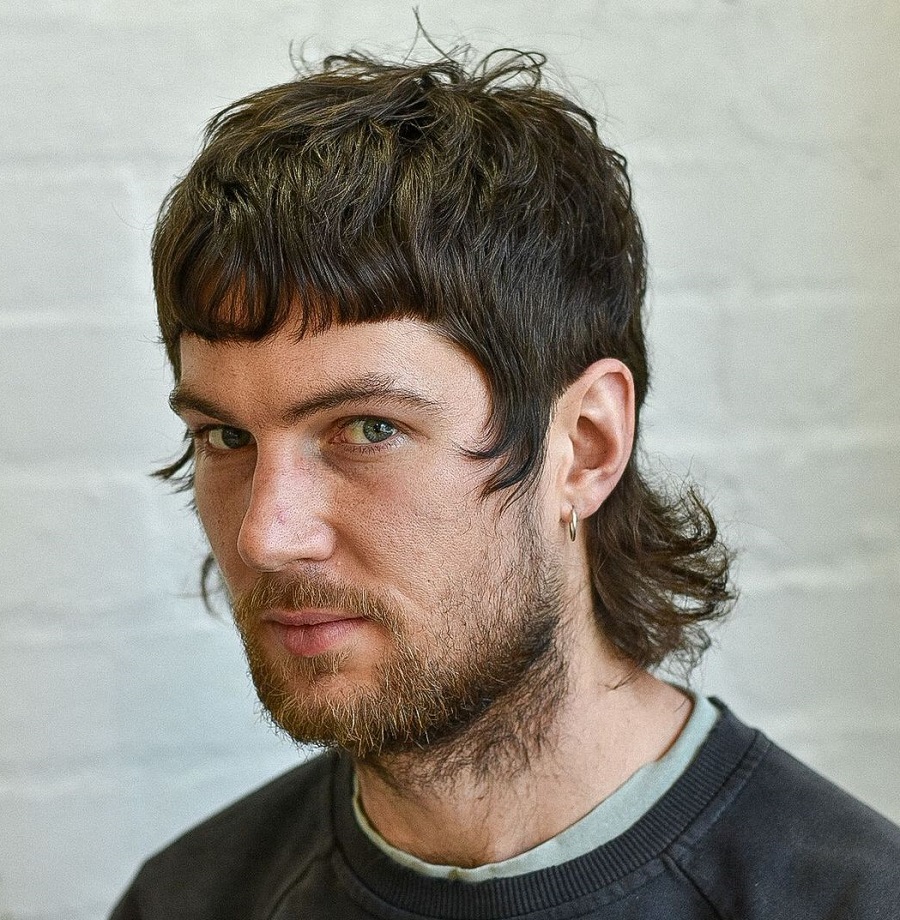 Wavy bangs create a very bold look that gives you a ruggedly handsome appearance.
They're flanked by two longer sections of hair that stand out from the neatly clipped sides. The thick hair at the back has wispy ends that go well with this style of beard.
Spikes with Striped Design
If you're into bluntness in your look, then a spiky mullet with design shaved into the sides of your hair is a good look. The design is really subtle as there's a lot of hair growth around it.
Sleek Look with Undercut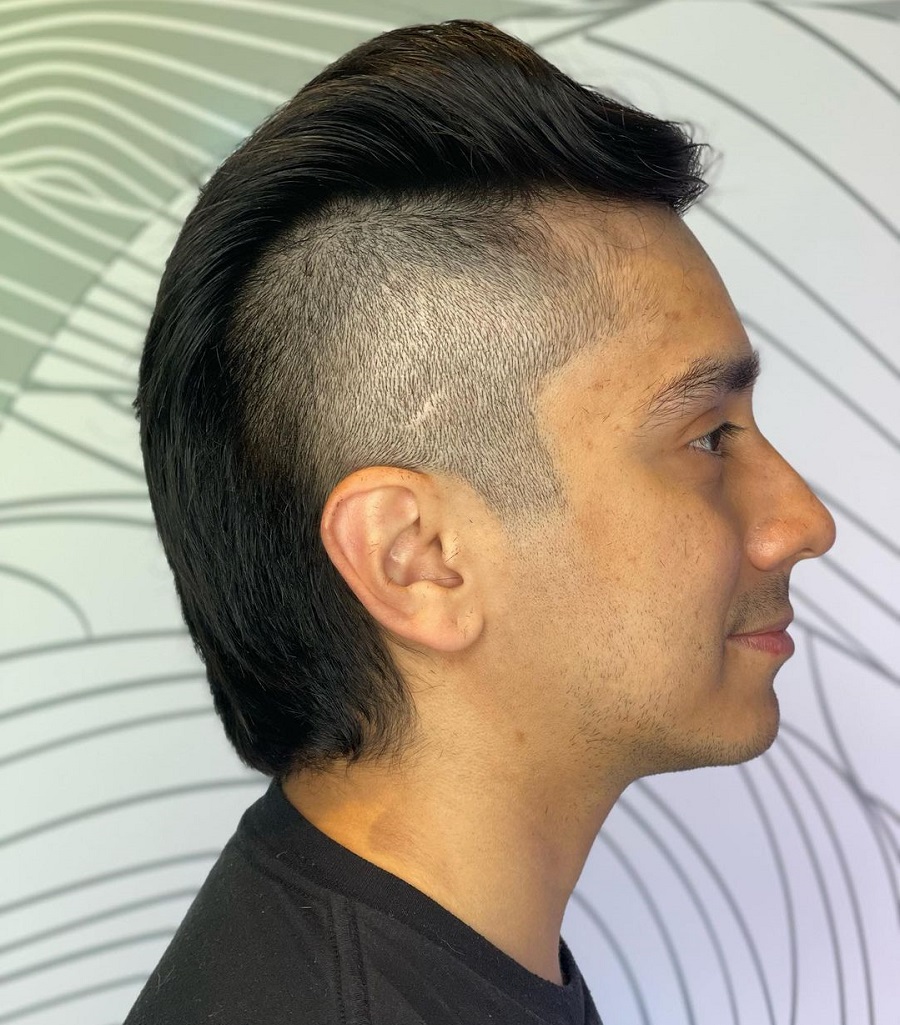 Once again we see an example of a modernized men's mullet haircut. The fade on the sides really cements it into the 21st century, and the sleekness of how the hair is brushed back from the face helps with that.
Fluffy Pink Layered Mullet
More and more guys are embracing pink and similar colors. It looks really nice paired with dark regrowth of your natural color underneath. The super fluffy look is incredible and will make you look so handsome and confident.
Shag with Bangs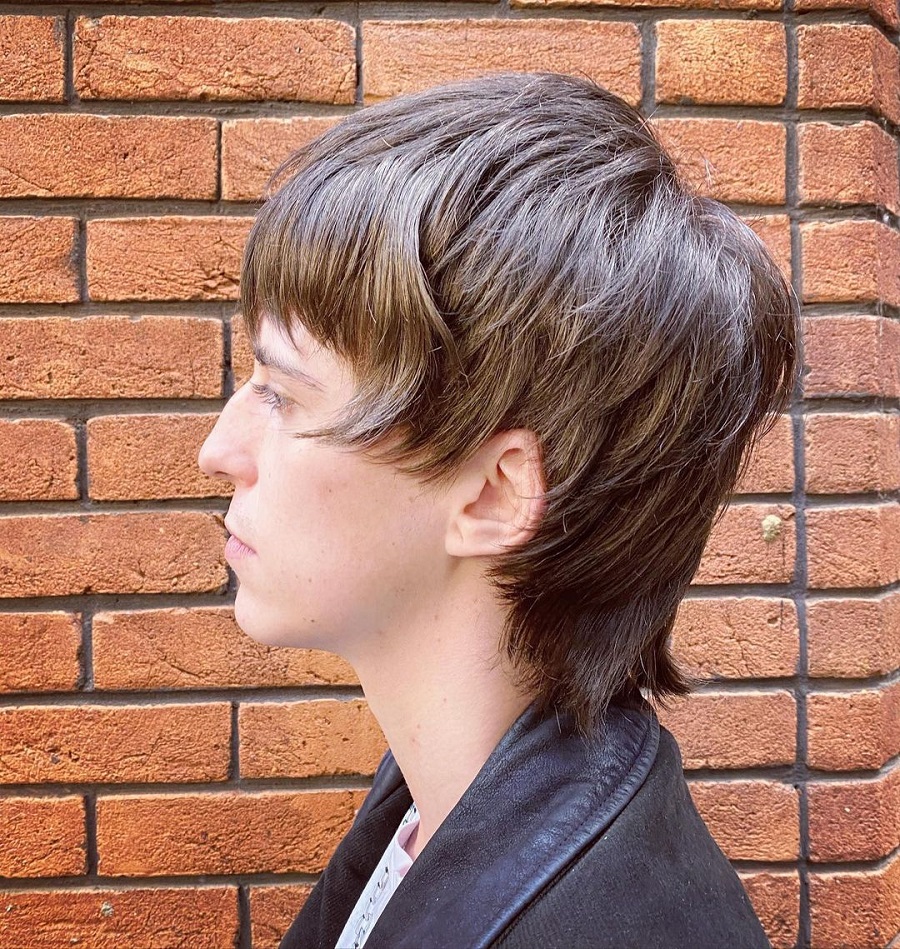 Bangs create a very rounded-out look, but sometimes they can look a little basic. Pairing with a shaggy mullet haircut can create a cool and fashionable look for men. All the hair sweeps toward the front of the head to create a really cohesive style.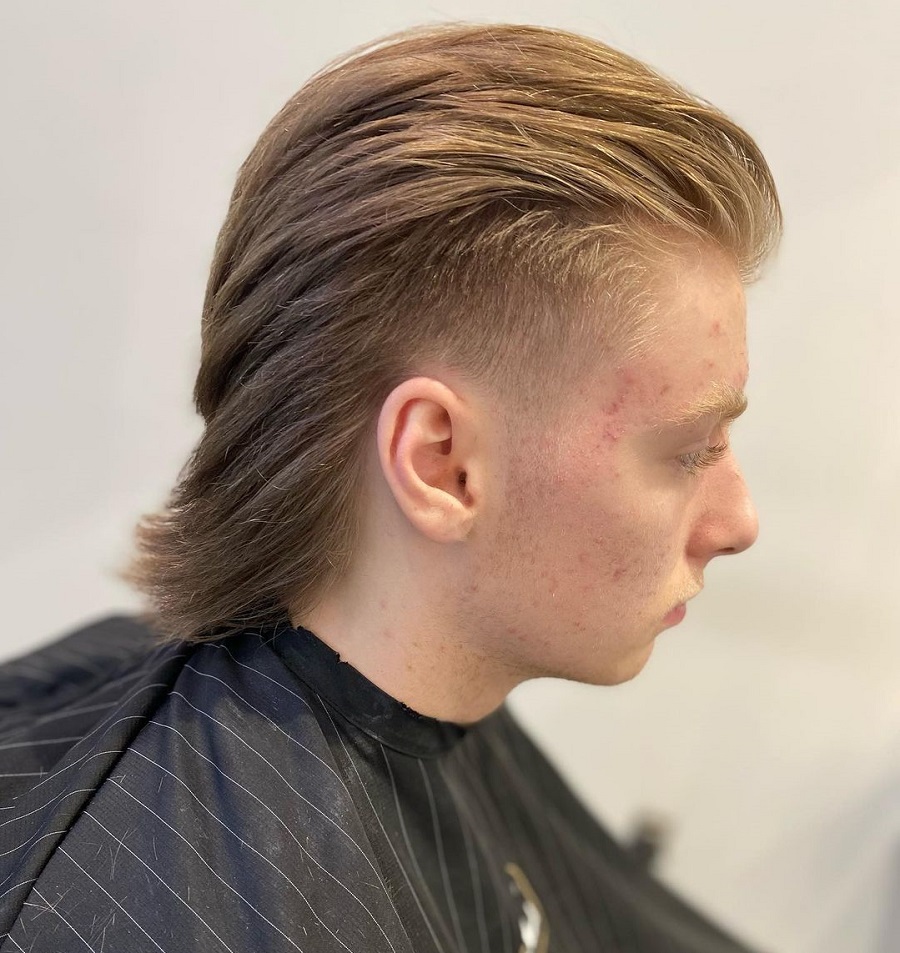 Sleek styles like this really make you look well-presented and put together. The hair is thick and fluffy as it pushes towards the back of the head.
Men can bring a modern touch to the mullet cut by having a light fade like this on the sides. It's subtle but noticeable enough to keep them looking on-trend and cool.
You can really do a lot with your look when you embrace how many ways there are for men to style a mullet haircut.
This classic look pairs seamlessly with modern trends to create a look you'll love. You can definitely boost your confidence by embracing a unique and quirky style like many of the ones above.