Some men's hairstyles go out of fashion fast. However, the slicked back hairstyle for men never goes out of style. The locks are taken from the front of the hairline and pushed back towards the crown of the head.
It's an incredibly popular style that's been big since the 1950s. It's a super refined look that's versatile and can be applied to lots of hair types, face shapes, and more. The only thing limiting you with this style is your imagination.
Modern and Popular Slicked Back Hairstyles
Luckily we can help you fill your imagination with brand-new styles to wear. Just take a look at the list below.
Sleek Look for Ginger Hair
Thick hair can be a little bit harder for men to wear slicked back. However, it's not impossible to create a slicked back hairstyle for men with thicker hair.
A strong holding gel will ensure you look wonderful and very sleek. The nice ginger tone always looks amazing with this style.
Greaser Hairdo
Wearing your hair in the greased style was very popular in the 1950s. It remains something that's totally classic today. It suits younger and older men and it will make you look very sophisticated with a cool edge.
Sleek Style with Skin Fade
Skin fades are incredibly modern hairstyles that are always on-trend. Pairing them with slick looks adds a little variety to your appearance that looks great. Here the locks are swept back, but there's still some volume in them to keep you looking great.
Undercut with Ponytail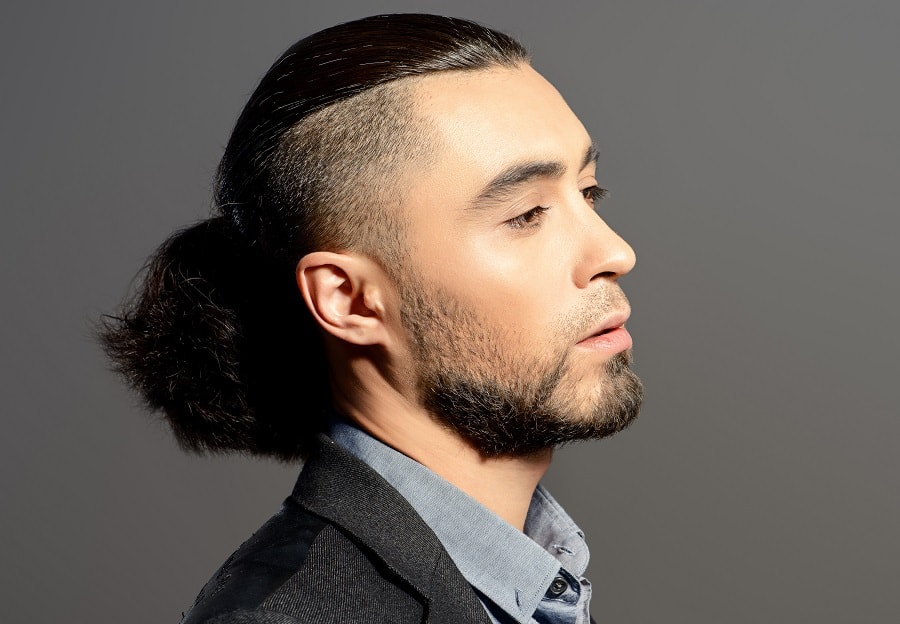 Undercut hairstyles are another very modern and popular look for men. The sides are all the same length, shaved down very short and sparse. The locks on top are nice and form a slicked-back ponytail at the back of the head.
Businessman Quiff with Fade
Quiffs are a classic style that always stands the test of time. They make you look powerful and handsome. They go well with a fade. They also look wonderful with a beard that is very slick towards the chin.
Sleek Style for Long Hair
Your hair may be longer and harder to tame when you pull it back. Leaving the ends loose is great if your hair is this length. It makes you look very fun and casual. The sides are left very short and understated so they don't take away from the main hairstyle.
Low Ponytail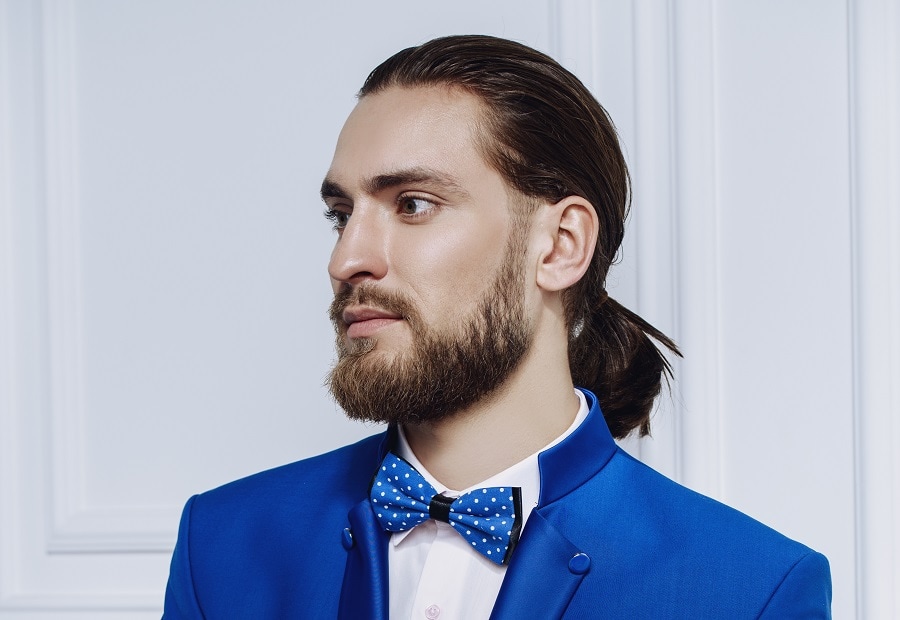 A low ponytail is a great great way to ensure your locks don't come loose. Simply pull them all back and secure them with a hair tie. It's a very sophisticated style that works for everyday use as well as formal occasions.
Slicked Style for Thinning Hair
If your hair is thinning, then don't worry. You can hide any bald or sparse areas by pushing all your hair back in the same direction. Adding gel makes it look a little textured and more lively.
Mature men will love the slicked-back hairstyle. Pairing it with a good beard will help you show off that you can still grow plenty of hair.
Half Up Man Bun
The man bun has been trendy since the early 2010s and remains trendy today. It involves pulling your locks back neatly and securing them.
The bun sits at the back of the head in the center. Here some of the locks are left loose to fall down by the nape of the neck. You'll look very handsome and modern with this.
Asian Topknot with Undercut
Blonde highlights look wonderful in black hair. They make it stand out a lot. Here the hair is quite fine, so the highlights really help. Only the top part is pulled back and secured into a little knot. The side has a nice fade.
Thick Hairstyle with Beard
If your locks are both long and thick, then they'll look great when you pull them towards the back of your head. It's a great way to keep them under control. Pairing this with a thick and bushy beard helps a lot, too. Men's slicked-back hairstyles often go great with facial hair.
Sleek Undercut Hairdo
A sleek hairstyle with an undercut always looks super on-trend. It's thoroughly modern. The sides here are very short and an even length. On top, there's some nice volume and the locks look very free.
Messy Topknot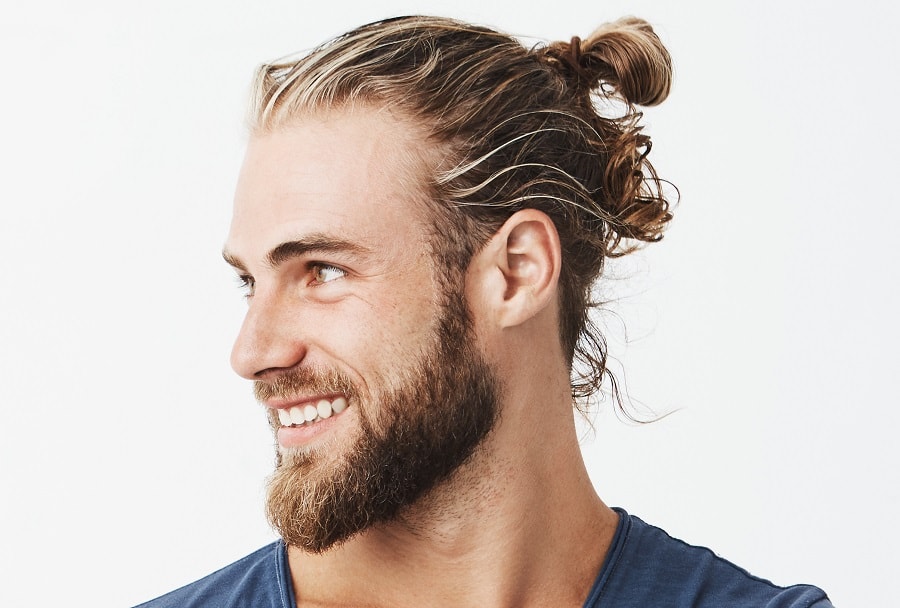 The messy bun or topknot is trendy for both men and women. Here the hair is secured towards the crown of the head.
The ends of the topknot are left loose and slightly curly. The top and sides are all very sleek and have a slightly greased look. The messy style contrasts well with the very neatly groomed beard.
Sleek Look with Shaved Sides
Shaving the sides of your head makes a very bold statement. It's also a big contrast when you have very sleek locks on top. This is another slicked-back hairstyle that looks absolutely wonderful on a guy with a thick and bushy beard.
Topknot with Blonde Highlights
Undercuts always look amazing with topknots. This knot is very small, but it's messy so it still stands out. It's also highlighted in silver. There's a lot of volume at the front of the hairstyle here. This adds volume and makes you look powerful.
Sleek Style with Hard Part and Fade
Most of the fades in looks like this are very gradual. However, here it's hard. There's also a hard parting in the hair. It's a very bold slicked-back style that you'll really like wearing. There's also a lot of volume in the sleek section on top.
Salt And Pepper Hair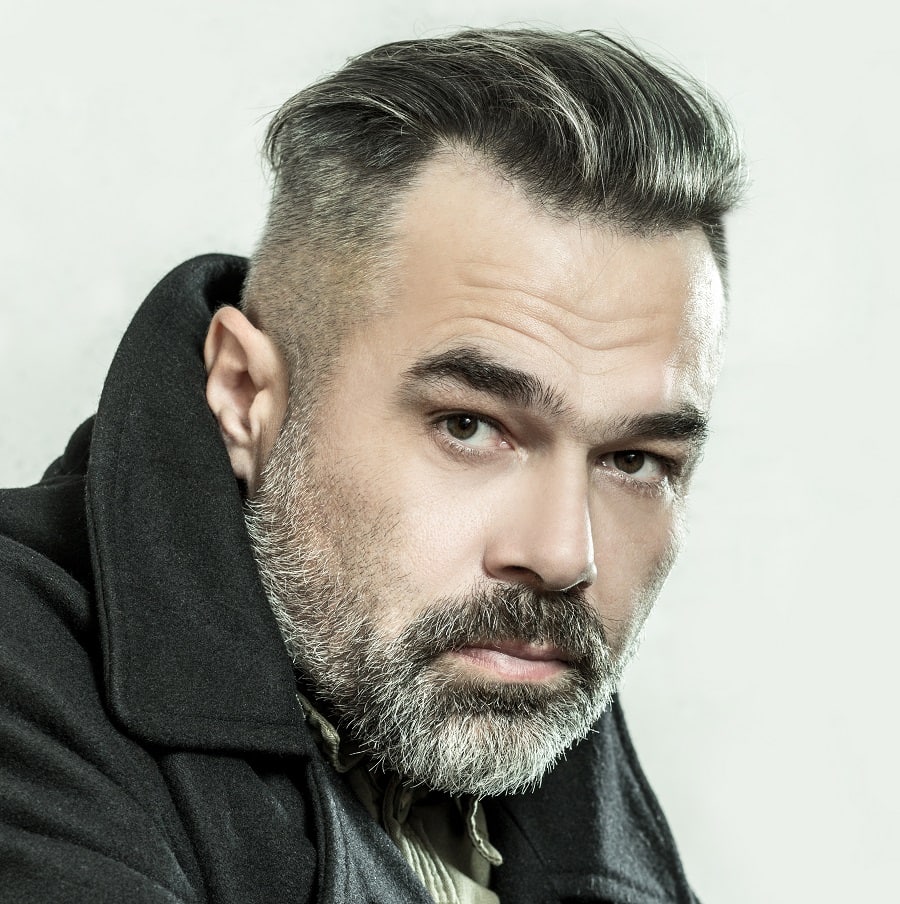 Mature men can let their natural greying look stand out. These days salt-and-pepper is incredibly desirable. It also looks great in a beard.
You'll have a very natural look and appear sultry at the same time. This color looks great in a youthful hairstyle where you push all your locks towards the back of your head.
Businessman Hairstyle
Some sleek styles are very neat like this. This makes them perfect for formal occasions and business events. There's not a single hair out of place. It makes you look well put-together. There's a lot of hair coverage on the sides.
Most of these haircuts are very short sides and long on top. However, there are some slicked back hairstyles for men with long hair, thick hair, and medium hair too.
The different types of fades also help differentiate these similar and super trendy looks. Have fun playing with it. See which one suits your face shape and general vibe best!