Would you like to add a touch of uniqueness to your haircut without having to get too flashy? Consider one of the trendiest modern ways to style your hairdo. Low fade haircuts for men have always been popular, but these days they're making every hairstyle bolder than ever.
It's a haircut where the sides gradually get shorter and fade out low on your head. You'll also have a little of this style on the back of your head, too. The effect of the style is subtle, but it makes you look put together and sharp.
Stylish and Sharp Low Fade Hairstyles for Men
If you'd like some visual examples of the style described above, then check out the haircuts below. One of them may be the new look you desire.
Dreads with Fade
Create a bold haircut for men by pairing a low fade with some chunky dreadlocks. Pull the dreads back from your hairline and secure them below the crown of your head. It's a textured look that will get you plenty of attention.
Long Crew Cut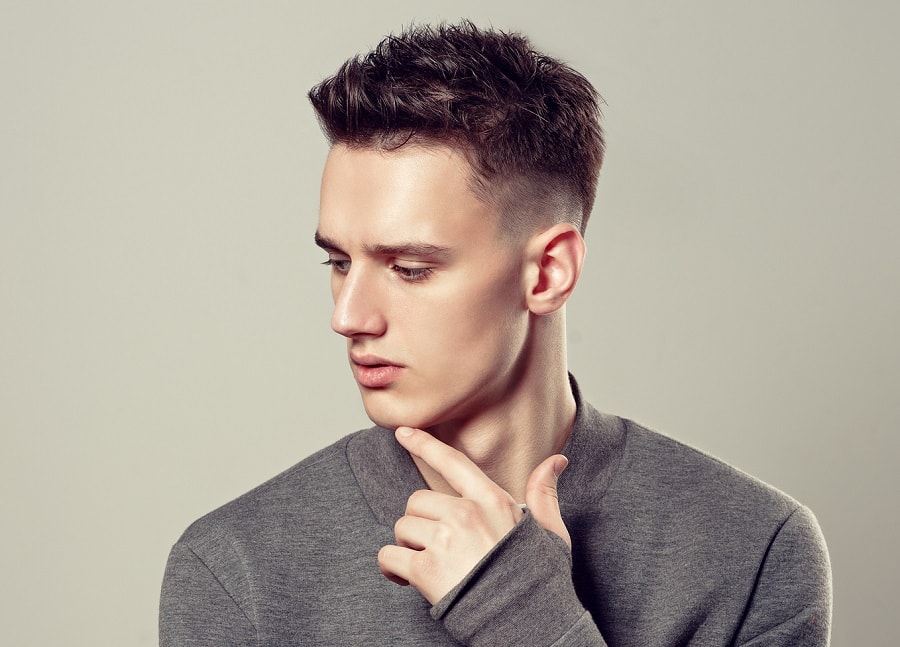 Crew cuts usually have bristly hair on top with taper fade at the sides and back of the head. This variation of that has longer, softer hair on top that fits in well with today's hair trends.
The sides have a little more hair on them than you'll find in the average crew cut.
Swept Back Sleek Look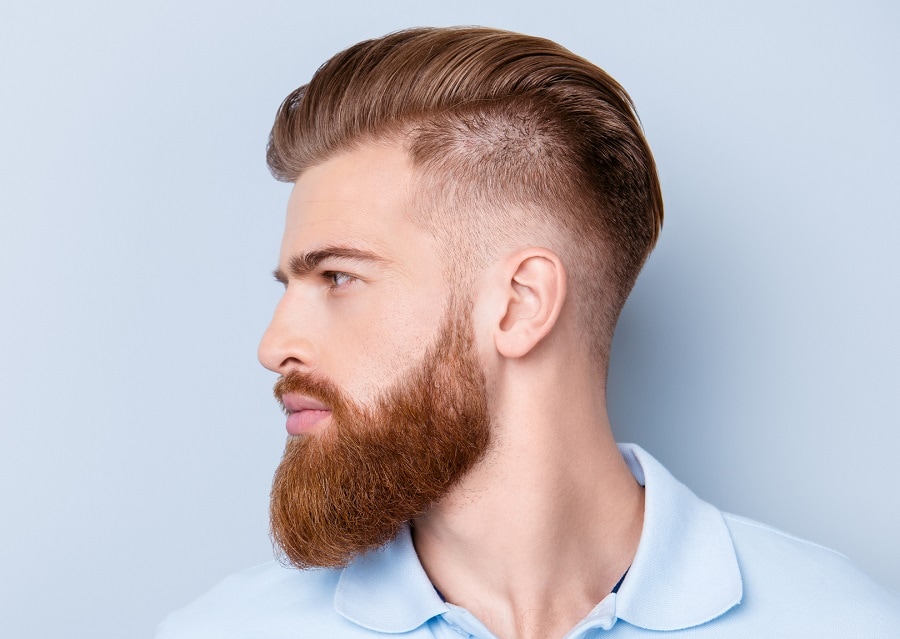 Sweeping your locks back will never go out of style. Men with thick hair can grow their tresses out and then push them back towards the crown of their heads.
The hair should get shorter as you get closer to the crown. The contrast on the low faded sides will help set you apart from the crowd.
Thick Blonde Hair
Do you have thick hair? Dye it blonde and style it with some texture as seen above. On the sides, you can see that the faded effect is a lot more drastic than some of the other styles we've seen.
Bristly Look for Business Men
Mature businessmen need subtler styles. Keep your hair very short on top so it's not much longer than the faded sides. Leave a few locks longer at the front so you can add gel and pull them out towards your forehead.
Voluminous Undercut
Undercuts are a common way to wear low fade. The hair in the center of the head is longer and pulled up here to create some volume.
The top is sleek and inspired by classic pompadour looks. The sides are very short but gradually grow shorter, contrasting the thicker beard.
Cropped Afro Hair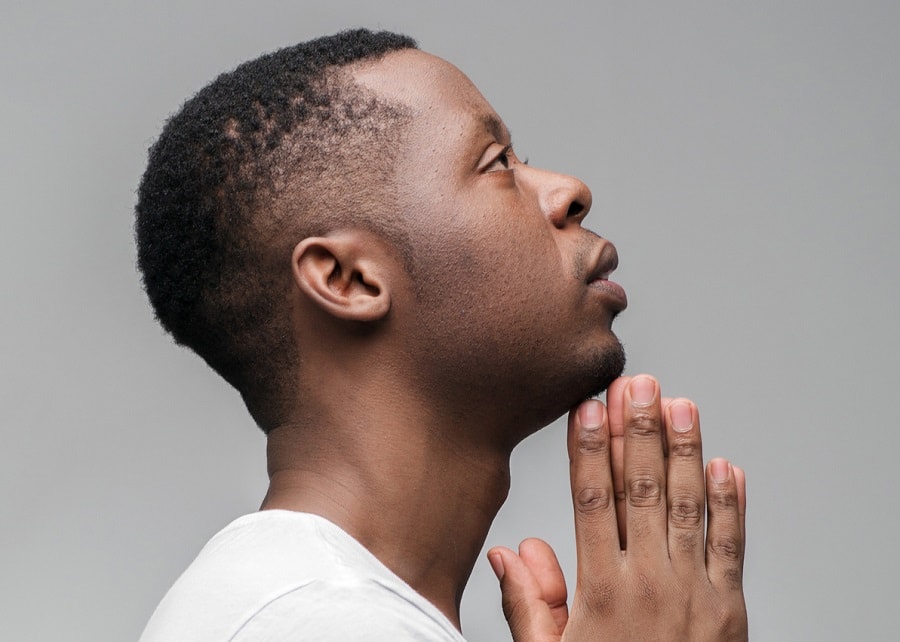 The gradually low fade is great for black men with curly hair textures as they help you create a lot of contrast in your look.
Wear most of your natural hair very short in its tight curl or coil pattern. It appears very distinct when you shave the sides shorter and the texture changes.
Wavy Quiff
Older gentlemen probably want a classier cut. The shortest part of the hairdo is right behind the ears and it shows off your natural silver locks. The light brown tresses on top sweep upwards to create a quiff.
Spiked Quiff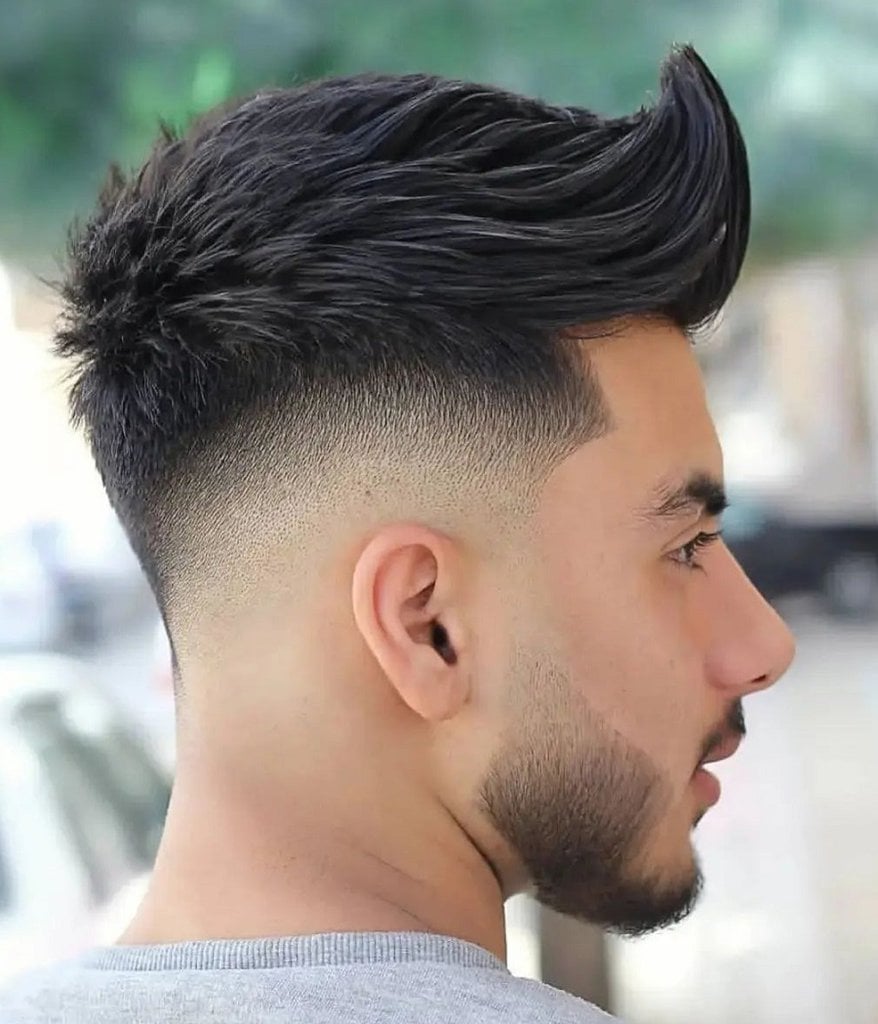 Spiked quiffs are a very common form of quiff worn usually by younger men. Add a lot of gel to your hair and create a swooping shape with your low skin fade along with the hairline.
Fade with Design
Shave a long curve and some zigzags into the sides of your hair to curate an edgier aesthetic. Younger men will love this look as the hair on top is styled with volume. The low fade connects well with the beard.
Low Burst Fade
This hairstyle with low burst fade leaves some length at the back of the neck. The faded shape takes the form of a semi-circle. In the style above, this is paired with some short, gelled hair on the top of the head.
Greasy Hard Part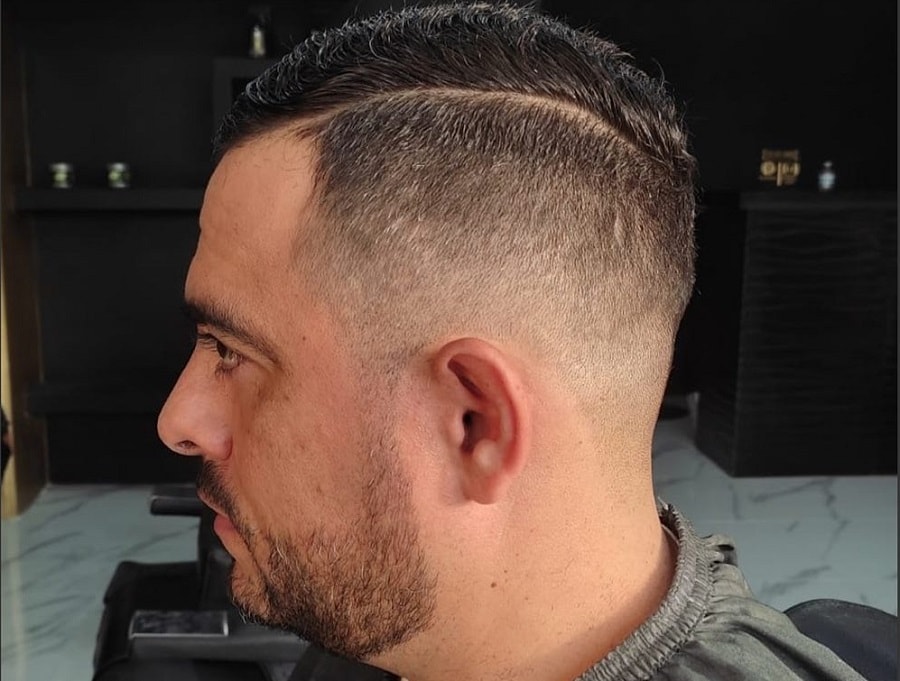 Adding a lot of gel to dark hair creates a greasy effect that was popular in the 1950s. It has been modernized here by adding a hard part and a very gradual fading effect on the sides of the head.
Drastic Fade
Some haircuts are more drastic than others. There's nothing gradual about this fade as the hair goes very quickly from thick to short on the sides.
There's a lot of length on top with a fluffy texture. It's brought forward into a quiff that curves back towards the crown.
Messy Man Bun
Man buns are increasingly popular and people are always coming up with new ways to style them.
Pairing this one with a low fade made it stand out and resemble an undercut. There's a hard line shaved into the front. This line continues across the forehead and is also shaved into the eyebrow.
Stylish French Crop
A French crop keeps the sides and backs short while the top has some length brushed forward onto the forehead. The sides and back in the haircut above low bald fade to create a variation of a typical French crop cut.
It's hard to run out of hairstyles for men when considering low fade haircuts. You can pair this fashion trend with almost any modern or classic haircut and it will look amazing.
Discuss what type of faded cut would look best on you due to your overall style and your hairdo preferences. Consider a gradually faded style if you want something subtle. Go for a distinct look if you want to stand out.