The mohawk is a classic, edgy haircut that's been around for decades. Many men with a lot of attitude and confidence choose to wear the look, but it can sometimes look too dated. It's been given a modern twist thanks to the introduction of mohawk fade haircuts.
It's a strip of hair down the center of the head, usually worn spiked or in a quiff. With the mohawk fade, the sides are no longer bald, but they gradually get shorter until no hair or very little hair remains above the ears.
Best Mohawk Fade Haircuts
So, are you ready to give this new hair trend a try? Let's dive in and take a look at some of the best examples of this modern style.
Diagonal Fade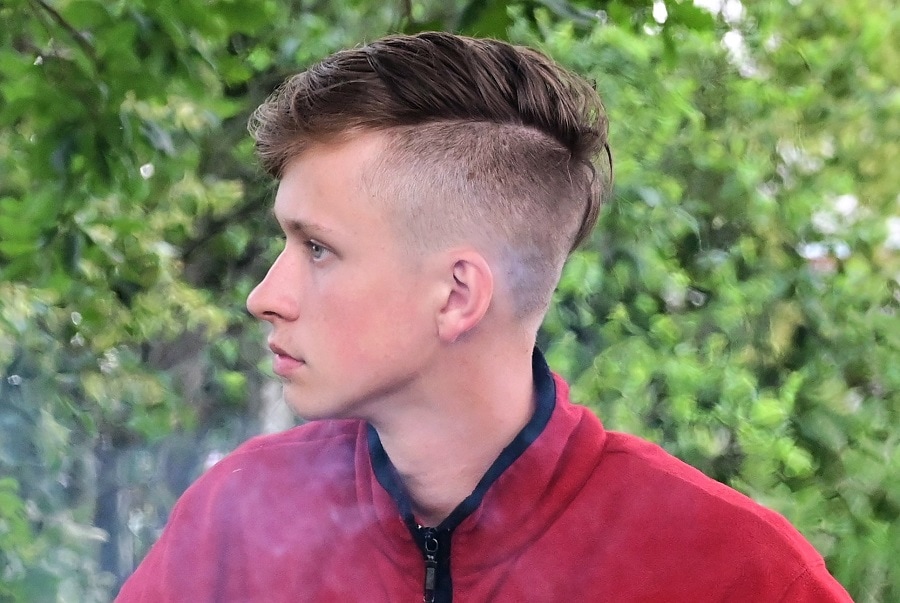 A lot of the currently popular mohawk fade haircuts have the faded sides looking the same all around the head. Here the fade takes a diagonal shape instead.
There's almost no hair at the temple and it gets gradually longer towards the back of the head.
Bristly High Fade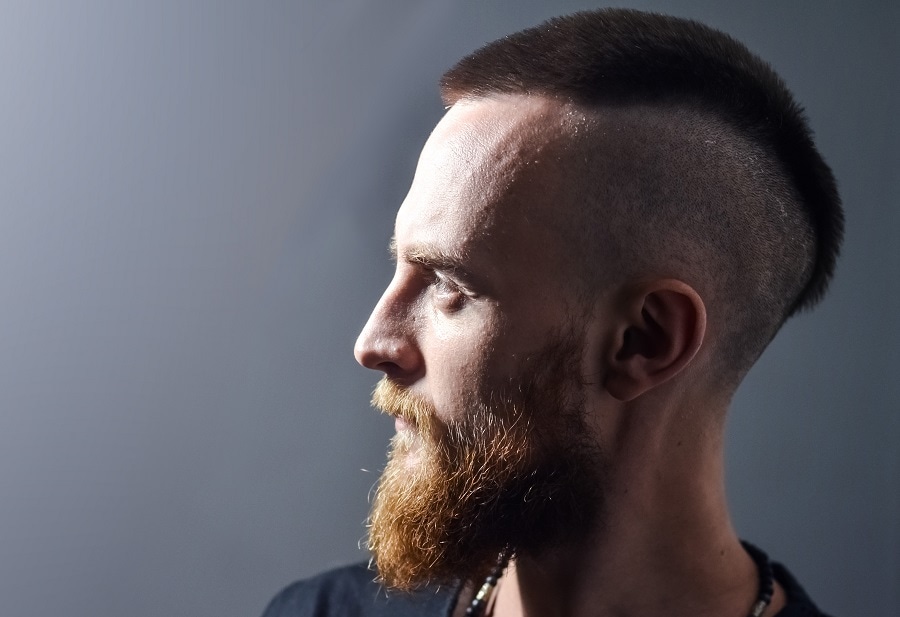 Most of the time the hair along the top of the head is kept pretty long. Here it's thick but short, and it forms a bristly texture.
Add a high fade at the sides if you'd like something pretty close to the traditional mohawk cut. Shave a little off the nape of the neck for some variance.
Bald Fade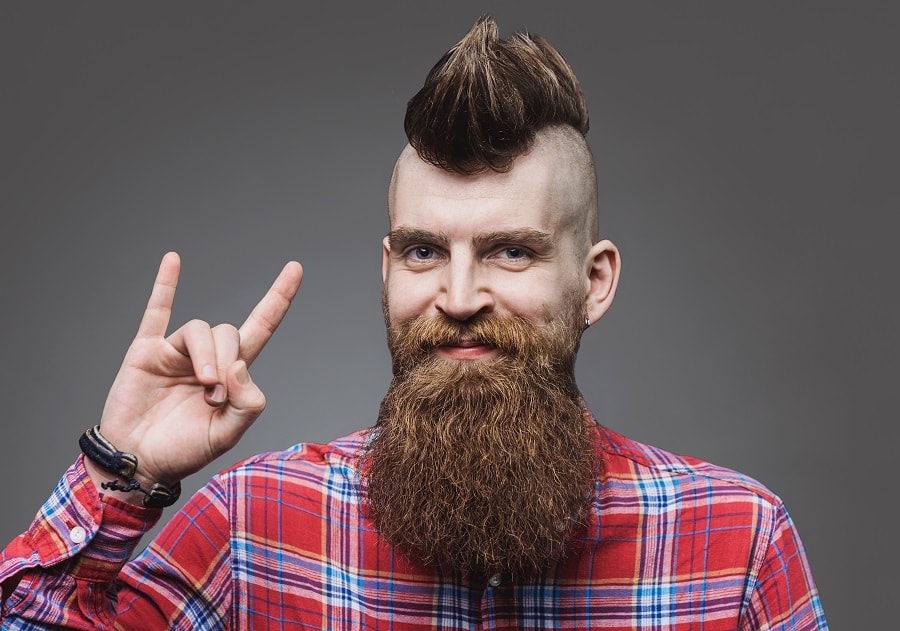 A bald fade has the locks on the side fade out to the skin. It's perfect for guys who want to create a stark contrast between a thick mohawk and the rest of their haircut.
Adding a bushy beard creates further contrast that suits burly men wanting a suitable look.
Curly Mohawk
If you've got natural curls, then you should have a long mohawk and fade. Add a temple fade on the sides to help frame your curly locks.
Guys who are considering getting tattoos on their scalps could easily show off their ink with this haircut.
Two Tone Mohawk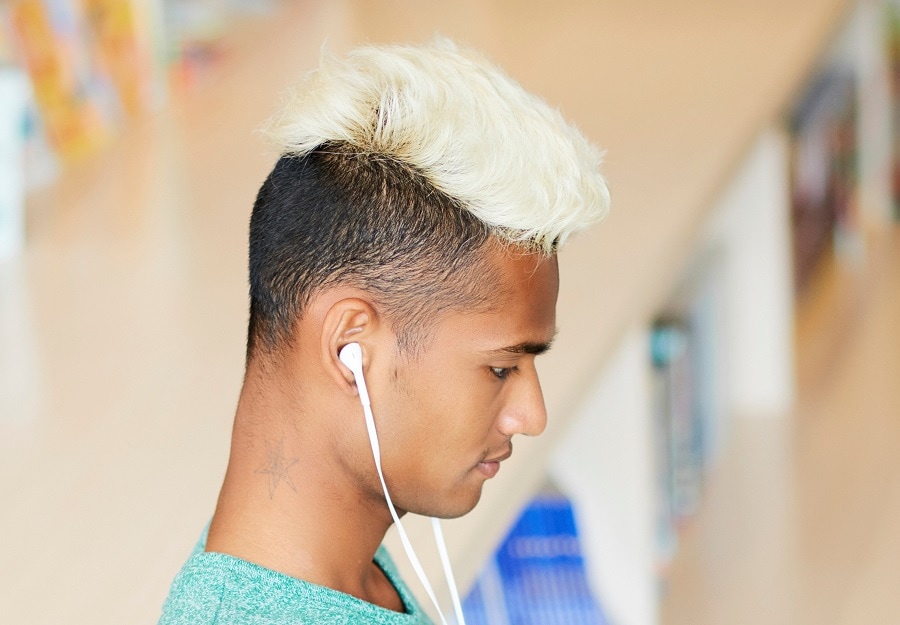 Guys wanting to customize their appearance even further should consider hair dye. Keep the sides dark with a temple fade to add shaping.
Dye the hair on top bleach-blonde to turn some heads. Consider wearing the mohawk on top of your head without letting it grow down the back.
Short Spikes
Men who want an easy everyday look should consider keeping their hair short. Wear it longer on top and gradually decrease the length as you move toward the back of the head.
Use soft-hold gel to form spikes along the top of your head for a low-maintenance look.
Blonde Skin Fade
Skin fades suit most guys who wish to wear a mohawk fade haircut. They look especially good on younger guys as they help draw attention to your features.
Dye your hair blonde to help brighten up your face and give yourself a totally new look. You can leave some of the natural color visible at the top of the fade.
Blonde Low Fade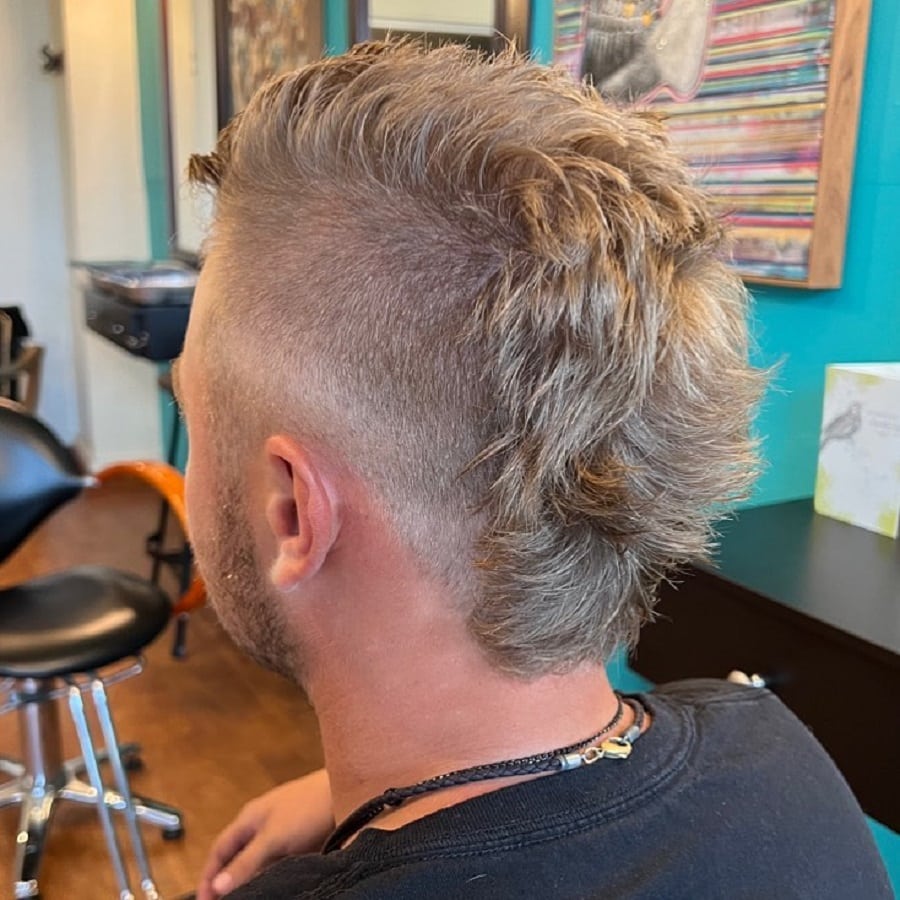 Blonde is clearly a popular color for guys to wear. The light shade pairs really well with low fades as seen here.
There's a lot of texture in the longer section on top of the head. It's spiked towards the back of the head, and the back section is tousled.
Black Spikes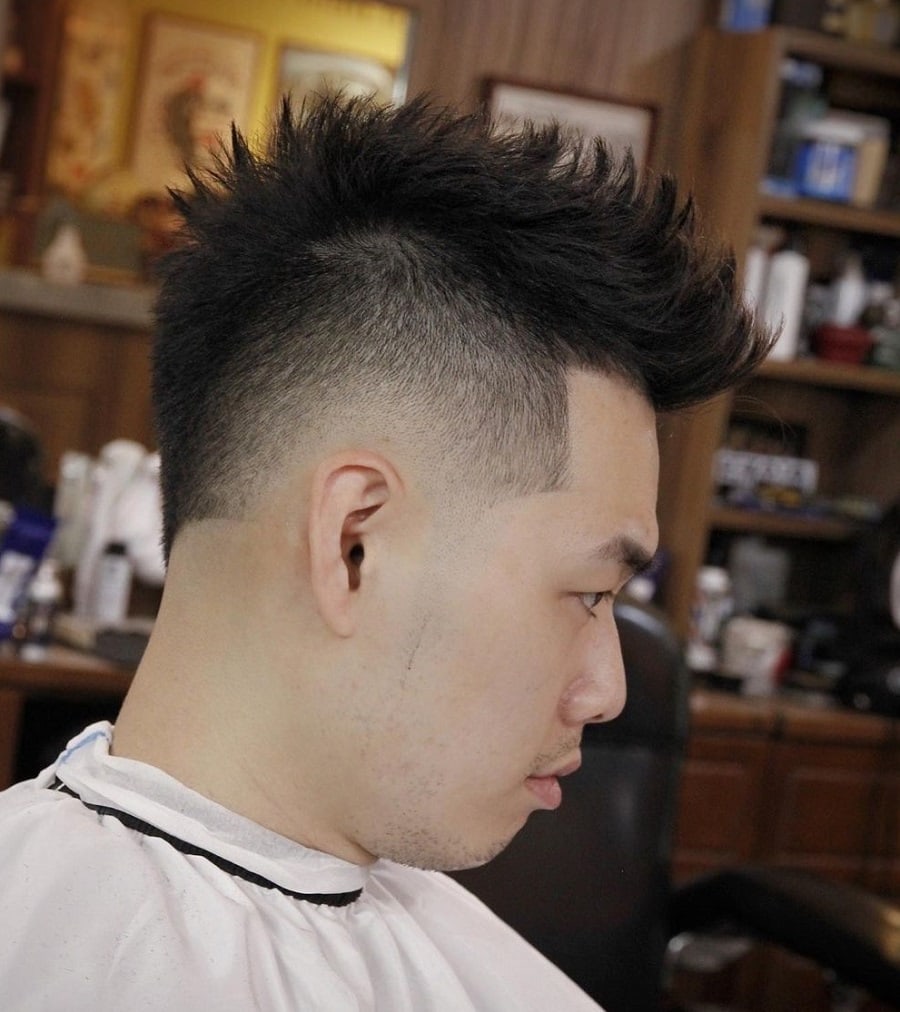 You can't beat a long, spiky look when wearing a mohawk. Spike the hair longer towards the front and lean the style forward to draw more attention to your face.
Create a rounded fade that frames the shame of your ears if you want people to be unable to look away from your hairdo.
Thick and Sleek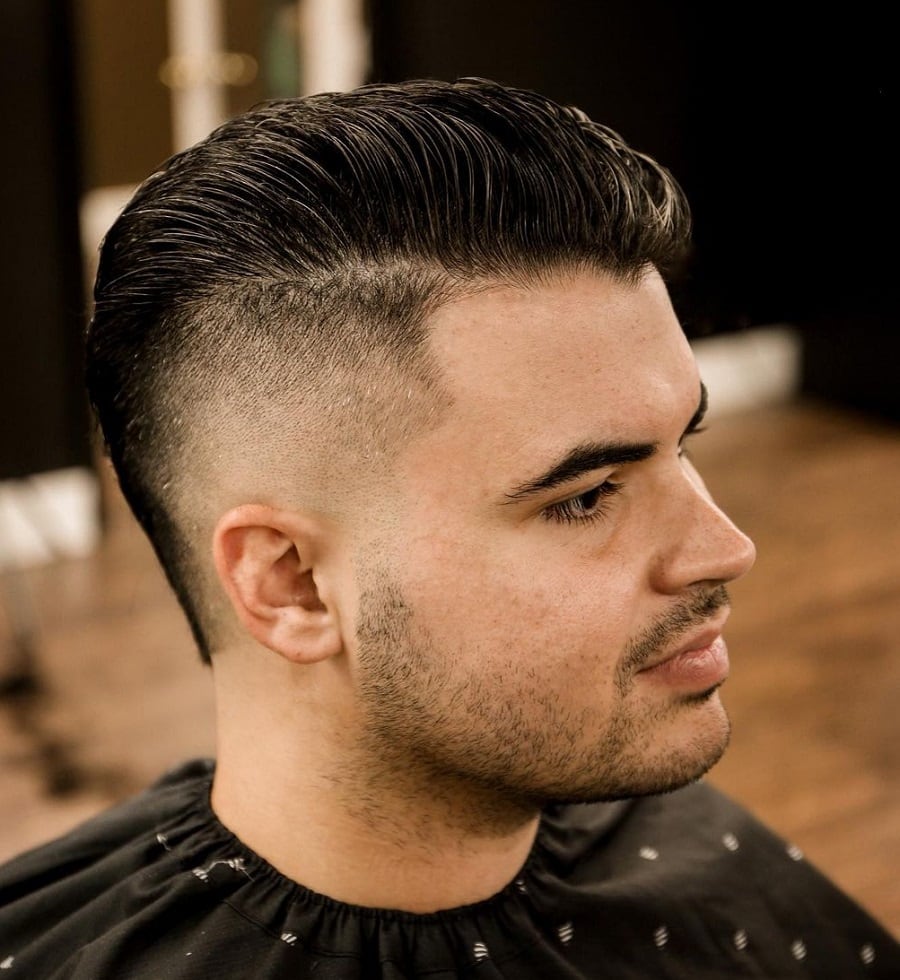 It can be difficult to tame thick hair, so slick it all back to form a sleek, greasy style. Gradually get the hair cut shorter as you move towards the crown and back of your head.
The thickest part of your fade haircut should match your stubbly beard. Gradually make the sides shorter until you have a skin fade.
Mature Mohawk
Older guys should let their silver locks remain natural. It's a sign of your maturity and it shows you've earned the right to wear your hair however you please.
The well-groomed curving spikes and subtle fade signify your wisdom and raw masculinity.
Mullet Mohawk
A lot of these mohawk fade haircuts are shorter in the back. This one is the opposite. Like a mullet, it's short in the front and grows long tresses near the nape of the neck.
The high fade quickly transforms from thick to bald skin to make the mullet more jarring.
Spikes with Low Fade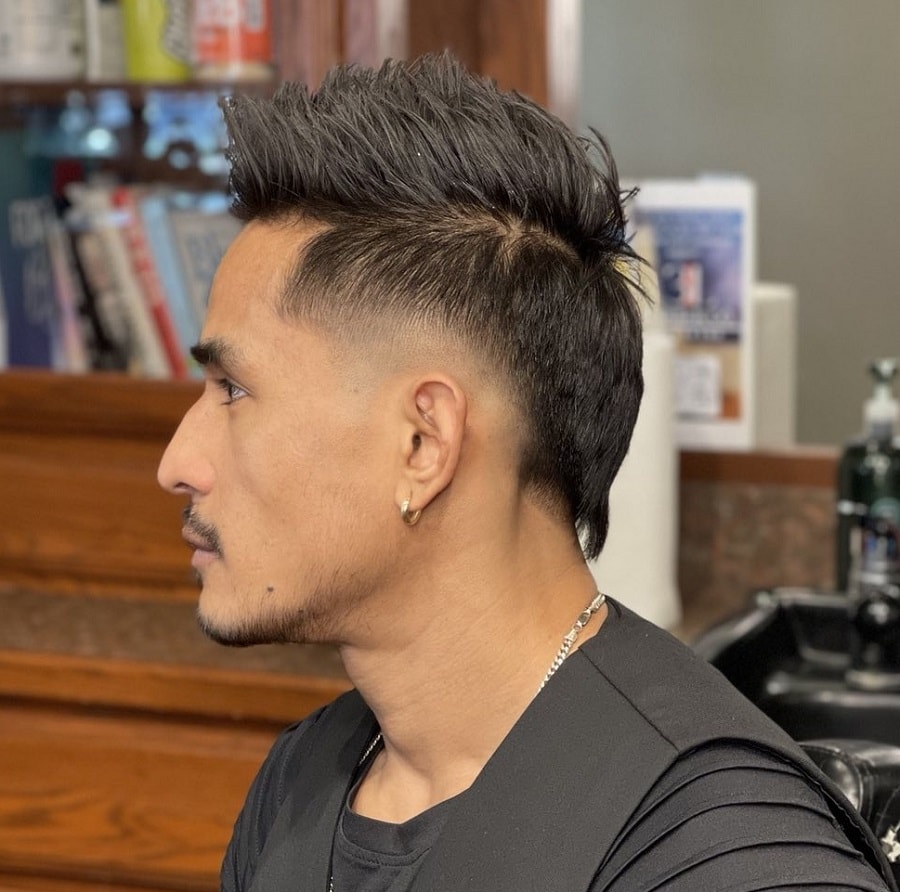 Low fade with mohawk makes a big impact when the hair drastically changes from thick to skin. It matches the rest of this haircut in being unique. The top is spiked high but the back is actually tame.
Hard Part
Younger men often choose to shave a hard line into their hair's natural parting. This long, curved line wraps around the side of the head and it separates the longer and shorter section of the fade.
Purple Afro
If you're up for a high-maintenance look, then give this one a shot. The beard and sides have fades with clean edges. The hair on top is thick and curly with a mixture of black and purple visible.
Long and Textured
Are you one of those guys who likes to run his fingers through his hair? Some longer tresses would be most suitable for you. Add some texture to your locks with gel, and get a high fade on the sides.
Fade with Design
One common way men can spice up their mohawk fade haircut is by adding a design to the side. A couple of sharp lines and shapes will suffice to make you stand out.
Fluffy Waves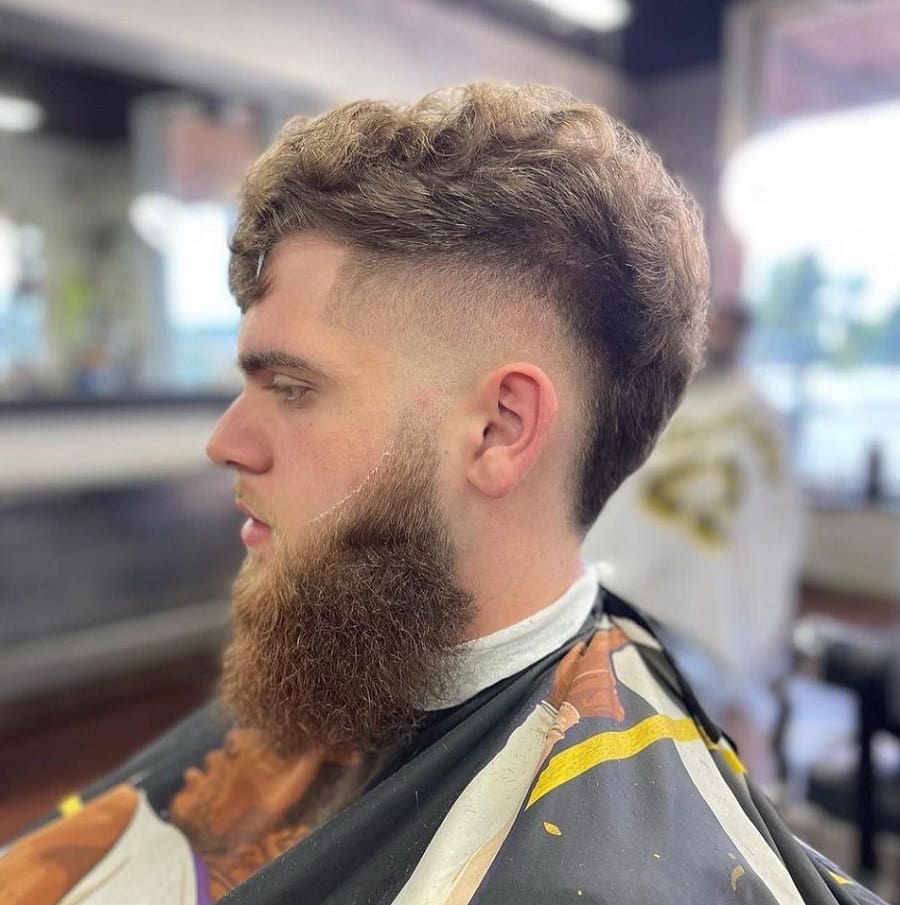 If your hair has a little waviness to it, embrace it. Let the top grow long enough so some of the wavy texture is visible, and keep your hair nice and fluffy.
Fade out the sides and add a thick beard if you want to look more mature.
Thickly Textured
Guys with thick hair should create lots of texture to keep some visual interest in the style. Pinch some sections together with a non-hardening cream or gel as you spike up your locks.
Create a choppy-looking mohawk with fade on the sides for a more masculine look.
Dreadlock Mohawk
Dreadlocks are a timeless way for guys to keep long hair under control. They can change your whole vibe and are very low-maintenance.
Brush your dreads towards your crown and keep some very short on each side of your head. Fade the sides out to stubble.
You probably had no idea there were so many different ways to wear a mohawk fade haircut, but there really are! Honestly, the sky is the limit when it comes to your styling option. Experimenting with your look is key to finding the best style for you.
Talk to your barber about which mohawk fade from the list would suit you best. And make sure you choose someone skilled to do your haircut! Creating the perfect fade is no easy task, and you'll want to look your best.