If you're interested in men's styling at all, then you've probably come across a few ivy league haircuts. They're a variation of the ever-popular crew cut. They give you a little more hair to style than a crew cut does, as the hair towards the front of the head is long.
You usually wear these hairdos with a side part and with short hair towards the crown. However, there are plenty of different ways you can spice up your hair with this cut. The color, texture, and length of your locks can make a major difference in how you look.
Best Ivy League Haircuts for Stylish Men
You'll see many variations of the style below. Browse our list to help you decide on your new look!
Wavy Locks
Your natural hair texture will make a real difference to your ivy league haircut. As you can see there's some movement as the hair is pushed to the side.
All of the hair is combed towards the back of the head with volume and the sides are nice and short.
Modernized Hairdo
You'll stand out a lot if you modernize this classic hairdo. This has been done by shaving a hard line into the side parting. There's also a high skin fade that creates contrast with the hair on top of the head.
Long and Greasy
Guys with dark hair can really pull off the greasy look. It's where the hair is styled with lots of gel and oil to look slick and wet.
There's a lot of texture added as the hair stands up and falls to one side. The sides are a uniform length.
Highlighted Medium Look
Highlights totally make you pop. Everyone will be drawn to how you look when you have parts of your hair lightened. Growing it thick and medium-length helps draw even more attention to your overall style.
Pairing your lightened hair with a slightly darker beard creates a contrast that'll help you stand out a ton.
Curly Ivy League
Use your natural curls to your advantage. They can add a lot of volume to hairstyles like this.
Slick the sides of your hair down so they appear straight. Push all your curls back towards the crown of your head and keep them neat.
Textured Blonde
If your hair is any shade of blonde then you should add some texture to it. The texture helps your look stand out even if your blonde shade is on the darker side.
Here the look is paired with a high fade to square off the shape of the style.
Quiff with Hard Part
One way to style the longer section of your tresses is in a quiff. Fluff up the hair and make it stand very tall. You can also make it lean to the side as seen above. There's a distinct parting on one side to create some contrast.
Salt and Pepper
It can be harder for mature men to continuously dye their hair when the sides are so short. You should let your salt and pepper shine through.
The top of the hair has a large wave in it as it's brushed back towards the crown.
Shorter Look
The crew-cut inspiration for this ivy league haircut is quite evident. The hair in the front is shorter than many of the hairstyles you've seen above.
Only the front is styled upwards. The rest of the hair is very tame in comparison to the front.
Simple and Classic
Sometimes you just want an easy, everyday look to wear. Keep the hair on the sides long enough to brush back and secure with soft gel.
Add a little volume to the top and brush it back towards the middle of your head. It's a style you can wear every day.
Brushed Forward
You can keep things minimal when you have red hair as the color already stands out a lot. Brush the hair towards your hairline and add a wavy texture.
The sides are much shorter but they're long enough to run your fingers through if desired.
Receding Hairline
Ivy league haircuts are always good to wear if you have a receding hairline. The hair has the most length right around the front. This makes it easy to brush over the receded parts of your hairline.
Add a full beard to help distract from the recession on top.
Silver Locks
Silver hair are always becoming more popular for young men to wear. They serve as an extreme contrast with the dark beard as pictured above.
The hair retains a fluffy texture and has plenty of volumes as it leans to one side. There's a hint of natural hair color visible behind the ears.
Side Part
Brushing your hair to one side is a great way to disguise when it's fine. The movement gives it a lift that makes it look much thicker than it is. Keeping the sides shorter than the top also hides the finer areas of your tresses.
Short Hair with Thick Beard
Full beards always look good with Ivy League haircuts. This one is particularly thick and creates an overall balanced look.
The hair on top of the herd is mostly the same length and it's easy to style each day. There is only a little extra length right behind the hairline.
Silver Fox
Older men should lead their natural hair color to grow out. Style your locks low on the forehead to hide any recession of your hairline. Ensure the sides are long enough to brush back towards your ears.
Thick Tresses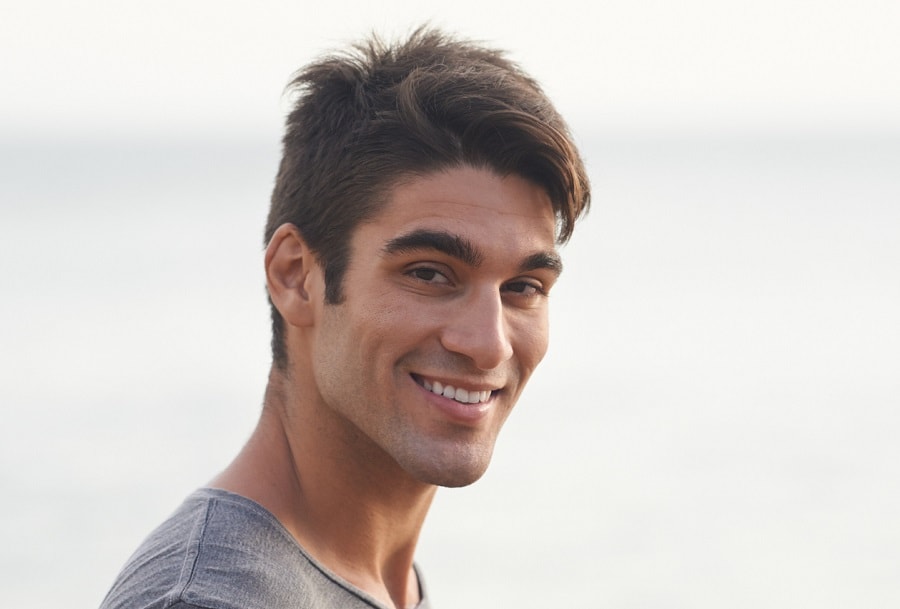 Guys with thick hair really don't have to do very much to keep their style looking fresh. Let your hair fall over to one side and leave the back a little messy.
Make the sides considerably shorter to make it easier for you to style your locks.
Ivy League with Highlights
The sides of this style are pretty long in comparison to some of the looks above. They're brushed down towards the ears.
The hair on top is around the same length and it's brushed to one side. The front section is heavily highlighted with blonde hair color.
Sleek Pompadour
Pompadour looks have the hair very slick without a single hair out of place. You can see this above. The sides and back are short with a fade. Most of the hair is focused right on the center of the head. It forms a rounded shape.
Gentle Spikes
White blonde should have some texture on it to help it stand out. There are a few very soft spikes at the front and back of this look. Most of the tresses just comb over to one side of the head and the sides are kept short.
Tall and Messy
The messy look never goes out of fashion. Grow your hair long and then ruffle it up. Add some styling product to ensure it keeps its textured appearance. The front section of hair curved towards the back of the head.
Short Spikes
Ivy league haircuts with spikes look great on businessmen. However, you'll have to keep the spikes shorter.
Keep the sides a uniform length that's around a grade 1. On top, you can push all your head towards the center of your head.
Sleek Side Parting
Wearing your hair sleek can provide such a sultry look. Most of the locks are pushed to one side and there isn't a single hair out of place.
The parting is quite distinct as the hair tapers and becomes shorter. The sides are short but gelled down. They connect to the beard perfectly.
Youthful Look
Young guys benefit from having thicker and longer hair. It will help you retain your youthful look for longer. Style the head to one side and add a slightly wavy texture.
Keep the sides shorter but ensure there's still enough hair to ruffle up a little.
Modern Ivy League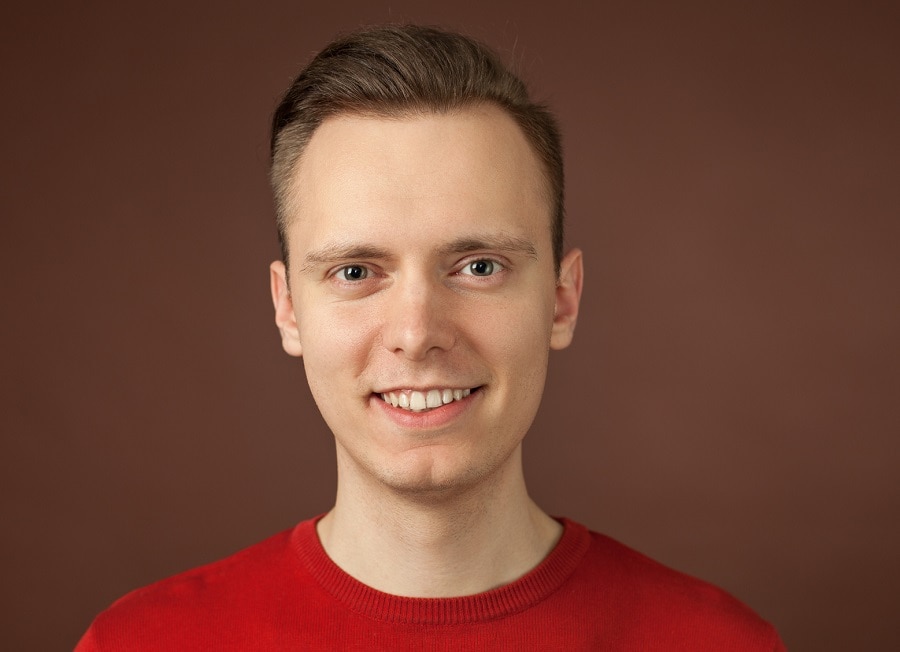 If you have a big forehead then you'll want to avoid drawing too much attention to it. Don't wear your hair in a way that is too eye-catching.
Keep the sides very flat so you have an almost square-shaped look. Push the hair back towards your crown without too much volume.
Ivy league haircuts will never go out of fashion, and there are lots of different ways you can keep styling them for years to come. Experiment with your appearance and decide which one of these many looks best suits your vibe.
Ask your barber which cut they think would best suit your hair type, face shape, and head shape. This will truly leave you with a look that makes you feel more confident. If you don't like it, then you can always get a different version of this haircut.