Once upon a time people used to have some usual and boring haircuts and style. There was nothing unique in that to look super exclusive among a lot. Then when time starts to change, the various hair styles of the men also start to get recognization and acceptance. Now, most of the men are extremely aware about their looks and appearance, where hair also plays a great role. So, they also go for some different styles to look their best. Straight hairstyle is one of the most accepted hairstyles among the men. It is extremely popular because it is easy to manage. But the guys who are born with the straight textured hair are tremendously lucky.
Hairstyles For Men with Straight Hair
There are lots of hairstyles for men with straight hair. Straight hair with thick volume is a master class combination to rock the fashion world. From the faux hawk to comb over, textured slick back to pompadour, nothing will go wrong if he has straight hair. As the straight hair never gets wavy, curly or freezy, it is super easy to handle and people have nothing to do much for the maintenance. In this article some stunning hairstyles will be provided for the guys with straight hair. Just pick up the most suitable one among them.
Short Wavy Hairstyle
This retro style is still in the trend but comes with some modern formats. It will give you a slick look. This hairstyle has a little bit of variation in the Comb over features with some loose waves. If you are willing to have this look, you have to make side parting at the height to get a natural finished look. Very little amount of beard and moustache can glorify your look stunningly.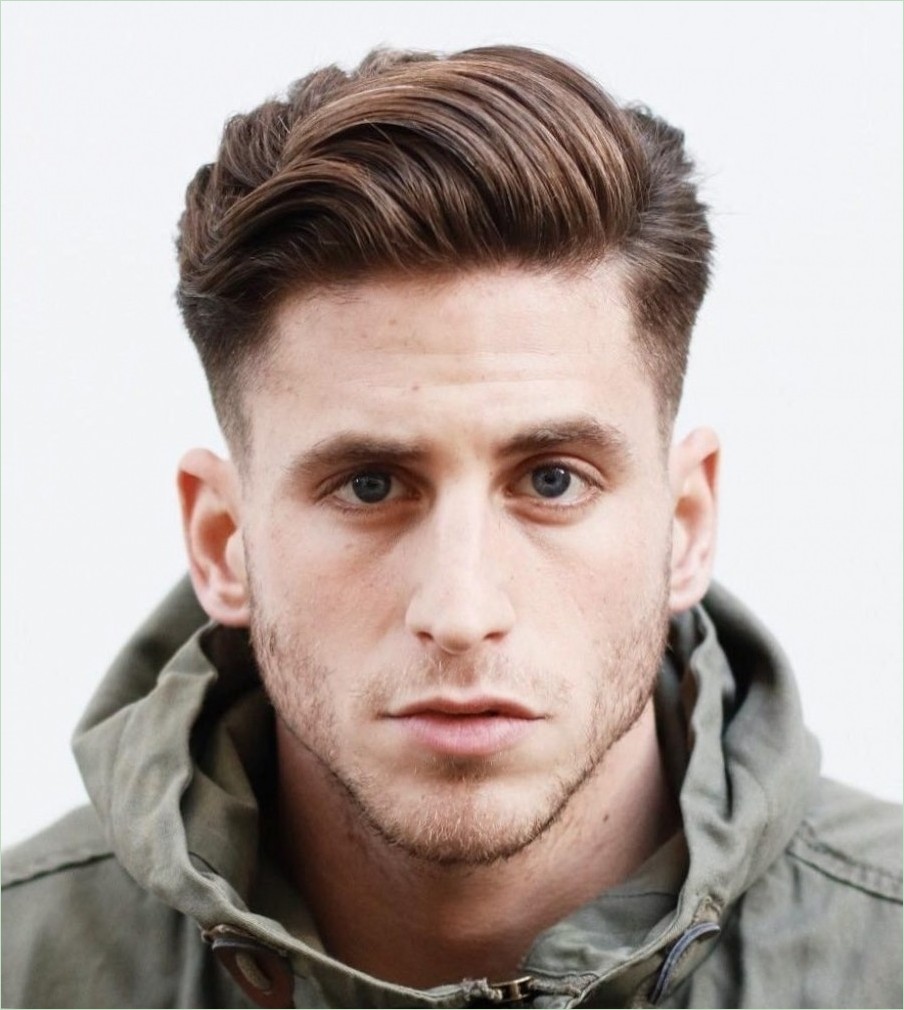 Comb Over Layered Hair
If you are getting confused over this, then be sure that this hairstyle will give you a hot yet romantic look at a time. People with straight yet medium and thick textured hair can go for this look. To get the ultimate look properly comb over your hair towards back. Some short hair can be left over on the front face to finish the appearance.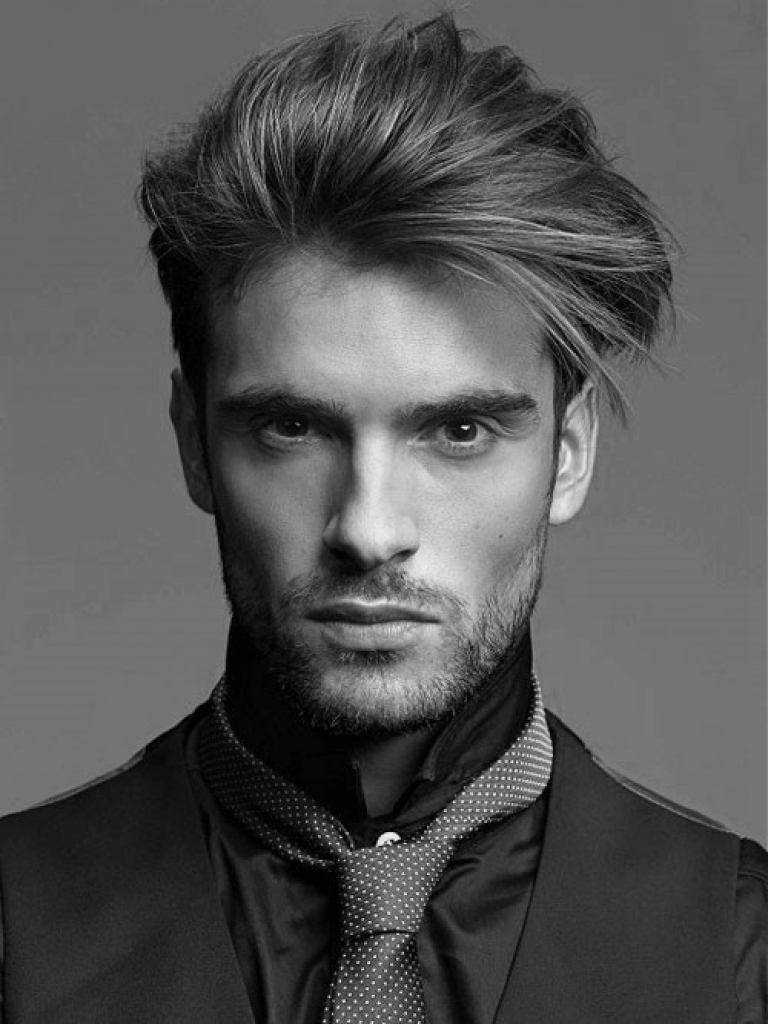 Receding Hairline Comb Over Haircut
The guys who have straight hair with thin volume can try this hairstyle to look different than ever. Some men are extremely tensed with the receding line in hair and also very confuse to choose the best one hairstyle for themselves. This Comb over look will be appropriate for them. Well amount of beard will compliment this look perfectly.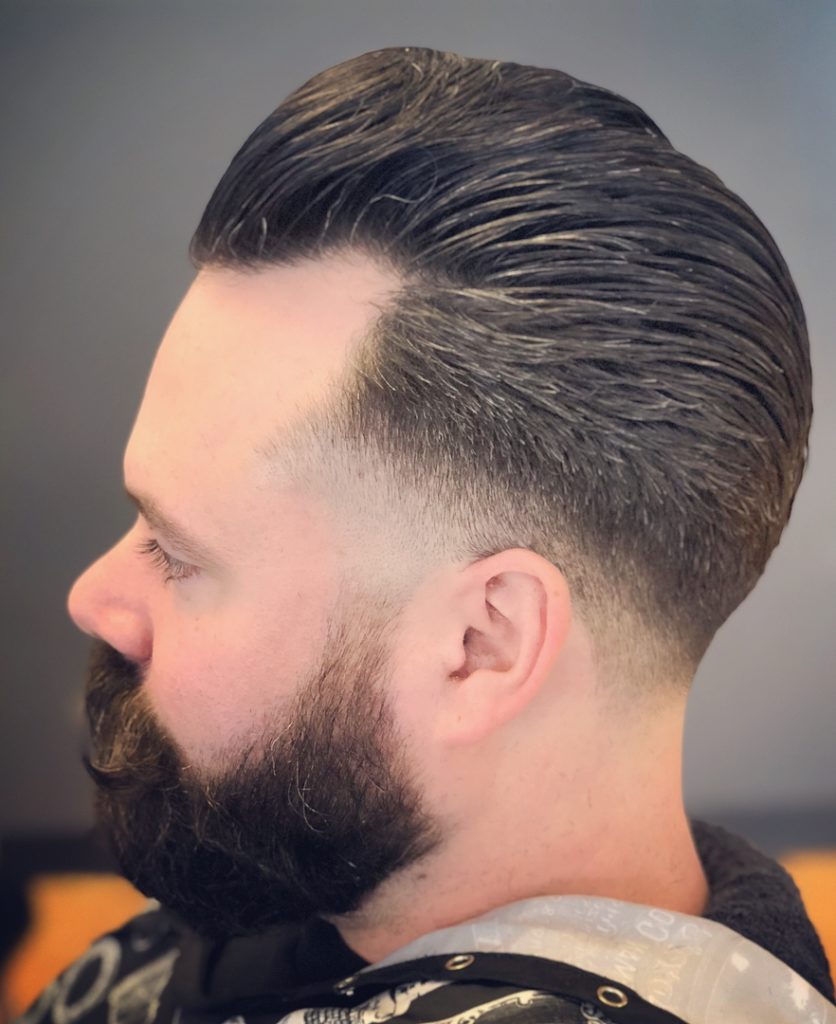 Swept Back Layered Hairstyle
If you have straight hair but you want to get a manageable hairstyle then this short hair cut will be perfect for you. In this style the layers will add some volume in your hair. Here the bottom part will get faded hair but the top parts will a get a lot. The layered hair of the upper part will be swept towards back. Keep long beard and moustache to justify this look properly. People of mid age or the aged person will look handsome to have this.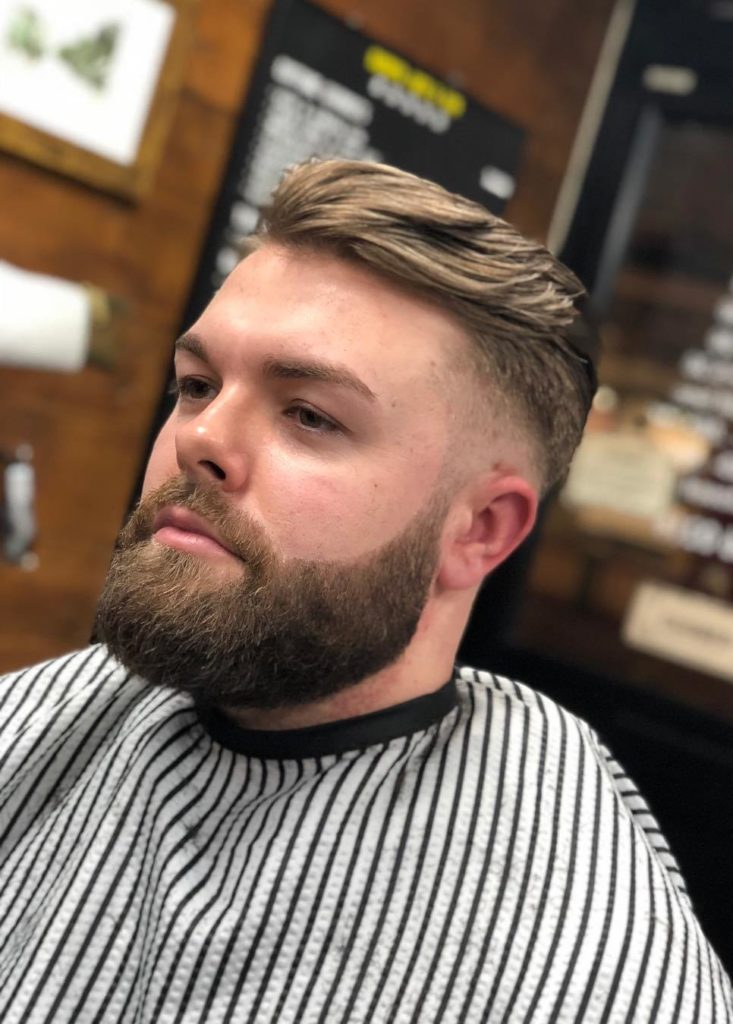 Side Part Slick Back Hair
This hairstyle is super easy yet cool. To have this look exactly at the very first make a side parting. Then brush your hair of big towards the back with any sleek toothed comb for the ultimate look. You can use any hair gel to hold the style perfectly. Keep a well amount of beard. It will help you to give a matured look.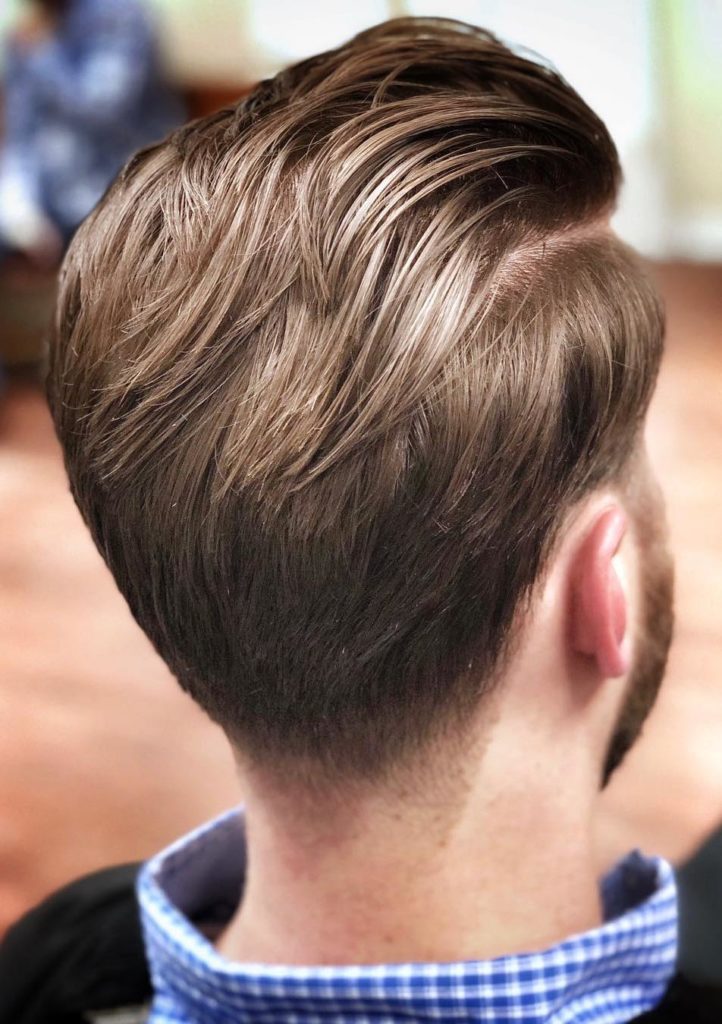 Skin Fade Textured Hairstyle
This hairstyle is extremely accepted among the guys of young age. It provides very neat and clean look. Moreover, it is very easy to manage but make look hotter than ever. In this haircut the upper portion will have a plenty of hair but the bottom side will have almost no hair. It will provide a skin fade appearance. Moustache or beard is not needed for this style. To clutch the look perfectly use any hair mousse.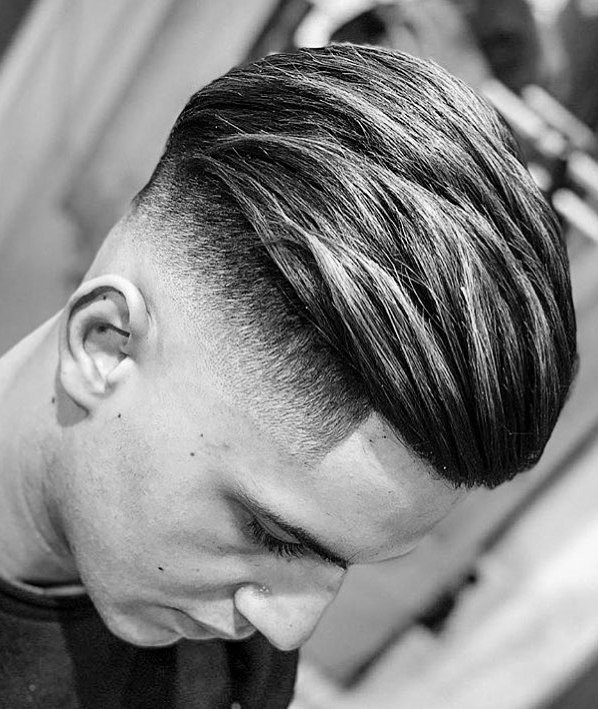 Pastel Pink Undercut Hairstyle
Guys who are brave enough to try any look upon them, then this hairstyle can be tried. Like the usual undercut, you only have the long hair on the upper portion and the hair in the lower part will be groomed with a razor. Die your hair with the pastel pink for the ultimate look. As the color is soft, people of any age can go for this. Though, the people with fair complexion will look better with this than the others.
Comb Back Hair with Blonde Highlight
In this super easy haircut only the front and upper portion will have long and straight hair. It will be combed back to justify the appearance. The side and the lower part will be extremely faded. Get your hair highlighted with the blonde color to rock the world of fashion. Use any pomade to hold your hair, otherwise any flyways of hair can ruin the whole look. Well amount of beard and moustache will compliment your look with more perfection.
Voluminous Hair With Blurry Fade
In this hairstyle the top part will have long straight voluminous hair. In the lower portion and side part, the hair will be blurry faded towards down. The front sided hair can be comb back side for the ultimate look. Be clean shaved to compliment this look. You also can try to get some design in the faded hair of the lower part to draw attraction. Wear any ear jewellery to complete the look.
Formal Hairstyle
This hairstyle will give you a formal and corporate look which you can wear in any official party or in office itself. The front part will have a little bit more hair than the side and the back part. You can comb it at a side or at back also. Clean shaved face is mostly preferable for this appearance. Moustache or beard is not needed for this as it will make the whole look messier.
Modern Pompadour Haircut
Guys who are fond of experimenting with their look after a regular time period can go for this style. It is easy to handle as most of the hair will be only on the top part. The side and the back part will be faded gradually to complete the look. The pompadour in the front will look better along with some small amount of beard. To make your look bolder wear any junk jewellery in nose or ear.
V Shape Drop Fade Hairstyle
This hairstyle is completely unique than the other styles from this list. The side and the back part will be neatly faded. Upper part will have more amount of hair till the neck along with the "v" shape drop fade style. To compliment this look, try not to keep moustache or beard.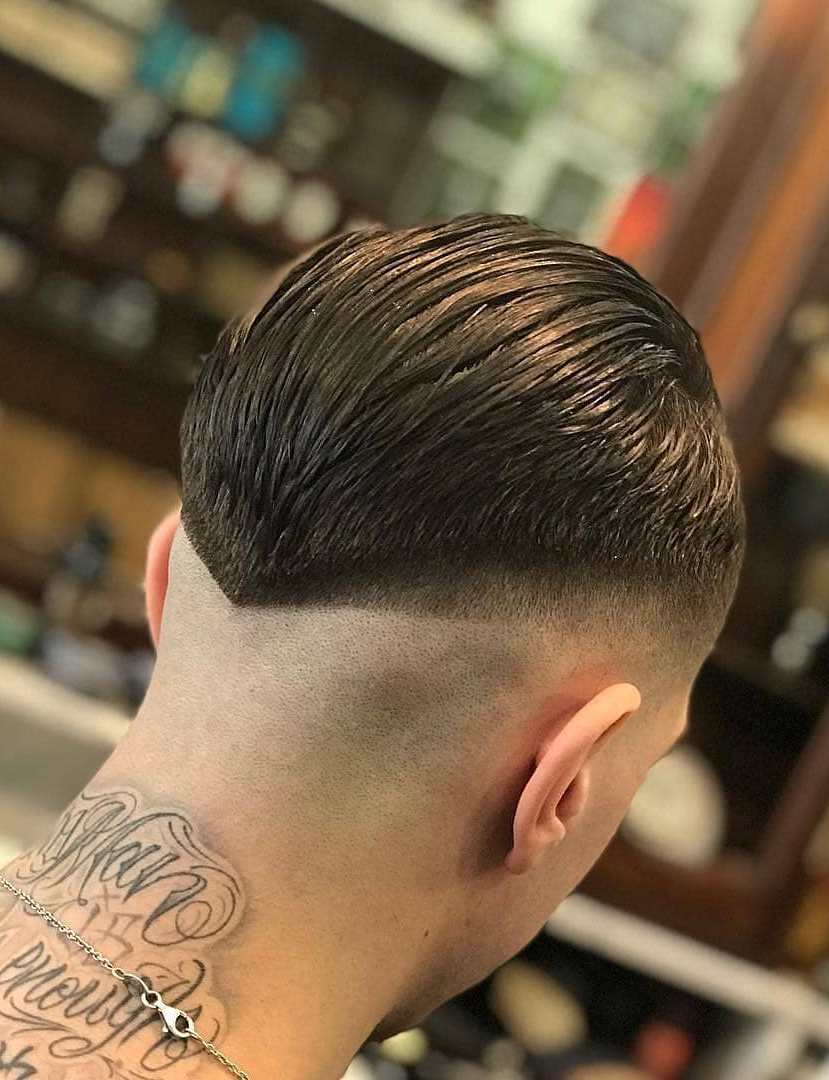 Rainbow Hair Highlight with Side Fade
This one is also a very unique hairstyle to draw the attraction of people of the fashion industry. Guys of young age are mostly fond of this. This style will provide you a plenty of hair on the upper part of the head and the side part will be faded gradually towards the down. Dye your hair with the rainbow color to look the coolest one. Any hair mousse will help you to clutch your look till the end.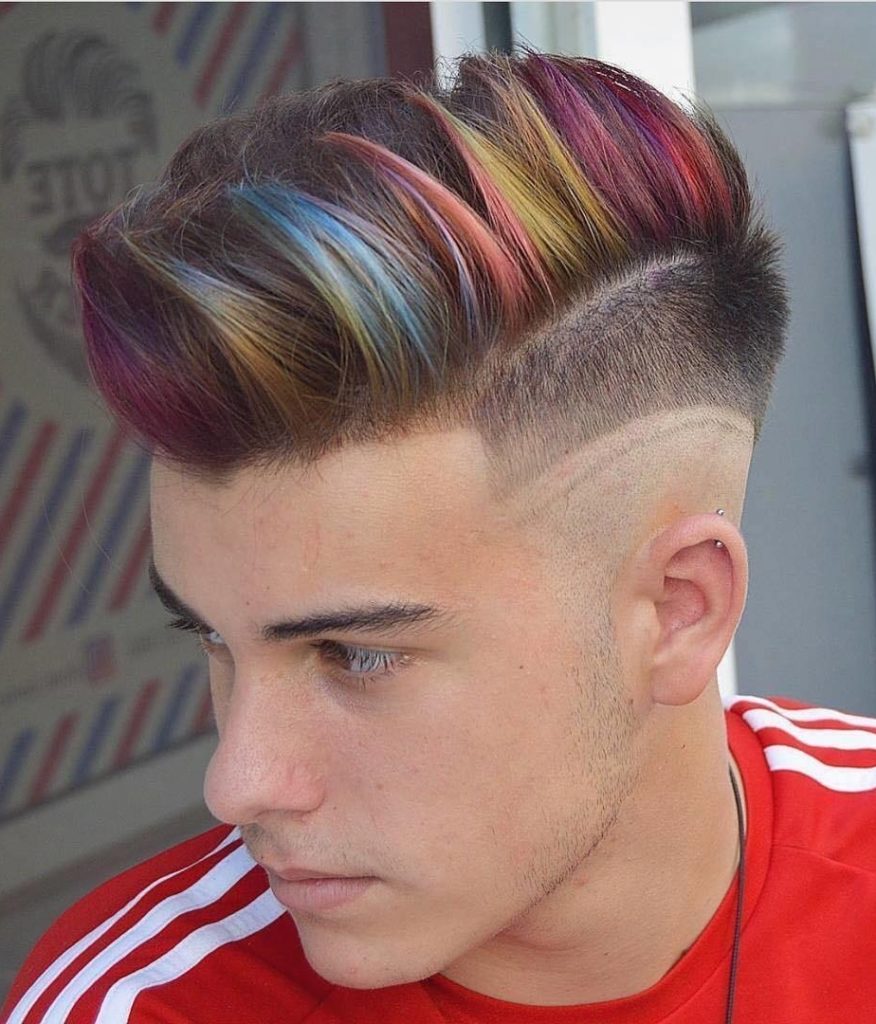 Quiff Undercut
Quiff and undercut, both of the hairstyles are very much popular among the guys with high fashion sense. But getting both of these styles at a time will create a deadly combination to bring out the best look from it. With the long hair of upper part, make a quiff and brush it towards back. But the side and the back part will have almost no hair to portray the faded look. Well maintained beard will wonderfully complement the whole look and make you look more attractive than ever.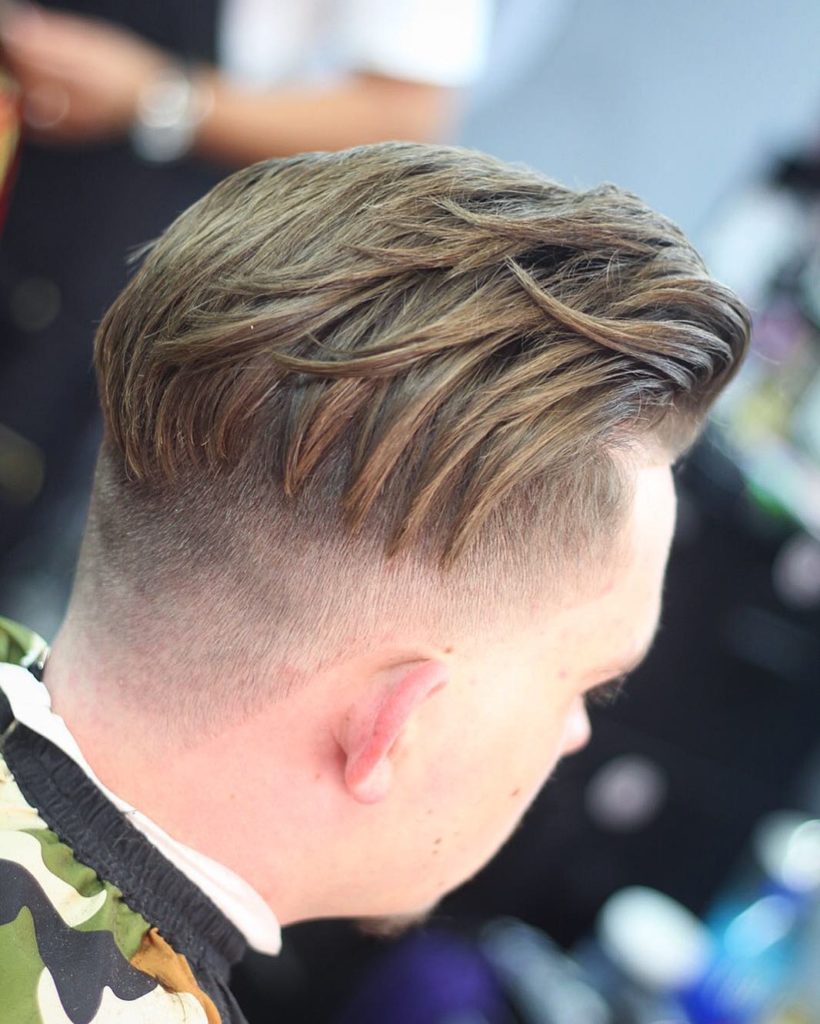 Slick Back Undercut
This hairstyle is extremely cool but easy to maintain. It is also popular with the name of taper cut fade hairstyle. It will show that long and straight hair of can also be slick and obviously sophisticated. The combination of undercut and the sleek back look will help to slay the fashion of world. The long hair locks can also be controlled easily in this style. People can use any pomade to hold the look properly for a longer time. A little amount of well maintained beard and mustache will perfectly justify the look.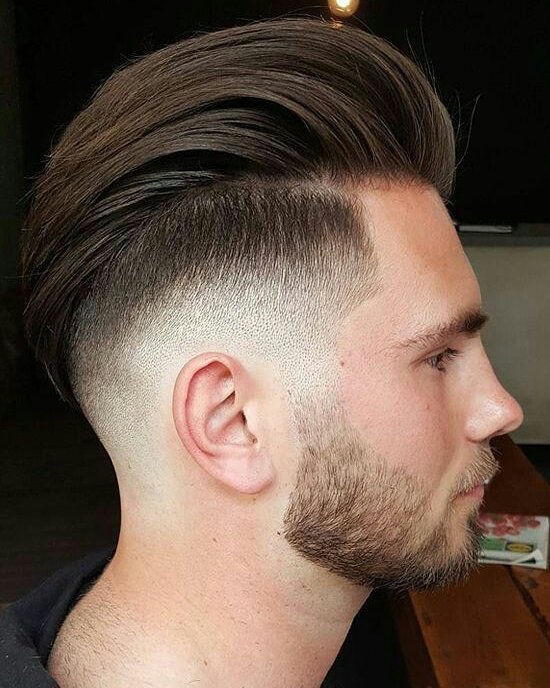 Razor Side Part Haircut
People of any age can try this look to get a super cool appearance than ever. In this hairstyle you have to make a side partition. In the bigger side you will get some more hair than the little side. The hair of the little side will be groomed properly with razor to get the ultimate look. The side and the back portion will have faded hair. Keep some faded beard to justify the look properly.
Spiky Haircut
If you have very straight hair, this hairstyle for men with straight hair is the easiest choice. Razor cut the hair in steps. Gel it to combine the strands together and make them stand. Have shorter hair at the back.
Quiff with Side Partition
An incredibly versatile style, keep the long length at the top to have as much volume as you want. Side partition the hair by keeping a shorter fade for a subtle approach. Brush it backward while puffing at the top.
Middle Part Long Hair
Cut the hair evenly. Middle partition the hair and then look no further. You can create this style on various hair textures. You can either tie it back or simply set it loose.
Disheveled Laid-Back Cut
A hairstyle that can go easy with your naturally textured hair, in a disheveled laid-back cut, all you have to do is cut your hair evenly throughout and simply run your fingers through it without combing neatly.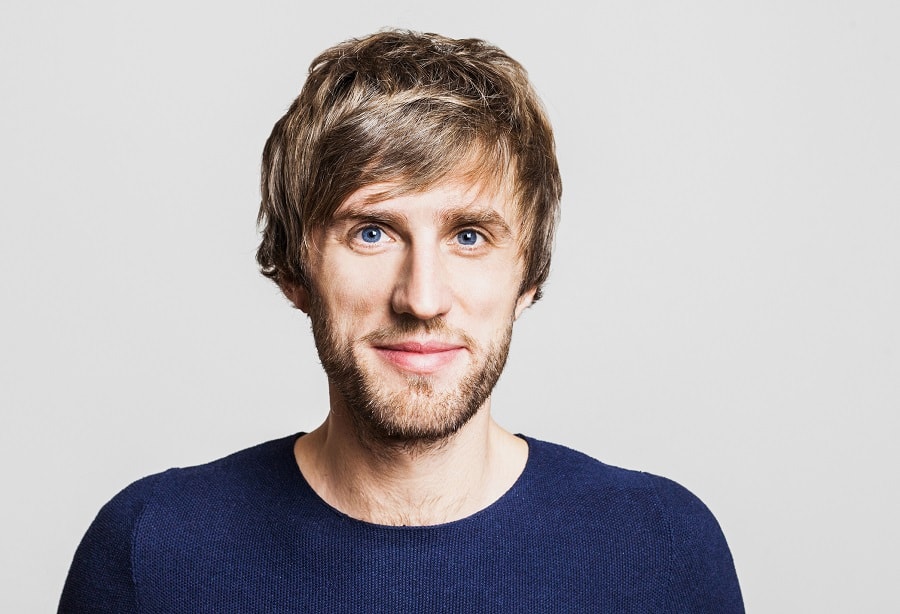 Layered Middle Part
If you have thick straight hair, then you can definitely go with this style. The middle part the hair and highlight the locks near the forehead. Cut the length till the shoulder and give them a couple of layers.
Pompadour Ponytail
Section the hair in three parts. Combine the middle section to tie it in a ponytail. Have a short sidecut on both sides. It can keep your neck cooler and give you a neat and polished look.
Short High Military Cut
This cut gives you a rugged, simple yet masculine feeling. You can play with the length of the crown. Have short fades over the ears giving a classic and traditional approach. It will hardly take any time to style with just combing in less than 2 minutes.
Side Part Pompadour
A unique hairstyle for men with straight hair, side partition the hair. Have a fine undercut at the smaller section doing the hair completely to one side. Have short hair near the ear of the large sectioned hair.
Spikes with Short Hair
This hairstyle brings the best of both worlds. You have an edge with the fade cuts at the side with spikes like a pompadour in the middle. You can decide on the length of the hair.
These Hairstyles For Men with Straight Hair can make your appearance smart and perfect in the crowd. So, choose any from this lot according to your face and personality and get a new makeover.